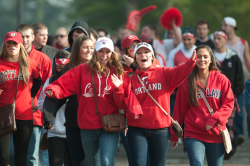 11/06/2014

In an effort to give SUNY Cortland students an alternative to the house parties and bar gatherings that erupted into mayhem during last year's Cortaca Jug weekend, the Student Government Association is sponsoring a dance concert by The White Panda after the game and raffling off more than $20,000 in prizes.
iPad Minis, GoPro video cameras, and PS4 and Xbox gaming systems are among the more than 150 items that will be given away to students during the non-alcoholic event, which starts at 6 p.m. Saturday, Nov. 15, in the Moffet Center gymnasium.
The catch? They have to physically be there to win.
Admission will be free for SUNY Cortland students. In addition to The White Panda, the event will feature 500 Entertainment's DJ JONA. The White Panda is a duo of electronic dance musicians that experiments with mashups of popular songs. They've had 27 singles reach No. 1 on Hype Machine.
The dance party, scheduled for after the SUNY Cortland vs. Ithaca College game at the SUNY Cortland Stadium Complex, is one of a series of student-focused events sponsored by the College as positive alternatives to binge drinking and similar activities responsible for the destructive and dangerous behavior that surrounded Cortaca Jug 2013.
The scheduled alternatives complement significant law enforcement and education efforts taken to curb unacceptable behavior, including a strengthened police presence, greater enforcement of underage drinking laws, a new ordinance aimed at controlling house parties with underage drinkers and increased monitoring of social media. That monitoring has already helped lead to legal prosecution for local property damage and the cancellation of a local bar party sponsored by a social media company that irresponsibly promotes drunken behavior.
The alternative events, which culminate in the Cortaca Jug game and The White Panda party, will run most of the week leading up to Nov. 15. The schedule is as follows:
Tuesday, Nov. 11:
CORTACA JUG Open Mic night, featuring University Police Department's own Lt. Chauncey "Tink" Bennett III. The evening includes free refreshments, sponsored by the Student Activities Board and the Health Promotion Office.
7 p.m., Corey Union Function Room
Wednesday, Nov. 12:
Wellness Wednesday "Like a Tattoo: Digital Dirt, Social Media and Your Brand." Learn what information or images about you are on the Internet and how careless use of social media can threaten your future. Sponsored by Health Promotions. 7 p.m., Corey Union Exhibition Lounge
Human iPod Concert (http://johnrush.com/playlist/) sponsored by SAB. 8 p.m., Corey Union Function Room
Thursday, Nov. 13:
Thursday Night Football Game on the Big Screen. Watch the Bills vs. Dolphins and consume free pizza, wings, subs and beverages. 8:25 p.m., Corey Union Function Room
Friday, Nov. 14:
American Heart Association HeartChase Kick Off. This is the official start of a new charity athletic event on campus. 4 p.m., Corey Union steps
Friday Night Lights: Rally for the Jug. The Cortaca Jug pep rally! The event features performances by Danceworks, Kickline and Cortland Cheerleaders, followed by a carnival of activities featuring psychic readers, laser tag and a football obstacle course. 6 p.m. performances; 6:30 to 9:30 p.m., other activities. All in Moffett Gymnasium
CORTACA Mug. This annual alternative event features prizes, activities, food and more! Sponsored by Cortland Nites, The Interfaith Center and the Cortland County Council of Churches. 9 p.m. to 3 a.m. at the Interfaith Center, corner of Calvert and Prospect.
Saturday, Nov. 15
Shipwreck Golf Amusement Center on Route 13 in Cortlandville gives new meaning to "clubbing." Buses will leave Corey Union for discounted Cortaca-morning Mini Golf starting at 7 a.m. and running until 11 a.m. Food available for purchase on site
Cortaca Jug Carnival at the Gate. Held outside the gates of the stadium beginning at 11a.m. the pre-game event will offer green screen photos, oxygen bar, temporary tattoos, and sports and target games. The first 1,000 Cortland Students with ID receive an ASC food voucher for a hotdog and a beverage.
Cortaca Jug Football Game vs. Ithaca College, noon at the Stadium Complex. Ticket and ID are required for admittance.
---