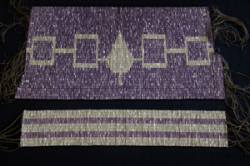 11/02/2012

A SUNY Cortland series that focuses on Native American culture concludes with a screening of the film, "Lost Sparrow," on Tuesday, Nov. 6, and a lecture about intercultural relationships with indigenous people on Tuesday, Nov. 13.
"Lost Sparrow" will be screened at 7 p.m. in Sperry Center, Room 105. The film follows a family's attempt at redemption after two Crow boys face a tragic death.
Featured speakers Freida Jacques and Jack Manno will lead the following week's discussion, titled "The Two Row Wampum: A Guide to Respectful Nation to Nation Relationships," at 7 p.m. in the same location.
Jacques, an Onondaga Clan Mother, and Manno, a professor of environmental studies at SUNY ESF, will discuss the Two Row Wampum, the first treaty between the Haudenosaunee and the European newcomers in 1613.
Jacques works at the Onondaga Nation School in Syracuse, N.Y., as a home/school liaison. She is a bridge between her culture and many educational institutions. A leader in her community for more than 30 years, she will talk about Haudenosaunee culture and its perspectives on gratitude, human rights and responsibilities and the clan's conception of democracy.
Manno's research interests include indigenous values and environmental decisions. He is a participating faculty member in Syracuse University's Native American Studies program. He will describe the role of allies, in particular neighbors of the Onondaga Nation, and plans to commemorate the 400th anniversary of the Two Row Wampum in 2013.
A statewide yearlong campaign will be titled "Honor the Treaties and Protect the Earth."
The film series is sponsored by a grant from Auxiliary Services Corporation (ASC), Native American Studies and the Center for Gender and Intercultural Studies.
The lecture is funded by the President's Office and its speakers are supported by a Campus Artists and Lecture Series Grant.
For more information, contact Dawn Van Hall, technology support professional in the Information Resources Support Center, at (607) 753-4890.
---