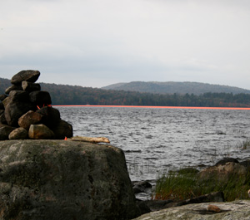 10/25/2013

A visiting artist's talk at SUNY Cortland's Dowd Gallery Wednesday, Oct. 30, will offer a view of the College's Environmental and Outdoor Education Center at Raquette Lake that's never been seen before.
Rob Licht, who grew up in Ithaca, N.Y., creating work inspired by the Finger Lakes landscape, will speak on "Wilderness Bisect" at 5 p.m. on the second floor of Main Street SUNY Cortland, located at 9 Main St.
The gallery talk is free and open to the public.
In September, Licht traveled to the Adirondacks with SUNY Cortland art and art history majors to create "Wilderness Bisect," a temporary environmental sculpture, on the grounds of Camp Huntington. The students worked in two teams, connecting opposite sides of the peninsula with a 2,200-feet straight line of surveyor's tape.
Licht will talk about the work, which he said "examines the complex history of the Adirondacks and connection of wealthy robber barons to the eventual preservation of the wilderness.
"It also serves as transect, providing viewers the opportunity to objectively assess the wilderness and reflect upon it," he said.
The installation references the role played by Thomas Durant, a successful railroad promoter, in the creation of the Transcontinental Railroad. His son was William West Durant, Camp Huntington's originator.
Digital photo prints by Licht documenting the work will be on display at the gallery.
Licht received a Bachelor of Fine Arts from the Maine College of Art and a Master of Fine Arts from Cornell University. He exhibits his work throughout the Northeast and has earned several grants and awards.
Licht has taught sculpture, design and drawing at several places in the area, including Ithaca College, Cornell University and Onondaga Madison Cortland Counties BOCES. He maintains a studio in Ithaca.
For more information, contact Vaughn Randall, an associate professor of art and art history at the College, at 607-753-4317. Licht's portfolio also can be viewed on his website.
---