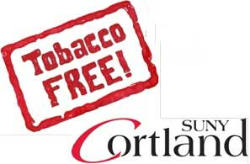 11/06/2012

This year's Great American SmokeOut on Nov. 15 is more than just a good day to quit smoking.
It begins the official countdown toward the day SUNY Cortland becomes a tobacco-free campus.
On Jan. 1, all tobacco products -- cigarettes, cigars, chewing tobacco; anything made with the proven carcinogen -- will not be allowed on campus.
A calendar counting down the 47 days between the SmokeOut and the start of the tobacco ban will be featured on the College's new Tobacco-Free webpages, which will go live on Nov. 15.
"This year's Great American SmokeOut is a little more significant for the SUNY Cortland campus because we are going tobacco free starting in 2013," said Catherine Smith, the College's health educator in the Health Promotions Department. "It's a good time for tobacco users to learn about the negative health impacts of tobacco, find out where they can get help quitting, or make a pledge to stop using tobacco before the ban takes effect."
In addition to launching its web pages, a mini-website located within the main campus website, SUNY Cortland's Tobacco Advisory Committee has other events planned around the date.
On Wednesday, Nov. 14, members of the SUNY Cortland community will have an opportunity to sign pledges that they will not use tobacco at tables set up on the first floor of Corey Union. Educational material will be there as well.
The tables will be staffed from 11 a.m. to 2 p.m. by Health Promotion interns, members of the Tobacco Advisory Committee, ASC Nutrition Services and Colleges Against Cancer.
On Thursday, Nov. 15, the day of the Great American SmokeOut, members of the Tobacco Advisory Committee will hold a Sandwich Seminar titled "Working Toward Compliance with the Tobacco-Free Policy, Effective Jan. 1, 2013." It will be held from noon to 1 p.m. in Brockway Hall Jacobus Lounge.
---