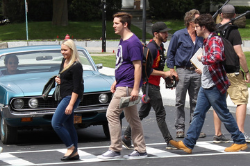 07/28/2017

The glare of stage lights and the pressure of live performance are routine challenges for SUNY Cortland musical theatre majors Steffanie Chesnut and Connor Beattie.
But participating in a professional movie shoot with well-known movie and television actors William Fichtner and Kim Coates was a brand-new challenge.
Chesnut, a junior, and Beattie, a sophomore, joined sophomore business economics major Alex Contento as extras in the filming of "Cold Brook," parts of which were shot on the SUNY Cortland campus on July 26, 2017.
During the school year, Beattie and Chesnut spend months rehearsing their lines and learning the songs they sing in the musicals produced by the College's Performing Arts Department. Acting on film, however, was a completely different experience.
Fichtner, who is directing and acting in "Cold Brook," was a patient and accommodating presence on the set. He gently provided instructions as the trio of SUNY Cortland students did take after take in a scene that took place on Graham Avenue between Brockway Hall and Moffett Center.
"It's not so spot-on. You don't have to do it right the first time," said Chesnut. "You can do 20 takes if that's what it takes. That's different for us because we're used to being very face-forward, pretty, right on the spot, there and ready. It was really cool and way more laid back than I thought it was going to be. (Fichtner) said, 'You're going to start here, you're going to walk and talk a little bit and then we're going to cut.'"
"It translates, but it's a whole different beast," said Beattie. "The way the director works and the way you talk, the language of how people talk to each other, it's totally different."
"Cold Brook" is Fichtner's directorial debut. He has an accomplished career as an actor, having appeared in films such as "Armageddon," "Blackhawk Down," "The Dark Knight" and "The Perfect Storm," as well as television roles in "Entourage," "Mom" and "Prison Break." He co-wrote the film with actor Cain Devore.
Student extras (left to right): Steffanie Chesnut, Alex Contento and Connor Beattie.
Coates, who played a popular character in the Home Box Office series "Sons of Anarchy" and had roles in "Entourage," "CSI: Miami" and other television and movie productions, co-stars in the film. Mary Lynn Rajskub and Robin Weigert are also among the cast.
Much of the principal photography took place in the Buffalo area. Fichtner is a Cheektowaga, N.Y. native and graduated from SUNY Brockport.
He has described the narrative of "Cold Brook" as "the story of two ordinary guys in a small town who embark on an extraordinary adventure. It's a story about coming home; something everyone, everywhere has an innate desire to do."
"Cold Brook" is slated for a 2018 release. A gallery of images from the filming is available online.
SUNY Cortland student Contento is a family friend of Coates, Devore and Fichtner. She said she became a slam-dunk extra when she learned the film was looking for college students.
"They're good family friends, so I've known them my whole life," Contento said. "I forced my way in when I found out they were making a movie."
Senior new communication media major Mitch Ensman and Owen Parseghian '17, who majored in new communication media, were also on set to assist with the production. Ensman and Parseghian have both created films that were shown at SUNY Cortland's Blackbird Film Festival in recent years but neither had been involved with a crew as large as "Cold Brook."
Co-writer Cain Devore, right, talks with new communication media students.
"I had never seen a production like this," Parseghian said. "I don't know if Cortland in general has ever seen a production this big. Seeing all of the moving parts was just awesome. The biggest thing that I learned was seeing how well-mannered everyone was on set. It's super stressful but everyone is doing such a good job of being calm and everyone is so polite. I always imaged these big sets being chaotic but it was really comfortable and everyone was really nice and super friendly to us, too."
Devore spent some time with Ensman and Parseghian to discuss the camera techniques the "Cold Brook" crew were using to capture Fichtner's vision on film. Their time spent behind the scenes allowed Ensman and Parseghian to better understand all of the roles on set. They have experience playing the part of actor, director, producer and cinematographer all at once on their own short films. Getting to see an entire crew of people with specific roles was an eye-opening opportunity for both Ensman and Parseghian.
"I've been on movie sets before but not a big production, a Hollywood movie set," Ensman said. "I've been making home videos and films like that for a long time, since I was in high school. This was my first time being on a professional shoot."
For Beattie and Chesnut, acting on film was a novel experience. Their introduction to clapperboards and boom microphones and grips and gaffers was a bit overwhelming.
"There were a lot of people here," Beattie said. "There were a lot of moving parts to get one take done, which is insane. If any one thing happens, we'd have to cut and start all over again. That could be frustrating, but it was actually a really smooth process. I think it went really well for us."
Although it was different from the musicals and plays in Beattie's and Chesnut's background, they were grateful for the opportunity to display those same skills they've spent years crafting.
"We just kept talking about how much fun we were having," Chesnut said. "Performance in any aspect, whether it's on stage or on film or anything, it affects your life so immensely in an incredibly positive way."
SUNY Cortland's Performing Arts Department organized a senior showcase for musical theatre majors in New York City this spring, giving members of the Class of 2017 a chance to perform in front of talent scouts in the nation's biggest theatre market.
The faculty and staff in the Performing Arts Department are quick to connect students to possibilities. Beattie and Chesnut learned of this chance two days before filming and were quick to jump on the roles. Whatever comes following graduation, whether it be a career on the stage or behind the scenes, they were glad to get a first-hand glimpse at how a major motion picture is constructed.
"The opportunities for musical theatre majors at SUNY Cortland are endless," Chesnut said. "It's ridiculous how many things you can do with just one major. It has opened up so many doors for us, especially in my three years being here. I didn't realize how many things you could do with musical theatre.
"You dance, you sing, you act and even opportunities like this come up," she continued. "They're adding more and more every single year. The showcase, that's not something we've done before. We've done senior recitals, which are amazing, but what a great opportunity that you can perform in New York City and places other than our campus.
"That's a very important thing to many of us. We're not going to be here forever, so that's teaching us that we can step out of the box and we can perform in other areas and it will be OK."
---