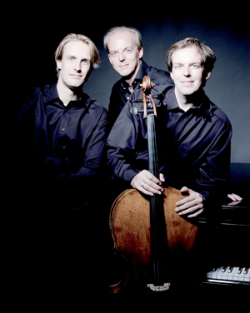 02/17/2011

The Storioni Trio, a group of classical and contemporary musicians who provide artistic direction to one of the most well-known music festivals in Europe, the Storioni Festival, will perform on Thursday, March 3, at SUNY Cortland.
The Dutch ensemble will begin their concert at 7 p.m. in the Dowd Fine Arts Center Theatre.
The event is being presented by the Campus Artists and Lecture Series (CALS). Ticket prices are $3 for SUNY Cortland students and $5 for general admission. Children ages 10 and under are admitted free. Tickets are available in the Campus Activities and Corey Union Office, Corey Union, Room 406, or at the door one hour prior to the performance. For more information, call (607) 753-2322.
"The Storioni Trio is the flagship of Dutch culture," said a reviewer for NRC Handelsblad (NRC), a daily evening newspaper published in the Netherlands by NRC Media.
The trio has established itself as one of the leading Dutch chamber music ensembles, with concerts in Carnegie Hall, Concertgebouw Amsterdam and Wigmore Hall.
The trio offers an expansive repertoire ranging from Haydn and Mozart via Beethoven, Schubert, Brahms, Ravel and Shostakovich, to stimulating works by contemporary composers.
Composed of pianist Bart van de Roer, violinist Wouter Vossen and cellist Marc Vossen, the trio has developed over the years by working with many musicians, including Isaac Stern and Ralph Kirshbaum as well as members of the Emerson Quartet and the Vermeer Quartet. They also have performed chamber music with various artists, such as Gidon Kremer, Dimitri Sitkovetsky, Nobuko Imai and Emma Johnson.
Additionally, they also were invited to play as soloists with the Munchner Kammerorchester, the RTE Orchestra Irland, Musikkolegium Winterthur, Orchestre de Chambre de Wallonie and the Royal Flemish Philharmonic Orchestra.
As artistic director of the annual Storioni Festival in Eindhoven, Netherlands, the Storioni Trio annually brings together renowned musicians from all over the world performing unique chamber music programs of the highest caliber.
More information about the Storioni Trio can be found on their website at http://www.storionitrio.com/en/.
---