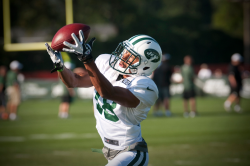 08/03/2012

The New York Jets will hold their annual Green and White Practice inside SUNY Cortland's Stadium Complex Saturday, Aug. 4.
"It's brand new turf, it's in great condition, it's soft and it's in great shape," Jets head coach Rex Ryan said Thursday. The stadium's all-weather, soft-fiber synthetic turf was replaced last year, when the Jets did not hold camp at SUNY Cortland because of protracted collective bargaining negotiations.
The scrimmage has typically been held on the Jets' grass practice fields just west of the stadium complex. The venue change will give visitors more comfortable seating and better views of the College's new artificial turf field.
The practice will begin at 6 p.m. Fans will be let inside starting at 4 p.m., when both Jets Fest and the Jets merchandise tent will open. Jets Fest will run until 8 p.m. The merchandise tent will close at 9 p.m.
Fans interested in attending the practice are urged to come early and expect some traffic delays. It is typically the most well attended Jets practice of the summer.
Vehicles should enter and exit campus via New York State Route 281. Route 281 is easily reached from Interstate 81 by taking Exit 12 and heading south. For GPS directions to the training camp entrance at SUNY Cortland, plug in 3718 West Road, Cortland, N.Y., 13045.
Parking will be available on campus, with shuttles to the stadium available if needed. Off-campus parking that could help visitors avoid some of the traffic congestion is also available at the corner of Route 13 and Lime Hollow Road and in the Pall Corporation lot at Route 281 and Tompkins Route 13. Free buses will make regular runs to the campus.
All parking is $5. Admission to the scrimmage, like all Jets practices at SUNY Cortland, is free.
There is only one entrance and one exit to the Training Camp itself, and both are on Route 281. Although the scrimmage has moved from the Jets regular practice fields to the stadium, visitors will go through the regular camp entrance at the Jets merchandise tent. In addition to shopping for Jets gear, food and beverages will be for sale, and the Oldies 101.5 radio station will broadcast live.
Limited shuttle service is available between the parking lots and the camp entrance. Priority is to provide assistance to people with physical needs.
---