News Detail
11/05/2013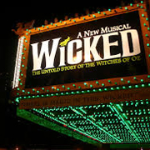 The untold story of the witches of Oz will be told in song when the SUNY Cortland College Singers present a concert version of the hit musical "Wicked" on Sunday, Nov. 10, at SUNY Cortland.
The concert, which begins at 3 p.m. in the College's Interfaith Center at 7 Calvert St., is free and open to the public.
Professor Stephen B. Wilson, a faculty member in the Performing Arts Department, will direct and Richard Montgomery, the Performing Arts Department's staff pianist, will provide accompaniment. This beloved work will feature many musical theatre majors in major roles.
The popular Broadway musical, with music and lyrics by Stephen Schwartz, is based on the 1995 novel Wicked: The Life and Times of the Wicked Witch of the West, by Gregory Maguire, and the 1939 film "The Wizard of Oz" and L. Frank Baum's classic story The Wonderful Wizard of Oz. The musical is told from the perspective of the witches of the Land of Oz, picking up before Baum's classic novel begins.
It is recommended that audience members arrive early due to limited seating. The concert is suitable for all ages.
For more information, contact Wilson at 607-753-4615.
---