News Detail
02/14/2012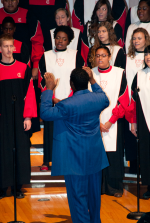 Musical and dance performances by members of the SUNY Cortland and Central New York communities will highlight the 2012 Gospel Choir Cultural Celebration, which takes place Sunday, Feb. 26.
The event begins at 4 p.m. in the Corey Union Function Room. A reception follows the concert.
Tickets cost $3 for students and $5 general admission and may be purchased through SUNY Cortland Gospel Choir members, at the door or reserved in advance.
Special guest choirs this year will include the Central Baptist Church Mass Choir and the Central Baptist Church Men's Choir, both of Syracuse, N.Y. The groups are under the direction of Felton Sayles and their selections include: "Lord, We Praise You," by Hezekiah Walker; "Stand," by John P. Kee; and "For Every Mountain," by Kurt Carr, a joint selection to be performed with the SUNY Cortland Gospel Choir.
The Central Baptist Men's Choir will sing "Stand Up," by Ron Beck, with Ron Mason as soloist, and "Something About The Name Of Jesus," by Kirk Franklin, with Mason and Wayne Daniels as soloists.
The SUNY Cortland A Cappella group will sing the spiritual "Ev'ry Time I Feel The Spirit," by Moses Hogan; "Down," by Jay Sean; and "Perfect," by Pink.
The SUNY Cortland Gospel Choir will offer the popular "Glorious," by Martha Munizzi; "Battlefield," by Norman Hutchins; and two additional selections.
SUNY Cortland alumna Dorothy Thomas '77 will present a piano praise medley consisting of several sacred selections. The SUNY Cortland Africana Dance Troupe, under the direction of Yomee Lee, an associate professor of kinesiology, will present a West African dance called Sunu in addition to Samba and West African dance.
A jazz set by the Gospel Choir musicians will round out the performance. The musicians include saxophonist Jamie Yaman, of Cortland, N.Y.; and keyboardist Andy Rudy, bass guitarist Reggie Siegler, percussionist Benjamin Terry and trombonist Robert Brown, all of Syracuse, N.Y.
The celebration is sponsored by the Gospel Choir, the Africana Studies Department, the Black Student Union and the Caribbean Student Association. The event also is supported by the student activity fee.
The event continues the College's Black History Month, which is co-sponsored by the President's Office; the Provost and Vice President for Academic Affairs' Office; the Center for Gender and Intercultural Studies; the Vice President for Student Affairs' Office; the Multicultural Life and Diversity Office; the Dean of Arts and Sciences' Office; the Political Science Department; the Affirmative Action Committee; the Communication Studies Department; the Africana Studies Department; the Black Student Union; and the Caribbean Student Association.
Ticket reservations may be made by calling Distinguished Service Professor Samuel L. Kelley at (607) 753-4104, emailing him or by reaching Distinguished Teaching Professor Seth N. Asumah at seth.asumah@cortland.edu. Reserved tickets may be picked up at the door and individuals are welcome to make a donation to the College's Gospel Choir if they cannot attend the concert.
For more information, contact Kelley.
---