News Detail
09/21/2012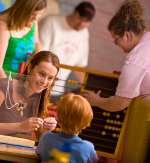 Educational programs about apples, fire safety, solar and wind energy and technology games will be offered during SUNY Cortland's Fall 2012 Children's Museum Saturday Family and Children Activities series which began on Sept. 22.
The programs will take place at a new location, the SUNY Cortland Child Care Center, located on the ground floor of the College's Education Building.
The Children's Museum offers interactive, hands-on educational experiences in an environment where Cortland community members and families can be inspired to play and learn together.
Presented by faculty and students in SUNY Cortland's Childhood/Early Childhood Education Department, the programs run on selected Saturdays from 10 a.m. until 1 p.m. and are open to community families and their children. Admission is free but donations are accepted.
Sample a variety of apples and learn more about this fruit at "Apples and More Apples" on Sept. 29. Participants are invited to bring their own apple recipe to share.
On Oct. 20, learn about basic fire safety, try on turnout gear and check out a real fire truck when local fire fighters help present "Fire Safety with the Cortland Fire Department."
The 21st Annual Education Club Halloween Party will be held in Corey Union's Function Room on Oct. 27. Activities will include face painting, games and storytelling.
On Nov. 3, the Ross Park ZooMobile will visit. Participants will observe animals up close and have the opportunity to touch some of the animals with supervision by a naturalist from the zoo.
College students and faculty will demonstrate hands-on solar, wind and other energy activities in the Nov. 10 program titled "Having Fun with Energy."
Computers and other tools will be introduced Dec. 1 at the "Technology" program featuring iPads, technology games and other tools designed to teach children and adults.
Entrance to the Education Building's Child Care Center is to the right of the playground. Parking is available on Prospect Terrace or in the Auxiliary Services Corporation (ASC) paid lot across the street.
For more information, contact Emilie Kudela at (607) 753-5525 or Susan Stratton at (607) 753-2467, or visit the Children's Museum website at www2.cortland.edu/community/childrens-museum.
---