Room Selection Process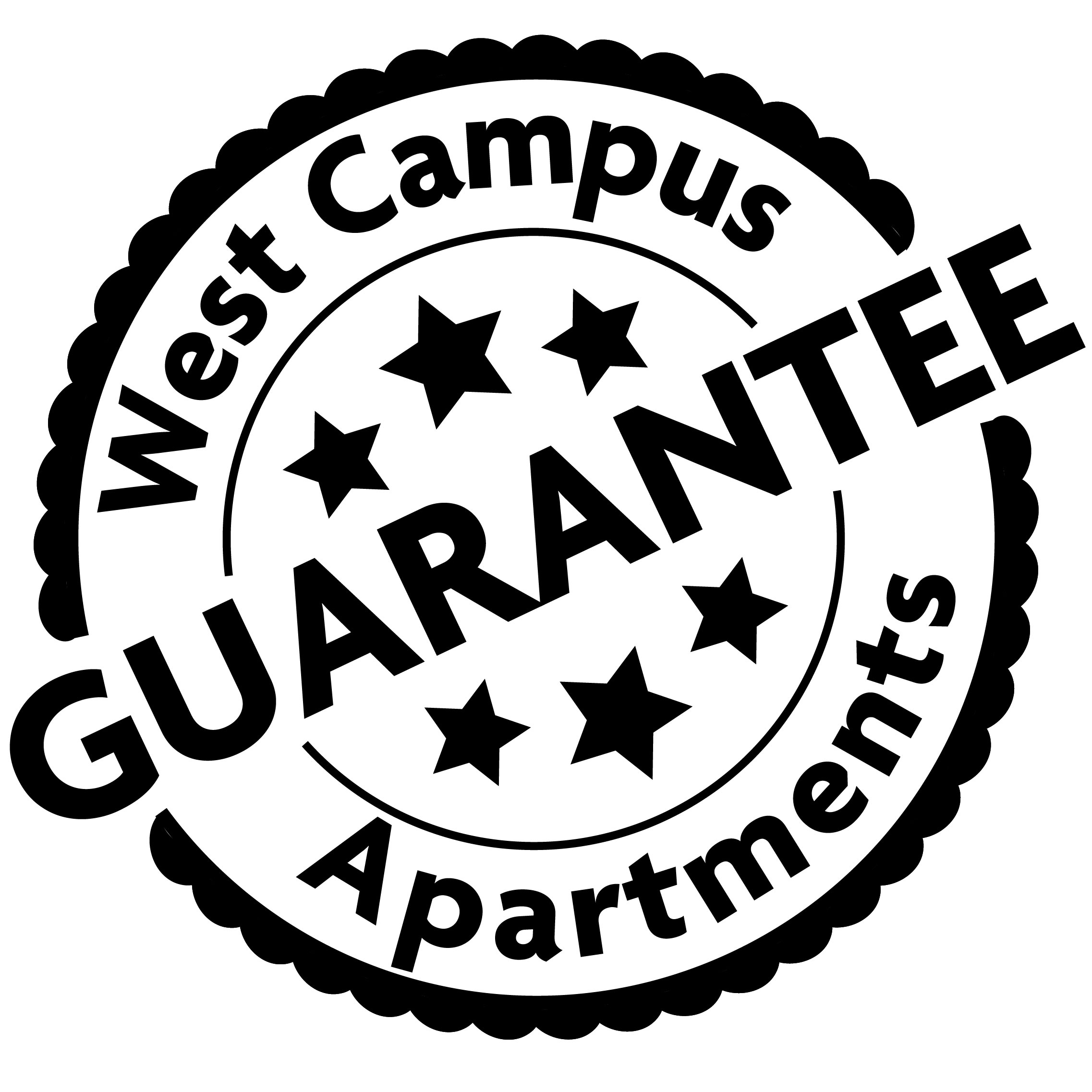 Pay this year's rate. Not next year's. GUARANTEED.
West Campus Apartments was in high demand last year and filled up quickly during the WCA Guarantee.
WCA Guarantee works on a first come, first serve basis.
Everything is done online: choose your room on the same day that you sign up- no waiting.
Current WCA residents can choose their same room (except those living in the new transfer building or in an RA apartment) beginning October 9 through October 16.
Any SUNY Cortland student or WCA resident interested in changing apartments can sign up and choose a room beginning October 17 through November 17.
WCA Guarantee and RSP Timeline for 2018-2019
| | |
| --- | --- |
| Date | Action |
| Oct. 9 | Current WCA residents: West Campus Apartments Guarantee- Same Room form available (eligible WCA residents) |
| Oct. 9-16 | Select your current WCA room for fall 2018 (can be done immediately after form is complete) |
| Oct. 16 | Choose your current WCA room by 4 p.m. |
| Oct. 17 | Current SUNY Cortland students: West Campus Apartments Guarantee form available |
| Oct. 17-Nov. 17 | Form a roommate group (optional) and choose a WCA room (can be done immediately after form is complete) |
| Nov. 17 | Select a WCA room by 4 p.m. |
| May 1 | Pay your $150 room deposit by 4 p.m. (deposit payments accepted in spring 2018) |
| Spring 2018 | Room selection process (RSP) information coming soon |
Timeline is subject to change. Review during spring semester for most updated RSP timeline.
How to Sign up for the West Campus Apartments Guarantee:
Access The Housing Director
All housing processes will take place from The Housing Director page. To access anything housing-related, complete the following steps:
Log in to your myRedDragon.
Select the "Student" tab.
Under Residence Life and Housing select "Housing Process and Information."
Select Forms.
Choose "Room Selection Process Form."

If you are signing up for the WCA Guarantee, choose "WCA Guarantee."
If you are not living on campus next year, choose the "Release From Housing for Fall 2017" form.

Read and sign the Room and Board License.
Complete Personal Information: contains the roommate matching questionnaire and housing questions; once done, click Continue.
Review the confirmation page.
Complete Your Roommate Profile (optional) (view screenshots)
Choose "Set Up Roommate Profile" and then "Roommate Profile."
To allow others to search for you in the advanced roommate search, keep your profile public; otherwise, make it private.
Set up your contact preferences.
Complete My Profile using the guidelines; profiles must not contain language that is discriminatory or harassing in any nature.
To live in a double room, you will be required to choose a roommate to select a room with. If you do not know who you would like to live with, you will have an option to search for others or you can opt to be assigned by Residence Life and Housing staff.
Choose "Housing Information" and select "Roommates/Suitemates."
Select a roommate:

Know who you want to live with? Search with their name in the simple roommate search.
Not sure who you want to live with? Complete the advanced roommate search.

Send a request to the person(s) you want to live with. They will need to accept or decline.
Accept or decline roommate requests sent to you.
Continue with these steps until you have the desired number in your group (up to a total of six individuals.)
On the main page of The Housing Director, scroll down to see the selection processes you are eligible for.
Each process will display a start date and time. This is when you will be able to choose your room.
If you are selecting with at least one other individual, the person with the earlier selection time can choose for all in the roommate group.
Select "Select a Room/Suite."
If you are in more than one process, you will choose the process you want to choose a room from.
Search for a room.
Select "Select Room" or "Select Suite."
Assign all individuals in your group to the beds and/or rooms.
Select "I Agree- submit my room selection."
Confirm your housing by viewing your assignment for Fall 2018 on the main page.
It is possible that someone else may choose your room/suite as you are selecting. If this happens, you will receive a message that this has happened. Search for another room.
Room Changes
You are only able to change your assignment. Your roommate will have to make changes separately. Complete the same steps as listed in "Choose Your Room." Room changes will be permitted during RSP in the spring 2018 semester. WCA Guarantee participants can contact Residence Life and Housing to request a room change.
Pay Your Room Deposit (begins spring 2018)
Pay one of two ways:
At Student Accounts, Miller Building, Room 323, between 9 a.m.-4 p.m.
With your Visa, MasterCard, American Express or Discover Card on myRedDragon

Under the Student Tab and the Residence Life and Housing section choose "Pay Room Deposit Online"

*Student staff members, EOP students, C.U.R.E. students, and RHA/NRHH executive officers will receive a room deposit waiver in the mail. This must be turned in by the $150 room deposit deadline. You will be billed for the deposit.
Who Has to Live On Campus?
All new and current first year students.

Four semester (two year) housing requirement
All new transfer students with freshman credits
Students Not Returning
If you do not require on-campus housing next year for any reason (met requirement, withdrawing, transferring, internship, student teaching, etc.) complete the Release from Housing form for Fall 2018 available in the spring semester. Follow the same steps as the Fill Out Your RSP Form section.