The College has developed a specific design for SUNY Cortland name badges. They are a 1 7/16" x 2 15/16" steel badge in white with black lettering and attach to clothing with a magnet. Aluminum badges and pin attachments are available for those who cannot wear magnets or steel.
Typical information to be included on a badge is
name (SUNY Cortland class year is optional but encouraged)
title and
office or department
Example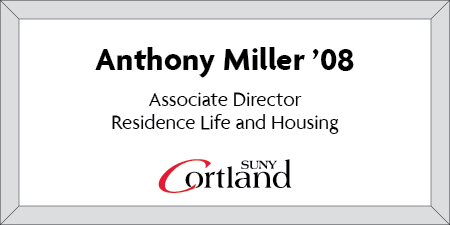 Orders should be submitted by filing out the form on this page. They will be sent directly to the College's vendor.
Hillside Signs
37 South Lake Road
DeRuyter, NY 13072
Phone: 315-852-9678
Fax: 315-852-4020
Email: tom@hillsidesigns.com