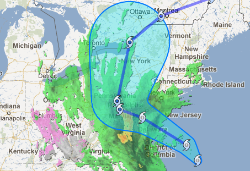 10/30/2012

All classes and campus activities are being held at their regularly scheduled times.
Commuting students should continue to use their own judgment in deciding whether to travel. Students who feel conditions created by Hurricane Sandy and its aftermath are unsafe should contact their instructors to notify them of their absence.
Faculty and staff who remain home should use accrued leave credits.
President Erik Bitterbaum has asked all college instructors to be understanding about complications caused by the storm, including individual students' concerns about family or friends in areas hit by the storm.
---