News Detail
02/21/2014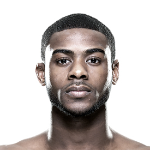 It's the equivalent of a baseball shortstop getting the call to the Majors, only in mixed martial arts (MMA): former SUNY Cortland wrestler Aljamain Sterling '11 will make his Ultimate Fighting Championship (UFC) debut Saturday, Feb. 22, at UFC 170 in Las Vegas.
The fight will be broadcast nationally on FOX Sports 1 as part of the event's preliminary card. Coverage begins at 8 p.m.
"It's the biggest organization you can fight for," said Sterling, of Uniondale, N.Y. "I did well enough that they noticed and I finally got the call."
The 24-year-old, a former physical education major who still teaches part-time at Uniondale High School, received the word from his manager over the phone roughly a month ago.
"He told me he had good news," Sterling said, assuming it was in regards to a new sponsorship. "He said, 'UFC wants you.'"
The bantamweight up-and-comer didn't waste time asking who his opponent would be or when or where the fight would take place. He simply let out shouts of joy to celebrate.
"Then it was like, 'Let's do this. I want this fight. Let's get this done.'"
Sterling, who is the regional champ in his weight class and a spotless 8-0 in his professional MMA career, will face Cody Gibson, a fighter with an 11-3 pro record also making his UFC debut.
"I'm fighting on three-and-a-half weeks' notice and he's fighting on about two weeks' notice," Sterling said, explaining that both fighters were injury replacements. "So it all works out."
Former SUNY Cortland wrestler Aljamain
Sterling goes by the nickname "Funkmaster."
So too has his budding MMA career, which began when Sterling was a student at SUNY Cortland. A two-time All-American wrestler as a Red Dragon, he fought as an amateur during his collegiate days. That meant the majority of his spare change went to travel and other expenses.
"I fell in love with the sport," said the 135-pound Sterling. "It was a different kind of adrenaline rush than wrestling."
There are obvious differences between wrestling and MMA; the wrestling Sterling excelled in at SUNY Cortland is founded in grappling, to which MMA adds punching, kicking, jiu-jitsu and techniques from a variety of other combat sports.
Aljamain Sterling isn't the only member of his family to wrestle as a Red Dragon. His younger brother, Troy, is currently working as an assistant coach for the SUNY Cortland wrestling team while he finishes up his communication studies degree. Troy Sterling, set to graduate this spring, wrestled for four seasons at SUNY Cortland.
In a typical day, Aljamain Sterling aims to fit in at least two workouts as part of his MMA training regime. They can encompass anything from hitting pads to cardio sessions to weight-circuit work. He trains with former UFC welterweight champion Matt Serra as a member of the Serra/Longo Competition team, practicing Brazilian jiu-jitsu and kick-boxing with one of the world's best.
"It's fun," Sterling said. "It's a different kind of workout and keeps everything fresh and fun."
Sterling also shares a unique connection with Jon Jones, UFC's current light heavyweight champion and an Endicott, N.Y., native. Both young fighters attended Morrisville State College together before Sterling transferred to SUNY Cortland and Jones departed to focus solely on MMA.
While he was flirting with MMA, Sterling sought advice from Jones, who today is one of the sport's biggest stars. The pair also worked out together in Ithaca, N.Y., where Jones keeps a residence.
Now, Sterling has a UFC contract of his own — a four-fight agreement to start.
"I'm going to assume that if I keep winning they'll want to extend it," he said.
Sterling has visited Las Vegas once before for a wrestling tournament during his first year at SUNY Cortland. He's certain, however, that the scene at the Mandalay Bay Events Center will be much different than a Division III dual meet.
"It's definitely going to be a different atmosphere with the fight fans all being there," he said. "I hear a lot times it can get pretty crazy."
There's a good chance it could be the next small step in Sterling's promising MMA career. But regardless of the result, he'll always have the recent phone call to reflect on — the one that informed he had earned his invite to MMA's biggest stage.
"I was on cloud nine," he said. "No one could bring me down at that moment."
---