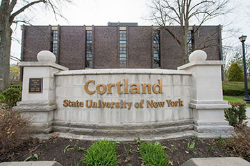 03/20/2020

In line with Gov Andrew Cuomo's directive that people avoid any unnecessary travel, SUNY Cortland wants to assure students that they may delay returning to campus to retrieve belongings.
Our current plan for scheduled pick-ups of student property from residence hall rooms will continue for those who need to collect their belongings soon. Students wishing to collect things over the next nine days should register to do so using the online Housing Intent form.
We recommend, however, that all people follow the travel guidelines outlined by the governor today. Students who do not need items right away and do not wish to travel, or who are unable to travel to campus at this time, do NOT need to. We will keep their property safe and arrange for them to come to campus at a later date.
Students and parents should continue to look for new information on SUNY Cortland's COVID-19 resource and update page.
Everyone's top priority at this time should be their personal health and all who they come in contact with. Please follow recommended precautions and stay safe.
---