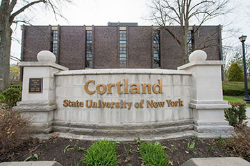 03/22/2020

SUNY Cortland's move-out process is following the Centers for Disease Control guidelines for limiting the number of people coming to campus. No student is being told they must return to campus for any reason, and all students have been given the option to leave their belongings in the residence halls until they feel it is safe for them to travel.
There are, however, many students who must recover needed items. The Residence Life and Housing Office is limiting the number of students allowed to come to campus each day and they are assigning them a specific time period to move out.
This is, in essence, the first "touchless" move out SUNY Cortland has done. Housing staff are not working in the buildings, and university police are only entering the buildings if there is an emergency. Office of Facilities Operations and Services staff are only entering the building if there is a mechanical or cleaning emergency.
Should they need to enter a building, all staff are required to use proper personal protective equipment (PPE), which is provided through their departments. All Facilities Operations and Services staff have been provided training in line with CDC guidelines by SUNY Cortland's Environmental Health and Safety Office.
Residents moving out are required to handle their own trash by removing it and taking it to an outside trash bin before leaving campus.
Please understand that this is a unique and challenging time for us all, and SUNY Cortland is taking all recommended steps to limit the spread of novel coronavirus (COVID-19) among our students, our staff and the members of the Cortland community.
---