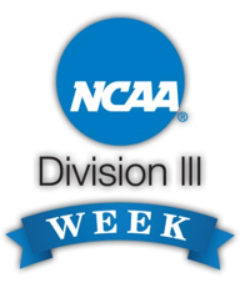 04/08/2013

They rarely make the top plays reel on "SportsCenter" and they're less likely to sign six-figure endorsement contracts after graduation. Still, Division III competitors like the student champions at SUNY Cortland aim for the perfect balancing act of athletics, academics and community service while competing in the NCAA's largest division.
SUNY Cortland again joins more than 440 colleges and universities nationwide in celebrating NCAA Division III Week, which kicks off Monday, April 8, and continues through Sunday, April 14. Several athletic contests fill the College's home schedule and mentions of several student-athlete accomplishments at SUNY Cortland are set to appear throughout the week online.
"In Division III, all participants are truly student athletes," said College President Erik J. Bitterbaum, a member of the NCAA Division III Presidents' Council. "There are no athletic scholarships and few professional scouts in the stands. For our students, athletics is one part of their overall development as well-rounded thinkers and achievers."
SUNY Cortland is scheduled to host home contests in three sports during Division III Week:
Tuesday, April 9: a softball doubleheader vs. Ithaca at 3 p.m.; a baseball game vs. Ithaca at 3:30 p.m.
Friday, April 12: a baseball game vs. Old Westbury at 3 p.m.
Saturday, April 13: a men's lacrosse game vs. Brockport at 1 p.m.

Division III institutions make up nearly 42 percent of the NCAA's membership, with nearly 180,000 student-athletes vying for 28 championships each year. For more on nationwide efforts, visit the NCAA's website.
Additionally, several Cortland student-athletes who embody the Division III experience will be featured in short online profiles. New additions will appear throughout the week and they can be viewed below.
JESSICA EVANS – Women's Swimming and Diving
Evans
Jessica Evans, a senior captain of the women's swimming and diving team from Hamburg, N.Y., learned about Cortland's storied history in athletics from her brother, Dan '10, the holder of several school records in the swimming pool. And just like her brother, she earned All-America honors at her sport's national championships while also excelling in the classroom.

"Division III is pretty unique because the athletes are driven by passion," said Evans, who was recently awarded the prestigious SUNY Chancellor's Award for Student Excellence. "There is room to be successful and have a life outside your chosen sport."
ZACHARY BADANES – Baseball
Badanes
Zachary Badanes, a senior pitcher from Syosset, N.Y., knows what it's like to be at the top. Not only does he sport a 2-0 record on the mound for a team ranked nationally in the top ten, but the biology major also boasts a grade point average (GPA) that hovers around 4.0. That was good enough to earn him the NCAA Elite 89 Award at last year's Div. III World Series for achieving the highest GPA among student-athletes on teams at the championship.
"I like to succeed," he said. "And I know that with both school and baseball, if you work hard then you're going to get there."


SARA WOODWARD – Field Hockey
Woodward
Sara Woodward, a senior field hockey forward from Ancram, N.Y., balances academics with athletics through time management. The physical education major and SUNYAC Commissioner's List team member, who this year became the 10th player in school history to score 100 points, says attending a Division III school afforded her the opportunity to juggle both.
"Division III gave me the competition I craved and also gave me time to do well in school," she said.


JARED MYHRBERG - Wrestling
Myhrberg
Jared Myhrberg, a three-time All-America wrestler from Queensbury, N.Y., wasn't sure that he wanted to pursue wrestling past high school. Competitive college wrestling, he thought, might prove beyond his reach. But recruiting interest from head coach Brad Bruhn changed that — and Myherberg compiled a school-record 51 pins over his next four years at SUNY Cortland.
"Coach Bruhn was the only coach who ever gave me a call," Myhrberg said. "I told him I wasn't interested in college wrestling … It's extremely difficult and wears on the mind and body like nothing else I've done. But by the summer I had changed my mind ... It was too much a part of who I was as a person to ignore it."


Guercio
KRISTEN GUERCIO – Volleyball
Kristen Guercio, a senior captain of the volleyball team from Smithtown, N.Y., knew she wanted to attend a SUNY school that fulfilled her passion for the sport. She did just that at SUNY Cortland, becoming a two-time All-America setter and the ninth player in Division III history to reach the 6,000-assist mark. The adolescence education: mathematics major this year also earned the SUNY Chancellor's Award for Student Excellence.
"I was up in the air between Cortland and another school," Guercio said. "After meeting both teams and coaches, I knew I wanted to come to Cortland."
---