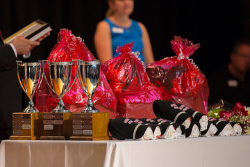 06/25/2018

The SUNY Cortland Alumni Association will present its most prestigious honor, the Distinguished Alumni Award, to three graduates during the Alumni Awards Luncheon during Reunion 2018 at noon on Saturday, July 14, in the Corey Union Function Room.
That afternoon, the association also will present the inaugural Distinguished Educators Award to three honorees and recognize two young alumni, an Honorary Alumna and name its Outstanding Alumni Volunteer award winner.
The 2018 award recipients are:
Jim Benham '67, Distinguished Alumnus. Benham's expertise in defense electronics made him one of the original Silicon Valley pioneers.
Megan Burns '01, Distinguished Alumna. After spending years working in hospital administration, Burns is a health care policy consultant who strives to make health care affordable for all.
Thomas Buschatzke '77, Distinguished Alumnus. As director of the Arizona Department of Water Resources, Buschatzke keeps the water flowing in one of the most arid regions of the U.S.
Fern Yasser Kupfer '68, Distinguished Educator. A retired associate professor of creative writing at Iowa State University, Kupfer has written novels and memoirs that touch on personal tragedy.
Carolyn Macleod Long '58, Distinguished Educator. Long spent her career as a teacher and school administrator in South Carolina, significantly increasing test scores and attracting funding.
Nestor Sherman '84, Distinguished Educator. One of the nation's leaders in measurement and research in exercise science, Sherman is a Regents professor of kinesiology at Texas A&M University-Kingsville.
Patrick Fannon '13, Distinguished Young Alumnus. An excellent runner as a Red Dragon, Fannon narrowly missed qualifying for the 2016 Summer Olympics and has excelled in a coaching career.
Alexander Grimm '10, Distinguished Young Alumnus. Grimm is a beloved teacher and coach at Sachem North High School in Ronkonkoma, N.Y., where he strives to connect his students with their community.
William "Mike" Doughty Jr. '69, C.A.S. '92, Outstanding Alumnus Volunteer. Doughty is a fixture at the Lynne Parks '68 SUNY Cortland Alumni House, where he does everything from event preparation to sharpening lawnmower blades.
Robin Wheeler Baroni, Honorary Alumna. Recently retired as Alumni Engagement team coordinator, Wheeler Baroni spent 18 years connecting with Red Dragons from across the globe.
Since 1968, 129 SUNY Cortland graduates, including this year's honorees, have received the Distinguished Alumni Award for their career accomplishments and outstanding service to their communities and alma mater. In addition, 26 alumni have been recognized with Distinguished Young Alumni awards, reserved for alumni who are younger than 35 years old and have graduated in the last 10 years. Since 1999, 16 alumni have been honored with Outstanding Alumni Volunteer awards. Nine individuals have been named Honorary Alumni.
Here is a closer look at this year's award winners:
Distinguished Alumni
Jim Benham '67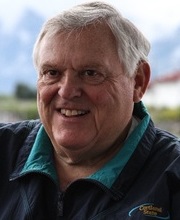 With a career in defense electronics and a patent in night-vision technology, Jim Benham '67 is one of the original Silicon Valley pioneers. His expertise in photonics and high-power microwave devices has benefitted all branches of the U.S. military and major defense contractors.
After graduating from SUNY Cortland with a bachelor's degree in chemistry, Benham got his start as a research and development engineer at Raytheon. Following stops at ITT Electro-Optical Products and Varian Associations, Benham became president and CEO of Electro-Optical Systems in 1990. He currently serves on the Board of Directors for Intevac, Inc., which produces high-sensitivity sensors and magnetic disc films, and Richardson Electronics, which engineers products related to microwaves and imaging. Benham has successfully managed organizations that collected up to $300 million in annual revenue.
Benham earned an MBA in industrial administration from Lynchburg (Va.) College in 1980. He completed executive development programs at Stanford University, the Wharton School of the University of Pennsylvania and Harvard Business School and continues to hold secret and special access clearances from the Department of Defense in support of his consulting duties.
Near his home in the San Francisco Bay Area, Benham volunteers at the Open Heart Kitchen, the Pleasanton Senior Center and as a member of the board executive committee of the Tri-Valley branch of Sons in Retirement, a fraternal organization that provides for the welfare of retired men.
Benham and his wife, Jane Sheehy Benham '68, established the Benham Chemistry Scholarship at SUNY Cortland in the late 1990s. He visited campus for two days in 2015 as an Executive in Residence, meeting with chemistry, physics and economics majors and giving lectures on technology.
Megan Burns '01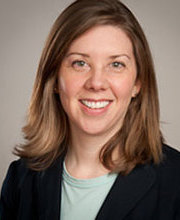 A lot of people complain about the nation's health care system. Megan Burns '01, is actually doing something about it.
As senior consultant and Connecticut program director for Bailit Health Purchasing in Boston, Burns identifies policy recommendations for state lawmakers aimed at containing the costs of health care and ensuring affordability for all people in the state.
It's an ambitious job with potentially huge impact. And it all started with a pair of semester-long political internship programs Burns completed during her time as a SUNY Cortland student, working both in Washington, D.C., and with the New York state Assembly in Albany.
"These early professional experiences were the foundation to my career and affirmed my desire to influence change through public policy," Burns said.
Burns earned a master's degree in public policy from Duke University in 2005 and started her career at the Progressive Policy Institute in Washington, D.C., a think tank that describes itself as "radically pragmatic."
She then worked in hospital administration at the University of Pittsburgh Medical Center (UPMC), rising in the span of five years from administrative fellow to manager of ambulatory operations to senior director of business operations for inpatient rehabilitation.
Burns volunteered for Pittsburgh Cares and served as a volunteer income tax preparer for the IRS during her time in Pittsburgh.
She has since moved to the Boston, Mass., area and her current role for Bailit Health, a health care policy consulting firm, that works with public and private organizations to reduce healthcare cost and improve its quality.
"My experience at SUNY Cortland continues to play a critical role in the success of my career, having given me the opportunity to pursue both professional and personal interests at a very early start," she said.
Thomas Buschatzke '77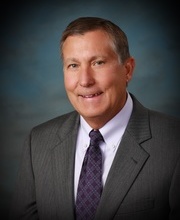 The challenge that faces Thomas Buschatzke '77 every day as director of the Arizona Department of Water Resources can be summed up with a Benjamin Franklin quote.
"When the well's dry, we know the worth of water."
And in Arizona, the fourth driest state in America, that day could be just around the corner. Following a nearly two-decade drought and the driest winter ever, the Colorado River system is in trouble. The vital reservoir at Lake Mead is less than 40 percent full. And complicating potential solutions are a patchwork of water rights issues, agreements and unsettled disputes.
Buschatzke, who holds a bachelor's degree in geology from SUNY Cortland, is in charge of keeping the water flowing and setting the state on a path toward a sustainable water supply. Tapped by Arizona Gov. Doug Ducey in 2015, Buschatzke draw on more than three decades of experience in water resources.
He worked for Arizona's Department of Water Resources in the 1980s before becoming a hydrologist for the city of Phoenix and later the water resources manager for the City Manager's Office. In 2011, he became assistant director for the Department of Water Resources' Water Planning Division.
Now, as director, Buschatzke administers and enforces Arizona's groundwater and surface water rights and laws and explores methods of augmenting water supplies to meet future demands.
Buschatzke is designated to represent the state in negotiating with the U.S. Secretary of the Interior, neighboring states and Mexico on issues regarding the management of the Colorado River. In September 2017, he was part of the delegation that amended the 1944 water treaty between the U.S. and Mexico.
"My career is testament to finding collaborative solutions to thorny water management and allocation issues and ensuring that the City of Phoenix and the state of Arizona have a sustainable water future," he said.
Distinguished Educators
Fern Yasser Kupfer '68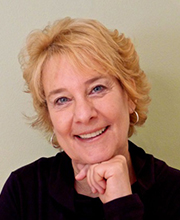 All people experience hardship. But it takes a unique talent to transform personal pain into literature that can share the lessons the author learned from navigating life's struggles.
Fern Yasser Kupfer '68, an American author and retired associate professor of creative writing at Iowa State University, has written several novels and as well as two memoirs reflecting on her life experiences.
Her first book, Before and After Zachariah, originally published in 1982, is a heart-wrenching reflection on her family's decision to institutionalize Kupfer's severely disabled son, who was born with a rare genetic disease. The experience made her an advocate for parents of children with severe disabilities, which led to appearances on "Good Morning America" and "Oprah." The book has had five editions published between 1982 and 1998 and has also been released in French.
Her 2012 memoir, Leaving Long Island and Other Departures, includes her experiences of divorce after a long marriage, the challenges of raising a blended family from different faiths and cultures and the discovery that she carries the BRCA gene, which puts her at risk for breast cancer.
Kupfer moved to Iowa in the early 1970s after having been a high school English teacher and working at a day care center in Rochester, N.Y. She received her master's degree in English from Iowa State University and taught creative writing there from 1988 until 2001.
The Bronx native, who grew up on Long Island, has contributed regular columns to Newsday, and her work has appeared in publications that include The Washington Post, Redbook, Newsday, Parents Magazine, Cosmopolitan, Women's Day and Family Circle.
Carolyn Macleod Long '58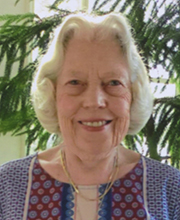 Retired teacher and school administrator Carolyn "Lyn" Macleod Long '58 literally had her day.
After decades of achievement in education and community involvement in Chapin, S.C., which is similar in size to Cortland, Long was honored in 2015 when the mayor formally declared Nov. 3 "Lyn Long Day."
Long, who has a doctorate from University of South Carolina, is a former South Carolina Distinguished Assistant Principal of the Year. She introduced new programs in reading and math at Chapin Elementary School that significantly increased test scores and attracted funding. Because of her focus on writing, the school was invited to highlight its successful writing program at three fall writing conferences and was inducted into the Exemplary Writing Hall of Fame, which is sponsored by the South Carolina Department of Education and governed by the Writing Improvement Coordinating Council.
"Lyn saw herself as a cheerleader for teachers and always insisted that Chapin teachers were among the best in the business," said her husband and nominator, Eugene Long.
With the help of parents, teachers and students, Long initiated construction of a nature trail, including a wooden outdoor classroom behind Chapin Elementary. Lone Trail — Learning in an Outdoor Natural Environment — was spotlighted on PM Magazine on WIS Television.
Since retiring, Long has coordinated an essay contest with Chapin-area elementary, middle and high schools to promote positive traits that lead to character development. She has written and illustrated several children's books and reads at local elementary schools weekly. She organizes the Chapin Women's Club's annual day of service and was named Chapin Woman of the Year by the group in 2006.
A lover of music and theater, Long sings, plays ukulele, taps and clogs with various groups in area retirement homes, churches and at community events.
Nestor Sherman '84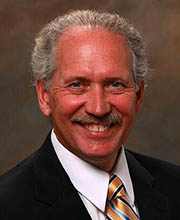 By any measurement, Nestor Sherman '84, a Regents professor of kinesiology at Texas A&M University-Kingsville, is an accomplished academic.
Of course few people are as qualified to measure that kind of thing as Sherman himself.
Since 2002, Sherman has served on the faculty in the Health and Kinesiology Department at Texas A&M University-Kingsville, where he has developed a national reputation in the areas of measurement and research in exercise science.
He was named to the 152,000-student Texas A&M University System's Who's Who and has been a Regents Professor of kinesiology since 2013.
Sherman is the author or co-author of dozens of refereed journal articles on topics ranging from the accuracy of timers in the 40-yard dash to the validity of body-mass thresholds for obesity and from the impact of adventure activities on concentration to treadmill time standards for cardiac patients. He was named the 2007 Reviewer of the Year by Measurement in Physical Education and Exercise Science.
Between 2008 and 2012 and again since 2014, Sherman has coordinated student enrollment in the department's pre-physical therapy concentration. He served as interim chair of his department from 2004-05. From 2012 to 2014, he chaired the university's Teacher and Bilingual Education Department.
Sherman has received numerous university honors including the 2004 President's Excellence in Service Award and the Taylor Dodson Young Professional Award from the Southern District of the American Alliance for Health, Physical Education, Recreation, and Dance (AAHPERD).
Sherman is a fellow in the research consortium of AAHPERD as well as a fellow in the American College of Sports Medicine. He has a doctorate in physical education from University of Houston, Texas.
Distinguished Young Alumni
Patrick Fannon '13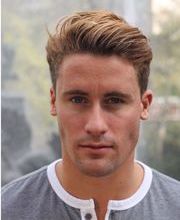 As a SUNY Cortland student-athlete, Patrick Fannon '13 captained the cross country and indoor and outdoor track and field teams during his junior and senior years and was a three-time NCAA Cross Country National Championship qualifier and a 10-time member of the SUNYAC All-Conference Team.
With that under his belt, Fannon decided to take what, to him, was the next logical step: Add two completely different sports to his running repertoire and try to compete in the Olympics as a triathlete.
He came close.
By 2015 his running, swimming and bicycle performance had reached a point where he was invited to train and compete at the U.S. Olympic Training Center in Colorado Springs, Colo. Ultimately, he didn't qualify for the 2016 summer games in Rio de Janeiro, Brazil, but Fannon remains committed to his passion for athletics.
He currently serves as the track and field coordinator at the Ocean Breeze Athletic Complex in Staten Island, N.Y. The 135,000-square-foot complex is operated by the New York City Department of Parks and Recreation and hosts various college, high school and community events.
While transforming himself into a triathlete from 2013-15, Fannon worked as an assistant track and field coach for the University of Kentucky. He was an assistant coach and recruiting coordinator for the University of Massachusetts-Lowell's track and field teams from 2015 to 2016.
An exercise science major, Fannon is currently pursuing his master's degree in sport management at SUNY Cortland.
Alexander Grimm '10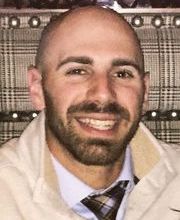 As a teacher and coach, Alexander Grimm '10 has poured his heart and soul into the students and athletes he mentors at Sachem North High School in Ronkonkoma, N.Y.
He's such a popular figure in school that his students dressed up in his likeness — baseball cap, khakis, wraparound sunglasses and football headset — during the school's Celebrity Day during Spirit Week.
His younger sister, Brianna Clever '17, wasn't surprised.
She remembers how discouraged she was when didn't get in to SUNY Cortland during her senior year of high school. Grimm told her to keep her head up, motivated her to work hard and encouraged her to try again. After one year at SUNY Oneonta, Clever reapplied to Cortland and was accepted.
"I received a picture from Alex of a large Cortland envelope with a text saying "Call me, I want to open it together," Clever recalled. "Before he even read the first word of the letter, we were both in tears. I was so extremely proud of myself that I finally did it and was going to follow in my brother's footsteps as a Red Dragon."
Grimm teaches global history, social issues and criminal justice. He coaches football and lacrosse and volunteers his time for various events such as the Out of the Darkness Walk to Prevent Suicide.
Grimm, who earned a master's in special education from St. Joseph's College, began his teaching career working with children with autism.
Outstanding Alumni Volunteer
William "Mike" Doughty Jr. '69, C.A.S. '92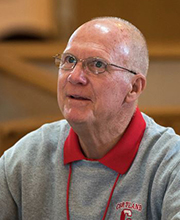 The word "doughty" can be defined by synonyms such as "stalwart," "dedicated" and "undaunted."
In light of that, William Doughty Jr. '69, C.A.S. '92, or "Mike" as he likes to be called, certainly lives up to his name.
That's especially true when it comes to helping out his alma mater.
On a recent morning, the retired Cortland High School principal was at the Lynne Parks '68 SUNY Cortland Alumni House removing the lawn mower blades from the tractor so they could be sharpened.
A day later, Doughty staffed the volunteer SUNY Cortland Alumni Association table in Old Main, directing visitors during "Transformations: A Student Research and Creativity Conference."
"I'd like to say it's out of a sense of Cortland," said Doughty, who also taught for many years in the McGraw Central Schools. "But I like to keep busy and do things. I like working with the Alumni Association. I got a lot from this community, and I love to give back."
He helps the Parks Alumni House staff set up or break down a major event, decorate for the holidays, scrape and repaint windows, shovel snow and lend a hand with gardening and spring cleaning. He assists with College events as well.
"He's just generally a great volunteer," said Richard "Chick" Cecconi '74, M '89, C.A.S. '93, another frequent alumnus volunteer. "Sometimes they call him and sometimes he just shows up and asks what to do."
Honorary Alumna
Robin Wheeler Baroni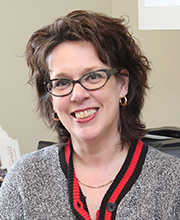 Robin Wheeler Baroni embodies the spirit of the Red Dragon family.
As the Alumni Engagement team coordinator, she has been the friendly and warm person who has greeted attendees from the registration table at the last 18 alumni reunions.
She has been the helpful individual working with members of the SUNY Cortland Alumni Association and taking notes at their quarterly board meetings.
Wheeler Baroni was nominated as an honorary alumna by current association board member and former Student Government Association President Ronnie Genee '03, a former intern in the alumni office.
"There's a very unique feeling that our alumni have for Cortland," Wheeler Baroni said. "It's home. It's comfortable. It's community. It's friendship. And it's love. And you have to always keep that close to you as well because if you don't, then you can't convey that to our alumni when you see them one-on-one, in groups."
Wheeler Baroni joined Alumni Engagement as a secretary in 1998 and immediately began taking on increasingly greater responsibilities. She was promoted to her current role several years later.
Her father was Robert Wheeler, the late computing center director emeritus, and her childhood memories are steeped in College tradition. Her husband is Timothy Baroni, SUNY Cortland SUNY Distinguished Professor emeritus, biology, and a strong Alumni Association supporter.
Wheeler Baroni retired in May. She learned about her honorary designation at her last Alumni Association board meeting.
"At the last meeting, when they presented the award to me, I was overwhelmed," Wheeler Baroni said. "I've been very fortunate."
So have the thousands of SUNY Cortland alumni who have engaged with Wheeler Baroni in an effort to deepen their connection with their alma mater. A genuinely compassionate person, she felt it was part of her job to do all she could to support alumni who were unhappy or disappointed.
"It's about keeping that old relationship alive," she said. "It's finding an old article or old photo and making a copy of it and sending it to them. Their whole life started here. It's how you'd want to feel coming back to a place you grew up in."
---