06/22/2018

Five SUNY Cortland faculty and staff members received the prestigious State University of New York Chancellor's Awards for Excellence during the 2018 Undergraduate Commencement ceremonies.
The honorees, formally announced by the 64-campus SUNY system on Wednesday, June 20, are:
Kathleen Burke, professor and chair of the Economics Department — Chancellor's Award for Excellence in Teaching.
Michelle Congdon, secretary II in the Human Resources Office — Chancellor's Award for Excellence in Classified Service.
Andrew Fitz-Gibbon, professor and chair of the Philosophy Department — Chancellor's Award for Scholarship and Creative Activities.
Herbert Haines, professor of sociology and chair of the Sociology/Anthropology Department — Chancellor's Award for Excellence in Faculty Service.
Lauren Stern, instructional services librarian and interim information literacy/instruction coordinator — Chancellor's Award for Excellence in Librarianship.
The SUNY Cortland honorees were among the 332 faculty and staff from across the university system who were named as recipients of the 2017-18 Chancellor's Awards for Excellence.
"Excellence is SUNY's hallmark," said Chancellor Kristina M. Johnson. "At each of our campuses it is driven by our faculty and staff and their commitment to providing the highest quality environment, where students are inspired and supported to excel as they pursue their passions."
SUNY Cortland President Erik J. Bitterbaum said, "I am always telling people how fortunate we are at SUNY Cortland to have such a talented and dedicated group of faculty and staff, and it is always gratifying when our deserving professionals are recognized. Each of these people have worked extremely hard and done so much to help the College's students and its mission."
The Chancellor's Awards provide system-wide recognition for consistently superior professional achievement and encourage the pursuit of excellence.
Each campus president submits nominations, which are reviewed by the SUNY Committee on Awards. The awards are presented annually to faculty and staff in seven categories: faculty service, librarianship, professional service, scholarship and creative activities, teaching, adjunct in teaching and classified service.
Kathleen Burke
Burke, who joined the SUNY Cortland faculty as an assistant professor in 1999, has developed a highly successful student-centered approach to teaching.
She offers academically rigorous courses that challenge students' thinking and stress the real-world application of economic principles to prepare them for careers in the field.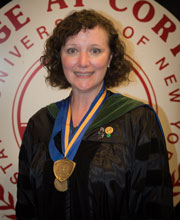 Burke teaches a variety of graduate and undergraduate courses. She firmly believes that every student has the ability to perform at a high level. She sets the bar accordingly and scaffolds students' learning. Her expectations are clear and fair. Student comments repeatedly praise Burke for her ability to instruct and connect with her classes.
She developed The Community Innovation Lab, which combines an internship experience with the structure of a formal course as well as the unique opportunity for students to gain real-world business experience.
Burke also has taught the First-Year Experience course, COR 101: The Cortland Experience, for the past 15 years.
Her students often participate in the Volunteer Income Tax Assistance Program in Cortland County, providing hundreds of free tax service hours to low income level clients.
Burke has a B.A. in economics and mathematics from William Smith College, and an M.A. and a Ph.D. in economics from Stony Brook University. A professor at SUNY Cortland since 2012, she has chaired the Economics Department since 2013.
Burke is the 53rd SUNY Cortland faculty member honored by SUNY for teaching excellence.
Michelle Congdon
When Congdon perceives a need, she steps in to fill that gap with a demeanor that is always friendly, approachable and helpful.
An employee in Human Resources since 1999 when she joined the College as a keyboard specialist, Congdon is the College's 10th recipient of the award for excellence in classified service.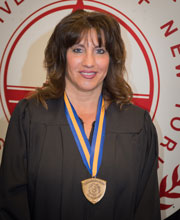 Promoted to her current role a year-and-a-half ago, she is highly respected for her communication skills and for her compassion. Congdon always strives to provide superior customer service, primarily because she genuinely cares about the welfare of others. Her expert attention to detail and ability to navigate the complex environment of health and other benefits translates to clear explanation and guidance for those who seek her help.
A consummate professional and a role model for the campus, she demonstrates excellent problem-solving skills and flexibility as she manages the office effectively. Congdon provides extraordinary support to the current assistant vice president for human resources and has provided invaluable support to the affirmative action officer and to the benefits coordinator whenever needed.
Outside her office responsibilities, Congdon served as chair of the Cortland Child Care Executive Board and as State Employee Federated Appeal (SEFA) chair for the campus. She plans and organizes the Classified Service Awards Ceremony each year and organizes division retreats and creative onboarding activities for new employees. She provided superb support for the SUNY Human Resources Association Conference.
Andrew Fitz-Gibbon
An authority on ethics, nonviolence and social justice, Fitz-Gibbon not only teaches, researches and writes his philosophical views, he lives them.
A faculty member since 2005, he has personally applied his scholarly research on "loving nonviolent reparenting" to real life by providing foster care to more than 100 children who have experienced violence. He currently directs the Center for Ethics, Peace and Social Justice at SUNY Cortland.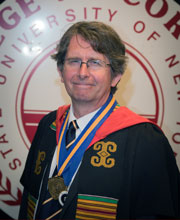 Fitz-Gibbon's commitment to scholarship and community also extends to his work on the Cortland Regional Medical Center Biomedical Ethics Committee and the Cortland Regional Medical Center Ethics Review Committee. He is a member of the SUNY Faculty Senate Ethics Committee. At SUNY Cortland, Fitz-Gibbon has developed a highly successful Summer Ethics Institute for faculty and staff.
The author of seven published books, Fitz-Gibbon has served as editor of Peace Studies Journal, as well as book series editor for the Brill/Rodopi Social Philosophy Series. Fitz-Gibbon has written numerous published articles and book chapters on nonviolence, including for the Routledge Handbook on Pacifism and Nonviolence.
His 2016 book, Talking to Terrorists, Nonviolence and Counter-Terrorism: Lessons for Gaza from Northern Ireland, provides an analysis of the peace process in Northern Ireland and recommends several key lessons learned that might lead to peace in Israel/Palestine.
Fitz-Gibbon twice was elected as president of Concerned Philosophers for Peace, North America's largest group of professional philosophers focused on issues of war and peace. He also was elected as a Fellow of the Royal Society of Arts, the second oldest British Royal Society.
A frequent presenter at national professional conferences, Fitz-Gibbon has a Ph.D. in social ethics from Newcastle University, England. He holds full Certification in Client Counseling from the American Association of Philosophical Practitioners.
Fitz-Gibbon is the College's 15th recipient of the system-wide award honoring scholarship and creative activities.
Herbert Haines
Haines, who is the 15th SUNY Cortland recipient to earn the system-wide faculty service honor, has provided extraordinary service to the campus, local community, region, state and national professional organizations.
"Dr. Haines does not just 'sit' on a committee, he joins it, he acts on it, and he completes his assigned tasks," one faculty colleague wrote.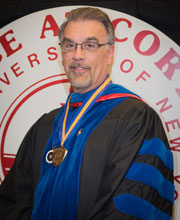 At SUNY Cortland, Haines has chaired or served on more than 38 departmental committees, College-wide committees, Faculty Senate, United University Professions, the SUNY Cortland Child Care Center and numerous departmental, campus-wide and presidential search committees.
A member of the SUNY Cortland campus since 1985 who was promoted to professor in 1997, Haines earned a Ph.D. from University of Kansas, Lawrence Campus. His areas of specialization are crime policy, criminology, interpersonal and collective violence, social movements and social problems.
A noted authority on the death penalty, Haines has made many presentations at regional and national conferences, as well as in classes at area colleges and universities. He has spoken on topics within his field regionally to Rotary Club, League of Women Voters, and American Association of University Women.
He is a proposal reviewer on death penalty and medical marijuana related research for the National Endowment for the Humanities and the National Science Foundation. As member of several doctoral dissertation committees, Haines is a reviewer for tenure decisions at the University of Michigan-Flint and the University of Nevada, Las Vegas. A member of the executive board of the Midwest Sociological Society, he is a manuscript reviewer for Holt, Rinehart and Winston, Inc., Oxford University Press and Prentice Hall College Division.
In the community, he has served on the board of Catholic Charities and was a member of the Cortland County Family Dependency Treatment Court Team.
Lauren Stern
An expert in both assessing operations quality as well as instruction, Stern is a highly innovative instructor who incorporates cutting-edge teaching strategies, including active learning and gamification, into her student sessions.
The College's sixth recipient of the award for excellence in librarianship, she joined the College in 2012. Stern has an M.S. in information science, school library concentration, from the University at Albany.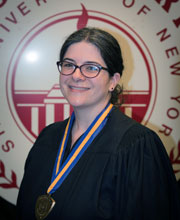 Promoted to librarian in 2014, she assumed responsibilities as interim information literacy/instruction coordinator.
A dedicated leader on campus who is active on numerous committees, Stern was appointed as the permanent chair of the Research Help Steering Committee and has been instrumental in providing guidance for the improvement of library services.
She is a frequent facilitator of staff discussions and training and has conducted extensive staff training on topics including modern library updates, assessment and information literacy. In addition, she serves as library liaison to several academic departments and programs on campus.
Her College-wide committee work includes the General Education Committee, the Student Learning Outcomes Committee, the College Writing Committee and the Women's, Gender, and Sexuality Studies Committee.
SUNY-wide, Stern has served for the past four years on the planning committee for the annual SUNY Conference on Instruction and Technology.
Since coming to SUNY Cortland, she has authored a book chapter, several peer-reviewed essays and seven book reviews, a number of which appeared in CHOICE, a seminal journal for librarians. Stern also has presented at professional conferences in her field.
---