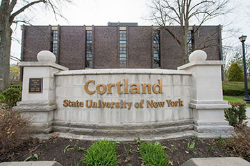 06/25/2020

The following message was sent to all faculty and staff by Gary Evans, associate vice president for human resources:
Dear SUNY Cortland community,
SUNY Cortland is extending the directive for non-essential employees to work remotely and not report to campus through July 31. All existing remote work plans are considered extended through that date. Supervisors are responsible for making any necessary changes or adjustments to ensure continuity of work and to best support the operating needs of the department or office.
This extension will allow us to thoroughly review and implement the guidelines released Wednesday, June 24, regarding phase four of NY Forward, Governor Andrew Cuomo's plan for reopening New York State as the novel coronavirus pandemic wanes in our region. SUNY Cortland's facilities, operations and services staff will return to 100% essential staffing on Monday, June 29 and will work diligently to prepare our campus for the return of our non-essential workforce, faculty and students.
More detailed announcements related to our restart will be sent later this week and in the weeks to come. We will provide the community with as much specific information as possible, using multiple formats to maximize access. In the next month, we will schedule open forums to ensure transparency in communicating how we are making the campus safe for work and student life. As information is released, it will be posted on the Restart SUNY Cortland webpage.
In the meantime, any faculty or staff member reporting to campus must follow appropriate social distancing practices and wear face coverings in public spaces, in group meetings, or in any situation where social distancing may not be possible. This is particularly important while interacting with campus guests.
Employees are also responsible for self-monitoring their health status before coming on campus. Any employee experiencing symptoms consistent with COVID-19 (e.g. fever, cough, shortness of breath) should stay home. Symptomatic faculty and staff should contact their personal medical provider and alert SUNY Cortland's Associate Vice President for Human Resources Gary Evans at gary.evans@cortland.edu or the university's Assistant Director of Benefits Mary Saracene at mary.saracene@cortland.edu.
Two self-screening tools are publicly available to assist in this practice:
Thank you all for your patience, resilience and continued cooperation. And please stay safe.
Sincerely,
Gary Evans
Associate Vice President for Human Resources and
President's Designee
---