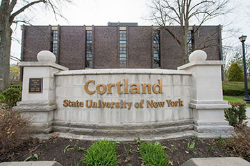 05/19/2020

Last week, as more than 6,000 SUNY Cortland students neared the end of one of the most challenging semesters in the university's history, an eclectic group of faculty and staff sang their support for them.
Although the roughly two dozen university employees didn't actually sing. They just moved their lips.
The result was a hilarious, homegrown lip-synch music video featuring Journey's "Don't Stop Believin'" power ballad.
The video, pieced smoothly together from individual clips by Media Services Technician Ricardo Nelson, has been viewed more than 35,000 times on social media since it was posted Friday, May 15.
Here it is:
---