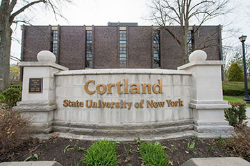 07/14/2020

The following message was sent to the SUNY Cortland community on behalf of President Erik J. Bitterbaum:
To the campus community,
I am reaching out to share my alarm over a recent change in federal policy that could unfairly affect SUNY Cortland's approximately 100 international students to a significant degree. I also want to reaffirm the university's strong support for these students, who are here with legal, F-1 student visas.
Our international students represent about 25 countries from all corners of the globe. Each and every one of these students contributes in many positive ways to our campus, enriching the diversity of perspectives throughout our classrooms and our community. This past week, however,
Immigration and Customs Enforcement (ICE) arbitrarily and without notice announced policy changes that could significantly disrupt our international students' ability to pursue their studies this fall semester and possibly lead to deportation. The new policy, which officials said was a response to the COVID-19 pandemic, does not allow international students to be in this country if all of their classes are delivered online.
Because SUNY Cortland plans to use a hybrid teaching mode that combines in-person and remote learning, our international students will be able to attend as long as all of their classes are not online. Our International Programs Office will work closely with each student to review their course schedules and amend them, if necessary, to ensure they continue to maintain their F-1 status.
That situation could change abruptly, however, if the novel coronavirus continues to spread and forces SUNY Cortland to return to a completely remote model of instruction. In that event, the new ICE rules would require all SUNY Cortland international students to return home immediately, at a time when travel continues to be severely restricted worldwide. Their visa status would be at risk and their education disrupted through no fault of their own.
I join university presidents across the country in condemning this action, which places a cruel level of stress on international students in the United States and on our campus. We stand in strong solidarity with these students and are doing all we can to assist them. Last week, International Programs sent a message to all our international students reaffirming our commitment to them and assuring them that we are exploring options to protect them from this unconscionable action.
SUNY Cortland also supports the efforts of New York Attorney General Letitia James, whose office filed a lawsuit against ICE challenging the federal government's policy. Further, the university is joining the SUNY System and international education associations such as NAFSA in calling for changes to these unjust rules. We fervently hope that these advocacy efforts will lead to the swift reversal of these inhumane policies.
To our international students, I want to reiterate that our commitment to you is steadfast. We cherish you as integral members of our community, and we will do all we can to help you stay healthy and maintain your educational status as you pursue your academic and personal goals.
All the best,
Erik J. Bitterbaum
President
---