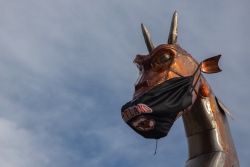 10/16/2020

The following message was sent on behalf of SUNY Cortland President Erik J. Bitterbaum:
To the SUNY Cortland community,
I know many of you have been anxiously checking our COVID-19 dashboard as the number of new positive cases on campus has steadily risen closer to the 100-case level that, under state guidelines, triggered our shift to study-in-place on Oct. 7.
Today, at the end of a week of unprecedented testing, I can share that SUNY Cortland has indeed exceeded 100 new positive COVID tests for the state-set, 14-day period that began Oct. 10.
But I will also share that things are likely not as bad as they may seem:
Because we are already in study-in-place mode and the vast majority of our community members are complying with the strict containment guidelines it requires, there is no automatic consequence simply for hitting that benchmark. It does not mean a new two-week period will drop into place when this one runs its course on Wednesday, Oct. 21. It does not mean, contrary to rumors, that we will send all students home. In fact, the state and local health departments are requiring us to do just the opposite: Keep our students in Cortland to prevent the virus' spread to their hometowns and potentially vulnerable families.
The New York State Health Department, in collaboration with the Cortland County Health Department, will determine when SUNY Cortland emerges from study-in-place, based upon their evaluation of our success at containing the outbreak. We anticipate we will remain in study-in-place through at least through the end of next week.
Health officials are looking for our case numbers to decline. We expect our numbers to rise over the next few days, but that doesn't mean things are getting worse. Because we did pool surveillance testing on thousands of students, faculty and staff this week, it was inevitable that our case numbers would rise as the results from those unprecedented number of tests came in.
However, if everyone has been doing the right things, this latest round of testing should mark a plateau. After rising over the next several days, subsequent positive results should begin to decline.
I know anxiety levels are high. Students are stressed, frustrated and yearning to get back to something resembling a normal life. I am proud of our Red Dragons for the resilience and grit you continue to demonstrate as we work together to stop this outbreak.
The quickly changing situation gives rise to many questions. Please consider visiting our Study-in-Place website for information before you reach out to staff.
All the best,
Erik J. Bitterbaum
---