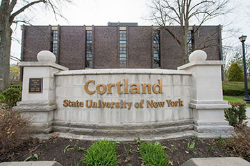 05/19/2020

The following message was sent on behalf of Anna Addonisio, vice president for finance and management:
SUNY Cortland students,
The last two months of distance education have been challenging, and I know many of you are experiencing financial difficulty related to the COVID-19 pandemic. Beginning May 18, you will see adjustments on your student accounts for prorated on-campus housing, dining and several other broad-based fee charges incurred in the spring 2020 semester that were unused.
Depending on your account balance, refund checks were processed and mailed Monday. Students with direct deposit should receive money in their accounts Tuesday. Cash refunds do NOT reduce student loan balances.
In order to make these payments during this unprecedented time, the university needed to create a detailed refund plan and get the approval of SUNY administration. That approval came last week, and we immediately began processing more than $10 million in refunds.
The refunds were calculated based on the number of days classes were in session on campus through March 19, which comprised 50% of the semester. Students who were approved to stay in on-campus housing after March 19 were not refunded, unless they notified Residence Life on or before April 2.
Tuition refunds will not be granted as students were able to complete their academic work through distance education and remote learning.
Charges related to fees were carefully calculated to refund those services that were discontinued or curtailed as of March 19. There will be a second adjustment to the student accounts for parking permit refunds in the coming weeks.
Understanding that you may have many questions we outlined our refund procedures in detail on our website. You can find details on eligibility, covered charges and other aspects of the process in the list of Frequently Asked Questions on the Student Accounts Office webpage. Students can email questions to Student Accounts at bursar@cortland.edu.
Thank you for your patience and perseverance during this difficult time.
All the best,
Anna Addonisio, vice president for finance and management
---