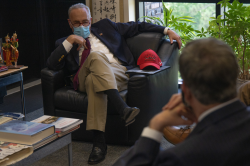 08/13/2020

Senate Minority Leader Chuck Schumer visited SUNY Cortland to meet privately with President Erik J. Bitterbaum and Provost Mark Prus to discuss how the university was coping with the COVID-19 pandemic and the $132 billion for higher education Schumer wants to include in the next federal stimulus package.
The New York Senator and Speaker of the House Nancy Pelosi are negotiating with top White House officials to find a compromise between a $3 trillion stimulus package supported by Senate and House Democrats and a $1 trillion plan proposed by Republican lawmakers.
At Senator Schumer's request, the Democratic plan includes the $430 billion Coronavirus Child Care and Education Relief Act, which would build on the assistance provided to schools, universities and municipalities under the original $2.2 trillion CARES stimulus legislation signed into law this spring.
Cortland Mayor and SUNY Cortland head swimming and diving coach Brian Tobin '94 also met with the senator on campus to discuss financial hardship caused by COVID-19.
"Our local governments and universities have been selflessly navigating the ongoing global pandemic, ripping huge holes in their budgets to prioritize the health and safety," Senator Schumer said. "While the funding for education I secured in the CARES Act helped mitigate some of the financial devastation, as the crisis continues long beyond what anyone imagined, we need to ensure that our local governments like the City of Cortland and world-class institutions of higher education like SUNY Cortland are equipped with the assistance they need."
SUNY Cortland this spring received $6.2 million in stimulus funding under the original CARES Act, including more than $3.1 million that was distributed directly to students in the form of emergency grants related to the health crisis. Drastic cuts in state assistance and expenses related to the health crisis have created multi-million-dollar budget deficits for colleges and universities throughout the country.
Without additional federal support, many institutions, including Cortland, are likely to exhaust their surplus funds and need to consider deep cuts that could impact the quality of the educational experience they provide, President Bitterbaum said.
"The situation is grim," he said. "We are honored by Senator Schumer's interest in Cortland, grateful for the assistance he's helped provide and optimistic that there will be a breakthrough in the current stalemate over this much-needed legislation in Washington."
Senator Schumer has been a frequent visitor to the SUNY Cortland campus, and regularly speaks at the university's undergraduate Commencement. Because of the pandemic, Cortland's on-campus 2020 Commencement ceremony was postponed until 2021.
---