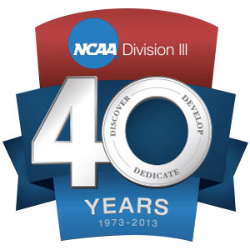 04/07/2014

SUNY Cortland will celebrate the 40th anniversary of Division III athletics by publicizing 40 cool Red Dragon sports facts during national Division III Week.
"40 for 40," based on the "30 for 30" title coined by ESPN to bundle the network's popular documentary film series, gives the College an opportunity to celebrate one of the nation's most storied programs while dispensing some new trivia knowledge about SUNY Cortland athletics.
The third annual Division III Week effort aims to highlight the NCAA's largest division, its 180,000 current student-athletes and the many more who competed before them. Division III took shape in 1973-74, so the week takes on special meaning given the 40-year anniversary.
From Monday, April 7, to Friday, April 11, the College will publish eight new facts each day with a connection to the last 40 years of SUNY Cortland athletics. They'll range from the impressive to the obscure, with nods to Red Dragons past and present.
Friday, April 11
After successful field hockey and women's ice hockey careers at SUNY Cortland, Michele Celestino Falco '01 found even more success — on a popular television game show. In 2006, she won $750,000 on "Deal or No Deal," a record amount at the time of the big score. The best part? She chose the No. 8 briefcase because it was her number as a Red Dragon.
Michele Celestino Falco '01, a former two-
sport athlete, won
$750,000 on "Deal or
No Deal" in 2006.
She's pictured with
host Howie Mandel.
Some perspective on baseball coach Joe Brown's career record prior to the 2014 season (517-142-3): his .784 winning percentage is tops in college baseball — Div. I, II or III — for coaches with at least 10 years of experience. The 2014 season has followed that script. The nationally sixth-ranked Red Dragons are off to a 19-5 start through April 11.
Rikki Daniels won All-America honors in a pair of men's gymnastics events in 1987 and 1988. What's almost inconceivable — he did it without the use of his legs. Daniels was born with arthrogryposis, which meant he relied on a wheelchair with legs too weak to support a strong torso. Despite the inability to dismount, he excelled in parallel bars and pommel horse events when SUNY Cortland competed in men's gymnastics.
The most famous Finch to step in the softball circle undoubtedly is Jennie Finch, the U.S. Olympian and longtime face of the sport. But former Red Dragons pitcher Katie Finch '10 wasn't bad either. Actually, she was one of the best to wear a Cortland uniform. The three-time All-American tallied 1,025 strikeouts during her career, the 11th pitcher in Div. III history to accomplish that feat.
Want to talk about an All-American family? Start with SUNY Cortland's Brown siblings. Scott Brown '99, current pitching coach for Div. I baseball powerhouse Vanderbilt University, was a second team All-America pitcher in 1999. Sister Tori '01 also earned second team All-America honors as a field hockey midfielder in 2000. And sister Heidi, SUNY Cortland's current women's soccer coach, earned second team honors as a defender at Nazareth.
Rikki Daniels, foreground, was born with
arthrogryposis, yet he still won several
All-America honors in men's gymnastics.
Of the 25 different varsity sports currently offered at SUNY Cortland, more than half of them, 13 to be exact, have captured either a team or an individual national championship. The College is closing in on the century mark in individual national titles: 98 of them at the moment in 11 sports.
And Red Dragon teams have captured 23 team national titles — 16 of them in Div. III — across eight sports. Curious about all eight? Men's lacrosse, women's soccer, women's outdoor track and field, women's cross country, women's indoor track and field, field hockey, men's cross country and men's gymnastics, which is no longer a varsity sport.
Yes, SUNY Cortland has been consistently excellent in athletics for several decades. But the Red Dragons also have faced some pretty stiff competition. Some professional athletes you may know who have squared off against Cortland: Detroit Tigers closer Joe Nathan, who played shortstop at Stony Brook when the Seawolves competed in Div. III; Jacksonville Jaguars wide receiver Cecil Shorts, who played football at Mount Union; former New York Jets wide receiver Wayne Chrebet, who played at Hofstra; and U.S. Olympic gymnast Alicia Sacramone, a 2008 silver medalist who competed at Brown.
Thursday, April 10
Flip to a Major League Baseball game on television and there's a chance you'll catch a glimpse of former Red Dragon centerfielder C.B. Bucknor '84. You won't see him in the batter's box, but he could be standing a few feet behind it calling balls and strikes. For 15 years, Bucknor has served as a Major League Baseball umpire.
Before Div. III women's soccer came together, the first-ever Women's Collegiate National Soccer Championship game in 1980 pitted the UCLA Bruins against SUNY Cortland in a game the Red Dragons won, 5-1. The College also marched past Colorado State and Harvard at the national championship tournament in Colorado Springs.
As the Buffalo Bills' official website reports, current head coach Doug Marrone got his first taste of coaching at SUNY Cortland — in 1992 as the College's tight ends coach.
C.B. Bucknor '84 has served as a Major
League Baseball umpire for 15 years.
SUNY Cortland's coaching ties to the NFL don't end with Marrone. Former Academic All-America offensive lineman Paul Alexander '82 has coached with the Cincinnati Bengals for 20 years, most recently as the team's offensive line and assistant head coach. Additionally, when Marrone was hired by the Bills in 2013, he brought in Jason Rebrovich '00 as a defensive quality control coach. A former defensive coordinator for SUNY Cortland's football team, Rebrovich will serve as Buffalo's assistant defensive line coach in 2014.
In 2006, when it came time to pick the best Div. III women's cross country program of the past 25 years for the NCAA's Silver Anniversary celebration, the obvious choice was SUNY Cortland. Coached by the world-renowned Jack Daniels, the Red Dragons captured six national titles in a seven-year span between 1989 and 1995.
Plenty has been written about Gen. Ann E. Dunwoody '75, the first woman in U.S. military history to be promoted to the rank of four-star general. Among the many awards and distinctions she's earned, the Theodore Roosevelt award Dunwoody received in 2011 stands out. The NCAA bestowed its highest honor on the former Red Dragon gymnast and tennis player, and in the process she joined a group of past recipients that includes four former U.S. presidents.
Although SUNY Cortland waited until 2006 to capture its first Div. III men's lacrosse title, the Red Dragons played their way to Div. III's first two national championship games in 1980 and 1981.
During the 1980s, the College's men's lacrosse team picked up regular season wins against several current Div. I squads. That group included Syracuse, Princeton and Cornell.
Wednesday, April 9
It was essentially three games in one, and remains the longest softball game ever played by a Div. III team. In 1992, Cortland dropped a 3-2 heartbreaker in 21 innings to nearby Le Moyne College, a Div. II squad. Le Moyne tied the game 2-2 in bottom of the 7th, then both teams traded zeroes for the next 13 innings before the Dolphins broke through in the 21st.
When the Stony Brook baseball team made an improbable run to the 2012 College World Series, it did so with a former Red Dragon at the helm in head coach Matt Senk '80. The Seawolves knocked off heavily favored teams such as Miami, Central Florida and LSU in becoming just the second No. 4 seed ever to reach the College World Series.
Tara Remington '92 competed in women's lacrosse at the College, but her claim to fame these days is a rowing adventure across the Atlantic Ocean. In 2007, she rowed with three other women from the northwest coast of Africa to the West Indies in less than 52 days, setting the cross-Atlantic rowing record for a four-person female team in the process.
Tara Remington '92, a former women's
lacrosse
player, once rowed across the
Atlantic Ocean, from
the northwest coast
of Africa to the West Indies, as part of a
four-person team.
What the NFL is to football, UFC is to mixed martial arts. And former All-American wrestler Aljamain Sterling '11 made it to the latter's highest stage in February, winning his UFC debut. The 24-year-old Uniondale, N.Y., native is a perfect 9-0 in professional bouts. He signed a four-fight deal with UFC in the winter.
In the past 20 years, several Red Dragons have competed on the national stage for a ticket to the Summer Olympic games — both Michelle LaFleur '95 and C. Fred Joslyn '06 in the Olympic Trials Marathon. But no one has come as close as Michelle "Mickey" Kelly '00. The former standout runner qualified for the 2008 Games in Beijing, with a bronze medal performance in the modern pentathlon at the 2007 Pan American Games. Kelly, however, was relegated to "alternate" status for the Olympics since three Americans were invited to the Games and only two spots were available.
Many former athletes and coaches have gone on to second careers in politics, from basketball hall of famer Bill Bradley (U.S. Senate) to national champion college football coach Tom Osborne (U.S. Congress). SUNY Cortland swimming and diving head coach Brian Tobin '94 is doing both simultaneously, just on a smaller scale. The five-time SUNYAC Coach of the Year also is the mayor of the city of Cortland.
Talk about consistent excellence: SUNY Cortland is one of only four Div. III schools to finish in the top 20 of every Directors' Cup standings, which rank athletic excellence across all sports. Amherst College (Mass.), Middlebury College (Vt.) and Williams College (Mass.) are the others.
The SUNY Cortland men's lacrosse powerhouse isn't the only team led by coach Steve Beville; he also serves as head coach for the Iroquois Nationals men's lacrosse team that will be compete in the 2014 Federation of International Lacrosse World Championships this summer in Denver. The tournament is expected to be the largest international lacrosse event in the sport's history.
Tuesday, April 8
In 1982, the SUNY Cortland women's soccer team knocked off the University of North Carolina, 2-1, in a regular season match-up. The Tar Heels won the national championship that year — the first of an astounding 21 NCAA crowns — and went on to establish themselves a women's soccer powerhouse.
Way before the world knew him as Doug Heffernan on television sitcom "King of Queens," popular funny man Kevin James lined up in Cortland's backfield as a member of the Red Dragon football team in the 1980s.
Call her the queen of diamonds: softball coach Julie Lenhart ranks sixth on the Div. III all-time wins list. She became the seventh Div. III coach to eclipse the 700-win mark in 2012.
The American Hockey League farms top-level talent for the NHL, and the league's Rochester Americans take their lead from former Red Dragon forward Chadd Cassidy '95. Cassidy serves as head coach of the Amerks, the AHL affiliate of the NHL's Buffalo Sabres.
Twin sisters Heather and Heidi Swarts '96
captured individual national titles hours
apart in 1996.
Not only do twin sisters Heather and Heidi Swarts '96 share the same birthday, the former Red Dragons both captured individual national titles on the same day at the 1996 Div. III Women's Indoor Track and Field Championship. And they did it roughly two hours apart. Heather captured the national crown in the 5,000 meters while Heidi took first in the 1,500 meters.
Eight current Cortland coaches can claim more than 200 career Div. III wins. They are Steve Beville (men's lacrosse), Joe Brown (baseball), Pam Hoerup '89 (volleyball), Julie Lenhart (softball), Jeannette Mosher (women's basketball), Tom Spanbauer '83 (men's basketball), Brian Tobin '94 (men's and women's swimming and diving) and Cynthia Wetmore (field hockey).
Few Red Dragons filled the stat sheet like former women's basketball player Jessica Laing '10 did on the hardwood. Laing finished her career with 2,166 points and 1,305 rebounds, both school records. She became the 10th player in Div. III history to join the 2,000-point and 1,000-rebound club, and the only player on that list to also make at least 100 three-pointers.
The first college baseball team to ever compete in Russia? It's another distinction that belongs to SUNY Cortland. During their 2001 trip, the Red Dragons even managed to knock off the Russian national team.
Monday, April 7
Most current SUNY Cortland freshmen and sophomores weren't even born the last time the College's baseball team did NOT make it to the NCAA tournament. Since 1993, the Red Dragons have made 21 consecutive tournament appearances — the longest active streak in Div. III.
The winningest coach in SUNY Cortland history? Former volleyball coach and director of athletics Joan Sitterly, the second women's volleyball coach in Div. III history to earn 800 wins. She coached the College's volleyball team to 816 wins between 1983 and 2004.
R-Kal Truluck's four-year NFL career
included a sack of quarterback Peyton
Manning in a 2004 playoff game.
Besides having the most distinctive name in SUNY Cortland football history, former defensive lineman R-Kal Truluck was also the first and only Red Dragon to play in the NFL. He played four seasons for the Kansas City Chiefs, Green Bay Packers and Arizona Cardinals, and his eight career sacks in the NFL included taking down former Indianapolis Colts quarterback Peyton Manning in a 2004 playoff game. Oh, in case you're wondering, Truluck's first name translates to "ruler of the lake" in Swahili.
You're a pretty big deal when Runner's World magazine dubs you the "world's best running coach." That's the exact title the authoritative, global running publication (circulation 700,000) used to anoint former women's cross country and track coach Jack Daniels on several occasions. World renowned as a distance running coach, Daniels produced eight NCAA team titles, 24 individual national champions and more than 90 All-Americans during his SUNY Cortland career.
Best men's lacrosse game in Red Dragon history? The 2006 Div. III men's lacrosse national championship game, a dramatic 13-12 overtime win for SUNY Cortland over Salisbury University, is a leading contender. Not only did the Red Dragons net the game winner with 2.2 seconds remaining and halt the Sea Gulls' record 69-game winning streak, but they also played in front of what was then a Div. III record crowd of 23,990 at Lincoln Financial Field in Philadelphia.
SUNY Cortland isn't the permanent home of the SUNYAC Commissioner's Cup, although it might seem like it. The College has captured the honor, awarded to the conference's top athletic program, in 16 of the 17 years it has been awarded.
This year didn't just mean another strong finish for the College's wrestling team, which tied for sixth nationally in 2014. In February, during a dual meet, sophomore Nyasa "Tiny" Bakker became the first SUNY Cortland woman to wrestle in a Red Dragon uniform.
The SUNY Cortland women's lacrosse team has won 47 straight home games, the longest current home winning streak in Div. III. The Red Dragons will look to continue their dominance during Div. III Week when they host Buffalo State at 12:30 p.m. Saturday.
---