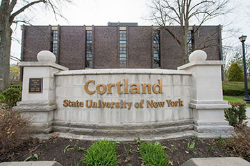 08/07/2020

SUNY Cortland students can begin screening themselves for COVID-19 risk factors through the university's new online tool starting Friday, Aug. 7.
ALL students MUST answer the short series of questions, take any recommended action and electronically sign an agreement to follow all policies and procedures put in place by SUNY Cortland in response to the global pandemic.
The pre-arrival screening should be completed 14 days before your planned arrival on campus. That will allow time for quarantine or isolation, should they be required.
No student will be allowed on campus until the screening is completed. Lack of compliance could also lead to disciplinary action, including placement of a hold on a student's account.
Students will find the screening tool on myRedDragon, under the Red Dragon Safe tab.
The tool, developed in accordance with Centers for Disease Control guidelines, assesses an individual's potential COVID-19 risk factors by asking about symptoms, contact with infected persons and other potential signs of the virus. In some cases, medical attention might be recommended. In others, a precautionary quarantine may be required.
Once on campus, all members of the university community will be required to do a similar daily screening every morning, even on days they do not plan to come to campus. Details of that process will be announced later this month.
Please keep in mind that no screening tool is perfect. Even if no action is recommended, a student could still be an asymptomatic carrier of the virus. That is why ALL students are being asked to self-quarantine for at least seven days before their scheduled campus arrival, regardless of their screening result.
We are also asking that, starting now, all students who are not already doing so should begin habitually following safety practices such as physical distancing, using face coverings and frequent hand washing. It will be expected throughout the semester and enforced as an element of the Student Code of Conduct.
Only by working together and committing to this type of constant vigilance can we hope to control the spread of this virus which, for at least the near future, has no cure. Students' personal health – as well as the health of friends, family members, faculty members, staff and neighbors – is at stake.
---