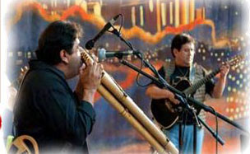 10/02/2013

The Mystic Warriors, dedicated to the preservation of Andean folk music, will use ancient flutes and panpipes in conjunction with contemporary instruments during their concert on Friday, Oct. 11, at SUNY Cortland.
The performers, who seek in their music to remain true to the art, culture and heritage of the Quechua and Aymara people in Bolivia and other pre-Inca civilizations, will begin their recital at 7 p.m. in the Corey Union Exhibition Lounge.
Presented by the College's Campus Artist and Lecture Series (CALS), admission to see Mystic Warriors is $3 for SUNY Cortland students and $5 for general admission. Children 10 and under will be admitted free.
Tickets for the event can be purchased in Corey Union, Room 406, weekdays from 8:30 a.m. to 4 p.m.; by calling 607-753-5574; or beginning one hour prior to the performance at the venue. All seating is general admission.
Crossing musical boundaries and defying definition, the Mystic Warriors are proud to share their musical heritage and universal message of peace and harmony.
"While their music appears to fit into the 'New Age' category, it often sounds like world music, contemporary jazz, Latin or mainstream popular," described a Potomac Overlook Regional Park reviewer. "The performers believe their music is a fusion that crosses over all of these without leaving the boundaries of Andean Music."
Mystic Warriors was founded in 1993 by Andres and Marco Mallea in Washington, D.C. While growing up, they were influenced by pop music and culture, classic rock and contemporary jazz, a mix that influenced their music as much as their Andean background.
Having performed with various traditional Andean groups in the United States, the pair decided to make their music more accessible to their American audience by adding contemporary instrumentation such as guitar synthesizers, drums and bass.
That year they recorded their first album. Self-titled "Mystic Warriors," it is a fusion of ancient and modern instruments that allowed them to express themselves to a wider, larger audience and create their unique style.
In 1995 they recorded "The Shadow of the Sun," continuing the blend of ethnic Andean instruments and melodies with contemporary sounds and arrangements.
Mystic Warriors also tours the United States, performing at festivals and music and other venues, including all major U.S. government agencies, foreign embassies, museums, the Smithsonian Institution and the Kennedy Center. In 1994 by special invitation they performed at the White House for Hispanic Heritage Month celebration.
The Malleas have shared stage with Tito Puente, Bo Diddley, Tom Rush and Spiro Gyra. They have recorded music for various National Geographic documentaries and received many awards, including the 1997 "Ringo" Music Award from The Washington Hispanics for "Best International Folk and World Music Group."
For more information about Mystic Warriors, visit the band's website at www.mysticwarriors.com.
For ticket information or questions regarding CALS events, contact the Campus Activities and Corey Union Office at 607-753-5574 or visit the CALS Web page.
Needs of patrons with mobility challenges are accommodated through special seating assignments. Advance notice is appreciated.
CALS is funded by the student activity fee and grants from the Auxiliary Services Corporation, the Cortland Fund, the Cortland College Foundation and the Strategic Initiative Advancement Fund.
---