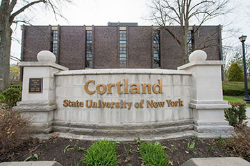 07/31/2020

The following update on SUNY Cortland's fall 2020 restart plans was being sent on behalf of President Erik J. Bitterbaum:

If, as we expect, New York universities are allowed to return to on-campus education this fall, it will be a semester like no other. All aspects of daily life — from how students, faculty and staff walk through hallways to how they use the restroom — will be impacted by the need to keep our community as safe as possible from COVID-19.

Understanding those changes and the role each of us will play is critical to SUNY Cortland's ability to restart safely and operate through the end of the semester. To assist with that, today I am announcing a new website that will incorporate our restart plan and offer additional information in an easy-to-use format.

The Fall 2020 Campus Guide will be updated frequently as our plans adapt to the changing situation. Students, families, faculty, staff and Cortland community members are encouraged to bookmark it and check it regularly for new information about what SUNY Cortland is doing to keep you safe during the pandemic and what you can do to stay healthy or prevent inadvertently spreading the virus to someone else. When you have a question, this site should be your first stop.

Earlier this week, a message to student leaders detailed the new restrictions and requirements that all student organizations will be expected to follow this fall. For example, most campus meetings and events will be virtual, no speakers will be allowed on campus and in-person events will be capped at 50 people. We are committed, however, to both student safety and the creativity needed to make sure our students have opportunities to connect and engage in co-curricular experiences.

Students scheduled to live on campus this fall should be aware that room assignments and move-in dates and times originally scheduled to be posted on Saturday, Aug. 1, will be delayed to give Residence Life and Housing Office staff additional time to accommodate students' housing requests. Room assignments and move-in information will now be available through myRedDragon starting at 9 a.m. on Monday, Aug. 10. Students will receive an email notification once assignments are available to view.

Students who plan to live off campus should be aware that the City of Cortland is discussing new ordinances aimed at encouraging safe behavior and healthy living situations. We are coordinating with the city and seeking the cooperation of landlords to ensure that potentially dangerous off-campus behavior, such as large house parties, is shared with the Student Conduct Office.

We have had requests from students who wish to take all of their classes online so they do not have to attend classes in person. SUNY Cortland will try to accommodate students with concerns about in-person instruction, but we cannot guarantee that every course in an individual's schedule can be taken remotely. Your ability to go completely online will depend on your individual program requirements and the online courses available. Requirements for a number of programs involve activities where students must be present and in a face-to-face environment. Faculty have taken these issues into consideration when making plans about which classes may or may not be offered online. When it is available, please review your fall class schedule and let your academic advisor know if you would like to work together to see if you can find an alternative outcome that best meets your circumstances.
On Monday, Aug. 3, non-essential employees will begin gradually returning to campus. At first, all offices and departments will be staffed at no more than 50% of their normal occupancy. All employees must follow the same guidelines for face coverings, physical distancing and hygiene as students. A new daily screening tool, which all faculty and staff must complete each morning, is now available through the new Back to Work channel in myRedDragon. All employees must use the site to certify that they have watched a Back to Work training video and completed a daily screen that looks for possible illness or exposure to the novel coronavirus and provides individualized instructions.
Students will be required to do a similar daily screen, which will be available through myRedDragon soon. As a reminder, they are expected to complete a screen at least 14 days before coming to campus, giving them time to quarantine at home if that is necessary. All students, regardless of screening results, are expected to quarantine at home for at least seven days before coming to Cortland.
We realize that we are asking a lot from our community members, but, given the enormous potential consequences of an outbreak, we believe it is reasonable. We look forward to working together to make the upcoming semester a success.

All the best,

Erik J. Bitterbaum
---