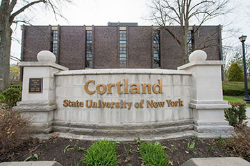 03/26/2020

The following message was sent on behalf of Provost Mark Prus:
The situation created by the COVID-19 outbreak is changing on a daily basis, resulting in many directives from the New York State Health Department, SUNY Chancellor Kristina M. Johnson and the Governor Andrew Cuomo. In light of these edicts, we made the decision that students will not return to the campus to resume face-to-face instruction on April 13 as originally planned. Instead, we will deliver the remainder of the spring semester through distance learning. I understand that this is less than ideal, but this is the most feasible alternative for completing the spring semester.
As a reminder, please note the following:
All classes will resume on March 30.
Course instructors will contact students with details for each class.
Courses may meet online at their previously scheduled course time to avoid conflicts for students. For this reason, students should make no other commitments during their scheduled class times.
An instructor may tell you the class is asynchronous, which indicates there is no specific meeting time. Pay particular attention to assignment due dates and deadlines.
Classes will end May 15 and there will be no final exam week. Faculty will be able to give finals during the last week of classes.
In the upcoming week, a decision on grading options, including pass/fail options, will be shared with you.
If you are having difficulty with technology, please see support information to help you navigate any problems you may be having. Access to Library services is also available at https://cortland.libguides.com/COVID-19.
Faculty and staff recognize the challenges of changing course delivery and doing your academic work remotely. We also understand that the challenges of COVID-19 go far beyond your educational experience.
Please know we will do everything possible to support you.
Mark J. Prus
Provost and Vice President for Academic Affairs
---