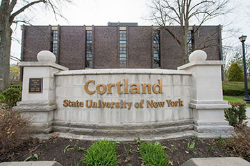 03/23/2020

The following message was sent to students on behalf of Vice President for Student Affairs Greg Sharer:
I am reaching out with an important update to my earlier email about student behavior as it relates to a recent state executive order aimed at slowing the spread of COVID-19.
As we continue to work together to slow the spread of the cornoavirus, it is important that all SUNY Cortland students who remain in Cortland understand their responsibility as residents of the greater Cortland community, and the expectations that come with it.
These expections were laid out by Governor Andrew Cuomo in the 10-point New York State on PAUSE plan. The executive order went into effect statewide at 8 p.m. Sunday.
We understand that some of you may choose to return to your off-campus residences as you continue your academic work through distance education and remote learning. In doing so, it is imperative that you follow the direction of Governor Cuomo's executive order regarding physical distancing.
This means, among other things:
You may not host or attend gatherings of any number of people.
You must maintain a distance of at least six feet from other people.
You should limit outdoor recreational activities and not participate in contact or group sports.
You should limit use of public transportation.
You may not have a congregation of people outside your home.
You should avoid contact with vulnerable populations.
You should use precautionary sanitary procedures such as using alcohol wipes or hand sanitizer.
Students choosing to ignore these health and safety directives may be charged through the student conduct process and could face immediate suspension from SUNY Cortland.
We take these restrictions very seriously, and so should you. They are necessary not only to protect your health and safety during the COVID-19 outbreak, but also the health and safety of your friends, family and fellow Cortland community members. Remember, it is possible for people without symptoms to inadvertently spread the virus to others, some of whom may be older, have compromised immune systems or underlying medical conditions that could make the disease fatal.
For students who do choose to return to off-campus residences, please be reminded that only essential personnel are currently on campus, with the majority of faculty and staff working remotely. Campus offices and services are available but access to most of these is being facilitated through remote appointments. Campus amenities such as the Student Life Center are closed until further notice, and dining services have been reduced to take-out meals only.
Individuals living in off-campus dwellings should be diligent in maintaining safe distances from others inside the house or apartment. Those students should avoid gathering in groups in common living spaces. Additionally, if going outside is necessary, be sure to follow guidance on personal protective measures such as frequent hand washing. This is especially important when returning from places such as gas stations or grocery stores. Residents sharing off-campus living spaces should also frequently clean and sanitize all surfaces, starting with those surfaces touched often by members of the same living space (door knobs, tables, kitchen appliances).
Please be responsible, be smart and, most importantly, be safe.
Greg Sharer
Vice President for Student Affairs
---