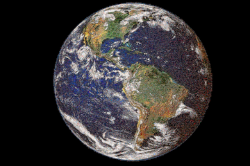 05/18/2020

Dear Class of 2020,
Have you ever dreamed of flying to the International Space Station?
There are only two spots for astronauts on the fittingly named Dragon spacecraft SpaceX is sending to the International Space Station on May 27. But there's still some room for Red Dragons.
SpaceX and NASA are inviting graduating students from around the world to submit a photo that will be printed and assembled in a mosaic that will go to space.
To submit your photo and to view the mosaic, visit spacex.com/classof2020. Unfortunately, the countdown has already begun so you'll need to act fast. The deadline for submissions is Wednesday, May 20.
NASA astronauts Bob Behnken and Doug Hurley will spend 30 to 119 days on the International Space Station as part of what SpaceX is calling its Demo-2 mission. It is the first time Americans have flown to orbit on an American rocket from an American launch pad since July 2011. Behnken and Hurley have been trained to participate in many of the hundreds of scientific experiments being conducted onboard the International Space Station.
If you send a photo into space, share it with us on social media using the hashtag #Cortland2020.
---