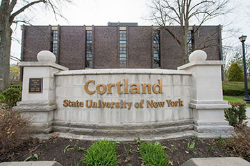 07/23/2020

The following message was sent to all students on behalf of President Erik J. Bitterbaum:
Dear students,
Safely returning to the SUNY Cortland campus for the fall semester will require all students to be vigilant about their potential exposure to COVID-19. I am reaching out today because your vigilance must begin this summer, weeks before you plan to come to Cortland.
At least 14 days before your scheduled arrival, you must complete a pre-arrival screening questionnaire. It will be available online in early August.
By using the screening tool to identify students at risk, we can provide personalized instructions for quarantine or isolation prior to arrival on campus. Based on your responses, you will be given detailed instructions about the measures you must take before you will be allowed to participate in classes, move into university housing or participate in campus activities.
Any students in the following categories MUST isolate or quarantine at home for 14 days before coming to campus:
International students should come to Cortland 14 days early to quarantine on campus while carefully following the quarantine instructions in the letter sent to them by the Residence Life and Housing staff.
All students coming from one of the high-risk states listed on the New York State website will need to self-quarantine for 14 days after entering New York state. Students in this category who plan to live on campus for the fall should come to campus 14 days early to quarantine on campus. Students who plan to live off-campus should contact their landlords to see if they can arrange to move in early and complete their quarantine before classes start. If they are not able to arrive early, they will be required to self-quarantine for 14 days from the date they arrive. They should contact their instructors to arrange for remote participation until they are cleared to attend class in person.
Upon arrival at campus, all SUNY Cortland students will be asked to sign a document attesting that they have completed the screening and fulfilled all recommended actions. This is required even if the screening determined they were not at high risk.
ALL students, regardless of screening result, are also being asked to self-quarantine for seven days before coming to campus. This is an additional protective measure that other universities are also taking.
Between now and the return to campus, all students should continue reducing the risk of infection by limiting travel, avoiding gatherings, scrupulously washing their hands, wearing a face covering and other recommended practices.
Once in Cortland, all students will begin a process of daily screening to identify new risk factors or illness symptoms and provide individual guidance regarding isolation, quarantine or the need for medical evaluation. This screening tool will be available for students to incorporate into their daily routines during the last week of August.
Protecting the health and safety of our students has always been SUNY Cortland's top priority. In order for us to restart campus education during the current pandemic, however, we need the cooperation and commitment of each and every one of you.
All the best,
Erik J. Bitterbaum
---