Accreditation status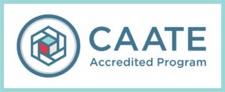 SUNY Cortland's Master of Science in Athletic Training is accredited by the Commission on Accreditation of Athletic Training Education (CAATE), located at 6850 Austin Center Blvd., Suite 100, Austin, TX 78731-3184. The program will have its next comprehensive review during the 2027-2028 academic year.
Student learning outcomes
Implement systematic, evidence-based examinations and assessments to formulate a clinical diagnosis and determine patient's plan of care.
Integrate evidence-based practice to deliver current practices to promote optimal patient care.
Develop a value system based on the standards of expected care in accordance with the athletic training professional and ethical standards.
Demonstrate effective written and oral communication skills.
Demonstrate professional growth and actively participate in the athletic training profession.
BOC exam pass rate for undergraduate program
| | | | | | |
| --- | --- | --- | --- | --- | --- |
| | 2016-17 | 2017-18 | 2018-19 | 2019-20 | Three-year aggregate |
| Number of students graduating from program | 17 | 18 | 13 | 17 | 48 |
| Number of students graduating from program who took examination | 17 | 17 | 13 | 16 | 46 |
| Number of students who passed the examination on the first attempt | 14 | 13 | 9 | 13 | 35 |
| Percentage of students who passed the examination on the first attempt | 82% | 76% | 69% | 81% | 76% |
| Number of students who passed the examination regardless of the number of attempts | 16 | 17 | 12 | 15 | 45 |
| Percentage of students who passed the examination regardless of the number of attempts | 94% | 100% | 92% | 94% | 98% |
Retention rate for undergraduate program
| | | | | | |
| --- | --- | --- | --- | --- | --- |
| | Spring 2017 | Spring 2018 | Spring 2019 | Spring 2020 | Most recent three-year aggregate |
| Students admitted to program | 15 | 18 | 17 | 11 | 50 |
| Students returning the first fall | 15 | 18 | 17 | 11 | 50 |
| Percent of students returning first fall | 100% | 100% | 100% | 100% | 100% |
| Number of students returning second fall | 13 | 17 | - | - | 30 |
| Percentage of students returning second fall | 87% | 94% | - | - | 90.5% |
Graduation rate for undergraduate program
| | | | | | |
| --- | --- | --- | --- | --- | --- |
| | 2016-17 | 2017-18 | 2018-19 | 2019-20 | Most recent three-year aggregate |
| Number of students admitted to program | 18 | 18 | 15 | 17 | 52 |
| Number of students who graduated | 17 | 18 | 13 | 17 | 48 |
| Percentage of students who graduated | 94% | 100% | 87% | 100% | 94% |
Employment rate for undergraduate program
2016-17

2017-18

2018-19

2019-20

Three-year aggregate

#

%

#

%

#

%

#

%

#

%

Students graduated from program

17

100%

18

100%

13

100%

17

100%

48

94%

Employed as an athletic trainer

4

24%

10

56%

11

79%

6

35%

31

65%

Employed as other

0

0%

5

28%

2

14%

0

0

5

10%

Not employed

0

0%

0

0%

1

7%

5

29%

6

12%