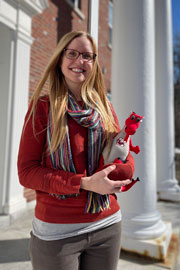 Campus Champion
SUNY Cortland recently celebrated Employee Appreciation Day, sharing gratitude — and cookies — with the university's employees. Among those behind the scenes, and inside the Blaze costume, was Monica Ryan, manager of editorial services, who serves on the Red Dragon Recognition Committee. Monica demonstrates positivity in everything she does, whether it's editing copy or instructing others about the university's writing style and brand identity. As a dedicated volunteer, Monica is a champion. She serves on countless committees — Commencement, Honors Convocation, Anti-Racism Task Force, Handbook, and many search committees — exhibiting the dedication and enthusiasm that SUNY Cortland celebrates.

Nominate a Campus Champion
---
Tuesday, March 21
Workshop: Understanding and Advocating for Racial Justice, register for Racial Justice Workshop #2, 3 to 5 p.m.
---
Wednesday, March 22
Starfish Learning Opportunity: Session will focus on students scheduling advising appointments directly with your Outlook calendar on days and times you set, online via WebEx, 9 a.m.
Comedian Paul Conyers: Corey Union Exhibition Lounge, 7 to 8 p.m.
---
Thursday, March 23
Starfish Learning Opportunity: Session will focus on students scheduling advising appointments directly with your Outlook calendar on days and times you set, online via WebEx, 9 a.m.
Women's History Month Presentation: "Putting the Story back into History: A look at Title IX and the ERA in a Personal Family "Herstory," presented by Joy Mosher, associate professor of childhood/early childhood education emerita, Old Main Colloquium, noon.
Lecture: The Resurgence of China and India in the World-Economy, presented by Ravi Palat, professor, Sociology Department at SUNY Binghamton, Sperry Center, Room 104, 4:30 p.m.
Dowd Gallery Panel Discussion: Voices of Student Artist, a group of students representing Cortland and Homer School districts, Dowd Gallery, Room 106, 5 p.m. As part of the Imagination Celebration, exhibition of art by K-12 Students and Teachers
Film Screening: Outta the Muck, followed by Q&A with the filmmaker Ira McKinley, Sperry Center, Room 204, 6 to 8 p.m.
---
Friday, March 24
Starfish Learning Opportunity: Session will focus on students scheduling advising appointments directly with your Outlook calendar on days and times you set, online via WebEx, 11:30 a.m.
Women's History Month Virtual Lecture: "Interactive Workshop: Building an Inclusive Foreign Affairs Community with Alexandria J. Maloney," presented by Alexandria J. Maloney, president, Black Professionals in International Affairs. Online via Zoom, link, noon.
Professional Development: Pebbles Make the Mountain — Appreciating Small Wins and Aspirations: Corey Union Exhibition Lounge, 1 to 3 p.m.
Performance: Cabaret, Dowd Fine Arts Center Lab Theatre, 7:30 p.m. Visit the Box Office website to purchase tickets.
---
Saturday, March 25
Relay for Life: Join the American Cancer Society on Campus to raise funds though games, snacks, inflatables and a walk, Lusk Field House, 2 to 6 p.m.
Celebration of Women: Reception hosted by Women of Color, Corey Union Exhibition Lounge, 6:30 to 10 p.m.
Performance: Cabaret, Dowd Fine Arts Center Lab Theatre, 7:30 p.m. Visit the Box Office website to purchase tickets.
---
Sunday, March 26
Performance: Cabaret, Dowd Fine Arts Center Lab Theatre, 2 p.m. Visit the Box Office website to purchase tickets.
---
Tuesday, March 28
Starfish Learning Opportunity: Session will focus on students scheduling advising appointments directly with your Outlook calendar on days and times you set, online via WebEx, 1 p.m.
Grow Your Own Plant: Hosted by the Biology Club, take home vegetable or herb seeds, Bowers Hall lounge, 6:30 to 7:30 p.m.
---
Wednesday, March 29
Women's History Month Lecture: "Throwing Like a Girl: Culture, Language, and Post-Feminism," presented by Karla Alwes, Distinguished Teaching Professor of English Emeritus, Old Main Colloquium, noon.
Lecture: "Brewing a Bavarian Moment: Beer and the Construction of West Germany, 1945-1950," presented by Robert S. Terrell, assistant professor of history, Maxwell School of Citizenship and Public Affairs, Syracuse University, Sperry Center, Room 104, 4 p.m.
Dowd Gallery Round Table: Voices of Art Educators, Dowd Gallery, Room 106, 5 to 6 p.m.
---
Thursday, March 30
Women's History Month Lecture: "Women in The Sport Industry: Alumni Panel," presented by Erin Morris, Sport Management Department, location TBD, 6:30 p.m.
---
Friday, March 31
Performance: Cabaret, Dowd Fine Arts Center Lab Theatre, 7:30 p.m. Visit the Box Office website to purchase tickets.
Musical Performance: ARKAI, a genre-defying electroacoustic duo of Jonathan Miron and Philip Sheegog joins with the unique versatility of percussive artist Jeremy Smith, Old Main Brown Auditorium, 8 p.m.
---
Saturday, April 1
7th Annual SUNY Cortland Literacy Department Conference: Online via Zoom, 9 a.m. to 2 p.m.
Accepted Student Open House: Park Center, 9:45 a.m. to 1 p.m.
Kente Celebration: Corey Union Function Room, 5 p.m., check-in starts at 4 p.m.
Performance: Cabaret, Dowd Fine Arts Center Lab Theatre, 7:30 p.m. Visit the Box Office website to purchase tickets.
---
Sunday, April 2
Performance: Cabaret, Dowd Fine Arts Center Lab Theatre, 2 p.m. Visit the Box Office website to purchase tickets.
---
Tuesday, April 4
Dowd Gallery Documentary Screening: Why Art Education Matters Part 1, Compilation of Shorts and Talks, Dowd Gallery, Room 106, 5 to 6 p.m. As part of the Imagination Celebration, exhibition of art by K-12 Students and Teachers.
Alumni Speaker Series: Careers in Human Services, presented by the Alumni Association and Career Services, online, register on Handshake or join that evening on Zoom, 6:30 to 8 p.m.
Y2Karaoke: Corey Union first floor lounge, 7 to 9 p.m.
---
---
Life is a "Cabaret" at SUNY Cortland
03/20/2023
SUNY Cortland's Performing Arts Department bids you willkommen, and invites you to share in the experience of one of Broadway's all-time popular musicals: "Cabaret."
Set at the Kit Kat Klub nightclub in Berlin, it portrays the last gasp of democratic Germany in 1929-30 as the Nazi Party rises to power. All performances will take place at the Lab Theatre in the Dowd Fine Arts Center, with showtimes scheduled for:
Friday, March 24 — 7:30 p.m.

Saturday, March 25 — 7:30 p.m.

Sunday, March 26 — 2 p.m.

Friday, March 31 —7:30 p.m.

Saturday, April 1 — 2 and 7:30 p.m.

Sunday, April 2 — 2 p.m.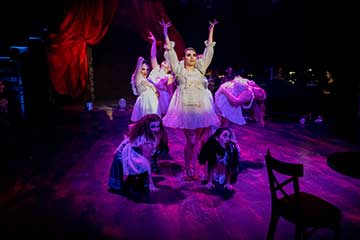 "Cabaret" debuted in 1966, and is still viewed as a groundbreaking, powerful show more than a half century after its premiere. There is no one secret to its success, says director Deena Conley, chair of the Performing Arts Department, but the musical's ability to entertain while tackling a sinister topic is part of its enduring appeal.
"Works of art remain in the canon because they typically contain themes and evoke feelings that are timeless," Conley said. "Hate of those we don't understand, targeting others to assume blame for personal or global problems, and finding beauty and love within the worst of circumstances are all topics that we still see in our society today."
Conley describes "Cabaret" as a "gut punch" as laughs, songs and dance intertwine with one of the darkest chapters of history. To see the relevance of it today, Conley says you only need to check the news to see the ongoing struggle against dictators and authoritarians.
It's an idea shared by Harry Sperduto, the sophomore musical theatre major from Glen Gardner, New Jersey, playing Cliff, an American writer who watches as fascism transforms Germany.
"I'm very excited for 'Cabaret' because the cast and crew have worked so hard to make this show look and sound as good as it does," he said. "It portrays events and issues that are still relevant to our current world, so it's important to tell this story."
As part of the retelling, Cortland aims to bring its own influence to the Tony-winning show.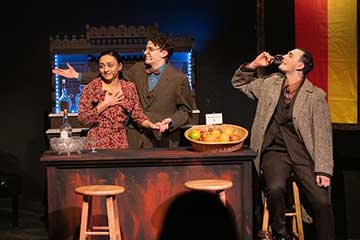 "This is one of my top three favorite musicals, so the pressure for me is from within," Conley said. "I can't worry about other people's thoughts about my interpretation, I must tell the story in the way that I perceive it. I can't speak for the cast and creative team, but I think the excitement of bringing these characters to life outweighs the fear."
One of the main decisions made for the production was the choice of the Lab Theatre over Dowd Fine Arts Center Theatre. Conley and set designer Scott Holdredge agreed that many "Cabaret" productions have sets too "clean" for the nature of the script and that the Lab Theatre would more easily convey the feel they wanted.
"We have set the space up so that there are some tables on the stage," Conley said. "Those who sit there are even more immersed in the world than those who opt to sit on the risers. The actors will interact with those at the tables, so if you're interested in that experience, be early because seating in the Lab is general admission."
Seating can be purchased online through SUNY Cortland's Ticket Office.
Yung Gravy will headline Spring Fling
04/20/2023
Platinum-certified rapper Yung Gravy will headline SUNY Cortland's Spring Fling concert on Saturday, April 29 in the Park Center Alumni Arena. Also performing will be D.J. Lady Verse and country singer Kristen Merlin.
Doors open at 6 p.m. for the 7 to 11 p.m. show. Tickets remain on sale in person on select dates. Follow the SUNY Cortland Student Activities Board on Instagram for full details.
Payment is cash only — $20 for Cortland students, $30 general admission and $50 at the door.
The concert caps a week of Spring Fling activities organized by the Student Activities Board, including the annual Spring Fling Carnival, which will be held on the lawn of Moffett Center from 11 a.m. to 3 p.m. on the day of the concert. The carnival also marks the final opportunity to purchase tickets at the Cortland student price.
A full list of events is included below.
Yung Gravy blends modern rap with vintage themes from music of the 1950s through the 1980s to create energetic and amusing songs. He first gained recognition in 2016 with "Mr. Clean," which went platinum. In 2022, he released his first Billboard Hot 100-charting hit, "Betty (Get Money)."
His song "Gravy Train" became the locker room victory anthem of the Tampa Bay Lightning as they moved toward their eventual 2022 Stanley Cup title and was inscribed inside the teams official Stanley Cup rings.
Spring Fling 2023 Events Schedule
Friday, April 21
Spring Fling T-shirt Giveaway
Corey Union Information Desk
4 to 6 p.m.
Saturday, April 22
Spring Fling Color Run
Begins at Dowd Fine Arts Center
11 a.m. to 2 p.m.
Sunday, April 23
Tie-Dye Spring Fling T-shirts
Corey Union Patio (Rain location: Corey Union, first floor)
3 to 5 p.m.
Monday, April 24
Spring Fling Bingo Night
Sperry Center, Room 105
7 to 9 p.m.
Tuesday, April 25
Spring Fling Comedy Night
Corey Union Exhibition Lounge
8 to 10 p.m.
Wednesday, April 26
Spring Fling Groovy DIY Night
Corey Union Function Room
6 to 8 p.m.
Friday, April 28
Spring Fling Glow Foam Party
Quad between Hendrick and Hayes halls (Rain location: Corey Union Function Room)
8 to 10 p.m.
Saturday, April 29
Spring Fling Carnival
Moffett Center lawn
11 a.m. to 3 p.m.
Spring Fling Concert: Yung Gravy
Park Center Alumni Arena
7 p.m.
---
Capture the Moment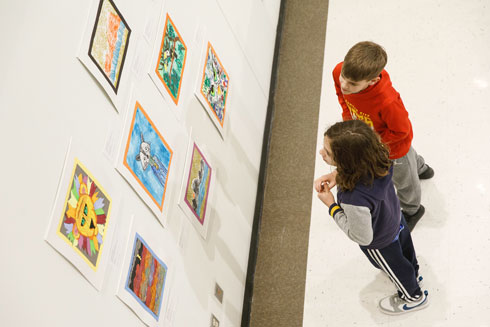 Community members of all ages attended an opening reception for an "Imagination Celebration" exhibition on Thursday, March 9, in Dowd Gallery. The exhibition, which continues through Friday, April 14, features artwork by students and art teachers from four local school districts — Cortland, Homer, McGraw and OCM BOCES. Read more.
---
In Other News
SUNY Cortland officer gains national attention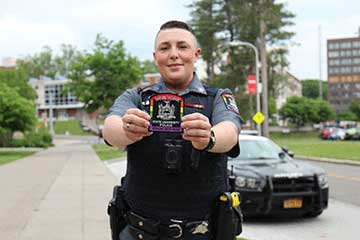 03/17/2023
Lt. Danielle Salisbury of the SUNY Cortland University Police Department is getting national recognition from 30×30 Women in Policing.
The coalition of police leaders, researchers and professional organizations describes itself as seeking to advance the representation and experiences of women in policing across the United States.
Salisbury's interview in the From the Field section of the 30x30 website, which the group describes as "Lifting up the voices of women leaders," discusses her motivation, dedication to policing and advice for other women in the policing profession. The profile also highlights a recent contribution by Salisbury that has had a major impact on and off of Cortland's campus: pride badges.
"The New York State University Police are proud to have Lt. Salisbury profiled by the 30x30 Initiative," said Mary Sullivan Ritayik '97, New York State University police commissioner and SUNY Cortland graduate. "She represents many female officers in this field who dedicate their career to helping others in their community."
A fan of art and design, Salisbury came up with the idea for the first-ever SUNY-wide embroidered uniform badges that show support for lesbian, gay, bisexual, transgender, queer or questioning, intersex and other non-heterosexual campus community members. The idea began as part of a goal to strengthen bonds between the UPD and the campus, Cortland and wider LGBTQA+ community.
Made available for sale, much of the money spent on the badges was donated to the Point Foundation, a college scholarship fund for lesbian, gay, bisexual, transgender, and queer students in the U.S.
"Her dedication to building community trust and her initiative to raise awareness for the LGBTQA+ community demonstrates her progressive leadership," Ritayik said. "I am happy to see her moving up in the career ladder as she sets a great example to other female officers and demonstrates that career advancement in this field is attainable."
SUNY Cortland continues its efforts to lead by example on gender equality. Last year, its UPD joined with 30x30 to pledge to increase the percentage of women officers in its rank from 20% to 30% by 2030 and to promote them to higher levels in rank. On average, women currently make up only 12 %of sworn officers and only 3 % of the law enforcement leaders in the country.
According to 30x30, having more women in policing isn't just a matter of inclusion, but a boost to public safety. Research cited by the group indicates that women officers use less excessive force, are named in fewer complaints and are seen on average as more honest and compassionate.
Alum honored as young literacy leader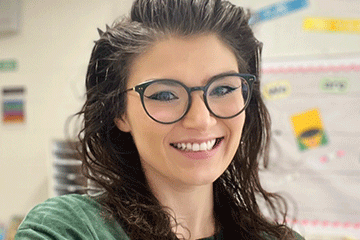 03/21/2023
If a child in the classroom of Newfield (N.Y.) Elementary School teacher Elisa Rodriguez M '19 would rather play a video game, go on social media or watch television than read, she'll say, "Sure. Just turn on the subtitles.
"I tell them all the time, 'Visual scanning of the words as you listen to the audio is going to help you pick up things you don't always notice,'" said Rodriguez, a K-5 intervention specialist in reading at Newfield Elementary, located in a small community outside Ithaca, N.Y.
"I think that a lot of what I try to do is just bring back some of that creativity and that joy to learning literacy skills. I'm trying to bring in non-academic things just to help the children stay motivated."
Rodriguez's non-traditional approach isn't the only thing that sets her apart from her peers. Recently, she was recognized by one of the world's largest reading education organization's 30 Under 30 literacy leaders. The International Literacy Organization (ILA), a professional group with more than 300,000 members in 128 countries, was honored for her talent at getting children to master the difficult and essential skill of reading.
Rodriguez, 29, who's worked in the Newfield District since Fall 2022 and earned an M.S.Ed. in literacy at SUNY Cortland, joined a global group of young educators and advocates from 15 countries. Fellow literacy standouts work in the United States, Norway, Afghanistan, South Africa, Albania, Ghana, Senegal, Bangladesh, Kenya, Hong Kong, Indonesia, Nepal, Philippines, France and Côte d'Ivoire.
The organization's 30 Under 30 program, launched in 2015, casts an international spotlight on teachers, researchers, philanthropists, advocates and activists who share the common goal of literacy for every child.
In her ninth year of teaching, Rodriguez presently is part of a four-person team with two other reading specialists and a math academic intervention specialist.
As part of her role as the president of the Seven Valleys Reading Council, a ILA affiliate, she organizes literacy-centered professional opportunities for practicing and preservice educators, including virtual sessions focused on diversifying text sets and how the pandemic changed the teaching and learning of literacy skills across all grade levels.
After earning her bachelor's degree in English in 2014, Rodriguez taught in Ohio and later co-taught a high school global literature class that combined English and history for the Board of Cooperative Educational Services (BOCES).
"I knew I always wanted to be in education and always wanted to be teaching," Rodriguez said.
"I realized that a lot of the difficulties I dealt with in the classroom had to do with students' perception of themselves as readers and writers," Rodriquez said of her decision to pursue a literacy degree. "Cortland's Literacy Program really helped me become a lot more focused on that reading route.
"The work we did in terms of learning diagnostics was super helpful and very relevant because that's really what I do now," Rodriguez said. "They give you the foundational knowledge, the framework and the tools you need to succeed in different settings.
"It's like they were just giving you the keys and then you can unlock what you need in your practice."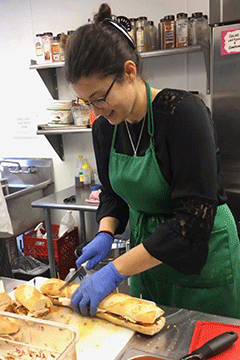 Her teaching also is shaped by her own very positive experience in school.
"When I was young, school was my happy place, my very successful place," full of comfortable furniture and enjoyable children's books read under the guidance of her kind teacher.
Rodriguez works especially hard with learners who may seem disenfranchised with reading and writing in general.
"Based on what had happened to them historically in school, at some point they decided, 'Oh, I guess I'm not a writer, I'm not a reader, so I just don't want to do this,'" she said.
"You're watching them try to navigate learning a difficult skill while you're trying to keep it fun and not frustrating, trying to keep it a game by incorporating a lot of play into what they do."
Mascot Madness returns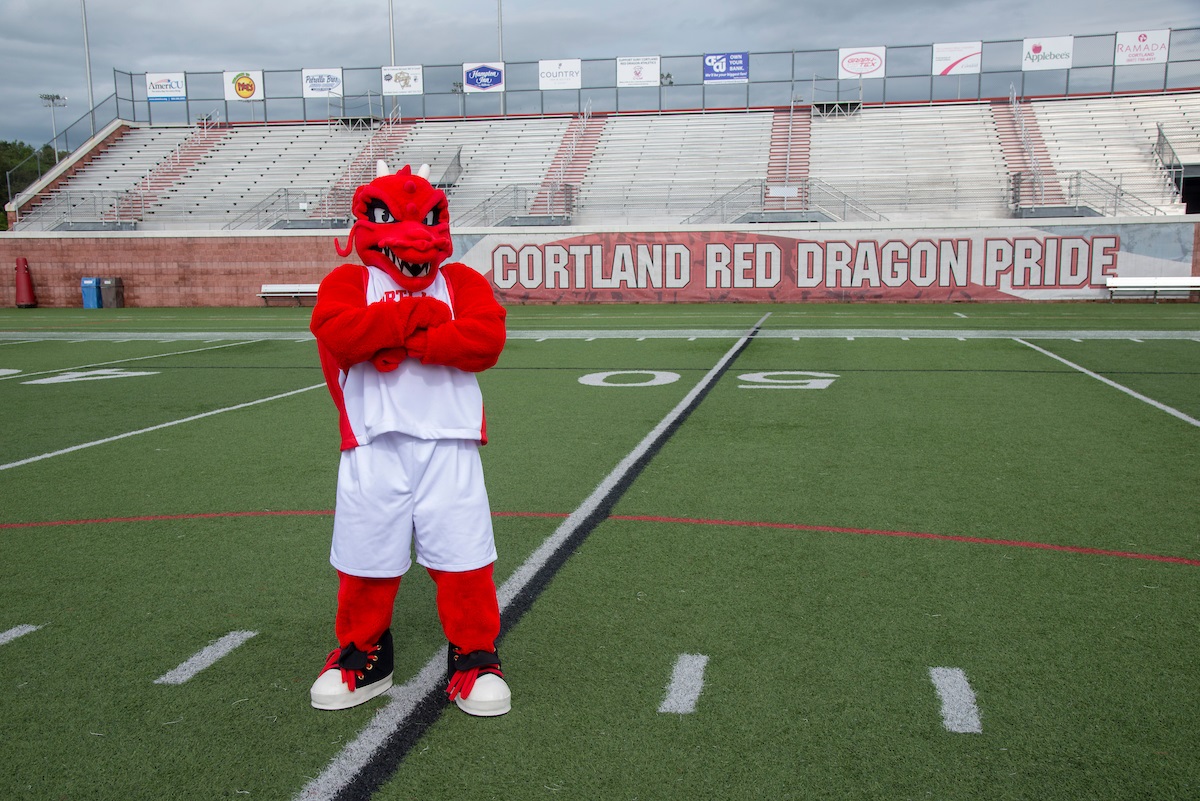 03/14/2023
Red Dragon nation, Blaze needs your vote. And he needs it now.
Mascot Madness is back. Once again, the 64-campus SUNY system is hosting a competition to determine its most popular college mascot.
Online voting in the first round of the tournament-style mascot battle, set up in brackets like those used in the NCAA basketball championships, was last week during spring break and Blaze made it through. The second round began Monday, with Cortland's Red Dragon pitted against University at Albany's purple great dane.
Students, faculty, staff, family, friends and strangers on the street can vote for Blaze on the official website. Second-round voting ends at 4 p.m. Wednesday, March 22.
SUNY Cortland voters are encouraged to cast ballots early and often, although they are limited to one vote per day. In order for your vote to count, you simply have to verify it via an active email address.
If everybody's favorite flame-throwing, game-winning Red Dragon outs Albany's mascot in the dog house in the second round, Blaze will advance through the following schedule:
Round 3 — March 24-28
Semifinals — March 29-31
Finals — April 4-6
All voting rounds begin at noon and end at 4 p.m.
To help people get to know the mascots, SUNY asked each a series of questions. The responses of Cortland's Red Dragon are below:
1) Who are you and where are you from?
I am Blaze, Red Dragon defender of the mighty SUNY Cortland realm and lord of all intelligent, mythical reptiles. Feel free to tremble.
2) How long have you been doing this mascot thing?
Since 1933. If you've seen me move on the sidelines or cavort about campus, it's probably hard to believe that I'm 90 years old. Guess that's what happens when you live on one of the nation's healthiest and most active campuses!
3) What is your offseason training composed of?
I do it all. Weights, swimming, yoga, rock wall, you name it. And SUNY Cortland has amazing facilities for whatever training I want. I mean, have you seen the Student Life Center? So many activities!
4) What is your favorite unique course to take at your school?
The Psychology of Pseudoscience. It's intended to teach critical thinking by examining why people believe in things like Bigfoot, ghosts and the Loch Ness Monster. I love to watch those posers get put in their place. Everyone knows I'm the only supernatural entity worth believing in!
5) What New York landmark would you love to see be the host of your school's next big game?
Wow, that's tough. Once you play for the Cortaca Jug in MetLife Stadium and Yankee Stadium, you kinda feel like you've done it all. Maybe we'll stay local until the Buffalo Bills' new stadium opens.
6) Which of your school's alumni would be the best sidekick to your mascot duties?
UFC bantamweight champion Aljamain "Funkmaster" Sterling '12. He was a two-time All-American wrestler for Cortland and is a black belt in Brazilian Jiu-Jitsu. Talk about moves!
7) One song to make an entrance to – what is it (and why)?
"We are the Champions" by Queen. I think it's self-explanatory.
University to launch student and faculty surveys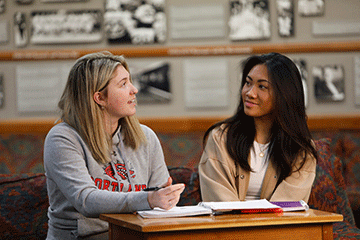 03/21/2023
SUNY Cortland will conduct two annual surveys starting around Wednesday, April 5, one for first-year students and seniors, and a second for university instructors.
First-year students and seniors will be invited to participate in the National Survey of Student Engagement (NSSE), a valuable source of information to shed light on the student experience, including time and effort students put into their studies and other educationally purposeful activities. SUNY Cortland has been using the NSSE to assess student engagement since 2008, and the results have been used in accreditation studies and other assessment efforts.
Students to be contacted — first-year students and seniors — will receive email invitations and periodic reminders from an NSSE address with instructions on how to participate in the approximately 20- minute online survey. NSSE administrators have optimized the survey for smartphones and tablets.
Students who complete the survey by Wednesday, May 3, will have a chance to win an Amazon or ASC gift card. Participation is voluntary, but greatly encouraged.
Around the same time, course instructors will be invited to complete the Faculty Survey of Student Engagement (FSSE), which complements the NSSE by providing corresponding faculty perspectives of student engagement. This survey should also take about 20 minutes to complete.
"These surveys are important because they are direct measures of the experience in and out of the classroom," said Stuart Daman, interim director of Institutional Research and Analysis (IRA).
"We use these benchmarks as indicators of our progress in supporting students."
Results of previous NSSE and FSSE surveys can be found on the IRA's webpage.
Questions about the NSSE or FSSE can be directed to Daman at 607-753-5565.
Three Red Dragons honored for achievement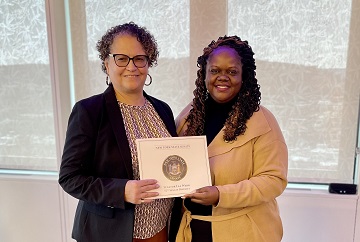 03/20/2023
New York state Senator Lea Webb honored 11 women from across Senate District 52 during Women's History Month at the State Office Building in Binghamton, N.Y. on Friday, March 17.
"These honorees' dedication and tireless efforts have been instrumental in improving the quality of life for residents of our community," Webb said.
Three of the women have ties to SUNY Cortland. They are:
Linda Angell-Freehan Smith '82, former chief of staff for retired state Assemblywoman Barbara Lifton.
Bekkie Bryan, associate professor of physical education and membership development officer for United University Professions.
Lorraine Lopez-Janove, chief diversity and inclusion officer at SUNY Cortland and a member of President Erik J Bitterbaum's cabinet.
"I feel like I'm very blessed to know women across the senate district that I refer to as unsung she-ro's" Webb told WBNG. "The amount of work they do from behind the scenes is incredible, and they don't do it for recognition, they do it because they genuinely care about the community."
Webb, who holds a degree in neuroscience from Binghamton University, became the first black woman to represent the 52nd Senate District. Her recently re-drawn district includes the cities of Binghamton, Cortland and Ithaca.
-------
Photo: SUNY Cortland Chief Diversity and Inclusion Officer Lorraine Lopez-Janove, at left, with State Senator Lea Webb.
Nation's top tobacco watchdog to speak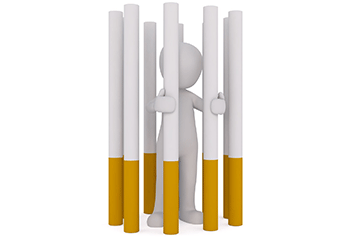 03/21/2023
Brian King, director of the Food and Drug Administration's Center for Tobacco Products (CTP), will discuss the center's efforts to implement tobacco regulations and future challenges on Tuesday, April 4, at SUNY Cortland.
King, the lead author of the Center for Disease Control's 2014 guide to best practices for comprehensive tobacco control programs, will present "The Hitchhiker's Guide to Tobacco Product Regulation: Promise and Peril in an Increasingly Complex Landscape" at 5 p.m. in Old Main Brown Auditorium.
The lecture is free and open to the public. Sponsored by the university's Health Department as its 15th Charles N. Poskanzer Lecture, the discussion will be live streamed.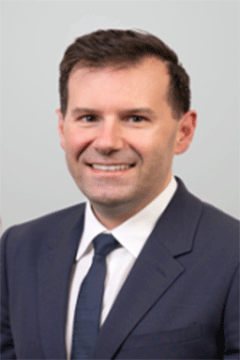 King, who was appointed to his current position last July, is responsible for assuring that the CTP accomplishes its public health goals and for implementing the Family Smoking Prevention and Tobacco Control Act, which gives the FDA the power to regulate the tobacco industry.
He builds on the federal government's past success with reducing tobacco use. In the past 55 years, U.S. adult cigarette smoking has declined considerably, recorded at 12.5% in 2020.
"In the 13 years since the landmark Tobacco Control Act was signed into law, CTP has done significant work to effectively regulate a complex and rapidly changing tobacco product landscape," King said.
"We also have a tremendous opportunity to create meaningful change for populations that have been disproportionately affected by tobacco use," he said. "The FDA is uniquely positioned to address tobacco-related health disparities in several impactful ways, now and in the coming years, so that tobacco-related disease and death are a part of America's past, not America's future, for all populations."
The SUNY Cortland campus has been tobacco and nicotine free for the last decade and was one of the first SUNY campuses to prohibit use of the substances.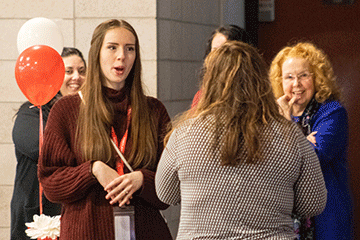 King has worked for nearly two decades to provide sound scientific evidence to inform tobacco control policy and to effectively communicate this information to key stakeholders, including decision makers, the news media and the public.
Prior to joining the FDA, he served as the deputy director for research translation in CDC's Office on Smoking and Health, and more recently as the executive editor of CDC's Morbidity & Mortality Weekly Report Series. He is the author of more than 200 scientific journal articles related to tobacco prevention and control and served as senior associate editor for multiple U.S. Surgeon General's Reports on tobacco.
He holds a Ph.D. and M.P.H. in epidemiology from the University at Buffalo.
The event is supported by the Charles N. Poskanzer Fund, an endowment named in honor of the late SUNY Distinguished Service Professor emeritus who taught in the university's Health Department for 40 years and died in 2010. Established through the Cortland College Foundation, the annual lecture brings national leaders in public and community health to campus to meet with students and faculty and to deliver a public lecture on a current public health issue.
For more information, contact Maggie Divita, SUNY Cortland professor of health and graduate coordinator, at 607-753-2987.
Graphic image courtesy of Peggy und Marco Lachmann-Anke from Pixabay
Fostering education where truth is forbidden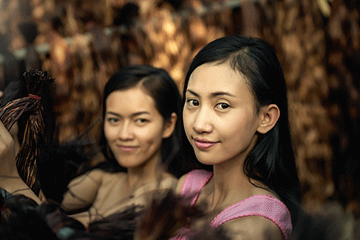 03/20/2023
In late 2019, education scholar Jeremy Jiménez was in Singapore, surveying and conducting focus group interviews with more than 300 students at two international schools.
What the assistant professor in SUNY Cortland's Foundations and Social Advocacy Department learned about growing up in autocracies from the data forms the basis for his planned Wednesday, March 22, talk titled "Don't Say 'It's Going to Be Okay': Learning and Teaching in the Age of Climate Collapse."
The lecture will begin at 4:30 p.m. in Moffett Center, Room 115.
A reception to welcome Jiménez precedes the discussion at 4 p.m. in the adjacent Brooks Museum.
The talk continues the university's yearlong 2022-23 Rozanne M. Brooks Lecture Series on the theme of "The Culture of Truth." The series of talks and accompanying receptions are free and open to the public. Seating will be limited and cannot be exceeded so please come early to secure a seat.
Jiménez' talk is based on his 2021 article, "'Don't Say It's Going to Be Okay': How International Educators Embrace Transformative Education to Support Their Students Navigating Our Global Climate Emergency," which he and Laura Moorhead, a Journalism Department faculty member at San Francisco State University, wrote for the international, peer-reviewed open access journal, Education Sciences.
While he was in Singapore, faculty and staff members at participating schools shared their perspectives and strategies to empower their students to become change agents through pedagogical techniques such as hands-on learning, systems thinking and service learning, Jiménez said.
"Just prior to the COVID-19 pandemic, many teenagers worldwide had engaged in school strikes to demand that their voices be heard regarding our climate crisis," Jiménez said.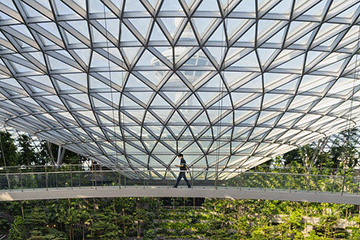 "This presentation highlights insights gleaned from these students' views on the climate strike movement, specifically, and sustainability in education, broadly."
"How do these participants navigate expressing their assessment of public responses to our climate crisis in the specific context of living in an authoritarian political environment that limits free expression?" he said.
"And how do they simultaneously help their students imagine positive future alternatives in the midst of increasingly dire climate realities?"
Jiménez, who joined SUNY Cortland in fall 2017, has a Ph.D. in international and comparative education from Stanford University in California, where he also earned an M.A. in sociology. He has an M.Ed., social studies education from Rutgers University in New Jersey, in which state he is certified to teach both secondary social studies education and psychology. He received dual bachelor's degrees in history and psychology from Rutgers College.
Among the courses he has taught are International and Comparative Education and China & Taiwan: One Culture, Two Political Systems, geared to students who plan to study abroad.
In summer 2018, Jiménez was an invited lecturer at the Xian Normal University, Xi'an, China, where he taught a course to education doctoral students titled International Textbook Research.
Also, this spring:
Adam Laats, an assistant professor in Binghamton University's Department of Teaching, Learning and Educational Leadership, will explain on April 12 why the creationism culture wars never end, in a presentation called "Evolution and All That: Why Americans Can't Stop Fighting about Creationism."
This year's series encompasses how, in the last couple years, Americans have reopened disputes about ideas that once seemed settled.
Books and topics are being banned in classrooms, social and news media is plagued by misinformation that is swallowed by many, and the reality of the very science that underpins much of the modern industrial world has come into question. Over the last decade, "truth" has seemed to become a rare resource.
The Brooks Series honors the late Distinguished Teaching Professor of sociology and anthropology emerita at SUNY Cortland Rozanne M. Brooks, whose donated special collection of ethnographic objects to the Sociology/Anthropology Department established the Brooks Museum in 2001.
The 2022-23 Brooks Lecture Series is sponsored by the Cortland College Foundation and Cortland Auxiliary. For more information, contact series organizer and Brooks Museum director Sharon Steadman, a SUNY Distinguished professor and chair of SUNY Cortland's Sociology/Anthropology Department, at 607-753-2308.
Images courtesy of Pixabay.
Children's art exhibition displayed at university gallery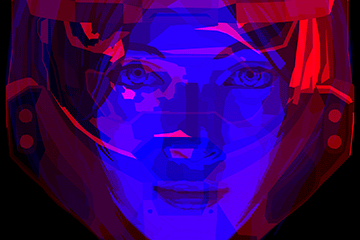 03/14/2023
Art — as seen through the eyes of schoolchildren and their art teachers — is an exhibition now open at SUNY Cortland's Dowd Gallery.
Curated in a partnership with regional art teachers, the exhibition, titled "Imagination Celebration," opened March 9 and will run through Friday, April 14 in the gallery, located in the Dowd Fine Arts Center at the corner of Prospect Terrace and Graham Avenue. The exhibition and related events are free and open to the public.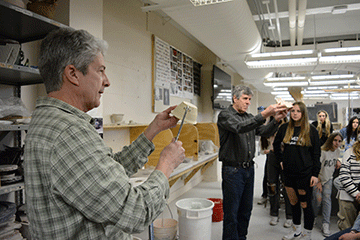 Showcasing more than 100 works of both student artists and their mentors, "Imagination Celebration" includes students and teachers from McGraw School, Homer Central School District, Cortland City Schools, Onondaga Cortland Madison Board of Cooperative Educational Services. Their drawings, paintings, ceramics, collages, 3D objects, and digital media works will overflow the gallery into the Hallway Gallery and the Critiques Space, where a collaborative installation between 8th grade and 3rd grade students from Homer schools will be displayed.
Supporting programs for "Imagination Celebration" include gallery talks, panel discussions, a documentary screening and virtual presentations introducing the participating education professionals, teachers, administrators and students, and specially designed workshops for regional secondary art school educators.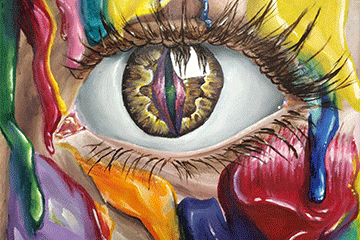 The series will culminate with a virtual talk by Thomas Albrecht, professor, department chair, and associate dean of the School of Fine Arts at SUNY New Paltz at 5 p.m. on Thursday, April 11.
Albrecht will discuss topics including the transition of students from high school to college into creative fields; and the consequences of COVID-19 on the academic progress of enrolled students. He also will address questions from the audience.
"The objective is to strengthen the relationship between SUNY Cortland and neighboring schools, offer an outlet for local talent and continue with a more than 20-year-old tradition," said Gallery Director Jaroslava Prihodova.
Lauren Nels '06, one of two principal organizers of the exhibition, which showcases local student work in grades K-12 , was also pleased the SUNY Cortland was helping to keep the tradition alive.
"We are excited to show alongside our pupils on the SUNY Cortland campus after working with Homer Center 4 the Arts for many years and then utilizing Homer's HTEC building the past few renditions," she said.
Nels and her colleague, Brookley Abbate Spanbauer '02, are both SUNY Cortland alums and art teachers at Homer (N.Y.) Central School.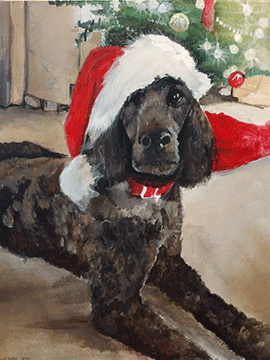 "It is a true honor for students to be selected, as there is only a limited amount of artwork each teacher can submit," Spanbauer said.
A series of programs and events took place in preparation for the project, including two workshops for participating teachers focusing on framing and archival practices. In preparation for "Empty Bowls," on Feb. 16 more than 40 Homer Junior High School students visited the university's ceramics studios to glaze pottery pieces they had made during their own studio art and ceramics classes. Two SUNY Cortland Art and Art History Department faculty members, Professor Jeremiah Donovan and Instructional Support Technician Russ Davis, helped them prepare their pieces for firing. The finishing pieces were sold on March 9 in an "Empty Bowl Sale" in Dowd Center to benefit "Loaves & Fishes."
Remaining events will include:
Panel discussion: Thursday, March 23, 5 p.m., in Dowd Gallery. For "Voices of Student Artists," selected student artists representing both Cortland and Homer school districts will share their art classroom experiences and reflect on the importance of creative activities and their impact on individual academic development and college preparedness.
Gallery round table: Wednesday, March 29, 5 p.m., in Dowd Gallery. The "Voices of Art Educators" roundtable will include Robert Edwards, Cortland District superintendent; Jesse Bender and Nadja Bieber, Cortland art teachers; Thomas Turck, Homer Central superintendent; Brookley Abbate and Lauren Nels, Homer art teachers; Carol Fitzgerald, executive director, Cortland Arts Connect; and Crystal Lyon, artist and art advocate. They will engage in a conversation about the state-of-the-art education, funding, access to resources and the importance of imaginative thinking and creative activities in forming a healthy and sustainable community.
Documentary screening: Tuesday, April 4, 5 p.m. A compilation of shorts and talks titled "Why Art Education Matters Part 1" will be shown in Dowd Gallery.
Documentary Screening: Thursday, April 6, 5 p.m. A compilation of shorts and talks titled "Why Art Education Matters Part 2" will be screened in Dowd Gallery.
First Friday: Friday, April 7. A "First Friday" guided tour of the exhibition has been organized by Cortland Arts Connect to take place from 5:30 p.m. to 8 p.m. The event will be both live and virtual on Facebook, Instagram and the Dowd Gallery.
Visit the Dowd Gallery website for details about exhibiting artists, other programs, safety protocols and online booking. For more information or to inquire about an appointment, tour or additional images, contact Jaroslava Prihodova at 607-753-4216.
The introductory image shows the digital media piece "Red v Blue, 2023" by Cortland Junior High School teacher Jesse Bender.
Women's History Month with lectures, an alumni panel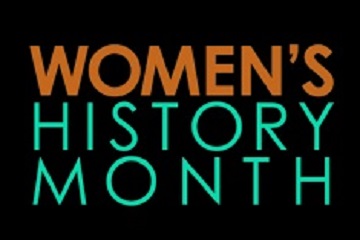 03/21/2023
SUNY Cortland began its celebration of Women's History Month on International Women's Day, Wednesday, March 8, and continues its recognition of the achievements of women while calling for further action on issues of gender inequity.
Women's History Month events through the end of March include:
Women's History Month Lecture: "Putting the Story back into History: A look at Title IX and the ERA in a Personal Family "Herstory," Thursday, March 23, Old Main Colloquium, noon. Presented by Joy Mosher, associate professor of childhood/early childhood education emerita.
"Interactive Workshop: Building an Inclusive Foreign Affairs Community," Friday, March 24, noon. Alexandria J. Maloney, president of Black Professionals in International Affairs, will present virtually. It

can be accessed here

.


Women's History Month Lecture: "Throwing Like a Girl: Culture, Language, and Post-Feminism," Wednesday, March 29, Old Main Colloquium, noon. Presented by Karla Alwes, Distinguished Teaching Professor of English Emeritus.


"Women in The Sport Industry: Alumni Panel," Thursday, March 30, 6:30 p.m. Erin Morris, associate professor in SUNY Cortland's Sport Management Department, will moderate at a location to be determined.
Updated information on these events will also be posted to the university calendar.

Suggest a feature story
---
Faculty/Staff Activities
Christina Knopf
Christina Knopf, Communication and Media Studies Department, is a recipient of the annual Lucy Shelton Caswell Research Award for 2023, sponsored by the Billy Ireland Cartoon Library and Museum at The Ohio State University.

Submit your faculty/staff activity
In Memoriam
Werner K. Stavenhagen Sr., who taught German at SUNY Cortland, died March 5, 2023.