Cortland student given statewide EOP honor
10/29/2019
Talk to Kathleen Altamirano for just a few minutes and you'll hear her use the same word over and over.
Grateful.
The senior early childhood/childhood education major from the Bronx is a student in the Educational Opportunity Program (EOP) at SUNY Cortland, which provides access and support to students with academic and personal potential.
Altamirano is grateful for the assistance she's received from EOP, from financial aid to tutoring to the personal connections she's forged with her fellow EOP classmates. That support has helped her reach her potential both in and out of the classroom and led her to become Cortland's first recipient of the Norman R. McConney, Jr. Award for EOP Student Excellence.
"EOP gave me so many opportunities," Altamirano said. "I was an EOP counselor this past summer for incoming EOP freshmen and I am so grateful that they saw something in me to become a leader for others. I'm proud of being an EOP student from SUNY Cortland. It's definitely a family. Aside from the academic and financial, I can definitely say I can go to EOP for anything, no matter what. EOP definitely holds it down."
During her first semester on campus, Altamirano struggled in class and landed on academic probation. It wasn't so much the intellectual challenge of coursework that bothered her. It was her attempts to focus, organize and manage her time that gave her the most trouble.
Overwhelmed by college life, she considered dropping out of school entirely.
Tutoring and one-on-one mentoring from EOP staff, including Academic Counselor Judy Stoddard, helped get Altamirano back on track. Over the ensuing semesters, her GPA rose and Altamirano became active in a variety of clubs and organizations including Women of Color, Spanish Club and the National Society of Leadership and Success. She is the co-founder of a Latin ballroom dance club, Ritmo Latino, and is working toward establishing it as an official club sport before she graduates.
"I've just seen her blossom," Stoddard said. "She can still grow in confidence in herself, but she knows what things she needs to work on now. She's such a hard worker, I think she realizes that if she puts the hard work in, she's capable of anything. That's been wonderful to see. She reaches out for help when she needs to and that's been key for her."
By her sophomore year, Altamirano was accepted into Cortland's Urban Recruitment of Educators (C.U.R.E.) scholarship program, which strives to meet the need for highly qualified teachers in city schools around New York state.
She became a role model and leader for other students during her junior year when she served as a resident assistant.
The notion of caring for others is in Altamirano's DNA and it's a major reason why she wants to become a kindergarten teacher and perhaps someday work in special education or counseling. But it starts with her family, parents Alejandro and Martha, and brother Oliver. Her parents have also adopted three siblings from foster care: Allison, Justin and Oscar.
"Ever since I saw my mom helping out for people with needs, especially from the foster care system, I always saw myself as so grateful to have a home with parents who care for children who don't always get that love and affection," she said.
Altamirano was beaming during the ceremony at the SUNY Global Center in Manhattan when she received her award. Not only did she get to meet other exceptional EOP students from around the SUNY system, she chatted with SUNY Chancellor Kristina Johnson and her state assemblywoman, Karines Reyes, who presented Altamirano with an additional citation.
So did her parents, who were amazed by their daughter's achievements.
"They were crying. They were happy. They were excited," she said. "I know they were very proud and it was emotional at the same time."
Since news of her award has spread over social media, her family now responds to her calls and text messages with "Hello, famous Kat from the Bronx!"
The inaugural McConney Award for EOP Excellence was given to 42 students from SUNY campuses across the state. The late Norman McConney, who passed away in 2016, was one of the architects of the Educational Opportunity Program and was a champion for addressing inequities faced by economically disadvantaged and underrepresented populations. The award recognizes students who exhibit academic success, perseverance and leadership qualities.
"We are enormously proud of the students receiving these awards today," Johnson said at the ceremony. "Many of them have overcome enormous obstacles to fulfill goals that once may have seemed unattainable. I applaud every one of them for demonstrating perseverance and determination."
In the few months she has left in Cortland, Altamirano aims to remain engaged in campus life and be there in support for her EOP classmates and other students. She's living proof that it's never too late for a second chance, as long those individuals who need help are willing to put in the work.
"I'm a proud Latina from the Bronx and I'm proud to be the first of my family to go to college," she said. "I know I have two supporting parents who came to America to chase for a better future for my siblings and I.
"I just want to be the example for other students who come from the Bronx that they can do whatever they set their minds to. Yeah, you can struggle, but you're the only one stopping yourself if you don't push yourself."
Campus-wide Inclusion Survey underway
11/04/2019
Members of the SUNY Cortland campus community can earn a chance to win an iPad or a SUNY Cortland Bookstore gift card, simply by taking a survey about how well the university includes them in campus life in light of their individual needs and differences.
Email is the only way that campus community members can take the survey.
The anonymous, short survey was emailed for the first time to faculty and staff on Monday, but due to technical difficulties that have been addressed, did not reach the students until two days later, on the morning of Nov. 6.
The survey takes about 15 minutes to complete, after which all respondents will have their name separately entered in a drawing for prizes that include two iPads and 80 SUNY Cortland Bookstore gift cards for $25.
But there's a lot more to be gained by filling out the Inclusion Survey than prizes.
Results will be shared with the university community and used to plan improvements in the way SUNY Cortland approaches diversity and creates a more ideal environment for excellence in academics, professional development and personal fulfillment.
The survey focuses on four major themes: race; gender, gender expression or sexual orientation; disability; and religion and spirituality.
If, for some reason, members of the SUNY Cortland community overlook the survey in their email, there will be plenty of reminders on campus.
Participants will find many free giveaways at temporary tables in public areas around campus where volunteers will have laptops from which passersby can sign in to their campus email account and fill out the survey right there.
Staffed by members of the Campus Climate for Diversity Committee, the tables will be set up during busy times in Neubig Hall lobby from Nov. 13 to 15; and the Old Main Dragon's Den lobby the week of Nov. 18.
As the survey proceeds, there also will be follow-up email reminders as well as notices on electronic and paper posters around campus as the committee strives to encourage as many people as possible to participate in the official, institutional survey. The committee also plans outreach to get members of student clubs and organizations to participate.
SUNY Cortland last looked at how well the campus provides a setting for diversity and accommodation of underrepresented groups with a full Campus Climate Survey in 2005.
Work on this assessment began last spring, when the committee conducted a series of focus groups to ask students, faculty and staff to express their opinions about their quality of life on campus. That work helped guide them through the summer and the early fall, as the committee developed the survey.
How students, faculty and staff feel they are being treated by others is key to their success, whether in class, the workplace or in their personal lives.
SUNY Cortland is committed to advancing diversity and inclusion in higher education. Building on previously gathered data, historical documents and the university's extensive efforts thus far, a comprehensive climate assessment will provide the campus with research-based and comprehensive findings. These will guide the development of strategic initiatives and action planning to build on institutional successes and address institutional inclusivity challenges.
For more information, contact James Felton III, chief diversity officer, or another member of the Campus Climate on Diversity Committee: Michael Baker, assistant director of residential life for technology and marketing; Stephen Cunningham, director of institutional research and assessment; Imani Hinckson, student volunteer; Jeffrey Jackson, instructor of English; Yomee Lee, professor of kinesiology and Africana studies; Christopher Ortega, assistant professor of communication and media studies and Africana studies; Amy Russell, professional tutor, The Learning Center; Ronnie Silver '67, SUNY Cortland Alumni Association liaison; Jennifer Wilson, associate director of communications; Melanie Woodward, associate director of human resources and affirmative action officer; and Jeremy Zhe-Heimerman, assistant director of disability resources, Disability Resources Office.
---
Capture the Moment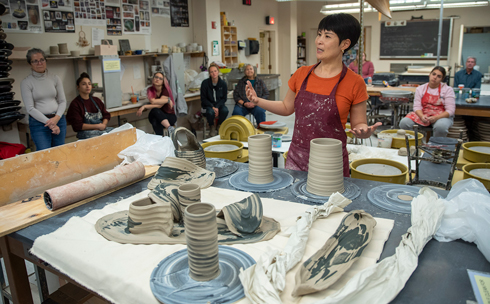 Artist TeaYoun Kim-Kassor demonstrated how to sculpt an object in clay at an Oct. 23 workshop on campus. The artist's exhibition of large-scale drawings, textiles and mixed media materials, titled "Beyond Places in Time," is in Dowd Gallery through Friday, Dec. 6. Her work reflects cross-cultural experiences and draws on her personal story, as she has lived in Korea, Japan and the United States. Currently, she is an associate professor of art at Georgia College.
---
In Other News
Students practice solving international crises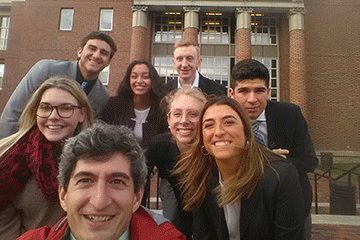 11/05/2019
Seven international studies majors from SUNY Cortland gathered recently on the campus of Syracuse University to help solve an international crisis.
The crisis — an important conflict which could escalate into a full-blown war between two nuclear powers, India and Pakistan — is real.
The solutions — offered by the Cortland contingent from Oct. 25 to 26 during the "Jammu and Kashmir" Exercise in S.U.'s Maxwell School of Citizenship and Public Affairs — were hypothetical.
However, although the Cortland student's adversaries were not actual delegations from Russia, India, China or Great Britain, they were something nearly as intimidating: graduate students enrolled in one of the top schools for professional public policy degrees in the United States.
"I was impressed with their performance as they were the only undergraduates participating in an event where all other students were graduate students," said Alexandru Balas, SUNY Cortland associate professor of international studies and coordinator of the university's International Studies Program.
"At times I felt that I am in the presence of future diplomats who knew how to run meetings under stressful conditions, when information was moving fast and coming from multiple ways," Balas said of the Cortland team, which featured two first-year students, two sophomores, one junior and two seniors.
The U.S. Army War College offers these International Strategic Crisis Negotiation exercises to engage college students in the real-world dilemmas faced by today's politicians and begin working on the solutions before perhaps embarking on lives of public service.
"I had to learn to make fast decisions that could determine the peace of the Jammu-Kashmir state," said SUNY Cortland sophomore Jennifer Toribio of Freeport, N.Y. "Overall, this exercise showed me the skills needed to be the diplomat that I strive to become in the future."
SUNY Cortland sophomore Melissa Alvisi described a similar learning experience.
"I learned how when you negotiate you do not uncover your cards from the beginning, but how negotiation is an art based on 'what to say and when to say it,'" said Alvisi, a dual U.S. and Italian citizen. "You do not want other countries to know what you want from the first meeting. It is a long and thoughtful process made out of small steps."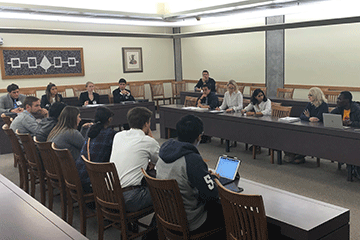 This year's challenge involved the work of the United Nations Military Observer Group in India and Pakistan (UNMOGIP), which was deployed since 1949 in the Kashmir conflict and is the second oldest U.N. peacekeeping operation in the world.
The region of Kashmir lies in the midst of the Himalayan Mountains, in the northwest corner of the Indian subcontinent. During colonial rule the region was a single princely state, called Jammu and Kashmir. Following Pakistani and Indian independence from the British Empire in 1947, the once united region became a disputed territory, with both countries laying claim to the entirety. Today, as a result of several Indian-Pakistani wars, the original area is split and administered separately by India and Pakistan.
Playing the role of U.S. negotiators, the SUNY Cortland team — whose members aspire to careers in diplomacy, humanitarian aid and U.S. security — engaged in the high-profile two-day exercise to test their international studies and negotiation skills in mediating with counterparts representing other nations.
"I was excited to participate at this conference, because I am preparing to go to Brussels, Belgium in January for the Model European Union Summit with a few fellow teammates," observed Naomi Higgins, a junior from Yonkers, N.Y. "So it felt like great practice for that."
"Playing the United States was a great role for this simulation, because we had a lot of negotiation power, which allowed us dominance in the conference," said Higgins, who focused on the Indian delegation.
Other team members, in the manner of the U.S. State Department, took the lead with other actors involved: Pakistan, Russia, China, United Kingdom and the Kashmir delegation.
"My favorite part was strategizing with my team during our team meetings," Higgins said.
"Going into the first session of meetings I was shocked and scared, but mostly intimidated knowing I was facing negotiations with people much older than me," Toribio said.
"However our team mentor, Alexandru Balas, helped encourage us to believe in ourselves because he knew what we were capable of," said Toribio, who represented the diplomat in charge of the relations with the Jammu and Kashmir People's Democratic Party. "After the first meetings, I felt confident and prepared and the fact that everyone else was a graduate student didn't even cross my mind anymore."
"They were well prepared and professional when negotiating with graduate students sometimes 10 years their seniors," from the Maxwell School, said Balas, who also directs Cortland's Clark Center for Global Engagement. "Their ability to 'read' through purposes of meetings and what other delegations wanted from them was impressive."
"Being very careful and specific with your words is a key tool I learned because one little mistake could be used against you in the long run and can tremendously hurt you and your team," observed Marco Musso, a first-year student from Massapequa, N.Y. "At the end of the day I got a real feel for how this is dealt in real life and the skills I added to my toolbox are something I can carry with me for my future."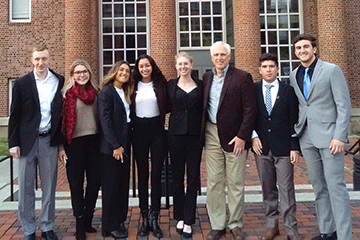 Alvisi said she had taken a negotiation class with Balas this past summer, which helped hone her negotiation skills, strategies and tactics. To help prepare for their part in the U.S. delegation, all team members first digested a 72-page briefing document.
"I was asked to be the team communicator for the U.S., which is a new position that mainly put me in contact with the other countries' communicators," said Alvisi, who is fluent in both Italian and English and has partially mastered French and Latin. She was in the midst of applying to study abroad in Spain next spring when this extracurricular opportunity came up.
"This conference confirmed the reason why I am here at SUNY Cortland," said Alvisi, who originally decided to study at SUNY Cortland because her mother, Alba Panzanella '87, was a graduate. "In a school like Cortland you feel involved in events on and off campus as well."
"Of course classes are important," said Jack Gibson, a senior from Wayland, N.Y., who interacted with the Russian delegates during the exercise. "However, everyone goes to class and this sets you aside from the rest of the students. I think participating in simulations is extremely important in becoming engaged and learning."
Attending the simulation was retired diplomat James Bruno, who congratulated the Cortland participants on how well they negotiated in the exercise and told them they have bright futures ahead of them.
In the above left image the delegation includes, front row from the left, Naomi Higgins, Alexandru Balas, Kelsilyn Norman and Melissa Alvisi; and back row, Marco Musso, Jennifer Toribio, Jack Gibson and Adrian Rivera.
Student actors "Head Over Heels" for latest musical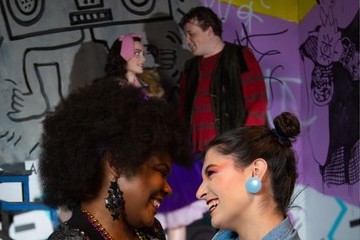 11/05/2019
SUNY Cortland's student actors love new challenges.
"Head Over Heels," which opened on Nov. 15, in the Dowd Fine Arts Center Lab Theatre, presents plenty of tests for the cast. The play continues for a second weekend and, due to popularity, two additional performances were added when the three scheduled shows were sold out.
"Head Over Heels" now can be seen at 7:30 p.m. on Thursday, Nov. 21 and at 2 p.m. on Saturday, Nov. 23 in addition to 7:30 p.m. on Friday, Nov. 22 and Saturday, Nov. 23; and at 2 p.m. on Sunday, Nov. 24. It is recommended to check online for tickets at Cortland.edu/boxoffice or contact Box Office Manager Carlita Withers by email or phone at 607-753-2831 for availability.
A musical comedy that made its world premiere in 2015 and debuted on Broadway in 2018, "Head Over Heels" mixes a variety of genres in unique ways. Set in a 1980s-style VIP dance club and featuring the music of the Go-Go's, actors deliver their lines in Elizabethan dialogue common in Shakespearean drama.
"It's a fun way for us to show off," said Mia Donneruno, a senior from East Northport, N.Y., who plays Mopsa. "We can sing these contemporary songs and belt our faces off, but we also know how to handle this more complicated Elizabethan-style text."
The plot of the show is based on a Renaissance romance, "The Countess of Pembroke's Arcadia," which was written by Sir Philip Sidney circa 1585.
In "Head Over Heels," King Basilius, his wife, Gynecia, and their two daughters, Pamela and Philoclea, rule over the kingdom of Arcadia. Basilius is visited by a prophet, Pythio, who warns of ruination if the king doesn't change his overly stodgy and traditional ways.
On top of the clash of genres, "Head Over Heels" presents characters from a variety of backgrounds, touching on issues of race, gender, sexuality and identity. Inclusivity is at the heart of the musical's message, which is deeply appreciated by student actors including Olamide Asanpaola, a senior from Hempstead, N.Y. who plays Pamela. A princess in search of a suitor, Pamela's choice leads to conflict within her family.
"For me, to make it personal, as a black woman to be playing this role where I'm viewed as the most beautiful person in the land is so powerful," she said. "In reality, with all of the hardships black people go through, especially black women, it's nice to step out of that and go into this fantasy where I'm the most prized possession in this land."
Maurice Jerry, a senior from Baldwin, N.Y., who plays Basilius, admits that he's put in a tremendous amount of work to prepare for the role. First, he had to familiarize himself with the Go-Go's catalog. Then, he's had to develop new strategies on stage when it comes to interacting with castmates as they banter back-and-forth in dense dialogue.
The blend of influences in "Head Over Heels," however, perfectly convey its themes in fun and toe-tapping fashion.
"There is a sense of love and happiness and inclusivity as well," Jerry said. There's a sense of being wanted and cared for. That's what this show ultimately boils down to."
Diana Reidy, a senior from Center Sandwich, N.H., plays Gynecia. A few weeks before opening night, with sets still being built and costumes getting their final touches, she is amazed by how everyone in SUNY Cortland's Performing Arts Department — students, faculty and staff — are coming together to pull off such an ambitious project in a short period of time.
"Any time I do a show, I learn a bunch of different things about myself and the process," she said. "For this one, since there are so many pieces of it coming together and there are so many people responsible for those pieces, it really just reminds me that theatre is a collaboration.
"I'm so grateful for my fellow actors and my director and the assistants, the stage manager, the music director, the set designer, everyone who is making this show what it should be and what I know it will be. Hopefully the audience will see and respect everybody's hard work on this."
Donneruno knows just how powerful it is to see a performance of "Head Over Heels." She caught it on Broadway on the day after Thanksgiving in 2018, an annual family tradition.
"It was so much fun," she said. "My sister and I didn't know all of the music, but my mom knew every song and she was bopping along and singing to every song.
"It's going to be two hours of joy," Donneruno continued. "It is crazy and fun and we're all going to look colorful and kooky and we're going to be dancing and singing and making people laugh. Even if you don't know '80s music or if you've never seen a Shakespeare play, you're going to come to this show and you're going to have two hours of fun."
Tickets, available at Cortland.edu/boxoffice, are $10 for SUNY Cortland students, $16 for faculty, staff and senior citizens and $19 for adults.
Seating in the Dowd Fine Arts Center Lab Theatre is limited and late arrivals will not be admitted.
Communications programs ranked No. 3 in NY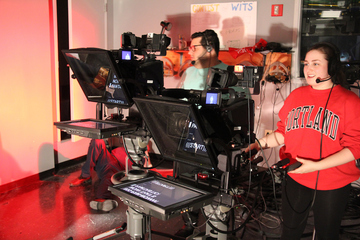 11/05/2019
Students pursuing careers in television, film, public relations, advertising and just about any other field related to communications are finding great educational value at SUNY Cortland.
That's reflected in a recent assessment by Zippia.com that ranked SUNY Cortland at No. 3 in New York state on its list of "Best Colleges for Communication Majors." Cortland was the highest-rated of SUNY's comprehensive college in the study by Zippia, a website that helps people find careers.
It's not the first time that SUNY Cortland's Communications and Media Studies Department was highlighted for excellent career preparation. It was ranked No. 20 in the nation on CollegeFactual.com's "Best Communication and Media Studies Colleges for the Money" earlier this year.
"SUNY Cortland is a great place to build a foundation in this field," said Paul van der Veur, chair of the Communication and Media Studies Department. "We have award-winning teaching and research faculty who pride themselves on being available to students and who excel at ensuring that students leave their classes with the knowledge and skills they need to succeed,"
The department offers three majors: cinema study, communication studies and new communication media. Coursework varies from broad-based human communication and popular culture to specialized programming in journalism, public relations, advertising and media production. Students have access to a robust equipment checkout program that allows them state-of-the-art tools to produce content for everything from social media to film and video.
Production facilities and campus media including the student newspaper and television and radio stations give students hands-on experience. Student media clubs and internship programs offer job-related knowledge and skills and help students meet others with similar academic interests.
The Zippia study examined data from the National Center for Education Statistics and College Scorecard from the U.S. Department of Education. Zippia based its rankings on a number of factors, including career results, each campus' communication emphasis and general school performance figures including admissions rate, graduation rate and average cost of attendance.
College Archives plans open house
11/05/2019
Memorial Library will host an Open House on Wednesday, Nov. 6, for faculty, staff, students and the community to learn more about the College Archives and what this library resource has to offer.
Members of the College Archives Steering Committee will be discussing different projects and sharing their experiences with the collections during the event from 3 to 5 p.m. in the College Archives, housed on the third floor of Memorial Library in Room B-305.
The event is free and open to the public. Students and faculty engaged in academic research, historians, local history buffs and the public are encouraged to attend. Light refreshments will be served.
SUNY Cortland's Memorial Library has made great strides in recent years with its College Archives with both the physical archives at the library as well as developing extensive online access to historical records and images. Spearheading the effort are College Archives Steering Committee, an ad hoc committee involved with improving the archives for several years, as well as Jeremy Pekarek, College archivist and instructional services librarian, and Jennifer Kronenbitter, director of libraries.
The College Archives project collects or tracks the majority of materials relating to institutional history of SUNY Cortland. Visitors can have their questions answered about the history of the archives, its purpose, the university's physical and digital collections, instruction, research, the role of college archivist and preserving SUNY Cortland's institutional history.
The fast-growing collection already contains hundreds of digital images including literally thousands of sports images from the dawn of Cortland athletics, accessible to being viewed or downloaded.
The online collections include the institution's student newspapers and campus yearbooks, which are some of the more popular archives of interest to the campus community and visiting alumni.
Faculty in the History Department especially find the College Archives helpful in teaching. The collection also was used extensively to assist with mounting exhibits on campus during Cortland's sesquicentennial anniversary from summer 2018 to summer 2019.
Visitors can learn about the library's fairly new digital archive, Digital Commons@Cortland, named after a commons as a place where people can meet and share information and culture. The resource puts Cortland's institutional history from 150 years ago right up to the present day in reach of anyone on the internet.
There are original documents and pictures that bring back to life campus student club and honorary society happenings, sports milestones and Greek life activities as well as key figures, buildings and events of university history.
Memorial Library has paid for most projects to improve the archives, including ones relating to the sesquicentennial. Recently, the library was awarded a South Central Regional Library Council Technology and Digitization Grant for $4,583 to have an outside company scan the majority of a cache of student newspapers into the College Archives, the Co-No Press from 1925 to 1942 and the Dragon Chronicle from 2013 to 2017.
"Come learn more about the College Archives to understand our commitment to creating access as well as preserving precious historical materials relating to SUNY Cortland," Kronenbitter said.
Veterans Day ceremony set for Nov. 11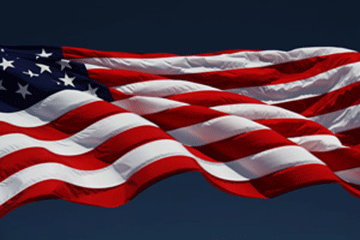 10/22/2019
SUNY Cortland will thank and honor veterans, including faculty, staff, alumni, students and members of the Cortland community during a celebration on Monday, Nov. 11.
Keynote speaker Brandon Gilbert, a master sergeant enlisted in the Air Force National Guard, will address "What Veterans Day Means to Me" during the event at 3 p.m. in Brockway Hall Jacobus Lounge.
Master Sgt. Gilbert, who has served three combat tours in Afghanistan in 2010, 2012 and 2019 and one in Iraq in 2019, works fulltime as an officer for SUNY Cortland's University Police Department.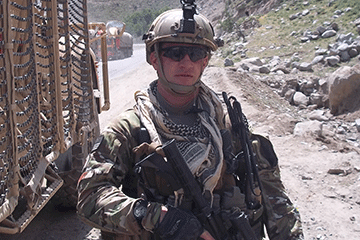 Gilbert, who continues to serve in the Air National Guard, first came to SUNY Cortland as a freshman in Fall 2002. After two years, a sense of duty called him to put college on hold to enlist in the Air Force Air National Guard. He joined the 274th Air Support Operations Squadron at Hancock Field, Syracuse, N.Y.
Gilbert completed basic training at Lackland Air Force Base in San Antonio, Texas. He went on to technical school, where he became a Tactical Air Control Party (TACP) specialist. Gilbert also participated in Survival, Evasion, Resistance and Escape (SERE) School and with a Joint Terminal Attack Controller-Qualification Course.
While on active duty, he also completed several joint training missions in Thailand, Lithuania, France and Slovenia.
Gilbert has been honored with the Air Force Combat Action medal, three Army Commendation medals, two Army Achievement medals, two NATO medals and a Meritorious Service medal.
He has associate's degrees from the Community College of the Air Force and from Columbia College in Missouri.
Gilbert is married with two daughters.
A reception in the Margaret A. "Peggy" Curry '52 Main Lobby will follow the presentation.
A slideshow of SUNY Cortland's veterans will run throughout the event. To submit a photograph, please include the veteran's name, branch and dates of service to Special Events Assistant Sue Vleck or contact her at 607-753-2377.
Free parking will be available in the Miller Building lower level parking lots. Accessible parking spots are available behind Brockway Hall.


Celebrate non-traditional students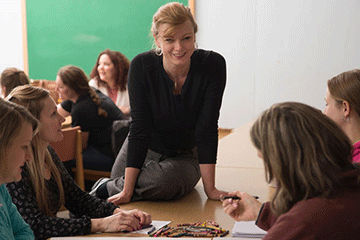 10/28/2019
SUNY Cortland has some 300 non-traditional students enrolled, and each has a unique story to tell.
Ashley Dickson runs a Tompkins Cortland Community College program that helps students recover from substance abuse while earning a bachelor's degree in human services.
U.S. military veteran Taylor Cookston is working toward a degree in fitness development.
Dominica Boston took just a few days off from classes last fall to give birth to her newest baby. With a growing family, she continues pursuing a community health degree.
Sonya Onyx is not your typical psychology major. This senior also is raising two children.
U.S. Army reservist James Tucker juggles a military commitment with a job, family responsibilities and taking courses in fitness development.
The College celebrated them all Oct. 28 to Nov. 1 with Non-Traditional Students Week (national Non-traditional Students Week is Nov. 5 to 9). In addition to an array of activities offered through Advisement and Transition that week, one inspiring non-traditional student was introduced daily to the SUNY Cortland community.
Read their stories:
Monday: Ashley Dickson
Tuesday: Taylor Cookston
Wednesday: James Tucker
Thursday: Dominica Boston
Friday: Sonya Onyx
The week continued with a host of events and activities that took place in the Non-Traditional Students' Lounge, in Cornish Hall, Room 1221. They included:
Tuesday, Oct. 29: Taco Tuesday lunch, noon to 2 p.m.
Wednesday, Oct. 30: Soup and sandwiches, 11:30 a.m. to 1:30 p.m.
Thursday, Oct. 31: Halloween pizza and wings, 11:30 a.m. to 1:30 p.m.
Friday, Nov. 1: TGIF warm-up with hot chocolate and muffins, 9 to 10 a.m.
Also in celebration of SUNY Cortland's non-traditional students, nominations were being accepted through Monday, Nov. 4, for the "Celebrate-a-Non-Trad" campaign. Nomination forms were e-mailed to the campus community and are available electronically.
The campaign aims to recognize non-traditional students who often balance college with other commitments such as family, jobs and long commutes. SUNY Cortland will present nominated non-traditional students with a certificate and campus recognition. Nominations should include the student's name, contact information, relationship to the student and comments about the non-traditional student. Comments will be listed on the certificate, unless otherwise noted.
For more information about Non-Traditional Students Week events or to recognize an outstanding non-traditional student, contact Non-Traditional Student Support Coordinator Cheryl Hines at 607-753-4726.
Native American artist Bill Miller coming to campus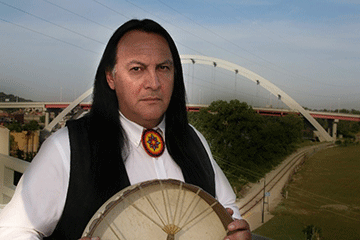 11/05/2019
Mohican Bill Miller, a world-class native flute player and three-time GRAMMY® Award winning singer/songwriter, will perform Saturday, Nov. 9, at SUNY Cortland.
Miller, from northern Wisconsin, will present "An Evening with Bill Miller" at 7 p.m. in Old Main Brown Auditorium.
The concert, which continues the 35th anniversary season of the SUNY Cortland Campus Artist and Lecture Series (CALS), will recognize Native American Heritage Month at SUNY Cortland.
Tickets prices are $3 for all students, free for children 10 and younger but a ticket is still required, $8 for senior citizens ages 60 and older, and $10 for general admission.
Tickets are available electronically through the College Store of SUNY Cortland (select 'shop' on the top menu and then 'event tickets'); or in person between 8:30 a.m. until noon and from 1 until 4 p.m. Monday through Friday in the Campus Activities Office of Corey Union, Room 406; by calling 607-753-5574; or at the door one hour before show time.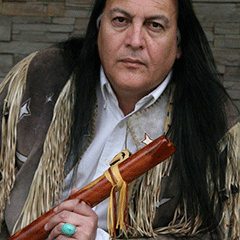 Miller, who has won six Native American Music Awards including a 2007 Lifetime Achievement honor, has long been one of the most admired figures in Native American arts and activist arenas. He has served as a voice for the voiceless and a link between two great and clashing civilizations populating the continent.
He grew up amid the streams and woodlands of the reservation with the tribe that is properly called Mahicanuk, which means "People From Where The Waters Are Never Still".
An acclaimed speaker, activist and gifted painter, Miller uses his heritage, life experience and spiritual path to share his message of transformation through reconciliation.
He has produced more than a dozen albums, received numerous Native American Music Awards and Association awards including a "Lifetime Achievement" Award, and led Wisconsin's La Crosse Symphony Orchestra.
Miller currently is touring in support of the history-making album release, "Look Again To The Wind," on which he performed the title track.
He pursues an equally active career as a visual fine artist. He is exclusively represented worldwide by American Indian art authority and private fine art dealer Ken Lingad (Indian Pueblo of Isleta). Constantly creating fresh works of visual art, Miller's painted masterpieces and drawings have been shown and sold in prestigious galleries around the country, while several of his iconic paintings have been acquired by the Smithsonian Museum and other important collections.
CALS events are funded by the SUNY Cortland Auxiliary Services Corporation and a Cortland College Foundation endowment fund.
For more information about tickets, call the CALS office at 607-753-5574 during the above hours. For information about the concert, follow SUNY Cortland CALS on Facebook and Instagram or check out the SUNY Cortland Campus Artist and Lecture Series website or the artist's website www.billmiller.co.
Recreation Conference Set for Nov. 7 and 8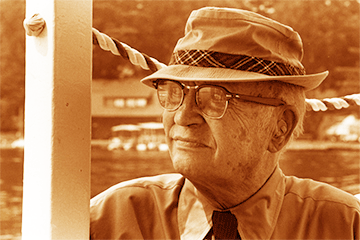 11/01/2019
Thomas L. Goodale '61, who has been honored for his work on the environmental impact of recreation and the sustainability of leisure, will deliver the prestigious Metcalf Endowment Lecture at the 69th annual SUNY Cortland Recreation Conference on Thursday, Nov. 7, and Friday, Nov. 8, at SUNY Cortland.
Goodale, who received the honorary degree of Doctor of Humane Letters from the State University of New York at the SUNY Cortland Undergraduate Commencement exercises in 2008, will discuss " Gold in the Vestibule" at 1:15 p.m. on Friday, Oct. 8, in the Corey Union Function Room.
"I will discuss the principle themes of freedom, truth, justice and virtue, all reflecting the life of the founder of SUNY Cortland's Department of Recreation, Parks and Leisure Studies, Harlan 'Gold' Metcalf," Goodale said of his keynote lecture.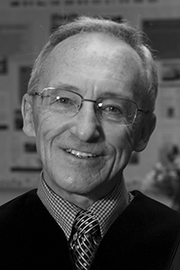 The talk is free and open to the public.
"The 'Gold' Standard" is the theme of the two-day gathering, the nation's oldest continuous collegiate-sponsored recreation education conference, to be held in Corey Union. The theme asserts that recreation plays an integral role in cultures, communities, families and individual lives and highlights Metcalf, one of the recreation field's great leaders.
"More than the founder of what is now the Department of Parks, Recreation and Leisure Studies at SUNY Cortland, Harlan Goldsbury Metcalf was a gentle man and a model teacher, professional, citizen and servant, according to conference organizers," Goodale said. "On the right side of history from the beginning, the program he founded championed a physical environment not simply sustainable but spiritually uplifting, and a social environment not simply inclusive but embracing."
"Today we must surmount daunting obstacles if we are to regain our footing on the path to who we want to be," said Esther VanGorder, faculty advisor to the students organizing the conference. "Leisure is our point of entry; freedom 'from' as well as freedom 'to' are pre-requisite; knowing what is true is the foundation of it all. Post-millenials must lead the way."
Goodale, a SUNY Cortland Distinguished Alumnus and renowned expert in the field of recreation and leisure studies, is a Cortland native and professor emeritus of health, fitness and recreation resources at George Mason University.
Metcalf was Goodale's own professor and mentor. Under his guidance, Goodale sought out the professor's longtime colleague at the University of Illinois, Charles K. Brightbill, considered by many at the time to be the philosophical leader of the recreation field.
There Goodale earned his master's degree and doctorate in park and recreation administration.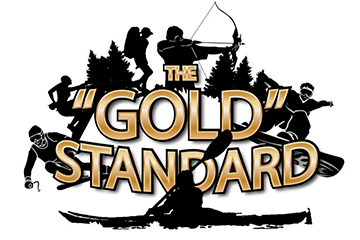 After earning his doctorate, he taught at SUNY Cortland, University of Wisconsin-Green Bay and University of Ottawa in Canada before joining George Mason University in 1988. He retired in 1999.
Notably, Goodale received the 1990 National Literary Award from the National Recreation and Park Association, a recognition reserved for writers who have made the most significant contribution to the park and recreation field's understanding of innovations, refined philosophic thought, trends and research in parks, recreation, conservation and leisure.
Goodale after his retirement continued to conduct research in his field. He is the author of numerous books, including The Evolution of Leisure: Historical and Philosophical Perspectives, which he co-authored with another SUNY Cortland graduate, Geoffrey Godbey '64.
Goodale also wrote Recreation and Leisure: Issues in an Era of Change. He is the author of more than 13 published book chapters on the philosophies of leisure, families and leisure, creating a humane environment and developing quality environments.
Goodale has made many presentations in the U.S. and Canada and received grants to support much of his research.
He has served as editor-in-chief of Leisure Sciences, as associate editor of the Journal of Leisure Sciences and as an advisory board member of TV Free America. The recipient of numerous distinguished service awards, he is a fellow and past president of the Academy of Leisure Sciences.
Goodale founded SUNY Cortland's Metcalf Endowment, which supports the annual Metcalf lecture as well as other academic initiatives for students in the field.
The conference features numerous presentations in the field, an expo and internship fair, a professional networking social, special workshops and training, two days of professional development sessions with catered luncheons, live entertainment and raffles of local goods and services.
Registration is open to the general public. The registration rate for the conference is $50 for students or $110 for professionals. Registration can be handled online at cortland.edu/recconf and same-day registrants will be accepted at the door both days.
The Recreation Conference hosts 300 to 400 students and professionals in the fields of recreation, parks, and leisure studies from all over New York state, the greater New England area and beyond.
Presented by the College's Recreation, Parks and Leisure Studies Department and students in its Special Events Planning class, the conference in the College's Corey Union receives additional support for the Metcalf Keynote Address from the Metcalf Endowment Fund. Sponsors also include the Recreation Association of SUNY Cortland, Campus Artist and Lecture Series, the New York State Recreation and Parks Society, the SUNY Cortland Alumni Association, Metro Mattress, Playground Medic, Frosted Bakery and Vision 2020.
For additional information and to register for the conference, visit cortland.edu/recconf or call 607-753-4939 or email recconf@cortland.edu.
Cortland in the news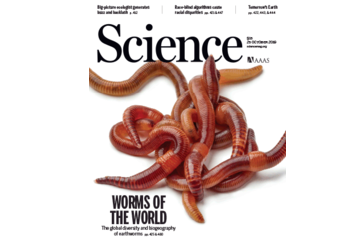 11/05/2019
Science's recent cover story, "Worms of the World," was not for the squeamish.
Yet the topic is of great importance to those studying soil organisms and terrestrial ecosystems.
Andrea Dávalos, assistant professor in the Biological Sciences Department, was a co-author on one of the issue's papers, "Global distribution of earthworm diversity." The paper compiled samples from scientists across the globe to build a dataset from 6928 sites in 57 countries in order to help predict patterns in earthworm diversity, abundance and biomass.
Dávalos is currently studying jumping worms, an invasive species of earthworm originally from Asia, that have been spotted in the Central New York area.
In other news:
Men's ice hockey charity game to support suicide prevention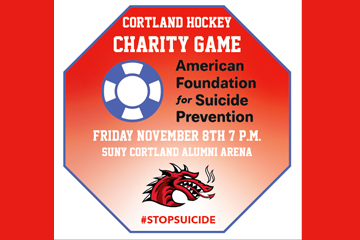 11/05/2019
The SUNY Cortland men's ice hockey team will be holding a #stopsuicide charity game and resource fair on Friday, Nov. 8 at 7 p.m. in support of the Central New York chapter of the American Foundation for Suicide Prevention (AFSP).

The Resource Fair will be held on Nov. 8 at 6 p.m. in the Park Center Hall of Champions area on the second floor (gallery area outside of the gymnasium entrance).

Cortland will host Potsdam that evening at Alumni Arena, and fans can show the community that they're voices for suicide prevention in a number of ways, including:

* Bidding on limited edition AFSP/Red Dragon charity game-worn jerseys, with all proceeds going directly to the AFSP (Jersey Auction Web Page)
* Becoming a sponsor - there are multiple levels of support available for individuals and organizations to fund the event
* Participating and encouraging others to attend the Resource Fair. The theme is "Have a Real Convo," which is part of the AFSP's social media campaign to increase awareness of effective ways to reduce the likelihood of loss by suicide
* Providing raffle or door prize items for the game-day auction
* Making a cash donation
* Purchasing a game-day charity logo puck
* Purchasing tickets and attending the game on November 8!!

Funds raised allow the AFSP to fund research, create educational programs, advocate for public policy, and support survivors of suicide loss.

Any questions about the auction can be directed to Cortland assistant coach Stephen Castriota at Stephen.castriota@cortland.edu or 607-753-4995.

Jersey Auction Web Page
Safer Sex Superheroes visit campus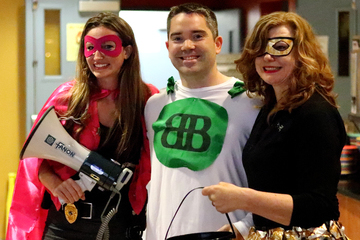 10/31/2019
SUNY Cortland received a Halloween visit from the Safer Sex Superheroes.
Investigator Amanda Wasson from Cortland UPD, Eric Schisler '18, sexual violence prevention educator from the Cortland YWCA's Aid to Victims of Violence and Jena Nicols Curtis, professor of health and director of the Center for Gender and Intercultural Studies, work together on Cortland's It's On Us Action Team.
Part of a campus-wide committee to prevent sexual violence, the team visited dining halls and other public areas between 11 a.m. and 2 p.m. on Halloween to spread information and awareness about sexual violence prevention.
All three donned costumes and developed monikers. Wasson was "Captain Communication," reminding students on how to verbalize consent. Schisler was "Bystander Boy," and spoke to students about how to step up and stop friends, acquaintances and strangers from taking action that could make themselves perpetrators. Curtis was "Magma," wearing a skirt made from condoms and handing out condoms to students from a Halloween pumpkin.
The It's On Us Action Team is charged with bringing together individuals and resources from the campus and local community to collaborate on educational efforts designed to increase the awareness of sexual assault, domestic violence and stalking prevention. The committee also assists with organizing and documenting the university's programming efforts. During October, the team collaborated with community organizations, academic departments, and student clubs for programming and events in support of National Domestic Violence Awareness month.
Nationally, rates of campus sexual violence increase during Halloween, homecoming, and other holidays or events associated with parties and alcohol consumption. Wasson, Schisler and Curtis hope that, by donning their capes on campus, they can remind students that everyone — from superhero to mild-mannered citizen — has a role to play in sexual violence prevention.
2020 Orientation, Advisement and Registration dates set
Orientation programs have been planned for 2020. Below are the program dates for January, June/July and August. All first-year Orientation programs are two days with advisement and registration occurring on the second day of the program and all Transfer Orientation and Advisement programs are one day.
January 2020
Transfer Orientation and Advisement 1: Tuesday, Jan. 7
Transfer Orientation and Advisement 2: Thursday, Jan. 23 and Friday, Jan. 24
Open Registration: Friday, Jan. 24
June/July 2020
Transfer Session 1: Monday, June 22
Transfer Session 2: Friday, June 26
First-Year Session 1: Monday, June 29 to Tuesday, June 30
Transfer Session 3: Wednesday, July 1
First-Year Session 2: Monday, July 6 to Tuesday, July 7
Transfer Session 4: Wednesday, July 8
First-Year Session 3: Thursday, July 9 to Friday, July 10
First-Year Session 4: Monday, July 13 to Tuesday, July 14
Transfer Session 5: Wednesday, July 15
First-Year Session 5: Thursday, July 16 to Friday, July 17
August 2020
Orientation: Thursday, Aug. 27 to Friday, Aug. 28
Open Registration: Friday, Aug. 28
This program is for students who cannot attend a June/July Orientation.
Various offices and departments work together to make these events a success and to aid our new students in their transition to SUNY Cortland. The campus community is invited to participate in these programs.
For additional program information, refer to the orientation website. Questions regarding the Orientation program should be directed to Marinda Souva in Advisement and Transition.

Suggest a feature story
---
Faculty/Staff Activities
Tyler Bradway
Tyler Bradway, English Department, received a book contract from Duke University Press for Queer Kinship: Erotic Affinities and the Politics of Belonging, which he is co-editing with Elizabeth Freeman from University of California, Davis. The book examines queer conceptions and practices of family, reproduction and belonging, and it features contributions from foundational scholars of LGBTQ+ kinship, including Judith Butler, Kath Weston and Mark Rifkin.
Kevin Dames and Mark Sutherlin
Kevin Dames and Mark Sutherlin, Kinesiology Department, along with collaborators from Colorado State University, had their paper titled "Setting boundaries: Utilization of time to boundary for objective evaluation of the balance error scoring system" published in Journal of Sports Sciences.This work outlined the strengths of quantitative balance assessments in a common concussion evaluation protocol, which has traditionally been scored subjectively. Introducing data from a portable force platform better characterized balance performance across trial conditions and can eliminate potential bias, low specificity, and low sensitivity inherent in subjective concussion testing.
Lindsey Darvin
Lindsey Darvin, Sport Management Department, had her research featured in an Ozy article titled "There's No Gender Gap for Winning Basketball Coaches." She is quoted in the article. Also, she provided some expert insights for a Forbes article related to the NCAA name, image, and likeness changes and the impact for women student-athletes. The article, "5 Issues To Keep An Eye On With The NCAA's New NIL Policy," includes a link to Darvin's SUNY Cortland staff profile.
Andrea Dávalos
Andrea Dávalos, Biological Sciences Department, is a co-author of the Oct. 25 cover story in Science, titled "Global Distribution of Earthworm Diversity."
Thomas Hischak
Thomas Hischak, professor of theatre emeritus, has had two plays published in October. His stage adaptation of Frances Hodgen Burnett's "The Secret Garden" has been published by Brooklyn Publishers and his adaptation of O. Henry's "A Retrieved Reformation" has been published by Pioneer Drama Publishers as "The Unexpected Reformation of Jimmy Valentine."
Szilvia Kadas
Szilvia Kadas, Art and Art History Department, was selected as one of the 2019 Design Incubation Fellows. As part of the Design Incubation Fellowship, Kadas participated in a three-day intensive workshop from Jan. 10 to 13, held at St. John's University's Manhattan campus.
Kate McCormick
Kate McCormick, Childhood/Early Childhood Education Department, presented at the 2019 Reconceptualizing Early Childhood Conference held in Las Cruces, New Mexico. She presented a paper titled, "'Wake up! I'm here to help!': Participatory research possibilities with young children."
Ute Ritz-Deutch
Ute Ritz-Deutch, History Department, had her article, "The Obscure Labors of a Forgotten Anthropologist: A Biography of Bruno Oetteking," published in BEROSE - International Encyclopaedia of the Histories of Anthropology, Paris, 2019.
Robert Spitzer
Robert Spitzer, Political Science Department, gave a presentation titled, "Gun Policy 101: What Policymakers and the Public Need to Know" on Oct. 1 at the Rockefeller Institute of Government in Albany, N.Y.
Tadayuki Suzuki
Tadayuki Suzuki, Literacy Department, had his article titled "Reading Picture Books and Discussing Gender Binary Topics with Elementary Students," published in the National Council of Teachers of English (NCTE) blog on Oct. 25.

Submit your faculty/staff activity