Musical theatre major earns B.F.A. distinction
08/23/2019
SUNY Cortland will launch a bachelor of fine arts (B.F.A.) degree program in musical theatre starting in Fall 2020 — a major addition for students who aspire to perform professionally after graduation.
The degree distinction means that the academic major will add greater emphasis to studio training and creative work. Cortland has offered a traditional bachelor of arts (B.A.) in musical theatre since 2000 while growing a program recognized for its contemporary training standards, new facilities and diverse performances.
Sixty-five students were enrolled as musical theatre majors in Fall 2019, a record number for Cortland. Only two other SUNY campuses — Buffalo and Fredonia — currently offer a B.F.A. in the discipline.
"The B.F.A. program is what most prospective musical theatre majors are looking for," said Kevin Halpin, associate professor and chair of the Performing Arts Department. "It's very much focused on training students to go out and be professionals in the theatre upon graduation."
In the new program, expectations will include seven semesters of ballet training and working with a voice teacher plus course requirements in acting, spoken voice, theatre history, jazz dance, tap dance and theatre dance. The focus will continue to be preparing students to be working creative artists.
SUNY Cortland graduates have gone on to be actors, singers, dancers, choreographers, directors, theatre technicians and educators. Halpin noted that several alumni are performing in lead roles on national tours in productions such as "Fiddler on the Roof" and "Miss Saigon," while many others are working in regional theatres, summer stock shows and on cruise lines.
SUNY Cortland continues to host musical theatre industry showcases in New York City and on campus during the spring in an effort to highlight current seniors and young alumni.
"We're looking at the whole actor-scholar," he said. "It's not just about getting students through their classes, but moving them forward in a way that they're truly resilient and prepared for what's ahead in their careers."
Ninety-three credit hours of the 125 required for the new B.F.A. will be earned within the Performing Arts Department. Halpin explained a special quality of Cortland's training is that musical theatre is the only major offered within the department.
That means all performances at Cortland are planned intentionally to expose students to a variety of experiences, from musicals to classic plays to modern dramas. In a music school, for instance, larger roles in more serious musicals may be reserved for students specializing in vocal performance.
"Because musical theatre is our only major, all performance opportunities are available to all students," Halpin said. "Everything is for them."
Musical theatre majors also perform in new facilities, which came as part of a $22 million renovation of the Dowd Fine Arts Center in 2014. That project included a 400-seat theatre, private practice rooms and many other modern features.
Even more important are the genuine and direct relationships that students share with 18 faculty and staff members within the department. Areas of expertise are far-reaching and include skills such as acting, ballet, piano, voice, technical theatre and more.
In addition to earning admission to SUNY Cortland, prospective musical theatre majors must audition for the program. Three auditions are planned for 2019-20: Nov. 16 on campus, Jan. 18 at Pearl Studios in New York City and Feb. 15 at Ripley Grier Studios in New York City. More information about scheduling an audition can be found online.
Major campus productions for the 2019-20 academic year include a new adaptation of "Lysistrata," an ancient Greek comedy; "Head Over Heels," a musical comedy highlighting the catalog of The Go-Go's; "The Curious Incident of the Dog in the Night-Time," a play based on the mystery novel of the same name; and "Holiday Inn," a modern musical inspired by the 1940s film.
Those productions, coupled with the introduction of the B.F.A. in Fall 2020, should lead to an exciting year of musical theatre at SUNY Cortland.
"It's nice to be a hidden gem, but we don't want to be a secret anymore," Halpin said, referring to SUNY Cortland's inclusion on a 2018 list of the five most underrated theatre programs in the Northeast. "The B.F.A. is going to help us achieve the goal of being a nationally respected and recognized program."
SUNY Cortland a "Best College for Your Money"
08/12/2019
SUNY Cortland has been ranked among the top institutions in the nation by Money magazine as a "Best College for Your Money."
Money's annual list placed SUNY Cortland at No. 141 in the nation as one of the best for successfully combining quality and affordability. The magazine ranked a total of 744 colleges out of 2,400 across the country.
For the second consecutive year, Cortland was the highest-ranked of all SUNY comprehensive colleges in Money's Best Value list.
"Once again, we are gratified by this recognition of our ability to offer academic excellence, transformative experiences and a healthy and exciting environment at a reasonable cost," SUNY Cortland President Erik J. Bitterbaum said.
To construct its rankings, Money weighed more than 19,000 data points, including tuition, family borrowing and estimated career earnings. It consulted sources such as the U.S. Department of Education, Peterson's and PayScale.com and weighed colleges based on quality of education, affordability and outcomes.
The university has also been recognized by a number of national publications and organizations for excellence.
Money ranked colleges on 26 factors, including six-year graduation rate, instructor quality, student debt, ability to repay debt and a variety of statistics tied to earnings after graduation.
---
Capture the Moment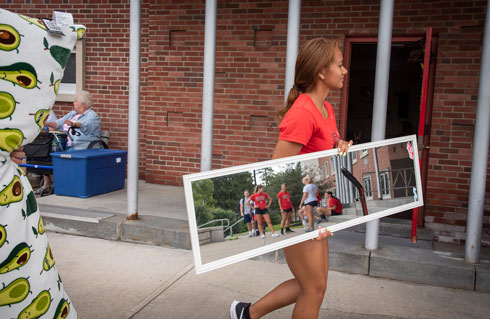 Junior Janessa Factor, a member of the women's soccer team, helped new students move in between Aug. 22 and 25. Volunteers from several sports teams and those who signed up to work with Blaze's Opening Crew greeted students and their families and moved belongings into the residence halls. In all, nearly 7,000 students started fall semester classes on Aug. 26. SUNY Cortland President Erik J. Bitterbaum welcomed the students in this video.
---
In Other News
Get your tickets for Cortaca Jug at MetLife Stadium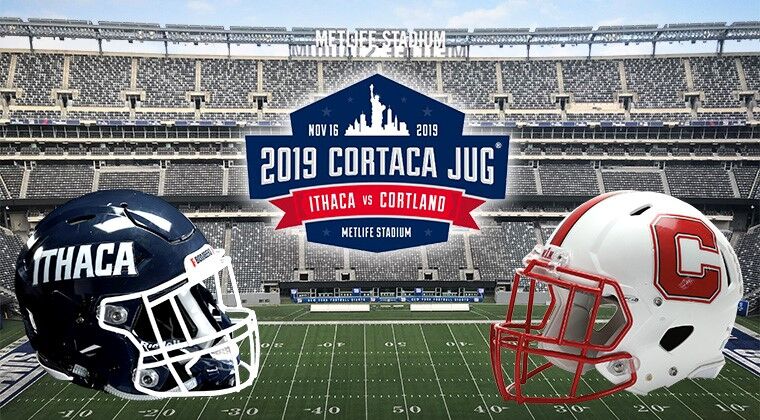 08/27/2019
SUNY Cortland students who want to be a part of sports history will be able to buy tickets to the once-in-a-lifetime Cortaca Jug 2019 game in MetLife Stadium starting on Monday, Sept. 2.
Purchasing tickets on campus is the only way to get them for $15 and avoid service fees. A limited number of round-trip bus seats will be available to purchase for an additional $20. All sales are cash only.
Dates: Monday, Sept. 2 through Friday, Sept. 6, and Monday, Sept. 9 through Friday, Sept. 13
Times: 9 to 11 a.m. and 1:30 to 4 p.m. each day
Location: Corey Union, Room 406
Price: $15 for a ticket, an additional $20 for round-trip bus transportation
Students may buy up to five game tickets. Bus tickets are limited to one per SUNY Cortland student and one for a guest.
The Cortaca Jug game will be played on Saturday, Nov. 16 at MetLife Stadium in East Rutherford, N.J. Kickoff is 1 p.m.
Ticket sale terms
All game and bus ticket sales are final. No refunds or exchanges. Cash only.
If you are looking to sit with a group of friends, please come together to purchase tickets, as all seats are assigned by sections.
Game and bus tickets are first-come, first-served while supplies last.
You must present your SUNY Cortland ID to purchase tickets.
Stadium and bus policies
The following items are prohibited and will not be allowed on the bus or in the stadium:
Alcoholic beverages
Bottles, cans or food
Apparel with profanity or offensive slogans and/or pictures
Artificial noisemakers
Umbrellas, backpacks, bags, purses and pocketbooks per MetLife policies
Banners, flags or signs attached to sticks or poles
Charcoal grills
Containers or coolers
Pets of any kind
Strollers
Tobacco products
Weapons of any kind
Charter buses also have policies to keep everyone on board safe. Please respect their rules. Stay seated while moving. No tobacco products, alcohol, drugs or weapons are allowed. Do not disturb the driver or other passengers.
Avoid conflicts and delays by reviewing the policies and regulations via the MetLife Stadium website:
Concert sculpture offers new way to look at music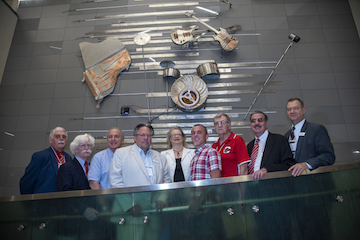 08/27/2019
The new, two-story wall sculpture overlooking the first floor of Corey Union features symbolic musical instruments like those played by Billy Joel, the Grateful Dead and other artists who once performed at SUNY Cortland.
The metal instruments can't actually be played by musicians, but the entire work of art can bring music in the recently renovated venue to life visually. Embedded in the sculpture are colored spotlights programmed to blink with the flow of beats and riffs played through the sound system.
Students performing in the fall's first Open Mike Night in the first-floor food court in Corey Union on Tuesday, Aug. 27, were the first members of the SUNY Cortland community to experience this aspect of the sculpture, which commemorates the university's concert legacy.
The event was sponsored by the Student Activities Board. It mixed student participants with several alumni speakers involved with bringing big-name artists to campus during the 1960s, 1970s and 1980s. Alumni also displayed memorabilia and photos from those historic concerts.
"This is a unique feature for a unique sculpture that pays tribute to a unique time in musical history," said Kevin Pristash '85, MA '91, director of Corey Union and Campus Activities, of the sound-responsive lights. "And it's a fun way to raise awareness of SUNY Cortland's role in launching the careers of some of pop music's biggest stars."
Throughout the 1960s through the 1980s, the list of performers that came to Cortland included Aerosmith, the Beach Boys, the Eagles, Linda Ronstadt, Simon and Garfunkel, James Taylor and many, many more. During that time, increasing student activism and leadership met the economics of the music industry, which relied on touring college campuses to promote record sales.
Former students involved with that effort came together last year to launch the SUNY Cortland Alumni Association's Musical Legacy Commemoration (1960-90) Project, which involved a schedule of panel discussions, exhibits and events aimed at raising awareness of this era during SUNY Cortland's sesquicentennial year.
The committee hired Scott Oldfield '06, the artist responsible for the giant, metal red dragon in front of the SUNY Cortland Stadium Complex, to create the towering, stainless steel and copper arrangement of sculpted musical instruments in Corey Union. Oldfield talked about his creation at the recent event.
The sculpture was officially unveiled earlier this summer as part of Alumni Reunion 2019. Because of technical issues, however, the responsive lighting system was not turned on. That was done on Aug. 27, in the second unveiling event, which was aimed at students.
Open Mic Night is a bi-weekly event in Corey Union. It is free and open to the public.
Dowd Gallery showing permanent collection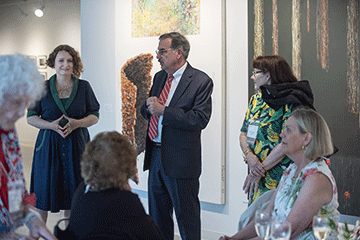 08/27/2019
SUNY Cortland's Dowd Gallery opens the 2019-20 academic year with an exhibition of 76 selected works from its permanent collection including rarely seen paintings, prints and sculptures.
The collection includes a photograph by Ansel Adams, lithographs by Marc Chagall, Joan Miró, Henry Moore, Pablo Picasso, Le Corbusier, etchings by Käthe Kollwitz, a series of color woodcut engravings by Salvador Dalí and also notable names from the contemporary art scene like Richard Serra and Judy Pfaff.
"Selected Works: Pieces from the Permanent Collection," will highlight the university's five decades of adding more than 900 pieces of both American and international art, which includes pieces dating to the 13th century. The exhibition opened Aug. 26 and will be on display in the gallery, located in the university's Dowd Fine Arts Center, through Friday, Oct. 4.
An opening reception will be held from 4:30 to 7 p.m. on Thursday, Aug. 29, at the gallery on the corner of Prospect Terrace and Graham Avenue.
All Dowd Gallery events are free and open to the public. Gallery hours have expanded by one hour from 10 a.m. to 4 p.m. Mondays, Tuesdays, Wednesdays and Fridays; and from 10 a.m. to 7 p.m. on Thursdays. Viewers can also visit by appointment. For more information, or to arrange an appointment or group tours, contact gallery Director Jaroslava Prihodova at 607-753-4216.
The exhibition also will include a documentary screening and several satellite exhibitions inside Dowd Center and elsewhere. Four invited speakers who represent neighboring academic institutions known for their collections and educational programs for students and the public will lecture. Th guest lectures all will take place at 5 p.m. in Dowd Gallery.
Upcoming events are as follows:
Satellite exhibition: "Student Select at the Library," which opened June 1, will continue to be displayed on the second floor of Memorial Library until May 29, 2020.
Satellite exhibition: Pittsburgh, Pennsylvania artist Jeremy Tarr will display his "Forsaken Ecologies" in the Dowd Center's Daniels Foyer Gallery from Monday, Aug. 26, until Friday, Oct. 11. Born in 1989, Tarr is a performance artist, videographer, sculptor and photographer whose themes are abandoned and vacant spaces in a state of decay indicative of the post-industrial world and the new myths and narratives that arise in their place. Tarr earned a bachelor's degree in printmaking and sculpture and an M.F.A. in studio art at Syracuse University. In 2017, he received an artist-in-residency fellowship in Berlin, Germany, where he had a studio at the Axel Haubrok Fahrbereitschaft Collection. This fall, he joined SUNY Cortland's Art and Art History Department as the assistant to gallery director at Dowd Gallery.
Film screening: The documentary "Herb and Dorothy" will be screened on Thursday, Sept. 5. The film tells the story about Herbert Vogel, a postal clerk, and Dorothy Vogel, a librarian. In their lifetime, the couple managed to build one of the most comprehensive contemporary art collections acquired with modest means. The time and location will be announced later.
Guest lecture: Diane Butler, director at the Binghamton University Art Museum, will present "Engaging Students, Engaging Communities" on Wednesday, Sept. 11. The museum reaches out to communities who needed a nudge to visit exhibitions and become involved in public programs. "By borrowing familiar models and experimenting with innovative activities, the Binghamton University Art Museum is working to entice visitors to find time to encounter art," Butler said.
Satellite exhibition: Daniel Farber Huang will show "Power of Faces: Looking at the Global Refugee Crisis" from Sunday, Sept. 15, to Tuesday, Oct. 15, in Old Main Colloquium. Huang and his wife, Theresa Menders, are a husband-and-wife team of photographers whose goal is to humanize the sheer numbers of men, women and children — 65 million by United Nations estimates — who have been forced to flee their homes due to conflict or persecution.
Guest lecture: Sara Pasti, the Director for External Relations and Advancement at the Samuel Dorsky Museum of Art, SUNY New Paltz, will discuss "Learning about Museums: Collections and Careers" Thursday, Sept. 19. The starting point for her conversation on the challenges and benefits of a university art museum will be New Paltz's Dorsky Museum, from its collection inception to the artwork selection process and how it stores and shares its collection. Pasti also will share her thoughts on museum careers and how consultants assist museums in their work.
Guest lecture: Leah Sweet, the Lynch curatorial coordinator for academic programs at Cornell University's Herbert F. Johnson Museum of Art, will address how the Johnson Museum engages with curricular and scholarly pursuits at Cornell University via both broad and deep academic partnerships. Her Thursday, Sept. 26, lecture is titled "A Place with no Fences: Fostering Curricular and Scholarly Connections at the Academic Art Museum."
Guest lecture: David Prince, curator at the SU Art Galleries, Syracuse University, will describe the 150-year history of the university's permanent art collection and its key role in fostering education on Wednesday, Oct. 2. "Syracuse University enjoys the distinction of being the nation's first institution of higher education to offer degrees in studio arts, notes Prince, about his talk, "From Closet to Classroom: the Syracuse University Art Collection."
Since its inception, Dowd Gallery has primarily focused on showing engaging, challenging and relevant artwork that has enhanced the intellectual culture on campus and the region, Prihodova explained.
Alongside the exhibition mission, the gallery has continued acquiring historical, modern and contemporary art. The university accepts paintings, prints and objects to include in the permanent collection.
"Although our collection is small, it is not insignificant," she said. "Among artwork created by regional artists, current and former Art and Art History Department faculty members and alumni, we own pieces by titans of the art world."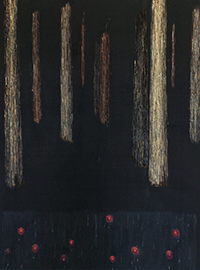 The main gallery collection also will include work by Yaacov Agam, David Ahlsted, Clayton Anderson, Carl Andre, Karel Appel, John Baldessari, Leonard Beck, Robert Birmelin, Richard Bosman, Harvey Breverman, Dorothy Byer, Paul Cezanne, Zaccharie Charvolin, Val Cushing, Hui Fang, Henry Gernhardt, Leon Golub, Frank Goodnow, Stanley William Hayter, Hegedűs 2 László, Jenny Holzer, John Jessiman, Steven Kemenfly, Ernst Kirchner, Vera Klement, Barbara Kruger, Wei Li, Craig MacPherson, René Magritte, Aristide Maillol, Henri Matisse, Peter Max, Michael Mazur, George McNeil, Peter Milton, Robert Motherwell, John Newman, Alexander Peroutka, Justin Pribulick, Heather Ramsdale, Ray Parker, Georges Rouault, Edward Ruscha, Kent Rush, Changzhong Shao and Maurice de Vlaminck.
In recent years, SUNY Cortland alumni and individuals associated with the university took advantage of the possibility to give back in the form of artwork.
For example, the collection's latest addition came from Jacquie Salomon '69.
"Mrs. Salomon donated two large paintings by Vera Klement, a Chicago-based artist whose work is included in major collections all over the country," Prihodova said. "We are very fortunate to share these pieces with our audience this fall.
"It is a great alternative to donors who value the arts and want to make other than a financial contribution to the institution," Prihodova said. "This exhibition, in part, is a tribute to our donors, who felt compelled to leave a lasting legacy."
The SUNY Cortland art collection brings awareness to the notion that art is an asset with an educational charge. The Dowd Gallery has been using its collection in thematic exhibitions, class courses such as art history, Spanish and economics as well as studio-oriented courses.
"The art collection is used as a learning tool to help to understand historical connectivity, application of innovation as well as political-economic commentary across the fields," Prihodova said. "Besides the scholarly aspect of the collection, this exhibition allows the audience to visit pieces otherwise locked in storage."
Cortland ranked No. 5 nationally for coaching master's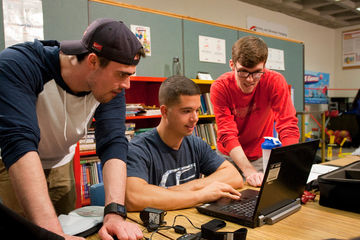 08/26/2019
SUNY Cortland's tradition of excellence in athletics extends beyond those who don uniforms and compete.
Thousands of dedicated Cortland alumni coach athletes at every level, from youth sports to high schools and the professional ranks.
Many of them owe their success to the university's graduate program with its focus in coaching pedagogy, which was ranked No. 5 in the nation by TheBestSchools.org.
SUNY Cortland offers a concentration in coaching pedagogy in its physical education master's programs.
The website lauded Cortland's coaching program for its ability to "advance the careers of both teachers and coaches at all levels." It also noted the high quality of course work in the Physical Education Department, which follows standards set by the Society of Health and Physical Educators (SHAPE America), Adaptive Physical Education National Standards (APENS) and the New York State Learning Standards in Physical Education.
"The coaching pedagogy program Is unique in many ways," said Matthew Madden, associate professor and chair of the Physical Education Department. "It Is one of the few remaining hybrid, online and on-campus delivery, graduate programs In the U.S. The students are typically physical education teachers and coaches in the field. They return to campus for one to two weeks during the summer months to complete courses with instructors after six to eight weeks of working online."
The master's concentration in coaching pedagogy is designed to enhance the teaching and coaching abilities of physical educators in the field. It expands on core concepts with advanced study in the areas of motor development, diversity, exercise science, sport psychology and coaching philosophy and principles. Many students explore state-of-the-art teaching and coaching tools, including Dartfish, a digital video analysis software package. Classes utilize resources of the recreational and sports facilities on campus and allow students to pursue their own research interests.
"It Is an interdisciplinary group of instructors teaching in the program," said Madden, who has served as graduate coordinator and program advisor since 2016. "The professors specialize in coaching effectiveness, physical education teacher education, adapted physical education, exercise physiology, sport psychology, biomechanics and physical activity. Overall, the program provides contemporary professional development to educators working as coaches in the field. It is very common to hear students in the program talk about and explain how they are going to use this method, strategy, idea and concept with their athletes."
A residency-based online program, the concentration in coaching pedagogy includes one online course, two hybrid courses and one completely on-campus course each summer.
TheBestSchools.org considered the quality of Cortland's program, the types of courses offered, faculty, other rankings, awards and reputation in compiling its list.
Visit Cortland's Physical Education Department online for more information on its graduate programs.
Alumna helps bring steampunk festival to Cortland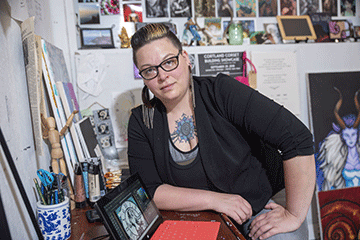 08/23/2019
With one foot in the past and the other in the future, the City of Cortland embodies the Victorian era-meets-science fiction concept of steampunk.
Crystal Lyon '09 of Cortland, a working artist and consummate do-it-yourselfer, is one of the visionaries behind the Gears to Corsets: Cortland County Steampunk festival, set for Sept. 27 to 29 in five different locations in Cortland and Homer, N.Y.
"It's a really cool thing, a fantasy," she said of steampunk, a genre of science fiction that has spawned an entire sub-culture of art, fashion and lifestyle. "I chose Victorian steampunk because it's old but it's also new. And everyone gravitated toward it. "
Steampunk celebrates the late 19th century vision of early science fiction writers like Jules Verne and H.G. Wells by imagining an industrial era filled with clockwork robots, steam-powered automobiles and top hats outfitted with gears and goggles.
"The essence of steampunk is homage to vintage fashion with a modern, sassy twist," Lyon said.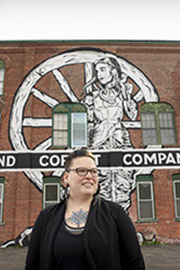 Lyon is working with the Cultural Council of Cortland County, the Cortland County Convention and Visitors Bureau, the Cortland Historical Society, the Cortland Living History Museum and the 1890 House to make the festival happen.
"It's the best collaboration, because it's all about creating more exhibition space and getting tourists interested in coming to town, experiencing new things, rejuvenation," Lyon said.
Festival participants will be invited to role play steampunk characters of their own invention in genre clothing and accessories during events inside the Cortland Corset Building, at the 1890s House, the Cortland County Historical Society, the Center for the Arts in Homer and the CNY Living History Museum.
CRT Downtown will be hosting a steampunk fashion show during the Gears to Corsets Cortland County Steampunk Festival.
A website, www.gearstocorsets.com, advertises the weekend event, which will feature live music, visual art projected on walls, multiple vendors, workshops, steampunk entertainment and other activities.
"I'm determined to bridge the gap and crosspollinate, especially when it comes to art creative opportunities," said Lyon, who in 2017 started her own multi-media art studio, Living Illusion Studio, upstairs in the Cortland Corset Company building at 75 East Court Street.
The massive brick factory, built in 1872 — smack in the steampunk time setting — is now an eclectic retail, art and wellness center, with many small businesses and organizations operating in areas originally built for making wagons or women's undergarments.
Ten years after graduating from SUNY Cortland with a B.F.A. in new media design, Lyon has mastered the skill of using public art as a means to foster ties in the community, creating wall murals, light-projected artwork and outdoor installations.
To underscore Cortland's steampunk cred, Lyon used social media to summon helpers from her growing association with local artists to help her paint a 42-foot tall steampunk mural on the west side of the Cortland Corset Building, facing Pendleton Street. Lyon's mural features an adventurous-looking woman in a long, Victorian style long gown wearing aviator's goggles and sporting a baby dragon on her shoulder.
High school students, Tompkins County Community College students and many community members — some of them artists and some not — pitched in.
The mural's steampunk heroine also is emblazoned on a T-shirt that Lyon plans to sell at the festival. She handles all the event's graphic design work and serves on the festival planning committee.
Lyon hopes the festival venture will encourage a renaissance of sorts between those who appreciate the arts in the local community and artists at her two earliest alma maters, TC3 and SUNY Cortland.
Her idea is to encourage cosplayers — role players who create and wear character costumes for fun — from far and wide to show up.
"There's nobody else really planning something like this, and we have a whole list of steampunk festivals, " Lyon said. "What we want to happen could be the biggest one in this region, in the northeast. "
She obtained a $2,500 award through the CNY Arts Decentralized Grant for Individual Artists in 2018 and 2019 as well as private donations to support the mural project and create steampunk-themed projection artwork for the festival.
Lyon returned to her hometown from San Francisco in 2014 bearing an M.F.A. in motion picture television with a concentration in production design from the Academy of Art University. She wanted to be closer to her family, but did not know quite what to do with herself until she discovered opportunities to create a rejuvenated local art scene by collaborating with Christine Shanks, the graphic design chair and associate professor at TC3.
"She was new to the area as well and we became friends," Lyon said. "She pulled me into the downtown revitalization grant."
Shanks and Lyon collaborated to advocate for a future Crown City Artists Project planned in connection with a $10 million grant the city received in 2018 from New York state's Downtown Revitalization Initiative. Now in a working group phase, when the endeavor gets underway Lyon envisions her role will be encouraging artist participation in public art projects.
Lyon currently tutors digital and art students at TC3. She will be teaching an introductory course in new media this fall at SUNY Cortland, when Martine Barnaby, her former mentor and an associate professor of art and art history, will be on sabbatical.
After she joined the Cortland Repertory Theater as house manager and production assistant in 2016, Lyon arranged a pop-up exhibition for local artists in the black box-style theater space at CRT Downtown in Cortland. The exhibit ran for two weeks this year, starting the last week of February.
"It was the CRT's first time putting on a little community art show there," Lyon said. The exhibit showcased amateur artists, community artists, TC3 students and SUNY Cortland students.
Lyon said she's all about creating makeshift gallery space hallways and turning odd pockets of empty space into creative space.
"Anywhere else, in any other city, especially for artists, locations like the Cortland Corset Building are prime real estate," Lyon marveled while standing in her studio with its quaint old factory atmosphere. "You want to be in space like this where other people are doing collaborative things."
Lyon shares her studio with fellow TC3 alumnus Eric Earley, the proprietor of Stoked Clothing Co.
"We hang out here to make art," Lyon said. "Sometimes I hold a sketch night where people can come in and hang out and talk about what they are working on, talk out their creative problems."
"Sometimes the only way to make something happen is to make something happen."
'Learning together' focus of president's opening address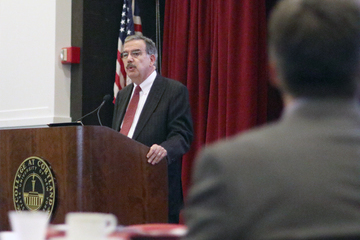 08/22/2019
SUNY Cortland President Erik J. Bitterbaum highlighted the accomplishments of faculty, staff and students on campus and touched on a number of challenges facing higher education during his Fall 2019 opening address on Thursday morning.
Perhaps the most pressing of those issues is growing nationwide concern about the mental health of college students, he said, noting that a recent survey of college presidents showed that 90 percent of all public colleges have made student mental health a greater priority over the last three years. Common problems range from anxiety and stress to loneliness and depression.
He offered a motto for how the campus community can best work together in the future: No one learns alone.
Although the university's Counseling Center is a first stop for students needing non-crisis mental health resources, faculty and staff may also play a large role in making students feel welcome and at ease on campus, Bitterbaum said. He shared a note he received from a student who had difficulty with an assignment but reached out to the professor of the course. The faculty member said, "You can do it. Let me show you how."
The student replied that "Those words were more important to me than winning a $1 million lottery."
"Our students want to be accepted, they want to be listened to and they want to be acknowledged," Bitterbaum said. "That's something we can all do together."
Other topics addressed Thursday:
Bitterbaum acknowledged a number of ongoing construction projects happening on campus and at the university's William H. Parks Family Center for Environmental and Outdoor Education sites at Raquette Lake and the Brauer Field Station. A new concrete floor was recently poured in Alumni Arena and work continues on the façade of Park Center. Moffett Center renovations will continue through the 2019-20 academic year and the ground floor is expected to reopen by the Fall 2020 semester.
Graduate outcomes for former SUNY Cortland students remain positive. A recent survey of the Class of 2017 shows that 98% are employed or are continuing their education. A large percentage of that class — 85% — have remained in New York state, although graduates from the Class of 2017 have also settled in countries around the world as well as 34 U.S. states.
National surveys have shown that the newest generation of college students have different expectations of the purpose of higher education, particularly when it comes to their preparation for the workforce. Bitterbaum noted that the university's strengths already fit what today's students are seeking: hands-on experiential learning in in-demand fields.
SUNY Cortland has been recognized by a number of national organizations for factors including the quality of specific academic programs, campus and community safety and recent renovations to eateries in Corey Union. Money magazine named the university to its 2019 "Best Colleges for your Money" list. Once again, SUNY Cortland was the highest-ranked of SUNY's comprehensive colleges.
Bitterbaum highlighted a number of grants received by faculty and staff in the past year, including a $95,000 grant from the state Department of Environmental Conservation to biological sciences faculty members Andrea Davalos and Laura Eierman to study the threat of invasive jumping worms.
Bitterbaum's remarks were followed by a number of faculty and staff presentations. SUNY Cortland's Marketing Office unveiled a new secondary mark that will be used in a variety of campus and admissions communications. More information is available at Cortland.edu/toolkit.
Other presentations included "Assisting Distressed and Distressing Students," "Understanding the Experience of Students of Color at SUNY Cortland" and "SUNY Cortland's Writing Programs."
A video recording of the meeting will be posted at https://video.cortland.edu/Watch/opening-2019-fall.
Students, faculty offered free global news briefings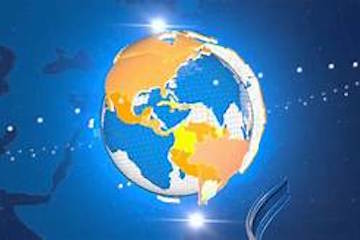 08/27/2019
The world is a big, confusing place filled with news sources that are biased, inaccurate, without context or densely written and difficult to digest. For many of us it is difficult to gain a basic understanding of world events.
That's why SUNY Cortland has partnered with DailyChatter, an independent, non-profit, non-partisan news organization that offers to provide "The world in two minutes." DailyChatter produces a daily summary of important international news stories and makes it available to members of campus communities free of charge.
The service is available at 36 universities, including Harvard, Yale, Brown, Columbia, Hamilton and Northeastern. Cortland is the first institution in the 64-campus SUNY system to be offered the opportunity.
Interested students, faculty and staff are urged to go to the group's SUNY Cortland landing page and sign up. The day after subscribing, participants will begin receiving short news briefings will be delivered to subscribers' email inboxes each morning at 6 a.m.
Each briefing includes five quick-but-comprehensive stories on global events and issues that are often overlooked or under-reported by mainstream news outlets. A recent issue highlighted the plight of refugees stranded in the Mediterranean Sea due to Italian policies, violent protests in Hong Kong, Israeli drone crashes in Lebanon, huge fires in the Amazon rainforest and an archaeological discovery in France. Each story includes links so readers can find additional information on topics that pique their interest.
The reports are researched and written by a team of veteran news reporters led by DailyChatter founder Philip Balboni, an award-winning journalist with 50 years of experience in print, broadcast and digital news. He founded the online international news site GlobalPost and NECN, the largest regional cable news network in the United States.
DailyChatter accepts no advertising. It is supported by paid subscriptions to individuals and partnerships with large news organizations, as well as support from public-interest foundations. This allows it to offer its daily briefing to colleges and universities for free.
Roundtable to focus on community improvement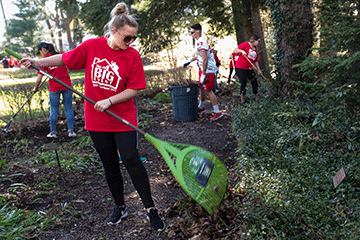 08/27/2019
The Opportunity Community model is a national movement designed to create the types of communities everyone would want to live in by increasing prosperity for people living in poverty.
Three local officials in Cortland, N.Y., will discuss what the program could offer the area during a community roundtable on Wednesday, Sept. 4, at SUNY Cortland.
"Cortland Opportunity Community: Creating Opportunity for Everyone," is the first 2019 presentation of the Victor G. and Ann Siegle College Community Roundtable Series. The event will be held from 8:30 to 9:30 a.m. in the Park Center Hall of Fame Room.
The roundtable is free and open to the public. Refreshments will precede the presentation at 8:15 a.m. Please note that the event date was moved to Wednesday instead of the usual Thursday and that both the reception and presentation will take place later than usual.
Panelists will include Joyce Allen, adult education coordinator for Cortland County Community Action Program, Inc. (CAPCO); Lindy Glennon, executive director of CAPCO; and John Suarez, director of SUNY Cortland's Institute for Civic Engagement.
The Opportunity Community program's comprehensive approach builds on the existing strengths of the people it serves with support from businesses, social service, education, healthcare, justice, faith-based organizations and community members.
CAPCO is leading the effort to launch the program locally. Glennon and Allen will describe the Opportunity Community Program process, its benefits to this community and ways to help.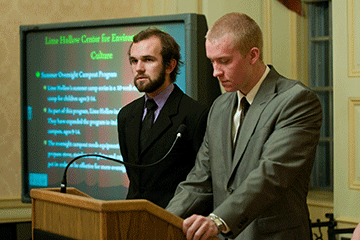 Suarez will explain how faculty, staff and students can participate in the program and make a difference in the region.
"The university can be involved directly and indirectly," Suarez said. "For example, faculty and staff can serve as facilitators — individuals who serve as resources for low-income people who have registered in the program. Students can help to promote the program. Faculty and students can design and conduct program-based research. And, faculty and students can partner with participants to design innovative applied learning projects that can serve as models for other SUNY campuses, while simultaneously promoting the Opportunity Community program."
Hosted by the President's Office since 2014, the ongoing community roundtable series has been presented with the support of an endowment created by Cortland College Foundation board member emeritus Victor Siegle and his wife, Ann. For his service, the College Council of SUNY Cortland honored Siegle in 2013 with its College Community Appreciation Award.
During the roundtable, public parking is available in the lots surrounding Park Center.
For more information about the roundtables, contact Samantha Howell, special events coordinator for the President's Office, at 607-753-5453, or visit the Community Roundtables webpage.
Cortland named safest college town in New York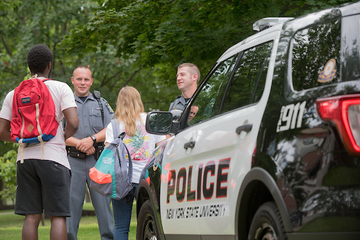 08/22/2019
Student safety is one of the foremost concerns of parents when their child is making a college decision.
It's also SUNY Cortland's primary concern.
Safewise.com is the latest organization to recognize the university's commitment to safety, naming Cortland, N.Y. to its annual ranking of the safest college towns in America. Cortland, the only municipality in New York state to make SafeWise's list, placed at No. 20.
"We want our students' time at SUNY Cortland to be filled with positive, life-improving experiences, and our surrounding community helps provide the safe, enriching environment that makes that possible," SUNY Cortland President Erik J. Bitterbaum said. "This ranking is no surprise to us. We know that the beautiful hills of Central New York provide a perfect backdrop for a safe, but extraordinary, educational adventure."
The ranking examined statistics and population data from the Federal Bureau of Investigation on violent crimes per 1,000 people for each city and also considered property crimes. Safewise built its list using cities with a population of at least 15,000 residents that are home to an accredited college that offers four-year degrees. Colleges with an enrollment of fewer than 2,000 students were excluded.
Safewise specifically lauded the City of Cortland's decrease in the property and violent crime rates over the past year.
SUNY Cortland has received a number of plaudits for its efforts to keep campus safe for students.
YourLocalSecurity.com named Cortland the safest college environment in New York state earlier this year.
Safewise has previously ranked Cortland on its list of the 50 safest college towns in America in 2017 and 2018.
The university provides a number of services that provide for a secure atmosphere on campus. The University Police Department, which moved into a state-of-the-art facility in Whitaker Hall in 2017, has uniformed officers who monitor the campus 24 hours a day. UPD sponsors educational programs on crime prevention, personal safety, self-defense, sexual assault prevention and other topics.
Cortland's Title IX Office works to raise awareness about sexual harassment, sexual assault and sexual violence as well as offer training to students, faculty and staff on how to identify and prevent domestic violence, dating violence and stalking.
Felton earns national professional awards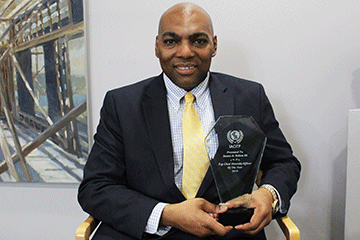 08/27/2019
James Felton III, who has led SUNY Cortland's diversity efforts since 2017, was recently honored for his work by two national organizations.
Felton, SUNY Cortland's chief diversity officer, was named Top Chief Diversity Officer of the Year for 2019 by the International Association of Top Professionals (IAOTP), a New York City-based networking organization that selects prestigious top professionals from different industries for recognition. Members must be chosen by IAOTP's president or nominated by a distinguished honorary member after a brief interview.
In addition, Felton will receive special recognition at the 20thNational Role Models Conference, Sept. 26-29 in National Harbor, Maryland. The annual event is hosted by Minority Access, Inc., a group committed to helping universities, government agencies and organizations successfully diversify their professional ranks. The conference highlights inspirational role models in a variety of fields.
Felton captures multidisciplinary honor
At the IAOTP's event, this year's international awardees also will include Thomas Girardi, the trial attorney who redefined class-action environmental law by winning more than $333 million for groundwater contamination in the case that inspired the movie Erin Brockovitch; Bert Fields, a Hollywood attorney whose celebrity clients have included Michael Jackson, John Travolta, Tom Cruise, James Cameron and The Beatles; Dr. Arthur Burnett, a neurologist, surgeon and expert in sexual dysfunction whose research led to the development of Viagra; Geoffrey Edelsten, the founder of Allied Healthcare; and many others.
"Choosing Mr. Felton for this honor was an easy decision for our panel to make," wrote Stephanie Cirami, president of IAOTP. "He has tremendous foresight, extensive knowledge, is brilliant at what he does and was exactly what we were looking for. We are truly honored to have him as our Top Chief Diversity Officer of the Year."
"It came as a surprise," Felton remarked about the recognition. "Just looking at some of the past awardees who have been lauded for their accomplishments within their respective fields, I'm pleased and honored to have received the award as well as to join the organization as an award recipient," Felton said.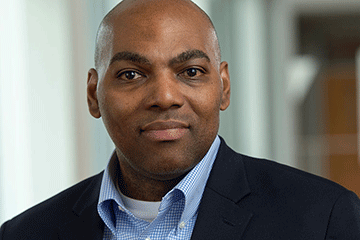 Felton said he thinks highly of any organization that reserves a professional award for his chosen profession.
"To receive recognition from an international, professional organization that considers various career fields, and for there to be a specific category for chief diversity officer, I think is very important, and I think emphasizes the importance of the work," he said.
Several accomplishments might be what motivated a prior honoree to nominate Felton.
At SUNY Cortland, Felton is a dynamic, results-driven leader. His key responsibilities are identifying specific goals and objectives for diversity and inclusion. He conducts assessment, updates and implements the campus-wide Diversity Strategic Plan, collaborates with student organizations, academic departments and programs and develops partnerships within the greater community.
His prior roles have included director of diversity and minority student affairs for HACC, Central Pennsylvania's Community College; assistant director for diversity and equal opportunity for Pennsylvania State System of Higher Education; director of diversity for Elizabethtown College; director of multicultural affairs for Lebanon Valley College; inaugural director of intercultural affairs for Western Carolina University; and inaugural chief diversity officer for Anne Arundel Community College.
Some of Felton's celebrated accomplishments include contributing to the development of several diversity and strategic plans including the University of Wisconsin's Plan 2008. He was responsible for managing three major scholarship and mentor programs for underrepresented students at a number of selective private liberal arts colleges and state-system universities across the country.
Felton has also partnered with corporate, nonprofit and federal agencies and NGOs to promote international programs and initiatives on diversity and social justice.
Most recently, he served as the project team leader on behalf of Anne Arundel Community College's participation in the Committing to Equity and Inclusive Excellence: Campus-Based Strategies for Student Success project sponsored by the Association of American Colleges and Universities (AAC&U).
Outside of his university responsibilities to move the campus culture in the direction of diversity, equity and inclusion, Felton serves as a consultant with CREDO of Higher Education. He assists with improving the climate for diversity both to clients in higher education as well as corporations and organizations in the U.S. and abroad.
He also serves on the national advisory committee for the National Conference on Race and Ethnicity in American Higher Education (NCORE).
Felton, who is pursuing a doctorate in global leadership with a concentration in academic administration at Indiana Tech in Fort Wayne, Indiana, has a Bachelor's of Arts in Psychology from McDaniel College, his Master of Science in Administration from McDaniel College.
He sits on the editorial board forInsight Into Diversity, writing a number of opinion pieces each year for the St. Louis, Missouri-based national publication with a readership of approximately 300,000. He co-authored the 2017 book, Inclusive Directions: the Role of the Chief Diversity Officer in Community College Leadership(Rowman & Littlefield). The text was noticed by the higher education executive search firm Spelman Johnson, which has recommended it as a top suggested summer read.
Diversity officer awarded for service
SUNY Cortland President Erik J. Bitterbaum nominated Felton for the National Role Model Award, based largely on his more than two decades of contributions to the organization's minority advancement efforts.
Notably, Felton's work led to the campus being selected by Minority Access, Inc., last year as one of only 37 universities nationwide demonstrating exemplary efforts in encouraging students from diverse backgrounds to pursue degrees in the sciences, technology, engineering and mathematics (STEM).
"I am deeply honored to receive this award," Felton said. "After attending and supporting the conference for a number of years, it is rewarding to be recognized for my commitment towards inclusion and student success. I want to thank Dr. Bitterbaum and everyone at Minority Access, Inc. for their support and consideration."
Students build tool for bank customers with aphasia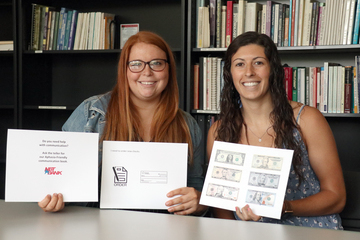 08/01/2019
Graduate students in SUNY Cortland's communication sciences and disorders program spent part of this summer designing a "menu" of financial transactions that people with aphasia could use as a visual aid when communicating in public settings like banks.
Their efforts are making an impact in the local community, as tellers at NBT Bank on Main Street in Cortland have begun using the menu for customers with aphasia who may have difficulty saying or pronouncing words or following conversations and written instructions.
Aphasia, a condition that impairs the ability to process language, can be caused by head trauma, stroke and dementia or a number of other medical issues. It affects more than 2 million Americans, yet approximately 80% of Americans are unaware of the condition.
Hilary Dwyer '17 of Cortland, N.Y., and Beth Coppolecchia of Somers, N.Y., decided to build on the work of previous students in the communication sciences and disorders program. During the summer of 2018, SUNY Cortland students created a menu for patients at Guthrie Cortland Medical Center, then known as Cortland Regional Medical Center, that allowed them to point to pictures of the food they wanted to eat.
Dwyer had previously worked at the NBT Bank branch on Main Street and had interacted with customers who showed an aphasia I.D. card, which indicates that they had challenges in communicating verbally. Together, she and Coppolecchia created a book that allows those with aphasia to have greater independence in conducting basic bank transactions such as making deposits, opening an account and more.
There is also a separate card with large, color photos of the different denominations of bills that will allow customers to point to the exact change they would like to receive.
"Individuals with aphasia don't always do well with a lot of overwhelming stimuli, especially where it's noisy and people are waiting on line," Dwyer said. "Something like this, when they can be familiar with it and flip to a certain page and know the teller is familiar in communicating with them just makes things easier for them. It's a calmer atmosphere and relieves some of that anxiety."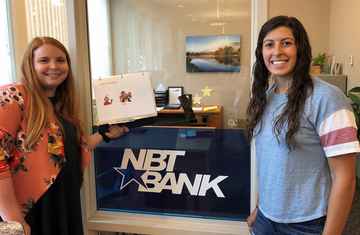 The students dropped off the materials to NBT Bank in late July. Staff have been trained in how to assist those with aphasia. If the trial goes well, NBT Bank may look to expand the program to its Groton Avenue branch as well.
Dwyer and Coppolecchia will start medical externships in the fall that they hope will help give them more experience and potentially influence their career choices. Both were grateful for the opportunity to engage with a partner in the local community this summer.
"You're taught all of these things in the classroom and you want to go out and make it functional for the people who are going to be working with it," Coppolecchia said. "It's something we could be doing once we get our work certification and we're practicing after we graduate. It's nice to be able to apply what we're learning and help in the community while raising awareness about it."
"You can talk about things all you want, but until you're actually practicing them in action, it doesn't solidify for you," Dwyer said. "Being able to do this, we were able to learn more individual things and I think either of us would be comfortable creating any type of communication book like this, which is a great skill to have."
SUNY Cortland students have met with local people in the Friends of Aphasia Support Group since it was created in January 2019. In fact, those monthly meetings have helped lecturer Eileen Gilroy better tailor her classes as she and her students learn about the real issues affecting the lives of those with aphasia.
In fact, Liberty Resources Center for Brain Injury and Rehabilitation, located on Main Street in Cortland, heard about the menu created by students last summer and requested a copy. Although it was created for hospital patients, the menu is now also used when Liberty Resources' patients eat at local diners and restaurants.
For Gilroy, these projects have been a win-win. Her students get hands-on experience and meet professionals in the field. The aphasia community in Cortland has also benefited greatly from their efforts.
"They've also been involved in community awareness projects and with other speech language pathologists in the community," she said. "It's not only getting them out and advocating for individuals in the community, it's also about doing it in our professional organizations locally."
SUNY Cortland provides training at the undergraduate and graduate levels for students seeking to become licensed speech language pathologists. The Communication Disorders and Sciences Department prides itself on meaningful class experiences, modern facilities, student research and engaged faculty members.
Business majors test waters of European student "Shark Tank"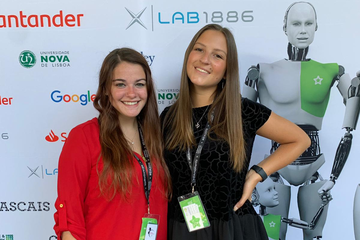 08/23/2019
Alex Contento and Dominique Pace had an eventful summer break in Portugal.
They visited the beach, sure. And the two SUNY Cortland students played rugby with the team from Lisbon's Instituto Superior Técnico (Higher Technical Institute).
But the focus of their month-long study abroad trip was to participate in the European Innovation Academy, based in Cascais, Portugal. Think of it as a sort of international college student and young entrepreneur "Shark Tank," that allowed them to rub elbows with some of the brightest entrepreneurial minds in the world.
Contento, a senior from Homer, N.Y., and Pace, a junior from Cortland, N.Y., are both business economics majors. They became interested in this opportunity after taking an entrepreneurship class taught by Brian Ward during the spring semester.
The European Innovation Academy's programming is aimed at college students and entrepreneurs who want to learn more about all aspects of starting a new business, from the economic side to marketing and public relations and software development.
SUNY Cortland sponsors a summer study abroad program to the European Innovation Academy as a six-credit course. The university is also exploring options to expand to the academy's North American academy in Calgary, Alberta, Canada.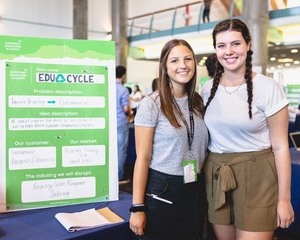 More than 500 people attended this year's event and they were broken into teams of five members each. Those five members were given roles as chief executive officer, chief business officer, chief marketing officer, chief technology officer and chief design officer. From there, they were tasked with creating a fictional business from scratch and developing all of the steps it would take to make that a reality.
Major speakers, including Portugal President Marcelo Rebelo de Sousa, visited each day. Key figures in technology and business from organizations that included Google, Microsoft and Adobe also served as mentors and coaches to help inspire the teams and guide them as they worked on building their ideas.
Contento teamed up with another student from the U.S., two people from Portugal and one from Estonia. The group's proposed startup would use artificial intelligence to help high school students find a career path that is right for them.
Pace worked with partners from Cyprus, Iran and the U.S. to develop technology that will increase the efficiency of recycling.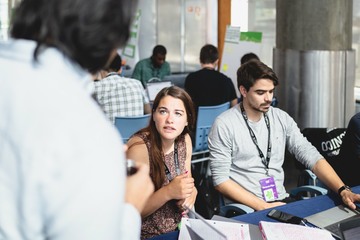 Contento served as her team's business officer and Pace was the marketing officer. The skills they developed on campus helped prepare them for their intense learning experience at the European Innovation Academy.
"Income statements and things like that, if we didn't take that in class, we wouldn't have known how to do it," Contento said. "A number of people in my group didn't know things like that. One was a medical student and he had no background in any type of business. It was easier for me to explain that and things like market canvas after having taken accounting and entrepreneurship and finance and marketing. All of that definitely helped."
"It moved so much faster. It was only 15 days as compared to the whole spring semester," Pace said, comparing it to her Cortland entrepreneurship class, in which students also developed and pitched a business. "We'd go in every day at 10 in the morning and listen to keynotes for a few hours and then got lunch break. From 1 p.m. to about 8 o'clock at night we were with our groups, working. We had mentors for every different sector of it and we had a lot of different opinions on ways we could go."
A select number of teams were chosen to pitch their concept to investors on the final day of the program, similar to the popular television show "Shark Tank."
There were a few breaks that allowed Contento and Pace — neither of whom had studied abroad before — to soak up Portugal's culture. Their rugby experience was part of a teambuilding workshop at Instituto Superior Técnico, a public school of engineering and technology that is part of the 47,000-student University of Lisbon system.
Contento and Pace hope more SUNY Cortland students take advantage of the European Innovation Academy in the future and not just those who are students in the Economics Department. Many students in STEM fields may also benefit from a chance to learn in such a well-rounded fashion.
"A startup definitely takes a lot of work," Pace said. "It was a good experience to show what it actually takes. There is so much work and effort and money you need to put into it."
For more information on the European Innovation Academy, visit the International Programs Office online or contact Kathleen Burke, professor and chair of the Economics Department, at 607-753-2434.
Latest edition of SUNY Cortland Alumni magazine available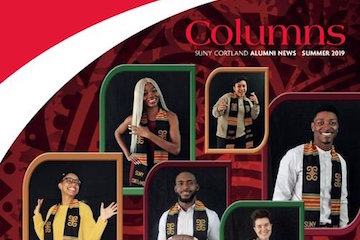 08/23/2019
The Summer 2019 digital edition of Columns, SUNY Cortland's alumni magazine, is available online.
In it, readers will learn about a recent grad who's riding high in professional horseracing, a record-breaking Kente ceremony, the final events of SUNY Cortland's sesquicentennial year and much, much more.
As always, they'll also be able to see what alumni from all class years are up to in Class Notes, catch up on Red Dragon sports news and explore all the upcoming events are planned for SUNY Cortland's 80,000 alumni.
Whether you are a SUNY Cortland alum, a student who will one day be an alum, or a faculty or staff member who knows lots of alumni, Columns is a great way to strengthen your connection with SUNY Cortland.
Fall 'Wellness' series events announced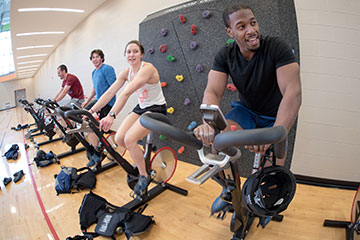 08/27/2019
Students can stay informed on current health and wellness issues through SUNY Cortland's weekly "Wellness Wednesday Series," which will include speakers, discussions and activities intended to help students adjust to college life.
Sponsored by the Health Promotion Office, the events are free and open to the public.
Scheduled events are as follows:
On Aug. 28, "A Taste of Rec Sports" will be held in the Student Life Center at 6 and 7 p.m. Graduate Student and Indoor Cycling Instructor Christopher Gutierrez will lead an indoor cycling class at 6 p.m., limited to the first 30 participants, and Zumba Instructor Gianna Pino will hold a Zumba class at 7 p.m., open to the first 25 participants. Please wear loose and comfortable clothing you can move in. Attendance is first come, first served.
A discussion about "Turning Conflict into Communication" will be held on Sept. 4. Led by Carolyn Bershad, director of Counseling and Wellness Services and Lauren Scagnelli, health educator, they will offer tips on how to effectively communicate about conflict with others beginning at 6 p.m. in Corey Union Exhibition Lounge.
On Sept. 11, a panel of students will share their experiences living with a disability, what struggles they face and how it has positively impacted them. "RespectAbility" will begin at 7 p.m. in Corey Union Exhibition Lounge.
Mike "Greeny" Green, the president of Collegiate Consultants on Drugs and Alcohol, will discuss "The Four Stages of Drinking" at 7 p.m. on Sept. 18 in the Corey Union Function Room. He will share his take on the four stages of drinking and how even the "one night problem" can have a lifetime of consequences. Green's background as an athlete, coach, educator and recovering alcoholic provide him with the know-how to help students create a low-risk relationship with alcohol.
On Sept. 25, "Wellness Day: Healthy Red Dragons" will be held from noon to 3 p.m. in the Student Life Center lobby. The Healthier Campus Initiative invites students to assess their wellness with a variety of activities. Free water bottles will be given to those who complete the stations.
University Police Officers Frank Dalton, Steven Rolfe and Danielle Salisbury will present "Empowerment Self-Defense" on Oct. 2. Beginning at 7 p.m. in Corey Union Exhibition Lounge, participants will learn basic self-defense techniques to feel help them feel empowered.
Parents with children that came out and adults that came out will share their perspectives and experiences on Oct. 9 in a panel discussion titled, "Mom and Dad, I Have Something to Tell You." The talk will be held at 7 p.m. in Corey Union Exhibition Lounge.
On Oct. 16, students can learn how to identify personal goals and how to access resources to assist in being successful. "Habits for Success" will begin at 6 p.m. in Corey Union Exhibition Lounge, led by Abby Thomas, director of advisement and transition and Kaitlin Flannery, assistant professor of psychology.
The College's Multicultural Life and Diversity Office will present "Let's Talk About Race" at 6 p.m. on Oct. 23 in Corey Union Exhibition Lounge. Students will be invited to share their thoughts, feelings and emotions about race in the United States in an effort to expand intergroup communication, understanding and relations.
Halloween can be a fun day and night but "Don't Let the Consequences Haunt You" on Oct. 30 will provide information about the dangers of misuse and abuse of alcohol and other drugs. Wellness PEER interns and health promotion and substance abuse prevention and education information will be available from noon to 3 p.m. in the Student Life Center lobby.
On Nov. 6, Missy Ftolfi, area director of the American Suicide Foundation will offer a presentation titled "It's Real: College Students and Mental Health." A film and lecture at 7 p.m. in Corey Union Exhibition Lounge will address mental
Students can learn how to "Party Smart with Us Before Cortaca" at a display from noon to 3 p.m. on Nov. 13 in the Student Life Center Lobby. Free giveaways will be provided.
On Nov. 20, "The Great American Vape Out" will challenge people to stop using nicotine and tobacco. Get information on how to quit and join a campus clean-up from noon to 3 p.m. at the Student Life Center lobby.
For more information or accommodation to attend an event, contact Lauren Scagnelli, the College's health educator, in Van Hoesen Hall, Room B-38, or at 607-753-2066.
Cortland in the news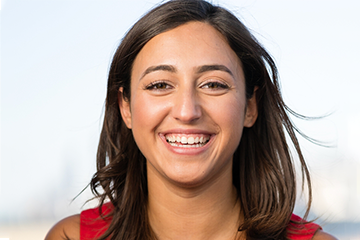 08/27/2019
Elena Evangelou '19 is competing in the Rose of Tralee International Festival in Kerry, Ireland. Evangelou, a native of Queens, N.Y. who recently graduated with a bachelor's degree in business economics, is representing New York City as the festival's New York Rose.
Her mother was born in Pallaskenry, Ireland and her father is from Cyprus. The Rose of Tralee Festival is celebrating its 60th year in 2019 and it recognizes women from around the world who were born in Ireland or who have Irish ancestry.
In other news:
Jena Nicols Curtis, professor in SUNY Cortland's Health Department, was featured on Bellevision.com during her recent trip with 11 students to St. Aloysius College in Mangalore, India. The group held discussions with Indian counterparts on issues of women's empowerment.
Robert Spitzer, distinguished service professor and chair of the Political Science Department, wrote a piece for CNN.com about President Donald Trump's changing positions on gun control. He was also quoted in a story in the Cortland Standard about the increasing number of elected women in various Cortland County offices. Spitzer also offered commentary on WCNY about New York state's new red flag law, which aims to keep guns out of the hands of those who are deemed a threat to themselves or others.
Tim Davis, associate professor in the Physical Education Department, was quoted in a story from Chalkbeat.org about how schools are working to improve offerings for students with special needs.
Jenn McNamara, associate professor in the Art and Art History Department, was quoted in a Cortland Standard story about a weaving school that has opened in Truxton, N.Y.
Jacksonville Jaguars head coach Doug Marrone shared his experience as SUNY Cortland's tight ends coach in 1992 as part of an ESPN story on where NFL head coaches got their start in the sport.
The Cortland Voice republished a SUNY Cortland press release on the hiring of Sulekha Modi Zaug '00, M '02 as the university's gymnastics coach.
Scott Gordon '88 was named president of Stephen F. Austin State University in Nacogdoches, Texas and was profiled by KSLA-TV News. Gordon, a native of Malone, N.Y., was a first-generation college student when he arrived at SUNY Cortland.
The Cortland Standard ran a piece on the unveiling of the musical legacy sculpture during Alumni Reunion 2019. Scott Oldfield '06, who created the piece, was featured, as were a number of members of the SUNY Cortland Alumni Association's Musical Legacy Commemoration (1960-90) Project.
Ann Dunwoody '75 was honored by the U.S. Department of Veterans Affairs on Aug. 26, Women's Equality Day. Dunwoody was the first woman to become a four-star general in the U.S. Army.
Liz Beville '14, M '16 spoke with CNYCentral.com after being named the head coach of the women's lacrosse team at Le Moyne College in Syracuse, N.Y. Beville had served as interim head coach at Colgate University this past spring.
Jack Flood '18 was featured in Newsday as he prepares for the 2020 Summer Olympic trials. Flood was a two-time NCAA Division III national champion in the heptathlon and decathlon at SUNY Cortland.
ASC announces new board members
Auxiliary Services Corporation (ASC) elected new members to its Board of Directors in May. The board comprises three administrative directors, two professional directors, five student directors, one alumnus director, two community directors and two classified staff directors.
Board officers, including president, vice president, treasurer and secretary, will be announced following an election in late September.
The board member terms run for three years. Updated information can be found on the ASC website.
New members are:
Administrative Directors
Anna Addonisio, Vice President, Finance and Management
Christopher Kuretich, Associate Vice President, Student Affairs
Zachariah Newswanger, Associate Vice President, Facilities Management
Professional Directors
Susan Wilson, Associate Professor, Recreation, Parks and Leisure Studies
Emily Quinlan, Coordinator, Transfer Student Services
Student Directors
Chester Bennett, President, Student Government Association
Angelo Foster, Vice President, Student Government Association
Nicolas Estrada, Financial Officer, Student Government Association
Callie Humphrey, Student Director appointed by Student Government Association President
Tazmara Anderson, Student Director appointed by Residence Life and Housing
Independent Directors
David Berger, community member
Jean Cadwallader, community member
Alumnus Director
Jean Rightmire, appointed by the Alumni Association
Classified Staff Directors
Melony Warwick, Secretary 2, Division of Institutional Advancement
Pam Schroeder, Secretary 2, Division of Academic Affairs
CALS Lecture Grant Applications Due Sept. 5
Campus Artist and Lecture Series (CALS) Lecture Grant Applications are now available for the 2019-20 academic year. Applications are available online and are eligible for a maximum of $350 and are open to any club, program or department. These lecture grants will not cover performances of any kind.
Applications must be received by Thursday, Sept. 5, to be considered for September, October, November and/or December 2019 lecture programs. Applications received after Sept. 5 may not be eligible for any fall semester funds remaining.
For more information and to download this application, visit the CALS website, email Sandra Wohlleber or call 607-753-5769.

Suggest a feature story
---
People on the Move
Prihodova named Dowd Gallery director
08/27/2019
Jaroslava Prihodova was appointed Aug. 1 as director of the Dowd Gallery at SUNY Cortland.
The assistant to the gallery director since 2010 and later named preparator, Prihodova held the role until August 2017, when she was named interim director.
In her interim appointment, Prihodova produced programs and exhibitions designed to appeal to a diverse audience while sustaining the educational mission of the gallery and SUNY Cortland.
A practicing artist, she also has worked as an adjunct instructor in the School of Art at Syracuse University.
Prihodova earned her Bachelor of Fine Arts in 2002 from the College of Art and Design at the Jan Evangelista Purkyne University in the Czech Republic. She received her Master of Fine Arts in 2016 from Syracuse University.
As director, she aims to continue to advance programming by introducing interdisciplinary projects engaging regionally and internationally renowned artists from the United States and abroad.
"My primary focus is to develop and curate impactful exhibitions that reflect and honor the diversity of thoughts, art concepts and people who create them," Prihodova said.
Dowd Gallery is expanding open hours of the main gallery exhibition space by one hour daily, from 10 a.m. to 5:30 p.m. on weekdays except Thursdays, when the gallery will remain open until 7 p.m.
Under her leadership, the gallery also soon will launch a new website feature that enables visitors to help Dowd achieve its annual goal to raise 50 percent of its budget by making a financial donation online.
Dowd Gallery has just partnered with the Cultural Council of Cortland County to participate in the First Fridays project, committing the gallery to open its doors during this monthly county-wide artist open house. Dowd begins participating from 5 to 8 p.m. Friday, Sept. 6.
---
Faculty/Staff Activities
Kati Ahern
Kati Ahern, English Department, co-authored a response article called "Listening to New Voices: Silence, Repair, Hybridity." It was published in June in a special issue for the International Journal of Listening on the topic of "Listening in Unusual Ways in Unusual Spaces."
John C. Hartsock
John C. Hartsock, Communication and Media Studies Department, has had one of his books selected to be issued as an audiobook. Redwood Audiobooks, a leading publisher of audiobooks, has licensed Hartsock's award-winning Seasons of a Finger Lakes Winery, published by Cornell University Press, for conversion to audio. The book was honored with a First-Place Gourmand Award for wine writing in Paris, France in 2012, and was a runner-up for a Roederer Award in London later that year. The book recounts the seasonal passage of making wine at Long Point Winery on Cayuga Lake, which is owned by Gary and Rosemary Barletta of Cortland, N.Y. Moriarty Voiceovers has been engaged by Redwood to provide the audio reading.
Kathleen A. Lawrence
Kathleen A. Lawrence, Communication and Media Studies Department, recently had two poems published. They were written in cherita form on the theme of Bouquet in the "Poet's Salon" of Colorado Boulevard, edited Aug. 7 by Kathabela Wilson. The two cherita, titled "six years old" and "like roots extending," were accompanied by a photo taken by Lawrence captioned as "Summer's Bouquet." Also, Lawrence received word that her two abecedarians titled "Vacay" and "Bath" have been accepted for publication in the December 2019 issue of Rosebud Magazine with Michael Kriesel, poetry editor.
Robert Spitzer
Robert Spitzer, Political Science Department, is the author of an article titled, "There's No Second Amendment Right to Large-Capacity Magazines," published in the New York Times on Aug. 5. The article was written in the aftermath of two recent mass shootings.
Brian Williams
Brian Williams, Political Science Department, had an article accepted for publication in The Social Science Journal. His article, "Early Voting, Direct Democracy, and Voter Mobilization," shows that direct democracy campaign contact increases voter turnout.

Submit your faculty/staff activity