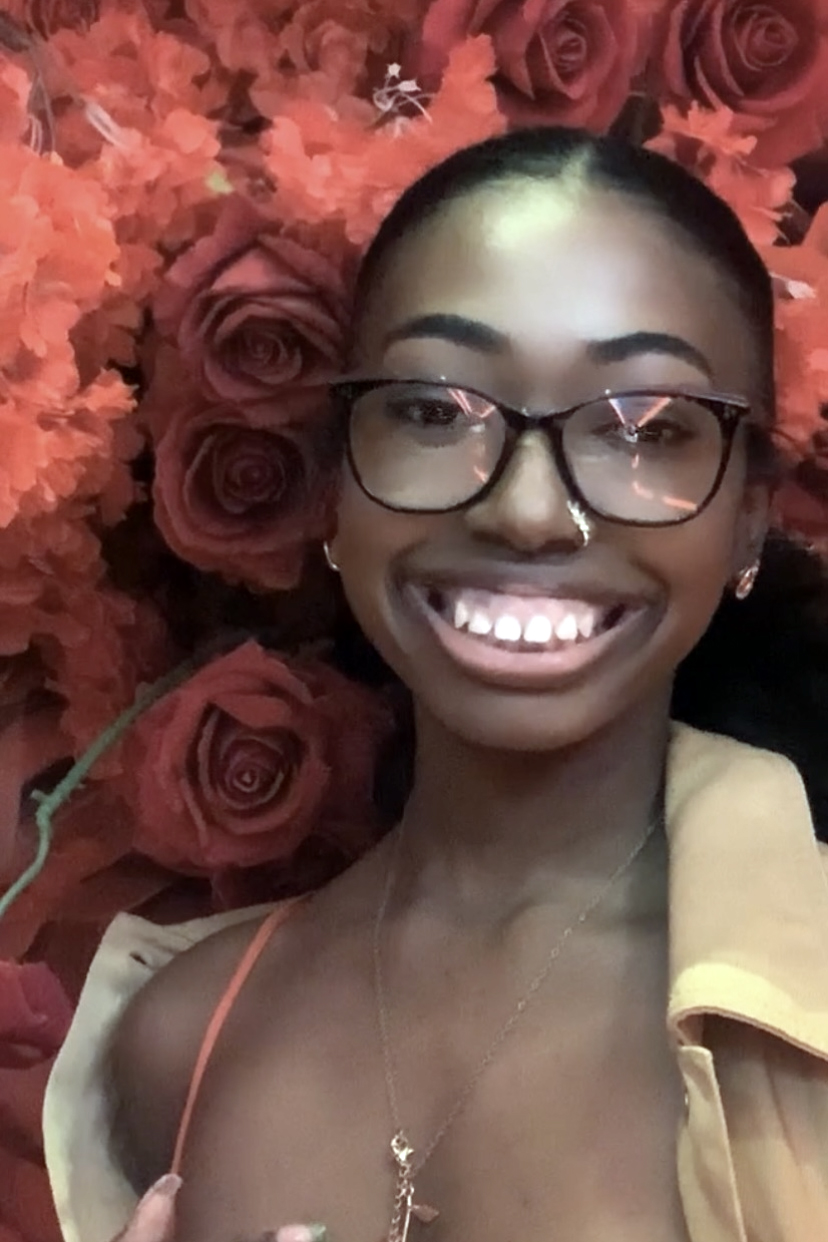 Campus Champion
Khyla Diggs, president of the Black Student Union, says "When we leave a club meeting, it is important that we have learned something about one another to build our comfortability with our diverse lifestyles and viewpoints." Khyla's goal is to collaborate with other clubs to experience and appreciate our differences. The sophomore adolescence education: history major, Africana studies minor and member of Cortland's Urban Recruitment of Educators (C.U.R.E) Program is focused on cultivating a welcoming, engaging and inclusive environment. It makes sense that Khyla's career goals to teach in an urban high school include being a positive adult in her students' lives.
This week, explore something different and attend the Black Student Union's Week of Events.

Nominate a Campus Champion
---
Tuesday, Feb. 21
Internship Info Session: Pre-register on Handshake or join the afternoon of on Webex, 4 p.m.
Online Gallery Talk: Artist, the Player, with Katarzyna Zimna Ph.D., associate professor of art, The Lodz University of Technology, Poland, online via Teams, 4:30 p.m.
Virtual Author Lecture: Native Predatory Wasps: Their Role as Pollinators and Beneficial Insects, presented by Heather Holm, online via Zoom, 4:30 p.m.
Sport advocacy panel: "Advocating for Change — How We Can All be Better Allies and Co-Conspirators in Creating Inclusive Sport Management Spaces," Professional Studies Building, Room 1176, 6:30 p.m.
Black History Game Show: Corey Union Fireplace Lounge, 7 p.m.
---
Wednesday, Feb. 22
Sandwich Seminar: Cortland's Move to Brightspace, Old Main Colloquium, 12:30 to 1:30 p.m.
Registrar's Office Open House: Miller Building, Room 203, 1 to 2:30 p.m.
Black History Month Education Lecture: "From Afro-Turks to Siddis: The East African Slave Trade and the Afro-Asian Diaspora," presented by John Jones, assistant professor of childhood/early childhood education, Moffett Center first floor conference room, 2 p.m.
Brooks Museum Lecture Series: "Science and Truth: Ignorance is the Objective," presented by Robert Darling, Distinguished Teaching Professor, as part of the series 'The Culture of Truth,' Moffett Center, Room 115, 4:30 p.m. A reception to welcome our speaker begins at 4 p.m. in the Brooks Museum, Moffett Center, Room 116.
Black History Month Celebrating Creativity: "For My People: A Black History Month Celebration," presented by performing arts professor Kevin Halpin, Dowd Fine Arts Center, Room 110, 6 p.m.
Black Student Union Letter Writing Workshop: Take time to recognize the injustice experienced by men in the Black community, share their solidarity, and encourage hope by writing letters to incarcerated men, Corey Union, Room 209, 6 p.m.
Wellness Wednesday Body Appreciation Week: Perfectly Imperfect: Eating Exercise and Body Image, national speaker Jenni Schaefer, Corey Union Exhibition Lounge, 7 to 8 p.m.
---
Thursday, Feb. 23
Black History Month Sandwich Seminar: "The African Diaspora in Latiné America: Fighting Anti-Blackness as a Collective," Online via Webex, noon to 1 p.m.
Know Your Roots Virtual Presentation: "Know Your Roots — Afro-Essence the African Diaspora in Latine America: Fighting Anti-Blackness as a Collective," presented by Tibisay Hernandez, a diversity equity and inclusion consultant, noon.
Body Appreciation Week: Mindful Eating information, Student Life Center Lobby, noon to 2 p.m.
Re-Thinking Abilities Workshops: Register for Re-Thinking Abilities Workshop #1, 3 to 5 p.m.
Seminar: Great Lakes Ecology: Restoration Research, sponsored by the Biological Sciences Department, Bowers Hall, Room 1129, 4:30 to 5:30 p.m.
Lecture: Yoga. A Journey to Myself - India, Rishikesh and Beyond, presented by Andrea Giuliano '23, senior, childhood/early childhood education and yoga instructor, Sperry Center, Room 104, 4:30 p.m.
Documentary Screening: "Beyond the Visible: Hilma af Klint," 2019, Dowd Fine Arts Center, Dowd Gallery, Room 106, 5 p.m.
Afro Essence: Sponsored by Know Your Roots, Corey Union Function Room, 8 to 11 p.m.
---
Friday, Feb. 24  
Body Appreciation Week: Mobility Flow, Student Life Center Mind Body Room, 5:45 to 6:45 p.m.
Musical Performance: Seussical, Dowd Fine Arts Center Theatre, 7:30 p.m.
Black and Boujee: What Happens in Vegas Stays in Vegas, Corey Union Exhibition Lounge, 10 p.m. until 2 a.m.
---
Saturday, Feb. 25
Kings and Queens Conference: Corey Union Function Room, 11 a.m.
Musical Performance: Seussical, Dowd Fine Arts Center Theatre, 2 p.m. (understudy performance) and 7:30 p.m.
---
Sunday, Feb. 26
Musical Performance: Seussical, Dowd Fine Arts Center Theatre, 2 p.m.
---
Tuesday, Feb. 28
Wellness lecture: "Phat and Fit: Unpacking the History of Anti-Blackness in the Fitness Industry," Corey Union Fireplace Lounge, 5:30 p.m.
Spoken Word and Workshop: Corey Union Exhibition Lounge, an hour-long workshop runs from 5 to 6 p.m. followed by a spoken word session from 7 to 8 p.m.
---
Wednesday, March 1
Career Services presents Get Resume Ready: Online, 6 to 7 p.m.
Distinguished Voices in Literature: Poet Benjamin Garcia, Corey Union Fireplace Lounge, Room 219, 4:30 p.m.
---
Friday, March 3
5th Annual TransAction Conference: Hosted by the Sexual Orientation, Gender Identity, and Expression (SOGIE) Committee, Corey Union, 9:10 a.m. to 4 p.m.
---
Monday, March 6
Safe Zone Workshop: Register for Safe Zone Workshop #2, 4 to 6 p.m.
---
Monday, March 6
Money Talks Monday – Goal Setting and Budgeting: Online session with Matt Kisloski, a financial wellness expert from Visions Federal Credit Union, register on Handshake, 4 to 5 p.m.
---
---
Team Handball Club revived at Cortland
02/21/2023
When graduate international student Deborah Seipp decided to create a team handball club at SUNY Cortland, her goal was to introduce the university community to a new sport that she'd loved since she was a small child in Germany.
Seipp, whose efforts resulted in team handball being offered as a club sport this spring, didn't realize she was building on a little-known chapter of SUNY Cortland's history.
From 2003 to 2007, SUNY Cortland was the training center for U.S. Team Handball's Women's National Team, recruiting and developing athletes to represent the United States in the sport. It was also offered as a club sport at SUNY Cortland during that time, lasting until about 2009.
It's unclear why the program moved from Cortland, but by the time Seipp came to campus for her first semester last fall, there wasn't much evidence that the popular European sport had ever had a foothold in Central New York.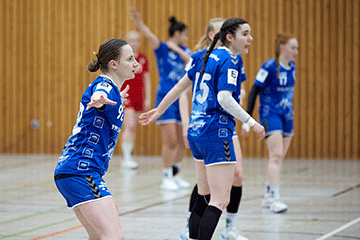 "When I came to SUNY Cortland, it was clear for me that I would not be playing club handball," said Seipp, president and coach of the new club. "In the U.S., the nearest team handball clubs are probably more than three to four hours away. So I was fine with not playing team handball."
Unlike American handball, team handball does not involve slapping a little black ball against a wall. Think, instead, of water polo without the water, or basketball with goals instead of baskets. The game is played between two teams, each with six court players and a goalie, on a wooden or PVC surface a little larger than a basketball court. The object of the game is to throw a honeydew melon-sized ball into your opponent's goal and prevent the others from scoring a goal by regaining possession of the ball.
"Team handball is more like lacrosse but you're doing more passes," said Seipp, who, like many European children, has been playing team handball since first grade.
In Germany, she is a certified team handball coach and plays center back in a team handball league. At Cortland, Seipp is studying exercise science, working toward a master's degree in performance, training and coaching at the German Sport University in Cologne.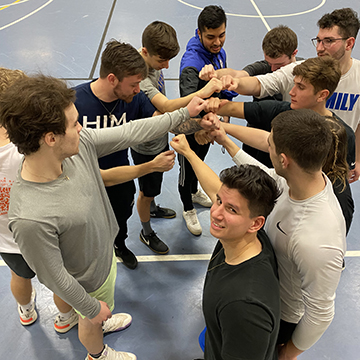 Seipp was inspired to bring the sport to Cortland after taking Physical Education Lecturer Diana Niland's team sport methods class, which let her sample a range of popular American team sports.
In the class, Niland taught a couple of invasion games, including basketball and soccer, Seipp said. These are games where you need to invade an opponent's territory to score a goal.
"I asked myself, 'What's the main goal of playing a sport?' It's having people engaged in a sport where you are active and exercise" ... "I realized that team handball could be valuable for schoolchildren. They do have the skills to play it because nearly every kid learns how to throw a ball."
Seipp approached Niland about making her idea a reality.
"We had some professional conversations, and she asked about whether team handball was in the curriculum anywhere," said Niland, who became the Team Handball club's advisor.
"She showed tremendous initiative. The students were interested in her expertise and asked for her. She had that clout. She even worked with me to help me design a lesson plan."
During winter break in and near San Francisco, California and elsewhere around the U.S., Seipp practiced and networked to set up league competition with Cortland's club. She took the initiative to obtain the sport's unique balls from U.S.A. Team Handball, the national, governing body for the Olympic discipline for team handball.
And she decided to remain at SUNY Cortland an additional semester to get the club up and running.
Seipp will teach a 0.5 credit course in team handball later this spring. Students may enroll in the fourth quarter registration period, Monday, March 6, to Tuesday, March 21, for PED 129 640, ST: Team Handball. The class will be taught Mondays and Wednesdays from 10:20 to 11:10 a.m. in Park Center, Room 2210.
At the start of the semester, a core group of students with Cortland's Team Handball Club began practicing Mondays and Wednesdays from 10 p.m. to 11:30 p.m. at the Student Life Center's largest basketball court.
In Niland's opinion, the Team Handball Club has a good shot at success.
Last semester, about 15 students showed up at the interest meeting Seipp organized. She continues to recruit, and made sure to install underclassmen as officers to help ensure continuity. They are: Vice President Liam Park, a junior physical education major; Treasurer Nick Valentin, a junior sport management major; Secretary Ryan Kurtz, a first-year childhood education major.
Seipp hopes that non-students — especially international faculty, staff, alumni and boosters from the local community — will support the club activity.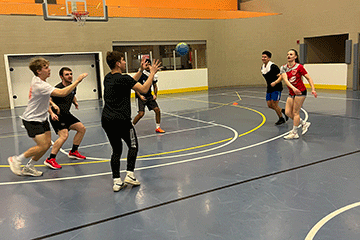 Illona Szotyori Ryon '08, M '10, a physical education teacher in the Cortland Enlarged City School District, was a member of SUNY Cortland's Women's National Team Handball team that took international competition to just short of the 2008 Olympic games in Beijing.
"I know I am forever grateful for my team handball experiences," said Ryon, a former Cortland soccer standout who was named to the All-SUNYAC second team and was an ESPN the Magazine College Division District I All-Academic first team selection.
"After my freshman soccer season ended in the fall of 2004, I went to check out the Women's National Team Handball team training at Lusk Field House," Ryon recalled. Lindsay Coons Steenland '08, M '11 was key in starting that original club team.
"I immediately felt that I had to try and play the sport," Ryon said. "It combined fast paced passing, hard shooting, high scoring, and very physical defense. I was in disbelief when I found out that the national team was training right here in Cortland and was having open tryouts."
Ryon made the national team.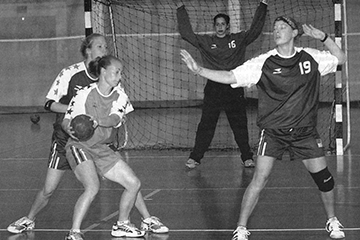 "In 2005, I was beyond ecstatic to represent team USA in the Pan American Championships in Brazil," Ryon recalled. "The roar and size of the crowd was unlike anything I had ever seen before. It made me realize that in many countries team handball is extremely popular."
C-Club Hall of Fame inductee and women's lacrosse and soccer standout Sue Behme '93 capped her career as assistant captain for the USA National Handball team as a starting wing in the Pan American championships in Sao Paulo, Brazil in 2004-05. Amanda Gillette '03, then 23, who had been an all-conference cross country and track runner at Cortland, also played that year on the national team.
The team also placed second in 2006 and 2007 at college nationals, according to Ryon. In 2008, the women's team became national champions after beating Army (West Point) in a close game.
Students interested in participating in the Cortland Team Handball Club practice sessions must first register beforehand on DoSportsEasy by selecting the link and then choosing "Team Handball." Once the form is filled out and required documents uploaded, select the "Print Your Emergency Card" button and, due to liability, be sure to bring the printed emergency card to the training. Individuals may try three practices before they must pay the $25 membershipfee. Sport clothing with indoor shoes or track shoes are advised. For more information, contact Seipp.
They met. They fell in love. They stayed
02/21/2023
The half-century long Red Dragon love story of Ray Franco '72, M '75, Ed.D., and Donna Still Franco '73, M '76 reads like many other happily-ever-after stories chronicled in the alumni association's Class Notes section, with one notable twist.
Less than three months after Donna's graduation in 1973, the newlyweds returned to their alma mater and, in many ways, never left.
Ray, a Herkimer, N.Y., native, earned an Ed.D. from Syracuse University while he served the Student Affairs Division through five consecutive presidents, rising to vice president of student affairs. In 2006, he made a major career shift to vice president for institutional advancement, where he saw to completion a record-breaking capital campaign. He retired in 2012 as vice president for student affairs and institutional advancement emeritus.
Ray always tried to pay it forward because of his own mentoring by John Catalano, a psychology professor who passed very recently.
"Many years later, when I was vice president for student affairs, my experience with John Catalano contributed to my belief that faculty and staff engagement with students, and something as simple as learning and remembering students' names, was very important," he said.
Meanwhile Donna, who grew up in Tappan, N.Y., studied early secondary English with a concentration in reading, and later earned an M.S.Ed. in elementary education at Cortland. She spent her career as a reading/mathematics specialist and reading recovery educator in the Homer Central School District and the Cortland Enlarged City School District. She also supervised student teachers for SUNY Cortland for a time, allowing her to work with college students in a professional setting.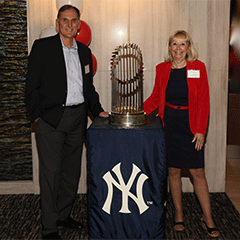 "I continue to be involved with the university through the SUNY Cortland alumni chapter, which supports student activities and encourages participation in alumni events," Donna said. "Our alumni chapter has wonderful volunteers, who are fun to work with and are dedicated to the university."
At the very start of their exciting, 50-plus year relationship, Ray, a junior psychology major and Clark Hall resident assistant, and Donna, a sophomore living across the street in Bishop Hall, struck up a brief chat as they ambled down the hill to a soccer game.
"I wasn't a real soccer fan and as it turns out, it was the only soccer game either of us ever attended while students at Cortland," Ray said.
After two years of dating and an engagement, Ray and Donna married in 1973. They enjoyed an unforgettable, 58-day cross-country sightseeing honeymoon living in their fixed-up Chevy van.
"We saw so many incredible parts of the country, camping in national parks along the way," recalled Ray. "It was a trip of a lifetime."
Upon their return, they began their married life in Alger Hall, where Ray was the residence hall director.
"Donna had gotten a teaching job in Homer (N.Y.). It was challenging for her living in a residence hall and going to graduate classes after a full day of teaching," Ray recalled.
"After the second year in Alger, I was promoted to assistant director of housing and we were fortunate to live in a beautiful apartment on the second floor of Brockway Hall in Fall 1975. Our son, Stephen, was born in September 1976.
"Toting a toddler and groceries up three flights of stairs from the back parking lot was very difficult," he said. "We quickly realized that we needed to find a home with a backyard."
So, they moved with 10-month-old Stephen to their first home on Chestnut Street in July 1977, where they welcomed their other two sons, Brad and Brian.
To mark their big wedding anniversary this year and in recognition of their lifelong love affair with SUNY Cortland, the couple — who already supported the university at the Charter Patron level — in 2021 joined the institution's Lofty Elm Society by naming SUNY Cortland to receive a future, bequest gift to endow the Donna Still Franco '73, M '76 and Raymond D. Franco '72, M '75 Scholarship.
Recipients of the approximately $1,000 award are full-time sophomores, juniors or seniors in good academic standing who have demonstrated engagement in volunteer and community service.
"Ideally, it will be awarded to students who are engaged in the greater Cortland community while they are students here," Donna said.
"If they do, we hope that they will come to understand the importance of such involvement and will continue to be engaged community leaders as they pursue their careers throughout their lives," Ray said.
Thanks to the generosity of the Francos and their eldest son, Stephen Franco '05, the president of Bailey Place Insurance in Cortland, N.Y., and daughter-in-law, Janine, the first scholarship was awarded in Fall 2022. Catherine Reid '22 of Macedon, N.Y., who earned a bachelor's degree in psychology in December, is the first recipient.
"I was honored to be selected for an award that valued merit, community service and future plans after college," Reid said. "Having financial help during college allowed me to focus on extra curriculars, classes and my internship with the SUNY Cortland University Police Department."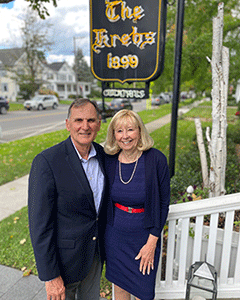 A former resident assistant at SUNY Cortland, Reid often volunteered extra hours to run programs for students in areas such as stress relief. She took part in a Peer Led Team Learning program for chemistry students. Reid currently is being considered for the New York State Trooper Academy and aspires to complete a second bachelor's degree in biology.
"I want to be a voice of change and support officers who struggle with mental health or career changes due to injury on the job," Reid said. "I also hope to encourage positive relationships between community and police by being a caring person in the position."
Ray observed that, when talking with colleagues across the state, it was clear that SUNY Cortland produces exceptional leaders.
"Our students were eager to work with our staff on solving campus problems," he said. "Students who were involved in student government wanted to make the college experience better for all."
---
Capture the Moment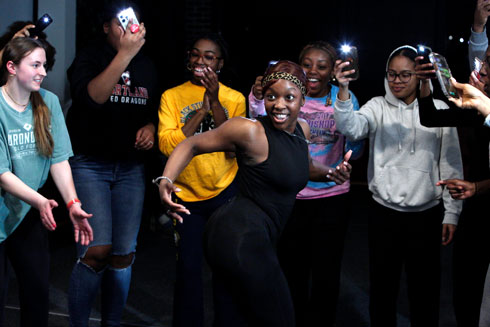 The Black Student Union's annual week of Black History Month events kicked off Monday with an African Dance workshop in the Corey Union Voice Office. The class was led by Roseclary Robert '22, a former exercise science major, shown at center. Other BSU events scheduled this week are Black History Month Jeopardy tonight; letter-writing to incarcerated men on Wednesday, Afro Essence on Thursday, the Black and Boujee formal on Friday, and the annual Kings and Queens Conference on Saturday. More information is available online.
---
In Other News
Children's art exhibition displayed at university gallery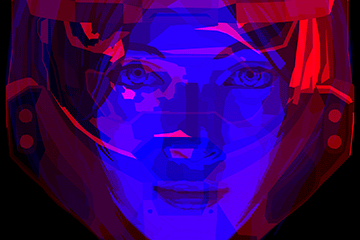 03/14/2023
Art — as seen through the eyes of schoolchildren and their art teachers — is an exhibition now open at SUNY Cortland's Dowd Gallery.
Curated in a partnership with regional art teachers, the exhibition, titled "Imagination Celebration," opened March 9 and will run through Friday, April 14 in the gallery, located in the Dowd Fine Arts Center at the corner of Prospect Terrace and Graham Avenue. The exhibition and related events are free and open to the public.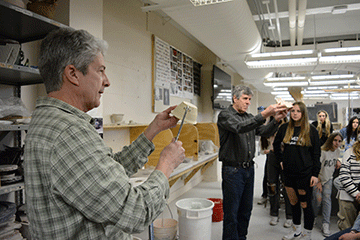 Showcasing more than 100 works of both student artists and their mentors, "Imagination Celebration" includes students and teachers from McGraw School, Homer Central School District, Cortland City Schools, Onondaga Cortland Madison Board of Cooperative Educational Services. Their drawings, paintings, ceramics, collages, 3D objects, and digital media works will overflow the gallery into the Hallway Gallery and the Critiques Space, where a collaborative installation between 8th grade and 3rd grade students from Homer schools will be displayed.
Supporting programs for "Imagination Celebration" include gallery talks, panel discussions, a documentary screening and virtual presentations introducing the participating education professionals, teachers, administrators and students, and specially designed workshops for regional secondary art school educators.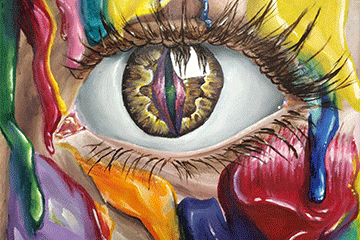 The series will culminate with a virtual talk by Thomas Albrecht, professor, department chair, and associate dean of the School of Fine Arts at SUNY New Paltz at 5 p.m. on Thursday, April 11.
Albrecht will discuss topics including the transition of students from high school to college into creative fields; and the consequences of COVID-19 on the academic progress of enrolled students. He also will address questions from the audience.
"The objective is to strengthen the relationship between SUNY Cortland and neighboring schools, offer an outlet for local talent and continue with a more than 20-year-old tradition," said Gallery Director Jaroslava Prihodova.
Lauren Nels '06, one of two principal organizers of the exhibition, which showcases local student work in grades K-12 , was also pleased the SUNY Cortland was helping to keep the tradition alive.
"We are excited to show alongside our pupils on the SUNY Cortland campus after working with Homer Center 4 the Arts for many years and then utilizing Homer's HTEC building the past few renditions," she said.
Nels and her colleague, Brookley Abbate Spanbauer '02, are both SUNY Cortland alums and art teachers at Homer (N.Y.) Central School.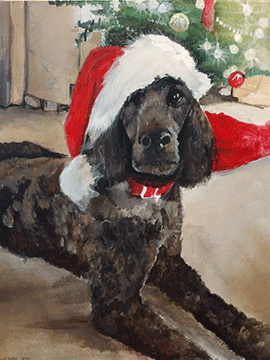 "It is a true honor for students to be selected, as there is only a limited amount of artwork each teacher can submit," Spanbauer said.
A series of programs and events took place in preparation for the project, including two workshops for participating teachers focusing on framing and archival practices. In preparation for "Empty Bowls," on Feb. 16 more than 40 Homer Junior High School students visited the university's ceramics studios to glaze pottery pieces they had made during their own studio art and ceramics classes. Two SUNY Cortland Art and Art History Department faculty members, Professor Jeremiah Donovan and Instructional Support Technician Russ Davis, helped them prepare their pieces for firing. The finishing pieces were sold on March 9 in an "Empty Bowl Sale" in Dowd Center to benefit "Loaves & Fishes."
Remaining events will include:
Panel discussion: Thursday, March 23, 5 p.m., in Dowd Gallery. For "Voices of Student Artists," selected student artists representing both Cortland and Homer school districts will share their art classroom experiences and reflect on the importance of creative activities and their impact on individual academic development and college preparedness.
Gallery round table: Wednesday, March 29, 5 p.m., in Dowd Gallery. The "Voices of Art Educators" roundtable will include Robert Edwards, Cortland District superintendent; Jesse Bender and Nadja Bieber, Cortland art teachers; Thomas Turck, Homer Central superintendent; Brookley Abbate and Lauren Nels, Homer art teachers; Carol Fitzgerald, executive director, Cortland Arts Connect; and Crystal Lyon, artist and art advocate. They will engage in a conversation about the state-of-the-art education, funding, access to resources and the importance of imaginative thinking and creative activities in forming a healthy and sustainable community.
Documentary screening: Tuesday, April 4, 5 p.m. A compilation of shorts and talks titled "Why Art Education Matters Part 1" will be shown in Dowd Gallery.
Documentary Screening: Thursday, April 6, 5 p.m. A compilation of shorts and talks titled "Why Art Education Matters Part 2" will be screened in Dowd Gallery.
First Friday: Friday, April 7. A "First Friday" guided tour of the exhibition has been organized by Cortland Arts Connect to take place from 5:30 p.m. to 8 p.m. The event will be both live and virtual on Facebook, Instagram and the Dowd Gallery.
Visit the Dowd Gallery website for details about exhibiting artists, other programs, safety protocols and online booking. For more information or to inquire about an appointment, tour or additional images, contact Jaroslava Prihodova at 607-753-4216.
The introductory image shows the digital media piece "Red v Blue, 2023" by Cortland Junior High School teacher Jesse Bender.
Brooks Lecture Series to tackle science and truth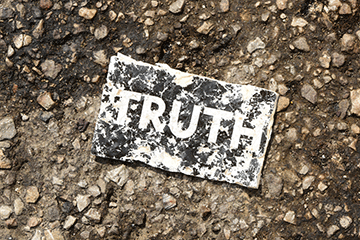 02/17/2023
A SUNY Cortland Distinguished Teaching Professor of geology will explore how scientific theory and testing can help people figure out what is and isn't true during a lecture on Wednesday, Feb. 22, at SUNY Cortland.
Robert Darling, SUNY Distinguished Teaching Professor of geology at SUNY Cortland, will share the hallmarks of scientific practice that lead to discovery in his talk, "Science and Truth: Ignorance is the Objective," at 4:30 p.m. in Moffett Center, Room 115.
A reception to welcome Darling precedes the talk at 4 p.m. in the adjacent Brooks Museum.
The talk continues the university's yearlong 2022-23 Rozanne M. Brooks Lecture Series on the theme of "The Culture of Truth." The series of talks and accompanying receptions are free and open to the public.
Seating will be limited and cannot be exceeded so please come early to secure a seat.
"We'll discuss what motivates and drives scientific research, and the ultimate goal of scientific pursuit," Darling said. "We'll discuss scientific theory and the critical role of testing. Lastly, we'll review the language of scientific communication to discern between 'belief' and 'accepting facts.'"
Also, this spring:
Jeremy Jiménez, an assistant professor in SUNY Cortland's Foundations and Social Advocacy Department, will give a talk on March 22 titled "Don't say 'It's going to be okay': Learning and Teaching in the Age of Climate Collapse," based on his late 2019 survey and focus group interviews with more than 300 students at two international schools in Singapore.
Adam Laats, an assistant professor in Binghamton University's Department of Teaching, Learning and Educational Leadership, will explain why the creationism culture wars never end on April 12, in a presentation called "Evolution and All That: Why Americans Can't Stop Fighting about Creationism."
In the last couple years, Americans have reopened disputes about ideas that once seemed settled.
Books and topics are being banned in classrooms, social and news media is plagued by misinformation that is swallowed by many, and the reality of the very science that underpins much of the modern industrial world has come into question.
Over the last decade, "truth" has seemed to become a rare resource, said Brooks lecture series organizer and Brooks Museum director Sharon Steadman, a SUNY Distinguished professor and chair of SUNY Cortland's Sociology/Anthropology Department.
"The Brooks Lecture Series this year investigates why truth seems so fleeting in today's world, but also where we might find it in the most surprising places," Steadman said.
The Brooks Series honors the late Distinguished Teaching Professor of sociology and anthropology emerita at SUNY Cortland Rozanne M. Brooks, whose donated special collection of ethnographic objects to the Sociology/Anthropology Department established the Brooks Museum in 2001.
The 2022-23 Brooks Lecture Series is sponsored by the Cortland College Foundation and Cortland Auxiliary. For more information, contact Steadman at 607-753-2308.
Black History Month events at a glance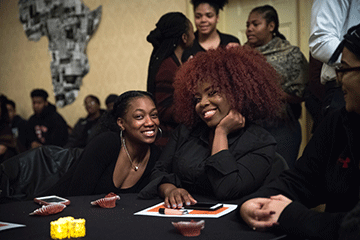 02/21/2023
SUNY Cortland will continue to celebrate Black History Month (BHM) throughout February with a series of events that includes historical and cultural lectures, panel presentations, a black-tie social event and a spoken word workshop with international slam poet champion Ed Mabrey.
SUNY Cortland opened BHM month on Feb. 1 by formally proclaiming its inaugural Abraham Lincoln DeMond 1889 Day, honoring a groundbreaking graduate and enshrining his legacy.
For the remainder of February, BHM campus events are posted online on the Institutional Equity and Inclusion Office webpage. Events are open to the public and free unless otherwise noted.
Still to come include:
Sport advocacy panel: Three Black sport industry professionals will dissect the issue of low racial diversity within the ranks of sport management professionals. Erin Morris, SUNY Cortland associate professor of sport management is leading the panel. The panelists will discuss "Advocating for Change — How We Can All be Better Allies and Co-Conspirators in Creating an Inclusive Sport Management Spaces" on Tuesday, Feb. 21, at 6:30 p.m. in the Professional Studies Building, Room 1176. The panel features Olivia Lindsay '19, event staffing lead with the New York Road Runners; Gabrielle-Alessandra Alleyne '19, marketing coordinator with U.S. Figure Skating; and Deidre Pierson M '19, associate athletic director at Hamilton College. These alums will also discuss ways in which they think underrepresented students and professionals in sport management could be better supported.
BHM Jeopardy: The Black Student Union will host a game of "Jeopardy" where participants are tested on their knowledge of Black history. The competition for prizes of gift cards begins at 7 p.m. on Tuesday, Feb. 21, in the Corey Union Fireplace Lounge.
East African slave trade: John Jones, SUNY Cortland assistant professor of childhood/early childhood education, will discuss a less well-known aspect of the Trans-Atlantic slave trade, which crossed the Indian Ocean, and that transported people from eastern Africa to the Arabian Peninsula, India, Indonesia, and even China. His talk, "From Afro-Turks to Siddis: The East African Slave Trade and the Afro-Asian Diaspora," will begin at 2 p.m. on Wednesday, Feb. 22, in the Moffett Center first floor conference room. Based on his research of the Afro-Turkish population of the late Ottoman Empire and Modern Turkey, Jones will shed more light on the experiences of the various populations of people in Asia who can trace their ancestry back to the people transported from eastern Africa.
Celebrating Black creativity: SUNY Cortland Professor of Performing Arts Kevin Halpin will offer a program of celebrating the lives and work of Black Americans in the performing arts. He will share details about their lives and perform songs, scenes, monologues and readings from their creative output during the event, "For My People: A Black History Month Celebration., It starts at 6 p.m. on Wednesday, Feb. 22, in the Dowd Fine Arts Center, Room 110.
Prison letter-writing workshop: The Black Student Union will take time to recognize the injustice experienced by men in the Black community, share their solidarity, and encourage hope by writing letters to incarcerated men at 6 p.m. on Wednesday, Feb. 22, in Corey Union, Room 209. The Week of Events program is presented in collaboration with Men of Value and Excellence.
Afro-Latine inequity: Tibisay Hernandez, a diversity equity and inclusion consultant with more than 15 years of experience, will give a virtual presentation on "Know Your Roots — Afro-Essence the African Diaspora in Latine America: Fighting Anti-Blackness as a Collective," at noon on Thursday, Feb. 23. One in four Latinè Americans identifies themselves as people of African descent. Despite significant progress over the past decade, Afro-Latinè populations are still underrepresented in




Tibisay Hernandez

decision-making positions across sectors. Participants will be given tools to build coalitions that fight anti-blackness. The event link is TBA. Hernandez' focus is implicit bias, interpersonal mediation, diversity recruitment strategies, inclusive search development, navigating critical conversations, inclusive leadership, restorative justice and transformative justice practices. She is currently a diversity and inclusion team leader for the New York State Department of Civil Service's Office of Diversity and Inclusion Management.
Black and Boujee: The Black Student Union Week of Events invites the campus community to this formal social event to celebrate Black excellence. People of all identities are welcome to share a time of dressing nice, being fancy and celebrating one another during "Black and Boujee: What Happens in Vegas stays in Vegas" at 10 p.m. on Friday, Feb. 24, in the Corey Union Exhibition Lounge.
Kings and Queens Conference: The Black Student Union will continue its Week of Events with the annual Kings and Queens Conference starting at 11 a.m. on Saturday, Feb. 25, in Corey Union Function Room. Alumni of SUNY Cortland are invited to offer their insight on topics including "The Most Unheard Voice in America: The Black Woman." Food will be provided, and attire is semi-formal.
Phat and fit: Exercise is all about improving mental and physical wellness, but the fitness industry can be selective about whose bodies represent "health." The presentation by Tracy Hudson, SUNY Cortland Diversity Faculty Fellow and assistant professor of physical education, will speak on "Phat and Fit: Unpacking the History of Anti-Blackness in the Fitness Industry." The lecture will examine historical fitness fallacies to encourage conversations that allow for introspection about what it will take to usher in a world where anti-Black racism is no longer found in our exercise world. The talk, at 5:30 p.m. on Tuesday, Feb. 28, will begin in Corey Union Fireplace Lounge.




A past Afro Essence event fostered cross-cultural encounters.

Spoken Word and Workshop: Spoken word artist Ed Mabrey, perhaps the greatest poet in the history of poetry slams with four world championships, six regional championships and more than 500 wins, will offer a "Spoken Word and Workshop." Organized by the Student Activities Board (SAB), the event takes place on Tuesday, Feb. 28, in Corey Union Exhibition Lounge. An hour-long workshop runs from 5 p.m. to 6 p.m. followed by a spoken word session from 7 to 8 p.m. An NAACP Image Award Nominee and 2019 APCA Spoken Word Artist of the Year, Mabry has performed on TV ONE, ABC, FOX, HBO and CNN. He performs poetry and conducts workshops on mental and emotional health with a focus on depression, anxiety, suicide ideation and removing stigmas from seeking therapy.
Co-sponsorships and funding for Black History Month were made possible by the President's Office, Institutional Equity and Inclusion Office, Political Science Department, School of Arts and Sciences, Africana Studies and Performing Arts departments, SUNY Cortland Alumni Association, Multicultural Life and Diversity Office, Disability Resources, Campus Artist and Lecture Series, Student Government Association, Know Your Roots-Afro Essence, SUNY Cortland Campus Activities, Student Activities Board, Career Services, Black Student Union, NAACP chapter and Pan African Student Association.
For more information, contact Cyrenius Fitzjohn, assistant chief diversity and inclusion officer, Miller Building 404A.
SUNY Cortland students to perform "Seussical" the musical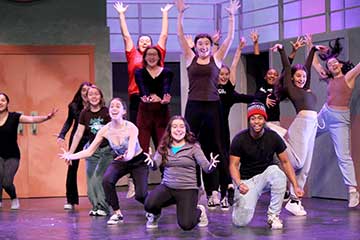 02/10/2023
It's time for happy faces, forget your frowns, the fantastical "Seussical" is coming to town.
SUNY Cortland's Performing Arts Department will continue the musical comedy's run this weekend at the Dowd Fine Arts Center Theatre, promising to bring the whimsy and wonder of the Dr. Seuss Broadway show to kids and adults alike.
"The universally recognizable characters from the Dr. Seuss stories appeal to all audiences, young, old and especially young-at-heart," said Kevin Halpin, professor of performing arts and director and choreographer of the show, which includes Seuss creations ranging from Horton the Elephant to the Cat in the Hat.
"Getting to watch various characters from different Seuss stories interact brings a level of fun and surprise to our view of the world of Seuss."
Remaining showtimes are:
Friday, Feb. 24: 7:30 p.m.

Saturday, Feb. 25: 2 p.m. (Understudy Performance) and 7:30 p.m.

Sunday, Feb. 26: 2 p.m.
Halpin, who has directed more than 30 shows at the university, noted that "Seussical" is a different type of production than the Performing Arts Department has put on in a while. He described it as featuring challenging music for the cast with powerful lyrics and a plot that touches upon inclusion, acceptance and the power of creativity.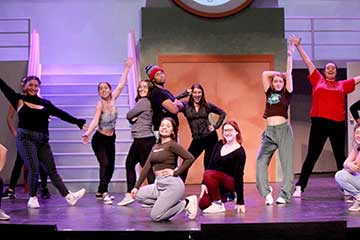 "Seussical" is based on some of the most famous creations of author and artist Theodor Seuss Geisel, best known by his world-famous pen name, Dr. Seuss. With music by Stephen Flaherty and script by Flaherty and Lynn Ahrens, it opened for its Broadway debut in 2000, leading to two U.S. tours and a stint in London's West End.
"This cast has been incredibly committed and hard-working throughout the process," Halpin said. "What I find most rewarding is when I see these young artists completely submerse themselves in the character they are playing onstage and begin to behave as that character in rehearsals, discovering ways of expressing the life of the character and telling our story as clearly as possible to an audience."
The "Seussical" team of 34 people, including cast, crew and creative team professors and professionals, has gone above and beyond to meet the challenge of the show, according to Halpin.
"This production is the shortest practice period ever for a full musical at the university," he said.
Rehearsals began on Jan. 17 and technical rehearsals started Feb. 9.
"That's several short weeks for the details of the entire show to be learned and memorized," Halpin said. "Many of the student cast play multiple roles as well, adding to the complexity."
Halpin believes the end result will be more than worth it.
"We hope the audience has a wonderful time but also walks away with a renewed sense of hope," he said. "And a strong belief that they can have a significant impact on the world around them if they trust and believe in themselves and accept people around them for who they are."
"Seussical" is appropriate for all ages. Anyone interested in hearing a Who or listening to the Lorax can find tickets online through SUNY Cortland's Ticket Office.

Suggest a feature story
---
Faculty/Staff Activities
Kevin Dames
Kevin Dames, Kinesiology Department, recently coauthored a paper with graduate student Jennifer Kraft MS '19, Connor Lewis '20, Ryan Fiddler, who is a former kinesiology faculty member, and Jacqueline Augustine, Kinesiology Department. The paper is titled Bodyweight support alters the relationship between preferred walking speed and cost of transport. We demonstrated that the self-selected walking speed with bodyweight support does not correspond to the speed which elicits the lowest cost of transport. These findings have implications for clinical populations (e.g., obese, elderly) who may benefit from walking on a bodyweight supporting treadmill but may select speeds incompatible with their physical activity goals.
Jeremy Jimenez
Jeremy Jimenez, Foundations and Social Advocacy Department, gave a talk to middle/high school students and teachers about "Ecological Justice and the 9 Planetary boundaries" at the sixth annual Central New York Youth Climate Summit held Feb. 11 at SUNY College of Environmental Science and Forestry.
Doug Langhans
Doug Langhans, Admissions Office, has been appointed by the U.S. Secretary of Commerce to serve on the New York District Export Council. The council is one of 61 in the nation that brings together experienced international businesspeople who provide support, advice, and assistance to New York companies interested in entering into or expanding into international markets. Langhans was nominated for the position due to his 20 years of international recruitment experience and his 11 years of active involvement with Study New York including serving as chair for three years.

Submit your faculty/staff activity
In Memoriam
Joy L. Buffan '71, coordinator of school partnerships emerita and a lecturer in the Physical Education Department, died Feb. 13, 2023.
John F. Catalano, professor emeritus of psychology, died on Feb. 2, 2023.
Robert "Bob" C. Howe, Cortland College Foundation Board emeritus and 2014 College-Community Appreciation Award recipient, died Feb. 12, 2023.
Homer Mitchell, lecturer emeritus of English, died Feb. 4, 2023.