Cortland ranks high for service, social mobility and value
08/31/2021
SUNY Cortland takes pride in providing a transformative educational experience at an affordable price.
But you don't have to just take their word for it.
In its most recent annual College Guide and Rankings, Washington Monthly placed SUNY Cortland at No. 46 in the nation on its list of master's universities. Cortland was the second-highest ranked SUNY comprehensive college.
The magazine rates how well universities graduate low-income students, produce ground-breaking scholarship and encourage students to serve their country. To do that, it uses a number of criteria, including graduation rate, number of Pell Grant recipients, net price of attendance for families below $75,000 in income, as well as its own research, public service and social mobility rankings.
"I have long maintained that SUNY Cortland is an institution of access that can break the cycle of poverty in a single generation," President Erik J. Bitterbaum said. "We don't just prepare our students for successful careers. We prepare them to go out into the world and make a significant, positive difference."
SUNY Cortland scored well in particular on the social mobility (No. 54 in the nation) and public service rankings, where the university ranked at No. 28. Washington Monthly's public service metric includes data on the number of degrees awarded in health, education and social work, Peace Corps and ROTC participation as well as if an institution received the community engagement classification from the Carnegie Classification of Institutions. Cortland was the first SUNY campus to earn the classification, which recognizes institutional commitment to community engagement.
Universities also earned points by encouraging voter registration by submitting action plans through the ALL IN Campus Democracy Challenge. The challenge recognized Cortland with a Presidential Commitment award for its efforts in "striving toward full student voter participation" in 2020.
Social mobility was measured by weighing factors, including the number of students receiving Pell Grants, to measure each institution's commitment to educating a diverse group of students. The magazine used average net price data from the Integrated Postsecondary Education Data System (IPEDS) to examine affordability for students from lower- to middle-income families. Other data included in this ranking included loan repayment rates that reflect the ability of students to support themselves financially after graduation.
In addition to the master's university rankings, which include institutions that award a significant number of master's degrees but few or no doctoral degrees, Cortland ranked No. 53 on the magazine's "Best Bang for the Buck: Northeast" list.
Washington Monthly also listed SUNY Cortland on its "Best Colleges for Student Voting" list.
SUNY Cortland has been previously recognized by other national publications for providing students a quality, affordable education. Money.com ranked the university among the top 5% in the nation on its "Best Colleges for your Money 2020" study. Cortland has been the top-ranked SUNY comprehensive college on this list for three consecutive years.
The Princeton Review has listed SUNY Cortland on its "Best Colleges Region by Region" for the Northeast. Zippia.com ranked SUNY Cortland No. 5 in the nation for "Best Public College in Each State for Getting a Job in 2020." Safewise.com named Cortland to its annual ranking of the safest college towns in America in 2017, 2018 and 2019.
Cortland wins expanded diversity teaching grant
08/31/2021
New York state recently extended and expanded its support for the Cortland's Urban Recruitment of Educators (C.U.R.E.) program, enabling the program to prepare more teachers to succeed in America's increasingly diverse classrooms.
Recently, SUNY Cortland administrators of the C.U.R.E. program were notified that the state Education Department approved a second, five-year round of funding at an increased level through a program called My Brother's Keeper Teacher Opportunity Corps II (TOC).
The university was awarded a total of $194,930 per year from this fall through 2026. The grant total over five years will add up to almost $1 million. The prior TOC award supported 20 C.U.R.E. students a year, and that number will rise to 30.
The C.U.R.E. program has had a record of success in educating teachers from groups underrepresented in teaching, including Black or African American, Latinx, Indigenous and economically disadvantaged backgrounds. Created in 1998, the C.U.R.E. program has prepared 230 future teachers to work in high-needs urban classrooms.
"The profession of teaching has remained overwhelmingly white despite a number of efforts to increase the diversity of the teaching force," said Anne Burns Thomas, a professor in the Foundations and Social Advocacy Department at SUNY Cortland and coordinator of the C.U.R.E. Program.
"However, the C.U.R.E. program has more than 25 years of experience in removing the obstacles preventing students of color from becoming teachers."
The C.U.R.E. program presently is underwritten by a mix of private scholarships and foundation and public grants that together with the TOC increase will support an enrollment of 70 students at a time.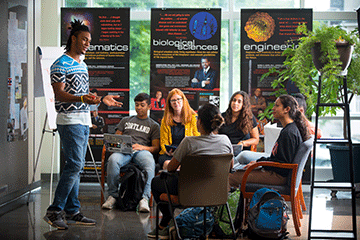 C.U.R.E. offers students enrolled in the program a combination of renewable, $4,000 per year tuition support, academic preparation, mentoring and follow-up.
In 2020, C.U.R.E. recruited 14 future teachers, all of whom identified as Latinx, African American, Asian American or multiracial. Students enrolled in any major that leads to teacher certification can benefit from the C.U.R.E. program. The cohort was studying to teach early childhood, childhood, adolescent English, inclusive special education, English as a new language, health, and physical education.
C.U.R.E. graduates are among Cortland's most accomplished, with several as seniors having earned SUNY Chancellor's Awards for Student Excellence. Currently enrolled students have maintained a grade point average of 3.31 in 2019 and of 3.59 in 2020. SUNY Cortland's Dean's List included 29 of 49 C.U.R.E. students in 2019 and 35 of 54 C.U.R.E. students in 2020. Graduates from the program return to their home communities confident and capable of succeeding in their new profession.
The new round of funding also will help underwrite significant enhancements to C.U.R.E. For example, it will cover a new outreach program aimed at repairing the broken educational pipeline found in many urban schools by encouraging students at the middle school level to consider teaching as a profession.
"One of the things we're really excited about is that there's lots of research about the power of having connections between high school students from underrepresented groups who want to become teachers and a college program like C.U.R.E.," Burns Thomas said.
"With funding received in this grant, we're actually going to take a step backwards and start in a middle school setting," Burns Thomas said.
"We're creating a middle school club for students from underrepresented groups that will be increasing awareness of college options, including teaching," she said. "So that will include a lot of mentoring by our C.U.R.E. students. We have funding to bring students to campus as soon as everything opens up. We have funding to have guest speakers and do different media projects at the middle school level."
"But we're hoping that by starting this club in middle school, we will help them develop their voice in crafting the kind of school experience they would like to have that will help them to achieve their goals in college."
The C.U.R.E. Program measures the number of qualified students of color admitted to the program, their academic and leadership achievements, retention and graduation rates, and the successful completion of the two-year teaching commitment. That information that was considered in awarding SUNY Cortland the expanded grant.
Brian Barrett, a professor of foundations and social advocacy, serves the university as graduate research coordinator, interviewing and following up with C.U.R.E. students in their first two years of teaching.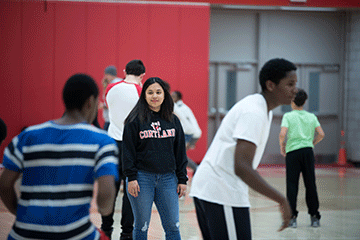 He visited and conducted follow-up interviews with 11 C.U.R.E. graduates teaching in Syracuse, Bronx, Manhattan, Ithaca, Niagara Falls, and Lockport, N.Y. During Spring 2020, when SUNY Cortland was forced to send students home as a result of the COVID-19 pandemic, the C.U.R.E. Program staff conducting bi-weekly phone calls with students to discuss difficulties and connect students with resources.
"One of the most common comments was that they felt prepared right upon graduation and were leading conversations with their more experienced colleagues about important issues such as culturally responsive teaching," Burns Thomas noted. "They felt very well prepared by C.U.R.E. to be in any kind of teaching situation including one that others might find very challenging."
Before 2017, the C.U.R.E. program had managed for a decade without significant state funding after the Great Recession of 2007 swept away similar state resources. What kept the program afloat was the university's own commitment to C.U.R.E., supported by numerous individual donors. They included many alumni as well as two ongoing institutional benefactors, the Park Foundation and the National Grid Foundation.
"I guess I would also say that SUNY Cortland is a model for how to support a program like this, both in terms of institutional support for the programming and the ways in which the Division of Institutional Advancement has helped to increase private funds," Burns Thomas said.
For example, for the life of the C.U.R.E. program, her own position as part-time faculty member as well as part-time program administrator is supported by SUNY Cortland.
"That's unique and that's one of the reasons why we serve as a model," Burns Thomas said. "There's consistent funding. So we are able to use our funding to be more, I think, very student focused."
The first round of TOC money served to reimagine mentoring to include student pairings with practicing K-12 educators who are themselves members of underrepresented groups, with teacher-mentors from diverse cultural or ethnic backgrounds recruited from districts in Binghamton, Ithaca and Syracuse. Mentors met the C.U.R.E. student in groups and advise them individually.
"I think the value of the C.U.R.E. program is to provide a visible commitment to increasing the diversity of the teaching force," Burns Thomas said. "Through our innovative programming and the way in which we're able to leverage opportunities for the whole university, the C.U.R.E. program makes the case that we need more diverse teachers in order to have a successful school system."
---
Capture the Moment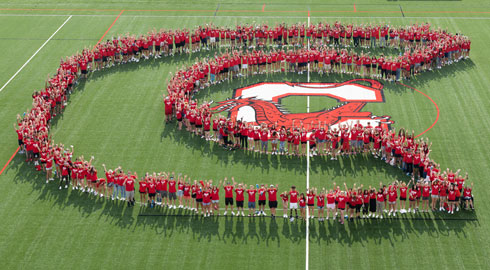 SUNY Cortland's first-year students gathered for a group photo at the Stadium Complex on Sunday, Aug. 29. Students signed the It's On Us pledge and received additional information from the Title IX Office, picked up Welcome Week 2021 T-shirts and enjoyed an ice cream social. Welcome Week continues through Monday, Sept. 6. Learn more online about other Welcome Week events.
---
In Other News
President touts resiliency, looks toward strong fall semester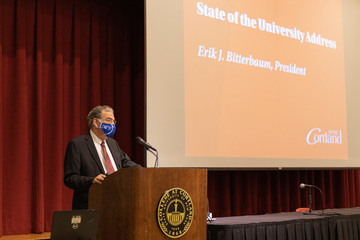 08/26/2021
President Erik J. Bitterbaum highlighted SUNY Cortland's commitment to staying true to its student-focused mission, especially amid the challenges of the COVID-19 pandemic, during his Fall 2021 Opening Address on Thursday in the Corey Union Function Room.
Bitterbaum also spoke about SUNY Cortland's strong enrollment, the university's many efforts to ensure racial and social equity and inclusion and offered updates on several campus initiatives.
Faculty and staff were applauded for their efforts to continue to provide students with access and opportunity, place students at the center of their focus and serve as "stewards of place" for local and regional partners in the greater Cortland community.
"We did not stop despite the pandemic," Bitterbaum said. "We removed obstacles and found new ways to connect and embrace new approaches to teaching, service and scholarship. As I look back over this past year, it was for me truly amazing what you all accomplished together."
Direct, personal engagement between faculty and students was a major factor in enabling students to thrive in an academic environment of virtual and hybrid instructional models over the past 17 months. Faculty listened and adapted to student concerns about learning from home, having a lack of access to campus facilities and friends and that has made the current climate more conducive to the enriching educational experience SUNY Cortland strives to achieve. Bitterbaum urged faculty and staff to continue this outreach to students even as campus life begins to return to normal.
"Are there things we can do for our students?" Bitterbaum said. "Can we ask our students, 'How can we help further their education knowing some of the difficult situations they are in?'"
COVID-19 safety remains a top priority for the university. Bitterbaum noted that FDA approval of the Pfizer vaccine on Monday has led to a new SUNY-wide mandate requiring all students to be vaccinated by Monday, Sept. 27 to access many campus facilities. SUNY Cortland had earlier announced that all students living in campus residence halls would be required to be vaccinated. A small number of students may be granted medical or religious exemptions.
Other safety procedures for the Fall 2021 semester include arrival testing for all residential students and regular surveillance testing for all students and employees.
Bitterbaum recognized all employees who organized, operated and volunteered for the massive surveillance testing that took place throughout the 2020-21 academic year.
A number of other highlights from across the university included:
The most recent Career Services data shows that 98% of new graduates are employed or pursuing a postgraduate degree.
SUNY Cortland was the highest-ranked SUNY comprehensive college in com's "Best College for your Money" survey.
The incoming class of 1,264 first-year students came from a pool of 11,420 applicants.
The university will welcome 595 transfer students this fall from 1,544 transfer applicants.
The student body comes from 33 states and 54 countries.
From 2019 to 2020, SUNY Cortland retained 85% of its first-year students, a very strong figure for a four-year comprehensive college.
SUNY Cortland's fundraising efforts are providing opportunities for scholarships and vital student emergency grants. Through the 2019-20 fiscal year, the university raised $5.195 million, leading all SUNY comprehensives in dollars raised.
The Cortland Fund raised $1 million for a second consecutive year and The Cortland Challenge set new records with 2,300 donors and $314,000 raised in a 24-hour period on April 21.
The Campaign for Cortland, "All In: Building on Success," has raised $24 million of its $25 million goal heading into its final year. More than $12 million of that total will go to student scholarships.
The Student Emergency Fund, created to help students deal with unexpected expenses related to the pandemic, has raised more than $400,000 and distributed more than 1,000 grants to students in need.
Bitterbaum shared details of a recent conversation he had with James Meredith, who became a national leader in the struggle for civil rights after being the first Black student admitted to the then-segregated University of Mississippi in 1962.
Archivist and Instructional Services Librarian Jeremy Pekarek noticed that SUNY Cortland's student government wrote a letter of support to Meredith in 1962. Meredith responded to their note and both were published in the student newspaper, The Hilltop Press.
Bitterbaum found a phone number for Meredith and called him. Meredith, now 88, was later wounded in a civil rights march. They spoke about those messages as well as SUNY Cortland's current anti-racism initiatives, including the formation of the President's Council on Inclusive Excellence.
"This is what he wanted me to share with you," Bitterbaum said. "Tell your faculty and staff they're doing God's work. What they're doing is great."
Other examples of SUNY Cortland's commitment to diversity and inclusion include the recent hiring of five new faculty members through SUNY's Promoting Recruitment, Opportunity, Diversity, Inclusion and Growth (PRODiG) program, which aims to increase the number of historically underrepresented faculty.
The Middle States Commission on Higher Education will be visiting campus in April 2022 as part of its regular reaccreditation process. Bitterbaum thanked the faculty and staff who have been working on this task throughout the pandemic as well.
To conclude, Bitterbaum shared a quote from Teddy Roosevelt: "Far and away the best prize that life has to offer is the chance to work hard at work worth doing."
"What we do here at this college is so, so important," Bitterbaum said. "I can only say thank you and I wish you a wonderful semester. Let's try to beat this pandemic."
Student researchers make the most of summer experience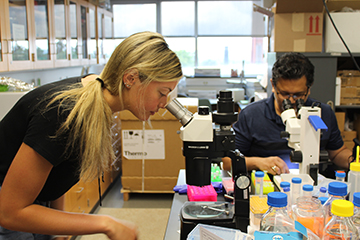 08/17/2021
Melissa Alvisi had her dream internship in place for the Spring 2021 semester: an international studies major, she was set to work at the U.S. Embassy and Consulates in Rome, Italy.
But the internship was canceled due to COVID-19 concerns only a few weeks before her scheduled departure. Alvisi was devastated, so she sought advice from her professors. They encouraged to use the setback as motivation and consider new ways to gain experience related to her studies.
"That's why I pursued summer research," said Alvisi, who spent the past two-plus months analyzing a complicated topic in global affairs and economics. "I wanted to make my final year in Cortland worth it."
Alvisi is one of nine high-achieving SUNY Cortland students who earned a summer undergraduate research fellowship in 2021. The competitive awards help students pursue full-time scholarly work with a faculty member, offering a $4,000 stipend and eight weeks of campus housing if students need it. Opportunities are guided by the university's Undergraduate Research Council and they are open to students from all academic backgrounds.
The program returned after a one-year pause in 2020 thanks to financial support from the Cortland College Foundation and the generosity of its donors. For the first time in the program's history, fellowships were funded by alumni and friends of the university. Some recipients conducted research in Cortland while others collaborated with faculty mentors from their hometowns.
This summer's undergraduates represent majors such as biochemistry, geographic information systems and inclusive childhood education. Inspiration for their projects came from several sources. Some were informed by a student's personal interests while others contributed to a faculty member's larger ongoing work. Several topics bridge multiple disciplines.
Alvisi is pursuing a minor in economics, so her work with Associate Professor German Zarate considered China's money lending practices in Latin American countries from 2010 to 2018. Alvisi said she enjoyed previous classes with Zarate and she was intrigued by her professor's global knowledge. Both of them speak multiple languages — he's a native of Peru and Alvisi grew up in Latina, Italy, approximately 40 minutes south of Rome.
Despite having a primary interest in European affairs, Alvisi was interested to learn more about Asia and South America. Her project initially focused on a Chinese global infrastructure plan, the Belt and Road Initiative (BRI), but eventually grew into something more expansive. The fellowship also offered practical, hands-on experience in writing and analyzing scholarly information.
"My initial theory was that (the BRI) could be seen as a modern Trojan horse, meaning a way for China to expand its reach across the world," Alvisi said. "Professor Zarate kept sending me articles and got me to think: 'Maybe that's not it.' So instead of looking into only the negative side of the BRI, I'm looking at the entire spectrum."
Alvisi lived in Cortland most of the summer and carried out the vision for the fellowship by immersing herself in the work — spending many hours reading, regularly checking in with her professor on the phone or Webex, and consulting with other scholars. Her final product will be a paper that she hopes can lead to publication or travel to an academic conference.
After graduating, Alvisi wants to pursue a master's degree in international relations and eventually work in foreign service for the U.S. Department of State.
"I could've been discouraged when COVID canceled the internship, but I tried to be introspective," said Alvisi, who will serve as chief financial officer for SUNY Cortland's Student Government Association during the upcoming academic year. "I tried to make the best of it and the research award definitely helped."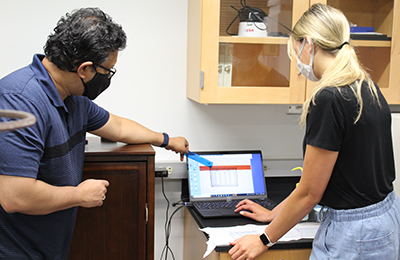 Santanu Banerjee, assistant professor of biological sciences,
works with Olivia Langdon, a biomedical sciences major, in the
neurobiology research lab in Bowers Hall.
For Olivia Langdon, a biomedical sciences major, summer research provided a crucial experience that she missed during the COVID-19 pandemic: extended time in a Bowers Hall laboratory. She worked diligently on campus with Santanu Banerjee, assistant professor of biological sciences, using zebrafish to study the central nervous system.
"I was excited to get back into the lab," said Langdon, a junior from Little Falls, N.Y. and a member of the university's Honors Program.
Zebrafish offer a reliable model to study the central nervous system, so the research team studied them under different conditions in an effort to better understand how different types of neurons connect to each other and to other targets, including body muscles required for movement.
The purpose of Langdon's summer research was to help determine a basis for future experiments. She performed various tasks during her full-time work in the lab — running processes to mate zebrafish, caring for larvae, operating video recording equipment and carrying out experiments from start to finish.
"I felt myself growing more independent in the lab," said Langdon, who plans to go on to a graduate or professional program in a science-related field. "Early in the summer, it was Dr. Banerjee telling me what to do because I wasn't as familiar, but then it became more of a discussion of what we were doing each day."
In a long-term view, the work with zebrafish seeks to gain deeper insight into the functions of the nervous system as well as how to repair nervous system damage following spinal cord injuries or other diseases.
Banerjee said that the summer fellowship program benefits both students and faculty members because it affords a deeper learning experience compared to a traditional semester with other commitments. In addition to being a member of the Honors Program, Langdon is a member of the university's women's basketball team, so her free time is limited during the academic year.
"The time we have in the summer maintains the continuity between one experiment and another," Banerjee said. "We're able to think critically about it and read about what others have done. Those things are harder to do in a regular semester.
"Summer is the best time — uninterrupted research time."
2021 Summer Undergraduate Research Fellowship Recipients
Learn more about SUNY Cortland's 2021 summer undergraduate research fellows and their work through the short descriptions below.
---
Melissa Alvisi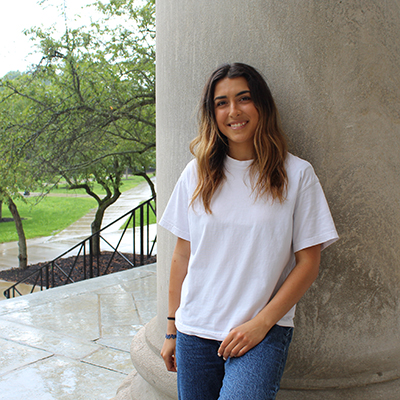 Hometown: Latina, Italy
Major: International Studies
Faculty mentor: German Zarate, associate professor, Economics Department
Fellowship donor: Nancy A. Johnson '48
Project title: A Prospective on Chinese Loans to Latin America and the Concept of Predatory Lending
More about my research: "The research will focus on how China's influence has gone beyond Asia, reaching areas seemingly far away from China's geographical sphere of influence such as Latin America, to which the Asian power has been lending copious amounts of money, to the point where China has become the second-largest trade partner after the United States. Reports indicate China's lending to Latin America has recently surpassed lending from Western institutions. Keeping in mind that Latin America is a key continent, especially for its natural resources and in view of the U.S. criticism of China engaging in predatory lending in Latin America, the research project will focus on a specific research question — whether China's lending can be seen as predatory more than beneficial to Latin American countries."
Future aspirations: "In terms of the research program, I would love to publish my work and take part to conferences on Latin America, specifically on Peru, Venezuela and Brazil. On a more personal level, I want to go on to graduate school for international relations/affairs and work for the U.S. State Department in foreign service."
---
Marissa Baugh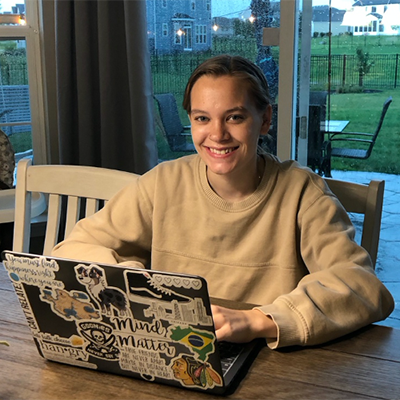 Hometown: Joliet, Ill.
Majors: Inclusive Childhood Education and Spanish
Faculty mentor: Katarina Silvestri, assistant professor, Literacy Department
Fellowship donor: Nancy A. Johnson '48
Project title: Spanish Language Development and Perceptions of Undergraduate Students During Short-Term Study Abroad
More about my research: "The purpose of this study is to determine how SUNY Cortland students who participated in a short-term study abroad program in Cuernavaca, Mexico, perceive their experience as worthwhile in their education. This research seeks to create a better understanding of the program with respect to students' perceptions of the experience and their Spanish language development. Also, this research provides feedback for the current program in Cuernavaca and influences future short-term study abroad programs at SUNY Cortland."
Future aspirations: "I hope to gain teaching experience and earn my master's degree in the field of education in the near future. Later in my career, I would like to pursue a doctorate which will allow me to continue my passion for research."
---
Bettina Bonfiglio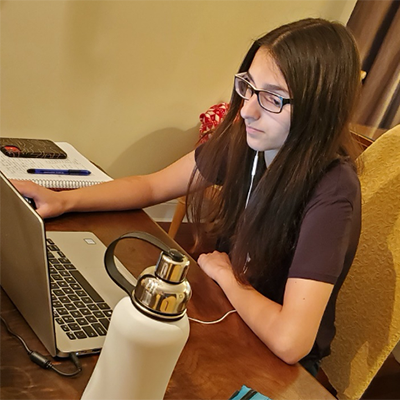 Hometown: West Sayville, N.Y.
Major: Geographic Information Systems
Faculty mentor: Christopher Badurek, associate professor, Geography Department
Fellowship donor: Daniel G. Scheffer '96
Project title: Comparison of GIS-Based Carbon Sequestration Estimation Methods at Varying Scales in Cortland County, New York
More about my research: "My research focuses on carbon sequestration, or the absorption of carbon dioxide by trees. However, sequestration estimates are affected by both the geographic area and size. By using web and geographic information systems, or mapping, programs the effects from geographic setting and scale on estimate measures of carbon sequestration from trees can be determined. This will be done and compared for the four areas of the village of Homer, N.Y., SUNY Cortland's campus, (Hoxie Gorge Nature Preserve at William H. Parks Family Center for Environmental and Outdoor Education) and Cortland County."
Future aspirations: "After Cortland, I am planning on attending graduate school. I would like to expand my knowledge about geographic information systems (GIS) and all things mapping. In addition, I am not sure yet where I want to go with my studies. Not only will I use my time at graduate school to learn, but also to find out where I want to be and what I want to do with GIS."
---
Allison Gurak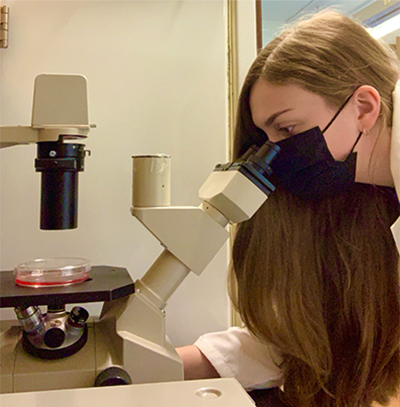 Hometown: Webster, N.Y.
Major: Biology
Faculty mentor: Christian Nelson, assistant professor, Biological Sciences Department
Fellowship donor: W. Hubert, Ph.D., and Sally Keen
Project title: Identification of Host Proteins Needed for JC Polyomavirus Infection of Glial Cells
More about my research: "JCPyV is a virus that does not cause severe sickness in healthy individuals, but immunocompromised patients suffer progressive multifocal leukoencephalopathy (PML). How JCPyV binds, enters, and infects cells is not completely understood. This research aims to determine the role of certain human host proteins involved in intracellular transport and infection of JCPyV."
Future aspirations: "In the future, I hope to continue my education and pursue a career in virology."
---
Olivia Langdon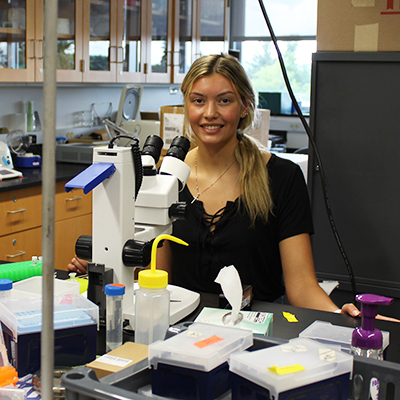 Hometown: Little Falls, N.Y.
Major: Biomedical Sciences
Faculty mentor: Santanu Banerjee, assistant professor, Biological Sciences Department
Fellowship donor: Daniel G. Scheffer '96
Project title: Role of Glutamatergic Neurons in Locomotion Behavior of Larval Zebrafish
More about my research: "The central nervous system (CNS) controls our daily behaviors. There are connections and messages between neurons that permit this. We are trying to develop a deeper understanding of how these neuronal connections form and function by using zebrafish larvae. We've performed multiple experiments to analyze the larval behavior under different conditions. I hope to expand upon this during the rest of my time at Cortland, eventually using pharmacological agents and genetic mutants. This will allow a better understanding of specific CNS neurons and neurotransmitters and how their connections affect behavior."
Future aspirations: "I want to go on to graduate school or professional school, definitely in something science-related."
---
Kayla Lawrence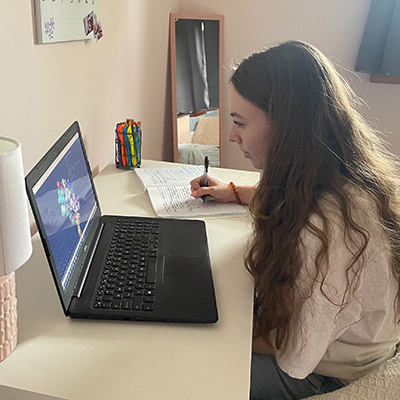 Hometown: DeRuyter, N.Y.
Major: Biochemistry
Faculty mentor: Katherine Hicks, associate professor, Chemistry Department
Fellowship donor: David F. Berger, Ph.D., Fellowship funded by Dr. Michael J. Bond '75 and Dr. Wayne Marley '75
Project title: Molecular Interactions Between Peptidoglycan Associated Lipoprotein and Small Molecule Targets
More about my research: "For the summer of 2020, I had planned to work at SUNY Cortland's lab but due to COVID-19 these plans were cancelled. Fortunately, during the summer of 2020 I was able to conduct online research through a newly formed program known as MIV REU. This summer, I continued to work with MIV REU this time as a peer mentor. As a peer mentor I worked to coordinate social events among students new to the program and helped by troubleshooting problems they ran into. My research for this program involved finding potential compounds that could bind and inhibit a Peptidoglycan Associated Lipoprotein, otherwise known as PAL, which has been known to play a role in causing sepsis. This summer we worked to find out how these compounds successfully bound to PAL in attempt to find ligands to combat this protein."
Future aspirations: "In the future I hope to graduate from SUNY Cortland and continue to go to school to become a medical doctor. Over the course of the last year working in medical-related research has inspired me to want to work closer to people in a medical environment. Through the pandemic I also have gained a greater appreciation of healthcare workers and would love to pursue a career in medicine."
---
Giovanna Rossi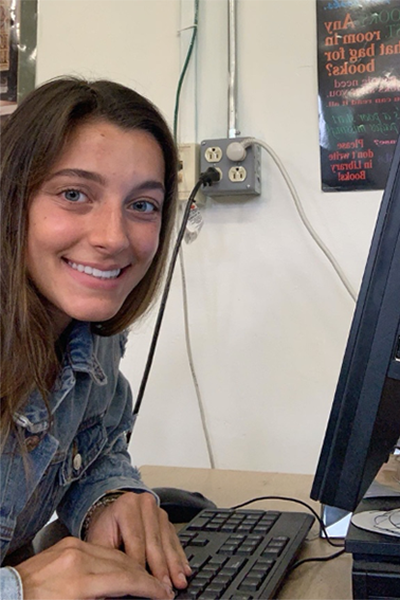 Hometown: Nichols, N.Y.
Major: Physical Education
Faculty mentor: Timothy Davis, associate professor, Physical Education Department
Fellowship donor: Sandra Laghi Cerulli '68 and Dr. Maurice Cerulli
Project title: A Qualitative Inquiry of the Interdisciplinary Engagement of Teachers and Therapists Providing Virtual Services to Children with Disabilities
More about my research: "My specific research focused on interdisciplinary collaboration … I will be looking to determine if using the sensory-based equipment, used in Sensory Fit Families, as a bridge helped promote interdisciplinary discussions leading to a better or more effective service delivery model. I will be doing this research through virtual interviews and transcribing the data."
Future aspirations: "I plan to earn my master's degree in health education as part of SUNY Cortland's 4+1 program in physical education and health education. I also am pursuing a concentration in adapted physical education. With my degree, I will pursue a career as a physical education and health teacher."
---
Eleanna Julisa Ventura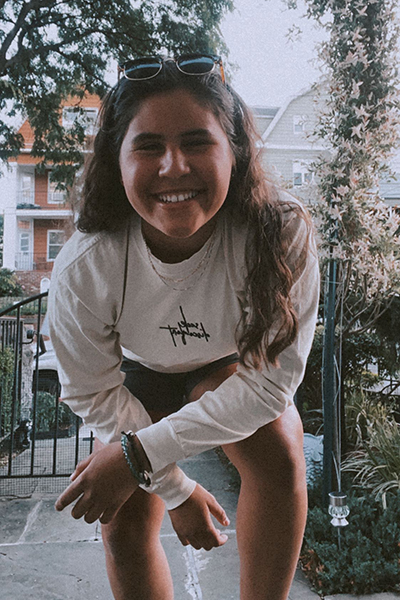 Hometown: Bronx, N.Y.
Major: Inclusive Childhood Education
Faculty mentor: Anne Burns Thomas, professor, Foundations and Social Advocacy Department
Fellowship donor: Michael J. O'Reilly '58, M '63
Project title: Unpacking the Monolith: Understanding Latinx Teachers' Motivations and Career Paths
More about my research: "In the U.S., there is an extreme imbalance between the steady amount of Latinx students going into school and Latinx teachers. My project is aimed at learning and understanding the motivations of teachers from Latin backgrounds and how cultural identity shapes that motivation. We hope to get a glimpse and learn directly from the unique perspectives of the small, yet extremely diverse percentage of educators in an attempt to shed light on the ways that Latinx teachers' motivations and obstacles impact teacher diversity efforts."
Future aspirations: "I am looking to work in an urban, high need school district in the future. I hope to grow and experience being teacher in its entirety with students from all backgrounds and help those students who fall through the cracks of the education system. My interests lie everywhere including outside education, so while I aim to get my master's in something education-related, I also want to continue school and explore my other interests like cultural astronomy and anthropology."
---
Maria Klara Ventura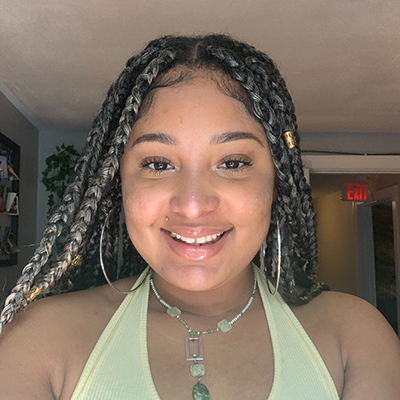 Hometown: Alameda, Calif.
Majors: International Studies and Anthropology
Faculty mentor: Flavia Dantas, associate professor, Economics Department
Fellowship donor: Nancy A. Johnson '48
Project title: Ethno-Racial Impact of the Different Public Policy Strategies in Brazil: 2002-2020
More about my research: "My research focuses on how Brazilian governments have managed to create public policies and how each government have accomplished their goals by showing statistics. The research focuses on two areas. The first one is poverty — how did public policies helped decrease the poverty gap — and the second being racial inequality — how public policies decreased the racial gap."
Future aspirations: "I plan to get my Ph.D. in anthropology. My goal is to go back to Brazil and try to understand a little more about some of the issues we have in the Brazilian society."
Student excels in Army National Guard competition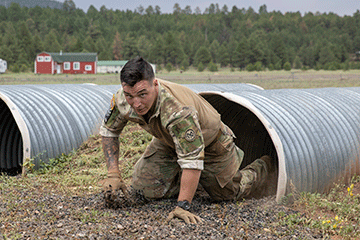 08/02/2021
Cpl. Dakoatah Miller hasn't jumped through hoops for the New York Army National Guard, but only because they haven't yet asked him.
Miller, 21, a SUNY Cortland senior exercise science major and infantryman in the 27th Infantry Brigade Combat Team, has crawled through culvert pipes, dragged a stretcher weighted with a simulated wounded person, fired his rifle at range targets, scrambled over a tall rope barrier, dunked underwater in full combat gear, marched long distances and hefted heavy barbells, most recently in the Arizona desert.
The Cortland resident placed second, competing against 12 other National Guard personnel from across the U.S. from July 19 to 23 at the Army National Guard's Best Warrior Competition in Camp Navajo, Arizona.
His chosen major helped prepare him for reaching that goal.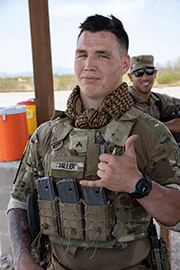 "I had the knowledge to build a good program to meet the specific physical requirements," he said.
Miller, who is a member of the 2nd Battalion, 108th Infantry Regiment's headquarters company based in Utica, N.Y., took on 12 other soldiers or non-commissioned officers from six other multi-state regions of the country.
At the end of the competition, one soldier and one non-commissioned officer were selected to advance to the U.S. Army Best Warrior Competition in fall 2021 competing against the Army's top soldiers from active duty, reserve and National Guard forces.
Having previously competed at battalion, brigade, state and regional levels before giving his all in the national competition, the Best Warrior Competition was his shot at becoming the best junior enlisted soldier in the 350,000-member Army National Guard.
"I think (placing second) definitely surpassed my expectations, because the competition was really hard," Miller said. "I think placing second was really great. Just making it to nationals was a goal in and of itself. Placing in nationals was pretty exceptional."
Only the winner was announced this year at the competition's conclusion.
"I found out later that I was the runner up," Miller said. "My sergeant major in New York state let me know.
"Everybody was pretty close overall, everyone had their own strong point and their weak point, as far as we knew," he said.
The Facebook page for the Best Warrior Competition has a video clip of him and other soldiers in action.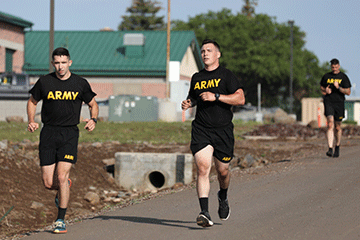 He had arrived several weeks earlier to prepare to compete in 20 events with his counterparts in teams from around the U.S. so he would be able to handle the Army National Guard's training site at approximately 9,000 feet elevation.
The competition is designed to find the Army National Guard's best soldiers by testing their abilities with marksmanship drills, obstacle courses, physical fitness challenges, medical evacuation tasks, a ruck march, interviews and written exams.
Among the tests was a "mystery event" Miller found out about on the day it took place: a patrol lane in which each soldier got to practice being a squad leader. That led to small groups being graded on their ability to conduct an urban assault operation on a training house.
The week-long competition also included opportunities to learn, with hands-on practice using explosives and exposure to less commonly-seen weapons like the Barrett M82 .50 caliber sniper rifle.
"It's a huge challenge and honor to make it to this level," said Major Avery Schneider, public affairs officer with the 27th Infantry Brigade Combat Team. Miller represented seven northeast states, including New York.
Although he's a full-time student at SUNY Cortland, Miller has been taking almost all of his classes online while he has been training full-time since December on active duty for Best Warrior competitions at all levels.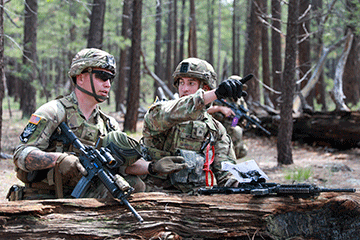 He and training partner Staff Sgt. Stephen Mulholland of Auburn, N.Y., also of the 2-108th headquarters, previously had bested their peers in May at the 27th Infantry Brigade Combat Team and New York Army National Guard at the Northeast (Region 1) Best Warrior competition in Fort Dix, New Jersey, according to Schneider. The pair had competed against soldiers from six other northeast states. Miller placed first in the soldier category, earning him the Best Warrior spot at the national level. Mulholland, who had placed second in the Region 1 competition's non-commissioned officer category, also traveled to Arizona to support Miller's efforts as a sponsor.
"We've been training together for so long that it's been a good fit," Mulholland said.
A Flickr photo collage shares images of the New York contenders in the competition as it was underway.
Preparation has included physical fitness workouts twice a day, with hands-on practice with weapons, radios and other equipment in between. Miller also took time to study Army doctrine, regulations and history.
Miller said he entered into the latest round of competition with full confidence.
"Having done this for so long, getting to this point, I've done everything I can," Miller said.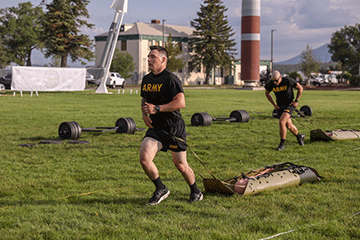 Born and raised in Cortland, the son of Doug Miller and Christina Ramo, Miller was inspired by his twin brother, Schuyler, who joined the Marine Corps right out of high school and recently completed his active duty service. Dakoatah took off one semester from SUNY Cortland in 2018 to finish his basic training.
"I still have a couple of options open. I haven't figured it out," he said about his future after he graduates, either next spring or later if he decides to complete more Army School training.
"I'm thinking of the personal training field," he said.
That would include two weekends a month and two weeks a summer of active National Guard service.
"Right now, I think I might actually go active for a little while and see where that goes," he said.
SUNY Cortland earns national dining awards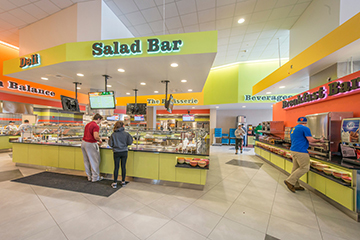 08/30/2021
SUNY Cortland's dining services team recently earned national recognition for a menu inspired by music and creativity.
A Woodstock-themed dining event won a gold award for Cortland Auxiliary Services in the residential dining special event category of the 2020 Loyal E. Horton Dining Awards presented by the National Association of College and University Food Services (NACUFS).
The full-day event was hosted in Neubig Hall in October 2019 to commemorate the music festival's 50-year anniversary, featuring staff members dressed in tie-dye, decorations including Volkswagen van cutouts and rock music playing outside throughout the day.
SUNY Cortland's dining services team also earned a bronze award in the retail sales concept category for the work to develop the Bookmark, the university's coffee shop located in Memorial Library and renovated in 2018. The 2020 awards announcements were delayed a year due to the COVID-19 pandemic.
"We put a lot of effort into the Woodstock celebration," said John Donovan, assistant director of dining services. "This was very much a fun and total team effort."
The idea made sense given that the legendary music festival took place in upstate New York, drawing more than 400,000 people to a Bethel, N.Y., dairy farm over three days in 1969.
Food and flavor choices for Cortland's dining event were inspired by people, places and song titles associated with Woodstock. The menu included pan-seared New York steelhead trout with beetroot pesto — with fish sourced from the Catskill Mountain region — as well as many festival foods ranging from veggie burgers to granola-based desserts.
Donovan said the NACUFS awards prioritize factors such as sustainability, quality of ingredients, creativity of the event theme and campus community involvement. Even though the celebration was hosted in Neubig Hall, he credited the entire Cortland Auxiliary Services team for lending support from across campus.
"There were many hours that went into this — not just at Neubig but also Bistro, other dining units, our commissary and, of course, our marketing area for helping to tell the story," he said.
As part of the awards applications process, colleges and universities submit an event scrapbook of sorts with menus, photos and other details. Cortland earned its gold award in the medium-size school category and was one of approximately 30 institutions to be honored across six main categories.
The university's bronze award for the Bookmark recognized a convenient, recently renovated dining location that serves high-quality drinks from Peet's Coffee, baked goods and other light food options. The Bookmark will reopen for the Fall 2021 semester after being closed last year during the pandemic.
Cortland Auxiliary Services will look to host another special themed residential dining event in the Spring 2022 semester.
Gratitude tree placed in Memorial Library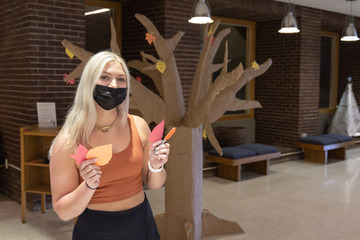 08/30/2021
Memorial Library is continuing its efforts to showcase campus voices in unique ways. A new "Gratitude Tree" has been installed in the main lobby that will build on the reflections left by students, faculty and staff through the graffiti board project this past spring.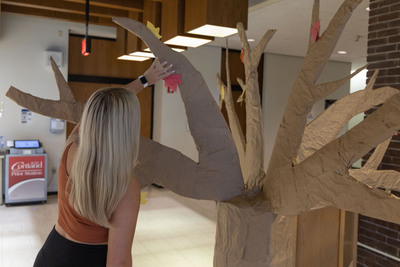 The gratitude tree provides an opportunity for positive self-reflection. Members of the campus community will be able to add their reflections of thanks to the tree by adding one leaf at a time.
"I am excited to see the tree fill with positivity as we progress through the semester," said Jeremy Pekarek, archivist and instructional services librarian, who physically constructed the tree out of recyclable products.
Right now, the tree is empty, bare of leaves. Memorial Library invites campus participants to add to it by writing their reflections on something they are grateful for on the pre-cut leaves that are on the table next to the tree. This could be your parents, your roommate, your health, a scholarship or anything else. By the end of the semester, hopefully the tree will be full, exhibiting our collective gratitude during a time that affects us all.
"We recognize that these are unusual and difficult times, so we wanted to provide an outlet for our community to reflect on something positive and that they are thankful for," said Director of Libraries Jennifer Kronenbitter. "The tree is a classic symbol for growth, togetherness and education. Showing gratitude is known to increase well-being and decrease stress. It is our hope that as the tree continues to grow, it is representative of how we are Red Dragon Strong."
Tree artist Jack Elliott to exhibit at Dowd Gallery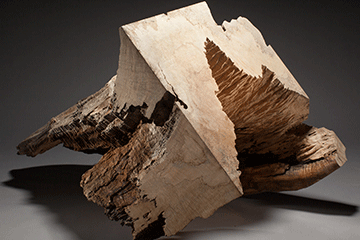 08/31/2021
Like the Lorax in the Dr. Seuss book of the same name, Jack Elliott speaks for the trees. But he also listens to them.
Elliott — an artist, architect, designer and educator based in Ithaca, N.Y. — unearths the hidden beauty of tree trunks, limbs and roots that have been naturally harvested or been removed because of disease or obstruction.
He calls this environmentally conscious art "Arborworks," and his most recent series of pieces sculpted from tree remnants and other natural material will be on display in SUNY Cortland's Dowd Gallery starting Monday, Aug. 30. The exhibition, titled "Laying in the Cut, will run through Saturday, Oct. 16.
The art that will be on display virtually and inside the gallery in the Dowd Fine Arts Center includes large-scale solitary objects, small sculptures combining traditional Chinese lacquer techniques and two-dimensional wall pieces.
"The sculptures often refer to an environmental issue, such as climate change or the depreciation of nature, but their primary purpose is to move the viewer through their form and surface, often charged with symbolic associations," Elliott said.
Through his art, Elliot, an interdisciplinary artist, writer and associate professor at Cornell's Design and Environmental Analysis Department in the College of Human Ecology, gives viewers an opportunity to shed their self-absorption with human matters: their Anthropocene point of view. This opens up his work to consideration from a range of other disciplines such as biology, eco-art, literature, folk art and other fields of study.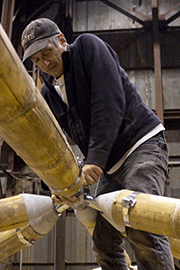 In connection with "Laying in the Cut," the gallery will host an opening reception from 5 to 7:30 p.m. on Thursday, Sept. 2; as well as documentary film screenings, a workshop, virtual tours and in-person visits.
Elliott will give an in-person, guided tour of his exhibition from 6 to 7 p.m. every Thursday during the exhibition.
In addition, Elliott will summarize his practice as a sculptor and scholar that deals with "nature inside," both in a theoretical and a practical sense, during an artist's talk at 5 p.m. Thursday, Sept. 16, in the gallery.
The exhibition and related events are free and open to the public. Visitors from outside the SUNY Cortland campus community will be welcome inside the gallery. However, each visitor must fill out a Visitor Registration and Screening Form at least 12 hours in advance of the visit to prevent the spread of the COVID-19 virus. The form also can be filled out at the gallery. Visit the Dowd Gallery website and social media for detailed information about other programs and link invitations to a virtual event.
In general, Elliott produces sculptures that explore the relationship between trees, people and our shared biophysical environment.
"Conceptually, Elliott is interested in the aspects of the material culture of the built environment that express a society's set of values as they pertain to the natural world, especially regarding environmental ethics and aesthetics," explained gallery director Jaroslava Prihodova.
Elliott's broad practice brushes against topics associated with human ecology, nature and the Anthropocene, a proposed geological epoch dating from the commencement of significant human impact on Earth's geology and ecosystems including, but not limited to, anthropogenic climate change. The work exposes the hidden beauty of these specimens through strategic planar cuts and as intentional in orientations and placements. Each object is different, but they are all characterized by the aim to challenge ideas about the human/nature relationship through juxtapositions of the geometric and the organic; the intentional and the spontaneous; the light and the dark.
"I do not force the material away from what it is as a sign of mastery," Elliott said. "I work with the material as it is to allow its hidden powers to be revealed through a set of minimalist interventions."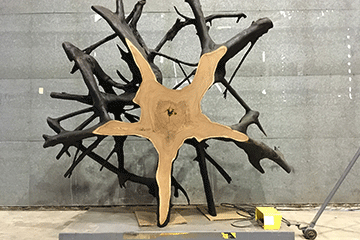 His sculpture seeks to express the sense and love of life and nature that people share, regardless of their backgrounds, and shift away from humanity's self-absorption.
"The sculpture intends to de-center the anthropocentric for the biocentric, where the boundaries between humans and trees are deliberately blurred in a kind of ecological post-humanist approach to art," Elliott said.
The exhibition is supported by the university's Art and Art History Department, Art Exhibition Association, and Campus Artist and Lecture Series.
For more information, to inquire about an appointment, a tour, or additional images, contact Prihodova at 607-753-4216. Visit the Dowd Gallery website for details about exhibiting artists, other programs, safety protocols and online booking.
Additional events relating to "Laying in the Cut" are as follows:
First Friday: A guided tour, both in person and virtual, will be offered from 5:30 to 8 p.m. on Friday, Sept. 3, and from 5:30 to 8 p.m. on Friday, Oct. 1. Organized by the Cultural Council of Cortland County and co-hosted with the gallery, the event will be shared on the Dowd Gallery website as well as Facebook and Instagram.
Documentary Screening: "The Hidden Life of Trees," a 2020 film directed by Julia Dordel and Guido Tolke, will be shown at 5 p.m. on Wednesday, Sept. 8, in the gallery.
Documentary Screening: "In Grain," a compilation of short films, will be screened at 5 p.m. on Wednesday, Sept. 22, in Dowd Gallery.
Virtual Panel Discussion: Three scholars — on plant science, literature and ecological art — will discuss "Natural Emergence" at 5 p.m. Wednesday, Oct. 6, via Webex. Panelists will include Johannes Lehmann, a professor at the School of Integrative Plant Science Soil and Crop Sciences Section in the College of Agriculture and Life Sciences at Cornell University; Timothy Murray, professor of comparative literature and English in Cornell's College of Arts and Sciences, director of the Cornell Council for the Arts, and curator at Cornell University; and Patricia Watts, writer, curator and founder of the EcoArtSpace art collective in New Mexico.
Artist's Workshop: Elliott will demonstrate his sculpting techniques in a workshop titled "Tesselles" on Tuesday, Oct. 12. The event time and location are to be announced.
Gallery Talk: Steven Broyles, a SUNY Distinguished Teaching Professor in the university's Biological Sciences Department, will discuss "A Walk Through Wood" at 5 p.m. Thursday, Oct. 14 in Dowd Gallery. His talk will focus on the importance of tree diversity in our ecosystem and the impart and the long-lasting implication that the loss of diversity has on the urban environment.
SUNY Cortland shines light on 21-Day Anti-Racism Challenge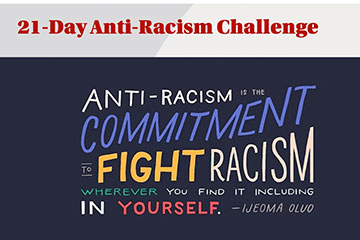 08/31/2021
SUNY Cortland wants you to notice that the lights at the university's three entrances are an uncharacteristic green.
Hopefully, they make you think about color.
Skin color, to be specific. To continue raising awareness about its commitment to fight racism, the university will shine green lights at the entrances through Sunday, Sept. 5. The lights represent the green color that combines with red and black in the Pan African flag.
The entrances are located at Court Street, Route 13 and Route 281. The awareness campaign also will include social media and posters on the visual messaging boards.
Campus community members are invited to immerse themselves in Black history and culture by participating in the interactive "21-Day Challenge." First launched during last February's Black History Month, the challenge continues to foster awareness and understanding and encourage dialogue surrounding difficult topics.
Every day of the challenge has a theme and lists several options for reading, listening or watching. Individuals may choose at least one activity per day and are welcome to explore more.
The multimedia subcommittee of SUNY Cortland's Anti-Racism Taskforce created the webpage, where a link called Cortland.edu/21day gives students, faculty and staff a chance to track their participation, reflect on their daily activities and engage in discussion with others.
"The Challenge was created as a way to understand issues of power, privilege, oppression, equity and social justice," said committee member Paul van der Veur, professor and chair of the Communication and Media Studies Department. "The goal is for participants to explore a daily activity and, over the course of the 21 days, to learn and ultimately be empowered to recognize and actively take a stand against racism."
Follow the 21-Day Anti-Racism Challenge on Instagram at cortland.edu/21day.
Information about the Campus Entrance Lighting Change can be found on SUNY Cortland's website.
Cortland's NBA champ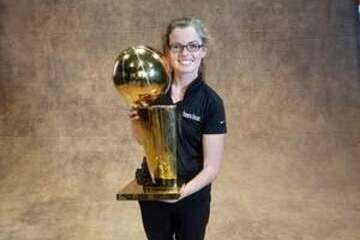 08/30/2021
Paige Hammond '17 and her coworkers have a new way of addressing each other now.
A sport management major at SUNY Cortland, Hammond currently works as an event coordinator for the Milwaukee Bucks. One of those events? The team's run to an NBA title, capped with a 105-98 victory over the Phoenix Suns in Milwaukee on July 20.
"We'll send emails to each other and say, 'Hey, champ,'" Hammond laughed. "The team did it on the court, but we did it off the court, for sure."
As event coordinator, Hammond manages all aspects of meetings, special events, VIP parties and basketball games for the Bucks and Marquette University's men's basketball team at Fiserv Forum, a $525 million arena in Milwaukee that opened in 2018. She coordinates with clients and vendors and works with other departments to make sure that visitors get the most out of their time at this world-class facility.
Her duties extend outside of the arena as well. The plaza outside Fiserv Forum hosts a weekly farmer's market throughout the summer, the Morning Glory Art Fair and an event space named "Gather," which caters to weddings and rehearsal dinners.
The 2020-21 NBA season was a challenging period for Hammond in that it began without any fans in the stands because of the COVID-19 pandemic. By Game 5 of the NBA finals, the arena was packed with 17,397 people and another 65,000 had gathered outside on the plaza to watch the game on giant screens.
The pandemic added extra responsibilities for Hammond, as she was also in charge of coordinating COVID-19 testing for the team's courtside employees and the fans sitting along the sidelines.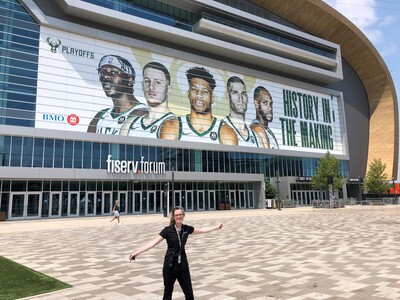 "You never get bored," Hammond said. "We have so many cool events and awesome opportunities. My portfolio has the craziest range. I've done Monster Jam, I've done Disney on Ice, I've done such a variety of things with the farmer's market and the plaza. We just get such a variety of events. People always ask me what I do in the offseason, and for us, on our side, there really isn't an offseason. We want to have as many events in the arena as possible."
Hammond grew up playing soccer and basketball but it was an elective class in sport management she took at Galway (N.Y.) High School that inspired her career path.
At SUNY Cortland, she got involved with the Sport Management Club, serving as treasurer and helping to arrange events and ceremonies, and was president of the university's Quidditch team, organizing tournaments and meets. An experience as a game day intern with the Rochester Knighthawks of the National Lacrosse League gave her an opportunity to do hands-on work with a professional sports team.
She was named the Outstanding Senior in Sport Management in 2017.
"I grew from all of the opportunities around me and I did everything I could put my hands onto," Hammond said. "My classes were so beneficial too. All of these extracurriculars helped me grow and for events, you need to be doing them to learn. It was so hands-on."
Hammond earned a master's degree from Syracuse University in sport venue and event management and did an internship at the Wells Fargo Center in Philadelphia — home to major concerts and events and the NBA's 76ers and the NHL's Flyers — to cap that experience.
After that internship, she moved to Milwaukee not long after Fiserv Forum opened in 2018, where she helped to create a number of key processes at the brand-new building.
Hammond has a job to do regardless of the team's record on the court but she said that being part of a championship season in Milwaukee "knocked off something on the bucket list."
After a whirlwind season, Hammond got a pretty nice souvenir: a photo with the Larry O'Brien Championship Trophy, the NBA's golden ball-on-pedestal icon.
"It all kind of feels like a dream," she said. "I don't think any of us thought we'd get to this point. After the whole crazy season, we hoped maybe we'd make it to the Eastern Conference Finals, who knows? But then they won it. I was working on the farmer's market too and then with the team winning the championship, it was super exciting.
"It was very nice to lift that trophy and know that you had a hand in the whole thing."
Kelsey Van Alstyne named women's lacrosse head coach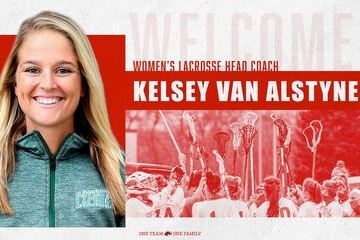 08/30/2021
Kelsey Van Alstyne has been named the women's lacrosse head coach at SUNY Cortland, according to director of athletics Mike Urtz. She replaces Kelly Orr, who coached the Red Dragons since 2015.
"It is an honor to be named the head women's lacrosse coach at SUNY Cortland," Van Alstyne said. "Having always considered Cortland one of the premier Division III institutions, being on campus confirmed the department's strong commitment to the student-athlete experience, as well as a cohesiveness amongst the entire college. There is a tradition of excellence within the women's lacrosse program and athletic department that I look forward to building upon.
"I would like to thank Mike Urtz, the search committee and everyone who met with me during the search process. This is an opportunity of a lifetime for my family, and I could not be more excited to get started!"
Van Alstyne served as head coach at Division II Slippery Rock University in Pennsylvania for four seasons from 2018-21. The winningest coach in program history, she guided The Rock to a combined 27-24 record, including a program-best 13-5 mark and a berth into the Pennsylvania State Athletic Conference (PSAC) tournament in 2018 for the school's second playoff showing in nearly 30 years.
Van Alstyne coached nine All-PSAC players, including the 2018 conference Player of the Year, along with six all-region and one All-America honoree. Her 2021 squad boasted a cumulative 3.53 grade point average. Under her guidance, Slippery Rock finished 2018 leading the nation in ground balls per game (29.06) while also ranking third in caused turnovers per game (14.78), third in save percentage (.535), 11th in goals allowed per game (8.78) and 22nd in win percentage (.722).
Prior to her tenure at Slippery Rock, Van Alstyne was the head coach at Morrisville State three years from 2015-17. She led the Mustangs to North Eastern Athletic Conference (NEAC) titles and NCAA playoff appearances in 2015 and 2017, while never posted a losing record. She was selected as the 2017 NEAC Co-Coach of the Year and she coached 20 All-NEAC selections, including the 2015 Player and Rookie of the Year and the 2016 and 2017 Defensive Player of the Year.
A native of Burnt Hills, N.Y., Van Alstyne also served as interim head coach at Buffalo State in 2014 after being an assistant coach the previous year. She led the Bengals to an 8-7 record, including a win over 16th-ranked Brockport as part of a schedule that featured six national top-20 teams. Van Alstyne also served as an assistant coach for one season at Ithaca College and one year as a strength and conditioning intern at Cornell University. During her season at Ithaca, the Bombers finished 7-0 in league play and the coaching staff was named the Empire 8 Women's Lacrosse Staff of the Year.
Van Alstyne, whose maiden name is Kelsey Schwan, graduated from Bloomsburg University in Pennsylvania in 2011 with a degree in exercise science and earned a master's degree in sport management from Cortland in 2014. Her collegiate athletic career began at West Chester University, where she played volleyball for one season and earned PSAC Scholar-Athlete honors. She transferred to Bloomsburg following her freshman year and played three years of lacrosse for the Huskies, serving two seasons as captain and earning Scholar-Athlete honors in each of those years.
In addition to her collegiate coaching experience, Van Alstyne also has coached USA teams in International competition in Australia, Germany and the U.K. for the last three years and has worked at various camps, including the Nike Cup.
Van Alstyne and her husband, Chris, have a one-year-old daughter, Adelynn. Chris, who is currently an assistant strength and conditioning coach at Cornell University, is a 2013 Cortland graduate and was a member of the Red Dragon football team during the 2011 and 2012 seasons.
Three student-athletes named first team Academic All-America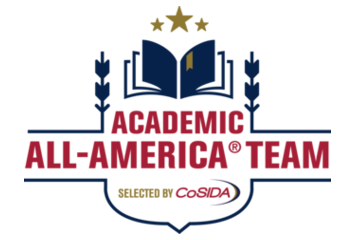 08/30/2021
A trio of SUNY Cortland student-athletes were recognized on a national scale with first team Academic All-America honors from the College Sports Information Directors of America (CoSIDA) earlier this summer.
Women's gymnasts Emma Schulz '21 and Emily Speciale '21 and softball player Kelly O'Gorman '20 were all honored for their dedication in the classroom.
O'Gorman is the first player in Cortland softball history to earn first team Academic All-America honors. The Red Dragons' previous softball national honorees were Leslie Lance (third team pitcher in 1998), Julie Gentner (second team infielder in 2003 and third team in 2002), and Abby Martin (second team infielder in 2012).
O'Gorman earned a bachelor's degree in inclusive childhood education in 2020 with a 3.95 cumulative GPA (converted to 3.91 on 4.0 scale for CoSIDA purposes) and currently has a 4.0 GPA as a graduate student in literacy education. This past spring, she earned National Fastpitch Coaches Association (NFCA) second team All-America and first team all-Northeast Region honors, and was the SUNYAC Softball Co-Player of the Year, after batting .423 with 11 doubles, five triples, seven homers, 37 RBI, 44 runs scored and five steals in 30 games.
Schulz was chosen to the national first team for the third straight year and Speciale earned a spot on the national third team for her first Academic All-America award.
Schulz is Cortland's first-ever three-time Academic All-American. In addition, this marks only the second time that Red Dragon teammates have earned Academic All-America recognition in the same season. Alyson Dalton and Jenna Evarts were both third team women's track and field/cross country Academic All-Americans in the 2011-12 school year.
A biology major with a minor in chemistry, Schulz graduated this past spring with a 4.02 cumulative grade point average (converted to 3.98 on a 4.0 scale for CoSIDA purposes). Schulz was the National Collegiate Gymnastics Association (NCGA) floor exercise national champion and balance beam national runner-up in 2019. In 2020, she was chosen as the NCGA and the Women's Collegiate Gymnastics Association (WCGA) East Region Gymnast of the Year and was named an All-American by both organizations. She was ranked first nationally on both floor and beam before the regional and national postseason tournaments were canceled due to COVID-19. Schulz holds a share of Cortland's school records on both floor (9.90, accomplished twice) and beam (9.825).
Speciale, an exercise science major, graduated this spring with a 3.98 overall GPA (converted to 3.92 on a 4.0 scale for CoSIDA purposes). She was named an NCGA All-American in the all-around in 2020, ranking fifth nationally and second in the East before postseason action was canceled. She also earned a spot on the NCGA All-Championship Team on uneven bars, ranking eighth nationally. In addition, Speciale was one of only three SUNY Cortland students, and the lone student-athlete, to earn a 2021 SUNY Chancellor's Award for Student Excellence. That award recognizes special achievement in at least three of the following areas: academic excellence, leadership, campus involvement, community service, or the arts.
Cortland student-athletes have now earned 40 Academic All-America honors, including 20 since 2011.
Fall 'Wellness' Series Offered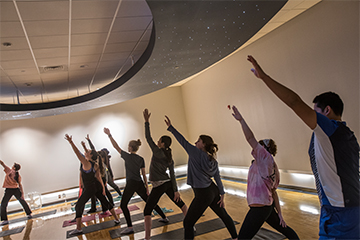 08/31/2021
SUNY Cortland is hosting the Fall 2021 "Wellness Wednesday Series" featuring speakers, demonstrations, podcasts and other programs intended to encourage campus and community members to learn more about health and wellness.
Programs continue through the fall semester with topics including yoga, exploring outdoor activities, managing stress and social and mental health.
Sponsored by the Health Promotion Office, the series will take place on Wednesdays. The events are free and open to the public.
On Sept. 1, "Intro to Yoga" will be held from 3 to 4 p.m. in the Student Life Center Mind Body Room or via Webex. Mia Teal, trained in YogaFit Levels 1 and 2, will lead this class that is good for beginners and advanced yoga practitioners. Comfortable clothing is recommended and in-person attendance is first come, first served to the first 25 participants who show up for class. In-person class will have yoga mats provided. Others can join virtually with their own towel or yoga mat.
Outdoor Pursuits staff will present "Explore Outdoor Pursuits" from 3 to 4 p.m. on Sept. 8 in the Student Life Center. Participants will learn about what outdoor pursuits has to offer including upcoming trips and rental equipment.
"Assess and Address Your Stress" is an important topic to be presented by Director of Counseling and Wellness Services Carolyn Bershad from 3 to 4 p.m. on Sept. 15. in Corey Union Exhibition Lounge. Learn the impact stress has on the body and mind and how to effectively manage and cope with it.
A podcast titled "Healthy Friendships" will be posted on Sept. 22 on soundcloud.com/cortlandHPO. Kaitlin Flannery, assistant professor of psychology, presents this topic.
Wellness Day: Healthy Red Dragons will be held from noon to 3 p.m. on Sept. 29 in the Student Life Center lobby. Counseling and Wellness Services, Health Promotion, Recreational Sports, SUNY Cortland EMS, Substance Misuse Prevention and Education and Wellness PEER interns will present wellness information.
University Police officers Steven Rolfe, Danielle Salisbury and Jenny Valentin will lead "Empowerment Self-Defense" from 4 to 5 p.m. on Oct. 6 in Corey Union Exhibition Lounge. Learn basic self-defense techniques. Please wear clothes you can move in and athletic footwear for balance and stability.
On Oct. 13, SOGIE will host a discussion about mental health in the LGBTQ+ community. Join SOCIE committee members for "LGBTQ+ and Mental Health" from 3 to 4 p.m. in Corey Union Exhibition Lounge.
Join the Multicultural Life and Diversity Office staff on Oct. 20 as they lead a conversation about the lived experiences of multi-racial and multi-ethnic people. "All Mixed Up" will be held from 3 to 4 p.m. in Corey Union Exhibition Lounge. AnnaMaria Cirrincione, director and Cyrenius Nelson, acting assistant director, will present.
Halloween can be a fun day and night, but "Don't Let the Consequences Haunt You." Visit the Student Life Center lobby from noon to 3 p.m. Oct. 27 to learn the dangers of misuse and abuse of alcohol and drugs from Health Promotion, Substance Misuse Prevention and Education and Wellness PEER interns.
A podcast titled "Academic Success" will be posted on Nov. 3 on soundcloud.com/cortlandHPO. Katherine Bonafide, assistant professor of psychology, and Kate McCormick, assistant professor of childhood/early childhood education, will present.
Stop by the Student Life Center lobby between noon and 3 p.m. on Nov. 10 for free giveaways and information on how to "Party Smart with Us Before Cortaca." Health Promotion, Substance Misuse Prevention and Education and Wellness PEER interns will be on hand to answer questions.
The "Great American Vape Out" on Nov. 17 is a national day that challenges people to stop using nicotine and tobacco. From noon to 3 p.m. in the Student Life Center lobby, Health Promotion, Substance Misuse Prevention and Education, Tobacco Free Zone and Wellness PEER interns will present tips on how to quit. And help beautifuy our campus by joining the campus clean-up.
COVID-19 safety reminders: Masks, testing and Red Dragon Safe Pass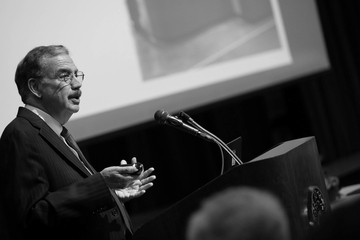 08/30/2021
Dear students,
Today marks the official start of the Fall 2021 semester, and I want to welcome all of you to the beginning of an exciting and productive academic year.
We want you to make the most of your time at SUNY Cortland. To do that, you need to keep yourself and those around you safe from COVID-19 infection.
Please keep in mind these important points:
Masks are required in all indoor spaces, including classrooms, laboratories, the Student Life Center, dining facilities and all public and common spaces. More information can be found in our Fall 2021 guidance.
If you are not yet fully vaccinated, you must participate in COVID-19 testing this week. This applies to students with approved medical or religious exemptions as well as students whose final shot of the vaccine was received less than two weeks ago and are not yet considered fully vaccinated. Detailed testing instructions will be available on the COVID tab in myRedDragon. The campus testing site is located in Corey Union, Room 203. It is operational from 1 to 4 p.m. on Monday, Tuesday and Thursday, and from 3 to 7 p.m. on Wednesday. You can learn more online.
You must be fully vaccinated to use the Student Life Center. You will be asked to present your Red Dragon Safe Pass on your phone to enter the non-dining areas of the Student Life Center. The Red Dragon Safe Pass is available in myRedDragon or by scanning the QR code posted in the Student Life Center.
If you are experiencing COVID-19 symptoms, such as fever, cough or headache, stay home and do not go to class. Students, regardless of vaccination status, should contact Student Health Service at 607-753-4811 on the first day they feel ill, even if symptoms are mild. During the evening or weekends, symptomatic students should contact an off-campus health provider such as an urgent care facility or Guthrie Cortland Medical Center.
This semester holds tremendous potential for all of us. Let's work together to take care of everyone in our community.
All the best,
Erik J. Bitterbaum
President
Red Dragon Safe pass now available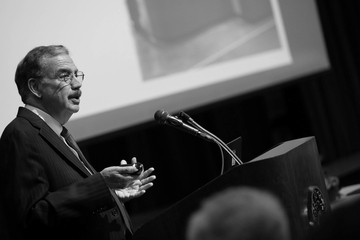 08/27/2021
Dear students,
Welcome back! I am reaching out to let you know that SUNY Cortland's new Red Dragon Safe pass is now available through myRedDragon. This pass is a virtual ticket for your cell phone so that fully vaccinated students may access non-dining sections of the Student Life Center and participate in sport clubs and intramurals.
The digital pass communicates with the university's vaccination verification system. Students who have been verified as fully vaccinated will get a green screen with a check mark on their phone that they can show to get access. Fully vaccinated individuals are those who have received their final vaccine dose at least two weeks ago and who have completed the vaccine verification process through myRedDragon. All others will get a white screen that indicates their vaccination status could not be verified.
An animated logo and a date and time stamp prevents the pass from being forged or otherwise digitally recreated by not yet fully vaccinated or exempt students.
The Red Dragon Safe pass is available on the myRedDragon homepage. Students can also scan QR codes at the desks of the fitness and recreation wing of the Student Life Center and at Outdoor Pursuits to get the pass.
In addition to those two venues, the Red Dragon Safe pass is required to play club or intramural sports. A green Red Dragon Safe pass screen is not required to go to The Bistro or Fuel, both of which are locate​d in the Student Life Center building.
SUNY Cortland's recently updated Fall 2021 Guidance/COVID-19 Information page has information on other essential safety policies. I urge you to become familiar with it and check it for updates frequently. By understanding and adhering to these guidelines, you can help ensure a safe, productive and enjoyable semester.
All the best,
Erik J. Bitterbaum
President
CALS lecture grant applications due Sept. 9
Campus Artist and Lecture Series (CALS) lecture grant applications are now available for the 2021-22 academic year.
Applications are available online and are eligible for a maximum of $350 and are open to any club, program or department.
These lecture grants will not cover performances of any kind.
Applications must be received by Thursday, Sept. 9 to be considered for September, October, November and/or December 2021 lecture programs.
Applications received after Sept. 9 may not be eligible for any fall semester funds remaining.
For more information and to download this application, visit the CALS website, email Sandra Wohlleber or call 607-753-5769.

Suggest a feature story
---
Faculty/Staff Activities
Jesse Bloom Bateman
Jesse Bloom Bateman, Biological Sciences Department, coauthored a paper that recently was published in Rapid Communications in Mass Spectrometry. The article is titled: Carbonate clumped isotope analysis (Δ47) of 21 carbonate standards determined via gas-source isotope-ratio mass spectrometry on four instrumental configurations using carbonate-based standardization and multiyear data sets) of 21 carbonate standards determined via gas-source isotope-ratio mass spectrometry on four instrumental configurations using carbonate-based standardization and multiyear data sets.
Tyler Bradway
Tyler Bradway, English Department, had his article, "Sexual Disorientation: Queer Narratology and Affect Plots in New Narrative," published in July in Textual Practice.
Lisa Czirr
Lisa Czirr, Memorial Library, presented "Cross-Pollination: Lessons Learned from Online Delivery to Enhance the Return to In-Person Information Literacy Instruction" at the SUNYLA 2021 (Virtual) annual conference held June 16 to 18. The session highlighted takeaways from the online format that can potentially improve in-person instruction. The conference theme was "From Seeds to Service: Growing the New Academic Library."
Lisa Czirr, Jenifer Sigafoes Phelan and Maria McLane
Lisa Czirr, Jenifer Sigafoes Phelan and Maria McLane, Memorial Library, presented "The Flowers of Tomorrow Are in the Seeds of Today: Planting Seeds of Diversity in Your Library's Collection So They'll Bloom in Your Campus Community" at the SUNYLA 2021 (Virtual) annual conference held June 16 to 18. The conference theme was "From Seeds to Service: Growing the New Academic Library." Their session showcased a guide for diverse classroom resources, discussing the background and process for building it, as well as current and future uses.
Dan Harms
Dan Harms, Memorial Library, presented at the International Congress of Medieval Studies, held virtually May 10 to 15. He presented "Scrying with the Saints: Holy Personalities and Their Marginality in Early Modern Magic" on May 12.
Szilvia Kadas
Szilvia Kadas, Art and Art History Department, gave an invited lecture titled "Sustainable Design Thinking and Design Research Methods in a Complex Global World" on June 6 at the Holon Institute of Technology (HIT), Holon, Israel.
Caroline K. Kaltefleiter
Caroline K. Kaltefleiter, Communication and Media Studies Department, was a guest on "Anarchy on the Airwaves! Under the Pavement," a weekly radio program broadcast from Manchester, United Kingdom. She joined the program to talk about the Punk and Anarchism book series on Active Distribution Press, for which she serves as one of the editors. She discussed her forthcoming edited book, Smash the System: Punk Anarchism as a Culture of Resistance. Will Boisseau, one of the co-editors of the book series, joined the conversation from London. The program aired in late June.
David Kilpatrick
David Kilpatrick, Psychology Department, co-authored a book chapter with Esther Geva of the University of Toronto on learning disabilities. The chapter was published this summer in Consultation and Mental Health Interventions in School Settings: A Scientist–Practitioner's Guide by Hogrefe & Huber.
Christina Knopf
Christina Knopf, Communication and Media Studies Department, presented a talk titled "Compassion and the Apocalypse: 'Commanders [and Communities] in Crisis'" on Aug. 7 at the Comics Studies Society annual conference, Re/Building Community.
Doug Langhans
Doug Langhans, Admissions, was a panelist on the State Study Consortia: Pool Resources & Increase Exposure! webinar presented by International English Language Testing System (IELTS) USA. IELTS hosted a variety of online workshops throughout the summer discussing various topics related to international education. Langhans, Study New York past-chair, and a number of other industry leaders discussed the benefits of forming a study state consortium to help increase the exposure of colleges and universities to international students and scholars. Langhans has been the SUNY Cortland representative for Study New York since it was founded in 2009 and has been a member of the Executive Leadership Team since 2016.
Mechthild Nagel
Mechthild Nagel, Philosophy and Africana Studies departments and Center for Ethics, Peace, and Social Justice, co-authored a book titled Contesting Carceral Logic Towards Abolitionist Futures, now available through Routledge.
Jeremy Pekarek
Jeremy Pekarek, Memorial Library, recently became a Certified Archivist (CA) through the Academy of Certified Archivists. This is a nationally recognized organization that ensures a standard of excellence in historical preservation and access to primary resources and collections. Qualified candidates took a lengthy examination to test their knowledge of seven required domains in archival theory including, (1) appraisal, selection, acquisitions, (2) arrangement and description, (3) reference services and access, (4) preservation, (5) outreach, (6) archival management and (7) ethical and legal responsibilities.
John Suarez
John Suarez, Institute for Civic Engagement and Office of Service-Learning, was a panelist in the Aug. 19 "Leaders Learning Live: Effectively Managing Student Assistants," conducted by the SUNY Academic and Innovative Leadership (SAIL) Institute. Suarez praised the value of giving interns the freedom, responsibility and authority to conduct projects. He emphasized the importance of providing training, resources, encouragement and tailored reflection prompts. He drew on the successes of the Institute for Civic Engagement's Action Team interns.
Donna West
Donna West, Modern Languages Department, shared that the first of two multinational special issues which she has edited on Peirce and Consciousness has been published in Cognitive Semiotics and has been released by Mouton De Gruyter. The second issue is forthcoming later in 2021 in Semiotica, also a De Gruyter publication.
Hilary Wong
Hilary Wong, Memorial Library, presented "Sowing Good Seeds: Outreach Strategies for Liaisons," at the SUNYLA 2021 (Virtual) annual conference held June 16 to 18. Wong explained the strategies she has found most effective in creating new opportunities for instruction, both before and during the pandemic. The conference theme was "From Seeds to Service: Growing the New Academic Library."

Submit your faculty/staff activity