Stay active while staying in
10/19/2020
The Cortland Recreational Sports Office is making it possible for students, faculty and staff to work out while at home. Those interested can participate in group exercise classes, personal training or several other fun activities.
Group exercise classes are continuing this semester virtually. Eight different free programs are being offered Monday through Friday. These sessions allow students and faculty to get their heartrate up, while having some fun.
"The classes are free to join," said Louise Mahar, assistant director in Recreational Sports. "Everyone is welcome."
The personal training program is also going virtual. It is a multi-class curriculum that is tailored to each individual for the best results. Those interested must first fill out the personal training interest form. A student personal trainer will then contact interested campus community members within five business days.
An $18 per hour fee is charged for online personal training sessions, although the rate is lower if patrons purchase six or 12 sessions in advance.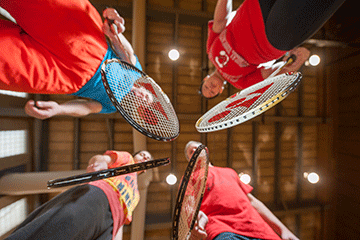 While assisting participants achieve their physical goals, virtual personal training is also helping trainers prepare for the future.
"As a physical education major, I see these virtual classes preparing me for the future," said student trainer Pearl Fletcher, a senior from Bronx, N.Y.
"Being virtual helps me network with others," Fletcher said.
Recreational Sports is additionally offering several outdoor and virtual recreational opportunities for students. An outdoor scavenger hunt and open lawn games are available to Cortland students, if they obey COVID-19 protocols.
For more information on these events, contact assistant director of Recreational Sports, Intramural Sports and Sports Clubs Matthew Nuesell.
"It is virtual, no one will know it's you," Mahar advised students on the fence about participating in these programs. "It doesn't hurt to try."
Prepared by Communications Office writing intern Nicholas Boyer
Professor leads by example for recreation therapists
10/13/2020
Many of the students in Susan Wilson's classes aspire to be recreation therapists. They hope to work in a field that improves lives through leisure activities in settings that can range from hospitals to assisted living facilities.
"I've told my students for years: as a recreation therapist, you need to be flexible," said Wilson, an associate professor of recreation, parks and leisure studies at SUNY Cortland. "Now, because of COVID, I have to model that flexibility as their professor. And I'm trying to do that as best as I can."
Wilson isn't alone.
Across the university's campus, more than 600 faculty members are teaching during an unprecedented semester and navigating challenges created by the COVID-19 pandemic, the latest example being the move to a study-in-place model on Oct. 7.
Prior to that temporary switch, many courses were taught online. Every class relies on technology to help learning. Even the hybrid sections that offered in-person instruction at the start of the semester required revision, with class times shortened in response to a mandate to limit the duration of indoor activities.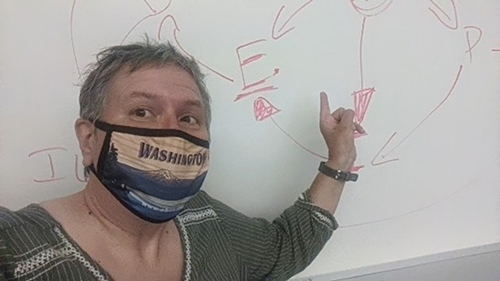 Associate Professor Susan Wilson shares therapeutic recreation course content
with students who are learning online.
Through all of it, SUNY Cortland professors have remained dedicated to their craft in attempt to create meaningful experiences for their students. Wilson's example kicks off a series of profiles that will be shared over the next several weeks.
She remembers seeing a photo that a friend shared on Facebook in the early months of the pandemic. The image recounted the work of a recreation therapist in a New York City hospital — a worker fully outfitted in personal protective equipment who was using an iPad to connect patients with their families during a lonely and difficult time.
"I told my students: 'This is what our profession does,'" Wilson said. "And there's no more important job in the world than connecting people with their families when they're sick or they're dying."
The photo was motivational for Wilson too, reinforcing the ripple effect that her teaching can have in students' careers as recreation therapists. She's taught at the college level for 30 years, including 23 at SUNY Cortland, so she embraced the challenge to incorporate more technology in her hybrid classes.
Eventually, her students' work this semester could improve lives outside of the classroom.
Wilson learned in the spring that the Cortland County Area Agency on Aging needed creative programming solutions for local senior citizens. COVID-19 precautions canceled in-person activities, leaving some people in isolation. The center is a crucial source of social interaction, Wilson said.
The void became an opportunity for students in Wilson's class devoted to therapeutic recreation interventions. This semester, each student is working on a project that will become an online module — a lesson, game or activity — that can help senior citizens in areas such as reminiscing and sensory stimulation.
"I think everyone is going to come out stronger," Wilson said. "Students are going to have that virtual programming aspect plus their regular skills."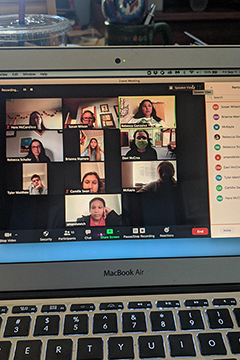 Students in the Recreation, Parks and
Leisure Studies Department participate
in a play lab held online.
Each week, the Recreation, Parks and Leisure Studies Department hosts a Friday afternoon session known as play lab, where senior-level students apply classroom lessons and lead mock therapy sessions with other students. The experience has shifted online this semester, with students facilitating activities that span virtual escape rooms to games in a "Family Feud" format. When technology failed during a play lab session earlier in the semester, the lead student was fast to adjust with a new platform.
"It's kind of thrilling to see them problem-solving and adapting," said Wilson, praising her students for their diligence and commitment during constantly changing times.
She also passes credit to younger faculty members in the department, including several who pursued their doctoral work online. They have helped older colleagues understand both the instructor and student perspectives in remote learning.
Personal connection is central to Wilson's work. She said she looks forward to the day when she can experience the regular joys of a semester in person with her students.
"If nothing else, this experience has taught us what's important," she said. "Some of the content may not seep through like it would in a traditional classroom, but my students are more empathetic than ever before. That's a good trade-off for me."
---
Capture the Moment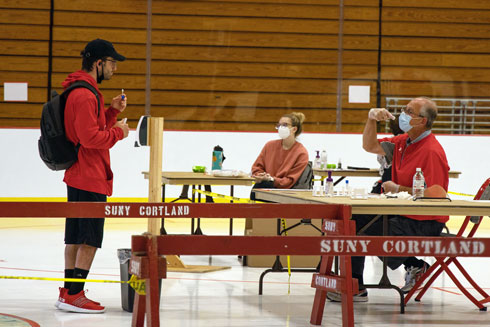 Expanded pool testing for the COVID-19 virus began in Park Center Alumni Arena on Tuesday, Oct. 13 as part of the university's effort to contain the pandemic. During the two-week minimum study in place period, all members of our community will be tested at least once. Learn more.
---
In Other News
Thriving through Transfer Week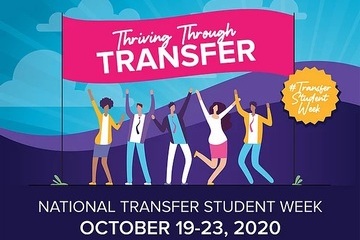 10/12/2020
The COVID-19 pandemic has made the 2020 celebration of National Transfer Student week, Oct. 19 to 23, a virtual one, but the Advisement and Transition staff anticipate a well-attended week of events.
"We are looking forward to students coming and getting excited, especially since this week is made specifically for them," said organizer Greg Diller '07, coordinator of transition programs in the Advisement and Transition Office.
Organized nationally by the National Institute for the Study of Transfer Students (NISTS), Transfer Week normally entails many in-person events and hands on activities as well as free giveaways.
This year's event series, themed on "Thriving Through Transfer," aims to give transfer students the opportunity to connect with one another and become more comfortable on campus.
Events happening during the week of Oct. 19 to 23 include:
Monday: SUNY Cortland transfer students are welcome to share information about themselves and their career goals via a virtual board on Kudoboard.

com

. Career Services will hold a virtual event for transfer students. Information on how to access that event will be released soon.
Tuesday: Join Transfer Trivia at 6 p.m. via Webex. Battle it out for pride and prizes.
Wednesday: Listen to the Health Promotion Office's Wellness Wednesday podcast, "Transitions in College," via Soundcloud. Students can learn ways to get the help they need as they transition between institutions. The International Programs Office will host a transfer study abroad 101 session at 3 p.m. via Webex.
Thursday: Tau Sigma National Honor Society Induction Ceremony. The national honor society for transfer students will add its newest members to the SUNY Cortland chapter.
SUNY Cortland's Advisement and Transition Office will feature faculty and staff members who were transfer students themselves on the office's social media accounts. Follow on Facebook, Instagram and Twitter to learn more.
To bring this jam-packed week to a close, a slideshow of the Kudoboard posts created by transfer students will be available online.
Even though this celebration only lasts one week, faculty and staff look forward to assisting transfers all year long. These services include academic advising, a COR 201 course for first-year students, new student orientation, transfer credit services and Starfish, a software tool that enhances advising relationships.
Advisors are available via Webex on Wednesdays from 9 a.m. to 3 p.m. and in-person meetings are available by appointment. Call the Advisement and Transition Office at 607-753-4726 for more information.
Diller teaches a COR 201 course that helps guide transfer students. Currently, many transfer students are fully online and haven't had the opportunity to see the campus yet. During his class he presents virtual tours so students can learn the campus and get to know where the buildings are located.
"The most important thing is to try and stay connected with these 500-plus new students so they know that they are appreciated and that we recognize all of the transitions that they are going through right now," Diller said. "It's not easy learning a new school and having to do that mostly virtual is a challenge. Although we'd love to see them this week in person, we can still see each other virtually and we can do it safely and still have fun with it."
Career Services is an important asset to SUNY Cortland's transfer students. This office helps in resume building, especially for juniors who will enter into internships or jobs in 2021.
The New York State Transfer and Articulation Association (NYSTAA) complied a lengthy list of ideas on how to celebrate Transfer Week while still staying safe.
SUNY Cortland welcomes approximately 900 new transfer students to campus each year. The number from the Sept. 4 Weekly Enrollment Report was 532 transfer students.
Diller says that it is important that the SUNY Cortland community welcomes its transfer students and supports them.
"There are so many transfer students on campus, more than people even really realize," Diller said. "Typically, 40% of the incoming population each year are transfer students and the retention rate for transfer students in their first year is 84%, which is higher than first-year retention. Transfer students are just such a big part of what we do here."
Prepared by Communications Office writing intern Christina Cargulia
Cortland plans global literacy conference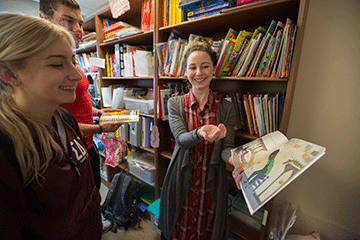 10/27/2020
Teaching a child who struggles how to read can be challenging under the best of circumstances.
But the COVID-19 pandemic really put global literacy efforts to the test, and educators find themselves evaluating the useful qualities of various online platforms, apps, hardware and software for the purpose of teaching literacy with technology purposefully.
SUNY Cortland's Literacy Department recently partnered with the Graduate School of Education at American University in Cairo (AUC) to develop a virtual conference designed to better equip reading teachers everywhere how to reach out to middle grades students remotely to inspire a love of learning.
The conference, "Beyond the App," which is geared to connect U.S. and Egyptian teachers of children particularly in grades 3 through 9, will take place Thursday, Nov. 5, through Saturday, Nov. 7.
Sessions touch topics including motivating middle grades students and the gradual release of responsibility online, building comprehension through guided activity online, word work and fluency teaching in the virtual classroom, anti-racist online literacy teaching, and teaching the middle-grade student to write online.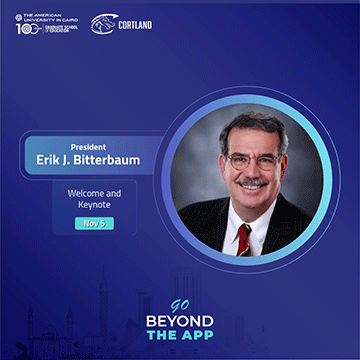 Notably, Egypt's minister of education and technology, Tarek Shawki, will welcome attendees with a speech on Friday, Nov. 6.
"We wanted to take some time to give teachers the tools to be successful," said organizer Nance Wilson, SUNY Cortland professor of literacy and Literacy Department chair on sabbatical. "They've tried what they learned this summer. They've found out what's working and what's not working and are reaching out to try something new."
The unprecedented event will unfold virtually connecting literacy leaders around the globe with Egyptian and American teachers as well as teachers from many other countries, according to co-organizer Thomas DeVere Wolsey, who teaches graduate courses in research and literacy in the Graduate School of Education at AUC.
"What makes the 'Beyond the App' unique is that teachers will share their knowledge building on the best literacy practices for middle grades," Wolsey said. That's students in grades 3 to 9.
"There are more than 50 sessions for participants to choose from where they will hear from international experts from Egypt, the United States and Mauritius and engage them in discussion sharing their challenges and effective strategies," he said.
The organizers recruited a stellar slate of volunteer presenters, which kept the conference cost manageable, according to Wilson.
The savings is passed along to SUNY Cortland faculty and students and teachers in Egypt, who can register without charge. The cost to all other American participants is $10. The conference fee was set low in order to make the sessions affordable to future educators as well as raise money on behalf of under-resourced Egyptian and Guatemalan libraries.
Wolsey compared teachers' early and unsatisfying efforts to enact effective literacy learning in digital environments during the early pandemic wave to the idea that "If the only tool you have is a hammer, all the world looks like a nail."
"So often, we find ourselves gravitating toward a cool app or site when we really should be thinking about what the best tool is for instructional and learning purposes," he said. "The fully digital conference is intended to expand the digital tools teachers might use to make the most effective use of online literacy instruction and go additional steps 'Beyond the App'."
Conference activities will be interactive and immersive, allowing ample time for presenters and participants to freely exchange ideas.
"Participants will learn with hands on keyboards, taps on screens and with a full range of digital environments that promote interaction and immersive learning for their students, as well," Wolsey said. "As more teachers and their students are going to school online, the benefits accrue to all."
The organizers will offer several sessions of the conference experience in Arabic as a service to the teachers in the national system in Egypt.
SUNY Cortland President Erik J. Bitterbaum will open the conference on Nov. 5.
In addition to Wilson and Wolsey, the more than dozen featured presenters include Amy Tondreau of Austin Peay State University, Armen Kassabian of Greenwich High School, Danny Brassel of CalStateTEACH and the American University in Cairo, Doug Fisher of San Diego State University, Emily Howell of Clemson University, Jill Castek of University of Arizona, Maha Bali of American University in Cairo and Yousra Abourehab of University of Arizona. Details about the speakers are available online.
Sessions will not be recorded.
"We've decided to set it up with experts talking for no more than 30 minutes and the rest of the time will be devoted to talking about practice," Wilson said.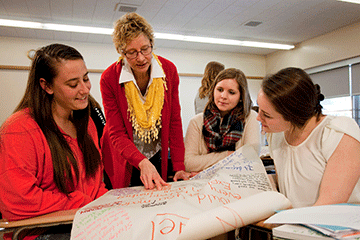 Attendees afterward can continue to share ideas and continue the conversation on the webpage.
An additional feature of the conference is that participants can donate to help buy books and build libraries for students in Egypt and in Guatemala who otherwise do not have access or have limited access to books.
Wilson said she and Wolsey are longtime literacy project collaborators who have been working on improving Guatemalan schools for years and Wolsey is a former SUNY Cortland adjunct faculty member.
"We both reached out to friends and experts in the field," Wilson said. "If you look up people who are volunteering their time for this conference, you'll find that some typically charge thousands to speak on this topic. But they've volunteered their expertise for free, because they can see that teachers everywhere are really struggling with teaching literacy online."
As well as working teachers, the conference will have something to offer the more than 100 students that Cortland enroll in its master's degree level literacy program as well as all undergraduates in the School of Education, Wilson said.
"Some of our skills shared at the conference will make us all better teachers, even when things return to normal again," Wilson said.
The conference is supported by SUNY Cortland through its President's Fund, the Research and Sponsored Programs Office and International Programs; and by AUC through its Provost's Fund.
Members of the press that wish to interview any of the presenters are encouraged to contact Wilson at beyondtheapp@cortland.edu and 607-319-2612 or Wolsey at +20-120-680-1070.
COVID-19 virtual exhibition opens Oct. 16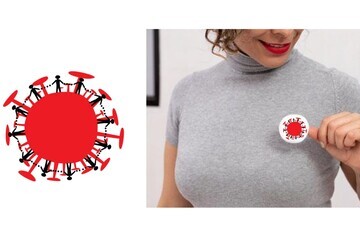 10/12/2020
Four dozen art and design students from across the SUNY system were tasked with a very topical assignment this semester.
They created compelling designs to help guide campus communities in complying with COVID-19 safety precautions. Their heartfelt and relatable student-to-student messages inspire action and have been applied to stickers, posters, T-shirts and social media.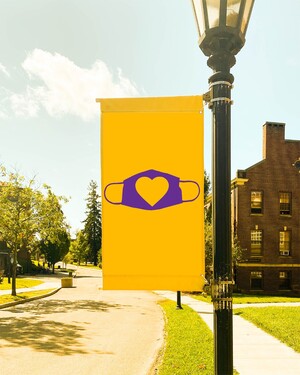 Dowd Gallery will host a virtual exhibition of their work, COVID-19 Campus Safety Campaign, via Webex on Friday, Oct. 16 at 4:30 p.m. Detailed registration information is available on the Dowd Gallery webpage or here.
Participating professors and selected students will speak about their experiences during the virtual exhibition. A recording of the event will be available to view after Oct. 16 through the Dowd Gallery site.
The participating students, 47 in all, study at four campuses: Alfred University, SUNY Brockport, Cortland and SUNY Purchase.
Faculty who worked on this project include Mitchell Christianson, an assistant professor at SUNY Brockport; Szilvia Kadas, an assistant professor at SUNY Cortland; Judy Livingston, an associate professor at Alfred University and Benjamin Santiago, an adjunct professor at SUNY Purchase.
The designs for the COVID-19 Campus Safety Campaign were juried by the four instructors. The best designs were selected to be displayed online through the Dowd Gallery website and archived in "Past Exhibitions" starting Dec. 11, 2020.
For more information about this project, additional images and the complete list of participating students, please visit the Dowd Gallery website or contact Dowd Gallery Director Jaroslava Prihodova at 607-753-4216.
Developing a virtual Adirondack field trip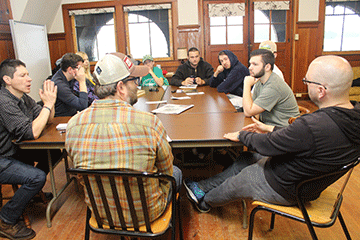 10/13/2020
SUNY Cortland geographer Christopher Badurek was obliged to cancel a summer 2020 class field trip to the Adirondack Park due to the outbreak of COVID-19.
The interdisciplinary social sciences field trip, which he had taught in 2018, and again in 2019 with two other professors from Cortland, was to have focused on the Adirondack Park's unique geography, history and economy with an eye to solving its most pressing problems.
"But all the field components for the course this summer at Raquette Lake were restricted; so basically, we all had to cancel our classes," Badurek said.
"I decided to create a virtual field trip."
An associate professor in the Geography Department and a specialist in an advanced form of computer mapping software called geographic information systems (GIS), Badurek found the visuals and materials necessary to teach a standalone two-and-a-half week virtual summer course that featured ample electronic visuals of the park's majestic natural wonders, both new and recreated from past fieldwork data and images captured during the previous summers. For example, the class featured a virtual "hike" up Bald Mountain (Rondaxe Mountain), a classic Adirondack experience, but in this case made up of an online tour that's stitched together from digital maps and collected imagery.
His efforts breathed new life into the blended special topics course on political economy, environmental geography, tourism and economic development in the Adirondacks that he had taught in person during summer 2019 with Scott Moranda, professor of history, and Ben Wilson, associate professor of economics.
Eight students completed the course curriculum without anyone ever setting foot on Raquette Lake or Blue Mountain Lake.
"The students were from different fields, elementary education and history," Badurek said. "It was a SUNY online class so I had a student who was from SUNY Plattsburgh. She had a certain perspective, being someone who was from the Adirondacks, and she said 'I learned a lot.'
"In this class, almost all of them had been to the Adirondacks before and they had been enthusiasts about the area. They were trying to get in as much experience in national and state parks as possible."
Making use of visuals already within his reach, Badurek used various apps to include the class in a virtual exploration of the Adirondack Experience Museum in Blue Mountain Lake and the university's Camp Huntington, and other avenues to explore the tourist economy. They looked at digital images about the development of the 'Great Camps of the Gilded Age,' from the era when 19th century industrialists opened access to the Adirondack experience to the exceptionally wealthy.
"I used a combination of apping and video that came from YouTube, a SUNY Cortland video about visiting camp Huntington, and other videos by students who had been there. So it was students' own recordings about their own experiences. It gives you a sort of first person view as if you're with them."
In developing this past summer's course, Badurek leveraged the kind of expertise he also uses to direct the Institute for Geospatial and Drone Technology, which applies GIS and imagery data for regional research, education, community outreach, and business development on behalf of the Cortland community and neighboring partners in Central New York.
"I tried to replicate some of what we had talked about, the educational content," Badurek said. "I used different technology including the Google Earth tool with 3D mapping capabilities. I tried to make it look real, with mountain landscapes. Some of the maps were of places the (prior) class hiked in 2019."
Badurek recently captured a $500 Love of Learning award from Phi Kappa Phi (PKP), the nation's oldest and most selective collegiate honor society for all academic disciplines, to cover his travel costs associated with making the course even better for next summer, whether it's virtual or in person.
His stipend for the project titled "At Work in the Wild: Developing Virtual Field Trips in the Adirondacks" was formally announced on Oct. 5. A compete award recipients list is available. The Love of Learning Awards are designed to help fund post-baccalaureate professional development for active Phi Kappa Phi members. Badurek joined the society in 2019.
"We are delighted each year to support the lifelong learning activities of our members through these grants," said Mary Todd, PKP's executive director, about this year's 200 award recipients.
Badurek will return to the Adirondacks as soon as is safely possible to capture video and photos of the former Camp Pine Knot with a drone he frequently uses for GIS research. Additionally, he will collect a variety of photos and videos of locations that are usually included in the field component of the camp: the Wild Center Museum in Tupper Lake, Camp Sagamore National Historic Landmark near Raquette Lake, N.Y., and Camp Santanoni National Historic Landmark near Newcomb, N.Y. These will be ultimately uploaded to Google Earth and web GIS for sharing with colleagues teaching related courses on the Adirondacks.
He will stay at SUNY Cortland's remote Raquette Lake former great camp, the Huntington Memorial Camp at William H. Parks Family Center for Environmental and Outdoor Education.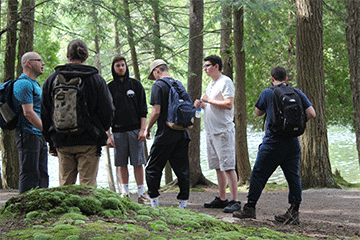 In his grant proposal, Badurek noted that the students would be able to take one of three Adirondack-themed courses: Political Economy, Environmental Geography, or History of Tourism.
According to Badurek, the joint courses are guided by Common Problem Pedagogy principles, an approach bringing students from different majors together to solve contemporary problems.
"In our case, students work together to identify major economic and environmental challenges in the Adirondacks and draft a proposal for a project that would transform the lives of Adirondack residents for the better," Badurek said.
The three professors want to offer a live version of the class again in summer 2021, Badurek said.
"But if it doesn't work out, I have this online content to teach the course again," he said. "And the content from this course will be around in case others want to use it.
"A thorough appreciation of the Raquette Lake setting, even virtual, will also help students better understand the benefits and values of this unique wilderness setting," Badurek said.
CROP Hunger Walk goes virtual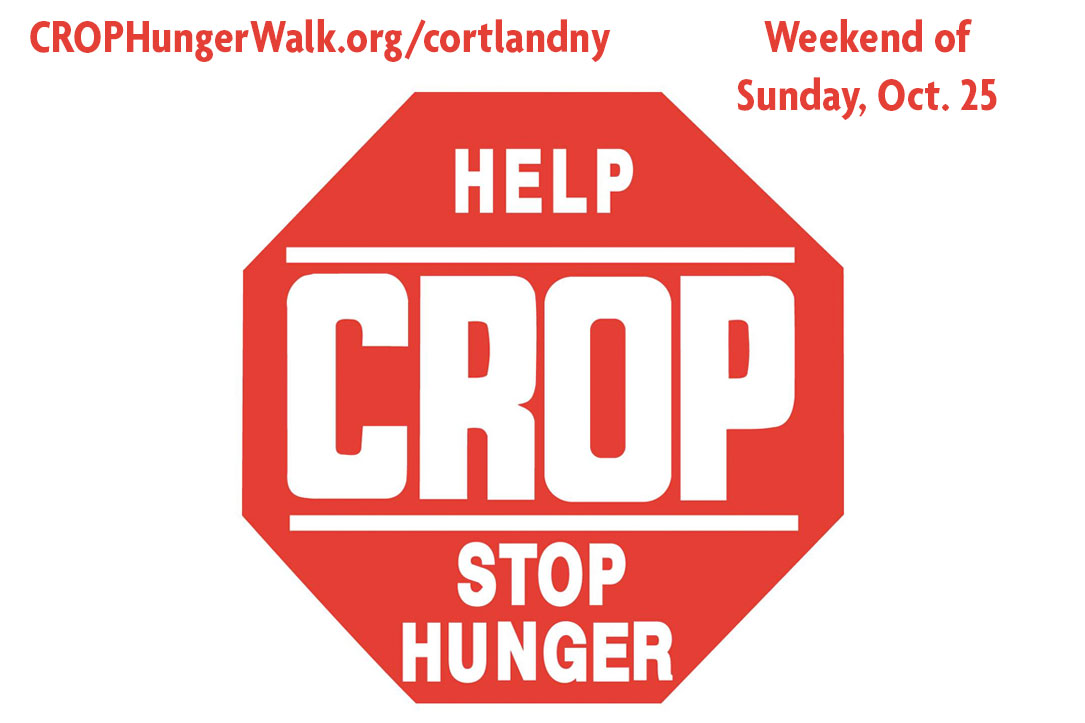 10/13/2020
The 26th annual Cortland CROP Hunger Walk will be unlike any in the previous 25 years. It will be virtual throughout the weekend of Friday, Oct. 23 through Sunday, Oct. 25.
To register and donate, visit CROPHungerWalk.org/cortlandny.
Donations are currently being accepted. Participants can walk individually or in groups of six people or fewer. They can pick the day, time and route or follow the traditional one- or three-mile routes. Masks and social distancing are required. Route maps for the traditional routes are available at james.miller@cortland.edu, but groups or individuals may certainly walk as they wish.
"Twenty-five percent of the funds raised in the county are returned to the county to support local food pantries and feeding programs," said history lecturer and local CROP walk coordinator Jim Miller. "This is especially important during these COVID-stressed times."
SUNY Cortland's athletic teams, fraternities and sororities, clubs and COR 101 students have made it a fundraising success. In 2019, 377 of the 423 walkers — 89% — were SUNY Cortland students and staff. They raised 56% of the total $14,601.21 to fight hunger locally and around the world.
This year's goal is for each walker to raise $10 from each of 10 friends or relatives.
"The "10 x $10 = $100" is an example of how easy it would be for a participant to raise $100," said Miller.
CROP Hunger Walks are sponsored by Church World Service and have been held all over the world since 1969. The walks raise approximately $20 million each year, with 25 percent of donations returned to local food pantries and feeding programs in host communities.
For more information, email Jim Miller.
Join post-debate discussions online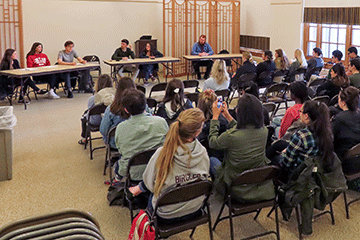 10/13/2020
SUNY Cortland students have gathered through Webex twice so far to discuss the U.S. presidential debates.
During virtual meetings on Sept. 30 and Oct. 8, they discussed the presidential candidates, first President Donald Trump and former Vice President Joe Biden and in the subsequent event the two vice presidential candidates, current Vice President Mike Pence and candidate U.S. Sen. Kamala Harris.
The student discussions, two of four originally scheduled prior to the election, were organized by John Suarez, who directs the university's Institute for Civic Engagement.
A discussion to analyze the Thursday, Oct. 22 presidential debate is scheduled for Monday, Oct. 26. The session is from 7 p.m. to 8 p.m.
A fourth planned event for Monday, Oct. 19, to review the Thursday, Oct. 15 presidential debate results, was cancelled after the debate was converted by the candidates into separate town hall style meetings, virtual in the case of Biden.
To receive a Webex meeting invitation to the Oct. 26 discussion, contact Suarez.
"We are all learning," Suarez said. "The most important goal is to give students the skill of having civil and productive conversations."
He noted that though the campus has completed voter education week, Oct. 5 to 9, "as far as we are concerned, it is voter education from here on in."
With Suarez moderating, in the first meeting on Oct. 26 participants discussed and made insights on complex current issues as well as the debate itself.
The group agreed that the first presidential debate failed to touch on several important issues. Nonetheless, participants discussed COVID-19, climate change, the economy and the "defund the police" movement. While political views differed, students had respectful interactions with each other and educated themselves on current issues.
"The discussion was very helpful in understanding points of view from people on the 'other side'," said Hannah Nyhan, a first-year childhood education major from Canandaigua, N.Y.
As for any campus community members planning not to vote, Cortland student George Brown, a first-year student majoring in sport management, has something for them to keep in mind.
"Students thinking about not voting should consider that their silence is loud and their silence at the ballot rests for eternity."
New York state's Voter Registration deadline is this Friday, Oct. 9. Members of the campus community can register to vote in New York state online or by filling out a voter registration form at the Institute for Civic Engagement's office in Moffett Center, Room 102. Individuals who live out of state may visit the All In To Vote site or the vote411 site to find out more about voter registration for their state.
Prepared by Communications Office writing intern Nicholas Boyer
CAPTION: In the above left image above, before COVID-19, the Institute for Civic Engagement Action Team interns and Student Government Association club representatives take part in an environmental issues debate during 2019 in Old Main ( photo by John Suarez).

Suggest a feature story
---
Faculty/Staff Activities
Kati Ahern
Kati Ahern, English Department in Professional Writing and Rhetoric, co-organized the second biannual Sound Studies, Rhetoric, and Writing (SSRW) conference with synchronous keynote speakers Oct. 2 and 3. The conference was themed around sound, place and increasing diversity within sound studies scholarship. Due to COVID-19 the conference was moved online.
Alexis Blavos
Alexis Blavos, Health Department, was a presenter on Oct. 6 for the Society for Public Virtual Health Climate for Health Ambassadors Workshop.
Christopher D. Gascón
Christopher D. Gascón, Modern Languages Department, had his article "La vida es sueño Reimagined: Inversion, Mimicry, and Communitas in Teatro Inverso's Rosaura (2018)" published in Comedia Performance. The article analyzes a recent performance of an adaptation of a Spanish classic in the midst of the #MeToo movement.
Robert Spitzer
Robert Spitzer, Political Science Department, is the author of two new articles: "Guns Don't Belong Near Polling Places. Right Wingers Want Them There Anyway" appeared in the Washington Post on Sept. 30, and his article "President Trump's Record on Promises: Did He Keep Them?" was in the Syracuse Post-Standard on Oct. 4.
Gregg Weatherby
Gregg Weatherby, English Department, had his poem "Old Friends" accepted for publication in Mudfish 22.

Submit your faculty/staff activity