Cortland graduate leading impeachment coverage
01/27/2020
Some of the most iconic images of modern times were captured in crowded rooms in Washington, D.C.
Think of video coverage of former Special Counsel Robert Mueller or Facebook CEO Mark Zuckerberg testifying before Congress or the impeachment trial of President Trump happening daily on the Senate floor.
You've seen those historic images and heard that testimony because Steve Kehoe '00 has been there to capture it all.
Kehoe, a Dryden, N.Y. native who majored in communication studies and minored in political science during his time at SUNY Cortland, works for C-SPAN (Cable-Satellite Public Affairs Network) as a field operations crew chief. He is currently the network's production manager for impeachment coverage.
The Senate has complicated rules when it comes to how cameras are used in the chamber. C-SPAN doesn't have the ability to pan or zoom the camera used in the impeachment trial — although it does have slightly more room for creativity during other House and Senate proceedings — as it is controlled by staffers in the Senate Recording Studio.
Yet Kehoe and his team do a significant part of the behind-the-scenes work that brings the video into homes around the world, whether audiences are watching on C-SPAN or other networks such as ABC, CBS, Fox and NBC. He works with liaisons from Senate offices to coordinate how the single video stream is presented to networks.
C-SPAN, which broadcasts on three networks, C-SPAN, C-SPAN2 and C-SPAN3, as well as a radio station, holds an important non-partisan role in political news.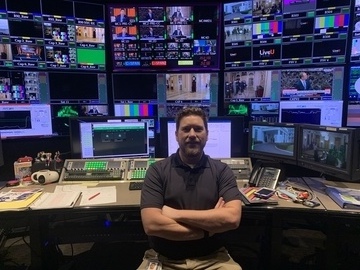 "Our goal is to have a non-filtered view, so we try to present everything in its totality," Kehoe said. "I like to think of myself as a video archivist. When we go to broadcast, especially this last set of impeachment hearings, those were C-SPAN cameras that we were feeding to everyone else. Anything you saw on the news, that was our stuff and that was my team providing that."
The style in which C-SPAN records key moments of American democracy is particularly exciting to Kehoe. He sees the lack of narration and commentary as vital to those who will study these events in the future.
"I like to think that historians further down the line aren't going to be reading transcripts," he said. "They're going to be watching the video. Not only do you want to do it for the day, in the back of your mind, you're thinking you're doing it for posterity."
Kehoe came to Cortland originally planning for a career in radio. He signed up for a television production class offered during winter break and found his calling.
"This is the truth behind 'take electives because you never know,'" he said. "With that being a super compressed timeframe, that was nonstop, deadline work that I really enjoy. I just went full bore into TV."
A course on the American presidency taught by Distinguished Service Professor Robert Spitzer during the 1998 to 1999 impeachment trial of Bill Clinton has also stuck with Kehoe.
So when a semester-long internship at C-SPAN opened up in Fall 2000, coinciding with a presidential election campaign, Kehoe knew he'd be successful with his strong backgrounds in both television and politics.
Two weeks after he graduated in December 2000, C-SPAN offered Kehoe a full-time job. Aside from a brief stint in communications consulting, he's been with the network ever since.
When he isn't overseeing the broadcasting of major events on Capitol Hill, Kehoe works with a crew of six staffers to record political happenings in the field outside of C-SPAN studios or the House and Senate chambers. He'll soon be taking a crew to New Hampshire to film there ahead of the state's Democratic primary election on Feb. 11.
Sometimes Kehoe finds the melody of "The Room Where It Happens" from the musical "Hamilton" stuck in his head. In the song, Aaron Burr, singing the chorus, is envious of figures who made major decisions around the birth of the United States while he was left out.
No one really knows how the game is played
The art of the trade
How the sausage gets made
We just assume that it happens
But no one else is in
The room where it happens
Kehoe, on the other hand, gets to be in that room each and every day.
"I like to think of the big things that are really big accomplishments," he said. "There is really big news sent across space and I know that it's my team and my camera that are giving it to the world: Supreme Court nominations, Mueller, Zuckerberg testifying about Facebook.
"That excites me to see those things everywhere. When I see a good picture and it sounds good and everyone gets the soundbite they need because I was in the right place at the right time, that's really satisfying to me."
Panel to discuss 'Black Lives Matter at School'
01/28/2020
Future teachers need to take note that more and more schools across the country will focus a week in February to discuss and hold events celebrating the value of racial diversity in the classroom.
More than 25 schools across the country celebrated Black Lives Matter at School in 2019 and more and smaller districts are doing so this year, according to a National Education Association (NEA) website.
In recognition of the national Black Lives Matter at School Week of Action, four educators from school districts in Syracuse, Binghamton and Ithaca will discuss critical issues in adopting such programs in schools or individual classrooms Tuesday, Feb. 4, at SUNY Cortland.
Titled in "Black Lives Matter in K-12 Schools," the presentation launches the university's monthlong series during Black History Month and Black Lives Matter Week.
The event takes place from 4:30 to 6 p.m. in Sperry Center, Room 105, and is free and open to the public.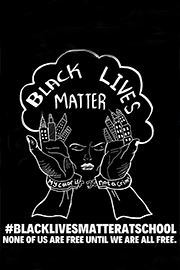 "It's about what assets black students bring to schools, what oppressions they face and what teachers can do," said an organizer, Rhiannon Maton, a SUNY Cortland assistant professor of foundations and social advocacy.
The panel, which will hold a conversation about supporting and affirming black students and families, will include:
Lisa Sahasrabudhe M.S.Ed. '93, coordinator of equity issues for the Ithaca City School District
Alex Scher, a social worker with the Ithaca District
Dario Vazquez '06, M '12, C.A.C. '18, an administrator with the Binghamton City School District, and,
Reba Hodge, an administrator with the Syracuse City School District.
Margaret Gichuru, a SUNY Cortland assistant professor of childhood/early childhood, will moderate the discussion.
The panel will discuss what assets black students bring to schools, what barriers they face and what educators can do to better support black students and families in schools.
"Our preservice teachers will go into schools where Black Lives Matter at School is recognized and there are various activities taking place," Maton said.
"Some of them are sort of big panel events or celebrations or film viewings that are accessible to anyone in the district," she said. "And some of the things that are taking place are in an individual teacher's classroom.
"Even if their local district is not recognizing the week, they can do activities within their own classroom to support students there as well as educate them about racial oppression in this country and show them what they can do to make the world a more equitable place," Maton said.
Besides Maton, organizers include Amanda Miller, assistant professor of foundations and social advocacy and Kate McCormick, assistant professor of childhood/early childhood education.
The presentation is sponsored by the university's Cortland Urban Recruitment of Educators (C.U.R.E.) program; School of Education; Foundations and Social Advocacy Department; and Sophia's Garden.
Black History Month events will include historical and cultural lectures, readings, musical performances, film screenings and other activities, including the following:
Robert Spitzer, SUNY Distinguished Service Professor and chair of political science, will moderate a department panel discussion on "The Impeachment of President Donald John Trump" on Wednesday, Feb. 5.
Panelists from the Political Science Department will include: Associate Professor Timothy Delaune, Professor Thomas Pasquarello and Assistant Professor Jeremy Wolf. The event begins at 12:15 p.m. in Old Main Colloquium (a change of time and venue).
SUNY Cortland graduate Carlos Malave '11, author and motivational speaker, will address "Let's Get to the Root" on Thursday, Feb. 6. Malave wrote Translating Your Success: The Student Guide to Transforming Your Small Wins Into Big Wins. The presentation, at 5:30 p.m. in Corey Union Exhibition Lounge, is organized by Multicultural Life and sponsored by Men of Value and Excellence, Women of Color, La Familia Latina, Know-Your-Roots Africana Studies Association, Ritmo Latino, and the Sociology and the Education clubs.
More events will be announced in the next Bulletin on Feb. 11.
Black History Month campus events will be posted online in the College's homepage calendar and on the Africana Studies Department and the Multicultural Life and Diversity Office web pages. Events are open to the public and free unless otherwise noted.
For more information or questions about Black History Month, contact Seth Asumah, Africana Studies Department chair and SUNY Distinguished Teaching Professor of political science, at 607-753-2064 or in Old Main, Room 208-B.
---
Capture the Moment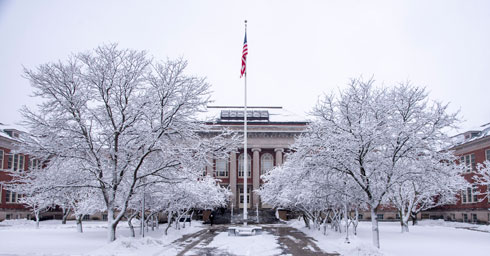 Mother Nature rolled out the white carpet Monday for the first day of spring semester classes. Respecting a potentially hazardous weather forecast late last week, SUNY Cortland opened its residence halls a day early, giving students and their families the opportunity to avoid dangerous travel conditions.
---
In Other News
SUNY Cortland prepared for challenges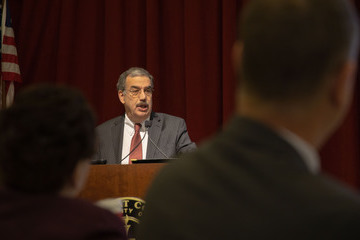 01/23/2020
Higher education nationwide faces significant challenges, including declining enrollment, student mental health and a growing cultural divisiveness, but SUNY Cortland is better positioned than similar institutions to overcome obstacles and succeed.
That was the message President Erik J. Bitterbaum shared Jan. 23, during his Spring 2020 Opening of School Meeting in Corey Union Function Room. Bitterbaum stressed that SUNY Cortland has the means — and the people — to tackle these issues as the university heads into the 2020s.
Of the challenges facing colleges across the country, enrollment is one of the largest, a declining population in the Northeast and shrinking birthrates reduce the number of potential students graduating from high school. Yet SUNY Cortland's student population has remained stable around 6,900 students each of the past five years. Innovative student recruitment, positive student experience and the value of a Cortland education has kept the university competitive in a crowded environment, he said.
Mental health issues, including anxiety and depression, are an increasing concern among college students and parents. However, a recent study has shown that 72% of students who visited counseling services reported that it had a positive impact on their academic performance. The SUNY Cortland Counseling Center, which recently hired another senior counselor and received a gift of $500,000 from Louise M. Conley, will continue to find ways to improve student access to mental health services.
Although social media has allowed faculty and students a pathway to quickly and easily collaborate and share their accomplishments, it also gives some people a medium for spewing hatred and bigotry, Bitterbuam said. He noted that Cortland was committed to ensuring that the campus provided a safe and comfortable learning environment and urged faculty, staff and students to stand up and speak from SUNY Cortland's values in response to this behavior.
"When something is said or done that is disturbing, we must speak out from our shared values immediately," Bitterbaum said. "I need our faculty to do that. I need you in your individual classes to talk about justice and fairness and trust and commitment and the importance of speaking the truth. We're going to have these issues confront us. We need to find formal and informal mechanisms where we can speak to each other on these difficult subjects."
Bitterbuam noted many other ways in which SUNY Cortland was improving and meeting changing needs:
Although several SUNY campuses have implemented a hiring freeze in recent years, SUNY Cortland has continued to hire new, high-quality faculty to fill positions around campus.
Building renovations at Moffett Center and Park Center totaling $36 million are underway. The improvements will expand the university's sustainability efforts and enhance academic and athletic opportunities.
The shortage of convenient campus parking is being directly addressed by the construction of a new lot on Lankler Drive between the Stadium Complex and the existing Route 281 lot. Further changes to the permitting system are being considered.
The Campaign for Cortland, a $25 million, five-year fundraising initiative intended to support key institutional goals, has already collected $19 million toward the target, with three years remaining in the campaign.
The Ready Event Deployment team, to be known as the RED Team, is being developed . The team of students will serve as event ambassadors and provide support services for the University Police Department, Parking Operations and the campus emergency manager. Students who work with SUNY Cortland Emergency Medical Services will work closely with team members.
Research has shown that online learning is increasingly in demand. Of the 1,499 undergraduate students in Cortland's 2019 graduating class, 87% had taken at least one online course and 94% of graduate level students had studied online. Cortland will continue to expand its online program and class offerings in the future.
Summer and winter courses offer additional opportunities for online learning. Approximately 2,500 students enrolled in Summer 2019 and Winter 2020 courses at Cortland.
SUNY Cortland has been proactive in providing resources and support to help students succeed academically. Career Services, The Learning Center, the Writing Center and other initiatives have proven invaluable to students. "We are telling families about some of the unique things that are free for their students to use, and it will make a difference in their education," Bitterbaum said.
SUNY Cortland adds major in media production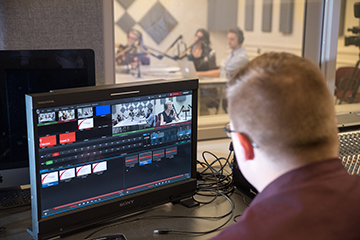 01/03/2020
SUNY Cortland will offer an undergraduate degree in media production starting in Fall 2020 — a major addition for students interested in careers related to television, film, radio or the digital arts.
The new program prioritizes hands-on training in Cortland's professional-quality studio space, with 30 credit hours tied to production coursework. Graduates will earn a bachelor of science degree and they will be prepared to work across various media settings.
"The (bachelor of science) degree falls in line with industry standards," said Paul van der Veur, professor and chair of the Communication and Media Studies Department. "It provides a more robust technical experience, with a heavier emphasis on the science and technology of great media creations."
SUNY Cortland's Communication and Media Studies Department, which recently scored high at No. 3 in New York state on Zippia.com's list of "Best Colleges for Communication Majors," now offers four undergraduate majors: cinema study, communication studies, media production and new communication media. Within the communication studies program, students also can pursue concentrations in journalism, popular culture or public relations and advertising.
All of those different offerings open up many opportunities in the field, van der Veur said.
"We cover this broad spectrum going from cinema study, which is analysis based, to communication studies and new communication media, which sit in the middle, and now media production, which has a strong professional orientation," he said.
SUNY Cortland's campus also is home to several well-equipped production facilities:
Studio 112 for Multimedia Production: This networked editing facility offers mixed format editing and post-production capabilities, computer workstations with major software and field cameras available for use.
Studio 119 for Audio Production: The 400-square-foot sound studio and control room serves as home to WSUC-FM, SUNY Cortland's NPR affiliate radio station. Licensed by the Federal Communication Commission and serving the local Cortland community, the station also streams its programming online.
Studio 26 for Television Production: The 1,000-square-foot, three-camera television studio includes a fully-equipped control room and fiber connection to the local cable system and campus television network.
Additionally, SUNY Cortland since 2016 has hosted the Blackbird Film Festival, an annual spring event that attracts international submissions and provides an outlet for students interested in filmmaking, event planning and strategic communication.
Media production majors will be required to complete a three-credit internship and earn at least one credit through one of SUNY Cortland's student media clubs: 20CSTV television station, WSUC-FM radio station or The Dragon Chronicle newspaper.
The new major also should help facilitate a more seamless transfer process for students coming to Cortland with many media production-related credits from two-year community colleges.
Visit cortland.edu/cms for more information on SUNY Cortland's Communication and Media Studies Department.
Exhibition 'Measured Confluence' extended to March 6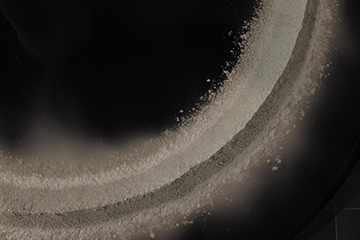 02/28/2020
"Measured Confluence" was extended at SUNY Cortland with the Dowd Gallery exhibition open until Friday, March 6. Two events were added.
A documentary of the 2014 film directed by Mark Levinson, "Particle Fever," will be screened at 5 p.m. on Thursday, March 5, in the gallery.
On Friday, March 6, a "First Friday" guided tour of the exhibition will take place from 5 p.m. to 8 p.m. The event was organized by the Cultural Council of Cortland County.
Art collides with science when artists from the U.S., the Czech Republic and Bosnia present an interdisciplinary group exhibition titled "Measured Confluence," which opened on Jan. 28.
"Measured Confluence," featuring works that combine physics, fine art and performance in a collection of three-dimensional objects, installations, drawings and digital media video installations, will be displayed through 8 p.m. Friday, March 6.
"Invited artists are combining formal aesthetics with a broad field of physics, resulting in a multidisciplinary culmination that attests to the innovation occurring in both art and sciences," said Jaroslava Prihodova, Dowd Gallery director, explaining the exhibition title.
All lectures will be held at the university's Dowd Gallery, located in the Dowd Fine Arts Center on the corner of Prospect Terrace and Graham Avenue. Programs are free and open to the public. Gallery hours are weekdays 10 a.m. to 5:30 p.m.; with extended hours to 7 p.m. on Thursdays; and by appointment. The Dowd Gallery website contains details about exhibiting artists, and other programs scheduled in conjunction with this exhibition.
An opening reception will be held at the gallery on Thursday, Jan. 30. The event, from 5 to 7:30 p.m., will break with a performance by Selma Selma, a Bosnian-born conceptual and performance artist. The opening reception, as well as Dowd Gallery exhibitions and programs, are free and open to the public.
The exhibition programming, in order to place the artwork in a broader perspective, also will feature an artist's talk, documentary screenings, panel presentation, artist's workshop, performance, lectures and a gallery tour.
"The intent is to emphasize crossovers in techniques and approaches that appear in both disciplines," she said. "The field of physics, employing reductive processes, works with principles that essentially break down nature into its smallest parts and draw conclusions based on observed relationships between these parts. In contrast, artists often use additive processes and juxtapositions in order to synthesize reality to create a new order. The most apparent commonality for both physics and art are in a moment of completion when the physical outcome becomes greater than the sum of its parts.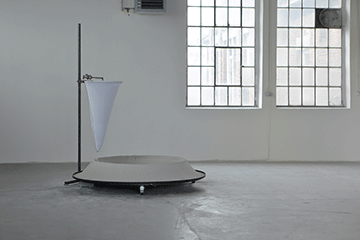 "The combination of science, technology, and art allows viewers to engage in a new sensory experience of nature that would not be otherwise possible," Prihodova said. "The group of artists in this exhibition are exploring subcategories of physics, such as sound, optics, matter, time and force to arrive in a new synthesis of visual art and science."
As a highlight of the exhibition, the gallery will host an artist and scholar from the Czech Republic, Robert Vlasak from the School of Art and Design, Studio of Natural Materials, Jan Evangelista Purkyne University, in a mini-residency. The exhibition also will highlight work by one of Vlasak's Czechia colleagues, Pavel Mrkus of Jan Evangelista Purkyne's School of Art and Design, Studio of Time-based Media.
Additional events include:
Artist's Workshop: Robert Vlasak, visiting artist from Jan Evangelista Purkyne University in Usti nad Labem, Czechia, will lead a workshop on "Blacksmithing: Material Science" on Thursday, Jan. 30. The one-day, three-part event begins at 10:30 a.m. and runs until 12:30 p.m. The demonstration of traditional blacksmithing techniques while emphasizing the science of metallurgy combined with formal considerations for object-making will take place in the foundry located beside the Professional Studies Building.
Performance: Bosnian-born conceptual and performance artist Selma Selma will offer "Super positional Intersectionalism" at 6 p.m. on Thursday, Jan. 30. Her one-woman act is based on the idea that a quantum-scale interaction can physically exist in multiple places simultaneously. The fluidity and numerous possible outcomes built into reality, space and time stand as a metaphor for the diversity of individual identity.
Gallery Talk: Sally Perch, a faculty member at the glassblowing labs at both the University of Massachusetts and the University of Vermont, will discuss "The Art, Science and Sound of Glass" on Sunday, Feb. 2. The event will begin at 4 p.m. A visual artist and scientific technician, Perch will talk about the history, art, music and science of glass. The art of glassmaking has been a catalyst for different cultures coming together throughout history, she said. "It has been a unique material that has helped with many scientific discoveries, including the telescope, microscope, bell jar, light bulb, semiconductors, fiber optics and many more. It is a material that literally shaped and enhanced our world."
Panel Discussion: Visiting artist Robert Vlasak will introduce his research and art practice in the School of Art and Design, Studio of Natural Materials, at Jan Evangelista Purkyne University, Czechia, during a panel presentation at 5 p.m. on Friday, Feb. 7. Vlasek's creation brings together technology, traditional craft, art and science. Meanwhile, Eric Edlund, an experimental physicist and assistant professor in SUNY Cortland's Physics Department, will reflect on his experience of creating images with objects for this show. "These images address ideas of representation, accuracy and the essence of novel undertakings, explorations that lead one to unexpected places and new ideas," Edlund said. Jaroslava Prihodova, Dowd Gallery director, will moderate the subsequent discussion with the panelists.
First Friday: A guided tour of the exhibition has been organized by the Cultural Council of Cortland County, to take place from 5 p.m. to 8 p.m. on Friday, Feb. 7.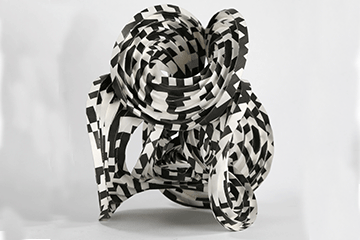 Documentary Screening: On Thursday, Feb 13, the gallery will present "Between Art and Science," a compilation of short films featuring artists and scientists that place their practice within the cross-section of art and science. The event begins at 5 p.m. Films will include one on Erik and Martin Demaine, a father and son creative duo from the Massachusetts Institute of Technology. Another features John Edmark, a self-described artist, designer and inventor who creates beautiful, infinite 3-D printed designs. Other films are titled "Semiconductor" and "Studio Swine."
Artist's Talk: Ariana Gerstein, an interdisciplinary artist and associate professor of cinema at Binghamton University, will address "the idea of discrete" in the film "Working with Time" on Thursday, Feb. 20. "Particle-built time rings true for filmmakers," she has said. "A series of isolated flashes only become perceptible as a flow — the river of time — when there are enough of them." The sense of "the flow of time" results from the cumulative perception of minds entangled within the complex ways of perceiving bodies, she notes. "It is seductive, convincing, but like everything else, it should endure examination and questioning." The event will start at 5 p.m.
Documentary screening: "CERN & the Sense of Beauty," a full feature film with English subtitles directed by Valerio Jalongo, will be shown at 5 p.m. on Wednesday, Feb. 26, in the gallery. The film explores the beauty and art found behind the walls of the European Organization for Nuclear Research in Geneva, Switzerland.
Artist's Talk: Monteith McCollum, an interdisciplinary artist and associate professor of cinema at Binghamton University, will concentrate on the topic of film and sound art in his talk, titled "Between Mediums," at 5 p.m. on Thursday, Feb. 27. "My work is often inspired by objects and tactile forms. Performance and sculpture expand upon the limits of cinema, building new ways to experience the ephemeral."
Visit the Dowd Gallery website for details about other programs scheduled in conjunction with this exhibition. For more information about the gallery or to request group tours, contact Prihodova at 607-753-4216 or jaroslava.prihodova@cortland.edu.
"Measured Confluence" is supported by the SUNY Cortland Alumni Association grant, SUNY Cortland Auxiliary Services Corporation, Campus Artist and Lecture Series and the SUNY System Administration Conversation in the Disciplines Program.
Poverty assistance expert to speak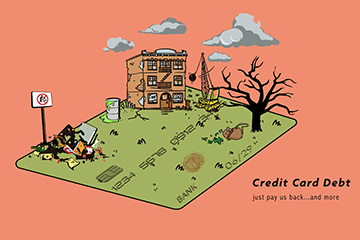 01/28/2020
If current trends continue, social researcher Maggie Dickinson fears hundreds of thousands of Americans will go hungry.
Dickinson, whose recent Atlantic magazine article, "The Ripple Effects of Taking SNAP Benefits From One Person," discusses potentially devastating fallout from a new Trump administration rule projected to cut nearly 700,000 people from government food assistance, will share her concerns at SUNY Cortland on Thursday, Feb. 6.
Her talk, on how the changes to the federal Supplemental Nutrition Assistance Program illustrate a growing national food crisis and the abandonment of America's food safety net, will run from 5 to 6:30 p.m. in in Brockway Hall Jacobus Lounge.
The lecture continues the SUNY Cortland Cultural and Intellectual Climate Committee's (CICC) year-long series on "Debt," a concept that will explore a wide range of issues spanning criminal justice, inequality, immigration and climate change.
The series of events are free and open to the public. To view a list of upcoming topics, visit the CICC's calendar.
Dickinson, who ran a food-stamp outreach program in a Brooklyn soup kitchen and food pantry, is an assistant professor of interdisciplinary studies at Guttman Community College, City University of New York. She wrote Feeding the Crisis: Care and Abandonment in America's Growing Food Safety Net (2018, University California Press).
Her research focus examines urban food systems, welfare policy, inequality and the politics of redistribution.
Dickinson's recent Atlantic article highlights the trend she will discuss at Cortland. In it, she asserts that the coming SNAP cuts will make it harder for states to waive the federal program's work requirements in areas of high unemployment, and target able-bodied adults without dependents. She said the rule will affect not only the targeted individuals but their families as well.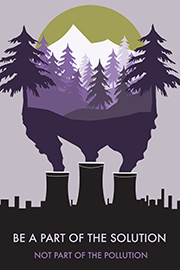 "The issues I saw in New York will play out nationally under the new cuts, and the Trump administration's stated rationale — that able-bodied unemployed SNAP recipients should find jobs instead of depending on the government — obscures these consequences," Dickinson said.
"It gives the impression that the program has to be protected from lazy, unemployed freeloaders while ignoring, say, the people caring for an elderly parent while out of work and the dads who are looking for work but still trying to make sure their kids have something to eat."
The policy, Dickinson asserts, ignores the variety of "supportive family arrangements that exist across households and generations, particularly in low-income and queer communities. In this case, the result is more hunger and hardship for the members of low-income families who are doing their best to make sure everyone is cared for."
The CICC's "Debt" series will continue in Spring 2020 with the following events:
THURSDAY, FEB. 20. Stephanie Kelton as the keynote speaker also is a Founding Fellow of the Sanders' Institute and author of a forthcoming book The Deficit Myth: Modern Monetary Theory and the Birth of a New Economy, which will be published by Public Affairs in 2020. Her research expertise is in Federal Reserve operations, fiscal policy, social security, international finance and employment policy. Kelton's scholarship has been widely published in a range of academic and popular forums. She received her Ph.D. from the New School for Social Research and holds an M.Phil. in economics from Cambridge University. The talk on modern monetary theory and the policy proposals, including the Green New Deal, which this economic framework makes possible, runs from 5 to 6:30 p.m. in Sperry Center, Room 105.
TUESDAY, MARCH 10. David Fruend will lecture on the history of discriminatory lending practices in the U.S. and its role in perpetuating intergenerational inequality. Fruend, an associate professor of history at University of Maryland, will present from 5 to 6:30 p.m. in Brockway Hall Jacobus Lounge. A specialist in the history of the modern United States, Fruend is the author of the 2008 book, Colored Property: State Policy and White Racial Politics in Suburban America. The text was awarded the 2008 Ellis W. Hawley Prize from the Organization of American Historians, the 2007 Kenneth Jackson Book Award from the Urban History Association and the 2009 Urban Affairs Association Best Book Award. Freund also has contributed to a number of public history, policy and documentary projects as well as receive grants and fellowships from organizations including the Woodrow Wilson International Center for Scholars and the Graham Foundation for the Arts.
WEDNESDAY, MARCH 11. Joelle Leclaire will discuss macro-financial stability and household debt from the perspectives of American Post-Keynesian Economics, the Cambridge approach, and the Monetary Circuit School. The Buffalo State College academic will share his ideas from 5 to 6:30 p.m. in Brockway Hall Jacobus Lounge.
THURSDAY, MARCH 12. Scott Ferguson will focus on the politics of care and the aesthetics of money when he returns to visit the campus again from University of South Florida. He will speak from 5 to 6:30 p.m. in Brockway Hall Jacobus Lounge. Ferguson's research and pedagogy explore relations between political economy and aesthetics from a neochartalist perspective, specializing in the history of Western visual culture from Renaissance painting to the Hollywood blockbuster. His book Declarations of Dependence: Money, Aesthetics and the Politics of Care was published by University of Nebraska Press in 2018. He serves as a research scholar for the Global Institute for Sustainable Prosperity, co-director of the Modern Money Network Humanities Division and co-host of the Money on the Left podcast.
THURSDAY, APRIL 9. Historical sociologist Jakob Feinig will address the topic of money creation from the perspective of popular knowledge and democratization as a means for delivering improved social outcomes. His presentation lasts from 5 to 6:30 p.m. in Brockway Hall Jacobus Lounge. Research by Feinig, who is on the faculty at Binghamton University, examines the intersection of money creation, electoral democracy and human rights. His work also looks at non-elite participation in North American money politics from the colonial period to the present. Feinig currently is writing a book titled The Moral Economy of Money, the first systematic long-term study of popular involvement in the monetary institutions of any country.
Featured Conversations in the Disciplines guests as well as Cortland faculty, staff and students are invited to contribute original works, which the committee plans to publish the collected works as a field guide under the Global Institute for Sustainable Prosperity's ongoing book series under an agreement with publisher Palgrave-MacMillan. Last year, a field guide was published on the topic of Field Guide to Zombies and Surviving the Apocalypse. The institute is an independent public policy think-tank dedicated to the promotion of interdisciplinary research.
The "Debt" series programming is supported by a $5,000 grant from SUNY Conversations in the Disciplines, a program created to build connections between SUNY faculty and visiting faulty from non-SUNY institutions. The series is co-sponsored by the Provost and Vice President for Academic Affairs Office, the Campus Artist and Lecture Series, the Research and Sponsored Programs Office, the President's Office and the Cortland College Foundation.
To submit an event, a Field Guide contribution, volunteer to support this year's activities and programming, or for more information, contact organizer and Assistant Professor of Economics Benjamin Wilson at 607-753-2436. Stay current with the series news on Twitter at @SUNYCortCICC.
SUNY Cortland lands $30 million residence hall project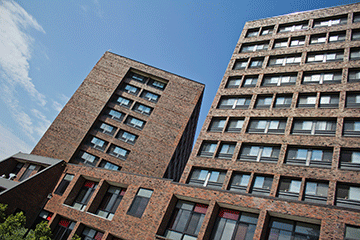 01/02/2020
SUNY Cortland's largest student residence is starting the new year with a $30 million renovation aimed at making the Casey and Smith Tower complex more modern, comfortable and energy efficient.
Construction, financed and managed by the Dormitory Authority of the State of New York (DASNY), will begin this spring and is expected to be completed by August 2021.
DASNY is New York state's capital project development authority. The renovation of Casey and Smith Tower, a 10-story, 147,000 square-foot high-rise that houses 560 students, is being financed through the SUNY Dormitory Facilities Program, through which DASNY issues low-cost, tax-exempt bonds supported by student residence hall fees.
"This project marks the completion of an extensive upgrading and construction effort, made possible by DASNY and Gov. Andrew Cuomo, aimed at improving all of SUNY Cortland's student resident halls," SUNY Cortland President Erik J. Bitterbaum said.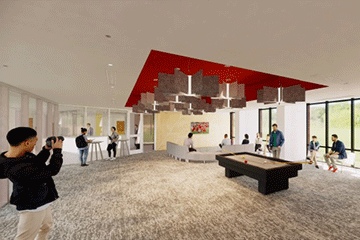 "When it is done, all of our on-campus student apartments will be completely modern, energy efficient and competitive with residences available at more expensive, private colleges."
The attached towers were constructed in 1972 and named after James Casey '53, a longtime head of campus housing, and Donnal V. Smith, the Cortland president from 1943 to 1958. The first two floors of Casey and Smith were renovated in 2009. Once the third through 10th floors of these attached high-rises are completed, every one of the campus' 16 residence halls — most of which were built in the 1950s or 1960s — will have undergone at least one major renovation.
DASNY has partnered with SUNY since the 1940s, said Reuben R. McDaniel, III, DASNY's acting president and chief executive officer. DASNY manages the construction teams that soon will begin their work.
"The cost-effective, sustainable solutions that DASNY's design and construction teams are developing for this 10-story complex will provide its students with an optimal environment for living and learning," McDaniel said.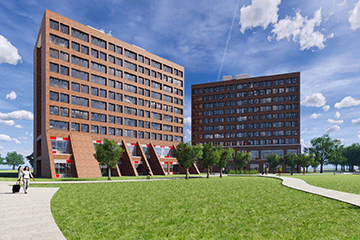 As with all major construction and renovation on campus, the project will exemplify SUNY Cortland's commitment to sustainability. The buildings will be upgraded to the Leadership in Energy and Environmental Design (LEED) silver standard as encouraged by the U.S. Green Building Council.
"New York's higher education institutions are key drivers of economic development," said Governor Andrew Cuomo, who announced the project with DASNY on Thursday. "Keeping our university campuses competitive with modern residence halls and state-of-the-art technology is vital to ensuring we attract the best and brightest to lead our great state into the future."
By providing modern, state-of-the-art living facilities, SUNY is attracting more students to live on campus to study, grow as individuals and participate in a diverse college community, said SUNY Chancellor Kristina M. Johnson.
"With the leadership of Governor Cuomo, we are proud to partner with DASNY on this renovation at Cortland, which will create a better space for students while also fostering an environment that's conducive to their success," Johnson said.
Eight suites in each tower were redesigned to comply with Americans with Disabilities Act (ADA). Once both towers are completed, 32 students will have accessible living quarters to complement the buildings' common areas, which will be updated to enable students requiring physical accommodation to use them.
"In my opinion, the inclusion of increased ADA access to students in and of itself is the most significant improvement to the Casey and Smith Tower renovation project," said Ralph Carrasquillo, Cortland's director of residence life and housing. "By having these accommodations included, we are acting on our commitment to grow and encourage a more diverse campus community."
The first-floor entry and lobby will be remodeled to include moveable walls, allowing for functions of various sizes. In addition, another small lounge with kitchenette will be added to this floor.
The bedrooms and corridors of the two towers will receive fresh paint and finishes as well as energy efficient, new LED lighting. The bathrooms will undergo a complete renovation and upgrade. Low-flow faucets and toilets to conserve water also will be installed.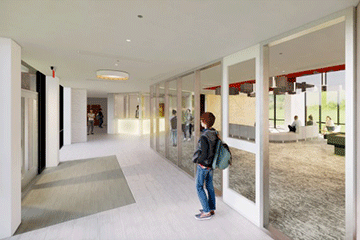 The lounges on the upper floors of both towers will include modern kitchenettes, while floors nine and 10 will add new laundry facilities.
New exterior windows will be fitted on floors three through 10 to improve comfort and energy efficiency of the complex. In addition, two new heating, ventilation, and air conditioning units will be installed on the roof to ensure optimum ventilation and healthy building conditions are achieved. New high-efficiency boilers also will be installed.
Individual units on floors three through 10 will get new doors as well as power and data upgrades in all bedrooms. Fire protection system enhancements to those upper floors will include a full-coverage sprinkler system throughout and fire alarm upgrades.
The first-year, transfer and upper-level students who lived in Casey last fall vacated the building at the end of the semester. That will allow that half of the complex to be finished around July and reoccupied next fall, according to Martin Edgington, associate project coordinator and campus engineer.
"The natural shedding of students makes this possible," Edgington said. "A lot of students were looking to be there just the one semester."
That's because many of Casey's fall occupants graduated in December or will study abroad this spring, or were transfer students granted permission to move off campus after just one semester, he explained. Natural vacancies elsewhere on campus have made room for any remaining former residents.
The process will repeat with Smith Tower at the end of 2020, Edgington said.
Sport management online master's ranked best in Northeast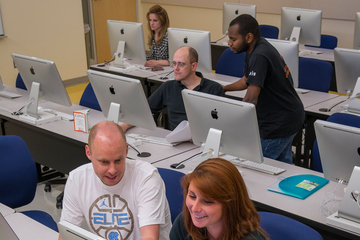 01/24/2020
SUNY Cortland's M.S. in sport management offers students opportunities to learn from top-notch faculty about a fast-growing and dynamic field.
With full-time, part-time and fully online options, it's flexible to suit the needs of those who may already be working off campus.
Those factors led Intelligent.com to rank Cortland among the best on its list of the "Best Online Master's in Sports Management Degree Programs." Cortland was ranked No. 9 in the nation and was named "Best in the Northeast."
This is the third national recognition for the program in two years. Cortland's online master's in sport management was previously ranked among the best in the nation by BestColleges.com and OnlineMasters.com in 2018.
The program recently began to offer winter session classes, noted Ryan Vooris, associate professor and graduate coordinator in the Sport Management Department. Additionally, special topic courses are expanding to include themes such as sport, climate change and sustainability and sport analytics.
Many students enroll in the program part-time and complete their degree in about two years. Courses are offered during the fall and spring semesters as well as the summer, allowing students options to finish the program at their convenience.
An 18-credit core provides students a foundation in topics such as sport marketing, sport law and the business and finance of sport. Students take an additional six credits of electives and culminate the program with a six-credit internship or thesis project. Internships require 480 hours of supervised work with a sports organization, applying course learning to a professional environment.
Students in the program have completed their coursework and internships at sites around the world, including Europe and Australia.
All SUNY Cortland sport management faculty who teach in the master's program, both on campus and online, have a terminal degree. Many other sport management programs around the country rely on less-experienced teaching assistants or outside adjuncts.
Small class sizes give students outstanding access to faculty. Online classes are capped at 20 students each, meaning students have plenty of opportunity for one-on-one advisement.
Intelligent.com ranked programs based on which provided affordable, quality preparation for careers. It evaluated five major factors, including: program strength, online readiness, return on investment, cost and student engagement.
For more information, contact Vooris.
Columns available online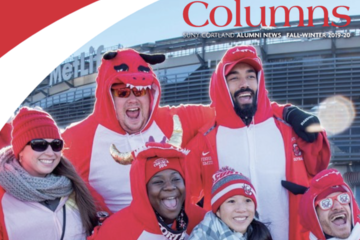 01/28/2020
You don't need a SUNY Cortland diploma to enjoy SUNY Cortland's alumni magazine.
Faculty, staff and students will all find something of interest in the Winter edition of Columns, available online now.
Features in the current issue include:
Cortaca Jug 2019 – Comprehensive coverage of the MetLife Stadium event that officially made Cortaca "The Biggest Little Game in the Nation."
The fastest 46ers — A pair of Red Dragons climbed all of the Adirondacks' tallest peaks in a single, record-breaking hike.
Tomb Ryder — Erin Ryder '02 travels the globe in search of ghosts, monsters and adventure.
Battling Parkinson's — Alumni, faculty and students partner to help people who suffer from this devastating disease.
A millionaire's miracles — We remember John Fantauzzi '58, M '60, whose incredible generosity changed the lives of scores of students.
The Campaign for Cortland — The Cortland College Foundation launched a $25 million comprehensive campaign to support key institutional priorities. Are you All In?
SUNY Cortland launches online literary magazine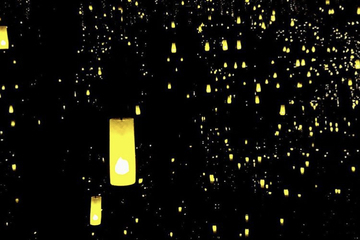 01/28/2020
SUNY Cortland's new online literary magazine, Hoxie Gorge Review, blends together innovative poetry, fiction and nonfiction from established national writers as well as emerging talents.
It was also a labor of love for the 12 students in an upper-level course on the publishing industry taught by instructor Heather Bartlett in the English Department. Those students served as editors, soliciting, selecting and editing submissions for the first issue published in December.
While there are many online literary magazines that feature the work of undergraduate writers, including Cortland's own Crystallize Review, few are in the mold of Hoxie Gorge Review: a magazine run by undergraduates featuring the work of national writers.
"Having a national literary magazine that is staffed and run by undergraduate writing students is very significant," Bartlett said. "What I wanted to do was to create a way for our students to have a direct hand in shaping and contributing to the literary discourse, which we're talking about all the time in the classroom."
The first issue includes work from acclaimed writers Christine Kitano and Ashley M. Jones. It also features writing from those just breaking into the publishing world.
SUNY Cortland students sorted through more than 1,000 submissions and ultimately picked writing from 25 authors. They handled correspondence with authors regarding acceptances, edits and rejections.
Bartlett, who designed the course through a Fine Teaching Development Award and a Teaching Innovation Grant, believes the hands-on, behind-the-scenes experience of creating a literary magazine from scratch will only help the students in their journey as writers.
"It was really affirming in thinking about as a writer, when you submit your work and it's either accepted or rejected, it can be really easy to be really disappointed when you get a rejection," she said. "When you're on this side, it really puts things into perspective. We received more than 1,000 submissions and published only 25 writers.
"It wasn't always about whether the writing was good; it was about if it was going to fit and help create those echoes we were looking for. It was a healthy dose of perspective for all of us as writers. When you send your work out into the world, this is what happens."
The artistic choices made by student editors was another main focus of the course. They decided against a distinct theme for the first issue but were conscious of how the final selection of pieces would work together collectively.
"We were reading other online magazines to get a sense of trends in publishing in terms of contemporary literature," Bartlett said. "We were trying to answer the question, 'What makes a necessary and publishable story or poem or essay?' The students were soliciting work from writers that the students admired and found through this research and analysis. They were working together to establish the vision and the aesthetic for what this issue was going to be."
Since the launch of Hoxie Gorge Review, Bartlett has received tremendous feedback from contributors, readers and faculty at other institutions. That has Bartlett excited about formulating a strategy for a second issue. So too does the energy of the 12 students who made the first issue of Hoxie Gorge Review a reality.
"Seeing the way in which the students so fully invested themselves in this, it made teaching and the things I wanted to teach about — craft, writing and professional writing — so much easier. They were so into it and it was so important to them."
Read the first issue at HoxieGorgeReview.com. For more information, contact Bartlett at 607-753-2230.
Spring Wellness Wednesday Series begins Jan. 29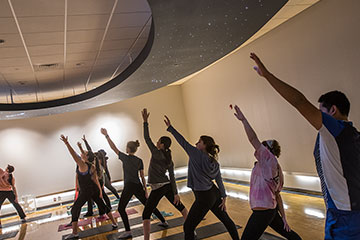 01/28/2020
In keeping with a College priority of well-being, each semester SUNY Cortland offers weekly encouragement to the campus and community to pursue a lifetime of good health.
The Spring 2020 "Wellness Wednesday Series" will feature events intended to motivate campus and community members to learn more about health and wellness.
Programs continue through the spring semester with topics including yoga, nutrition, having a safe spring break, eating healthy, mental health awareness, spirituality and religion and supporting survivors of sexual assault.
Primarily sponsored by Health Promotion and the Student Development Center, the series is free and open to the public.
A poster listing all the Spring 2020 events can be found at Wellness Wednesday Series - Spring 2020 and on the Campus Life page of myRedDragon.
Events include:
"Gentle Yoga" will be open to the first 40 participants who show up on Jan. 29 for the 6 p.m. class in the Student Life Center Mind Body Room. Mia Teal, trained in YogaFit Levels 1 and 2, will guide participants through a class that is open to all levels, beginner to advanced. Yoga mats are supplied.
On Feb. 5, "Intro to Meditation" will be led by senior counselors Robyn Forster, Kathryn Gallup and Jennifer Talarico beginning at 6 p.m. in Corey Union Exhibition Lounge. They will present the benefits of meditation and share different guided exercises that will include dark chocolate meditation, stress relief meditation and loving kindness meditation. Participants will leave with resources to begin and maintain practice on their own.
On Feb. 12, Olivia Trumino, kinesiology graduate assistant, will present "The Latest Trends in Nutrition," outlining current trends in nutrition and the pros and cons as well as the importance of fueling the body with healthy foods and balanced eating. Join them at 5 p.m. in Corey Union Exhibition Lounge.
On Feb. 19 Lisa Hamp, a professional mental health speaker and a survivor of the Virginia Tech shooting that took place in 2007, will share her raw and powerful presentation about her struggle with post-traumatic stress disorder, an eating disorder, and infertility. Beginning at 7 p.m. in Corey Union Exhibition Lounge, "A Survivor's Perspective on Trauma and Recovery" will offer concrete advice on finding a new normal for those struggling with mental health issues.
"Hazing Prevention: Sweating the Small Stuff" on Feb. 26 will feature national speaker Lorin Phillips who will shine a light on interactions that lead to the pain, embarrassment and alienation associated with hazing. This important presentation begins at 7:30 p.m. in Corey Union Function Room.
Dr. Jorge Eller, M.D., endovascular neurosurgeon from Crouse Hospital, will present "Strokes: Awareness, Signs and Symptoms" at 6 p.m. on March 4 in Corey Union Exhibition Lounge. Dr. Eller will present the many advances in the diagnosis and treatment of strokes and review the importance of recognizing potential signs and symptoms of stroke and the importance of timely accessing care.
Substance Abuse Prevention and Education will offer a Safe Spring Break Fair from noon to 3 p.m. on March 11 in the Student Life Center lobby.
"Eat Right, Bite by Bite" is the topic on March 25 during National Nutrition Month. Andrea Hart, registered dietitian nutritionist, will be on hand from noon to 2 p.m. at the Student Life Center lobby to talk about the importance of making informed food choices and developing sound eating and physical activity habits.
On April 1, a student panel discussion on "Spirituality, Religion and You" will address the intersection between religion and spirituality at 6 p.m. in Corey Union Exhibition Lounge.
"Creating a Culture of Consent" on April 8 will feature Keith Edwards, consultant and coach, who will discuss the realities of sexual violence, reframe the issues for proactive prevention, and all genders will be empowered to make positive change happen. Catch this national speaker at 7 p.m. in Corey Union Function Room.
On April 15, learn "What's the Worst That Can Happen?" with Marissa Whitaker, substance abuse prevention and education associate, at 6 p.m. in Corey Union Exhibition Lounge. You might not think it is big deal to get caught with a fake ID or marijuana, but for many students, breaking these laws can have lasting consequences. Alcohol and drug violations can impact your financial aid, career options, and future life choices. We will take a look at the worst-case scenarios and the ripple effects involving alcohol, drugs, and the law.
Stacy Alexander honored for service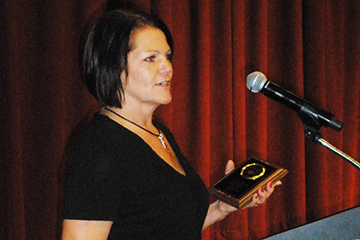 12/06/2019
Through rain or sleet or snow or heat or dark of night, University Police Department employee Stacy Alexander helps pedestrians safely cross roads, enforces parking laws, and assists with efficiently planning and smoothly running large campus events that draw extra traffic and visitors.
Alexander, a senior parking services attendant, was joined by co-workers from inside her department and across campus on Dec. 6 to celebrate her selection for the prestigious 2019 President's Award for Excellence in Classified Service.
Sponsored by the university's Human Resources Office, the 50th annual Service Awards Ceremony in which Alexander was recognized was held mid-day in the Corey Union Function Room.
"Stacy has gone out of her way time and time again to make the campus a safer and more welcoming place," said SUNY Cortland President Erik J. Bitterbaum, who presented Alexander with the award. "Her efforts may be behind-the-scenes, but they impact everyone on campus. The award for professional excellence reflects how much her work matters to both visitors and members of the SUNY Cortland community."
The award was created in 2002 to annually recognize one SUNY Cortland full-time classified service employee "for extraordinary achievement and to encourage the continuation of excellence." Nominees must have at least three years of continuous service. Supervisors, co-workers or other university community members nominate workers considered for this honor.
Alexander started her career at SUNY Cortland in February 2010 as a pedestrian campus aide for the University Police. She was promoted to senior parking services attendant in October 2017.
"This position requires exposure to the elements on-par or above any other on campus," said Alexander's supervisor, Eamon O'Shea, director of parking operations and security services with the UPD. "While I consider dependability to be a given for anyone, I believe Stacy demonstrates exemplary ability in tracking and completing job duties, with the added variable of doing said work in any type of weather, year-round."
Efficient, proactive, adaptable and a proven, effective supervisor of both student and college staff were O'Shea's other descriptions for Alexander.
"She has worked diligently to identify and allocate parking space for special events, utilizing every available place on campus, even areas historically not used for special events," O'Shea said.
Alexander is an impressive leader who is always looking for ways to better serve the campus community, said Mark DePaull, the UPD's chief of police.
"Stacy loves people, works hard and always tries to lift the spirits of those around her," DePaull said. "I believe these characteristics represent all that is good in our community."
Alexis Abramo, special projects manager in the School of Education, said she always reaches out to Alexander when she plans one of the many professional development activities that bring to campus teachers and professionals from outside the university.
"She is quick to respond with helpful information about all of the other things happening that might impact my event, and ideas for how to make it go more smoothly," Abramo said. "It's a pleasure to see her friendly wave as I come through campus and while some folks might be frustrated by the chaos of keeping traffic flowing she is unfailingly calm and professional."
Alexander goes out of her way to make my life easier and enhance the experience of guests on campus, said another colleague who hosts lots of visitors, Michelina Gibbons, employee relations specialist in Career Services.
"She is creative when it comes to finding parking when I have 50 or 100 guests on campus," Gibbons noted. "Her creative management of the availability is impressive."
Alexander has an exemplary relationship with students that she supervises, a student lot attendant noted.
"She tries to keep the job interesting by giving her students other tasks to do during shifts aside from the usual tasks," said Kelsy Gladding in her nomination letter. "She takes the time to talk to her student employees and asks them what is going on in their lives."
Perhaps it's no coincidence that Alexander received the Lite Rock 97.3 Employee of the Month award in September.
A graduate of Cortland High School, she focused in business. Alexander worked as a mail carrier from 1995 to 1996 and then as a dental assistant for Dr. Ajay Pal from 1996 to 2004. She also served as an office assistant/property inspector for Tanner-Ibbotson Insurance and, before joining SUNY Cortland, as a crossing guard for the City of Cortland Police Department.
Not surprisingly, Alexander loves the outdoors. She enjoys spending time hunting, fishing, camping and running.
Alexander is married to Scott Alexander. She has two sons, Jack Mertz, who resides in Cortland and was recently hired by SUNY Cortland's Grounds Services, and Marky Mertz, who is no longer with us.
Employees Honored for Years of Service
Also, during the ceremony, 30 classified employees were recognized for their years of service. They included:
2019 Service Awards Honorees
25 YEARS
Charlene Lindsey, Field Experience and School Partnerships Office
20 YEARS
Douglas Adsit, Facilities Operations and Services
Lucinda Compagni, Development Office
Michelle Congdon, Human Resources Office
Janet Daugherty, Educational Opportunity Program
Sherry Ellis, Library
Amanda Halliwell, Sociology/Anthropology Department
Kathleen Hudson, International Programs
Heather Hurteau, Child Care Center (Research Foundation)
Laurie Matthews, Child Care Center (Research Foundation)
Theresa Montez, Recreational Sports
Christine Newcomb, Cortland College Foundation (Research Foundation)
Teresa Ripley, Facilities Management Office
Dorothy Barrett Smith, Cortland College Foundation (Research Foundation)
Scott Suhr, Biological Sciences Department
15 YEARS
Ryan Kleveno, Motor Pool
Tanya Lowie, Facilities Operations and Services
Robert Maarberg, Heating Plant
Cynthia Perelka, Parks Family Center for Environmental and Outdoor Education
Lou Anne Simons, Library
Pamela Smith, Chemistry Department
Jennifer Stiles, Communication Disorders and Sciences Department
Patricia Wolff, Duplicating Center
10 YEARS
Robert Albro, Facilities Operations and Services
Christina DiGiusto, Communications Office
Heather Drew, Information Resources
Charles Greenman, Fleet Operations
Robert Orphan, Facilities Operations and Services
Sharon Peters, Facilities Operations and Services
Tammi Vassalotti, Facilities Operations and Services
Homelessness and the dark side of home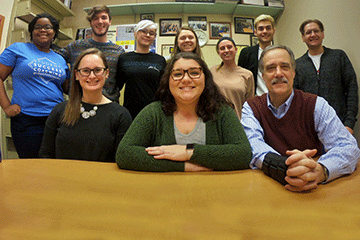 01/28/2020
Joseph Ferrari M '81, a DePaul University psychology researcher and internationally respected expert on the causes and consequences of chronic procrastination, didn't learn that one of his doctoral students was homeless until two years after the promising scholar had earned his Ph.D.
Ferrari never suspected that the student was quietly going through a family crisis and hiding his desperate financial situation, receiving help from others on DePaul's massive urban campus in Chicago, Illinois.
"My student used to sleep on campus, and at 5 in the morning, one of the security guards would wake him up," said Ferrari, a St. Vincent dePaul Distinguished Professor of Psychology. "He became friends with them, the security guards. Then he would go to the gym and take a shower."
That experience helped influence Ferrari, a Roman Catholic deacon who has built a career as a world-famous researcher, writer and authority on the human tendency to procrastinate, to shift his research focus to the concept of home.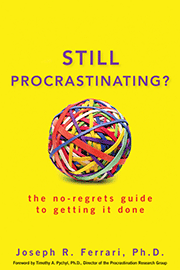 Specifically, he finds himself intellectually pulled between the circumstances of homelessness on one hand and the tendency of people to associate "home" with accumulations of possessions that often become too large to comfortably manage.
"I'm interested in what you call the psychological meaning of home," Ferrari said. "We travel and we can't wait to go home. Home is not a physical place; it can be something else. I remember giving a talk and someone said, 'I grew up in the military and we had a home but we moved around all the time.' So home is not a physical structure. I wondered, what does that mean to be home?"
In some ways, the new direction is a departure for Ferrari, who visited the SUNY Cortland campus in 2007 to speak about procrastination. Since then, he has penned a consumer-oriented book on procrastination, Still Procrastinating? The No-Regrets Guide to Getting it Done (John Wiley & Sons, Inc., 2010). His "Procrastination" segment on the "Academic Minute" podcast received the most visits in 2018 of any of the daily program's productions. It was rebroadcast in December 2019.
And the social community psychologist remains a frequent presenter on his pet topic. Since 2007, he has given 17 professional conference keynote addresses on the topic around the world including in Italy, Germany, Australia, Ireland, Peru and Saudi Arabia.
But in other ways, the idea of "home" is just another aspect of the mysterious tendencies and capacities of human nature that Ferrari has studied since his days at SUNY Cortland.
Ferrari began his graduate studies in experimental psychology at Cortland under the direction of Professor of Psychology Emeritus Paul Luyben.
"It all comes back to Cortland," Ferrari said, recalling Psychology Department mentors who believed in him and set him squarely on a lifelong career in academic research.
Ferrari, who for 25 years has edited the Journal of Prevention and Intervention in the Community, was ordained in 2013 as a permanent Roman Catholic deacon serving the people of Joliet, Illinois. Perspectives gained from those roles have led him work to help homeless people even as he studies them and their circumstances. And one of his priorities are hidden housing casualties such as his former Ph.D. student.
"One of the last politically correct/incorrect insults to say to somebody is "You are homeless," as if you're saying, "You're 'less' than other people because you don't have a home," he said. "What we're doing this year, my research team, is a needs assessment. We're looking at homeless college students."
DePaul University, with a 22,000 student body, identifies about 50 homeless students enrolled each quarter. As a starting point, Ferrari and his students are seeking insight through a five-year-old nonprofit program, run by the St. Vincent DePaul Society. The program sets up stable and safe housing and other services through graduation for students without a place to live.
Ferrari pointed to a growing nationwide trend of good students leaving college for financial reasons, and said schools need to address it.
"There's a number of simple little things that schools can do," he said. "Just brainstorm, be open to it, if it serves people. Life is not about me, life is about we, and we need to emphasize that more. That's my role as a community psychologist. How are you making a difference in the lives of other people?"
Ferrari doesn't yet have results on this investigation. He also gains insight through his participation in a Chicago non-profit agency's program of weekend spiritual retreats for homeless adults, working specifically with men.
"It's fascinating to be there, because on Sunday morning, some of them come down and say, 'I had a bed last night, and it had a mattress! I had two pillows! I could have seconds on my meals here.'
"It's very humbling to work and to hear their life stories," he said. "All the petty problems I have, that puts it right in perspective."
At the opposite end of the spectrum from homelessness is clutter, in which people grapple with the pressure that modern American society places on them to acquire more possessions than they need.
Ferrari described clutter as "the danger of the totality of one's possessions being so overwhelming that it chips away at your well-being, relationships, and more, drowning in a sea of stuff," in the 2016 paper he co-wrote, titled "The Dark Side of Home: Assessing Possession 'Clutter' on Subjective Well-Being."
Ferrari's clutter study marks the first time researchers have trained their attention on people's overabundance of possessions that collectively create chaotic and disorderly living spaces.
Ferrari decided to focus on clutter while at a meeting of the Institute on Challenging Disorganization, where — as one of the world's foremost experts in procrastination, a human tendency often naturally leading to clutter — he gave the keynote speech. There he met the organization's go-to person for research, Catherine Roster, a professor of marketing at the University of New Mexico, and they embarked on their first study.
According to Ferrari, there is a danger in identifying too strongly with possessions, which can disrupt one's life where it hurts the most: a sense of home.
"We looked at a group of around 1,600 people who have a clutter disorder, a clutter problem, and asked them what is their life satisfaction," Ferrari said. "Then we published our paper, which got a lot of media coverage. We found that the more you possess, the weaker your sense of home, the less your satisfaction of life."
Their findings on clutter also were shared through an article in a 2018 special edition of Current Psychology that focused on procrastination, clutter and hoarding.
"Hoarding and clutter aren't the same thing," explained Ferrari, who hasn't studied hoarding, a recognized psychological disorder. "Hoarding is lots of the same thing. Clutter is a lot of breadth, just a lot of stuff. People can have both. One is vertical, one is horizontal. Clutter is wider."
"We're hit in this country with consumerism," Ferrari said. "Merchants take our wants and make them needs: these possessions make our life complete. But the data shows the more you have, the less satisfying life you have. As a clergyman, I've looked at the spiritual side of these things. We can have abundance. It's the attachment to abundance that's the problem."
Ferrari's team soon will release a paper on technology clutter which can lead to less productivity in offices.
"This is all new stuff that has never been covered before by researchers," he said.
Ferrari was honored with the 2016 AP Italian American Psychologist Distinguished Award by the Italian American Psychological Society, part of the American Psychological Association. Currently on sabbatical, he recently returned from the first Italian-American International Psychology Conference with a brand new research concept in mind.
"What's the meaning of home to people who immigrate?" he said. Ferrari held a sabbatical in 2019 in Genoa, Italy. "In the U.S., we talk a lot about people coming from South America, Central America. In Italy, the big issue is immigrants coming from Africa. My colleague in Italy and I are planned this new study on the meaning of home for immigrants. I have a couple of grad students working on that."
In the above left image, Joseph Ferrari M '81 appears on the right in the foreground with members of his research team, which has five undergraduate psychology majors, two graduate general experimental psychology majors and four doctoral candidates in community psychology.
Educator introduces tykes to bikes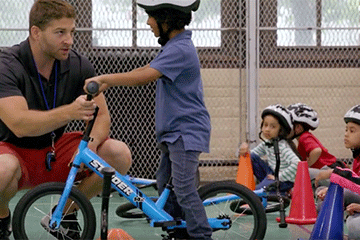 01/28/2020
In the middle of the battered green tile school gym floor in south Bronx, N.Y., last February, a red tarp barely concealed a collection of mysterious objects.
Some two dozen 5-year-olds gathered around its perimeter murmuring, squealing and just barely holding back the urge to lift a crimson flap and peek.
Benjamin Ferder '10, M '15 had added these dramatic flourishes to make sure his kindergarten physical education class at P.S. 311 Lucero Elementary School knew something new was definitely coming their way.
He dropped a few hints to them about the concealed pile of treasure and quickly flashed a simple picture that included a bicycle. The youngsters' eager fidgeting escalated. A few edged closer.
Then, with a wizardly flourish, Ferder whipped off the cloth hiding five tiny children's bicycles. Screams erupted from the kids.
"I lifted the tarp up and their eyes just sparkled," he said. "They were so excited, so happy, they were just cheering.
"For me, that's what teaching is all about, just watching those smiles occur," Ferder said.
Exciting, healthy things don't regularly happen for children living in Bronx, rated 62 of 62 — dead last — in the state for factors that influence wellness, such as poverty, diet, exercise and access to health care, according to an annual county-by-county assessment of the Empire State done by the Robert Wood Johnson Foundation. The Bronx, for example, is relatively lacking in public parks and other safe places to play and exercise.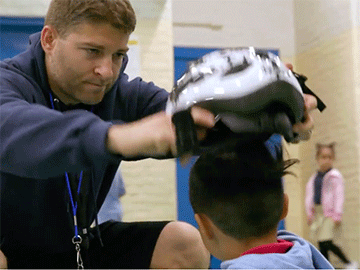 "I grew up in Westchester, and I believe it's the top five county in the state for physical activity," said Ferder, who currently lives in Mamaroneck, N.Y., with his wife, Marisa, and one-year-old son, Owen. "And because I grew up about 15 minutes away from the Bronx, it's interesting to see that difference. You can go from a county that's ranked top 5 in the state to another county that's ranked last."
Largely through Ferder's efforts, the elementary school became the first in the Bronx to implement a bike program to help children improve their physical ability, balance confidence and social skills, according to Ferder and his former classmate and mentor in the New York City schools system, Cristina Muia Rios '08.
"There's no other school in Bronx with the Strider Program," said Rios, an instructional coach with the Office of School Wellness Programs, New York City Department of Education, who supports schools with improving the quality of physical education.
The Strider Education Foundation paid for the 20 new children's training bikes at Lucero and provided a curriculum, Ferder said. The foundation's mission is to teach every child in America how to ride a bike in kindergarten P.E. class.
The non-profit organization sent a video production company to Lucero to film the children's experience. "All Kids Bike in Bronx, New York" is set to premiere Jan. 30 in Washington, D.C. A short clip is available now.
Strider calls its bicycles "balance bikes," according to Ferder.
"They come without the pedals and then you can add the pedals later on," he said. "Rather than kids starting to ride on a tricycle or with training wheels, kids learn how to balance and shift their weight by walking and sitting down on the bike and then being able to maneuver in each direction, and then being able to glide for two or three seconds."
The method is safer and does more to build confidence, Ferder said. His students then can try locomotion with pedals, wheeling around the small indoor gym or in a narrow courtyard outside the school.
"It was moving for me to see the students overcome fears, practice balancing on two wheels, being able to glide, and the biggest goal being able to ride a bike using the pedals," Ferder said.
Rios recalls when Ferder first reached out to her a year ago, inquiring about a bike program.
"He was interested in bringing bike safety to his school," she said. "He thought it would be a great, fun thing for kids to learn, being that they don't have access to bikes and providing them with a competence in education including bike safety was really important.
"I reached out to one of my colleagues who works directly with the Bikes New York program in Staten Island," she said. "Ben came out there to see how it was implemented."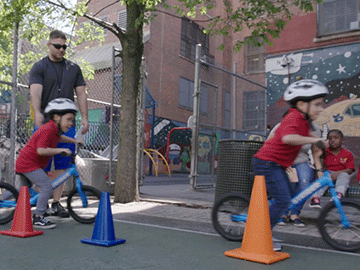 The program has energized Ferder's 60 students, including general education kindergarten classes and special education classes.
"They couldn't wait to start using the bikes," Ferder said. "Especially learning about putting on the helmet, adjusting the helmet, the proper way to get on the bike, off the bike. They just couldn't control themselves; they were so happy."
The children now will have both a lifetime skill and an alternative mode of transportation, he noted.
Having concentrated in adapted physical education while earning his master's degree from SUNY Cortland —working closely with Associate Professor Timothy Davis — Ferder especially wanted to include some of his class with special needs in the program.
The bike program has captivated many teachers, administrators and children's parents.
"Introducing the Strider bike program helped change the way students behaved and focused in the classroom and it also allowed students to tell their parents what happened at school," Ferder observed.
Tyler Wallach, director and producer at Red Leaf Film, came to Lucero to record Ferder's class from March to June 2019 for the Strider Education Foundation video.
"His film crew not only were able to film the kids in physical education classes riding the bikes from step one, they were also filming the students and how they interacted at lunch, at recess, in the classroom," Ferder said. "Then the teachers were being interviewed as to what difference riding a bike truly made.
"A student who was shy became more verbal, was communicating more, able to have a class discussion," Ferder said. "A student who had negative behavior, that negative behavior would decrease, and the day they came to P.E. class, they knew if they weren't on their best behavior, they wouldn't be able to ride the bike.
"Plus, once the kids left school, you could hear how they interacted with their parents, Ferder said. "They told us if they asked their kids, 'What did you do today?' They were able to talk about riding a bicycle."
Upon receiving his bachelor's degree in 2010, he headed to New York City's New Visions Charter High School for Advanced Math and Science II in the Bronx. At this fledgling school, Ferder helped launch both the junior varsity and varsity basketball teams. A few years later, he heard about the Lucero elementary P.E. teacher opening on a Facebook page maintained by SUNY Cortland alumni educators.
"When I interviewed him I explained to him: these were big shoes to fill," said Rios, who runs P.E. Works, a mayoral initiative that supports high quality physical education in all New York City schools. She had preceded Ferder in his physical education and wellness roles at Lucero and hired him in 2015 as her own replacement.
"He rose to the challenge and he superseded everything I had expected of him."
Helping a school offset the community's health disparities with wealthier districts often involves not just promoting an active lifestyle, but things like nutrition education and removing unhealthy foods from the children's lunch menu. Before she left Lucero, Rios had raised the school's Wellness Council rating to "gold plus." In Ferder's first year, 2015, he elevated the rating to "platinum." Now Ferder represents the Office of School Wellness Programs to foster wellness councils among other New York City elementary schools at two annual professional development meetings.
"I strive for all of my schools to have wellness councils just like Ben's, which has continued to flourish," Rios said. "Whenever I do have a school that's interested in having a wellness council, I try to set them up where they can talk to Ben."
Going forward, Ferder encourages other Bronx elementary schools to bring a bikes program to their own classrooms.
"It was a great experience and I look forward to continuing the program in spring 2020 with my kindergarten and first grade classes," Ferder said. "Most important, I hope the program is able to take off in other schools in New York City."
International photo contest winners named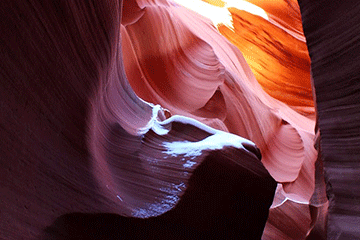 12/20/2019
It's a universal truth that international travelers love to snap pictures.
A case in point is Joel Lee, a sophomore at SUNY Cortland who came to America as an exchange student from Taiwan last fall and later transferred from his home college, Tamkang University.
Last fall, Lee took a timeout from his studies in geographic information systems (GIS) to visit Niagara Falls, a popular scenic attraction that many visitors from abroad flock to with their cameras, smart phones and video equipment.
"I like to take pictures almost wherever I go," said Lee, or Chih Yu, as he is called by his first name in his native home of Taipei, Taiwan. "I like to record my life by these pictures, so I can recall memories by looking into these photos."
More recently Lee, who was once again taking a break from being a student, landed in California, participating in a tour from San Francisco to Los Angeles to Las Vegas, Nevada, with a notable stop in Arizona to visit a slot canyon on Navajo land east of Page, Arizona. There he captured a color-drenched natural formation that recently won first prize in one category of a contest for Cortland students who participate in International Programs.
"This picture was taken in Antelope Canyon, Arizona," said Lee, who won in the international student experience category and was encouraged to make the detour by a fellow international student who also savors the American landscape. "It was so fascinating. I totally underestimated the beauty of Antelope Canyon."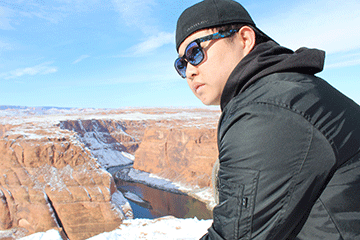 Lee was among 27 prize winners, viewer's picks or honorable mention entries announced in SUNY Cortland's 10th annual Study Abroad Photo and Video Contest in the first week of December.
The photographic and video graphic winning images, as well as honorable mentions voted on by a judge's panel, and the Popular Choice winners selected by the public on social media, are available for viewing on the International Programs Photo and Video Contest page.
Presented by the College's International Programs Office, the competition was open to all students who studied abroad through SUNY Cortland during the 2018-19 academic year, whether they were Cortland students or international visiting students.
The students competed for monetary prizes and critical attention in five different categories: international student experience (international students); international student selfie (international students); the world as your classroom (Cortland study abroad students); culture and customs (Cortland study abroad students); and video category (joint international students and Cortland student abroad students). Students were allowed to enter up to three items, one per eligible category.
"Across our five categories — two international student, two study abroad student, and one joint video category — we had approximately 145 entries," said Kayla DeCoste, international program coordinator.
The contest had a voting committee made up of 23 volunteer faculty and staff members who voted for first place and runner up in each category, DeCoste said. First Place winners won $100 and Runner Up winners won $75 each. More than 1,000 campus community members and people around the world voted for the Popular Choice winners, who were awarded $50 each.
Images were evenly split between ones taken in the U.S. and abroad.
"The purpose of the photo contest is two-fold," DeCoste said. "First is to help our students, both Cortland students who study abroad and international students who study at Cortland, to engage with, reflect upon, and process their experiences abroad.
"Second, is to engage the larger campus community and raise awareness of what our office does and the amazing opportunities that are available to our students to learn about the world and interact with global community," she said.
The photo contest is sponsored in part by an Auxiliary Services Corporation grant.
Students interested in submitting a photo or video for the next year's contest can visit the Photo and Video Contest page for details or contact International Programs at studyabroad@cortland.edu.
Lee, with a minor in computer applications who aims to graduate in 2021, recently shared other thoughts about his Cortland experience so far:
What is Taipei, Taiwan like?
JL: It is the capital of Taiwan. It's like Manhattan. It's crowded. A lot of shopping malls, restaurants and skyscrapers.
So how did you know about SUNY Cortland?
JL: My previous school, Tamkang University, has an exchange program with SUNY Cortland.
Did the experience in Cortland meet your expectations? If so, please explain.
J.L: Yes. The study vibes and all the professors are really nice and friendly; nice environment and facilities.
What attracted you to your major?
JL: I'm into learning computer skills, and also having a direction for my future career.
Cortland had to be a lot different from Taiwan, right?
JL: We don't have snow in Taiwan, but I like it. Food is also one major difference. The style and the ingredients are totally different, but I like it as well.
What's your favorite food? Least favorite?
JL: I like to cook for myself. My favorite food would be steak and pasta. The least favorite food will probably be chicken breast. It doesn't mean it's not good, but personally (I'm) not a fan of that.
Have you won an award before?
JL: I have won an honorable-mention in the last (2018-19) photo contest.
The single best part of your experience — what was it?
JL: Having a chance to explore and study in the U.S. is what I dream of, so the best experience is still a continuous tense.
Football head coach retires after 23 seasons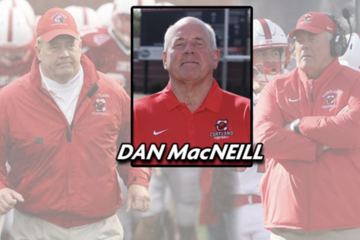 01/28/2020
Dan MacNeill has announced his retirement after 23 years as head coach of the SUNY Cortland football program. He will continue to work at Cortland in a part-time capacity in non-coaching areas to be determined.
Greg Roskos, Cortland's associate head coach and an 11-year member of the Red Dragon coaching staff, will serve as the interim head coach as a national search is conducted.
"I have a feeling of immeasurable gratitude to the SUNY Cortland administration, from the top down – from President Erik Bitterbaum to my athletic director, Mike Urtz, and all those administrative entities that have facilitated my service as head football coach for the past 23 seasons," said MacNeill. "I'm humbled to be allowed to transition off this ride and continue to serve my beloved school and program in another constructive manner.
"I have gratitude to all alumni, parents and fans that have generated and facilitated positive energy, support and service to the Red Dragon cause upon my behest. I have gratitude for all assistant coaches and support personal that served under my guidance and sacrificed in our common cause. Hail to the many that fed, nourished and developed Red Dragon Football Warriors."
MacNeill's teams posted a combined record of 155-85 (.646) and earned 17 postseason berths, including six NCAA tournament showings. MacNeill ranks first at Cortland in both career victories and winning percentage.
MacNeill's Cortland squads played as an independent from 1997-99 and were a member of the New Jersey Athletic Conference (NJAC) from 2000-14 before joining the Empire 8. In the Red Dragons' first season as an Empire 8 member in 2015, MacNeill and his assistants were named the Empire 8 Coaching Staff of the Year, while MacNeill also was honored as the HERO Sports Division III National Coach of the Year and the D3football.com East Region Coach of the Year. Cortland finished that season 9-3, including a 6-2 mark to share the Empire 8 crown and earn an NCAA playoff victory before losing at nationally second-ranked Linfield in the second round.
MacNeill was named NJAC Coach of the Year in 2008 and 2012, and he was a finalist for 2008 Liberty Mutual National Coach of the Year honors after Cortland finished 11-2 and advanced to the NCAA quarterfinals before losing at eventual national champion Mount Union. The Red Dragons were recognized as the top Division III team in the East by winning both the Lambert Trophy and the ECAC Team of the Year awards, and their 11 victories and national quarterfinal appearance matched school records.
Under MacNeill, Cortland won NJAC titles in 2008 and 2012 and also was first in the conference in 2005, 2006, 2007 and 2010. The Red Dragons were also 2019 Empire 8 co-champions in addition to their 2015 title. His squads tied for ninth nationally after advancing to the second round of the NCAA playoffs in 2010, 2012 and 2015, as well as a tie for ninth in 1997 in a 16-team field and a tie for 17th in 2005.
MacNeill's teams won seven or more games 13 times, including 10 victories in 2010 and nine in 2002, 2006, 2011, 2012 and 2015 in addition to the 11-win 2008 campaign.
In addition to the six NCAA appearances, MacNeill's teams won the inaugural New York Bowl in 2017 and qualified for the game again in both 2018 and 2019 (the 2018 game was canceled due to the lack of Liberty League opponent). The Red Dragons also won ECAC bowls in 2002, 2007 and 2012, and they played in five other ECAC postseason games.
Among MacNeill's other highlights at Cortland were a 32-31 win over nationally second-ranked and eventual national semifinalist Rowan University in the 2001 season on the final game ever played on Carl "Chugger" Davis Field, and a 13-10 record against rival Ithaca College in the annual "Cortaca Jug" game, including seven straight wins from 2010-16. Cortland's victory at Ithaca's during MacNeill's inaugural season in 1997 was the Red Dragons' first road win versus Ithaca in 30 years, and he led Cortland to a total of seven road wins versus the Bombers.
Entering the 2019 season, MacNeill coached 29 All-Americans, 90 All-East and 77 All-ECAC players at Cortland. Those players included two Gagliardi Trophy national Player of the Year finalists – defensive tackle Adam Haas in 2006 and quarterback Dan Pitcher in 2011 – along with 1997 ECAC Upstate New York Player of the Year Omar Darling, 2007 ECAC Southeast Rookie of the Year Brian Haas, and 2013 ECAC South Defensive Rookie of the Year Tristan Laurore.
In addition, MacNeill's players earned 50 All-Empire 8 awards in five years, including 2015 Rookie of the Year Donny Davis and 2018 Special Teams Player of the Year Nick Mongelli. His players also garnered 204 All-NJAC honors, highlighted by the selection of Adam Haas as the 2005 Defensive Player of the Year, Bryan Wiley as the 2009 Defensive Player of the Year, Justin Autera as the 2010 Co-Offensive Player of the Year and Dan Pitcher as the 2011 Offensive Player of the Year.
"Many will look to records, achievements and stats made during my time as head coach," said MacNeill. "Certainly those tell a story. I, too, celebrate noteworthy footnotes of a competitive existence. However, I consider my crowning success in relationships. The established Red Dragon den culture. All shared with young men drawn to become a Red Dragon warrior. All defined or defining 'US' and, most satisfying, those that competed and completed that ('OUR') success journey.
"Every team. Every teammate. Every Red Dragon remains a cherished memory. All a hearty smile away."
Prior to his arrival at Cortland, MacNeill was an assistant coach at Division I-AA Villanova University for 13 years from 1984-96. He was the Wildcats' defensive coordinator for the last nine of those seasons. One of the nation's top defensive coaches, MacNeill's charges consistently ranked among the best defensive teams in the Yankee Conference. His 1991 squad finished the year first nationally in scoring defense, second in total defense and fifth in rushing defense while leading the Yankee Conference in every defensive category. The Wildcats placed first nationally in rushing defense in 1992. In 1996, Villanova finished 8-4 and earned a berth in the NCAA Division I-AA playoffs.
While at Villanova, MacNeill coached three AFCA/Kodak First Team All-Americans, one Associated Press All-American, six first team All-Yankee Conference performers, six first team All-ECAC selections and one player who went on to the NFL. He received a master's degree in educational administration from Villanova in 1994.
A 1979 Cortland graduate with a Bachelor of Science in Physical Education, MacNeill was a four-year Red Dragon letterwinner and three-year starter at linebacker and defensive tackle. He served as a team tri-captain during his senior campaign in 1978. In his last varsity game against Southern Connecticut State, he was credited with 11 unassisted tackles and three quarterback sacks.
MacNeill began his football coaching career as an assistant at Port Byron (N.Y.) Central High School from 1980 to 1982, prior to being named as a graduate assistant coach at Ithaca College. He coached Ithaca's junior varsity team in 1982 and was in charge of the Bombers' receivers in 1983.
A native of Walton, N.Y., MacNeill was an all-league defensive end at Walton Central High School as a senior in 1974. MacNeill and his wife, Sherrie, have two daughters — Mikayla and Maura.
Men's hockey raises $11,000 for suicide prevention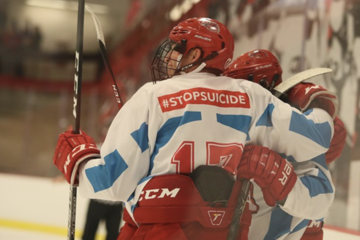 01/28/2020
The SUNY Cortland men's ice hockey team raised $11,013.86 for the Central New York chapter of the American Foundation for Suicide Prevention (AFSP) through its recent charity campaign.
That total includes more than $3,400 raised from an auction of jerseys specially designed by Cortland junior defenseman Justin Schebel that the Red Dragons wore during their 4-2 home win versus Potsdam Nov. 8. Money was also raised through sponsorships, raffles, game-night promotions and ticket sales, and other donations. In addition, the team held a Resource Fair prior to the game with the theme "Have a Real Convo," which is part of the AFSP's social media campaign to increase awareness of effective ways to reduce the likelihood of loss by suicide.
"AFSP's Central NY Chapter is incredibly grateful and humbled by the enthusiastic support from the Cortland Men's Hockey team and the entire Red Dragons community," said Missy Stolfi, the AFSP's Area Director of its Western & Central New York Chapters. "This is a powerful message for student athletes to lead the way in saying that it's okay to talk about our mental health, that we need to look out for one another, and that hope and healing are possible. We look forward to years to come in partnership with the SUNY Cortland community as we work together to #stopsuicide."
This year's event marks the Cortland men's ice hockey team's seventh charity fundraiser/jersey auction since the 2011-12 season. Previous events have supported such groups as the CNY Autism Society of America, the American Red Cross, the Cortland Loaves and Fishes food pantry, and the Cortland County Family YMCA.
Cortland in the news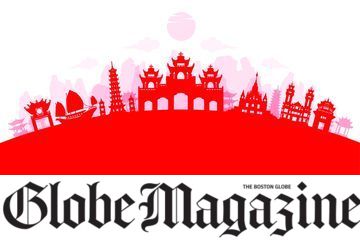 01/28/2020
SUNY Cortland first-year student Isabella Bonapace wrote an essay, "My Hanoi Mothers," that was published in the The Boston Globe Magazine on Nov. 29.
Bonapace shared the story of how she traveled to Vietnam at age 16 with her adoptive mother. She met the midwife who had delivered her and a woman who had cared for her as an infant. The journey helped her to replace her "otherness with oneness."
In other news:
Study Abroad Fair planned for Feb. 12
Students are invited to learn about the more than 1,000 study abroad destinations available through SUNY at SUNY Cortland's Study Abroad Fair on Wednesday, Feb. 12.
The event will be held from 11 a.m. to 2 p.m. in Corey Union Exhibition Lounge. The fair is free and open to the campus community. Information on internships, service-learning, faculty-led programs, traditional study abroad programs, funding and scholarships will be available.
"Returned study abroad students, international students studying at SUNY Cortland, and representatives from other SUNY study abroad programs will be on hand to describe their life-changing experiences and give their classmates a taste of what awaits them as scholars in a different land," said Hugh Anderson, senior study abroad advisor in SUNY Cortland's International Programs Office, which is hosting the fair.
"There is a program for every field of study — some for the same cost as studying here at SUNY Cortland or even less," he said.
Participants may enter a raffle for a chance to win one of two $500 travel awards that can be used in the future towards any SUNY study abroad program.
At SUNY Cortland, students may choose from a wide array of SUNY-sponsored destinations, virtually anywhere in the world, in a range of disciplines. Study abroad participants may choose options that include attending a college or university, participating in an internship, student teaching, volunteering their talents, engaging in a faculty-led program or joining a short-term specialized program.
"Study Abroad 101," an information session on how to get started with the study abroad process, will be offered throughout the semester. Individuals only need to attend one session. These will be offered every Friday at 3 p.m. in Old Main Colloquium.
For more information on the fair, contact studyabroad@cortland.edu or 607-753-2209 or visit the International Programs Office in Old Main, Room 219 or online at cortland.edu/studyabroad.
Campus stationery to receive a facelift
A new design for SUNY Cortland's stationery package is underway and will be available Monday, June 1.
Letterhead, envelopes, business cards and note cards are among the items that will be updated.
The campus community is asked to finish using their current stationery stock before placing an order for the new versions.
If stationery is needed before June 1, please consider ordering only a small quantity as a way to cycle through it more quickly.
For more information contact the Marketing Office by email or phone at 607-753-2519.
CALS lecture grant applications available
Campus Artist and Lecture Series (CALS) lecture grant applications are now available for the Spring 2020 semester. Applications are eligible for a maximum of $350 and are open to any club, program or department. These lecture grants will not cover performances of any kind.
Applications must be received by Tuesday, Feb. 4, in order to be considered for February, March, April and May 2020 lecture programs. Applications received after this date may not be eligible for any spring semester funds remaining.
For more information visit the CALS website or contact Sandra Wohlleber by email or phone at 607-753-5769.

Suggest a feature story
---
Faculty/Staff Activities
Julie Ficarra
Julie Ficarra, International Programs Office, gave a keynote address titled "Using Critical Discourse Analysis to Locate Hidden Curriculum in Study Abroad" at the NAFSA Research Symposium in Washington D.C. The Association of International Educators' symposium brings together scholars and practitioners from across the field of international education for critical discussions of theories, methodologies, and practices in international education.

Bonni C. Hodges
Bonni C. Hodges, Health Department, was appointed to the Cortland County Board of Health.
Vierne Placide
Vierne Placide, Health Department, presented a poster titled "Factors influencing counseling adherence in medication-assisted treatment for opioid addiction" at the 2019 AMERSA Conference held Nov. 7 to 9 in Boston. AMERSA is the Association for Multidisciplinary Education and Research in Substance Use and Addiction, a non-profit professional organization whose mission is to improve health and well-being through interdisciplinary leadership in substance use education, research, clinical care and policy.
Robert Spitzer
Robert Spitzer, Political Science Department, is the author of a book chapter titled "The Five Rules of Trump" for a new book on the Trump presidency, Presidential Leadership and the Trump Presidency, published by Palgrave Macmillan.

Submit your faculty/staff activity