SUNY Chancellor Honors Four Students
04/09/2019
Four SUNY Cortland seniors today received the 2019 State University of New York Chancellor's Award for Student Excellence, the highest student honor bestowed by the 64-campus SUNY system, at the Albany Capital Center.
In all, 210 students were selected from among the more than 420,000 students enrolled in the system. The four from SUNY Cortland range from a children's book author to the president of a student athlete association representing all 10 schools in the SUNY Athletic Conference (SUNYAC).
Cortland's award recipients are:
Alexandra Fischer, an inclusive childhood education major, with a concentration in English language arts, from Hopewell Junction, N.Y.
Olivia Lindsay, a sport management major from Bronx, N.Y.
Matthew Norris, an exercise science major from Homer, N.Y.
Phoebe Sullivan, a speech and hearing sciences major from Halesite, N.Y.
The award is presented to students within the SUNY system who have been recognized for their academic success and have excelled in other aspects of their college lives as well. This includes any leadership roles, campus involvement, athletics, career-related pursuits, community service, or achievement in the arts, among other accomplishments.
"Today's award recipients emerged from their campuses this year as the top scholars, athletes, performers, and achievers, as well as a tremendous source of inspiration," said SUNY Chancellor Kristina M. Johnson. "The students being recognized today made the choice to be leaders on their campuses, prioritize their studies, and serve their communities."
Each year, SUNY campus presidents establish a committee to review and select outstanding graduating seniors. The nominees are forwarded to the Chancellor's Office for a second round of review and the selection of a group of finalists. Each honoree receives a framed certificate and medallion to wear at Commencement in May.
Along with this year's honorees, 92 SUNY Cortland students have earned the Chancellor's Award for Student Excellence since the program began in 1997.
Here is a closer look at each of the honorees:
Allie Fischer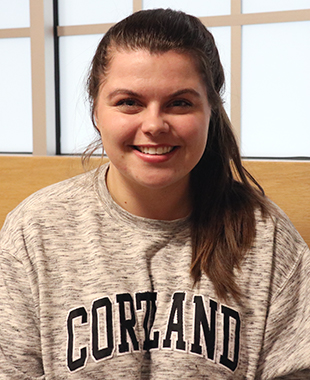 Fischer always knew that she wanted to make a difference in the lives of students, so much so that she wrote her own book about it.
She grew up as the oldest of three and always felt a protective and maternal instinct over her siblings, particularly her younger brother Scott.
"I've always wanted to be a teacher," Fischer said. "But that special and inclusive education component came from my brother and my experiences with him."
Scott Fischer has Attention Deficit Hyperactivity Disorder (ADHD) and Oppositional Defiant Disorder (ODD). It always fascinated her how his teachers wanted him to succeed and still acknowledged his challenges. This inspired her to pursue her major of inclusive childhood education with a minor in English language arts.
As a requirement of the Honors Program, students write a thesis during their senior year. Fischer decided to do something a little different and write a children's book that incorporated both her major and minor. The book is titled Alex Volcano.
"Children with special needs aren't presented nearly enough in the media, and this book will bring the change that people need," Fischer said.
"I decided to write this book because of my brother, because of the students that I strive to work with, to create something that will make sense to them and something that they can see, use and feel connected to."
After graduating, Fischer wants to pursue a master's degree in educational psychology with hopes of becoming a special education teacher and later an administrator who can inspire change on a larger scale. She also is contemplating a doctorate in the field that would allow her to share her experience with a college audience.
"I want to be the teacher that a student can remember and cherish," she said. "It is my goal to ensure students feel as though they belong in my classroom."
Fischer, while maintaining a 4.04 GPA, served as vice president of the Colleges Against Cancer club. The club comes together multiple times a year to put on events such as Survivor Brunch and Relay for Life, to celebrate cancer survivors while also remembering and commemorating those who lost their lives to this disease.
"At Cortland, I found people who share the same values as me and who want to make a difference in the world. Finding that comfort and those people who shared that passion really fostered excellence in me," Fischer said.
Olivia Lindsay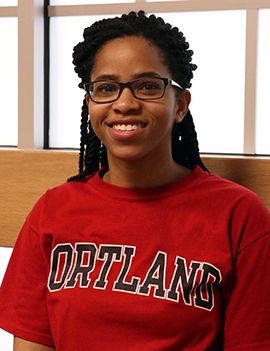 As a transfer student from Temple University, Lindsay found a place in SUNY Cortland where her compassion for people and dedication to sports would not go unnoticed.
"I realized how much an RA (resident assistant) could have an impact in the lives of other students," she said. "Especially when they have those dark days because college isn't an easy thing."
Wanting to be a role model in people's lives, she decided to become a resident assistant on campus for the past three years, with some influence from her family and friends.
"Initially I wanted to be a professional basketball player," Lindsay said. "Then I stopped growing so I had to find another way to be involved in sports."
Lindsay aims to attend Manhattanville College to pursue a master's in sport business and entertainment management. After graduate school, she plans to stay at a collegiate level of sport management in event operation.
"It feels like I offer more when I do my work and actually see the outcome of it," she said.
Lindsay's sports involvement goes much farther with her internship at the State University of New York Athletic Conference (SUNYAC) office in Park Center and as a sports official and office assistant for intramural and club sports in the Recreational Sports office. She has volunteered as a liaison between the New York City Marathon and SUNY Cortland's Sport Management program.
As a referee, Lindsay had to deal with athletes' rising tempers in the heat of games. This way, she continued to learn new ways of how to interact with different people and make everyone comfortable in the end.
Lindsay made the Dean's and President's lists and was honored among the Top 5 percent of her class at Honors Convocation, all while balancing her many activities and resident assistant duties.
"Cortland gave me that extra something to know that there is a possibility that my efforts and what I do here can be seen and that it's going to matter at the end of the day," Lindsay said.
Matthew Norris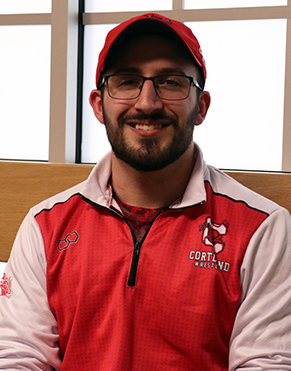 Norris always knew he wanted to help people. He never realized how much of an impact he would make during his college career.
A member of SUNY Cortland's wrestling team, Norris served as president of SUNYAC's Student-Athlete Advisory Committee (SAAC). As president, Norris represented student athletes from all 10 SUNYAC campuses and conveyed their needs and concerns to SUNYAC administrators. He tasked each of the 10 SUNYAC member schools to develop ideas for different events. At SUNY Cortland, Norris created Mental Health Mondays, where athletes could have a safe place to relax and talk. The first Monday, they were introduced to the Counseling Center, where they could find someone to talk to about mental health issues.
Norris attended the NCAA Division III national conference in Orlando, Fla., in February and had the opportunity to speak about the programs the SUNYAC SAAC sparked, including Mental Health Mondays.
"That was my favorite moment this year, because the presidents of Division III schools were looking to me for advice" he said. "I spoke up on mental health and some other changes."
Norris played high school sports including football, baseball, track and wrestling. At SUNY Cortland, head wrestling coach Brad Bruhn chose Norris after his freshman season for a role as Cortland's wrestling SAAC representative. He then was nominated to be the College's overall representative for SUNYAC SAAC, where he served as vice president and later president.
Norris maintained a GPA in the top 10 percent of his class and is a member of the interdisciplinary academic honor society Phi Kappa Phi, the Chi Alpha Sigma National College Athlete Honor Society and the National Society of Leadership and Success Honor Society.
Norris' career goal is to become a physical therapist. He will attend graduate school at SUNY Upstate Medical University in Syracuse, N.Y.
"I'm really big on wanting to help people and just seeing the effect they (physical therapists) have on people is awesome," Norris said.
His mother, Laura Norris, survived cancer and was assisted in her recovery by physical therapists. His father, Mike Norris, also was helped by physical therapists while dealing with his own health issues. Seeing how they served his family has inspired him to do the same for others.
Phoebe Sullivan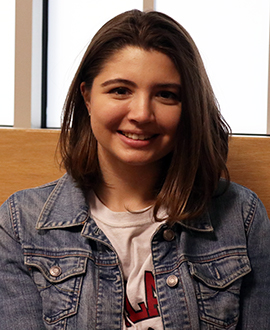 When it comes to her wide variety of interests — speech and hearing science, the Spanish language, music, and the Student Activities Board — Sullivan has never had a problem with prioritizing and organizing her passions.
"I have a million calendars and everything is color-coded and there's a folder for everything, so I'm just staying on top of everything because it's a lot," she said.
Sullivan began her career at the College planning to be a teacher for three semesters. She switched to speech and hearing science, where she found her love for speech-language pathology. Sullivan will attend George Washington University in Washington, D.C., in the fall to continue her studies and work as a graduate assistant where teaching undergraduate classes and work in the speech and hearing clinic. She then hopes to work as a speech-language pathologist in nursing homes or hospitals to assist people who have had strokes, aphasia and other types of communication disorders.
"Being bilingual is a huge advantage in speech-language pathology," Sullivan said.
Her fluency in Spanish began at a young age and has helped further her career path. Sullivan was in a dual language program through elementary school, where every other day of the week was taught in complete Spanish.
She continued taking Spanish classes through high school and declared it a minor in college, while maintaining a 4.02 GPA. Sullivan put her skills to the test when she studied abroad in Málaga and Madrid, Spain for six weeks.
In her free time, Sullivan also loves to play the piano, as music has always been a major part of her life. Not only does she belong to a family of musicians, but she also played electric bass in high school.
Sullivan also serves as the president of the College's Student Activities Board (S.A.B.). She works behind the scenes to coordinate events such as Spring Fling and brings speakers to campus, including the Oscar-winning costume designer of "Black Panther," Ruth Carter, who spoke at SUNY Cortland in February.
"S.A.B. has really been the defining part of my SUNY Cortland experience," she said. "It's very close-knit and we are like a family."
Prepared by Communications Office writing intern Skyeler Paparteys
Research Examines Morality Behind "Black Mirror"
04/09/2019
Like many college students, Alaina Lynch is a fan of the popular Netflix series "Black Mirror."
She isn't, however, just staying up late, munching on popcorn and binging a few episodes with her friends. Lynch is doing groundbreaking research that explains how and why "Black Mirror" plays on a generation's fears of a dystopian future where technology clashes with human morality.
Her presentation, "Imagining Forward: 'Black Mirror' and 21st Century Anxieties," will be part of Transformations: A Student Research and Creativity Conference on Friday, April 12. Lynch's talk is part of a concurrent session from 3 to 4 p.m. in Sperry Center, Room 104.
"The subject matter is so interesting and anyone who's watched one episode of 'Black Mirror' understands that it's so mental and it has so much to do with how you think and how you feel about things," Lynch said. "It's easy to see how there is so much to talk about by looking at it and looking at the patterns from the four seasons. There is so much information and so much content to be analyzed."
A dual political science and criminology major from Staten Island, N.Y., Lynch has her sights set on law school after graduation.
Yet it was an introduction to fantasy and science fiction literature course with Associate Professor of English Andrea Harbin that sparked her interest in using "Black Mirror" for her senior thesis.
"Black Mirror" was created by Charlie Brooker in 2011 for British television and was added to the Netflix streaming service in 2016. The phrase "Black Mirror" evokes the reflective surface of cell phones, television screens and computer monitors and the relationship between humanity and technology is one of the show's major themes.
An anthology series, all 19 of the show's episodes, which are split over four seasons, have distinct plots and characters. "Black Mirror" often draws comparisons to the "The Twilight Zone" for its twist endings and social commentary.
While there has been much serious academic research into how "The Twilight Zone" fit into the American cultural landscape of the early 1960s and Cold War-era fears of nuclear annihilation, "Black Mirror" has yet to receive similar treatment.
Working with faculty mentor Anna Curtis, assistant professor in the Sociology/Anthropology Department, Lynch took scripts from "Black Mirror" episodes and entered them into NVivo, a qualitative data analysis software package.
The software allowed Lynch to discover patterns in the dialogue that exposed the show's thematic content.
"One thing that came out that I didn't really notice as I was watching it was that helplessness was this huge theme of all the episodes," Lynch said. "It wasn't the main theme of any one episode but it was present in all of the episodes and it was the driving force behind all of these anxieties.
"Looking back at 'The Twilight Zone' analysis and other sci fi shows, they were based in helplessness, but now it's completely different," she said. "The main fear in 'Black Mirror' we found was artificial intelligence."
Curtis had previously worked with Megan Kocijanski '16 on a 2015 Summer Research Fellowship project on media images of women in prison using another popular television show, "Orange is the New Black," as a lens.
So she encouraged Lynch to follow her passions and investigate the moral choices faced by characters in "Black Mirror."
"She started from there in the process of doing research and looking at episodes and thinking about how to code in NVivo and she's taken a moral perspective," Curtis said. "She talks about proscriptive and prescriptive moral perspectives, one of which tells us what we should do and one of which tells us what we should not do."
Lynch was not able to include the first full-length "Black Mirror" film, "Bandersnatch," that was released on Netflix on Dec. 28, 2018. The film was unique in that it allowed the viewer to pick, via remote control, one of two options at multiple points that would affect how the rest of the movie would unfold.
She expects that type of immersive experience to become an even bigger presence in digital storytelling, perhaps confirming some of the fears expressed in previous episodes of "Black Mirror."
"I think that's something that's going to become huge, the choose-your-own-story type," Lynch said. "Me and my brothers, we were talking about how we could see even if virtual reality gets involved in the future, you can be in the show and actually choose the different endings. I think it will have a lot more to do with choice. In a few of the "Black Mirror" episodes, that's one of the thing people are scared of, having choice over technology."
Transformations will be Lynch's opportunity to share her findings with SUNY Cortland faculty and students. It won't, however, be her first presentation on this topic. She spoke at the Eastern Sociological Society's annual meeting in Boston, Mass., earlier this year.
Lynch will soon leave SUNY Cortland for law school but she was glad to have the chance to do unique research as an undergraduate.
"It's nice for me to be doing something outside of political science," Lynch said. "It's not statistics. It's not law. It's still research. I've learned all about this software I wouldn't have used otherwise. I liked the idea that it was something fictional, which is something I really never deal with in political science."
Transformations is SUNY Cortland's annual day-long conference devoted to showcasing the wide array of student scholarship, research and creative activities. The event, from 12:30 to 5:30 p.m., is a highlight of the academic year and focuses on student research from all corners of campus.
Anthony Rigazio-DiGilio '73, professor emeritus from Central Connecticut State University's Department of Educational Leadership, Policy and Instructional Technology, will deliver a keynote address, "The 3 Cs of Learning Organizations: Confidence, Competence and Cooperation" from 12:30 to 1:30 p.m. in Sperry Center, Room 204.
A full schedule of events and a presentation booklet with abstracts are available at Cortland.edu/Transformations.
---
Capture the Moment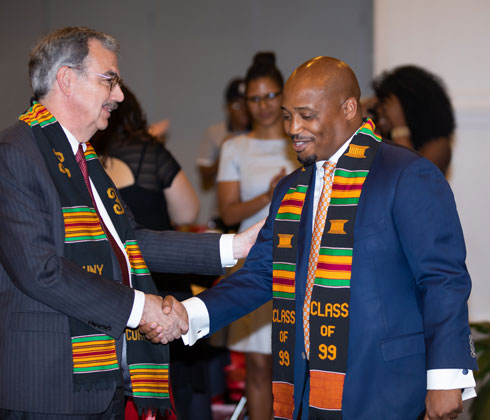 SUNY Cortland President Erik J. Bitterbaum greets keynote speaker Yusuf Muhammad, Jr. '99, M '01, at the Kente Celebration held April 6 in Corey Union. Muhammad is the founding principal of the STEAM Academy at George Washington Carver High School in Atlanta, Ga. He addressed the more than 100 students, along with faculty, staff, families and friends. The ceremony celebrates African intellectual culture for the learners and scholars who are transitioning from college to the next chapter of their lives. Read more
---
In Other News
SUNY Cortland, Navy Team up to Transform Workforce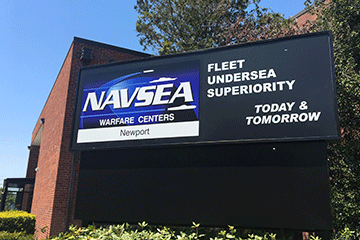 04/09/2019
SUNY Cortland is studying how to translate military research ideas and practices into relevant science, technology, engineering and math curriculum for secondary schools. Those lessons, developed and shared with the help of some of Central New York's most talented educators, aim to help create an environment in which high school students are better prepared and eager to pursue the science and technology careers of the future.
The College was awarded a $610,210 grant last fall from the Office of Naval Research for a three-year study, "Engaging the Next Generation STEM Naval Workforce: Using Communities of Practice to Build Capacity." Central to the project is work with the renowned Naval Undersea Warfare Center (NUWC) in Newport, Rhode Island, and New York state's Master Teacher program, for which SUNY Cortland is a hub.
"The idea is that we're using Naval resources to create curriculum that is based in authentic science, technology, engineering and mathematics (STEM) experiences," according to Dominick Fantacone M.A.T. '12, the Central New York regional director and the statewide assistant director for regional operations for the New York State Master Teacher Program and co-investigator on the project.
A key component of attracting students into and preparing them for STEM fields is teachers who can actively engage students in curriculum that is relevant, promotes application of technical skills and data analysis, and encourages critical thinking.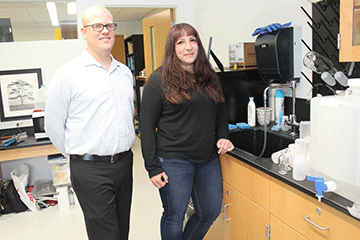 "In order to do that, teachers and our teacher candidates need to have a good sense of what that process looks like," Fantacone said. "And that's the partnership with NUWC Newport. Working directly with personnel from there, they can see how these principles are applied in actual settings."
"The methodology of our pilot study is unique in that we intend to create a community of practice, a social learning structure, that will include Naval researchers, both government and industry, currently practicing teachers, teachers in training and faculty in the sciences," said Angela Pagano, an associate professor of biological sciences at SUNY Cortland and lead investigator on the grant.
This approach is one that holds great promise to improve the capacity of teachers to integrate STEM research into their classes, noted Pagano, citing a National Science Foundation statistic that only 7 percent of high school science teachers surveyed felt prepared to integrate engineering into their curriculum.
Pagano and Fantacone recently accepted 15 New York State Master Teachers into phase I of the project.
Launched by Gov. Andrew Cuomo in 2013, the highly selective New York State Master Teacher Program includes more than 950 STEM teachers across 9 regions. They are chosen for their classroom effectiveness, a commitment to personal growth, and a willingness to mentor new teachers as well as future educators.
SUNY Cortland serves as the Central New York regional hub for the Master Teacher Program, working with more than 100 teachers, an indicator of the College's leadership in advances in teacher education.
Master Teachers, working with the NUWC researchers, will define specific STEM areas to hone in on.
"The first year is the planning and development year," Pagano said. "In the second year, we'll have a group of teacher candidates work with the Master Teachers on initial design and implementation of lesson materials and activities. In the final year, we will use what we learned to refine these materials, providing a second cohort of teacher candidates the opportunity to engage in lesson design with Master Teachers."
Out of this partnership, the Navy stands to gain more future scientists and engineers to keep American military might on the cutting edge.
And schools will receive educators able to prepare their middle and high school students for a real working environment with in-demand STEM professions.
"What we're trying to do is more broadly create communities where teachers, teacher candidates and researchers work collaboratively to drive innovations in curriculum development," Pagano said.
"We're hoping that the communities of practice established will continue on beyond this grant," Fantacone said.
Pagano and Fantacone were on hand in May 2017 when SUNY Cortland signed an educational partnership agreement with NUWC Newport.
Although NUWC exists for military research carried out by U.S. government personnel, the facility has a long tradition of partnerships with civilians through universities around the country.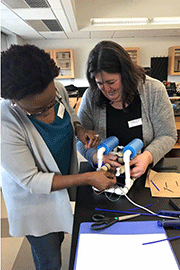 The College was the first in the SUNY system to have such an agreement with NUWC Newport, the Navy's research, development, evaluation, engineering and fleet support center for submarine warfare and many other systems associated with the undersea battlespace. The initiative was fostered by David Duryea, the former SUNY Cortland vice president for finance and management and a retired U.S. Navy rear admiral.
In Spring 2017, Pagano and Fantacone were among five SUNY Cortland representatives who took a private tour of the Navy research facilities. The visit was led by enthusiastic military scientists and engineers who gave the campus contingent an idea of the areas in which faculty and students might become involved.
In early 2017, Fantacone and Pagano facilitated a workshop for Master Teachers and SUNY Cortland Physics Club students, featuring a visiting NUWC technical director, that explored SeaPerch, an underwater robotics project. Fantacone's interest has been the professional development opportunities for the Master Teachers that focus on engaging, relevant, and current STEM topics. The Navy's interest in unmanned underwater vehicles, biomimicry, and underwater acoustics are examples of the types of things participating teachers will explore.
"This project will expose participating teachers and teacher candidates to the many naval STEM career opportunities available to their students — opportunities they may not have otherwise been aware of due to the lack of a Navy presence in Central New York," Pagano said.
Transformations Keynote Focused on Teacher Leadership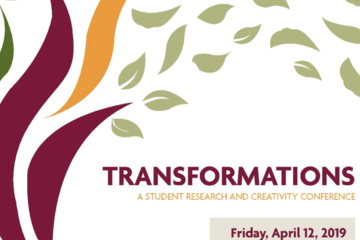 04/04/2019
Anthony Rigazio-DiGilio '73 came to SUNY Cortland as an undergraduate because he was passionate about serving others through teaching.
After a few semesters of courses, particularly those in education psychology, he realized that he had an even greater interest in school administration.
"I became aware of a principle that has guided my whole life," he said. "I can be a teacher or I can be an administrator and help lots of teachers teach better."
Rigazio-DiGilio will deliver lessons from his decades of experience in educational leadership during "Transformations: A Student Research and Creativity Conference" on Friday, April 12 in Sperry Center. Transformations is SUNY Cortland's annual day-long conference that showcases the wide array of scholarship, research and creative activities occurring on campus.
His talk, "The 3 Cs of Learning Organizations: Confidence, Competence and Cooperation," will be held from 12:30 to 1:30 p.m. in Sperry Center, Room 204. Rigazio-DiGilio will discuss how professionals can transform their environments into dynamic learning organizations and benefit their students, clients or patients.
Rigazio-DiGilio is professor emeritus and past chair of the Educational Leadership, Policy and Instructional Technology Department at Central Connecticut State University in New Britain, Conn. He spent time as a teacher and principal before earning his Ed.D. in instructional leadership from the University of Massachusetts Amherst.
His action research in the field of teacher leadership has helped schools in Connecticut and nationwide improve school culture, teacher evaluations and teaching standards.
Action research, put simply, is a disciplined process based on the scientific method that allows a practitioner to refine their actions to gain optimum results. For example, a math teacher seeing students struggle to understand a certain concept may experiment with different methods to find one that connects.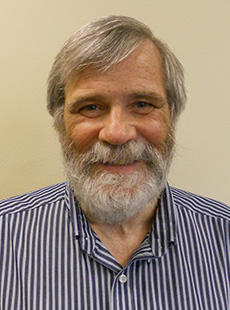 Teaching teachers to empower themselves leads to better performance from students and also creates better relationships between teachers and administrators.
"As professionals, we have an ethical obligation to provide the highest quality of service to people," Rigazio-DiGilio said. "You have to be aware of and be in touch with the professional research and you have to translate that into the everyday practice and everyday life of your clientele. This tool of action research comes in very handy."
Rigazio-DiGilio hopes that his lecture will appeal to students and faculty of all academic backgrounds, especially those outside of education.
"The bottom line is ethical practice," he said. "Maybe you're not always working with a student or a client, but you're working with colleagues, you're working in an organization, you're working in a community and you have an obligation to help improve those environments. That means working with people and keeping yourself current with what's going on in your field and applying it in a useful, helpful way."
Rigazio-DiGilio has helped evaluate assessment materials and processes for the National Board for Professional Teaching Standards and was lead author of the elementary teaching standards that were developed for the Connecticut State Department of Education. He led teacher education projects for the National Education Association and the Urban Network to Improve Teacher Education.
For over two decades, he served as director of the Jamaican Master's Degree program that connected Central Connecticut students and faculty with those from Sam Sharpe Teachers College in Montego Bay, Jamaica. More than 1,000 Jamaican educators received master's degrees through the program.
Rigazio-DiGilio was recognized as the Connecticut Association for Supervision and Curriculum Development's outstanding educational leader in 2010 and received a distinguished service award from Central Connecticut in 2012. That same year, the West Indian Educational Foundation recognized him for outstanding community service.
He vividly recalls a moment registering for classes during his time as a student at SUNY Cortland as the turning point in his academic career.
"I walked in and said to one of the education professors, 'I want to do what you do.' That became a career goal I was able to fulfill in being able to move to higher ed and prepare the next generation of teachers."
For a full Transformations schedule of events and to view the presentation booklet, visit Cortland.edu/Transformations.
SUNY Cortland Recognized Again for Transfer Success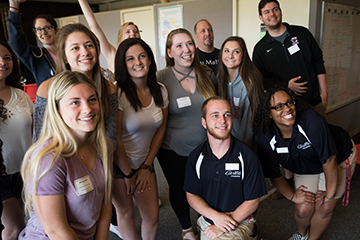 04/02/2019
For the second year in a row, SUNY Cortland was the only public college in New York state named to an international honor society's Transfer Honor Roll.
Phi Theta Kappa, an organization that inducts high-achieving students from two-year colleges, recognized 78 colleges and universities for their success in developing pathways and support services for transfer students. In addition to being the only SUNY institution on the 2019 list, the College was one of only five New York campuses to be recognized.
"Transfer students are a priority at Cortland," said Greg Diller '07, transfer mobility advisor in Advisement and Transition who completed the College's profile with input from several offices. "They know that when they come here, they're going to get help on the other end because we have resources available during their first semester, their first year and the entire time they're on campus."
SUNY Cortland received 3,102 applications from transfer students in 2018, with 922 enrolling at the College. Additionally, 18 Phi Theta Kappa members from SUNY Cortland each earned a $1,000 scholarship from the honor society.
The application for the Transfer Honor Roll relied on a new application in 2019. College representatives completed a profile using an online tool called PTK Connect, then institutions were assigned a transfer friendliness rating based on responses. The top 25 percent highest-rated campuses were recognized.
"There were a lot of expectations and we checked almost all of them off, especially the most important criteria," said Diller, who works primarily on a transfer partnership program with SUNY Broome and Tompkins Cortland Community College.
Highlights for SUNY Cortland transfer students include:
Advisement and Transition: Housed on the first floor of Memorial Library, this 12-person team is well-prepared in meeting the academic advising needs of all students, especially transfers. Carol Costell Corbin serves as associate director for transfer credit and degree completion, Emily Quinlan serves as coordinator of transfer student services and Gregory Ketcham serves as transfer credit evaluator.


Transfer Planning Sheets and Transfer Equivalency Charts: These online tools help students map out a clear path to SUNY Cortland. The planning sheets outline recommended coursework prior to transferring and the equivalency charts show how credits from various institutions will count at the College.


Transfer Network Team: This program looks to connect new students with classmates who previously transferred to SUNY Cortland. The goal is to provide social support and authentic student insight on campus opportunities.


National Transfer Student Week: This week of activities in the fall aims to raise awareness of SUNY Cortland transfer students and celebrate their many contributions to campus. Students enjoy events such as "Transfer Trivia" and faculty and staff members can treat transfer students to lunch.


COR 201: Modeled after COR 101 for first-year students, this one-credit course introduces new transfer students to academic life and the many ways to create a successful SUNY Cortland experience.


Honors societies and awards: Phi Theta Kappa members from two-year institutions who carry a minimum 3.5 grade point average can earn a $1,000 scholarship upon entering SUNY Cortland. Most transfer students also may join SUNY Cortland's chapter of the Tau Sigma National Honor Society, which offers additional scholarship opportunities and recently inducted 60 new members.


Reverse transfer degrees: Transfer students who come from community colleges without completing their associate's degree may earn it while working towards their bachelor's degree at SUNY Cortland. This opportunity is particularly useful when pursuing part-time work during college that requires an associate's degree.
The College's honor roll application also included student input.
Danielle Emilio, a senior speech and hearing science major from Oneonta, N.Y., attended two different four-year institutions prior to SUNY Cortland. She said the attention and support she received early on made her Cortland experience far different.
"The services offered here — the transfer housing options, credit evaluation and events — changed the dynamic for me," said Emilio, who plans to attend SUNY Plattsburgh for her master's work.
She pursued an internship in Advisement and Transition, worked as an orientation assistant and now serves as a member of the Transfer Network Team. Emilio credited Quinlan, the coordinator of transfer student services, with helping her adjustment and ultimately allowing her to do the same for others.
"The key is getting involved," she said. "I feel like it's intimidating to try things alone, but you shouldn't be shy about it at Cortland."
Diller said the key to transfer student success is collaboration between campus partners. Those offices and departments include Academic Support and Achievement Program (ASAP), Advisement and Transition, Campus Activities and Corey Union, Student Registration and Record Services, and the Admissions and Residence Life and Housing offices.
"Cortland is a very collaborative campus, especially when it comes to helping transfer students," he said. "Everything shows (transfer students) that we're here and we're ready for them."
Visit the Phi Theta Kappa website for more information on the SUNY Cortland's recent recognition, including a full list of all 2019 Transfer Honor Roll members.
Transformations Research Investigates Medieval History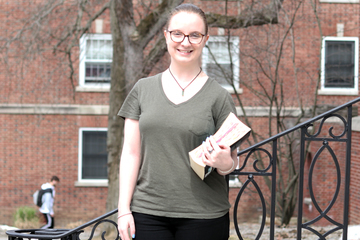 04/04/2019
Jessica Goon is accustomed to the glances.
Walking around campus, she is often toting her dog-eared copy of the Domesday Book, which has 1,301 pages of text and hundreds of pink and yellow post-it notes poking out the sides.
"Every time I carry this book around campus, I get so many questions about what it is and what I'm doing," she said.
Goon, a senior archaeology major and history minor from Vestal, N.Y., can't wait to tell everyone what she's been working on at Transformations: A Student Research and Creativity Conference, on Friday, April 12.
Her presentation, "The Women of Domesday," begins at 4:30 p.m. in Sperry Center, Room 104.
The Domesday Book was a comprehensive survey of English property ownership that was commissioned by William the Conqueror in 1086. When the book was translated from Latin to English in the 19th century, the Victorian culture of the translators, particularly when it came to gender roles, led to an underestimation of the role of women as property owners in medieval times.
Goon will talk about her research, which involved going through those 1,301 pages line-by-line to search for pronouns and other indicators that point to female landowners who were overlooked or underrepresented.
Her analysis of women in the Domesday Book aims to inspire others to reexamine the way we interpret history.
"I'm really hoping this starts a conversation about taking old historical analysis for granted," Goon said. "What happens is, we take these analyses that male historians did in the 1700 and 1800s and that's still what we're talking about rather than looking at it from a modern perspective and including the people who were excluded, whether it's women or illiterate groups, because many times they were also excluded."
Laura Gathagan, an associate professor in the History Department, approached Goon about working on this project as part of the Undergraduate Research Council's Summer Research Fellowship. Goon spent eight weeks during the summer of 2018 conducting her research and the two also traveled to England in January 2018 to see in person some of the sites mentioned in the Domesday Book.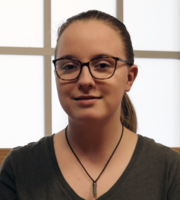 In addition to searching for contextual clues, Goon is mapping plots of land owned by Mathilda of Flanders, wife of William the Conqueror and Queen of England between 1066 and 1083, using Geographic Information System (GIS) software. Gathagan, whose own research is focused on the life of Mathilda of Flanders, was thrilled to see Goon expand the scope of this project to investigate the role of all of the women mentioned in the text.
"She's expanding this her own way and looking at women who aren't Mathilda but who are also important and just as central to understanding the Middle Ages and how women are folded in to this militaristic, land-based society," Gathagan said. "She's taken it in a different direction that's exciting and important to her. Undergraduate research is so key for students to make their education their own and she's done that."
Goon is simultaneously working on a tangential topic for her honors thesis, the intersection of gender roles and clerical celibacy and its impact on American society. Her background in archaeology, anthropology, history and geography have helped give her a unique approach to her studies.
Research, however, wasn't on Goon's radar early in her academic career at SUNY Cortland. She's glad to have had the opportunity because she knows it will help her in whatever she does once she leaves campus.
"When I came here, I thought I'd be doing archeology and digging in the dirt," she said. "But once I really got more into history and connected with Doctor Gathagan, I got really excited about research and now it's one of my favorite things to do. It's helped me with pretty much anything I might do in the future because it's given me not only the actual research experience, but it's also given me basic skills like patience and those sorts of things. Doing research is just really fulfilling and I really enjoy it now."
Gathagan has been equally energized by this project. Connecting students to primary sources and seeing them grow as researchers is one of her most rewarding experiences as a professor.
"To have somebody like Jess who makes history her own and internalizes it is fantastic," she said. "It's so fulfilling and so amazing. I think to myself, 'This is why I teach college.' This work lights me on fire. If I can find somebody else who gets lit on fire by this, it's like having a soulmate. They turn into your colleague. She and I can sit down and talk about things like no one else could."
Goon is planning to pursue a master's degree in museum studies after graduation. She works as an intern in the College's Rozanne M. Brooks Museum and visited a number of museums during her recent trip to England, both of which have inspired her career goals.
Most of all, she sees museums as places that keep history alive and also allow for new interpretations of the historical record. The field will allow her to follow her passion for research and how it can best be presented.
"I think of museums as supplemental education for the public," Goon said. "A lot of people don't like learning history in a classroom setting so if museums can provide a more exciting space for people to learn about history and what our past was, that's something really important to focus on."
Transformations is SUNY Cortland's annual day-long conference devoted to showcasing the wide array of student scholarship, research and creative activities. The event, from 12:30 to 5:30 p.m., is a highlight of the academic year and focuses on student research from all corners of campus.
Anthony Rigazio-DiGilio '73, professor emeritus from Central Connecticut State University's Department of Educational Leadership, Policy and Instructional Technology, will deliver a keynote address, "The 3 Cs of Learning Organizations: Confidence, Competence and Cooperation" from 12:30 to 1:30 p.m. in Sperry Center, Room 204.
A full schedule of events and a presentation booklet with abstracts are available at Cortland.edu/Transformations.
B.A. and B.F.A. Students to Exhibit at Dowd Gallery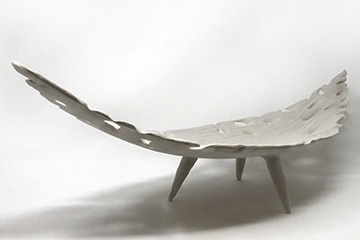 04/05/2019
Future ceramic artist Kelly Brown incorporates yoga asana, that is, physical poses, into her abstracted clay vessels.
Jillian McEvoy's non-functional ceramics objects are chiefly inspired by the natural world as well as traditional pottery container forms.
The large-scale installation works by Erin Schiano reflect her wish to address "an urgent environmental conversation of the 21st century between humans and the world they inhabit," suggesting that one's surroundings can be treated as conscious beings.
All three SUNY Cortland seniors in the Art and Art History Department will hold a joint exhibition in Dowd Gallery of their final project art work from Wednesday, April 10, to Wednesday, April 17.
The exhibition aims to fulfill part of the students' year-long thesis requirement toward graduation with either a Bachelor of Arts (B.A.) or a Bachelor of Fine Arts (B.F.A.) degree. They also must give written and oral presentations to complete the degree program.
An opening reception and artist's talks will be held from 4:30 to 5:30 p.m. on Thursday, April 11, at the gallery in the Dowd Fine Arts Center, located at the corner of Graham Avenue and Prospect Terrace.
Gallery hours are 10 a.m. to 4 p.m. Monday through Friday and by appointment. The gallery is closed on weekends. Dowd Gallery exhibitions and programs are free and open to the public.
Kelly Brown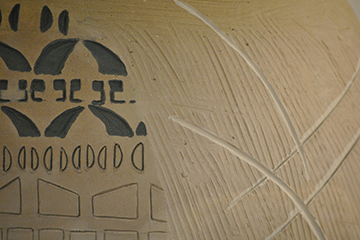 Brown, of Cortland, N.Y., a B.A. candidate in art and art history with a ceramics concentration, has named her collection "Disquiet."
The simplicity of form and texture combined with linear surface treatment on her pieces is working with the tension between sensory experience and memory, she said.
"The practice of yoga has been eye-opening," Brown said. "It led me to experience momentary discomfort, which was emotionally revealing, purging and sometimes scary. The practice showed me a way to communicate unity that has evolved slowly and gradually as my body moved through various poses, creating a form of release."
Brown will be graduating in May after a 10-year journey through higher education. Over the years, she has attended Buffalo State College, SUNY Geneseo, Onondaga Community College and SUNY Cortland. Being readmitted to SUNY Cortland has given her connections that have opened up opportunities like attending the National Council on Education for Ceramic Arts in 2018. For her art, Brown also has traveled abroad to Belize and Cuba in 2019 and attended a workshop at Pocosin Arts School of Fine Craft in Columbia, N.C.
Brown earned third place in the Student Select in 2018 for two series of porcelain drinking vessels. She earned a place on the President's list and Dean's list.
Jillian McEvoy
McEvoy, a B.F.A. candidate from Nyack, N.Y., has majored in studio art with a specialization in ceramics.
"I was influenced by natural forces and environmental transformations which occur over time, including textures and surfaces of plant-based materials," McEvoy said of her display, titled "Echoes of Nature."
These visual observations informed her approach toward surface manipulation.
"Clay is an ideal medium to explore the natural world because the physical process in clay mimics changes and progressions in nature," McEvoy said.
The "Echoes of Nature" series reflects natural occurrences such as decay, erosion and growth without necessarily replicating them.
"I enjoy maintaining a sense of ambiguity behind my work and its meaning because it allows the viewer to interpret the work on their own and engage in a personal narrative," McEvoy said.
Her works were exhibited in the Best of SUNY Student Art Exhibition 2018 in Albany, N.Y., and in SUNY Cortland's Student Select Exhibition in 2017 and 2018. McEvoy received the College's Jo Schaffer Award in Art History and its Gerald N. DiGiusto Award in Studio Art. She created the painting of the campus' Old Main building for the 2017 SUNY Cortland Holiday Message.
Erin Schiano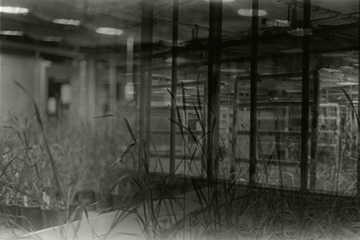 B.F.A. candidate Schiano, from Swain, N.Y., will showcase "Documents of Interest," an installation comprised of a series of sculptural forms accompanied by a collection of black and white photographs set in the center gallery. She conceived the piece using materials associated with the agricultural forestry industry and an industrial foundry.
Manipulation and enhancement of natural environments have been regarded as a requirement of human survival since the very beginning of human civilization, Schiano asserts.
"With the consistent development of new technologies, the path of positive production is becoming one of destruction," she said. "Pressing issues such as global climate change, overpopulation and world hunger require a shift in the conversation to include how scientific developments can be used to better living conditions for the masses."
"Documents of Interest" casts a gaze upon two examples of human uses of natural resources, the Oneida Community's Stirpicultural program and modern agricultural technology.
"The stirpiculture experiments of the Oneida Community resulted in the planned conception and raising of 58 children bred from members of the community selected for religious and intellectual superiority," Schiano said.
Schiano has participated in several art exhibitions, including "Liquid Earth," a group show of international artists at the University of Scranton in conjunction with the 2018 International Conference on Contemporary Cast Iron Art. She was chosen as Best of Student Select at SUNY Cortland's Dowd Gallery in 2017 and received Gallerists Choice in the 2018 Student Select exhibition. Schiano was chosen as a finalist at the 2018 SUNY Best of Student Art exhibition in Albany, N.Y.
Selected as an Undergraduate Summer Research Fellow in 2017, she traveled to Jingdezhen, China to research cottage industry iron casting technologies. The research conducted was presented at the 2018 Transformations Conference of Student Research. Schiano will present a defense of her thesis, "Documents of Interest," at the 2019 Transformations Conference on April 12.
For more information about the gallery, visit cortland.edu/dowd-gallery. Group tours are available and can be arranged by contacting Jaroslava Prihodova, interim gallery director, at 607-753-4216.
Blackbird Film Festival Returns, April 26 to 28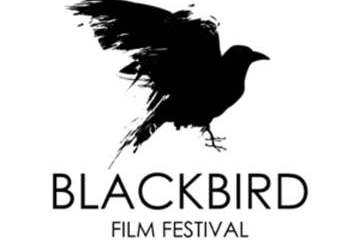 04/04/2019
The Blackbird Film Festival returns to SUNY Cortland April 26 to 28, shining a spotlight on independent filmmakers from across campus and around the globe.
A total of 83 films will be screened over the three days, including a majority from female filmmakers. The 12 screening blocks will touch on topics including "Bullies Beware," "Motherhood" and "Albany to Buffalo," which features films from upstate New York natives.
The full schedule of films is available at BlackbirdFilmFest.com.
Other blocks will focus on themes such as "Growing Up," "Love and Heartache" and "Life, Death and Family," as well as classic movie genres such as horror, action and science fiction.
Films will be screened in Old Main Brown Auditorium.
The Blackbird Film Festival also will include a number of informational and social events for filmmakers and attendees.
A filmmaking roundtable will begin at 3:30 p.m. on Friday, April 26, in the Old Main Colloquium, featuring members of the New York State Governor's Office of Motion Picture and Television Development. Filmmakers will have an opportunity to learn about tax credits, location scouting and finding stages and crew in New York.
On Friday night, BRU64 on Main Street in Cortland will host a kickoff party with music, food and drinks following the opening blocks of films.
At noon on Sunday, a Seed&Spark workshop will be held in the Old Main Colloquium. Seed&Spark is a crowdfunding platform for creators who can use the site to raise money for their projects and gain exposure to a wider audience.
These three events are free and open to the public. A number of other events are limited to those who hold filmmaker and VIP badges. A complete list of special events is available at BlackbirdFilmFest.com/2019events.
For the second consecutive year, a group of female filmmakers and Blackbird student interns will meet with local participants in the YWCA's Girls: Empowered, Motivated and Successful (GEMS) program to talk about careers in technology and media. GEMS works with teenage girls to foster leadership and smart life choices.
This marks the fourth consecutive year the Blackbird Film Festival has been hosted at SUNY Cortland. The festival had 1,801 films submitted for consideration and only 4.61 percent were selected.
The International Programs Office has helped expand the scope of the festival by awarding attendance grants to filmmakers from around the world. Last year's festival attracted creators from as far away as Australia.
Admittance to all film screenings, the filmmaking roundtable and the Seed & Spark workshop is free. A VIP pass that includes access to all screening blocks and special events is available for $20 at BlackbirdFilmFest.com/tickets.
Human Trafficking Expert Promoted to SUNY's Highest Academic Rank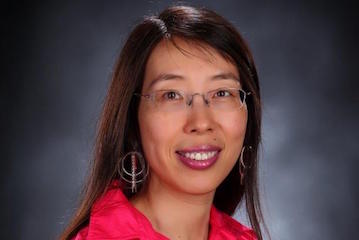 04/01/2019
Tiantian Zheng, a professor in SUNY Cortland's Sociology and Anthropology Department and a globally respected expert on human trafficking and sex issues in modern China, was elevated to the rank of Distinguished Faculty on Friday, March 29 by the SUNY Board of Trustees.
Zheng was one of only 18 professors in the 64-campus SUNY system awarded the 2019 distinguished title, conferred upon individuals who have achieved national or international prominence within their chosen field and serve as role models for students and faculty.
"As witnessed by their massive accomplishments and ground-breaking research in their academic areas, each individual is passionate about their field of expertise, and shares that energy with their students," said SUNY Board Chair H. Carl McCall. "We are pleased to congratulate this most recent class of distinguished faculty."
The promotion makes Zheng the ninth SUNY Cortland academic to achieve the distinguished rank.
"Tiantian is a highly talented, highly respected academic whose astonishing record of research and publications would enable her to go to any higher education institution in America," said Erik J. Bitterbaum, president of SUNY Cortland. "We are grateful and honored to include her as a member of the SUNY Cortland community."
Zheng is a global authority on ethnographic field anthropology in post-socialist China, examining the hidden social impacts of China's capitalist reforms. For the past 15 years, she has extensively investigated the social and political aspects of human trafficking, sexual identities, domestic violence, sex work, the transmission of HIV/AIDS and STDs, and the intersection of these dynamics with poverty and marginality in post-socialist China.
She has authored or co-authored nine academic books, 26 peer-reviewed book chapters, and 25 peer-reviewed journal publications. She has testified before Congress and the United Nations on human trafficking, and has been a featured guest speaker on NPR, BBC, and NBC. Zheng has delivered more than 90 papers at both national and international conferences. Her two ground-breaking, seminal books, Red Lights: The Lives of Sex Workers in Postsocialist China, and Tongzhi Living: Men Attracted to Men in Postsocialist China, have been widely acclaimed for their meticulous fieldwork. Two of her ethnographies won the national awards, and one was awarded the Outstanding Academic Title by Choice magazine in 2016, selected for its excellence in scholarship and the significance of its contribution to the field.
According to her citation from SUNY, Zheng has contributed significantly to her field by promoting a deeper understanding of the inextricable connections between socio-economic and political conditions in China and other post-socialist countries.
"The SUNY faculty being honored today with the distinguished ranking are leaders in innovation, research, environmental and cultural studies, and serve as a strong and constant reminder of the quality higher education students receive at our campuses," said SUNY Chancellor Kristina M. Johnson. "On behalf of all our faculty, staff and students, I congratulate these individuals on this honorable distinction."
Month of Sustainability Events Continues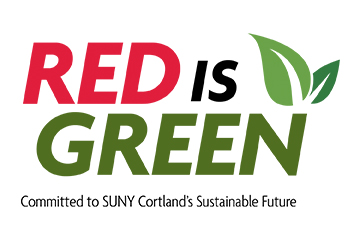 03/26/2019
SUNY Cortland's Greenflix Environmental Documentary Series, which kicked off a month of events, activities and presentations related to sustainability with a documentary on food waste, will present a documentary about the impact that the clothing industry has on the global environment.
"The True Cost" will be screened from 7 to 9 p.m. on Monday, April 29 in Moffett Center, Room 2125. It will be followed by a discussion facilitated by Brock Ternes, visiting assistant professor of sociology/anthropology.
Also scheduled this month are several events sponsored by SUNY Cortland's Auxiliary Services Corporation (ASC) which illustrate how the global problem of food waste hits home on campus.
On April 23, ASC will offer tours of the Bistro and show its equipment, a worm-composting bin and provide demonstrations on cooking with food scraps, a technique that Bourdain and other top chefs endorse and practice in the documentary.
Other sustainability events scheduled for April include:
The new student club Leaders for Environmental Awareness and Protection (LEAP) meets biweekly at 7 p.m. on Wednesday, April 17 and May 1 in Old Main, Room G-25. LEAP will hold a "Grow Your Love Earth Day" even on April 22, where participants will plant flowers and plants in pots and decorate them.
The Big Event will happen between 9 a.m. and 1 p.m. on Sunday, April 14 at a variety of sites on and off campus. The day starts with a light breakfast kick off in the Corey Union Function Room. From there, volunteers will go to job sites in the Cortland area where they will complete tasks such as raking, gardening and painting. Jobs will end no later than 1 p.m. All volunteers receive a free event t-shirt. Volunteers can register in groups or individually. All members of the SUNY Cortland community are encouraged to volunteer. In order to register all groups will need to have a head count and t-shirt sizes to successfully complete the form.
A biology lecture, "The Forgotten Fragrances: How Floral Scent Structures Plant-pollinator Interactions," starts at 6 p.m. on Wednesday, April 17 in Bowers Hall, Room 1129. Robert Raguso, professor of neurobiology and behavior at Cornell University, will speak on the importance of bees as pollinators. What if we're wrong about how pollination works? How might we better understand the ecosystem services provided by all pollinators, not only to human food security but also to biodiversity in the wild, if we were to think like pollinators do? Raguso's talk aims to fill in some gaps about the fragrant part of flowers and how floral scent contributes to reproductive isolation, floral mimicry and the complex "social network" food webs that bind pollinators to plants from meadows to rainforests.
A tour of the Bistro will take place at lunchtime on Tuesday, April 23. Participants will be able to view ASC's composting equipment, explore a vermiculture bin and learn about plant-based nutrition.
"Grow Your Own Vegetable Plant," a Wellness Wednesday Series event, will be held between noon and 3 p.m. on Wednesday, April 24 in the Student Life Center lobby. Attendees will learn about growing plants and receive a plant they can take to grow at home.
A composting workshop, "Composting and DIY Worm Bin," starts at 6 p.m. on Thursday, April 25 in Newmark Pavilion in front of Memorial Library.
NYPIRG's Sun Run will begin at 2 p.m. on Sunday, April 28 at the Student Life Center. Runners can registration at 1:30 p.m. or in advance by email. Students, faculty and staff will hear from a speaker on the progress of solar energy and then walk or run to the campus solar panels.
"The True Cost," part of the Greenflix documentary series, will be screened from 7 to 9 p.m. on Monday, April 29 in Moffett Center, Room 2125. This film unpacks the impact the clothing industry has on the global environment. It will be followed by a discussion facilitated by Ternes.
For more information on SUNY Cortland's sustainability efforts, visit the Sustainability Office online.
"Spelling Bee" Musical Offers L-A-U-G-H-S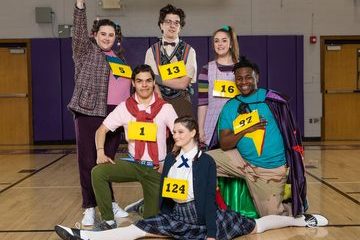 03/26/2019
"May I have the definition of the word?"
"Can I have the language of origin?"
"Could you please use it in a sentence?"
Most 12-year-olds don't use these phrases on a regular basis.
But for the six oddball middle schoolers of the "The 25th Annual Putnam County Spelling Bee" trying to control their sweaty palms and rapidly beating hearts, those lines mean it is their time to shine.
SUNY Cortland's presentation of this crowd-pleasing musical comedy about competitive spelling opens on Friday, April 5 in the intimate Dowd Fine Arts Center Lab Theatre.
Sara Den Bleyker, a junior from Rochelle Park, N.J., plays Logainne Schwartzandgrubenierre, the youngest and most high-strung of the spellers. The name of Den Bleyker's character points to the musical's absurd humor but she also appreciates the heartwarming way it treats the six awkward spellers.
"I think there is a sort of nostalgia behind it," Den Bleyker said. "Even if you weren't a kid who was in spelling bees when you were younger, I think it's a show that everyone can relate to because everyone went through adolescence and went through the things the kids are going through in the show."
Chip Tolentino, the defending champion of the Putnam County Spelling Bee, will be played be Anthony Acevedo, a sophomore from Port Washington, N.Y. The character is an athlete and a Boy Scout who finds himself hilariously struggling with his changing body in the middle of the competition.
"I relate to Chip a lot. I see a younger version of myself in him so it wasn't that hard to get into the character," Acevedo said. "Plus, it's super funny. It's a bit of a challenge for me because I see myself as more of a dramatic actor, so playing a comedic character is tough but it's very fun and it's opened my eyes a lot."
The humorous nature of "The 25th Annual Putnam County Spelling Bee" means that SUNY Cortland's student actors have spent time working on their comedic chops.
Kiera Welsome, a sophomore from New York, N.Y., is no stranger to musical comedy, as it happens to be one of her favorite genres. However, Director Deena Conley has worked with students on the delivery of comic lines so that they mesh with everything the audience has already learned about the character.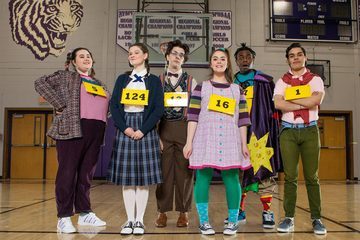 "You're playing a real person and you're not saying it to get a laugh, you're saying it genuinely and it just happens to be funny," Welsome said. "So it's about the intention more than saying it because we want the audience to laugh. This is a real person who really feels that way and is saying that and it just so happens that it's insane and absurd and that's why it's funny."
Welsome plays Marcy Park, the perfectionist from a strict family who speaks many languages, is an All-American hockey and rugby star and plays multiple instruments.
Maurice Jerry, a junior from Baldwin, N.Y., plays Leaf Coneybear, a home-schooled student who comes from a family of hippies. He has tried to tap into his own youthful spirit to capture Leaf on stage, which he hopes is one of the main messages attendees take from the show.
"There is a lesson of just being happy and enjoying life and to find that inner child and that inner kid," Jerry said. "It's a fun show to see and I hope audiences love the show. There is some audience interaction that we'll be doing."
In the cozy Lab Theatre, audiences may feel like they are right on stage with the spellers.
"This is not like any other show that you've seen," Acevedo said. "You go to musicals that are funny and plays that might be sad but this show is just so hilarious and so interactive with the audience that you can't leave and not be happy. It just brings the best out of people, for the actors on stage and the people in the audience."
"The 25th Annual Putnam County Spelling Bee, which opened April 5, will be performed on April 11 at 7:30 p.m., April 12 at 7:30 p.m., April 13 at 7:30 p.m. and April 14 at 2 p.m.
The venue is limited to 70 general admission seats per performance. There will be no late seating after the show starts.
Tickets are $19 for adults, $16 for senior citizens and SUNY Cortland faculty and staff, $14 for SUNY Cortland alumni and $10 for current students. They are available at Cortland.edu/boxoffice.
Student actors performed "I Speak Six Languages" on WSYR's "Bridge Street" on April 4. View a video of the song online.
College Writing Committee Posts Winners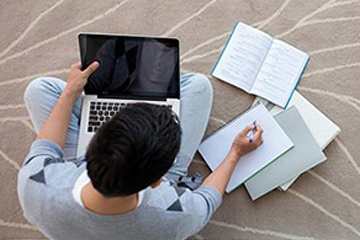 04/09/2019
The winners of 2018 SUNY Cortland Outstanding Writing Awards will read their work at the annual "Transformations: A Student Research and Creativity Conference" on Friday, April 12.
In addition to reading from their winning entries at "Transformations" and seeing their work published in a booklet dedicated to the 2018 SUNY Cortland Outstanding Writing Awards, the student writers earned cash prizes. The first-place winners for each category earned a $100 prize, and honorable mentions earned a $50 prize.
This year marks the 20th year of the contest sponsored by the College Writing Committee, the group that also judges the submissions. This year, the College Writing Committee and the Collin Anderson Family sponsored two contests with many awards: the Collin Anderson Memorial Awards in Creative Writing and the Writing across the Curriculum Awards for Academic Writing.
Student writing written for classes taken between January 2018 and December 2018 were eligible for the 2018 Outstanding Writing Awards. This year, nearly 100 entries were submitted across all the categories. Written work is judged based on originality, clarity, organization, development and editing.
Individual award recipients included:
Taylor Esposito, a first-year musical theater major, won the Kathy Lattimore Prize in First-Year Writing for her piece, "'Schlag-ing' the Flag and Whatever that Means," written in a writing studies course taught by James Miranda, adjunct lecturer of English.
Jacob Robinson, a first-year new communications media major, won honorable mention for the Kathy Lattimore Prize in First-Year Writing for "Guilty Until Proven Innocent," written in a writing studies course taught by Mario Hernandez, lecturer II in English.
Jonathan Herr, a graduate student in history, won the Graduate Student Academic Writing Award for "How the Germans Stole Christmas (Back), or how Berliners Maintained Agency in Their Christmas Celebrations during the Height of the Cold War," written in a European history course taught by Scott Moranda, associate professor of history. Herr also won the Collin Anderson Memorial Award in Creative Nonfiction for "Myself the Migrant," written in a readings in history course taught by Gigi Peterson, associate professor of history.
Amber Kent, a graduate student in English, won honorable mention for the Graduate Student Academic Writing Award for "More Than Just a Myth: How Shapeshifter Rhetoric Relates to ESL Students," written in a literary criticism course taught by Tyler Bradway, assistant professor of English.
Griffin Smith, a senior new communications media major, won the Collin Anderson Memorial Award in Poetry for "Unspoken," written in a writing poetry course taught by Heather Bartlett, English instructor.
Marlee Vedder, a sophomore childhood/early childhood education major, won honorable mention for the Collin Anderson Memorial Award in Poetry for "If the World is Cold," written in a writing poetry course taught by Gregg Weatherby, lecturer I in English.
Elle Kellher, a junior English and history major, won the Collin Anderson Memorial Award in Fiction for "Turpentine," written in a writing fiction course taught by Mario Hernandez, lecturer II in English.
Julie Currier, a sophomore early childhood/childhood education major, won honorable mention for the Collin Anderson Memorial Award in Fiction for "Janie Foster," written in a fiction course taught by Gailanne MacKenzie, lecturer III in English.
Kaili Mello, a senior English major, won honorable mention for the Collin Anderson Memorial Award in Creative Nonfiction for "Falling into Space," written in a Revising and Editing course taught by Kevin Rutherford, assistant professor of English.
Victoria Van Every, a sophomore professional writing major, won the Collin Anderson Memorial Award in Digital/Multimodal Writing for "Social Media and Teaching Writing," written in a writing in the digital age course taught by Kevin Rutherford, assistant professor of English.
Benjamin Mayberry, a senior professional writing major, won the Academic Writing Award in the School of Arts and Sciences for "The Endoxic Method and Tlalticpac: Seeking the Right Answer in Virtue Ethics," written in a philosophy course taught by Sebastian Purcell, associate professor of philosophy.
Kevin Robinson, a senior psychology major, won honorable mention for the Academic Writing Award in the School of Arts and Sciences for "Miseducation, Socialization, and Conformity in the Black Community," written in an African American studies course taught by Distinguished Teaching Professor Seth Asumah, Africana Studies and Political Science departments.
Hope Palma-Simoncek, a sophomore communications major, won honorable mention for the Academic Writing Award in the School of Arts and Sciences for "Data Companies and the Need for Privacy," written in a writing studies course taught by James Reardon, adjunct lecturer in English.
Breanna Washington, a senior special education and childhood education major, won the Academic Writing Award in the School of Education for "How Assessments Affect Students of Diverse Demographics," written in a foundations of education course taught by Rhiannon Maton, assistant professor in foundations and social advocacy.
Jade Tatulis, a junior inclusive childhood education major, won honorable mention for the Academic Writing Award in the School of Education for "School Discipline: Right vs. Wrong," written in a contemporary issues in education course taught by Anne Burns Thomas, associate professor in foundations and social advocacy.
Raquel Rodriguez-Asher, a graduate student in community health, won the Academic Writing Award in the School of Professional Studies for "The Real Cost: Summary and Reaction," written in a drug education for teachers course taught by Al Sofalvi, assistant professor of health. Rodriguez-Asher also won honorable mention for the Academic Writing Award in the School of Professional Studies for "Violence Against Women," written in a women's health course taught by Jena Curtis, health professor.
A call for submissions for the 2019 Outstanding Writing Awards will be announced at the end of the spring 2019 semester and again in the fall. Eligible papers will include those written for courses in 2019, whether spring or fall semesters, or winter or summer sessions.
For more information, contact Laura Davies, assistant professor of English and director of Campus Writing Programs, at 607-753-2074.
Cortland Hires Erin Little as Women's Volleyball Head Coach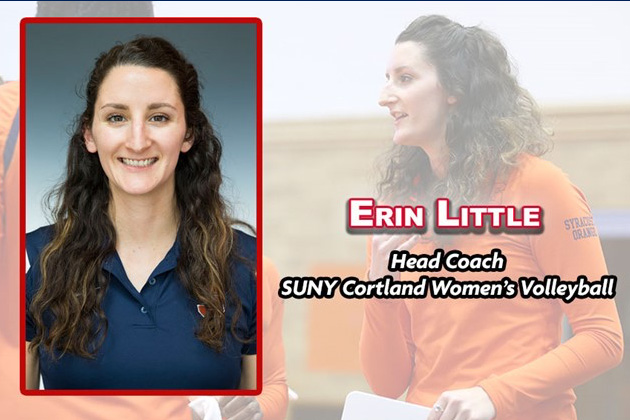 04/09/2019
Erin Little has been selected as the new women's volleyball head coach at SUNY Cortland in an announcement from director of athletics Mike Urtz. Little served on the coaching staff at Division I Syracuse University for the past six years, the last three as the Orange's associate head coach.
"I am so excited and thankful for the opportunity to join the Cortland Athletic Department and serve as their next Head Volleyball Coach," said Little. "I would like to thank all the people who have invested into me personally as a coach and developed me as a player to where I am now and hope only to be able to do the same for others in my future career.
"As soon as I stepped onto the Cortland campus and met with the leadership team and their fellow coaches, I confirmed the Red Dragon pride, the passion for athletics, and the commitment to student-athlete lifetime success that I had heard about from colleagues and alumni. I can't wait to start working with our team on the floor, investing into these student-athletes' lives, and helping to reestablish Cortland Volleyball as a SUNYAC and Division III National Championship contender program."

Last fall Little helped Syracuse finish 19-9, including a 14-4 mark in Atlantic Coast Conference (ACC) play. The Orange qualified for the NCAA tournament for the first time in school history and advanced to the second round with a win over Yale before losing to nationally ranked Penn State. In 2017, the Orange posted a 22-14 overall mark (12-8 ACC) and advanced to the quarterfinals of the National Invitational Volleyball Championship with a 2-1 record. Syracuse also finished 23-8 (14-6 ACC) during the 2015 season.

Little was a four-year player at Syracuse from 2008-11 when the team compiled an overall record of 80-47, including a pair of 20-win seasons and three trips to the BIG EAST Tournament. She was recognized on the BIG EAST All-Academic Team five times and earned a spot on the Syracuse Athletic Director's Honor Roll on nine occasions.

Since 2011, Little has worked as a coach for the IREVA Regional USA High Performance program, assisting the program director with one-day annual tryouts and providing athlete evaluations and high-level skill instruction for summer training camps. She was the head coach for the select youth team at the 2016 High Performance Championships. Little has also worked at numerous regional and national camps and clinics as a coach and presenter.

Little also played in the IREVA High Performance Program, and as a high school player at Burnt Hills-Ballston Lake High School she won two New York State titles and reached the state finals on two other occasions. The Glenville, N.Y., native was named the 2008 Gatorade New York State Player of the Year following her senior year.

"We are incredibly excited to have Erin join our staff," said Urtz. "Her reputation in the Northeast, her expansive knowledge and her leadership skills will be instrumental in returning our volleyball program to national prominence. Erin brings a wealth of high-level volleyball experience with both her playing and coaching background. This is a great addition to our Cortland family."

Little earned a bachelor's degree in advertising from Syracuse in the spring of 2012. She then traveled overseas to play professionally in Finland with the club Orpo. Little starred as an outside hitter and helped her team win the Finnish bronze medal. She is currently finishing her studies for a Masters of Business Administration from Syracuse's Whitman School of Management.

Nomination Deadline Set for Faculty Connection Award
Nominations are due Wednesday, April 17, to recognize a faculty member for the Student Affairs Faculty Connection Award. Any full-time faculty member who establishes and maintains significant connections with students outside the classroom is eligible.
Applications can be self-nominations or submitted by students, supervisors, co-workers or other College community members. Nominations can be submitted online by following the link below. A link can also be found in the Student Affairs channel of the Campus Life tab in myRedDragon.
Student Affairs Faculty Connection Award Nomination Form
This award was created to recognize one teaching faculty member each year for establishing and maintaining significant connections with students outside of the traditional classroom setting.
Eligible candidates must:
Be active teaching faculty members during the entire 2018-19 academic year
Have a positive impact on students outside of the traditional classroom setting
Establish and/or maintain opportunities for student involvement outside of the traditional classroom setting
Demonstrate that they have 'gone the extra mile' in order to serve students
Winners are recognized at the annual Excellence in Teaching, Research and Service Awards Ceremony for faculty and professional staff in the fall semester and are awarded $500.
For more information, contact Matt Nuesell by email or by phone at 607-753-5704.
Library's 'Food for Fines' Will Help SUNY Cortland Cupboard
Memorial Library is offering a unique way for students to pay overdue fines while helping the SUNY Cortland Cupboard.
The Food for Fines program runs from Monday, April 29 through Friday, May 17. Students may pay their fines by donating non-perishable, unopened, unexpired food in cans, boxes and plastic jars.
Students will receive $1 off their overdue fine balance for each item of food donated. Replacement costs for lost or damaged books are excluded from this program. Those who do not have fines but wish to donate food may do so as well.
Donations will be accepted during business hours at The Help Center in Memorial Library. The food will be delivered to the SUNY Cortland Cupboard, which is filled with shelves of non-perishable food items and essentials that SUNY Cortland students living off-campus often cannot afford.
For more information on how to donate, visit The Help Center, call 607-753-2500 or email library@cortland.edu.

Suggest a feature story
---
Faculty/Staff Activities
Seth N. Asumah
Seth N. Asumah, Africana Studies and Political Science departments, was a National Boren Fellowship panelist in February 2019 in Washington D.C. Asumah was invited for the fourth year by the National Security Agency (NSA) and the Institute of International Education (IIE) to review 47 fellowship applications for 2019 for the Africa Region. Also, he was invited to serve on the Fulbright National Review Commission in New York City for graduate and undergraduate fellowships for United States students who would like to research in the Africa Region earlier in this year.
Tyler Bradway
Tyler Bradway, English Department, participated in a Humanities Corridor Workshop hosted at Syracuse University on the topic "Objects of Inquiry: Re/Oriented LGBT/Queer Studies Introductory Courses," which took place on April 6 and brought together faculty from universities and colleges in the region, including Cornell University, Ithaca College, Hamilton College, Colgate University, Hobart and William Smith Colleges and Le Moyne College.
Celeste McNamara
Celeste McNamara, History Department, organized and chaired a panel on "New Approaches to Catholic Reform" at the annual meeting of the Renaissance Society of America in Toronto. The panel highlighted the work of scholars working in history and art history who are bringing innovative methods and exploring new sources to provide new interpretations of 16th-17th century Catholicism.
Katherine M. Polasek
Katherine M. Polasek, Kinesiology Department, co-authored a chapter in the APA Handbook of Sport and Exercise Psychology. The chapter, "Girls and Women in Sport" utilizes a critical feminist perspective to introduce and discuss the intersection of sport and gender.
Danica Savonick
Danica Savonick, English Department, delivered a keynote for Digital Humanities Week at Duke University on March 28. In her talk, "The Feminist Genealogies of Digital Pedagogy," Savonick situated current conversations around digital pedagogy, public humanities and student writing within a genealogy of feminist and anti-racist aesthetics and activism. Video of the event is available here.
Tiantian Zheng
Tiantian Zheng, Sociology/Anthropology Department, was invited by University of California, Los Angeles (UCLA) on Nov. 13 and Sun Yat-Sen University, China on March 18 to deliver campus-wide talks on her book Tongzhi Living: Men Attracted to Men in Postsocialist China and the contribution of anthropology to public health.

Submit your faculty/staff activity