Black History Month Celebration Planned During February
01/28/2011
SUNY Cortland will celebrate Black History Month (BHM) throughout February with a series of events including lectures, sandwich seminars, musical performances, diverse cuisines and the annual reception in celebration of diversity.
BHM campus events will be posted online in the College's home page calendar and on the Africana Studies Department and the Multicultural Life Office websites.
Highlights will include:
• The Unity Celebration Reception on Wednesday, April 13, in Brockway Hall, Jacobus Lounge. Rescheduled from Feb. 1 due to the weather, this hors d'oeuvres reception takes place from 5-6:30 p.m. To attend, R.S.V.P. to Ann Cutler at (607) 753-2336.
• A presentation by Noelle Chaddock Paley, director of the College's Multicultural Life Office and a faculty member of the Africana Studies Department. She will outline a new direction for programming in her area on Thursday, Feb. 17. Her talk, titled "Re-imagining Multicultural Life and Diversity at SUNY Cortland" begins at noon in Brockway Hall Jacobus Lounge.
• The annual Cultural Celebration at 4 p.m. on Sunday, Feb. 27, in Old Main Brown Auditorium. The event will feature performances by the SUNY Cortland Gospel Choir and guest choirs and by the A Capella singers.
• A visit by Horace Campbell, a Syracuse University professor of African American studies and political science who directs the university's Africa Initiative. He will discuss "Barack Obama and 21st Century Politics: Revolution and Counter Revolution in the U.S." at 7 p.m. on Monday, Feb. 28, in the Corey Union Fireplace Lounge.
"Black History Month is a time to take stock, reflect, and honor the culture, history and achievements of African Americans," said Seth Asumah, a SUNY Distinguished Teaching Professor and chair of the Africana Studies Department. "Yet the celebration should not be restricted to one's racial or cultural background. It is an American celebration. It is impossible to separate black history from American history as a whole, so it must be celebrated by all Americans.
In the U.S., Black History Month commenced in 1926 when its founder, Dr. Carter Godwin Woodson, and other African American and white scholars realized the lack of studies and documentation about black history and the apparent disrespect for black culture. Previously called Negro History Week, the commemorative period was renamed Black History Week in 1972 and Black History Month in 1976.
"Black History Month should not be treated as a cross borne by Black people every day, rather it should be utilized as a bridge to cross over to new heights and to understand some of the turbulent socio-political issues in the American polity," Asumah said.
The Africana Studies Department has organized BHM events for the College since the late 1970s. For the last 10 years, the Multicultural Life Office, Black Student Union, Women of Color, Man of Value and Excellence, and Caribbean Student Association have collaborated with Africana Studies to organize the campus BHM events.
Black History Month event sponsors include the Affirmative Action Committee, Provost and Vice President for Academic Affairs' Office, President's Office, Dean of Arts and Sciences Office, Vice President for Student Affairs' Office, Multicultural Life Office, Black Student Union, Political Science Department, Political Science Association, Campus Artist and Lecture Series, the Africana Studies Department, Center for Gender and Intercultural Studies, Committee on the Status of Women in Education, Multicultural Council and Student Government Association.
For more information about Black History Month, contact Asumah at (607) 753-2064, or in Old Main, Room 208-B.
Gallery Talks Will Review Faculty Biennial Art Exhibition
01/24/2011
The Dowd Gallery at SUNY Cortland will hold two "Gallery Talks" for the "2011 Art and Art History Faculty Biennial," an exhibition that runs through Friday, Feb. 18.
The show includes pieces by 10 Art and Art History Department faculty members including Martine Barnaby, Jeremiah Donovan, Lori Ellis, Charles Heasley, Chad Hovey, Kevin Mayer, Jenn McNamara, Paul Parks, Vaughn Randall and Bryan Thomas.
The faculty exhibitors will discuss their artistic vision during two separate talks, the first at 5 p.m. on Monday, Feb. 7, and the second at 5 p.m. on Thursday, Feb. 17.
The biennial exhibition, as well as three planned special events, are free and open to the public. Gallery hours are 10 a.m.-4 p.m. Monday through Friday and by appointment with interim Gallery Director Bryan Thomas at (607) 753-4216. Group tours also are available. The gallery is closed on weekends. For more information about the gallery, visit the website www.cortland.edu/dowd-gallery.
This piece is from the "Gently Bruised" series by artist Martine Barnaby.
"Gently Bruised," the title of the series of recent work by Martine Barnaby, investigates societal narratives of the repulsive and the seductive, the peaceful and the violent, the fragile and the strong — the coinciding existence of physical and emotional reactions that are visceral.
"Is this 'bruise' grotesque or beautiful, necessary or unnecessary?" queries Barnaby, an assistant professor who teaches Graphic Design II and Art and the Internet. "Bruises are caused by trauma, and can be threatening or non-threatening, apparent or hidden, or only seemingly hidden as they inevitably seep to the surface." Her translucent "skin-like" images printed on paper vellum — originally made of fine-grained calfskin — construct a complex internal gauge that compels an immediate confrontation with one's individual views of the acceptable and the unacceptable.
A fall 2009 trip to Raquette Lake in the Adirondacks with students and faculty from the Art and Art History Department inspired the ceramic pieces displayed by Professor Jeremiah Donovan, who teaches introductory through advanced courses as well as an annual study abroad class called China Summer Study: History, Culture, and the Arts.
"The work in this exhibition is in response to the memories, processes and inspirations of the work I constructed that weekend," Donovan said. "The twig vessels are woven and textured from earthenware and porcelain clay. They are layered with terra sigillata and low temperature glazes and fired in a reduction kiln."
A recent sabbatical in Kyoto, Japan, influenced the works of Lori Ellis, an associate professor and chair of Art and Art History Department. She teaches Painting I, II, III, IV and BFA Thesis – Painting.
"Back in New York, the celebration of seasonality has stayed with me and has helped me return to my interest in landscape painting," Ellis said. "The qualities of austere beauty and poetic melancholy that are cultivated in Kyoto's dry gardens are natural features of the Central New York winter landscape. The cornrows and accidental crop structures remind me of the raked dry gardens of Buddhist temples."
Sculptor Vaughn Randall exhibited this work from his "Façade" series.
---
Capture the Moment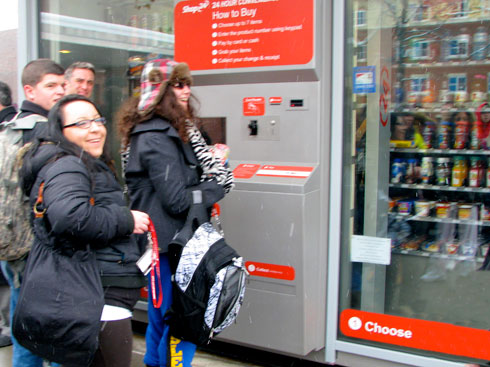 Students queued up to buy their first roll of cookie dough and other necessities during the Jan. 28 grand opening of Shop24, an automated convenience store in front of Neubig Hall. As soon as College and ASC administrators and Shop24 Global representatives had cut the ribbon, the gathering cheered, clapped and took camera phone images as the self-contained, unmanned retail store retrieved their selections.
---
In Other News
Campus Fundraising Goal Achieved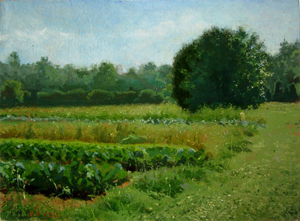 02/06/2011
One-hundred-ninety-five faculty, staff and emeriti opened their hearts and their checkbooks by the end of last fall, pledging or donating a record $214,525 to the annual Faculty and Staff Campaign for The Cortland Fund.
By Dec. 31, fully 20 percent of the campus community had participated in the special fund drive aimed at helping the College fulfill educational goals in an era of dwindling state resources, said Jennifer Janes, who directs The Cortland Fund.
"The results of this campaign are very exciting," Janes said. "The investment our faculty and staff have made in the College is a vote of confidence in the mission and vision of SUNY Cortland. Their gifts will make a difference in our future."
With a 20 percent participation rate, SUNY Cortland moves to second highest among SUNY four-year liberal arts colleges, Janes said. Additionally, the size of the total gifts is more than 51 percent greater than in the last year's campaign.
Thirty-one of these donors made their first gift ever this fall, said Raymond Franco, vice president for institutional advancement. In the last two-and-a-half years, faculty, staff and retired employees have given a total of $800,000.
In honor of their generosity and on behalf of the Cortland College Foundation, SUNY Cortland President Erik J. Bitterbaum and his wife, Ms. Ellen Howard Burton, hosted a Faculty and Staff Donor Appreciation Reception on Feb. 17 in Brockway Hall Jacobus Lounge.
"How proud we are as a College of our community's philanthropic spirit," said President Erik J. Bitterbaum. "We are most grateful for the generosity of our own campus community in supporting the goals of our students and enriching the programs and services that will help them to succeed in their academic careers."
Susan Wilson, who participated as a donor in the recent Faculty and Staff Campaign for the Cortland Fund, moves an adapted recreational chair her students use to learn about the field of adapted recreation.
Gifts were made both in the form of unrestricted gifts and ones directed to help a particular scholarship, equipment purchase, organization, program or department. Previously, employees had been encouraged to make their gifts unrestricted. That was one of several unique aspects of this fund drive.
Another was that the President's Council and two Cortland College Foundation Board members pledged to match new and increased employee gifts made by Dec. 31 with up to $203,000 over the next five years. Foundation board chair Brian Murphy '83 and immediate past chair Victor Rumore '84 made their pledge with the entire President's Council in an effort to increase the percentage of faculty and staff participation in annual giving from 13.2 percent to the goal of 20 percent, which was successfully achieved.
"We've always felt it was critically important for us to continue to have faculty and staff support for the campaign and the campaign initiatives," Murphy observed.
With its matching gift component, the Foundation Board made a thoughtful effort to try to create as much motivation and support as possible for the contributors to be philanthropic, he said.
"They surpassed our expectations in terms of the number of faculty and staff participants who charitably committed to make gifts as well as the total dollar amount," Murphy said. "It was far and away a success."
Additionally, in an effort spearheaded by Faculty Senate Chair David Miller and Career Services Director John Shirley, the campaign was undertaken with a personal touch. This past fall, volunteers fanned out across campus and hand-delivered donor brochures and solicitation letters to their colleagues and took the opportunity, whenever possible, to explain several the new giving opportunities compared to past faculty-staff annual fund drives.
Professor Anderson Young called upon colleagues in his own department, recreation, parks and leisure studies, as well as the departments of kinesiology, sport management, and physical education and the athletic training office.
"As a Faculty and Staff Campaign volunteer I've made similar calls in the past, but it never was as much fun as this year with all the added features of doing that," Young said. "I bleed red and white, so I'm happy to contribute. But this year the changes in the parameters made me more than happy to participate.
"It was great to be able to say to somebody, 'I know there is something to love on this campus. Why don't you give to that? And your gift will be doubled, not just this year, but each of the next five years you choose to give.'"
Some people Young approached had put their pledge materials aside, thinking it was the usual campaign.
President Erik J. Bitterbaum, shown to the right in the foreground, takes an opportunity to tell faculty and staff attending his donor reception on Feb. 17 in Jacobus Lounge how their gifts will help future students meet their goals.
"I really had to call attention to those features, and then they got really excited," he said. "Some people even recalled their initial pledges and increased their gifts so they would be able to get the match."
College fundraisers ultimately hope the generosity of the campus community will have a ripple effect as they make a case for new or greater commitment from alumni, friends of the College and the business community in the Cortland region.
Susan Wilson, an associate professor of recreation, parks and leisure studies, has donated through payroll deduction for years. This year, she decided to increase the size of her gift and make a five-year commitment.
"The matching gift program was a big incentive for donors to increase their gift money, thanks to the generosity of the President's Council and the Cortland College Foundation," Wilson said.
"I designated my money to the Cortland varsity softball team," she continued. "I have been their academic advisor for a number of years, and when I went on their spring trip for softball, I learned the women raised a great deal of money to make that trip. It's money out of my paycheck through payroll deduction, which I don't miss, and it will allow for the athletes to have an easier time as far as raising their own money.
"As faculty and staff, we all have programs that are near and dear to us, things that we've done on this campus in which we see the benefit," Wilson said. "Things that add to the college experience are good. If you think something is important, then contributing to it makes sense."
College Launching Tri-Weekly Study Abroad Sessions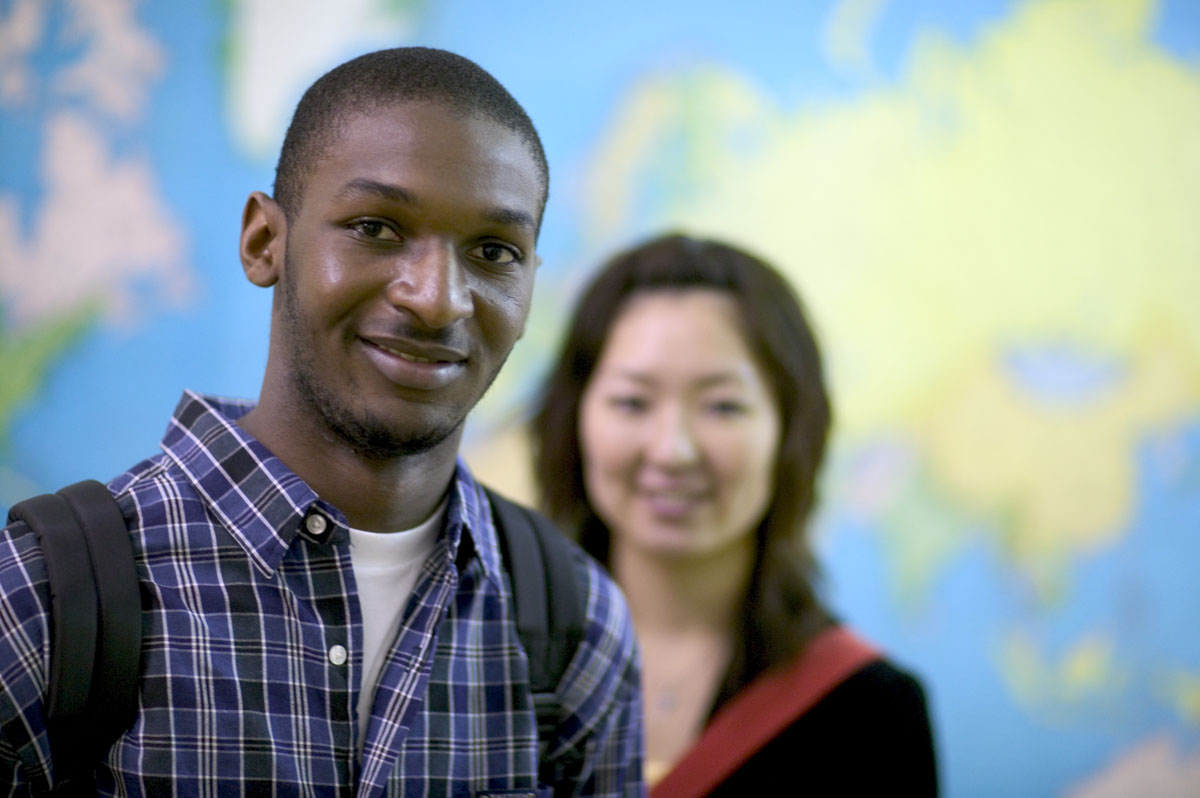 01/25/2011
The James M. Clark Center for International Education at SUNY Cortland will begin offering "Study Abroad 101," an hour-long informational session, three times each week. The sessions began on Tuesday, Feb. 1.
Designed for students interested in visiting another country for the purpose of study either for a semester, year, summer or winter intersession, the programs are free and open to students, faculty, staff and the public.
All sessions are held in Brockway Hall, Room 203, located on the main floor to the right of the main entrance. Except as noted, the seminars are scheduled to take place all spring semester from noon-1 p.m. on Tuesdays; from 5-6 p.m. on Thursdays; and from 3-4 p.m. on Fridays. No sessions will take place on Friday, Feb. 11; Friday, April 15; and during the week of March 14-18, which is Spring Break.
Different speakers — including Cortland students who have studied abroad and wish to share their experiences — will present information on the more than 500 study abroad program options available through the College, as well as the application process and scholarship opportunities.
"Perhaps you might be interested in a semester in London, an internship in Belize, or a three-week history and art study tour in China," said Gonda Gebhardt, senior study abroad advisor for the Clark Center. "Or maybe you would like to improve your Spanish during the summer in Costa Rica or winter intersession in Mexico or do your student teaching in Australia. The world is yours to explore."
For more information, stop by the Clark Center located in Brockway Hall, Room 216, call (607) 753-2209, send an e-mail to studyabroad@cortland.edu or visit the website www.cortland.edu/studyabroad.
College Offers Spring 'Wellness' Series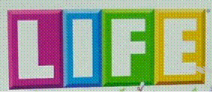 02/04/2011
SUNY Cortland will hold the Spring 2011 "Wellness Wednesday Series" featuring speakers, exhibits, self-help workshops and other programs intended to encourage campus and community members to explore new topics around the theme "Wellness for Life." Topics range from opening a dialogue on building a multicultural community, recovering from struggles with food and body image to enhancing life with Zumba and exploring spirituality.
Sponsored by the Health Promotion Office and the Student Development Center, the series will take place each Wednesday at 7 p.m. in Corey Union Exhibition Lounge, unless otherwise noted. The events are free and open to the public.
On Feb. 9, Noelle Chaddock Paley, director of multicultural life and diversity, and a panel of speakers will present "Building a Multicultural Community One Word at a Time." As part of Black History Month, the format will be an open dialogue about how to move forward.
Performer Vanessa Johnson will present "Freedom Aprons" on Feb. 16. The audience will be treated to women's voices from the Underground Railroad: black and white, northern and southern, free and freedom-seeking, abolitionists and slaveholders. The presentation, sponsored by the Education Club and the Multicultural Life Office as part of Black History Month, will be held in Sperry Center, Room 205.
Internationally known author, speaker and ambassador for the National Eating Disorder Association Jenni Schaefer will be on campus Feb. 23 as part of Body Appreciation Week. She will present "Goodbye Ed, Hello Me® — ­Recover From Your Eating Disorder and Fall in Love with Life" beginning at 7:30 p.m. in Corey Union Function Room. Schaefer shares her personal journey of healing through story, humor and song. She invites her audiences to find the hope, inspiration and belief that they and their loved ones can recover from struggles with food and body image — and move on to live life to the fullest.
On March 2, "Enhancing your Life with Zumba!" will be presented by SUNY Cortland student and Zumba instructor Brittany Jarrard. She will present easy-to-follow moves put to Latin rhythms creating a one-of-a-kind fitness program that is described as "outrageous fun and exercise, too!"
"Celebrating Life — Staying Safe and Healthy on Spring Break" is the theme of a table display from 11 a.m.–2 p.m. on March 9 on the first floor in Corey Union. Health Promotion Office interns and members of Colleges for Change (C4C) and Colleges Against Cancer will present information, prizes and giveaways encouraging students to stay safe during their spring break travels.
Health Promotion Office staff and interns will ask "How well do you know the typical SUNY Cortland student?" at a fun and interactive program on the real life of SUNY Cortland students on March 23. Participants of "The Secret Life of the SUNY Cortland Student" might be surprised at what they learn.
On March 30, the campus community is invited to "Enhance Your Social Life with Game Night!" Health Promotion Office interns will lead fun and interactive games to help enhance social well-being while developing communication skills.
In recognition of Sexual Assault Awareness Week, the "Take Back the Night March" will begin at 8 p.m. on Tuesday, April 5, at the Corey Union steps. Cortland Against Another Rape (CAAR) will present a program on April 6. The speaker will be announced at a later date.
Psychology Department Adjunct Professor Lesley M. Teitelbaum will present "Emotional Wellness: How to Create Inner Calm in the Midst of Life's Storms" on April 13. He will share mind-body-spirit techniques that can reduce stress levels and bring more inner peace and happiness to daily life.
Beginning at 6 p.m. in the Interfaith Center, the April 20 program is titled "Holy Times, Holy Meals: Exploring Spiritual Life." Spiritual wellness has many expressions, often involving rituals and holy meals. Held by the interfaith community, participants will gather at tables and experience the food and drink of several traditions to learn how these meals foster deeper spirituality. Guests are invited to come hungry and thirsty for this unique opportunity.
For more information or accommodation to attend an event, contact Catherine Smith, the College's health educator, in the Health Promotion Office, Van Hoesen Hall, Room B-1, or at (607) 753-2066.
http://www2.cortland.edu/offices/student-development-center/health-promotion/
Children's Museum Sets Saturday Series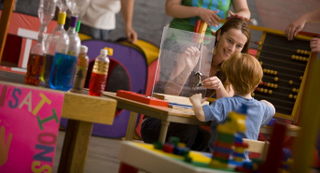 02/02/2011
Children's educational programs on creating valentines, interacting with reptiles, exploring music and attracting backyard birds will be highlighted during the Spring 2011 Children's Museum season that started on Feb. 5.
The Children's Museum offers interactive, hands-on educational experiences in an environment where Cortland community parents, grandparents, caregivers, teachers, college students, youth and young children can be inspired to play and learn together.
Presented by faculty and students in SUNY Cortland's Childhood/Early Childhood Education Department, the programs run on selected Saturdays from 10 a.m. until 1 p.m., unless otherwise noted, and are open to community families and their children. The programs will take place at the Children's Museum, located on the ground floor of O'Heron Newman Hall at 8 Calvert St. in Cortland. Admission is free but donations are gladly accepted.
Lin Lin and Shufang Shi, assistant professors, will present "Happy Chinese New Year" on Feb. 5. The children will experience Chinese Lunar New Year culture through learning about new year traditions in China, making origami projects, coloring/decorating paper lanterns, and exchanging "Happy New Year" greetings in Mandarin Chinese. Children and adults also will make and eat Chinese dumplings.
On Feb. 12, Instructor Judith Schillo and early childhood students will help children and their adult family members create valentine decorations and cards using a variety of art materials including pink and red paint.
Dan the Snake Man joins Assistant Professor Susan Stratton on March 5. Dan's shows are created to educate people of all ages about reptiles. Through informative displays and interactions, the presentations help the audience better understand and appreciate the special nature of these animals and their importance to the environment. The program offers a unique opportunity to experience many species of exotic reptiles. The audience is invited to interact with the animals on an up-close and personal level; viewing, touching, and asking questions are highly encouraged.
Associate Professor Emilie Kudela will bring together several different musical activities and musical performers during the March 26 "Music for All" program. Participants are invited to bring their musical talents to share. Children will make musical instruments and all who attend will make music together.
On April 2, Assistant Professor Orvil White invites families and children to come for some summer fun and take a bit of the beach home. Participants will use sand, seashells and a little sea salt to build their own summer beach snow globes. Once completed, globes can be shaken and the sand and ocean waves uncover the shells for a summer memory to last a lifetime.
Assistant Professor Kimberly Rombach will offer "Attracting Backyard Birds" on April 9. Children will explore the wonders of our backyard birds. Children will see pictures and hear recorded songs of some of the birds commonly found in the Cortland area. Participants will learn how to use everyday household materials to make a bird feeder and they'll create one to take home.
To reach the museum entrance, follow O'Heron Newman Hall's driveway. Parking is not permitted in the driveway but is available in the parking lot of the Dowd Fine Arts Center at the corner of Prospect Terrace and Graham Avenue.
For more information, contact Kudela at (607) 753-5525 or Stratton at (607) 753-2467, or visit the Children's Museum website.
Faculty Recital Features Music of American Composers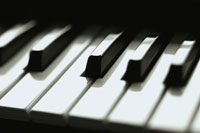 02/04/2011
The Performing Arts Department will present a faculty recital titled "Music of American Composers and Others" at 8 p.m. on Tuesday, Feb. 8.
The concert will be held in Dowd Fine Arts Center Theatre and is free and open to the public.
Two Performing Arts Department faculty members and a special guest will perform: Edward Moore, associate professor, on piano; Anne Shelly from Onondaga Community College, soprano; and special guest Lois Pfister, lecturer, on the violin.
They will perform the music of Aaron Copland, James P. Johnson, George Gershwin, Samuel Coleridge-Taylor, William Grant Still and Harry T. Burleigh.
For more information, contact the Performing Arts Department at (607) 753-2811.
Nominations for Excellence in Professional Service Awards Due Feb. 14
Nominations are now being accepted for the College's Excellence in Professional Service Awards. Letters of nomination will be accepted from SUNY Cortland students, colleagues or supervisors. Any professional who has completed at least two years of service at SUNY Cortland is eligible for an award.
Nomination materials must be submitted no later than 4 p.m. on Monday, Feb. 14, to Chair, Professional Service Awards Committee, Bursar's Office, Miller Building, Room 323. Nominees will be notified by the Awards Committee of their candidacy after Feb. 14.
Awards will be given for excellence in three categories:
Institutional Service Award
Nominees should be individuals who serve as role models within their area of responsibility, their profession or department. Characteristics such as leadership, organization, problem-solving or decision-making skills should serve as examples of professionalism of the highest caliber. These characteristics may be demonstrated in a number of ways, including but not limited to:
• outstanding performance within the job description
• participation in committees or activities that support the College's Long Range Planning Goals
• participation in professional development and training
Innovation Within Profession Award
Nominees should be individuals who have demonstrated creativity in the development or application of ideas or concepts within a professional operation. Characteristics of innovation may be demonstrated in a number of ways, including but not limited to:
• application of technology within one's field
• redesign of a process or program to improve effectiveness
• maximization of campus resources in operations (e.g. fiscal efficiency)
Service to Students Award
Nominees should be those who have demonstrated leadership in the development or enhancement of programs and services that respond to student needs. Characteristics of excellence in service may include, but will not be limited to:
• demonstration of "going the extra mile" in order to serve students
• development of creative student programming or services
• implementation of programs or processes designed to improve services to students
Typed letters of nomination must be submitted in the following format:
1. name, title, department of nominee
2. name of nominator, relationship to nominee (e.g. colleague, supervisor, student)
3. award category that captures the achievement of the nominee
4. specific information in support of the nomination that answers why the individual's service/innovation/achievement in that category should be recognized
5. up to two letters of support (recommended)
The Awards Committee reserves the right to request additional supporting information as necessary. Nominees must have completed at least two years of service as a professional staff member and must not have been a recipient of an award within the same category within the previous three years. Nominations should be for current service/innovation/achievements and for activities that would either not be considered to be within the normal scope of activities included in the nominee's performance program or should be documented to show how the service/innovation/achievement far exceeded normal expectations.
Recipients will have announcements of the honor sent to The Bulletin and the Cortland Standard. Recipients will receive a certificate of recognition at a small ceremony.
Campus community members are asked to nominate colleagues for their exemplary service.
For more information, contact Professional Service Awards Committee Chair Colleen DeGouff, Student Accounts Office, at (607) 753-2313.
Professional Salary Increases Recipients Announced
The Human Resources Office has announced recipients of professional promotions and salary increases effective in February.
Professional Promotion recipients include:
James Fitzgerald, Library, promoted to instructional support technician
Hailey Ruoff, Library, promoted to assistant director
John Winters, System Administration and Web Services, promoted to senior programmer/analyst
Professional Salary Increases recipient is:
Donna Margine, registrar
For more information, contact the Human Resources Office at (607) 753-2302. http://www2.cortland.edu/hr/
IDA Applications Due Feb. 14
Applications for round two of the Individual Development Awards (IDA) Program are due Monday, Feb. 14, in the United University Professions (UUP) Chapter Office, Old Main, Room B-18A. Applications should be addressed to the attention of Professional Development Committee. Round two covers the period from July 2, 2010 through July 1, 2011.
IDA is intended to assist employees in the UUP Bargaining Unit in developing their full professional potential and in preparing for advancement. IDA funding may be provided for enhancing teaching, research capabilities and improving professional knowledge and skills. SUNY Cortland faculty and professional staff, full- and part-time, are encouraged to apply.
Details about the program can be found online at the New York State UUP website, in the Research and Sponsored Programs Office, Miller Building, Room 402, or in the UUP Chapter Office. IDA applications are reviewed on campus by the Campus Professional Development Committee, which makes all award decisions.
For more information about the program, contact Glen Clarke in the Research and Sponsored Programs Office by e-mail or at (607) 753-2511 or Gretchen Herrmann in the Library by e-mail or at (607) 753-2899.
Nominations Sought for Research Award
Faculty and professional staff members whose career record of research achievements is deemed outstanding among others on this campus are encouraged to apply for the 2011 Outstanding Achievement in Research Award.
Self-nominations for this competitive award are due by 4:30 p.m. on Tuesday, March 1, in the Research and Sponsored Programs Office (RSPO). The College Research Committee will evaluate all nominee materials on the basis of research contributions and credentials and target recommendations to the provost by Monday, April 4.
The awardee will be selected based on at least five years of research-related activities at SUNY Cortland. The recipient will receive a $1,000 award and recognition at a reception on Thursday, May 12. Eligible candidates will be drawn from full-time, tenure-track faculty, including library faculty and professional staff members. Past awardees are not eligible for this award.
Self-nominations must include one letter of support attesting to the research contributions of the nominee from either a department chair or school dean for faculty or from either a director or division head for librarians and professional staff. Department chairs, school deans, directors and division heads should strongly encourage their best researchers to apply.
For full details of the nomination process and to access the self-nomination form, visit the website or contact the RSPO at (607) 753-2511 for more information.

Suggest a feature story
---
Faculty/Staff Activities
Ted Fay
Ted Fay, Sport Management Department, was a keynote speaker at the 2011 NCAA Scholarly Colloquium on College Sports held Jan. 12 in San Antonio, Texas. His topic was "Sports and Disabilities."
Alexander G. Gonzalez
Alexander G. Gonzalez, English Department, has been informed that his article, "Letting a Poem Mean as Much as It Can Mean: Additional Interpretations of Eavan Boland's 'I Remember' and 'In Her Own Image,'" has been accepted for publication at ANQ: A Quarterly Journal of Short Articles, Notes, and Reviews. It will appear in a special edition on contemporary Irish writers that also will feature his previously accepted annotations on Brendan Behan's play "The Quare Fellow."
Mary Lynch Kennedy
Mary Lynch Kennedy, English Department, received the 2010 Educator of Excellence Award from the New York State English Council. Kennedy's Theorizing Composition: A Critical Sourcebook of Theory and Scholarship in Contemporary Composition Studies, Greenwood 1998, IAP 2006, has been released as an e-book.
Gregory Phelan
Gregory Phelan, Chemistry Department, served as the program chair for the International, Women, and Minority Track at the United States Association for Small Business and Entrepreneurship National Conference held Jan. 13-16 in Hilton Head, S.C. At this meeting, Phelan was also elected the co-chair of the International Entrepreneurship Special Interest Group.
Claus Schubert
Claus Schubert, Mathematics Department, presented "Semiorderings and Stability Index Under Field Extensions" at the 2011 Joint Mathematics Meetings on Jan. 6 in New Orleans, La. The talk was part of an American Mathematical Society (AMS) special session on quadratic forms in algebra and geometry and summarized joint work with Karim Becher from the University of Konstanz, Germany, and David Leep from the University of Kentucky.
Robert Spitzer
Robert Spitzer, Political Science Department, is co-author of the just-published eighth edition of We The People: An Introduction to American Government. Published by W.W. Norton, the book is an analytic examination of the American governing system. The book's co-authors include Benjamin Ginsberg, Johns Hopkins University; Theodore J. Lowi, Cornell University; and Margaret Weir, University of California, Berkeley.
Susan Wilson
Susan Wilson, Recreation, Parks and Leisure Studies Department, has received, via Cornell University and through the New York State Compact via Washington Campus Compact, funding for eight intern service slots. Her proposal is titled "Students in Service AmeriCorps Program." Interns will receive $1,200 upon completion of internship or service.
Barbara Wisch
Barbara Wisch, Art and Art History Department, served as a panelist for evaluating National Endowment for the Humanities (NEH) Summer Stipends applications in Art History for 2011. Wisch was awarded an NEH Summer Stipend in 2006 and an NEH Fellowship in 2007.
Luis Columna
Luis Columna, Physical Education Department, received the Alliance for Health, Physical Education, Recreation and Dance (AAHPERD) Social Justice and Diversity Young Professional Award. The award is given to a minority member of AAHPERD who is 40 years old or younger and who has demonstrated superior promise in the areas of service, teaching, scholarship and commitment to the goals of the alliance, focusing specifically on under-represented and/or underserved populations and promotion of social justice and diversity.
Margaret Anderson
Margaret Anderson, Psychology Department, has written a chapter in Dynamic Classroom: Engaging Students in Higher Education, recently published by Atwood Publishing LLC. The book is a collection of 14 best-practices papers enabling instructors to discover innovative ways to incorporate the best techniques, transform the worst and create a meaningful and dynamic environment for learning.
Marley Barduhn
Marley Barduhn, Division of Academic Affairs, has received $22,273 from the U.S. Department of Education for her project titled "Comenzar Even Start Project" for the period Oct. 1, 2010 through Sept. 30, 2011.

Submit your faculty/staff activity