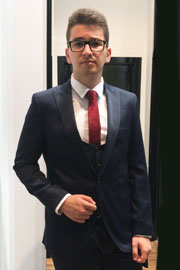 Campus Champion
Ardesian (Ardi) Binjakaj arrived in the U.S. four years ago. Ardi, who speaks five languages, spent his first 10 years in Italy before moving to Albania, his parents' home country. He'll graduate in the spring with a double major in business economics and political science and double minors in computer applications and international finance. He hopes to pursue his dreams in the U.S. He's a research assistant for a Harvard professor and interning with economics professor Kathleen Burke, mapping how funds are managed across the SUNY system. Exceptionally connected and engaged, Ardi is most proud of time spent as an EOP peer mentor and tutor, helping others navigate life on campus.

Nominate a Campus Champion
---
Tuesday, Sept. 28
Scholarships, Financial Aid and Study Abroad: Access online, 4 p.m.
---
Wednesday, Sept. 29
Wellness Wednesday Series: Healthy Red Dragons wellness information, Student Life Center lobby, noon to 3 p.m.
Sandwich Seminar: Undergraduate Research and You, Old Main Colloquium, 12:30 to 1:30 p.m.
Study Abroad 101: Old Main, Room 220 Colloquium, 3 to 4 p.m.
---
Thursday, Sept. 30
Latinx Heritage Month Sandwich Seminar: "Exploring the History and Use of Testimonios as a Tool for Social Change," Old Main Colloquium, noon to 1 p.m.
Guided Tour with the Artist: Jack Elliott, artist and educator, coinciding with the Laying in the Cut exhibition, Dowd Gallery, Dowd Fine Arts Center, Room 106, 6 to 7 p.m.
---
Friday, Oct. 1
Dowd Gallery First Friday: Cultural Council of Cortland County, 5:30 to 8 p.m. Virtual and in-person event, Dowd Gallery, Dowd Fine Arts Center, and Facebook, Instagram, Dowd Gallery website.
---
Monday, Oct. 4
Teacher Certification Requirements Overview: Online via Handshake, 5 to 6 p.m.
---
Tuesday, Oct. 5
Open Mic Night: Corey Union, 7 to 8 p.m.
---
Wednesday, Oct. 6
Sandwich Seminar: Cross-Pollinating Courses to Support Learner Synthesis, Old Main Colloquium, 12:30 to 1:30 p.m.
Speed Resumes Workshop: Online via Handshake, 12:30 to 1:30 p.m.
Study Abroad 101: Online in the IPO Remote Advising Room, 3 to 4 p.m.
Wellness Wednesday: Empowerment Self-Defense, presented by University Police officers, Corey Union Exhibition Lounge, 4 to 5 p.m.
---
Thursday, Oct. 7
Latinx Heritage Month Sandwich Seminar: "Immigration Under the Biden Administration," Old Main Colloquium, 12 to 1 p.m.
Intro to Handshake and LinkedIn Workshop: Online via Handshake, 4 to 5 p.m.
Deliberation: Elections Security and Access, online via Webex, to register email john.suarez@cortland.edu, 6:30 to 8:30 p.m.
---
Friday, Oct. 8
Art Tour Field Trip: To Storm King Art Center and the Dia Beacon, sponsored by the Art Exhibition Association, transportation provided, 7 a.m. to 8:15 p.m.
---
Monday, Oct. 11
Admissions Fall Open House: Campus-wide, 9 a.m. to noon.
Black Out for Justice March: Corey Union steps, 6 to 8 p.m.
Latinx Heritage Month Online Seminar: "Hybrid Spiritualities of Hybrid Identities," 6:30 to 7:30 p.m., via Webex.
---
Tuesday, Oct. 12
SafeZone Workshop: Online via Webex, 3 to 5 p.m.
---
---
"Survivor" contestant a previvor
09/20/2021
Tiffany Reiss Seely '95 is ready for the challenges, the alliances and everything else that goes with being a contestant on season 41 of CBS' "Survivor."
After all, she considers herself a "previvor."
When Seely was a senior in high school, her mother, Shevi Reiss, died of ovarian cancer at age 38.
It was a heartbreaking and tragic period of Seely's life. And it inspired her to go to SUNY Cortland and major in elementary education. Being a teacher would provide the ability for Seely to follow her passion to guide the children of others during the day while having the flexibility to be able to care for her own children on nights, weekends and holidays.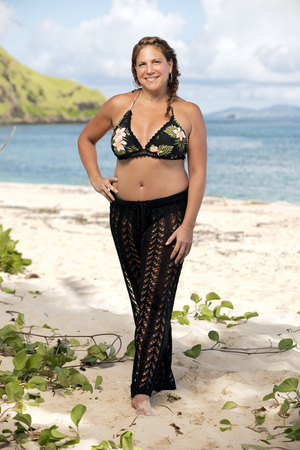 Twelve years after graduating from Cortland, Seely, happily teaching and a mother of two boys, was encouraged by a friend to ask her doctor about the BReast CAncer (BRCA) gene test. In addition to her mother, Seely's mother's aunt had died of breast cancer at age 70.
The test back positive for the BRCA 1 gene, with doctors estimating Seely had an 87% chance of breast cancer and a 44% chance of ovarian by age 70.
Seely was 33 at the time. Five years younger than her mother when she passed away.
So Seely decided to undergo a prophylactic double mastectomy with reconstruction and a Salpingo-Oopherectomy, a surgery that removes both fallopian tubes and both ovaries.
"That was the best decision I've ever made in my life," Seely said.
She's a previvor — the term used by people who are genetically predisposed to cancer but have not been diagnosed because they've taken preventative measures.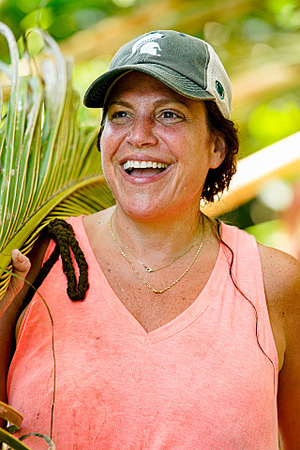 Now, at 47, Seely is happy, healthy and excited for everyone to watch her on the newest season of "Survivor," which begins at 8 p.m. on Wednesday, Sept. 22 on CBS. She credits the BRCA test and the choice to have those surgeries as giving her a second lease on life.
"Maybe I was just so naïve or I was feeling so blessed that I could do something before it got me that really, for me, it was easy," Seely said. "I'm a little different kind of person. It was not traumatic for me like most people would explain it. For me, I've seen the worst of the worst. Loving my children as much as I love them, I couldn't imagine in a million years saying to my kids what my mother had to say to me. I just couldn't even think of it. That would kill me. That would be traumatic to me."
A longtime fan of the show, Seely decided to send in a video audition to "Survivor" in 2018. After a whirlwind of false starts, casting trips to Los Angeles, COVID-19 delays and at first being selected as an alternate, "Survivor" picked Seely at the last minute just before shooting began in March in Fiji's Mamanuca Islands. She'll be one of 18 competitors looking to outwit, outplay and outlast the others for a $1 million prize.
"It kind of reminded me of college," Seely said of arriving on set. "It was really fast and I loved it so much. I had a great college experience. I would do anything to go back, that kind of feeling. I literally said when I was out there, 'This is like my freshman year of college.' I'm 47 years old but I feel like I'm in my twenties. It's so unbelievably unreal to be standing on the sand other players were on."
Seely, from Plainview, N.Y., is a middle school English teacher at Jamaica Academy in Queens. Her childhood experiences of working at a counselor at day camps inspired her to seek a career in education.
Jamaica Academy serves students who have been suspended from other New York City schools. Seely hopes that her run on "Survivor" can be a way she further engages students and teaches important life lessons.
"I work very hard to connect with them socially and emotionally," Seely said. "I think this show can show them that me at 47 and having had trauma in my life, with stick-to-it-iveness, I was able to do this crazy thing I never thought I'd be able to do.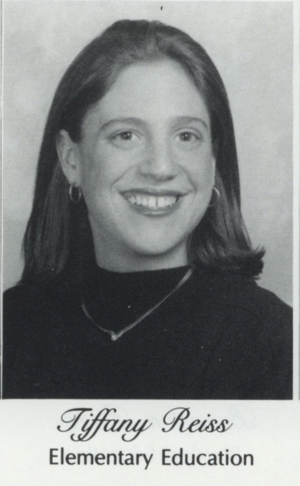 "It will be very cool for them to be able to see me in my room that they can see me on TV. Students, no matter what age, they think you sleep at school. They think you live there. My students in particular, they're going to put me through it. They're a tough crowd but I think they'll have fun with it. I'll be glad to talk to them about perseverance and camaraderie and reading the room and things like that."
Seely is the second SUNY Cortland graduate to recently appear on "Survivor." Tommy Sheehan '14, a fourth-grade teacher at Floral Park-Bellerose Union Free School District on Long Island, was the Season 39 champion in 2019.
A high school volleyball referee in his spare time, Sheehan has crossed paths with the Seelys before, having had refereed some games for Tiffany's son, Sean Seely, who plays for Bethpage High School.
"I guess I'm not winning mother of the year, I haven't been to all the games, and I must have missed some of the games he was at, but he's a referee for this area," Seely laughed. "And I had no clue. But as big as the "Survivor" world is, it starts to become small once you're in it. It's very strange. Cortland I guess pushes out "Survivor" people. I don't know what it is. Maybe something in the water. Or the beer."
Will Seely be Cortland's second "Survivor" champion? Time will tell.
Regardless of what happens on the show, Seely is grateful simply to compete. And she's grateful for her sons, her husband, her students and her friends. She's grateful to be alive.
Seely hopes others will consider taking the BRCA test and talk to their doctor about their options.
After all, "Survivor" might call someday.
"Take the test. Knowledge is power," she said. "Take the test and find out. I'd be more afraid to find out I was sick than to find out I had something that predisposes me to being sick and being able to do something about it. Even if that means being super, super vigilant and doing tests much earlier. People are afraid to hear they have something like that. It's scary. But I would encourage anyone with a family history to be proactive and not reactive."
2022 Cortaca Jug to be played at Yankee Stadium
09/21/2021
Just when you thought it couldn't get any bigger, the football rivalry between Ithaca College and SUNY Cortland is doing just that. On Tuesday, the two institutions announced that they have accepted an invitation from the New York Yankees organization to play the 2022 Cortaca Jug at storied Yankee Stadium. The game will be held on Saturday, Nov. 12, 2022 with a 1 p.m. kickoff.

The Cortland Red Dragons and the Ithaca Bombers played the 2019 game at MetLife Stadium in New Jersey in front of a Division III-record crowd of 45,161 fans. Once referred to by Sports Illustrated as "the biggest little game in the nation," the Cortaca Jug was not contested in 2020 due to the coronavirus pandemic. The 2021 game will take place on Saturday, Nov. 13 at SUNY Cortland.

Ithaca and Cortland will each be issued 5,000 tickets in the fall of 2022 for sale to their students, faculty, and staff at a price of $24.50.
Tickets will go on sale for the general public this fall, beginning on Tuesday, Nov. 16, 2021, with most seats priced from $24.50 to $69.50. Those tickets will be sold through Ticketmaster at CortacaJug.com. All tickets will be delivered digitally and mobile presentation will be the sole method of entry.
"We are excited about this opportunity to once again showcase this great game in such an iconic venue," said Cortland's Director of Athletics Mike Urtz '94, M '00. "What Cortland and Ithaca have is so unique at our level. It's all because of the great and storied history of both universities and their athletic programs, including football."

While the stadium is best known as the home of baseball's Bronx Bombers, it has also seen its share of memorable football games and currently hosts the annual New Era Pinstripe Bowl.

"Anyone who has ever attended a Cortaca Jug game can tell you that there is nothing else like it in Division III athletics," Cortland President Erik J. Bitterbaum said. "It has been a proud tradition for more than six decades and is ingrained in our institutional DNA. We are thrilled by this opportunity to again take this cherished event to a national stage."
According to Mark Holtzman, vice president of non-baseball sports events for the Yankees, it was observing the success of the 2019 Cortaca Jug game that inspired the organization to extend the invitation to the two schools.

"We are looking forward to rolling out the pinstriped carpet and welcoming Ithaca and Cortland to the Yankee Stadium lineup," said Holtzman. "We believe we have the opportunity to have a sellout crowd and we are intent on creating a memorable experience for the teams and for their fans."

"To be a small part of the history and tradition of iconic college football rivalries held at Yankee Stadium is both humbling and exhilarating," said Cortland's head football coach Curt Fitzpatrick. "This is an awesome opportunity for Red Dragon football to once again play on a national stage in an iconic venue. Thank you to the New York Yankees organization for the invitation."

The 2022 contest will serve as a home game for Ithaca College and mark the 63rd time that the two schools — located just 21 miles apart from each other in Upstate New York — have squared off for the Cortaca Jug. The rivalry originated in 1959, when friends and respective team captains Tom Decker '61 of Cortland and Dick Carmean of Ithaca picked up a jug at a yard sale to serve as the prize for the winner of the annual game between the schools. Each year's result is painted on the Jug — the original one ran out of room for scores in the mid-1980s, and the teams are now on their third Jug.
"Our Cortaca tradition is an amazing way to bring Red Dragons together and share our collective Cortland spirit," said Erin Boylan, executive director of Alumni Engagement at SUNY Cortland. "We are very excited to host alumni at Yankee Stadium. Our game at MetLife Stadium was our largest alumni event to date and we look forward to making Cortaca 2022 the Biggest Little Game ever."

Additional details about the 2021 game in Cortland and the 2022 game at Yankee Stadium will be shared soon at CortlandRedDragons.com, RedDragonNetwork.org and Cortland.edu/Cortaca.
---
Capture the Moment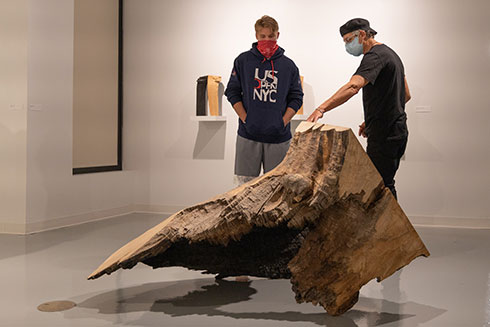 Ithaca-based artist Jack Elliott, right, talks about his piece "Argenteum," with sophomore fitness development major Giovanni Gibson during a tour of his exhibit, "Laying in the Cut" in Dowd Gallery on Sept. 23. Elliott produces sculptures that explore the relations between trees, people and our shared biophysical environment. His work is on display through Saturday, Oct. 16.
---
In Other News
Cortland golfer competes at Pebble Beach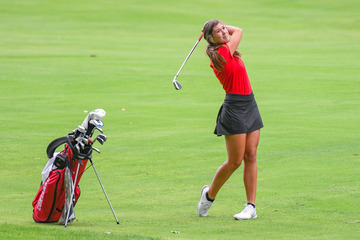 09/27/2021
Pebble Beach Golf Links is one of the most iconic venues in the sport.
The rugged Pacific Ocean coastline, the sloping greens and the impossibly blue skies — it's no wonder why Pebble Beach is the No. 1-rated public golf course in the nation.
SUNY Cortland first-year golfer Claudia Winterberg can't wait to tee it up there as part of the PURE Insurance Championship from Sept. 21 to 26. After four years of hard work and determination, she's earned an opportunity to play alongside 80 other top young players from around the country and some of the best golfers in history.
"It's the holy grail of golf courses," said Winterberg, an exercise science major from Harrisburg, N.C. "If you're not into golf you probably still know Pebble Beach. It's not like any other golf course in the world."
This opportunity came through Winterberg's decade of involvement in First Tee, a non-profit that works to teach young people about the fundamental skills of golf while also imparting life lessons of honesty, integrity and sportsmanship.
It was a fun thing to do on the side while she focused mostly on basketball and volleyball.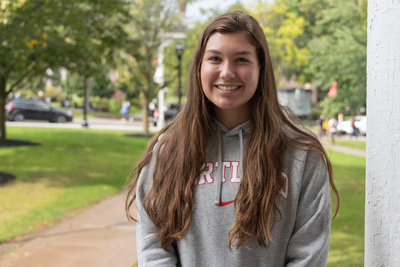 That was until one of her First Tee friends earned a spot in the PURE Insurance tournament when Winterberg was a high school freshman.
Winterberg wanted to play there, too.
For the next four years she dedicated herself to the game, as well as First Tee. By her senior year of high school, Winterberg had received Ace certification through First Tee, a process that involved community service, exploring career and educational opportunities and developing her golf skills.
She applied for one of the 81 annual spots for qualified First Tee members to go play at Pebble Beach in 2020. A personal essay, her work in the community and her skills on the course were evaluated by a national panel of judges. She got in.
And then the junior portion of the tournament was canceled due to COVID-19.
When the application process for 2021 began, Winterberg dove back in, hoping her dream would come true. She sent in an essay about perseverance, one of First Tee's nine core principles, writing about her experiences fighting through frustrations on the golf course and the struggles of being a high school golfer searching for a college program amid a pandemic.
Winterberg was accepted again. She'll soon head to the Pacific coast where she'll be teamed with one of 81 PGA Tour Champions professionals, including familiar names such as K.J. Choi, John Daly, Ernie Els, Bernhard Langer, Corey Pavin, Vijay Singh and more.
"I see these guys and I think, 'How do they hit these shots?'" Winterberg said. "I'm playing college golf and I'm always trying to improve my game. The best way to do that, I think, in any sport, is to watch the best and see what they do. It's not just how they hit the ball, but what's their pre-shot routine? What do they do the night before? What makes them an overall great athlete? I want to talk to them about that and what advice they have for someone my age."
In addition to competing for the Pro-Junior team title, she'll have the opportunity to meet industry leaders and learn about First Tee core values like respect, confidence, courtesy and judgement.
Winterberg had a strong career at Hickory Ridge High School in the Charlotte, N.C. suburbs, earning all-conference honors three times and second team all-state honors as a senior to go along with her eighth-place finish at the state tournament her senior year.
After a tour of the SUNY Cortland campus and conversations with women's golf head coach Mike Discenza, Winterberg knew she had found the right college program for her despite the 700-mile distance from home in North Carolina. Winterberg has made quick friends with her teammates, too.
"That's one of the things that's helped me with the transition to college, going through everything and knowing I'm going to have this team," she said. "I'm always going to have eight friends and a coach I can depend on for anything. That means a lot."
She placed ninth overall with a two-day score of 154 in her first collegiate meet at the St. Lawrence Invitational earlier this month.
Her interest in golf as a lifelong sport is part of the reason why she's studying exercise science and physical therapy. While she's just started her studies at Cortland, she's hoping that her classes and faculty members will give her even more insight into how to become a better golfer and prepare her for a future career.
"As an athlete, I love learning what you can do to keep your body in the best shape," she said. "I really hope I can work with athletes because I feel like I have that connection with them. That's my goal."
As for the PURE Insurance Championship, Winterberg is looking forward to getting to finally play Pebble Beach and maybe even wind up on the Golf Channel. Selected live portions of the tournament and replays will be broadcast Sept. 24 to 28.
She's also looking forward to meeting new people and spending time with her father, Eric Winterberg, the person who first put a club in her hands. He'll get to caddy her practice round.
"Making new friends and forming new connections is what I'm most excited about," she said. "And being on TV, that's crazy to think about.
"It's just such a unique opportunity. Who else gets the opportunity to go play Pebble Beach for a week? It's a crazy experience. Getting to play for free, with friends, with a pro, with amateurs? And having my dad by my side, that's just so cool."
(Update: This story was posted to CortlandRedDragons.com on Sept. 17. Winterberg finished the tournament with a three-round score of 23 under par, which ranked third among First Tee girls. She was paired with Alex Čejka, a member of the PGA Tour Champions tour who has 16 career tournament wins and placed fourth at the PGA Championship in 2003. Čejka tied for the second among the professionals at the PURE Insurance Championship with a three-day score of 11 under par. On the tournament's final day, she was paired with K.J. Choi, a pro with 30 career wins, who went on to win the tournament. Winterberg also played with amateurs including former NBA forward Detlef Schrempf.)
Performing Arts Department announces 2021-22 calendar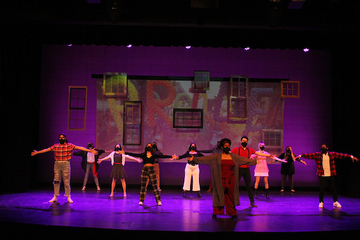 09/28/2021
SUNY Cortland's Performing Arts Department opened its 2021-22 season with "Cortland New Voices: Remix Vol. 3" on Saturday, Sept. 25 in Dowd Fine Arts Center Theatre.
The event, with direction and music direction by Visiting Assistant Professor Jacob Carll, introduces Cortland's newest musical theatre majors.
"Cortland New Voices: Remix Vol. 3" was streamed live to Facebook and is online for those who want to watch the show online.
The Performing Arts Department will host two musicals, one play and several concerts and demonstrations throughout the 2021-22 academic year.
"We are all thrilled and excited to welcome audiences back to our theatre after 18 months," said Professor Kevin Halpin. "For our student artists to come back home to the stage, performing live for a live audience, brings all of us great joy and a renewed hope for what theatre can accomplish. The show must go on."
Face coverings will be required for all audience members at all times. Attendees must show proof of COVID-19 vaccination and ID or proof of a recent negative PCR test and seating will be socially distanced. All tickets and playbills will be distributed digitally. More information about tickets is available online.
A musical, "Big Fish," based on the novel by Daniel Wallace and the 2003 Tim Burton film starring Ewan McGregor, will run from Nov. 12 to 21 in Dowd Fine Arts Center Theatre. The production will be directed and choreographed by Jeff Whiting, who was the associate director on the original Broadway company in 2013. Carll will serve as music director. It tells the story, on multiple timelines, of a family patriarch facing his mortality, his fantastical tall tales and his son, who is about to become a father himself.
A play, "Possessing Harriet," which was written by Syracuse, N.Y.-based playwright Kyle Bass, will be performed in the Dowd Fine Arts Center Lab Theatre from Feb. 24 to 27. Commissioned by the Onondaga Historical Association, "Possessing Harriet" is a dramatization of the story of Harriet Powell, an enslaved woman who escaped from a Syracuse hotel in 1839 and her search for safety across the Canadian border. The play touches on topics such as race, gender, identity and equality.
The play, which debuted at Syracuse Stage in 2018, will be directed by Rodney Hudson.
"Company," the 1970 musical comedy by Stephen Sondheim, will be performed from April 1 to 10 in Dowd Fine Arts Center Theatre. Halpin will direct and choreograph the show, with Carll serving as music director. It tells the story of a single person who is unable to commit to relationships, contrasted with five pairs of married couples and the main character's three romantic interests. The musical received a record-setting 14 Tony Award nominations and was lauded at the time for addressing adult themes in ways that many other musicals of the era did not.
Other events happening during the 2021-22 season include:
Wednesday, Nov. 17: A voice and acting demonstration, location and time to be determined
Friday, Dec. 10: College Singers concert, Dowd Fine Arts Center performance studio, Room 110, 7 p.m.
Sunday, Dec. 12: Choral Union concert, Old Main Brown Auditorium, 3 p.m.
Friday Dec. 17: College-Community Orchestra concert, Old Main Brown Auditorium, 7 p.m.
Friday, April 22, 2022: College Singers concert, Dowd Fine Arts Center performance studio, Room 110, 7 p.m.
Tuesday, April 26, 2022: College-Community Orchestra concert, Old Main Brown Auditorium, 7 p.m.
Friday, May 6, 2022: Dance demonstration, Dowd Fine Arts Center Theatre, 7 p.m.
Friday, May 13, 2022: Commencement Eve Senior Showcase, Dowd Fine Arts Center performance studio, Room 110, 5 p.m.
For more information, visit the Performing Arts Department's On Stage website.
Biochemistry posters on display in Memorial Library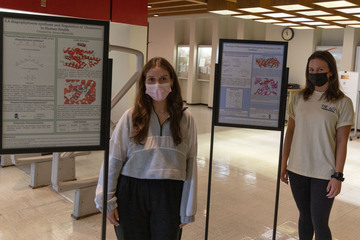 09/27/2021
This past spring, SUNY Cortland seniors Alexis Mastrelli and Morgan Salanger were among the students in a biochemistry class who were tasked with creating posters to explain the structure and function of metabolic enzymes.
Those posters are now on display both in the lobby of Memorial Library and online through the Digital Commons repository.
Recent SUNY Cortland graduates Sidney Campbell '21 and Samantha Stabinsky '21 also have their posters from this project displayed in the library. Other SUNY Cortland students who worked with Associate Professor Katherine Hicks and have their work included in the Digital Commons include seniors Alexander Guerrero and Thomas Roe.
Hilary Wong, instructional services librarian, suggested posting the completed infographics to the Digital Commons and secured the space for the physical display at Memorial Library. One of the objects of this project was for students to explain a complex scientific concept for a general audience. Displaying the posters in a prominent location will catch the eyes of faculty and staff as well as science majors and non-science majors alike.
This project also involved collaboration with students and faculty at Cal Poly Pomona.
Mastrelli, a biochemistry major from Farmingdale, N.Y., focused on 4,4' diapophytoene synthase and the regulation of cholesterol in human health. Salanger, a biochemistry major with a minor in exercise science, examined the role of ribonucleoside-triphosphate reductase in DNA synthesis.
Biochemists study metabolic pathways to understand the series of chemical reactions that happen within the cells of living organisms. Mastrelli's poster, for instance, explores how a particular enzyme could alter cell chemistry in humans that would allow it to be useful as a cholesterol-lowering therapy.
Using software called UCSF Chimera and PyMOL, the students were able to visualize and analyze molecular structures and create graphics for the posters.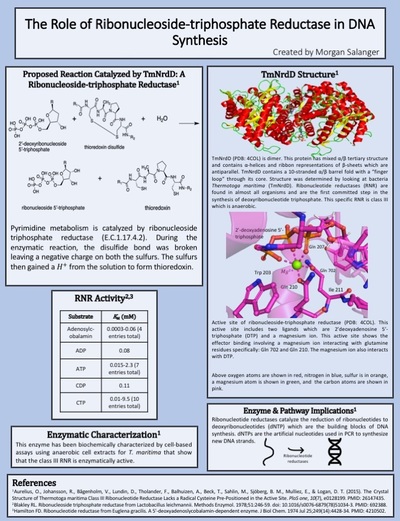 "We knew that everything we did, it was our work that we put into it," Salanger said. "We weren't looking at other structures. We had to make the structures and make sure they were exact. There were a lot of revisions that went into the final product and Dr. Hicks gave us a lot of feedback."
The students worked through their assignments with assistance from Hicks from SUNY Cortland's Chemistry Department and virtually with students and Associate Professor of Biochemistry Kathryn McCulloch from Cal Poly Pomona.
"Our professors posted a collaborative blackboard so we could talk to the students in California and bounce off each other," Mastrelli said. "Things like, 'I ran into this problem, what did you do?'"
Mastrelli is currently deciding between applying to dental or pharmacy school. Salanger is considering a career as a nurse anesthetist.
They've both benefitted greatly from this project and other opportunities in SUNY Cortland's biochemistry major, which graduated its first student in 2013. With a combination of small class sizes, opportunities for hands-on research and preparation for grad school or a wide variety of careers, the major is a great fit for students interested in an interdisciplinary approach to science.
"The tools we were using, learning them has helped me in my classes now," Mastrelli said. "It's a good skill to know how to make publication-quality figures and protein models and reactions."
Online forums address voting, healthcare and climate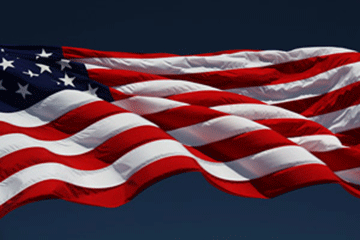 09/21/2021
Across the U.S., concerned citizens and politicians are encouraging people to vote while also proposing ways of safeguarding voting systems.
Recent razor-close elections dramatize the importance of this issue. Last November's race for the 22nd Congressional District encompassing Cortland, for example, was so close that it took three months to decide, with just 109 votes determining Claudia Tenney as the winner.
In order to tap into that national discussion, SUNY Cortland's Institute for Civic Engagement will hold a deliberative dialogue on voting access and security. Rescheduled from the live, Constitution Day event, "Voting: How Should We Encourage and Safeguard Our Elections?" will take place from 6:30 to 8:30 p.m. on Thursday, Oct. 7, on the following Webex link.
The evening of digital dialog kicks off three planned public deliberation events where students and other campus and community members can practice their skills in public affairs conversations.
Two other public deliberations are also scheduled this fall to take place from 6:30 to 8:30 p.m.:
"Health Care: How Can We Bring Costs Down While Getting the Care We Need? will be on Wednesday, Oct. 13, on the following Webex link.
"Climate Choices: How Should We Meet the Challenges of a Changing Climate?" will occur on Wednesday, Nov. 17, on the following Webex
All three virtual discussions are free and open to the public.
Please register in advance to participate in one or more of the events by emailing John Suarez, director of the Institute for Civic Engagement (ICE) and coordinator of the Office of Service Learning.
Suarez will moderate all three events. For the small-group portion of the public deliberations, moderators include David Runge, coordinator of SUNY Cortland's COR 101 program for first-year student success; as well as Hailie Addison, a self-directed student intern in the ICE's Action Team.
"In a public deliberation, everyone participates," Suarez said.
"In moderated small- and large-group settings, we will explore options for making elections accessible and safe," Suarez said. "Participants will have background information, and they will practice skills in civil and productive discussion."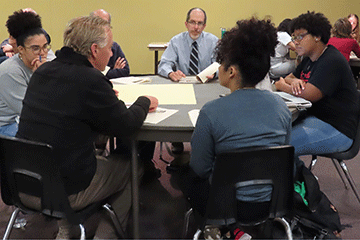 Other upcoming ICE events are as follows:
The New York Public Interest Research Group will hold a kick-off event with its National Voter Registration Day work, on Tuesday, Sept. 28. Details are coming.
Kathleen Donovan of the Redistricting Data Hub will present "Redistricting Isn't Just for Gerrymanderers Anymore" from noon to 1 p.m. on Thursday, Oct. 14. at the following Webex link. The event was organized by Chris Badurek, associate professor of geography and a geographic information systems scholar.
ICE as part of BridgeCortland will cohost a BridgeUSA Generation Roundtable titled "The Intersection of Environment and the Criminal Justice System" at 8 p.m. on Wednesday, Oct. 27. This remote event is in collaboration with five other Bridge chapters around the country including the University of Southern California. Addison is organizing this event and will provide details later.
SUNY Cortland celebrating National Latinx Heritage Month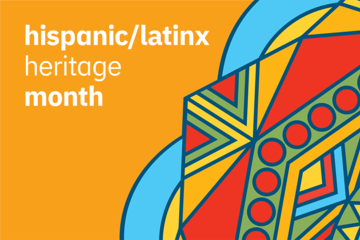 09/16/2021
From now until Oct. 15, SUNY Cortland will celebrate National Latinx Heritage Month with several events on campus.
Students, faculty and staff will have opportunities to learn about the Latinx experience, which includes people with roots in Mexico, South or Central America or the Caribbean.
The events include:
Wednesday, Sept. 22: Sandwich Seminar, "How to Find Your Purpose and Passion – According to the Aztecs" by L. Sebastian Purcell, associate professor in the Philosophy Department, director of the Honors Program and co-coordinator for Latino Latin-American Studies, 12:30 p.m. to 1:30 p.m., Old Main Colloquium
Wednesday, Sept. 22: Online seminar, "A Latino's Wildlife Story and Climate Change Biology," by Erim Gómez, assistant professor of wildlife biology, University of Montana, 7 to 8 p.m. via Webex.
Thursday, Sept. 30: Sandwich Seminar, "Exploring the History and use of Testimonios as a Tool for Social Change," by Jose Ortiz, assistant professor in the Foundations and Social Advocacy Department, noon to 1 p.m., Old Main Colloquium
Thursday, Oct. 7: Sandwich Seminar, "Immigration Under the Biden Administration," by Ute Ritz-Deutch, lecturer in the History Department, noon to 1 p.m., Old Main Colloquium
Monday, Oct. 11: Online seminar "Hybrid Spiritualities of Hybrid Identities," by Tiffany Montoya, visiting assistant professor and consortium for faculty diversity fellow, Muhlenberg College, 6:30 to 7:30 p.m., via Webex.
More information is available through SUNY Cortland's Multicultural Life and Diversity Office's website.
Brooks Lectures explore culture of extremes
09/24/2021
In the last couple years, America and the rest of the world have been wracked by extremes that include political brinksmanship, apocalyptic weather events, deadly pandemic, economic collapse and social upheaval.
At SUNY Cortland, the 2021-22 Rozanne M. Brooks Lecture Series will take on many of these timely topics in five separate lectures or poster sessions on the theme of "The Culture of Extremes." The series, starting on Oct. 13, this year is limited to the campus community because of the ongoing threat of COVID-19.
Among the presentations:
A psychologist will discuss pseudoscience and the tendency for communities to promote fictional research and miraculous cures.
An astronomy and physics expert will share scientific findings about how humans can predict and ward off one of the most "out there" but least considered threats to the planet's survival: a collision with the earth by a giant asteroid.
A sociologist will relate how communities and countries can recover from complex humanitarian emergencies like tsunamis and 30-year wars.
A specialist in homeland security will offer ideas on how radical beliefs sometimes evolve into over-the-top actions.
A student panel will discuss how campus community members can cope in the face of modern day life's extremes.
The Brooks lectures and receptions are free. Due to continued health and safety concerns surrounding the pandemic, members of the public are not invited. Seating will be limited and cannot be exceeded so please come early to secure a seat.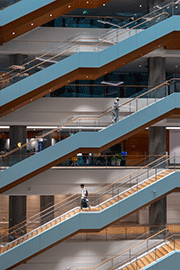 The talks all take place on Wednesdays and begin at 4:30 p.m. in Moffett Center, Room 115. Depending on the current public health circumstances, a reception to welcome each speaker before the talk may be announced. Events in the series are subject to change.
"There seemed no better series theme than 'extremes' for this year given what we all have been through over the last 12-18 months," said organizer and Brooks Museum director Sharon Steadman, a SUNY Distinguished professor and faculty member in SUNY Cortland's Sociology/Anthropology Department.
"The presentations this year will inform us on extreme beliefs and extreme events that surround us from near — such as Covid-19 — to far — such as outer space," Steadman said.
The series opens on Oct. 13 with a presentation on "'Why Do Communities Promote Scientifically Unreasonable Claims? Stupid, Crazy, or Just Humans Being Humans?"
The speaker, Craig Foster, is professor and chair of SUNY Cortland's Psychology Department.
Humans, according to Foster, promote a variety of unrealistic scientific claims that lack scientific credibility: climate change denial, anti-vaccination sentiments and creationism to name a few. Yet these promotions exert substantive and dangerous influences on contemporary society.
"It is appealing to believe that people who promote these and other forms of pseudoscience must be unintelligent or mentally unwell," he said.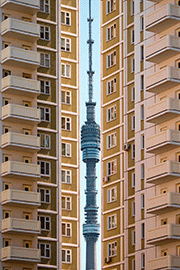 Foster will offer an opposing opinion. Drawing on his research and personal experience in studying pseudoscience, he will make the case that scientific-related fraud develops because humans are generally vulnerable to being drawn into pseudoscientific claims.
The series will continue on Nov. 10 with Beth Ellen Clark, professor and chair of Ithaca College's Physics and Astronomy Department, lecturing on the subject of NASA's OSIRIS-REx Asteroid Sample Return mission with the talk, "Extreme Hazards: Planetary Collision."
She will help the participants imagine case scenarios that are worse than climate change.
"We will review the ways in which NASA's recent OSIRIS-REx Asteroid Sample Return mission is contributing to our quest to protect planet Earth from potentially hazardous asteroids," Clark said.
Continuing the series in the spring, on Feb. 23, SUNY Cortland assistant professor of sociology Elizabeth Bittel will speak on "(Re)Making Home on Shifting Sands: Lessons from Post-Catastrophe Corrosive Communities."
Using ethnographic data collected in Batticaloa, Sri Lanka, Bittel has explored how communities experienced recovery from the 2004 Indian Ocean Tsunami, considered to be a "mega-catastrophe," and the 30-year Eelam War(s).
"This work interrogates how power flows through institutions and communities seeking to rebuild their homes on shifting sands," Bittel said.
"In particular, my work looks at how the process of rebuilding physical infrastructure is shaped by actors and institutions and co-produces social cohesion or corrosion, which both flourish throughout the lifecycle of disasters."
A student panel will share their ideas at a presentation titled "Recovering from Extremes" on a date in March to be announced.
The series will conclude with a talk that teases lessons from the insurrection at the U.S. Capitol on Jan. 6, 2021, which caught many Americans off guard.
Sam Jackson, an assistant professor in the College of Emergency Preparedness, Homeland Security and Cybersecurity, University of Albany, will focus on "From Extreme Beliefs to Extreme Actions: The Oath Keepers" on April 6.
Some Americans have become more explicit in preparing for violent conflict to stem off an alleged threat coming from criminals, terrorists, other Americans and even the government.
"A group called Oath Keepers exemplifies this trend: perceiving threats from government, preparing for conflict with government, and leaving the door open for individual Americans to take action into their own hands," Jackson said. "By examining this group, we can begin to understand how Americans who believe themselves to be patriots might storm the Capitol and attempt to disrupt American democracy."
The 2021-22 Brooks Lecture Series is sponsored by a grant from the Cortland College Foundation, the Sociology/Anthropology Department and the President's Office. For more information, contact Steadman at 607-753-2308.
Important information about contact tracing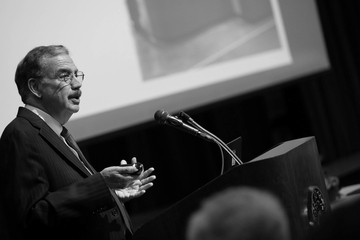 09/23/2021
Dear students,
I am reaching out to clarify your responsibilities related to COVID-19 contact tracing.
When an individual tests positive for COVID-19, the Cortland County Health Department will interview that individual about their symptoms and their recent schedule and interactions. Anyone who is identified as a close contact will be notified by a contact tracer. Close contacts are those individuals who were within six feet of an infected person for 15 minutes or more.
The best and most efficient way for contact tracing to work is if you know who your close contacts are. In class, introduce yourself to the students you are sitting next to or working with. Write down their names in your notes in case you are contacted by the county health department. It is everyone's responsibility in a pandemic to know who your close contacts are.
If you are contacted by the county health department, please know:
You must participate in the process and it is important that you are honest with your answers.
The contact tracer may call you at any time, including evenings and weekends. Their call may come from a blocked number.
Follow any recommendations given to you in this call. If you need to schedule a COVID-19 test, contact Student Health Service at 607-753-4811 or an urgent care or pharmacy.
Should you need to isolate or quarantine and miss class, contact your instructors as soon as possible. Additional advice is available online.
Contact tracing is most effective when it happens quickly, and you can help by paying attention to who your close contacts are in class, at work, and on campus.
Please continue to monitor your symptoms daily, seek testing and stay home if you feel ill. Wear face coverings when you are near others on campus. These remain important steps for us in fighting this virus.
My sincere thanks go out to you for your enormous efforts this semester.
All the best,
Erik J. Bitterbaum
President

Suggest a feature story
---
Faculty/Staff Activities
Jacqueline Augustine
Jacqueline Augustine, Kinesiology Department, recently had her manuscript, "Sex differences in cardiovascular adaptations in recreational marathoners," published in the European Journal of Applied Physiology.
Tyler Bradway
Tyler Bradway, English Department, gave a guest lecture on queer narrative theory at Cornell University in Caroline Levine's School of Criticism and Theory seminar, "Formalist Methods, Political Consequences."
Jacqueline Dyke M '08, Jason Page M '12, Lynn Anderson and Susan Wilson
Jacqueline Dyke M '08, Jason Page M '12, Lynn Anderson and Susan Wilson, of the Recreation, Parks and Leisure Services Department, presented virtually at the 2021 American Therapeutic Recreation Association annual conference. Dyke and Wilson presented "Don't Farm It Out to Facebook: Using Your Skills to Design Interventions that Work." Page presented with Patricia Stanko, MS TR-On '21, "It's a Long Road: Supervising a CTRS Candidate on the Equivalency Path to Certification." Page also presented "The Status of Clinical Supervision in Therapeutic Recreation in 2020: A Follow Up Study" with Anderson and Melissa Zahl from the University of Utah. Additionally, Wilson presented with Jennifer Hinton from Western Carolina University, "How We Teach the Language of Disability: It's Not All Person-First Anymore" as well as a solo and live presentation titled "Burnout and Compassion Fatigue."
Andrew Fitz-Gibbon
Andrew Fitz-Gibbon, Philosophy Department, was named to a three-year term on the State University of New York's Distinguished Academy Board on Sept. 23. This follows his appointment to Distinguished Service Professor by the SUNY Board of Trustees in June, a title conferred upon individuals who have given sustained outstanding service to the campus, SUNY, the community, the state of New York or the nation.
Denise D. Knight
Denise D. Knight, English Department, has had her monograph, "'what our union once was': Newly Recovered Letters from Charlotte Perkins Gilman to Martha Luther Lane," published in the Fall 2021 issue of American Literary Realism.
Kristine Newhall
Kristine Newhall, Kinesiology Department, had an article titled "'Mostly what we do is ride bikes': A case study of cycling, subculture, and transgender policy" published in the most recent issue of Transgender Studies Quarterly.
Tadayuki Suzuki
Tadayuki Suzuki, Literacy Department, recently had his article, "Mirrors, Windows, and Sliding Glass Doors: Exploring the 2020 Rainbow List," published in Children and Libraries: The Journal of the Association for Library Service to Children. It was coauthored with Darryn Diuguid of McKendree University and Barbara Ward from the University of New Orleans.

Submit your faculty/staff activity