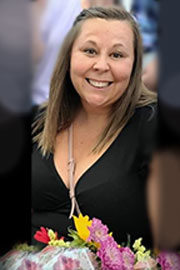 Campus Champion
Tanya Maggs, general manager at the Lynne Parks '68 SUNY Cortland Alumni House, began Reunion 2022 preparations over a year ago coordinating menus, vendors, set up and staff. Everything came together July 14 to 17 with back-to-back events throughout the weekend. Tanya's talent as a hospitality professional directly impacted Reunion's overwhelming success. "Always focused on hospitality, last week in the midst of Reunion set up, she took time to present Parks Alumni House as a potential venue to a new customer," said Erin Boylan, Alumni Engagement executive director. "But it's her ability to build relationships with our alumni that makes her a champion at her game."

Nominate a Campus Champion
---
Friday, July 22
Online Orientation for First-Year Students: 10:30 a.m. to 4:30 p.m.
---
Wednesday, Aug. 24
Understanding and Advocating for Racial Justice for Faculty/Staff: Corey Union Exhibition Lounge, 2:30 to 4:30 p.m.
---
Thursday, Aug. 25
Welcome Week begins: Designed to help new students become a part of the campus community. Welcome Week events continue daily through Monday, Sept. 6.
Halls open from 9 a.m. to 5 p.m. New students may move in.
President's Opening Address and Faculty Meetings: Corey Union Function Room, 8:30 a.m.
S'mores and Lawn Games: Welcome Week event, Student Life Center, 8 p.m.
---
Friday, Aug. 26
Halls open from 9 a.m. to 5 p.m. New students may move in.
Red Dragon Pride: Welcome Week event, meet other students, free t-shirt and ice cream social, Stadium Complex, 4 p.m.
SLC Takeover with Orientation Assistants: Welcome Week event, Student Life Center, 9 p.m.
---
Saturday, Aug. 27
Halls open from 9 a.m. to 5 p.m. Returning students may move in.
Red Dragon Stuff a Buddy: Welcome Week event, Corey Union Exhibition Lounge, 3 p.m.
Welcome Picnic: Welcome Week event, Bishop and Shea Quad, 4 to 7 p.m.
Nachos at Night and Make a Street Sign: Welcome Week event, Corey Union first floor, 8 p.m.
---
Sunday, Aug. 28
Halls open from 9 a.m. to 5 p.m. Returning students may move in.
Transfer Takeoff and Class Finding Tours: Newmark Pavilion between Memorial Library and Sperry Center, 1:30 to 3 p.m.
First-Year Class Finding Tours: Corey Union steps, 2 p.m.
Academic Convocation: Open to all first-year and new transfer students as well as faculty, librarians and professional staff, Student Life Center, 4 p.m.
Academic Convocation Dinner: Lusk Field House, 5 p.m.
All Students Floor Meetings: Residence Hall main lounges, 7 p.m.
Red Dragon Scavenger Hunt: Follow @CortlandNites on Instagram, 8 p.m.
---
Monday, Aug. 29
Fall semester classes begin
New Graduate Student Welcome Q&A: Hosted by Advisement and Transition, Corey Union Fireplace Lounge, 2:30 to 4:30 p.m.
DIY Room Decoration: Welcome Week event, Corey Union Function Room, 5 p.m.
Game Room Contests: Welcome Week event, Student Life Center Game Room, 7 p.m.
Intramural Sports Employment Info Session: Student Life Center, Room 1104, 8 p.m.
---
Tuesday, Aug. 30
New Graduate Student Welcome Q&A: Hosted by Advisement and Transition, Corey Union Fireplace Lounge, 2:30 to 4:30 p.m.
Recreational Sports Fair: Student Life Center, 4 to 7 p.m.
Trivia: Welcome Week event, Corey Union Exhibition Lounge, 9 p.m.
---
Wednesday, Aug. 31
Study Abroad 101: Old Main, Room 220, 3 to 4 p.m.
Wellness Wednesday: Africana Dance, Student Life Center MAC Court, 7 p.m.
---
Thursday, Sept. 1
Student Employment and Internship Info Fair: Sponsored by Career Services, Corey Union Exhibition Lounge, 3 to 5 p.m.
Chocolate Fountain and Board Games: Welcome Week event, Corey Union Function Room, 8:30 p.m.
---
Friday, Sept. 2
International Programs Welcome Celebration: Corey Union steps, noon to 1:30 p.m.
Food Truck and Resource Fair: Corey Union steps, 2 to 4 p.m.
Voice Office Welcome: Bishop-Shea Quad, 4 to 6 p.m.
Cortland Nites Hypnotist: Corey Union Function Room, 8 p.m.
---
Saturday, Sept. 3
The Great New York State Fair: New York State Fairgrounds, Syracuse, advance registration required, transportation provided, noon to 6 p.m.
Cortland Nites Mini Golf: Shipwreck Amusement Center, Cortland, advance registration required, transportation provided, 7 to 10 p.m.
---
Sunday, Sept. 4
Outdoor Movie: To be announced, Moffett Center lawn, 8 p.m.
---
Monday, Sept. 5
Labor Day: No classes in session, offices are closed.
Student Club Fair and Labor Day Carnival: Corey Union steps, noon to 3 p.m.
---
The next issue of The Bulletin will be published on Tuesday, Aug. 30.
---
---
Busy summer of construction underway on campus
07/19/2022
Construction projects totaling more than $35 million are taking place across SUNY Cortland's campus this summer, touching everything from academic buildings to residence halls and bringing improvements from wider sidewalks to brand-new outdoor signage.
In total, the university's Facilities Planning, Design and Construction team is overseeing 36 projects in various phases on top of the upkeep and maintenance that usually takes place during the summer.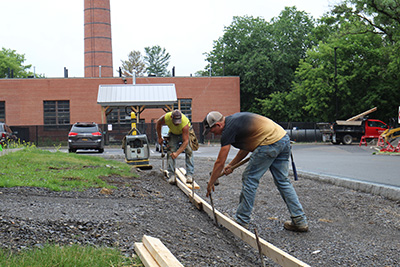 Some projects are highly visible, such as the second- and third-floor redesign of Miller Building, which houses many administrative offices, and the complete renovation of Smith Tower, a high-rise student residence located near Broadway Avenue. Other work, from roof repairs to elevator and boiler replacements, is smaller in scale but equally as important.
"Summer is a very busy and rewarding time, especially this year," said Associate Vice President for Facilities Management Zachariah Newswanger. "It's exciting to see the physical construction taking place because many of these projects have been scheduled for several years."
Multiple upgrades and renovations continue to be completed in phases, such as the campus-wide site lighting renovation. Several other projects have depended on years of research and planning.
Some of the most visible construction this summer includes:
Miller Building renovation: Work that began in August 2021 is expected to near completion for the Fall 2022 semester. The project will transform the building's second and third floors, which are receiving their first major upgrade since the building opened in 1967. Several offices serving students and employees will return to renovated spaces, including Financial Aid, Human Resources and Student Registration and Record Services. When the project is completed, office locations will more closely align based on their services.

Smith Tower renovation: The 10-floor, 285-bed residence hall is set to reopen for the Fall 2022 semester after construction was paused temporarily during the COVID-19 pandemic. The project concludes a $32 million transformation of the university's two tallest student residences, following neighboring high-rise Casey Tower's renovation in Fall 2020. Suite, quad and corridor-style living will be available for new and returning students, and the improvements will be numerous: new kitchenettes, laundry facilities, bathrooms, lounges, ventilation and several energy-efficient enhancements, including LED lighting and new windows.

Campus-wide exterior signage: Everything from outdoor building markers to campus road signs to large directional guides at intersections will be replaced and refreshed this summer as part of an extensive analysis led by Corbin Design, a wayfinding design consultant. The new, durable signage will feature visual elements customized for the university, from subtle dragon scales to unique road signs. Eventually, interior building signage will be updated to reflect the new look in the recently renovated Moffett Center.

Campus-wide site lighting: This three-phase project is nearing completion, bringing 467 new exterior light fixtures and 27 emergency blue light pedestals to replace aging lampposts. The extensive work will improve lighting along roads, parking lots and walkways thanks to efficient LED technology that brings a 50% energy savings. Construction is currently underway outside the university's athletic facilities near Route 281 and it is expected to wrap up by the Fall 2022 semester.

Park Center Hall of Champions: A new, interactive display for SUNY Cortland's C-Club Hall of Fame can be viewed outside Corey Gymnasium, on the second floor of the main indoor athletic facility that houses the university's NCAA Division III Athletics Department and Physical Education Department. In addition to banners hanging from the ceiling to recognize the university's 25 national championship teams, the Hall of Champions now includes a large flat-screen television for visitors to learn more about the 300-plus C-Club Hall of Fame members. Black-and-white portraits were replaced by a brighter panel display featuring names from each induction class.

Sidewalk replacement and repair: Several campus walkways received extensive work already this summer, including the sidewalk along Gerhart Drive outside Old Main and Miller Building, which was completely replaced and widened. Sidewalks near the quad between Bowers Hall and Sperry Center also are scheduled to be widened in order to accommodate more foot traffic and campus service vehicles.

Old Main window painting: The university's oldest academic building will receive an exterior touch-up starting in mid-July when its peeling window sills are repaired and painted.
In addition to the many construction projects currently underway or nearing completion, several more are in the planning and design phase for 2023, including the C-wing of Cornish and Van Hoesen halls, which encompasses the large space formerly occupied by the university's Tomik Fitness Facility.
SUNY Cortland earns re-accreditation
07/19/2022
The Middle States Commission on Higher Education has reaffirmed SUNY Cortland's accreditation, providing assurance that the university is fulfilling its student-focused mission.
Accreditation allows SUNY Cortland to receive federal aid. The designation makes it possible for its students to qualify for financial aid, transfer credits and qualify for graduate programs.
"This is great news," said President Erik J. Bitterbaum of the commission's recent decision. "I can report that the Middle States team was pleased with SUNY Cortland's current commitment to students as well as its strategic plan for the coming years."
Middle State's accreditation is based on an extensive self-study done by member institutions every eight years. In addition to outlining a school's mission, strategic plans and priorities, the study must include proof that it is actually living up to seven Middle States' standards. If the institution does not provide sufficient evidence, the commission may make recommendations for improvement.
The commission made no recommendations in its report. Cortland's accreditation status will next be re-evaluated in 2029-30.
"I think the process has made us do a better job of thinking about the mission and how we're applying our resources to help us meet that mission," said Distinguished Service Professor Lynn MacDonald, former chair of the Physical Education Department. "People are more aware of strategic planning, and what that really means."
MacDonald and Associate Provost for Academic Affairs Carol Van Der Karr co-chaired the study's steering committee. More than 120 SUNY Cortland faculty and staff served on the committees and working groups that prepared the study, and many more were involved less directly in collecting evidence of the university's compliance.
"It involves all aspects of campus," Van Der Karr said, noting that the commission looks not only at academics, but campus government, finances, operations and other elements. "We really did have people from all corners of the campus working on different pieces."
"Accreditation now is based on outcomes," she said. "They don't want just a list of all the activities you're doing. They want to know how you're measuring the impact of those activities."
More information, including a short video outlining the process, is available online.
SUNY Cortland's core priorities of academic excellence, transformational education, health and wellness, and maximization of resources, are detailed online. So is its 2018-2023 strategic plan.
---
Capture the Moment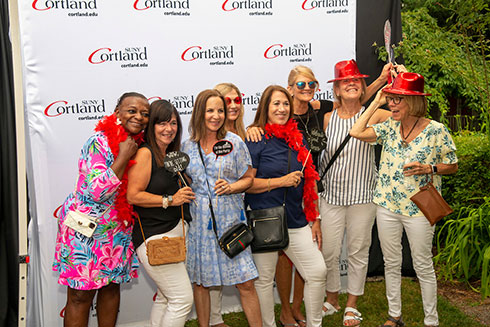 Cortland alumni posed with classmates for some memorable photos during the Reunion 2002 "Brews and Barbecue" event on Saturday, July 16 at the Lynne Parks '68 SUNY Cortland Alumni House gardens. The SUNY Cortland Alumni Association hosted a full schedule of Reunion festivities from Thursday, July 14, through Sunday, July 17. More than 550 graduates and friends came to campus to participate in the first in-person Reunion since the start of the pandemic.
---
In Other News
Undergraduate research summer fellows are back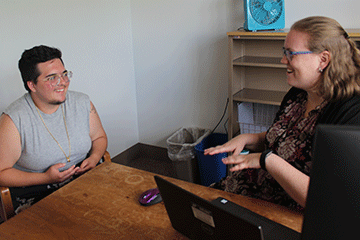 07/19/2022
Does Thanos, the Marvel Cinematic Universe's genocidal supervillain, reflect the fears of actual humans living through the COVID-19 pandemic?
An undergraduate student at SUNY Cortland plans to spend the summer checking it out.
For 10 weeks, SUNY Cortland senior Lawrence Bruce is combing the online superheroes universe for literary clues to the question surrounding the superpowered character who instantly erased half the comic world's human population in "Avengers: Infinity War."
"Superhero films in particular speak back to what we're experiencing in real life," said Bruce, a dual major in social philosophy and English from Bath, N.Y.
He's one of six 2022 SUNY Cortland undergraduate research summer fellows. Following a hiatus during the pandemic, a cohort of eager undergraduates is continuing the university's 16-year-old program. From late May until Aug. 2, it offers each scholar a residence hall bed, a campus research space, a $4,000 stipend and the opportunity to focus on a research project. Through the support of the Undergraduate Research Council, faculty earn $2,000 to mentor a student, doubling the stipend from prior years.
And whereas the program once conjured up images of test tubes, neurotransmitters, laboratories and field research nearby and abroad (in this year's case, Turkey), in fact the program has grown in scope well beyond its early physical sciences focus.
"There's really no major where you don't need rigorous inquiry," said Maria Timberlake, who currently chairs the university's Undergraduate Research Council and also serves as associate professor and chair of the university's Foundations and Social Advocacy Department.
"There's no major where all questions have been answered, whether that's physical education or philosophy, or any kind of social science, not just the more traditional sciences," she said. "We've been trying to look not only at 'How do we create more opportunities to involve students in research' but equally important is 'How do we communicate that to students and faculty to say, 'This means you, too.'"
The message is getting through. Four of this year's participants are exploring areas of social science. And some come from campus community groups previously underrepresented in the program.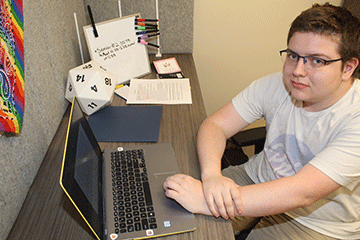 The council also collects more demographic information on its undergraduate research participants, including racial or ethnic identity, original gender identity, and whether or not they have a disability.
Junior Fellow Eric Von Roeschaub, a transgender student and longtime LBGTQIA+ advocate, is investigating the unique needs and challenges for queer and questioning children and youth who grow up outside of cities in a study titled "Rural Transgender and Gender Non-conforming Youth Family Functioning."
"A huge part of being in the queer community is exactly that, community," said Von Roeschaub, an inclusive childhood education major and women's, gender and sexuality studies minor from Port Washington, N.Y.
"It's easy to access in urban areas (such as where he grew up), not so much in rural. Coming to college has made that even clearer to me," said Von Roeschaub, who has a disability that sometimes makes it necessary for him to communicate via text-to-speech assistive software.
With his faculty mentor, SUNY Cortland Health Professor Jena Curtis, he is conducting a qualitative survey involving Zoom face-to-face interviews of trans children and their parents, reached through national organizations that support the transgender community.
"Literally we are talking life or death here," Curtis said. "The question of 'Do youth survive their experiences figuring out their gender identity and then living as their authentic selves?' is really about 'Do they have supportive parents and families?' We're trying to figure out how to support youth and what family dynamics support youth to survive."
Von Roeschaub addresses each child or youth who self-identifies as LGBTQIA+ while Curtis speaks with the parent. They purposely teamed up to look at families in parent-child pairs, an approach called dyadic interviewing. Often used in qualitative research, dyadic interviewing in this instance is meant to reassure parents about the safety, ethics and legitimacy of the study and to let Curtis observe and mentor Von Roeschaub.
Von Roeschaub expects the findings to result in a co-authored paper and a presentation at Transformations, the university's annual student scholarship and creativity conference, as well as practical information that families can use to support their queer or questioning child.
"I think that, having done this research, he's going to be more credible as a teacher talking about why this is so important," Curtis said. "And we need more teachers who understand the value of inclusion for all genders."
"A really important thing to me about being transgender is the fact that I can be visible and open about it," Von Roeschaub said. "A lot of youth don't have the privilege, especially the vulnerable ones who may not have the physical community there to support them, or who just can't access it for being closeted. I have a personal rule that if it will help even one person, it's worth it."
Meanwhile, Bruce has teamed up with mentor Adrienne Raw, an assistant professor in the English Department, meeting weekly to discuss his progress on the study "The Blip and COVID: Responses to Mass Crisis and How Science Fiction Becomes Reality."
Raw, who focused her own doctoral research on the rhetoric of video games and online fandom communities, shows how this newer genre of English literature is growing rapidly as an area of academic inquiry.
"There is a direct link here," Raw said. "Lawrence's project is in my area but is not something I've ever written about or thought about. And it's interesting to think that there are things I'm working on that can add to Lawrence's project."
The superhero universe has evolved from pulp magazines of the early 20th century to an avalanche of books, films, television series, interactive video games and fan club websites. Bruce is exploring how contemporary people use superheroes to cope with big, scary realities like pandemics. "The Blip" refers to the fantasy moment in "Avengers: Infinity War" when half the people in the universe disappeared with a snap of Thano's fingers.
"Part of my argument is with Covid we talk about getting back to normal," Bruce said. "But that is impossible because people have died and things have changed. With 'The Blip,' even when they can bring back all the people that were blipped, everything's changed."
"We're having these conversations in real life," Bruce said.
Timberlake noted that the Undergraduate Research Council recently expanded one of its internal grants adding an introductory level focused on motivating students who may not have research experience or see themselves as researcher, to develop an interest or idea for their own further exploration. While the URC has a strong history of offering various project funding, mentoring and generous summer fellowships to students, these smaller grants might support library supplies, limited data collection or limited transcribing.
Timberlake recently shared Cortland's progress in using its undergraduate research program to encourage and support the participation of disabled students and faculty at the National Undergraduate Research Conference in Washington, D.C., an event focused on "Evaluating Barriers to Access and Improving the Undergraduate Research Experience."
"SUNY Cortland is working in multiple ways to explicitly value diversity, equity and inclusion and our research program is a vital part of that commitment," Timberlake said.
"I feel like we're continually evolving and learning what it means to be an institution that supports diverse students and faculty. Undergraduate research is doing our part and that makes me happy."
In recent times including this year, every student's summer research fellowship has been supported by the generosity of alumni and friends in the form of permanent undergraduate research endowments managed by the Cortland College Foundation. Bruce's work was underwritten by a fellowship from Sandra Laghi Cerulli '68 and Dr. Maurice Cerulli. VonRoeschaub's research was funded by a fellowship from the late Nancy A. Johnson '48, M '56. Four other students were supported this year by fellowships endowed by Bernie LoBracco M '74 and Karen LoBracco '74; W. Hubert Keen, Ph.D., and Sally Keen; the David F. Berger, Ph.D., fellowship funded by Dr. Michael J. Bond '75 and Dr. Wayne Marley '75; and the William H. Hopkins fellowship created by Sheri Baron '77.
Alum entrepreneur champions food, inclusive fitness
07/19/2022
One day during the pandemic, fitness entrepreneur Angelica Ford '17 was leading exercises over Zoom for nearly 100 people with varied abilities at the same time. She was struck with a delicious idea.
"I was teaching 18 group homes over Zoom," said Ford of Ability Fitness, the former Red Dragon swimmer's successful Chicago mobile training business.
The former dual major in fitness development and coaching minored in business at Cortland.
"And one day I said, 'Hey, who wants a job?' And everyone, that's about 96 people, raised their hand. And I thought, 'We have a population here that's eager and willing to work and wants do these things. So that's when Fueled by AF started."
Fueled by AF — the AF stands for Ability Fitness while the initials for Ability Fitness match the owner's name — produces a power snack of Ford's own invention, the Protein Bite, a ball-shaped, protein-packed sweet that comes in a variety of natural flavors.
The business opened in June 2021 and today, following a six-week training course, Fueled by AF employees with a wide range of physical and mental abilities engage in rolling out, cutting and packaging the product at the company's plant in The Hatchery, in Garfield, Illinois.
"In a five-hour work session, we produce 1,355 Protein Bites by hand; no machines," Ford said, as she hand-rolled her product.
Ford's model inclusive venture gained the attention of CBS Chicago, which broadcast her endeavor in a July 18 report titled: "Chicago entrepreneur, team focus on ability in the kitchen."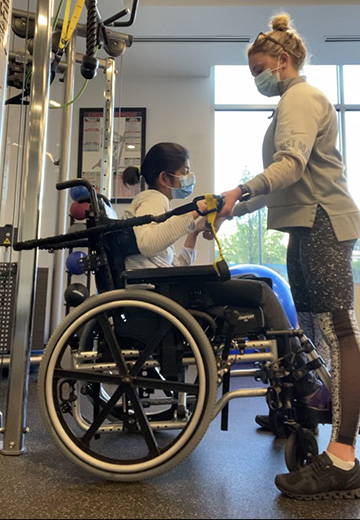 "I'm Italian so I grew up around really good food," said Ford, who holds two school records in swimming. "Like all good Italian treats, it started with a kitchen, one mixing bowl and an espresso maker."
The Protein Bites are packaged in different size servings. Ford endorses bringing a three-pack to work with a mug of coffee for a healthy and satisfying mid-morning snack. Others might recommend the 12-pack, wrapped in cellophane and sporting an Italian flag banner. They're available through her online Fueled by AF store and, more recently, at Chicago area coffee houses and farmer's markets.
"There are no secrets here," Ford said. Originally the company bought the plant-based protein mixture that is the basis for the snack from companies. Then Ford began to experiment with ingredients like pea protein, brown rice and chia seed to develop her own recipe. Recently the company began making its own line of nut butters as a separate product due to a supplier shortage of peanut butters.
It's easy to forget that Fueled by AF is not the first business run by this promising entrepreneur.
People who use adaptive approaches to fitness has been a focus of Ability Fitness, her original venture, since it was created right before the pandemic. Ford, who had already had six years of experience as a personal trainer, designed her company to give access to high quality fitness coaching to individuals with a wide range of abilities in the comfort and safety of their own homes. Her venture has grown from just Ford to five additional employees.
During the pandemic, people of all abilities sought out her intensive style of one-on-one fitness mentoring, Ford explained. She's still identified as 'The Evil Trainer' on the cellphone of one Cortland faculty member who retained her personal coaching services while she was a student.
"We're kind people but we like to make everyone work," she said of her personal training crew.
They work with clients focused on weight loss and injury prevention, help endurance athletes and provide inclusive services to people with disabilities.
"The best way to explain it is we're a mobile fitness company, we can be anywhere you are at," said Ford, a Chicago native. "We don't have one location."
In Chicago's dense neighborhoods, where what would be a three-minute ride in Cortland could take 20 minutes, Ford's original business has really taken off and she keeps adding employees.
"Convenience is something that people still want and need," Ford said. Ability Fitness can do virtual training, but Ford feels that in-person training is the best.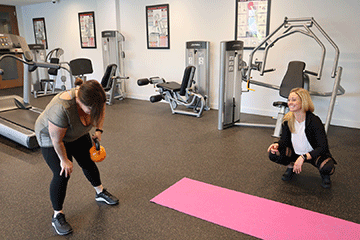 Many individuals in the adaptive community have retained her services.
"If you can't make it into a gym or fitness facility but you want to work out and you want to have a trainer and you want to have a healthier lifestyle, we can come to your home with equipment that we can set up in your home and a trainer that understands working with an individual in a wheelchair," Ford said. "What this does is opens another door for you and gives you access to health and fitness services that you naturally wouldn't have if you were trying to go to a gym."
Last year, at the height of the pandemic when commercial gyms were closed and people sought physical distance from one another, Ford had quit her part-time job at a gym so she could ramp up her own startup helping people maximize their personal workout.
Ford is well aware she's now juggling two very different kinds of business.
"With a service business, you start by training people," she explained. "And that starts the business. A food business starts, but then you have to create packaging, and you have to get permits for kitchen space. It's a little different process. We didn't get the product ready to sell until June 2021."
Her approach to staffing the two operations is also very different.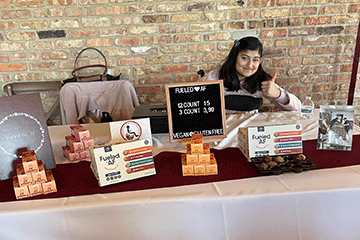 "In Ability Fitness, typically I have to go through one to 20 applicants and it takes considerable time," she said. "For the food business, Fueled by AF, for hiring persons with a disability, they are vetted beforehand, they are in vocational school, there's a facilitator who can tell me, 'Yeah, this person would be the best fit for this business.' They are excellent workers."
While a student at Cortland, Ford captured two school records in the 200-yard individual medley and 400-yard individual medley and won SUNYAC's Grace Mowatt Award. That award is given annually to a senior female swimmer based on career athletic and academic achievement and named after Cortland alumna Grace Mowatt '59, M '63, SUNY Oswego's long-time women's swimming and diving coach and a pioneer of women's swimming in the SUNYAC.
Ford credits her time on the swim team with fostering her success in school.
"Swimming was like the best choice I ever made when I went to school," said Ford. "I think it's what led me to be an entrepreneur and to the position I'm in today."
Cortland C-Club Hall of Fame to induct seven new members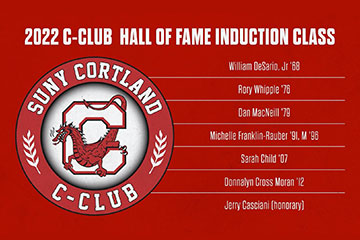 07/19/2022
Seven new members will be inducted into the SUNY Cortland C-Club Hall of Fame during its annual ceremony on Saturday, Sept. 10. The 2022 honorees are:
William DeSario, Jr. '68, wrestling
Rory Whipple '76, men's lacrosse, wrestling
Dan MacNeill '79, football (player and head coach)
Michelle Franklin-Rauber '91 M '96, women's cross country/track and field
Sarah Child '07, field hockey
Donnalyn Cross Moran '12, softball
Jerry Casciani (honorary), men's lacrosse head coach; football, wrestling and men's lacrosse assistant coach; Associate Professor Emeritus of Physical Education
In addition to Saturday night's official ceremony, the inductees will be introduced at halftime of the Cortland football game versus The College of New Jersey earlier that afternoon.
Information for those interested in attending Saturday's induction dinner will be posted soon.
Established in 1969, the C-Club Hall of Fame recognizes Cortland alumni who competed as athletes at the College and who have since distinguished themselves in their professions and within their communities. Honorary members are recognized for their long and significant contributions to SUNY Cortland athletics. New C-Club members have been added annually and this year's ceremony will bring the Hall of Fame roster to 282 alumni and 32 honorary members.
Nominations for the 2023 C-Club Hall of Fame voting will be accepted until January 15, 2023. The nomination form is available online at: http://www.cortlandreddragons.com/nominations. A person must be nominated to be considered for induction into the Hall of Fame.
A detailed look at this fall's inductees will be posted later this summer.
Cortaca Jug coaches to throw first pitch at Yankee Stadium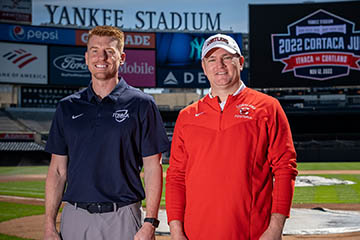 07/11/2022
The head football coaches for rivals SUNY Cortland and Ithaca College will toss the ceremonial opening pitch for a Major League Baseball game at Yankee Stadium on Thursday, July 28.
Cortland Red Dragon coach Curt Fitzpatrick and Ithaca Bombers coach Mike Toerper will throw from the mound as part of Cortaca Jug Day festivities at the stadium. The first pitches will precede the New York Yankees hosting the Kansas City Royals at 7:05 p.m.
As part of the Cortaca Jug Day celebration, special discounted ticket packages starting at $45 are available to both Cortland and Ithaca alumni and students. The first 1,000 fans from each school who purchase tickets through this promotion will receive a regular size hot dog, drink and an exclusive New York Yankees hat branded with a Cortland or Ithaca logo.
Members of the SUNY Cortland community may purchase their tickets for the game and reserve their caps online.
"I hope that many members of the SUNY Cortland community can gather together at Cortaca Jug Day and show off their Cortland pride," SUNY Cortland President Erik J. Bitterbaum said. "This is a wonderful opportunity for our students and alumni to enjoy themselves at one of the most iconic venues in sports."
Cortland and Ithaca College are jointly promoting the highly anticipated 2022 Cortaca Jug football game that will be played at the iconic Bronx stadium on Saturday, Nov. 12. Additional details on the November football game are available on RedDragonNetwork.org.
The July 28 Cortaca Jug Day festivities are part of that promotion. Before the ceremonial pitch, SUNY Cortland fans can gather at a pregame event at Billy's Sports Bar, hosted by the SUNY Cortland Alumni Association. The event, which will run from 4 to 6 p.m. on July 28 is located at 856 River Ave., adjacent to the stadium.
Derek Lalonde '95 named head coach of Detroit Red Wings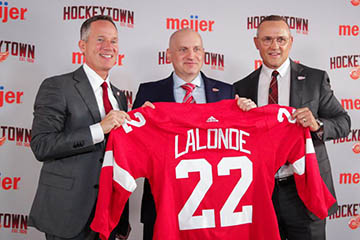 07/01/2022
The NHL's Detroit Red Wings are now led by a Red Dragon.
Former SUNY Cortland goalie Derek Lalonde '95 was named the team's head coach June 30, following a four-year stint as one of the top assistant coaches in the sport with the Tampa Bay Lightning. Lalonde helped the Lightning earn four straight postseason berths, highlighted by back-to-back Stanley Cup championships in 2020 and 2021 and a trip to the finals this past season.
The former physical education major, who played four seasons at Cortland from 1991 to 1995, will coach one of the NHL's Original Six franchises and one of its all-time winningest teams.
Steve Yzerman, a former Red Wings icon who is now the team's executive vice president and general manager, praised Lalonde in a statement announcing the hiring.
"I'm very pleased to announce Derek as our new head coach," Yzerman said. "He has proven himself as an excellent coach at every level and has spent the last four seasons in the National Hockey League as part of a very successful program in Tampa Bay. We feel he is ready to take the next step in his career as the head coach of the Detroit Red Wings."
A native of Brasher Falls, N.Y., about 12 miles southeast of Massena and 15 miles northeast of Potsdam, the 49-year-old Lalonde is far from an overnight success in the hockey coaching world. He started in the Division III ranks as a graduate assistant coach at Massachusetts College of Liberal Arts from 1995 to 1998 and then was an assistant coach from 1998 to 2000 at Lebanon Valley College under his former Cortland head coach, Al MacCormack. He remained in Division III as an assistant at Hamilton College from 2000 to 2002, then held Division I assistant positions at Ferris State University (2002 to 2006) and the University of Denver (2007 to 2011), the latter of which made four straight NCAA tournament appearances during his tenure.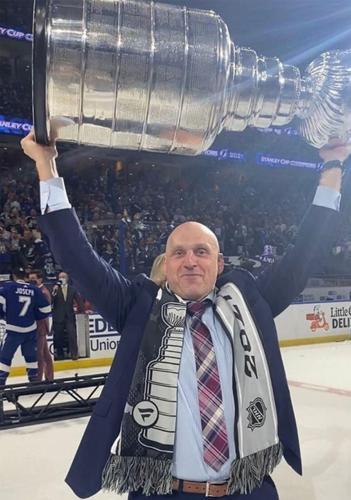 His professional coaching career began as the head coach of the Green Bay Gamblers of the United States Hockey League (USHL) from 2011 to 2014. He led the Gamblers to the league title in his first season. He followed that with two seasons as head coach of the Toledo Walleye, the Red Wings' farm club in the ECHL from 2014 to 2016, and two years as head coach of the Iowa Wild, the American Hockey League (AHL) affiliate of the Minnesota Wild, from 2016 to 2018, before his Tampa Bay tenure.
Lalonde was featured on SUNY Cortland's athletics website in 2021 following Tampa Bay's second consecutive championship.
"It looks like perseverance, but it never was," Lalonde said in the 2021 feature story. "I love the profession. There's not a day that goes by that I don't appreciate doing this for a living. Whatever stop I had, it was never about the next stop. It was always about being great in the job I was in. I got that advice early in my life. I live by it, and I was also blessed with a lot of good hockey teams. It's not an accident I've won everywhere I've been at. You have to have good players."
Lalonde also is no stranger to the Red Wings' organization. He helped transform the Toledo Walleye, the team's ECHL club, and won a combined 97 games in two seasons from 2016 to 2018. He followed that by inheriting a last-place team with the AHL's Iowa Wild and winning 69 games in two years, before the string of recent success in Tampa Bay.
Now, he's the 28th head coach in Detroit's franchise history and entrusted to help rebuild one of the sport's proudest franchises.
Lalonde has kept his Red Dragon friendships and memories close to his heart during his ascent through the coaching ranks.
"I love Cortland to death," he said in 2021. "I had an unbelievable experience. (My former teammates) are still my best friends. The last two years we've had a text exchange with about 30 of my Cortland teammates, not only during my two Cup runs, but also Nate Leaman's '97 World Juniors (head coach of Team USA's National Junior Team title-winning squad in January 2021).
"For me personally, I had to earn my career there. My first year I was one of five goalies. I barely touched the ice until my sophomore year (he played a total of 30 minutes as a freshman). By the time I was a senior I played in most of the games and my teammates named me the team's Red Letter Award winner. It was one of my greatest accomplishments. My teammates and my coaches provided experiences that shaped me and have helped me have the success that I've had."
Jack Flood '18, member of TEAM USA, competes at international decathlon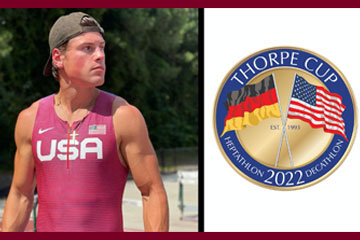 07/19/2022
Former SUNY Cortland NCAA track and field champion Jack Flood '18 finished in third place out of 14 competitors as a member of TEAM USA at the 2022 Thorpe Cup July 9-10 in Dallas, Texas.
The Thorpe Cup is an international decathlon (men) and heptathlon(women) competition between the USA and Germany. A total of 14 men and 13 women competed, with competitors earning points based on their performances. Germany was the team champion.
Flood posted a final score of 7,977 points, his third-best lifetime effort. Austin West of the University of Iowa won the decathlon with 8,062 points. Flood's performance was highlighted by first-place efforts in the high jump (2.08 meters/6' 9.75"), the 110-meter hurdles (13.99 seconds) and the pole vault (personal-best 4.71 meters/15' 5.5").
A Blue Point, N.Y., native, Flood won both NCAA Division III heptathlon (indoors) and decathlon (outdoors) titles during his senior track and field season in 2017. He set school and State University of New York Athletic Conference (SUNYAC) records in both events, scoring 5,247 points to win the heptathlon crown and scoring 7,021 points in the decathlon during the season (he tallied 6,998 points at nationals). Flood competed in the 2021 U.S. Olympic Trials, where he finished in ninth place with a score of 8,036 points, just two shy of his all-time best score.
COVID-19 Safety Information page updates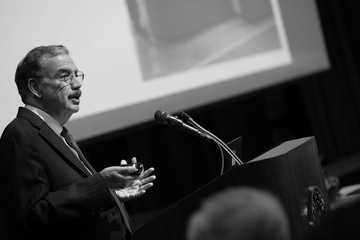 06/28/2022
Dear campus community,
I want to let you know that the university has made some important updates to the COVID-19 Safety Information page in advance of the 2022-23 academic year.
Policies to note include:
All students must comply with SUNY system's vaccination mandate. This means students must be fully vaccinated OR have an approved medical or religious exemption OR sign an attestation form if they are fully remote and will not physically be present on campus during the semester.
SUNY Cortland strongly recommends, but will not require, a booster dose for students.
Students who have received a medical or religious exemption must participate in weekly surveillance testing. These students will be allowed to use the Student Life Center, participate in performances, ensembles, intercollegiate athletics, club sports and intramurals.
All students are strongly encouraged to take a rapid antigen test before they arrive for the Fall 2022 semester.
Additional information for students and employees is available on the COVID-19 Safety Information page.
This page will be continuously updated, and any future policy changes will also be communicated by email. The university will work with partners from the state Department of Health, the State University of New York and the Cortland County Health Department to monitor the situation and adapt to new circumstances.
Thank you for your attention and for doing your part to keep SUNY Cortland safe. Have a wonderful summer break.
All the best,
Erik J. Bitterbaum
President
CALS Lecture Grant applications due Sept. 8
Campus Artist and Lecture Series (CALS) Lecture Grant applications are now available for the 2022-2023 academic year. Applications are available online and are eligible for a maximum of $350. They are open to any club, program or department. These lecture grants will not cover performances of any kind.
Applications must be received by Thursday, Sept. 8 to be considered for September, October, November and/or December 2022 lecture programs. Applications received after Sept. 8 may not be eligible for any fall semester funds remaining.
For more information and to download this application, visit the CALS website or contact Sandra Wohlleber by email or at 607-753-5769.

Suggest a feature story
---
Faculty/Staff Activities
Brittany Adams
Brittany Adams, Literacy Department, had an article titled "Beyond Perpetrators, Victims, and Survivors: Young Adult Literature as Bystander Intervention Education" published in Volume 49, Issue 3 of The ALAN Review.
Kenneth A. Cohen
Kenneth A. Cohen, Recreation, Parks and Leisure Studies Department, was featured in WalletHub's recent study, "2022's Best & Worst Cities for Recreation." The article by Adam McCann, financial writer, was published July 5.
Nancy Kane
Nancy Kane, Kinesiology Department, had her session titled "Transgender and Gender Diverse Athletes: Ethics and U.S. Legislative Initiatives," accepted for the International Association for the Philosophy of Sport's 50th anniversary annual conference. Also, she will chair a separate session on transgender athletes and philosophy at the conference, set for Aug. 14 to 17 at Penn State University. The conference will feature leading sports philosophers from around the world.
Lin Lin and Krystal Barber
Lin Lin and Krystal Barber, Childhood/Early Childhood Education Department, had their paper titled "Tapping Into the Potential of Student Engagement With Universal Design for Learning in Pedagogical Courses" published on Excelsior: Leadership in Teaching and Learning 2022.
Gigi A. Peterson
Gigi A. Peterson, History Department, will lead a program that includes several SUNY Cortland students and alumni in a Universität Potsdam Summer School, "Teaching the SDGs" (United Nations Sustainable Development Goals.) The program takes place in Germany from Saturday, Aug. 27 through Saturday, Sept. 3. The group will participate in "Engaging with Global Citizenship," one of several courses at the summer school. This class centers on issues of migration, language and culture and identities. Instructors from the fields of English language education, literature and history will guide participants in developing their understanding of historical and contemporary migrations, and of transformative, culturally responsive pedagogy that empowers diverse learners. Students began background preparation through modules in history and language and culture education, and they are meeting their German partners virtually before the week in Potsdam.
The SUNY Cortland instructors include two area social studies teachers who continue to collaborate with Peterson and the Adolescence Education Social Studies Program as SUNY Cortland alumni-teacher associates. They are Caitlin Goodwin '11, M.S.Ed. '16, McGraw Middle School, and Taylor Weigand '10, Binghamton High School. Both have extensive international and classroom experience and will be important contributors to this international learning community.

Submit your faculty/staff activity