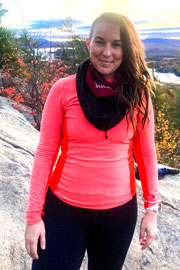 Campus Champion
Kristina Petrella Furi '20, sets an example for her four daughters and one son by living her life to the fullest. After earning her bachelors in psychology, with minors in women's, gender, and sexuality studies and forensic psychology, she is now a graduate student in community health. Employed as a child protective services case worker and an American Sign Language interpreter, she relaxes by training for triathlons, having recently completed an ultra-run. But first, she'll close Women's History Month with a Sandwich Seminar, presented with her friend and local community activist from Cortland Black Lives Matter, Melissa Kiser, at 12:30 p.m. on Wednesday, March 31.

Nominate a Campus Champion
---
Tuesday, March 23
30-Minute Mentor: Therno Diallo '16, online, 6 p.m.
Presentation: "The Intersectionality Wars," online, 6 to 7 p.m.
Women's Herstory Trivia Contest: Online via Webex, 9 p.m.
---
Wednesday, March 24
Women's History Month Sandwich Seminar: "After Carceral Feminism: Abolition as a Lived Practice," online via Zoom, Noon.
Starfish Learning Opportunities: Focus is on setting up academic advising appointments. Join meeting via Starfish WebEx at 3 p.m.
LinkedIn Essentials with Kevin Martin '05: Sponsored by Career Services, online via Handshake, 4 to 5 p.m.
Wellness Wednesday: Stress Relieving Yoga, online via Webex, 5 to 5:30 p.m.
AAUW Start Smart Salary Negotiation: Part 1 of 2, online via Handshake, 7 to 8 p.m.
---
Thursday, March 25
Women's History Month Sandwich Seminar: "Resilient Learners: How to Bend Without Breaking," online via Webex, noon.
Documentary Screening: Series of Shorts, register online, in-person event at Dowd Gallery, Dowd Fine Arts Center, 5 to 6:45 p.m.
Presentation: Graduate Health Services Administration Program at the University of Central Florida, join via Webex, 6 to 7 p.m.
Virtual Trivia Night: Online via Webex, 6:30 p.m.
---
Friday, March 26
Plant and Decorate Your Own Mini Garden: Students will pick up supplies to decorate their own planter, 3 to 7 p.m.
---
Monday, March 29
Starfish Learning Opportunities: Focus is on setting up academic advising appointments. Join meeting via Starfish WebEx at 1:30 p.m.
Study Abroad Information Session: Australia, online via Webex, 4 p.m.
Educator Panel and Virtual Networking Event: Online via Handshake, 7 to 8:30 p.m.
---
Tuesday, March 30
Film Screening: "The Loving Story," 2011, ticket reservation online, Dowd Gallery, 5 to 6:30 p.m.
Study Abroad Alumni Panel: In conjunction with Alumni Engagement, register online, 6 p.m.
---
Wednesday, March 31
Women's History Month Sandwich Seminar: "Navigating race and gender to ensure that Black Lives Matter: Exploring the role of intersectional feminism in community activism," online via Webex, 12:30 p.m.
Remote Study Abroad 101: Online, 3 p.m.
SafeZone Workshop #2 for all: Register for SafeZone #2, online via Webex, 3 to 5 p.m.
AAUW Start Smart Salary Negotiation: Part 2 of 2, online via Handshake, 7 to 8 p.m.
---
Thursday, April 1
Lecture: The Global Future of the COVID-19 Pandemic, register for the event here, online via Webex, 10 a.m.
Sandwich Seminar: COVID and Human Rights, online via Webex, noon.
Lecture: Justice as Healing and Transformation, online via Webex, 2:50 to 4 p.m.
Distinguished Voices in Conversation: Hoxie Gorge Review,register at tinyurl.com/hgrvoices, 6 p.m.
---
Friday, April 2
First Friday: Guided Tour, including Dowd Gallery, organized by the Cultural Council of Cortland County, online and in person, 5 to 8 p.m.
---
Saturday, April 3
SUNY Cortland Literacy Department Conference: Cultivating Self-Awareness with Critical Literacies through Anti-Racist and Anti-Oppressive Pedagogies, conference information, online via Zoom, 9 a.m. to 2 p.m. Read more.
---
Monday, April 5
The Power of Faces: Refugees in Greece, Bangladesh and Mexico, followed by Q&A, online via Webex, 7 to 8 p.m.
Paint and Sip Mondays: Join online event, 7 to 8:30 p.m.
---
Tuesday, April 6
Gallery Conversation: From Washington to Biden: How Presidents Use the Law to Impede Racial Justice, online via Webex, 4 to 5:30 p.m.
Charles N. Poskanzer Lecture: Global Public Health: Impact of the COVID-19 Pandemic in Sub-Saharan Africa – Challenges and Opportunities, online via Webex, 5 p.m.
---
---
Junior selected as Newman Civic Fellow
03/23/2021
As someone that has been active in equity leadership roles, SUNY Cortland junior Patricia Winston explores concerns such as colonialism, racism and global economic structures in local communities.
Winston, an anthropology/social philosophy major with a concentration in Asian/Middle Eastern studies from Queens, N.Y., is actively involved in community outreach. For such dedication, she recently was named among only 212 college students in the country to earn a prestigious 2021-22 Newman Civic Fellowship.
Campus Compact, a national coalition of more than 1,000 colleges and universities committed to the public purposes of higher education, coordinates the yearlong fellowship program that provides training and resources to future leaders.
The fellowship program will guide Winston as she expands her demonstrated skills in leadership and community involvement. The students selected demonstrate a commitment to finding solutions for challenges facing communities locally, nationally and internationally.
Winston gained new perspective that strengthened her qualifications for the fellowship after she studied abroad in India in January 2020 after receiving SUNY Cortland's Doris Morris Stuart '60 Study Abroad Scholarship.
She used her trip to fulfill her interest in seeking roles to advance social and racial equity.
"The main thing that I took from my experience in India was that patriarchy is very real," Winston. "It was really sad to see.
"I got a first-hand glimpse of how developing countries, especially in very rural parts of those developing countries, are very patriarchal and have a lot of work to do," Winston said.
"Not in an ethnocentric type of way … women are fighting for their rights. There are a lot of countries struggling for equality which motivates me even more."
Since then, she continued her leadership role by voicing her opinion on proving a woman's value in societies.
"My future plan is to be an anthropologist in the Gullah Geechee culture," she said.
The Gullah Geechee population are found in southern states including Georgia and Florida. During slavery, they were isolated on a cotton plantation surrounded by water yet were able to conserve their varied African heritage. The combined cultures became known as the Gullah Geechee.
"They have their own dialect and beautiful art," Winston said. "The art is what I wanted to get into the most because it emphasizes women's lives and their children.
"It sparked an interest in me because I was wondering why most of the paintings were involving women," Winston said. "If you look up Gullah Geechee paintings, you'll notice there are a lot more women in the photos than men."

Winston's work shines a spotlight on injustices that are all too often hidden from public view.
"I think that the Gullah Geechee is a great start for that," Winston said. "I want to broaden my horizons on other cultures as well and help as many people as I can."
Winston's commitment to diversity began at Forest Hills High School, N.Y. where she started to become more socially progressive in terms of learning about different cultures and backgrounds.
"It's crazy to hear, but you're a product of your environment," Winston said. "High school definitely changed my outlook. I got into the Academy of Public Service and started speaking up more, 100%."
Students in Forest Hills' Academy of Public Service combine a study of public policy and government with active involvement in the community.
As a first-year student at Cortland, she registered for the World First Learning Community, which blended courses including Introduction to World Anthropology, Culture through Film, The World since 1500 and English Composition.
"After taking Cultural Anthropology, I realized what I really wanted to do when I got here," Winston said. "It opened my eyes to other cultures and ethnicities. Originally, I wanted to be an archaeologist. I came to realize that my true passion is with helping other people."
"The World First Learning Community pushed me to go into more anthropological studies rather than archaeology," Winston said. "Once I got older, I started to become an ally for different communities. I wanted to pick up another major that helped me achieve more activism work, which was social philosophy."
Over the next year, Winston plans to focus on finishing her undergraduate degree. She will pursue a graduate degree in anthropology and ultimately aspires to earning a Ph.D.
Prepared by Communications Office writing intern Jenna Donofrio
President provides update on Fall 2021 semester
03/23/2021
Dear students,
I want to thank you again for your efforts throughout the past year. I believe there are many reasons to be hopeful about the future and look forward to sharing detailed plans for the Fall 2021 semester in the months ahead.
Although the course of the pandemic is unpredictable and many questions remain to be answered, I wanted to make one thing very clear: SUNY Cortland expects to welcome you for in-person living and learning in the Fall 2021 semester. We plan to return to in-person classes and to hold campus activities while following safety guidelines warranted by the situation at that time.
I wanted to share our intention as an initial update to help with your planning.
Some other reminders for the fall:
If you plan to live on campus, the room selection process for the 2021-22 academic year is underway for returning students. You can learn more about important next steps and deadlines. All current students can participate in this process.
SUNY Cortland's plans for the Fall 2021 semester will continue to follow all guidance from local and state health departments as well as the SUNY system.
The university will communicate plans for Fall 2021 as they are approved. We want you to know what to expect on campus and understand important requirements before returning to Cortland.
Remember that your hard work makes a difference. Please continue to report for weekly testing and practice safe behaviors for the good of our Cortland community.
I remain forever grateful for your extraordinary efforts.
All the best,
Erik J. Bitterbaum
President
---
Capture the Moment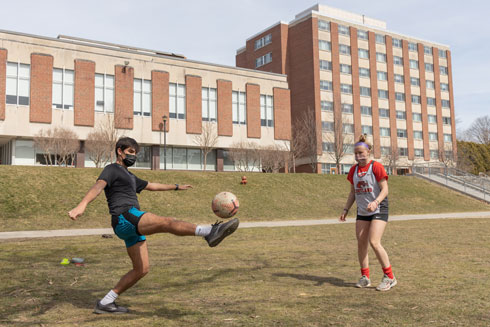 Students Isaac Caballero and Grace Penhollow enjoyed the sunshine and put their footwork skills to the test with some juggling drills behind Hayes Hall on Tuesday afternoon. Looking for things to do? Check out Cortland Connect for the latest events.
---
In Other News
Discussion on race, gender and intersectionality on March 23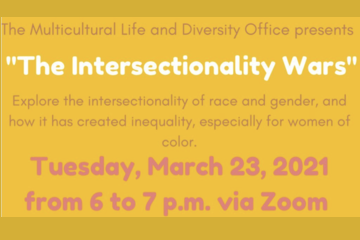 03/19/2021
Racism. Sexism. Homophobia. Gender inequality.
These are just some of the challenging issues facing American society in 2021. How these factors intersect with one another and create overlapping systems of discrimination and disadvantage will be the topic of an upcoming campus discussion.
The Multicultural Life and Diversity Office (MLDO) invites the SUNY Cortland campus community to "The Intersectionality Wars" to educate attendees particularly on how race and gender sometimes clash during Women's History Month.
Hannah Fitzgerald, MLDO's programming intern and a senior biomedical science major and chemistry minor from Loudonville, N.Y., will facilitate this program on Tuesday, March 23. The event, from 6 to 7 p.m. via Zoom, is free and open to the public.
Fitzgerald will speak first and then allow time for an open discussion. Attendees are welcome to ask questions during and after her presentation.
Registration is required. Sign up via Formstack or RSVP through Cortland Connect.
First coined by academic and lawyer Kimberlé Williams Crenshaw in 1989, the concept of intersectionality is an attempt to understand models of discrimination and privilege through studying social and political factors that influence individuals in combination rather than individually.
Combinations of race, gender, sexuality, religion, disability and many more factors can help us explain and understand why individuals face oppression from governments, organizations or other individuals.
"It's statistically proven that Black women have to work two and a half times as hard as a white person to get where they want to go," said Fitzgerald.
Fitzgerald developed her program topic from her presentation last semester on racism and bias in science, technology, engineering, and math (STEM). Her parents had educated her on intersectionality and issues such as the racial and gender pay gap.
"When I was doing my research for that program, I saw that the margin of wealth was closer for Black people and white people in the 1930s than it is now," said Fitzgerald.
"My audience starting out was majority administrators and teachers," said Fitzgerald. "Afterwards, I had some really great discussions with them about what can I do more. A lot of these teachers were white males that have had me as a student, and they know that I'm really outspoken."
Community leaders have asked Fitzgerald for her past presentations. A previous program she held on white fragility had interactive quizzes and polling.
"I don't want to speak from a Black woman's perspective because I'm not a black woman," Fitzgerald said. "I want to speak from the perspective of somebody who's trying to learn as much as possible and trying to share the things that I've learned along the way."
Fitzgerald will focus on court cases related to intersectionality during the program. In addition, the intersectionality of sexism and homophobia in the Black community will be discussed.
"As young people, we need to educate ourselves on what we deserve and what Black women deserve," Fitzgerald said.
A full list of SUNY Cortland's Women's History Month events is available online.
Prepared by Communications Office writing intern Chelsea Grate
Writer/poet to join campus race conversation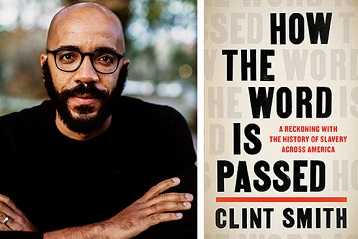 03/23/2021
Clint Smith, an internationally acclaimed writer, poet and educator, will explore the racial issues underpinning American history and culture in a virtual presentation and Q&A session with members of the SUNY Cortland community on April 15.
The event, How the Word is Passed, is being held in conjunction with the Dowd Gallery's current Founder exhibition, which explores similar themes. Lorraine Lopez-Janove, SUNY Cortland's chief diversity and inclusion officer, will moderate the discussion. Artist and Founder creator Andrew Ellis Johnson, a Cortland native whose multi-media work is on display through April 16, will join the conversation with the online audience.
Members of the community can join the 4:30 p.m. event through Webex on April 15.
Smith's presentation is based on his debut non-fiction book, How the Word is Passed, which is scheduled for release in June. In this talk, Smith will discuss how the history of slavery has shaped the contemporary landscape of inequality and shares what he learned from trips to different historical sites throughout the country that are tied to slavery's legacy. His research explores how these places reckon with — or fail to reckon with — their relationship to slavery and how it is our responsibility to collectively document, learn from and account for this history.
Jaroslava Prihodova, director of the Dowd Gallery, said Smith's participation on campus is emblematic of the way artists from different fields can work together to move important ideas and discussions forward.
"His involvement magnifies the underlying social issues visible in works on display," Prihodova said. "The event also addresses crucial conversations about inclusion and anti-racism strategies and policies that our institution and the whole SUNY system have formed.
"I believe that inviting artists, scholars, and individuals into this conversation is a way forward. The Dowd Gallery is committed to celebrating diversity, cultivating a stimulating environment conducive to learning for all students, and providing a climate for creativity and inspiration for faculty, staff, and the wider community."
Smith, a staff writer for The Atlantic, was the 2014 National Poetry Slam champion and a 2017 recipient of the Jerome J. Shestack Prize from the American Poetry Review. He was named to the 2018 Forbes 30 Under 30 list as well as Ebony Magazine's 2017 Power 100 list. His two TED Talks, The Danger of Silence and How to Raise a Black Son in America, collectively have been viewed more than 7 million times.
The program is sponsored by Dowd Gallery, the Art and Art History Department, Art Exhibition Association, Campus Artist and Lecture Series, Center for Ethics, Peace and Social Justice, Economics Department, Foundations and Social Advocacy Department, Haines Fund, History Department, Institutional Equity and Inclusion Office, Provost's Office and the Student Government Association.
Learn more about Founder and other Dowd Gallery exhibitions online.
Health scholar to discuss COVID-19 in Africa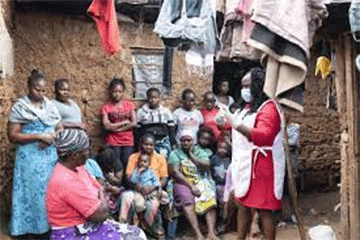 03/23/2021
Undoubtedly COVID-19 remains a terrible public health threat on the citizens of Sub-Saharan Africa.
Yet it's an intriguing thought that opportunity can be pulled out of the pandemic in an always desperately poor and medically underserved corner of the world.
Ben Wodi, a SUNY Cortland professor of health and 37-year faculty member, reasons that the developed world would be foolish to continue ignoring the underlying healthcare disparities igniting contagion in poor countries — which can easily spread elsewhere.
"The world will not fully rid itself of this pandemic as long as the agent finds refuge in regions like sub-Saharan Africa with significant vulnerabilities," said Wodi, who specializes in community health and has coordinated public health-related study abroad trips to developing countries for generations of students.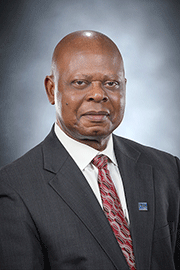 Wodi will discuss "Global Public Health: Impact of the COVID-19 Pandemic in Sub-Saharan Africa — Challenges and Opportunities," during a virtual lecture at 5 p.m. on Tuesday, April 6. To attend, visit the Webex site at the time of the event.
His talk, which represents the 13th Charles N. Poskanzer Lecture sponsored by the SUNY Cortland's Health Department, is free and open to the public.
The event is supported by the Charles N. Poskanzer Fund, an endowment named in honor of the late SUNY Distinguished Service Professor emeritus who taught in the university's Health Department for 40 years.
"Although the African region makes up about 17% of the global population, it appears to account for about 5% of confirmed cases and 3% of the COVID-19 pandemic deaths thus far, in spite of earlier pessimistic predictions," said Wodi, referring to data from the World Health Organization.
The lower attack and case fatality rates may be due to a different mode of transmission, "herd immunity," from prior exposure to other corona viruses, limited testing and reporting of fatalities, unfavorable environmental conditions, and a younger and less vulnerable population, he said.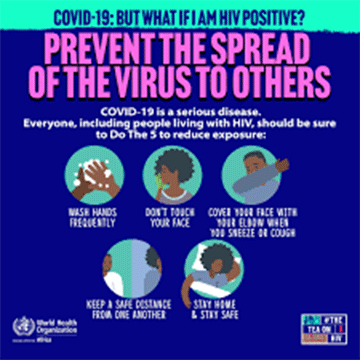 "However, the public health and socioeconomic impact of COVID-19 will linger in the region for the foreseeable future," Wodi said.
Nations that adhere to public health measures such as vaccination, higher levels of sanitation/personal hygiene, social distancing, increased use of face coverings, testing, isolation, contact tracing and treatment, fare better at controlling the incidence of the contagion, he noted.
"These are practices that have not worked well in Africa due to political, cultural and socioeconomic vulnerabilities," Wodi said.
He noted that the pandemic brings with it indirect consequences beyond health that include food insecurity, lack of medical supplies, income/livelihood loss, obstacles with sanitary and physical distancing measures, and debt servicing for already highly indebted countries. Additional challenges to defeating the virus include adverse economic impacts, poor health infrastructure, civil and regional conflicts, human rights violations, limited educational opportunities and gender disparities. Other significant obstacles include testing capacities, lack of medical supplies, deployment of trained community health workers and medical personnel, and equal access to vaccine and other treatment measures.
"Conversely, the COVID-19 pandemic presents an opportunity for Africa — especially the sub-Saharan region — to begin improving on these areas of vulnerabilities," Wodi said. "These could include the lessons gleaned from managing the Ebola epidemic, HIV/AIDS pandemic, malaria, tuberculosis, as well as adapting to local methods in community engagement."
Wodi has a master's degree in environmental health from East Tennessee State University's Graduate School of Public and Allied Health and a Ph.D. with a concentration in environmental epidemiology from The University of Oklahoma's College of Public Health.
His research on communicable disease epidemiology has been published and presented extensively on a regional, national and international level. Wodi has focused in particular on the determinants of excess morbidity/mortality in sub-Saharan Africa. He is a frequent published author and presenter on the epidemiology of HIV/AIDS in sub-Saharan Africa.
He is currently collaborating with colleagues at the University of Port Harcourt, Nigeria, on a report of Assessing and Implementing the United Nations' Millennium and Sustainable Development Goals, 2000-2030.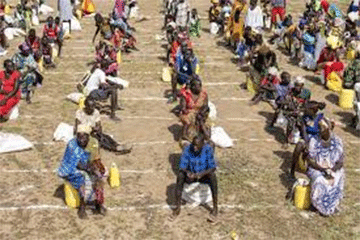 Wodi is the co-author, with SUNY Cortland Professor of Sociology/Anthropology Kassim Kone, of the preliminary edition of a textbook, International Health and Culture (Kendall and Hunt, Dubuque, Iowa, 2020). His book (with contributions from Kone), International Public Health and Culture, First Edition, will be published in Spring 2022.
Wodi has given speeches on the public health significance of climate change, the Ebola epidemic in sub-Saharan Africa, and conducted a town hall meeting on HIV/AIDS in Kenya and Nigeria. He has mentored emerging professionals on behalf of the American Public Health Association.
He serves on an international scientific advisory board to the World Bank-sponsored African Center for Excellence for Public Health and Toxicological Research at the University of Port Harcourt, Nigeria.
Wodi served as visiting professor of public health at the University of Port Harcourt, Nigeria, where he consulted and researched public health issues including the establishment of a Master of Public Health program. Additional public health outreach initiatives took him to Dakar, Senegal, The Gambia and Belize, Central America.
Within Cortland's Health Department, he has used his training in public health to develop new courses in international health, environmental health, and careers in community health. He also developed concentrations in international health for the Health Department as well as SUNY Cortland's International Studies degree program.
He played a key role in the transition of Cortland's health science degree curriculum to community health and the subsequent program accreditation by the Council on Education for Public Health.
Toward internationalizing the curricula at SUNY Cortland, he served on the American Council on Education's Internationalization Laboratory from 2007 to 2009.
Wodi served as vice chair on the Cortland County Legislature's Environmental Management Council to successfully have the EPA designate the Cortland Aquifer — which runs from Cortland to Homer and Preble — as a Sole Source Aquifer System, to protect Cortland's only water source from pollution. He then helped develop a 1998 data management system to cross reference well locations.
The Poskanzer fund was established through the Cortland College Foundation as an endowment to support an annual, public lecture offered by the university's Health Department in honor of its retired colleague. Wodi hosted the inaugural lecture. Poskanzer died in 2010. The annual lecture, which was not held last year due to the COVID-19 pandemic, allows the Health Department to bring national leaders in public and community health to campus to meet with students and faculty and to deliver a public lecture on a current public health issue.
For more information, contact Assistant Professor of Health Alan Sofalvi at 607-753-2980.
Panel to discuss resilient learners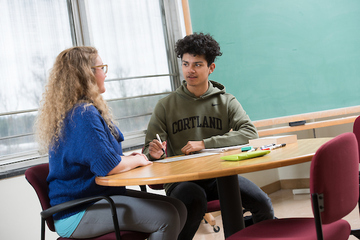 03/23/2021
Those who yearn to thrive while pursuing education during life-changing, stressful situations have an opportunity to learn about the importance of resilience and how it is beneficial to all learners.
"Resilience is always important," said Esa Merson, director of The Learning Center. "It is even more important now, with the added challenges of the pandemic and continued racial injustice."
Conley Counseling and Wellness Services and the Learning Center are sponsoring a virtual panel discussion, "Resilient Learners: How to Bend Without Breaking," on Thursday, March 25.
The sandwich seminar, from noon to 1 p.m., continues the university's Women's History Month series of events. The presentation is specifically designed for students, but anyone is welcome to participate.
Attendees can join the seminar through Webex.
The panelists are:
Raymond Collings, professor in the Psychology Department
Jena Curtis, professor in the Health Department
Leslie Eaton, professor in the Psychology Department
Melanie Jennings, senior counselor in the Counseling Center
Esa Merson, organizer and moderator for the panel and director of The Learning Center
Each panelist has an area of expertise — whether it is social-personality psychology, cognitive psychology, counseling, gender, sexuality or health — that will shape their perspectives when they discuss resilience. Ten minutes will be given to each speaker and during this time attendees can use Webex chat to ask questions or respond to what is being said. Participants also are welcome to ask any additional questions at the end.
What attendees learn from the seminar may be applied to many scenarios, such as remote learning. The goal is to provide tools that can be used to build resilience in any area where learning is necessary.
"The topic is important for everyone, but there can be gendered and cultural expectations, and stigma, attached to asking for help and to the way people process adversity," Merson said.
Resilience is a familiar topic on campus. Helena Baert, associate professor in the Physical Education Department, did a resilience presentation for faculty and staff in August. The Learning Center did a Wellness Wednesday presentation on resilience a few years ago.
"We want to have a conversation about the importance of resilience and give students some tools to process and work through hardships now and into the future," Merson said.
Students have access to many places on campus where they can receive help to develop their learning skills.
"A lot of people think asking for help is a sign of weakness, but it's really a sign of strength to use the tools available to us," said Merson. "We have wonderful resources on campus in The Learning Center, The Counseling Center, Advisement and Transition, the Writing Center and many other offices. And in the administrators, faculty, and staff across campus. The people who work on the Cortland campus truly care about students and want to help."
A full list of SUNY Cortland's Women's History Month events is available online.
Prepared by Communications Office writing intern Chelsea Grate
Performing Arts presents "Raise Your Voice: A Call to Social Change"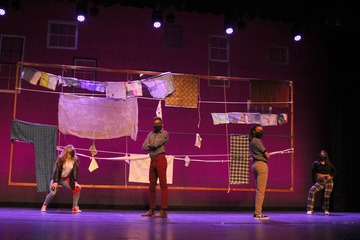 03/23/2021
The show must go on for the students in SUNY Cortland's Performing Arts Department.
Even if it is virtual.
At 7 p.m. on Saturday, March 27, the department will release its latest production, "Raise Your Voice: A Call to Social Change," online as a prerecorded video.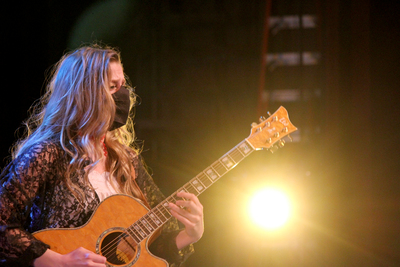 Associate Professor Kevin Halpin, who directed and choreographed the production, created "Raise Your Voice" with Jacob Carll, visiting assistant professor and music director.
One dozen student performers are in the cast and they will touch on a number of topical subjects, including race and sexuality, through a mix of musical theatre, song, poetry and readings. The students helped shape the production by choosing what songs and texts would be included, picking what most moved them.
Filming for the project began on March 4. Mark Reynolds, costume designer in the Performing Arts Department, has been serving as the department's COVID compliance officer during the pandemic. He has coordinated ways for students to perform together in a safe manner, largely by enforcing face coverings at all times and blocking out physically distant spaces on stage.
Works featured in "Raise Your Voice" include:
"Raise your Voice" from the musical "Sister Act"
"Waiting on the World to Change" by John Mayer
"Man in the Mirror" by Michael Jackson
Versions of "Beautiful" by Christina Aguilera and Carole King
"I Too" by Langston Hughes
"Make Them Hear You" from the musical "Ragtime"
"Unruly Heart" from the musical "The Prom"
"Until We Could" by Richard Blanco
A group of students will join the WSYR morning talk show "Bridge Street" on Monday, March 22 to do interviews and watch clips from "Raise Your Voice."
Follow the Performing Arts Department's YouTube channel to see the full performance on March 27. Learn more from the department through Instagram and Facebook.
Muralist returning home for Cortland project this summer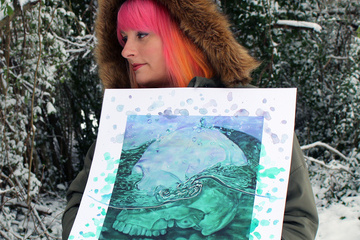 03/19/2021
Nico Cathcart '08 is coming home to use her skills to beautify the City of Cortland this summer.
Cathcart, an artist and muralist from Richmond, Va., has explored topics such as intersectional feminism and climate change in her art. She was recognized as an "Agent of Change" by the Virginia Museum of History and Culture in 2020 and her work in on display there, the Hermitage Museum in Norfolk, MASS MOCA and in many public places across the U.S.
In 2019, Cathcart delivered a talk at a TEDx Talk event in Richmond, speaking about the responsibility of public art, as well as her hearing loss, which she first realized shortly after graduating from Cortland, noticing she couldn't hear chirping birds anymore.
"I paint birds as a reminder to myself to not to take things for granted," she said. "Also, as a symbol for resilience. If I can get through this, I can get through anything."
Three local business — Catalpa Flower Farms, Food & Ferments and Main Street Farms — have asked Cathcart, a graduate of nearby Homer (N.Y.) High School, to paint an agricultural-themed mural on the façade of their warehouse on Main Street in Cortland this summer.
Cathcart answered a few questions for SUNY Cortland's alumni newsletter, Red Dragon Tales, below. To see more of her work, follow her on Instagram at @nicocathcart.
RDT: What made you want to study art at SUNY Cortland? Was there anything you learned during your time on campus that pushed you toward murals and public art?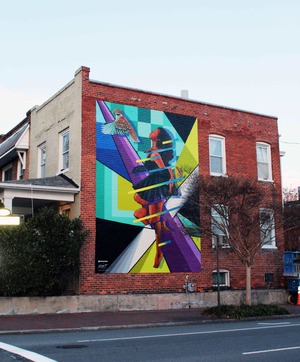 NC: "I started out in the SUNY Oswego BFA program and ended up moving back to Cortland. The program was a great way to complete my education. I was very lucky to have been at the school when it received BFA accreditation, which allowed me to be one of the first BFAs to graduate from the program. I had many professors that helped me out during the program that I still keep up with today. Kathy Kramer and I had an ongoing dialog about contemporary art which helped me think about how I frame my work, and what it means. I also took a wonderful course on Michelangelo's Sistine Chapel, which I have admired since I was copying its figures while learning to draw as a child. Many people view murals as a purely contemporary form of art, but when you go back in art history, you see it's one of the oldest, most accessible forms of art. My senior thesis was all about symbolism throughout history being made current, which is a theme I still work with."
RDT: Will it be nice to come home and do something in Cortland?
NC: "Absolutely! This piece this summer will be my third mural in the state. I did the international, invitational WALL\THERAPY in Rochester in 2018. This particular one is a little bit of a homecoming. It will be mere blocks away from SUNY Cortland but also very near where I went to high school. I will be able to stay with my parents, whom I haven't seen since the onset of COVID, which is really important to me. I also am excited to be able to bring what I do back home and create a community conversation about public arts and the inherent value in them."
RDT: Main Street Farms announced that it is looking for a vegetable and flower theme for this mural. Do you have a vision for what the final product will look like?
NC: "While I am not at liberty to discuss design just yet, I can talk a little about the theme. The businesses who use the building are all local and agriculturally based. We have discussed the importance of sustainable agricultural practices as well as the role the critically endangered pollinators, such as bees and butterflies, play in local food production. While we will absolutely be focusing on the plants grown by these farms, there will be a wider theme about why these types of small business farms are so important. Many of my murals, like most of my canvas work, deal with climate change and how humans are connected to the environment. It's a natural progression to talk about sustainable agriculture and pollination for this mural."
RDT: There was a resurgence of discussion of public art following many cities painting Black Lives Matter on streets last summer. Do you see a future with more murals on important topics?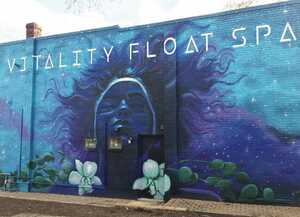 NC: "Public art has always been a part of communities, from the moment humans picked up charcoal and started drawing livestock on walls. What I think is happening with the larger zeitgeist is that people are realizing that public art is a great way to begin to talk about conversations we need to have as a society. Many artists have already been working in this way, well before those yellow words went down on the pavement in Washington, D.C. I think in times of great differences, it is the responsibility of the public artist to create work that talks about the issues. This, culturally, makes a big impact. Art has a lot of power to transcend past the heavy media headlines, and complex issues to delve into the human condition in a way everyone can understand. Public art is an intervention into real life that everyone can benefit from. I think it's a wonderful thing."
RDT: It must be impossible for you to pick a *favorite* project, but is there one that stands out to you for the impact it had?
NC: "It is absolutely impossible to pick a favorite. Each project comes with its own set of challenges and triumphs. They are all like my children. I do really have a connection to my Cosmic Moxie mural, as that is probably the first mural that I felt I had turned a corner on being able to paint realism on a massive scale. I also have a lot of affection for my collaborative pieces, as I get a chance to learn from the partners I am connected with. Austin Miles and I painted "A Time to Rise" in the middle of the uprisings in Richmond Va., with protesters marching up and down the street. It was personal and raw and I loved it. Austin is an absolute tour-de-force and creating that piece was an emotional outpouring. I also really love the "Brown Ballerinas for Change" mural, completed in January of 2021 with Monty Montgomery. This was a piece donated to the Brown Ballerinas for Change non-profit, which strives to create diversity in the arts. There were so many people who donated their time to create something that I have watched young ballerinas dance in front of ever since its completion. I work in a field that is dominated by men, so creating moments of joy for young women to feel empowered by is a really big reason I do what I do."
RDT: In your TEDx talk, you explained how your hearing loss has affected your art and made you not take anything for granted. Have you had any inspirational experiences with other artists who are similarly or differently abled?
NC: "The field of public arts is really lacking in many areas of equity. I actually do not know of another hearing-impaired muralist and have not met another. I know there must be more artists who aspire to work in the field who are differently abled and really would love to create more opportunity for artists like myself to work in the field without feeling singled out. Mostly, I focus on moving forward, so that the people who work with me realize that there is no stigma with hiring a deaf artist and accommodating their simple needs is not difficult. I am lucky to be able to adapt as well as I do. I recently got to do a project focusing on Girl Scouts of the USA founder Juliette Gordon Low, who had a similar type of deafness. This was a super fun experience for me, as it created an opportunity to talk about how people have succeeded and thrived with massive hearing loss."
Literacy conference to raise self-awareness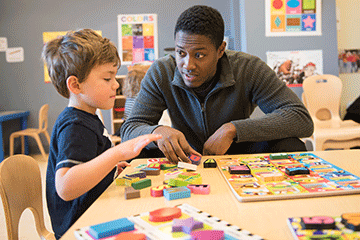 03/23/2021
SUNY Cortland's Literacy Department faculty will host two experts to deliver keynote speeches on how to apply greater cultural awareness and anti-oppressive teaching approaches to nurture brilliant minds in diverse classrooms on Saturday, April 3.
Gholnecsar "Gholdy" Muhammad, an associate professor at Georgia State University and the author of Cultivating Genius: An Equity Framework for Culturally and Historically Responsive Literacy, will give the opening keynote address for the fifth annual SUNY Cortland Literacy Department Conference from 9 a.m. to 2 p.m.
Jevon Hunter, who is the Woods-Beals Endowed Chair for Urban Education at SUNY Buffalo State College, will offer the closing keynote.
The Zoom conference, on the theme of "Cultivating Self-Awareness with Critical Literacies Through Anti-Racist and Anti-Oppressive Pedagogies," is free and is designed for faculty, students, K-12 teachers and other educational stakeholders.
Individuals who wish to participate in the conference must register online by Thursday, March 25. More information is available on the conference website.
In addition to the two keynote speakers, the event will offer presentations, workshops, panels and discussion groups featuring the scholarship of SUNY Cortland faculty and students as well as the faculty and students from other colleges, universities and K-12 schools.
"We seek to create space for attendees to examine their own understandings, beliefs, and biases about literacy teaching and learning," said Katarina Silvestri, assistant professor of literacy and a conference organizer. "We hope to introduce attendees to teaching practices that develop critical literacy practices with their students."
Muhammad is an associate professor of language and literacy at GSU. She also directs the GSU Urban Literacy Collaborative and Clinic. Muhammad studies Black historical excellence within educational communities with goals of reframing curriculum and instruction today.
"We want to help cultivate students who will not be neutral on oppression or students who would contribute to more oppression in the world," Muhammad said in a Jan. 28, 2020 edition of Education Week. "Instead, we want to cultivate young people who, across the course of their lifetimes, will disrupt, disquiet, or unhinge oppression."
Her scholarship has appeared in leading educational journals and books. She was honored with the 2014 National Council of Teachers of English, Promising New Researcher Award, the 2016 NCTE Janet Emig Award, the 2017 GSU Urban Education Research Award, the 2018 UIC College of Education Researcher of the Year and the 2020 American Educational Research Association's Division K Early Career Award.
She works with teachers, leaders, parents and young people across the United States and South Africa in best practices in culturally and historically responsive instruction.
Hunter chairs the Social and Psychological Foundations – Adult Education Department at Buffalo State. A literacy justice educator, his work is centered around the lived and living experiences of Black youth. His interests are mainly collaborative, having partnered with numerous school districts and educational organizations across New York state. Hunter's collaborations aim to share the benefits of asset-based, justice-oriented pedagogies in the classroom such as multicultural education, culturally relevant pedagogy, culturally sustaining pedagogy, and anti-racist pedagogy. He has been working side-by-side with African, African descended, and urban youth, designing literacy activities that engage young people in emancipatory, restorative and liberating literacy practices.
Hunter has been recognized for his work with various awards, including a post-doctoral fellowship from the Ford Foundation. He regularly presents at local, state and national/international conferences Currently, he is working on a book manuscript that showcases the literacy practices, activities and outcomes of Buffalo's Black youth.
Conference sponsors also include Cortland Auxiliary, the School of Education Dean's Office, Cortland's Urban Recruitment of Educators (C.U.R.E.), the Provost's Office in collaboration with the Cortland College Foundation through a Faculty Development Center Small Grant, Campus Arts and Lecture Series Grant (CALS), Foundations and Social Advocacy Department, Childhood and Early Childhood Education Department, Center for Gender and Intercultural Studies and the English Department.
For more information, contact Silvestri at 607-753-5567.
Poets, authors to discuss craft of writing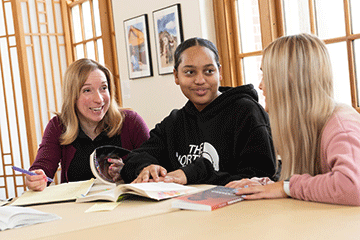 03/23/2021
Four award-winning poets and authors will discuss their most recent work from SUNY Cortland's Hoxie Gorge Review during a virtual panel discussion on Thursday, April 1.
Presented by the English Department, the talk, "Distinguished Voices in Conversation: Hoxie Gorge Review," will feature Chelsea Bunn, Brooke Champagne, Ashley M. Jones and Silas Hansen.
The event starts at 6 p.m. and is free and open to the public. Register to attend the Zoom event online.
"We're bringing together practicing writers in conversation to share work and talk together about writing during times of crisis and uncertainty," said instructor and Hoxie Gorge Review editor Heather Bartlett, who co-directs the department's ongoing Distinguished Voices in Literature series. "Writers will offer readings of their own work and engage in discussions of craft, process and writing."
The authors will include:
Ashley M. Jones, award-winning poet and author of the poetry collections, Magic City Gospel(Hub City Press, 2017); dark / / thing (Pleiades Press, 2019), and REPARATIONS NOW! ( Hub City Press, 2021). Jones holds an MFA in poetry from Florida International University. She currently serves as the O'Neal Library's (Birmingham, Ala.) Lift Every Voice Scholar and as a guest editor for Poetry Magazine.
Chelsea Bunn, issue II guest editor of Hoxie Gorge Reviewand author of the poetry collection Forgiveness (Finishing Line Press, 2019). Bunn is a recipient of the Rita Dove Award in Poetry and the Academy of American Poets Catalina Páez & Seumas MacManus Prize.
Brooke Champagne, acclaimed essayist. Champagne was born and raised in New Orleans, La. She was awarded the inaugural William Bradley Prize for the Essay for her piece "Exercises," which was published in The Normal School and listed as "notable" in Best American Essays 2019.
Silas Hansen, acclaimed essayist and nonfiction editor of the literary journal Waxwing. A native of the Finger Lakes, Hansen graduated from SUNY Brockport before earning an MFA from Ohio State. He now directs the creative writing program at Ball State University.
The event is supported by the English Department, the President's Office, the President's Fund, the Campus Artist and Lecture Series and Cortland Auxiliary.
Find out more about each writer and read from their work online.
For more information or questions, contact Bartlett at 607-753-2230.
Website fosters lively virtual campus life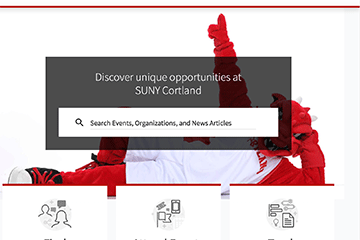 03/18/2021
The SUNY Cortland campus during a pandemic is a little like a calm day on the ocean. There's not much visibly happening on the surface, but down below, where it's hard to see, there's a world of interesting activity.
The question is, how can students figure out when something they might be interested in is going on?
The answer, for many students, is Cortland Connect, a student-run website with listings for campus interest groups and public events, as well as detailed descriptions of the many different organizations.
This Student Government Association initiative was implemented nearly five years ago. But when the campus was forced to shift online last spring, the website gained new importance.
"The purpose of Cortland Connect is to help manage the SUNY Cortland Student Government Association-recognized organizations and to help students get involved and engaged at Cortland," said Mary Kate Morris '06, associate director of campus activities for leadership and community. "Students can benefit by participating in upcoming events and joining campus organizations."
Students can generally find what they are looking for through two of the site's primary tabs.
Organizations tab
It may feel intimidating to seek out new opportunities on campus, but Cortland Connect provides students a guide to 85 different organizations. Getting involved on campus is a great way for students to find their comfort zone, especially in a largely virtual environment. Dozens of interests are reflected under the Organizations tab, ranging from A Cappella to WSUC to Greek life and more. Most, such as Math Club or Gospel Choir, are self-explanatory. Some, however, may require some explanation, such as Curly Kinky Coily or Female Force.
For example, Best Buddies is a club that is dedicated to forming friendships with peers who have intellectual or developmental disabilities.
"In a normal world, we would go play mini golf, bowling, or have karaoke nights," said Olivia Thresher, treasurer of Best Buddies. "Despite the pandemic, we hold all events over Zoom and do Pictionary and trivia nights to engage the buddies and the members. Most of the draw in is mainly through our Instagram page, but I keep our Cortland Connect page updated throughout the semester for students."
Students can also conduct interest meetings to see whether enough students respond as a justification for the work involved in starting a new club, which must be approved by SGA.
Events tab
Students who are wondering what's going on throughout the campus community in the solitude of their rooms can visit the site's Events tab. Here you can find all of the upcoming events hosted by student organizations, most of which are currently done virtually. There are descriptions for every event as well as online location instructions.
For example, an event titled "The Office Trivia Night" took place March 7, the day before a virtual question-and-answer session with Leslie David Baker, the actor who played Stanley on "The Office."
"Students that attended the event experienced a Kahoot-based trivia," said Matt Leto, assistant director of student activities. "In addition, we provided our winners with 'The Office'-related prizes rather than Cortland merchandise that other organizations had rewarded others with."
Some upcoming events include a Thursday, March 25 Trivia Night hosted by the Non-Traditional Student Association, a Friday, March 26 mini-garden activity hosted by the Student Activities Board and a Monday, March 29 Caribbean and African music event by the Caribbean Student Association.
Prepared by Communications Office writing intern Jenna Donofrio
President Bitterbaum reaffirms support of Asian American community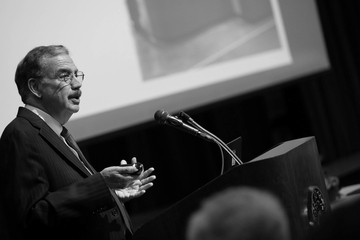 03/18/2021
The following message was sent to the SUNY Cortland community on Thursday, March 18, by President Erik J. Bitterbaum:
Members of the SUNY Cortland community,
In the wake of rising anti-Asian discrimination and hate crimes across the nation, I am reaching out to reaffirm the university's commitment to equity and inclusion and to condemn violence of any kind rooted in racial or ethnic identity. We stand in solidarity with the Asian, Asian American, and Pacific Islander American communities and will continue to work to make our campus a safe and welcoming institution for all people. Over the past year, Asians and Asian Americans have been the victims of increased racism and xenophobia. Stop AAPI Hate, an online tracker created by several Asian American groups, has recorded more than 2,800 incidents of racism and discrimination targeting Asian Americans between the start of the pandemic in December 2020 and the current month. Most recently, police are investigating the murder of eight people in the Atlanta area – six of whom were Asian – as a possible hate crime, although the suspect has denied that was his motivation. Our hearts go out to victims' families.
Racist and violent behavior against Asian, Asian American, and the Pacific Islander communities must stop. Scapegoating, harassment and hate must stop. I know I can count on the SUNY Cortland community to set an example of anti-racism for all educational institutions. Regardless of our differences, we are all Red Dragons.
All the best,
Erik J. Bitterbaum
President, SUNY Cortland

Suggest a feature story
---
Faculty/Staff Activities
Lindsey Darvin
Lindsey Darvin, Sport Management Department, had her article, "At colleges nationwide, esports teams dominated by men," published in The Conversation.

Submit your faculty/staff activity