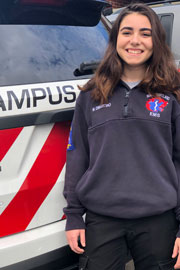 Campus Champion
Senior Mia Dimartino found her place with the SUNY Cortland Emergency Medical Services (SCEMS) as a freshman. Having no EMS experience at the time, the biology major volunteered, participated in trainings and now serves as chief of the student organization. She often works three 12-hour shifts a week — all good training for a future in medicine. SCEMS is the first responder service for campus emergencies. On Wednesday, Mia will preside over the university's 9/11 Remembrance Ceremony, set for 7 p.m. on the Corey Union steps, as the Cortland community pays its respects to our country's brave first responders, many of whom sacrificed everything to save lives.

Nominate a Campus Champion
---
Wednesday, Sept. 11
Sandwich Seminar: The Doctrine of Discovery and Domination, presented by Steven Newcomb, a Shawnee, Lenape scholar and author, Old Main Colloquium, 12:30 to 1:30 p.m.
---
Wednesday, Sept. 11
Gallery Talk: Engaging Students, Engaging Communities, presented by Diane Butler, Ph.D., director of Binghamton University Art Museum, Dowd Gallery, Dowd Fine Arts Center, 5 p.m.
---
Wednesday, Sept. 11
9/11 Remembrance Ceremony: Hosted by SUNY Cortland Emergency Medical Services, Corey Union steps, 7 p.m. (rain location is Corey Union Function Room)
---
Wednesday, Sept. 11
Wellness Wednesday Series: RespectAbility, a panel of students will share experiences of living with a disability, Corey Union Exhibition Lounge, 7 p.m.
---
Tuesday, Sept. 17
Constitution Day Event: "The U.S. Constitution, Citizenship, and the Climate Crisis, A Deliberative Dialogue," Corey Union Exhibition Lounge, 7 to 8:30 p.m. Email registration is required by Thursday, Sept. 12.
---
Wednesday, Sept. 18
Sandwich Seminar: "Integrating the Writing Center into your Course," with Michael Turner from The Writing Center, Brockway Hall Jacobus Lounge, 12:30 p.m.
---
Wednesday, Sept. 18
Climate Crisis Action Meet-Up: Sponsored by New York Public Interest Research Group, Corey Union Room 201, 6 to 7 p.m.
---
Wednesday, Sept. 18
Wellness Wednesday Series: "Four Stages of Drinking," presented by Mike "Greeny" Green, a recovering alcoholic with over 38 years sober and a prevention specialist in the area of drugs and alcohol, Corey Union Function Room, 7 p.m.
---
Thursday, Sept. 19
Lecture: "Writing Together: A Conversation on Collaborative Authorship," sponsored by the English Department, Old Main Colloquium, 4:30 to 6 p.m.
---
Tuesday, Sept. 24
National Voter Registration Day
---
Tuesday, Sept. 24
Lecture: "Intergroup Dialogue on Race," sponsored by Multicultural Life and Diversity, Corey Union Exhibition Lounge, 11:30 a.m. to 1 p.m.
---
Tuesday, Sept. 24
Cultural and Intellectual Climate Committee Series Discussion: Discriminatory impact of mass incarceration in the U.S. on family health and well-being, with Dr. Christopher Wildeman from Cornell University, Sperry Center, Room 104, 5 to 6:30 p.m.
---
---
Cortland among Sierra Club's 'Cool Schools'
09/09/2019
The Sierra Club has yet again recognized SUNY Cortland's commitment to being one of the nation's most sustainable campus environments.
Cortland was listed No. 69 overall on the Sierra Club's "Cool Schools 2019 Ranking." The Sierra Club evaluates colleges based on sustainability-focused courses, ecofriendly cafeteria provisions and carbon-neutral land and energy policies. It looks at all four-year, degree-granting undergraduate colleges and universities as well as two-year community colleges in the U.S. and Canada.
Cortland was the only SUNY comprehensive college to land in the top 100. Other SUNY campuses ranked as "Cool Schools" include the College of Environmental Science and Forestry (No. 3), the University at Albany (No. 61) and the University at Buffalo (No. 67).
"This reinforces for us that we are doing a lot of good sustainability work at SUNY Cortland," said Beth Klein, professor of childhood/early childhood education and the university's sustainability coordinator. "I think it helps students who are looking for a college that has a sustainability ethic."
It is the fourth consecutive year that Cortland made the list of 100 greenest campuses. It has risen in the Sierra Club's Cool School rankings each of the last two years. The university placed at No. 84 in 2017 and was ranked No. 76 in 2018.
The Sierra Club uses data from the Association for the Advancement of Sustainability in Higher Education (AASHE) and the Sustainability Tracking, Assessment and Rating System (STARS) to measure six factors: curriculum, food, energy, waste, research and transportation. In particular, campus energy use, transportation and fossil fuel divestment are weighed more heavily as the Sierra Club believes those topics are most essential for addressing the climate crisis.
Earlier this year, SUNY Cortland received an elite gold designation from STARS, a distinction placed on only the top 2.7% of campuses in the nation.
Cortland was the first SUNY institution to develop a large-scale solar energy generation project of 3,600 panels through the New York Sun initiative. The campus has also moved to high-efficiency, low-emission individual boilers in campus buildings and has installed energy-saving LED lighting fixtures in Old Main that have offset many metric tons of carbon emissions.
The campus was the first in the SUNY system to meet 100 percent of its electrical needs through renewable sources and the first public college in New York to open a residence hall with a rare platinum rating from the United States Green Building Council. It was also the first in SUNY to earn membership in the Environmental Protection Agency's Green Power Leadership club and was the first college in the nation to offer a master's degree in sustainable energy systems.
Bee Campus USA recognized Cortland as the first "pollinator friendly" campus in New York. The Arbor Day Foundation has also named Cortland to its list of Tree Campus USA colleges.
Performing Arts 2019-20 season preview
09/10/2019
SUNY Cortland's Performing Arts Department will showcase a mix of cutting-edge musicals and plays during its 2019-20 season.
"Lysistrata" will be performed in the Dowd Fine Arts Center Theatre Oct. 3 to 6. Based on an ancient Greek comedy written by Aristophanes, the title character seeks to end the Peloponnesian War by persuading other women to deny sex to the male characters. This play has an updated translation by J.A. Ball and Michael Chemers from 2009. Although it was first performed in Athens in 411 BC, its themes of gender relations and power are as timely as ever.
Due to sexual innuendo, language and comedy, "Lysistrata" is intended for adults.
"Head Over Heels," to be performed in the Dowd Fine Arts Center Lab Theatre from Nov. 15 to 24, is a musical comedy that premiered on Broadway last year, featuring the music of the Go-Go's. It adapts the plot of a Renaissance romance, "The Countess of Pembroke's Arcadia," written by Sir Philip Sidney circa 1585.
However, "Head Over Heels" is set in a 1980s-style VIP dance club where A-list celebrities are treated like royalty.
"The Curious Incident of the Dog in the Night-Time" will be performed in the Dowd Fine Arts Center Lab Theatre Feb. 27 to March 1, 2020. Based on the eponymous, award-winning 2003 novel, the play debuted in London in 2012. The protagonist is a 15-year-old on the autism spectrum who navigates relationships with family, teachers and other characters as he investigates the death of a neighbor's dog.
Following up last year's hit performance of "Annie Get Your Gun," the department will present another classic Irving Berlin musical, "Holiday Inn," opening on Easter weekend. A 2016 musical based on the 1942 film of the same name, "Holiday Inn" runs from April 9 to 19 in the Dowd Fine Arts Center Theatre. The show features classic Berlin songs including "Stepping Out with My Baby" and "Easter Parade." It follows a song-and-dance trio as they face tough decisions about both their careers and their romantic relationships.
Tickets to all shows are $19 for adults, $16 for faculty, staff and seniors and $9 for SUNY Cortland students. To view a full schedule of shows and to purchase tickets, visit Cortland.edu/boxoffice. Subscription options for opening, closing and Sunday matinee performances are also available.
For more information, contact Jeffrey Whetstone, the Performing Arts Department's production manager and publicity coordinator, or call 607-753-2831.
---
Capture the Moment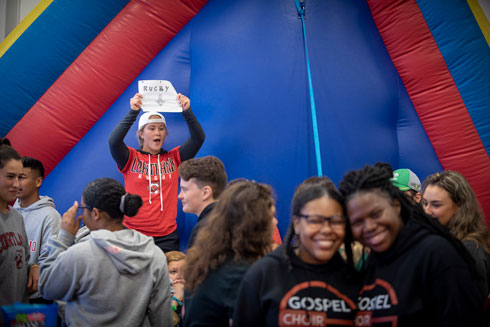 Rugby club member Claire Brandon, a physical education major from Grand Island, N.Y., rises above the crowd to attract new members at the Student Club Fair on Sept. 2. With nearly 80 official clubs and organizations at SUNY Cortland, it's never been easier to get involved. Start by visiting Cortland Connect to find events, groups, meeting times and news.
---
In Other News
Tickets still available for historic Cortaca Jug 2019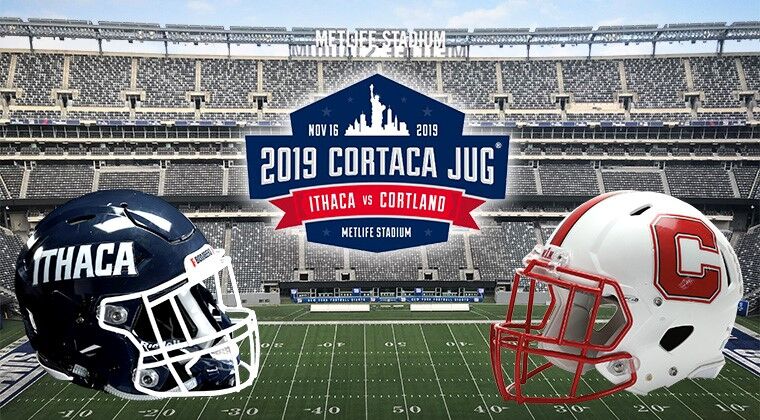 09/10/2019
SUNY Cortland students, faculty, staff and ASC employees who want to be a part of sports history will be able to buy tickets to the once-in-a-lifetime Cortaca Jug 2019 game in MetLife Stadium through Friday, Sept. 13. Any remaining tickets will be opened to the public as well as campus community and sold Sept. 19 and Sept. 20.
Purchasing tickets on campus is the only way to get them for $15 and avoid service fees. A limited number of round-trip bus seats will be available to purchase for an additional $20. All sales are cash only. ​
For more information, go to SUNY Cortland's official Cortaca Jug webpage.
The Cortaca Jug game will be played on Saturday, Nov. 16 at MetLife Stadium in East Rutherford, N.J. Kickoff is 1 p.m. There, SUNY Cortland and Ithaca College hope to break the national attendance record of 37,355 for a Division III football game.
You can help make it happen.
Ticket sale details:
Dates: Through Friday, Sept. 13
Times: 9 to 11 a.m. and 1:30 to 4 p.m. each day
Location: Corey Union, Room 406
Price: $15 for a ticket, an additional $20 for round-trip bus transportation
Students, faculty, staff and ASC employees may buy up to five game tickets. Bus tickets are limited to one per SUNY Cortland student and one for a guest and one per employee and one for a guest.
Any $15 Cortaca Jug tickets which remain after this week will be sold next week on Thursday and Friday, Sept. 19 and 20, between 11 a.m. and 4 p.m. from the ticket office in the Chugger Davis Building of the SUNY Cortland Stadium Complex. Any remaining bus tickets will also be available for an additional $20 each.
Next week's additional sale days will be the last chance for anyone to buy Cortaca Jug 2019 tickets on campus, without additional online fees.
Please note that next week's sale is open to the public, as well as students, faculty, staff and ASC employees. There will be no limits on how many tickets may be purchased, and the sale will continue only as long as the supply lasts. All sales on these days are final and are cash only. Short-term parking will be available.
Ticket sale terms:
All game and bus ticket sales are final. No refunds or exchanges. Cash only.
If you are looking to sit with a group of friends, please come together to purchase tickets, as all seats are assigned by sections.
Game and bus tickets are first-come, first-served while supplies last.
You must present your SUNY Cortland ID to purchase tickets.
Stadium and bus policies:
The following items are prohibited and will not be allowed on the bus or in the stadium:
Alcoholic beverages
Bottles, cans or food
Apparel with profanity or offensive slogans and/or pictures
Artificial noisemakers
Umbrellas, backpacks, bags, purses and pocketbooks per MetLife policies
Banners, flags or signs attached to sticks or poles
Charcoal grills
Containers or coolers
Pets of any kind
Strollers
Tobacco products
Weapons of any kind
Charter buses also have policies to keep everyone on board safe. Please respect their rules. Stay seated while moving. No tobacco products, alcohol, drugs or weapons are allowed. Do not disturb the driver or other passengers.
Avoid conflicts and delays by reviewing the policies and regulations via the MetLife Stadium website:
SUNY Cortland's intellectual theme is 'debt'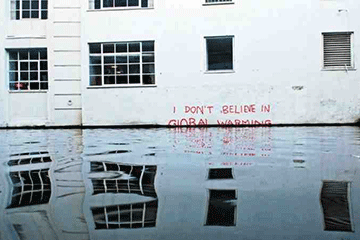 09/09/2019
SUNY Cortland's Cultural and Intellectual Climate Committee (CICC) wants students to spend more time thinking about debt.
It's not that members want them to agonize more over student loans. They want students to look at the concept of debt to explore a wide range of issues spanning criminal justice, inequality, immigration and climate change.
"As we become increasingly reliant on debt to finance everything from our education to daily household activity, questions about its efficacy and links to both financial and environmental crisis must be interrogated," said CICC series coordinator Benjamin Wilson, an assistant professor of economics.
According to Wilson, the inquiry about debt needs to come from not only the traditional economic and finance perspectives but also from an interdisciplinary collection of voices committed to telling a more complex story and starting a new discussion.
To that end, SUNY Cortland will embark on a yearlong conversation through the CICC's 2019-20 series "Debt." The program will feature 13 events, including lectures, panel discussions, exhibitions and films.
The presentations will focus on criminal justice and paying one's debt to society, the climate crisis and reconciling humanity's carbon debt, compensation for unpaid work such as child care and many other relevant topics.
The events are free and open to the public.
Programming for this academic year's series is receiving additional support in the form of a $5,000 grant from SUNY Conversations in the Disciplines, a program created to build connections between SUNY faculty and visiting faulty from non-SUNY institutions. The funding will allow CICC to bring in more speakers from outside the area and publish material collected around this theme.
Featured Conversations in the Disciplines guests as well as Cortland faculty, staff and students are invited to contribute original works, Wilson said. The committee plans to publish the collected works under the Global Institute for Sustainable Prosperity's ongoing book series under an agreement with publisher Palgrave-MacMillan. The institute is an independent public policy think-tank dedicated to the promotion of interdisciplinary research.
"Debt being such an important topic — that's being looked at from the viewpoint of history, sociology, economics and climate — what we'd like to have come out of the visiting speakers and faculty members that are exploring these topics is submissions of chapters that would be part of the edited volume," Wilson said.
Among the many presenters, the series keynote speaker on Feb. 20 is Stephanie Kelton, a professor of public policy and economics at Stony Brook University who served as chief economist on the U.S. Senate Budget Committee in 2015 and as a senior economic advisor to Bernie Sanders' 2016 presidential campaign.
By holding an annual series on a different intellectual theme, the CICC aims to generate common topics of discussion on campus. The committee encourages faculty and staff to work the theme into their courses, engage in classroom discussions around the theme and propose campus events or speakers on topics connected to the theme.
Each year, the CICC recommends a "common read" to create a foundation for discussion across campus. This year, it will be a piece by author Margaret Atwood, who describes debt as a mental construct and that how we think about debt changes how it works. Inspired by her expansive view of debt, the committee chose the author's 2008 contribution to the Massey Lectures, Payback: Debt and the Shadow Side of Wealth, as this year's common read. In it, Atwood — perhaps best known for novels such as The Handmaid's Tale, describes debt from its ancient origins to its contemporary form as a central metaphor in religion, literature and as a structural force in modern human societies.
"This interdisciplinary examination of debt moves us beyond the narrow constraints of finance and money management to think about debt as a human construct that can be utilized to manufacture crisis or cultivate care," Wilson said.
Fall events scheduled
TUESDAY, SEPT. 17. The university's Institute for Civic Engagement is hosting a deliberative dialogue titled "The U.S. Constitution, Citizenship and Climate Change." The program takes place from 7 to 8:30 p.m. in Corey Union Exhibition Lounge. Participants are asked to reserve a seat by emailing ICC service learning coordinator John Suarez by Thursday, Sept. 12.
TUESDAY, SEPT. 24. Christopher Wildeman, who directs Cornell University's archive of child abuse and neglect, will lecture on the discriminatory impact of mass incarceration in the U.S. on family health and well-being. He will contrast it with Denmark's approach to criminal justice that emphasizes rehabilitation. The talk takes place from 5 to 6:30 p.m. in Sperry Center, Room 104.
THURSDAY, SEPT. 26. The CICC will screen "Payback," the film adaptation of the series' common read by noted author Margaret Atwood, from 6 to 6:30 p.m. in Sperry Center, Room 104.
FRIDAY, SEPT. 27. Juan Gallego, professor at Universidad Rey Juan Carlos in Madrid, Spain, will discuss his work on immigration as well as his next graphic novel, The Plague, from 9:30 to 10:30 a.m. in Dowd Fine Arts Center's Dowd Gallery.
WEDNESDAY, OCT. 9. Professor Todd McLane, farm director at Tompkins Cortland Community College, and Kelly Wessel, chair of TC3's Environmental Studies Program, will give a talk on ecological services and the food system. The lecture relates to TC3's five-year-old Farm-to-Bistro Program, which offers a sustainable farming and food systems degree track. The presentation is from 5 in 6:30 p.m. in Brockway Hall Jacobus Lounge.
THURSDAY, OCT. 24. A student-created, graphic design exhibition, "Care, Crisis, Climate, and Debt," opens at 4:30 p.m. in Old Main Colloquium. The display is hosted by Szilvia Kadas, SUNY Cortland assistant professor of art and art history; Benjamin Wilson, an assistant professor of economics; and Dowd Gallery.
TUESDAY, OCT. 29. Silvia Fedirici, professor emerita and Teaching Fellow at Hofstra University, will lecture on the devaluation of care through student loan debt and its relation to gender inequality. The presentation runs from 5 to 6:30 p.m. in Sperry Center, Room 104.
The Spring 2020 series events will be announced in a future Bulletin.
In addition to the SUNY grant, the series is co-sponsored by the Provost and Vice President for Academic Affairs Office, the Campus Artist and Lecture Series, the Research and Sponsored Programs Office, the President's Office and the Cortland College Foundation.
To submit an event, a Field Guide contribution, volunteer to support this year's activities and programming, or for more information, contact Wilson at 607-753-2436. Stay current with the series news on Twitter at @SUNYCortCICC.
Constitution Day event to explore climate rights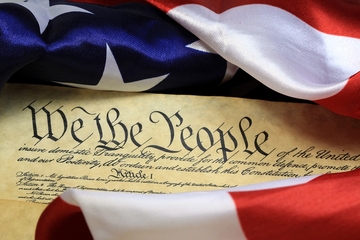 09/09/2019
Do students have a constitutional right to try to persuade the government to act on the climate crisis?
That question sparked the idea for one of SUNY Cortland's 2019 Constitution Day events, "The U.S. Constitution, Citizenship and Climate Crisis," on Tuesday, Sept. 17. This deliberative dialogue will be held in the Corey Union Exhibition Lounge from 7 to 8:30 p.m.
Students, faculty, and staff will be joined by two Cortland County legislators to discuss three options of how citizens can use their constitutional rights, especially freedom of speech, to combat climate change.
John Suarez, director of the Institute for Civic Engagement, emphasizes the importance of events such as this deliberative dialogue.
"Students learn some of the complexities of current concerns and they practice skills that help them discuss divisive issues in a civil and productive way," he said. "The Institute's Action Team interns will conduct this event. We expect that this dialogue — like those that preceded it — will generate student-led action."
The discussion is inspired by the case of 21 young people, who in 2015 filed a suit with the U.S. District Court in Eugene, OR., arguing that U.S. energy policies are causing climate change and hurting their future. The Supreme Court has declined to stop the lawsuit and a three-judge panel of the 9th U.S. Circuit Court of Appeals is currently hearing arguments.
Constitution Day recognizes the signing of the U.S. Constitution on Sept. 17, 1787 and serves as a reminder of the importance of public participation at all levels of government. SUNY colleges hosting similar events in mid-September will share ideas across social media using the hashtag "#SUNYConstitutionDay."
Two other Constitution Day events include voter registration activities and a blackboard survey in Corey Union's Union Station from 10 a.m. to 2 p.m. asking: "What Is the most important amendment to the U.S. Constitution?" Students will write their answers, from a list of selected amendments, on a chalk board.
To reserve a seat in the deliberative dialogue, please email John Suarez, director of the Institute for Civic Engagement, by Thursday, Sept. 12.
Cortland in the news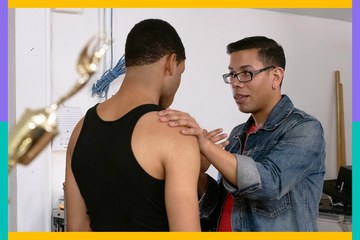 09/10/2019
Steven Canals spent six years on the SUNY Cortland campus helping students. As residence hall director of Shea Hall, he assisted students who were homesick or uncertain about their majors. He also worked as a program coordinator in the Multicultural Life and Diversity Office and was advisor to Spectrum, the university's gay-straight alliance.
He has taken those same skills to a much larger audience.
Canals is co-creator and executive producer of Pose on FX, a breakout hit that has been nominated for seven Emmys. The show is centered around a cast of Black and Latinx LGBTQ and gender nonconforming characters in the dancing and modeling scene of New York City's underground ballroom culture of the 1980s and 1990s.
GQ magazine recently featured his rise from SUNY Cortland RD to Hollywood showrunner.
In other news:
Tutoring center gets new name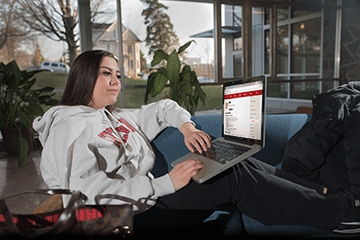 09/09/2019
There's no quick trick to understanding complex ideas.
That's one of the reasons that ASAP, the SUNY Cortland tutoring program that has helped students achieve academic goals for nearly 25 years, has changed its name.
Now named The Learning Center (TLC), the office, located in Van Hoesen Hall, Room B-205, will continue to supply the tutoring and learning services that have effectively supported the academic needs of students on campus, said Esa Merson, the center director.
The former name, Academic Support and Achievement Program, didn't clearly describe what the center is all about, Merson said.
"Due to the length and perhaps the somewhat ambiguous nature of the center name, most students, faculty and staff only referred to the center as 'ASAP,' which communicates a 'quick fix' to campus stakeholders who are newer to the campus and are unaware of the center's work, philosophy, expertise and history," Merson said.
"'The Learning Center' more clearly and accurately communicates our focus on the student learning process, which is at the core of all our programs," Merson said.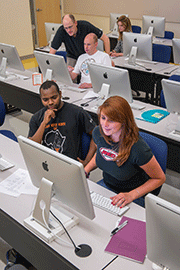 Simplifying and shortening the name makes it easier to share with students, she said. Moreover, because The Learning Center encompasses many programs, a title with the word "center" in it more accurately represents the office, she said.
From its launch as the Basic Skills Center in 1983 to its next iteration as the Academic Support and Achievement Program beginning in 1995 through the recent name change, the center has been committed to providing academic support to all students in a safe, inclusive, centralized environment. The approach has always focused on supporting the whole student and helping each individual develop skills that lead to independent learning.
The Learning Center provides a variety of opportunities for students to discover their learning preferences and build successful academic behaviors. Students who regularly use the office's services tend to show increased academic confidence, stronger learning skills and improvement in their coursework.
In addition to the student-led programs, the center's professional tutors provide support for math, writing, reading, chemistry, physics, biology, study skills, time management and test-taking, Merson said.
Professional tutors, who are learning specialists, coordinate and supervise all peer-led programs. The center's professional tutors have advanced degrees, years of academic support and classroom experience and expertise in the discipline of tutoring and supporting student learning.
Besides Merson, the office is staffed with an assistant director and secretary, five fulltime professional tutors and two STAR-NY staff members. The Learning Center also continues to hire student staff.
The Learning Center programs include:
For more information, contact The Learning Center at 607-753-4309.
Myanmar women discuss discrimination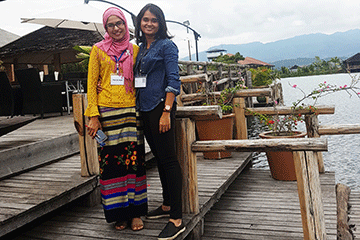 08/30/2019
SUNY Cortland hosted two women activists from Myanmar on Thursday, Sept. 5, for a day of conversations about the collision of faith, feminism and ethnicity in their country, which is struggling with longstanding inequality among various groups of people.
Thet Su Htwe, M.D., a Muslim doctor who runs sexuality education programs that go against conservative cultural norms, and Kyaw Thein, a member of Myanmar's oppressed Rohingya minority who faced discrimination in the male-dominated field of civil engineering, met with the campus community during several events throughout the day.
Two of the events were open to the public, who were invited to attend free of charge.
"Being Muslim and Female in Myanmar: Two Perspectives," was presented by Htwe and Thein as a sandwich seminar from noon to 1 p.m. in Brockway Hall Jacobus Lounge.
"Education in Myanmar and the Challenges of Diversity" featured Htwe and Thein in a panel discussion from 4:30 to 6 p.m. in Sperry Center, Room 104. Moderated by Jeremy Jimenez, a Cortland assistant professor of foundations and social advocacy, the panel also included Thamora Fishel, associate director of Cornell University's Southeast Asia Program; Rhoda Linton, a longtime advocate for women's education and empowerment in Burma; and Cornell University doctoral students.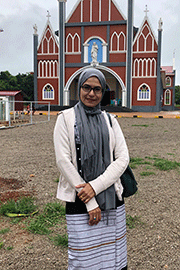 Through those and several more intimate campus conversations, Htwe and Thein engaged audiences in discussions about being feminist and Muslim in a place where cultural traditions, Buddhist nationalism, ethnic inequality and conflict, and the military's long-standing grip on power continues to shape gender relations as well as access to education and employment.
"I'm thrilled to be able to work with Cornell and Cortland colleagues to bring these important conversations to our community and, especially, our students," said organizer Jena Nicols Curtis, newly appointed director of SUNY Cortland's Center for Gender and Intercultural Studies.
"It's essential that our teacher candidates understand both the complexity and richness that intersectionality brings to the classroom," she said.
Myanmar, also known as Burma, is one of Asia's most diverse nations with more than 100 different languages spoken and a huge range of cross-cutting ethnic and religious identities and communities. Since gaining independence at the end of World War II, education has been used as a tool for building national unity, but it has also served as a flashpoint for the many groups seeking autonomy and self-determination. The education system also powerfully reflects the way faith, feminism, ethnicity, national inclusion and exclusion are being discussed in Myanmar.
This panel discussed the religious and colonial foundations of the education system in Myanmar and share how race, gender and religion shape teaching and students' experiences of learning in contemporary Myanmar.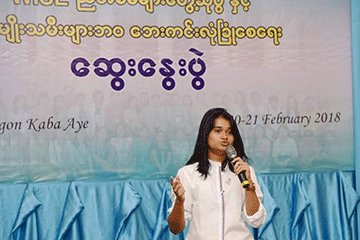 Htwe is the founder of Strong Flowers Sexuality Education Services, an independent social enterprise dedicated to educating people about sexual health — a topic that is still considered taboo in many segments of Myanmar society. She began her activism in 2015 after connecting with the Whistle for Help Campaign to stop sexual harassment on public buses. Armed with her medical license, she joined Metta Development Foundation, a local non-governmental organization that runs a project called "Women's Voices," which involves talking with women and men about sexuality, primarily in rural areas throughout the country.
Thein began to develop consciousness of oppression and discrimination as a woman when she tried to find a job in her field. In 2015, with her black belt in karate, she joined the Myanmar Women's Self Defense Center, a woman-owned business that implements its own woman-focused self-defense training program in Yangon. Awakened by recent events affecting Rohingya people — including violent military campaigns that killed more than 20,000 Rohingyas and forced more than 600,000 out of the country — Thein has been studying her own generations of family history in Myanmar to counteract the misinformation she was taught in school.
The visit was organized through a partnership between the university's School of Education and its Center for Gender and Intercultural Studies, as well as Cornell University's Southeast Asia Program. Thursday's program also is supported by Cortland's President's Office with partial funding obtained by Cornell from a Title VI NRC grant from the U.S. Department of Education.
For more information, contact Curtis at 607-753-2979.

Suggest a feature story
---
Faculty/Staff Activities
Evan Faulkenbury
Evan Faulkenbury, History Department, has had his book, Poll Power: The Voter Education Project and the Movement for the Ballot in the American South, published by UNC Press.
Szilvia Kadas
Szilvia Kadas, Art and Art History Department, had her latest solo exhibition, "Poetry in Visual Form" open on Sept. 4 in Nyiregyhaza, City Gallery, Hungary. The exhibition showcases 40 original illustrations by Kadas and will be on display until Wednesday, Oct. 9.
David Kilpatrick
David Kilpatrick, Psychology Department, was in Australia in August on an invited five-city professional development tour sponsored by Learning Difficulties Australia. The presentations spanned the country, including Perth, Adelaide, Melbourne, Cairns and Sydney. He presented findings from scientific research into why some students struggle in learning to read and the most effective ways to address those struggles.
Kilpatrick was one of the individuals interviewed in the American Public Media episode "At a Loss for Words" which looks at how reading is being taught in American schools and how that relates to the large percentage of struggling readers in the U.S. American Public Media is a content provider for NPR. The episode is posted online.
Also, Kilpatrick was invited to present "Phonemic Proficiency, Not Phonemic Awareness, Influences Orthographic Learning" on Sept. 5 at Yale University's Haskins Laboratory.
Kathleen A. Lawrence
Kathleen A. Lawrence, Communication and Media Studies Department, received word her poem titled "Too Many to Count," previously published in The Daily Abuse, has been accepted by an anthology to be published by Guts Publishing later this year.
Tom Lickona
Tom Lickona, Center for the 4th and 5th Rs, was invited to write a monthly blog titled "Raising Kind Kids" for Psychology Today. The request was in response to Lickona's How to Raise Kind Kids book (Penguin, 2018).
Kristine Newhall
Kristine Newhall, Kinesiology Department, was a guest on the British podcast, "Reasons to be Cheerful," hosted by former Labour Party Leader Ed Miliband in July. In the episode "A Question of Sport: The Fight for Gender Equality," she talked about Title IX, the Women's World Cup, and the state of gender equality in sports in the U.S.
Robert Spitzer
Robert Spitzer, Political Science Department, is the author of an article appearing at the CNN website titled, "Trump Should Seize This Pivotal Moment and Stop Waffling on Gun Control." The article was posted on August 24.
Brock Ternes
Brock Ternes, Sociology/Anthropology Department, presented twice during the American Sociological Association Annual Meeting held Aug. 10 to 13 in New York City. His first presentation, "What Happens when Cultural Theorists Fall Down a Well? Bourdieu, Veblen, and Water Supplies," described how owning a private water well is a significant predictor of conspicuous water consumption and conservation, nuanced practices that appear to happen simultaneously during droughts. His second presentation, "Revisiting Dillman: Does the Design and Personalization of Mailed Invitations Influence Online Survey Response Rates?" was coauthored with Todd Little, a professor at Texas Tech University. Their work offered evidence that minor stylistic changes in mailed notifications to complete internet-based surveys are connected to variations in nonresponse.
Jill Toftegaard and Mary Emm
Jill Toftegaard and Mary Emm, Communication Disorders and Sciences Department, received a grant for the 2019-20 academic year from the Parkinson Voice Project. The grant provides materials and trains clinical educators and graduate students to conduct therapy in the Center for Speech, Language and Hearing Disorders using the SPEAK OUT!® and The LOUD Crowd® program for persons with Parkinson's.

Submit your faculty/staff activity