President Bitterbaum condemns racism after George Floyd death
06/01/2020
The following message is being sent on behalf of President Erik J. Bitterbaum:
To the SUNY Cortland community,
I reach out today with a very heavy heart. The death of George Floyd beneath the knee of a Minneapolis police officer, captured on video by bystanders who begged the arresting officers to stop, came as a terrible shock to us all. But it should not have come as a surprise.
Floyd's death as well of that of Breonna Taylor, an unarmed 26-year-old black woman shot by police March 13, and Ahmaud Arbery, an unarmed 25-year-old black man shot by white civilians while jogging in a Georgia suburb Feb. 23 is just the most recent, and visible, example of the systemic racism that has plagued our culture for more than 400 years.
My heart weeps for the families of these victims, and all those who came before them. I know all of you share that sadness. And I suspect that these recent injustices have left many members of our community frightened, angry and unsure of their place in American society. Please know that you have a place at SUNY Cortland.
As an institution, we are committed to maintaining an environment where students from all backgrounds can thrive and grow as members of a caring, inclusive community. Racism is not, and will never be, tolerated at SUNY Cortland. That means that we, as a university and as individuals who believe that the weed of intolerance limits opportunity and stifles potential, must do more.
In the coming days, I will ask members of SUNY Cortland's Presidential Council on Inclusive Excellence to coordinate new initiatives to strengthen and go beyond the many policies and projects that have been implemented since the council's creation three years ago. The council, made up of faculty, staff and students, works to fight racism and ensure that inclusiveness is promoted in every aspect of university life, and to implement our strategic diversity plan.
On June 3, the university partnered with several student groups to host an online forum, "Black Lives and Liberations," which welcomed more than 200 attendees. Campus community members are encouraged to visit the Institutional Equity and Inclusion Office webpage for resources that include SUNY Cortland's bias-related incident reporting form.
We have endured much these last few months. As we continue to battle the COVID-19 pandemic and cope with a "new normal" of social distancing and isolation, we have also been painfully reminded that racism continues to plague our society and must be addressed. I consider both of these scourges to be infections. Until they are eventually eradicated, they must be met by changes in behavior, attitude and culture. I pledge that SUNY Cortland will be a leader in that change.
Please be safe, stay engaged and remain hopeful. Together, we will help make the world a better place.
All the best,
Erik J. Bitterbaum
University submits plan to restart on campus for Fall 2020
06/09/2020
The following message was sent to students June 8 by President Erik J. Bitterbaum:
Dear students and families,
I hope this message finds you healthy and safe. As the world continues to struggle with the circumstances created by the COVID-19 pandemic, I am proud to say that the entire SUNY Cortland community – faculty, staff and especially students – rose to the challenge and successfully completed a truly unprecedented semester. It is now time to briefly pause, and think about the future.
This is the first of what will be weekly updates from SUNY Cortland to its students and their families as we move toward the Fall 2020 semester. You should look for an update email every Friday.
Last Friday, June 5, the university submitted an executive summary of its plan to potentially return to on-campus instruction at the end of August. It is our goal to welcome both returning students and new Red Dragons to our Cortland campus and we are looking at various scenarios of how we can do that safely and in accordance with Centers for Disease Control and New York State recommendations.
Please know that our top priority is the health and well-being of our students, faculty and staff.
We are moving ahead with our planning efforts even though the course of the virus is uncertain and there are significant decisions that are beyond our control. SUNY Cortland is part of the 64-campus SUNY system and must provide education and deliver student services in ways consistent with SUNY-wide guidelines and directives.
We are also guided by NY Forward, Governor Andrew Cuomo's plan for reopening New York State by region as the COVID-19 pandemic wanes. SUNY Cortland is in the Central New York Region which is currently in Phase 2 of the four-phase plan.
You should be aware, however, that university campuses will not be allowed to open until the fourth and final phase of Governor Andrew Cuomo's framework for re-opening New York State, and his administration will have the final say on whether campuses re-open in the fall. He has said he expects to make that decision in July.
In the meantime, please be patient as we plan and prepare for a safe return to campus. We will share details about our proposed reopening plan soon. Returning to on-campus education will be challenging, requiring changes in how we teach, live, recreate and socialize. Our accustomed ways of doing things will be dramatically modified in order to keep our community safe.
It will not be easy. Our campus, our culture, the very nature of what we do, is based on collaboration, educational experiences and personal interaction. Our workforce, the Cortland community and our student population includes individuals who are considered high-risk for COVID-19. Many of you have lost loved ones to the virus or been sick. Others, however, may not fully appreciate the importance of changing their behavior to reduce the spread of the disease.
In the end, it will take all of us – students, faculty and staff - to meet this challenge. Together, I know we will succeed.
Please be safe, remain engaged and stay strong.
All the best,
---
Capture the Moment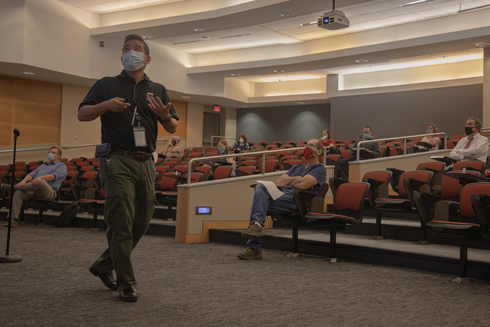 SUNY Cortland Emergency Manager Nick Tomizawa discusses steps the university could take in order to restart classes on campus during a COVID-19 operations workshop in Sperry Center on May 29. The workshop, during which all participants wore masks and practiced social distancing, was the first big meeting held on campus since faculty, staff and students began working remotely in response to the pandemic. Although a return to campus depends on the continued slowing of the virus' spread in New York, President Erik Bitterbaum has submitted to SUNY administration a proposal to safely resume in late August.
---
In Other News
Faculty and staff to receive Chancellor's Awards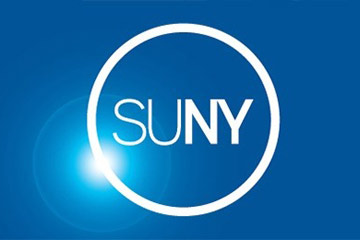 06/09/2020
Two SUNY Cortland faculty and staff members will receive Chancellor's Awards for Excellence in recognition of consistently superior professional achievement.
The honorees are:
Brian Barrett, professor of foundations and social advocacy, will receive the Chancellor's Award for Scholarship and Creative Activities. Barrett is a highly respected global leader in cutting-edge interdisciplinary research in his field.
Jeremiah Rawson, a maintenance supervisor in Facilities Operations and Services, will receive the Chancellor's Award for Excellence in Classified Service. His astute leadership skills and keen awareness of managing people and expectations sets him apart from colleagues.
The Chancellor's Awards provide system-wide recognition for consistently superior professional achievement and encourage the pursuit of excellence at all 64 SUNY campuses. Each campus president submits nominations, which are reviewed by the SUNY Committee on Awards.
Such honors are traditionally bestowed at Commencement. With the ceremony postponed until Spring 2021 as a health safety precaution due to the COVID-19 pandemic, SUNY instead will formally acknowledge its awardees in July.
This year's SUNY Cortland award winners are profiled below:
Brian Barrett
From the beginning of his academic career, the social impact of education and schooling have been in the forefront of Barrett's scholarship. As a noted world authority in his field, he has presented his scholarship internationally at conferences in countries including Spain, Wales, England, Japan, France, Australia and Canada.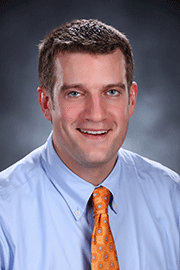 Barrett, who has a Master of Philosophy in Politics, Democracy and Education as well as a doctorate from the University of Cambridge, joined SUNY Cortland in 2007.
His research has focused on the sociology of knowledge in the intellectual tradition of Basil Bernstein, Pierre Bourdieu and Emile Durkheim, studying curriculum and its impact on instruction, students and context.
Barrett is an international authority and founding member of the International Social Realist Knowledge in Education Research Programme.
"Professor Barrett has taken what began as a small group of academics with a common interest in the sociology of curriculum knowledge to an influential and highly respected research field internationally," noted Elizabeth Rata, professor critical studies in education at the University of Auckland, New Zealand.
He also has been a leader in establishing the Cambridge Symposium on Knowledge in Education, a new academic conference of theorists and researchers striving to bring together international academics to improve social justice worldwide.
His most recent book, Knowledge, Curriculum and Equity: Social Realist Perspective (2017), is an interdisciplinary volume that challenges post modernism and progressivism trends in education.
The author of one other published book and 16 peer-reviewed articles, Barrett has written five book chapters, four book reviews and edited one journal issue.
A frequent presenter at national and international professional conferences, he has made more than 25 presentations on both theory and practice in education to a wide range of audiences, consistently focusing attention on how practice must be improved to achieve social justice in education. His research spans education, sociology, philosophy and social justice.
"Barrett's scholarship is uncommonly sophisticated and discerning," wrote one nominator, Walter Parker, professor of education at University of Washington. "It is also serious and original. He does not follow the pack; his work is not trendy. In this way it is (truly) creative. He sees what the crowd misses, and fills the blind spots with insight."
He becomes the 17th SUNY Cortland faculty member to earn this recognition.
Jeremiah Rawson
Rawson, who has served Facilities Operations and Services for more than three years, oversees the administration and execution of existing and planned repairs and maintenance on campus.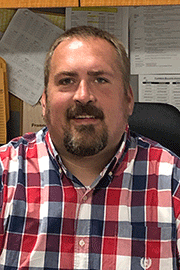 He is described by his supervisor as a "great leader."
"He never asks for anyone to do something he would not do himself," said Zachariah Newswanger, associate vice president for facilities management.
Rawson is the 12th recipient of the classified service honor, created by SUNY in 2009 and presented in recognition of outstanding job performance, flexibility, creativity and exemplary customer service.
Juanita Larrabee, director of the Facilities Planning, Design and Construction Office, said that Rawson's thorough knowledge, skill and experience combined with astute leadership skills and a keen awareness of managing people and expectations is what sets him apart from colleagues.
"Many people may not know the level of skill and experience it takes to successfully tackle these issues because Jeremiah accomplishes the projects smoothly and seamlessly for our campus," Larrabee said.
Rawson is highly respected for his problem-solving and decision-making abilities and has on a number of occasion's demonstrated true leadership.
"Time and time again, Jeremiah handles emergency situations admirably, often arriving with options and solutions to effectively handle the situation," said Larrabee.
Rawson started his employment with SUNY Cortland more than 15 years ago as a temporary employee in the grounds department. His drive and work ethic allowed him to quickly advance within Facilities Operations and Services, at which time he spent two years in the Civil Service Employees Association training program for carpenters. For several years he worked under a journeymen electrician, eventually being promoted to journeyman himself. His skills as an electrician were called upon to troubleshoot some of the most difficult electrical problems.
Rawson now supervises more than 50 employees as a maintenance supervisor and constantly demonstrates his creativity, skill and dedication to the university. He's one of the first people to arrive to handle problematic situations, whether it is during normal work hours, weekends or nights.
"Jeremiah understands the level of importance in the satisfaction of our staff, faculty and campus guests," said Newswanger. "He works very hard at making sure our campus is putting its best foot forward at all times."
'Art in Isolation' virtual exhibition to open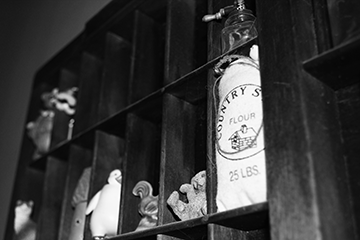 06/02/2020
This week the public will be offered a glimpse of how some SUNY Cortland students painted, sculpted and videotaped their artistic expressions during the COVID-19 pandemic away from campus.
Starting on Friday, June 5, the university's Dowd Gallery will host "Art from Isolation," a two-dimensional, virtual exhibition posted as a series of images on the gallery website through the end of summer.
The gallery currently is closed to the public. The virtual exhibition was established in direct response to the cancellation of physical shows, including the "Student Select 2020.
The collection of images will be posted on the Dowd Gallery website and social media at 4 p.m. that day as a part of First Friday, an event organized by the Cultural Council of Cortland County.
"The diversity of submissions, from drawings, ceramics, paintings, and photography, is a testament to unwavering creativity, inspiration, and empathy that art provides in times of distress," said Dowd Gallery director Jaroslava Prihodova.
As the semester drew to a close, and students were no longer able to meet on campus, she had asked students to send in pictures of their work in the form of digital images so she could share them with the campus and community during the planned future display.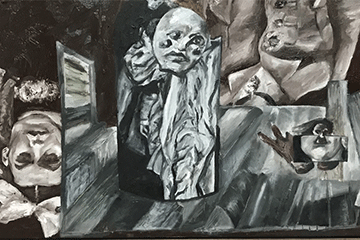 "For the past several months, our students, the members of SUNY Cortland campus, and the world at large were facing many challenges and hardships," Prihodova said. "As we all felt disoriented and experienced a loss of community, the Dowd Gallery wanted to remedy the consequence of the COVID-19 pandemic in a small way. 'Art from Isolation ' offers SUNY Cortland students a creative release in the time of uncertainty and social separation."
The gallery sought works including animation, graphic design, video, land art, installation, mural, objects, ceramics, sculpture, fiber art, mixed media projects, sculpture, design, prints, photographs, painting, drawing, illustration, collage, jewelry and DIY projects.
In response, more than 30 students with different majors ranging from criminology to studio arts, from English to business economics, sent more than 70 images of artworks. A list of students who participated will be posted on the gallery website.
"I am very impressed by the level of quality of the submitted works," Prihodova said. "Even with limited involvement of faculty members from the Art and Art History Department, our students demonstrated that they could implement gained skills, follow directions and advice remotely and still be proud of their work."
Prihodova then met with Art and Art History Department faculty to determine the timing and scope of the summer exhibition.
"As a result of the wide interest, I decided to extend the invitation to submit artwork for the online show until the end of the summer," she said. "That way, we can have a more dynamic content going over the next few weeks and months."
The slideshow will be archived and always accessible to patrons.
"We feel that it is crucial to stay connected and show support for our students even when the school is not in session," Prohodova said. "The virtual exhibition will remain a permanent fixture in the annual Dowd Gallery's program going forward.
"I hope this idea of the virtual showcase will flourish in the future and keep our students active in the SUNY Cortland community."
Participants may submit work to her email address with the subject line, Art from Isolation.
For those who have yet to participate, work from all majors is welcome and there is no limit to the number of works each student can submit. Creative current students may submit their original piece of artwork produced during the quarantine in the form of a jpg image, sized at 72 dots per inch (DPI). When submitting their piece, participants are asked to include their name, graduating class and major; the artwork's title, medium, dimension and location where the individual created the object. Photographs of 3D works should be captured on a neutral background, preferably on a white backdrop. Make sure the image is clear, the object in focus and centered in the frame and without unnecessary clutter.
Two professional staff members with the university's Marketing Department, Renee Novelli, senior visual media specialist, and Casey Hickey, senior web and digital marketing specialist, will help prepare the images for the slide show on the gallery's website.
For more information on making a submission, contact Prihodova.
Above left image: Jacob Robinson, a junior dual major in BFA and new communication media with a minor in graphic design and digital media, submitted this untitled 2020 black and white digital image for display in the exhibition.
Student-athletes speak on Black Lives Matter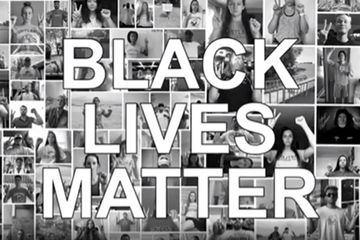 06/09/2020
Four SUNY Cortland student-athletes - Demitreus Henry, Flo Hunte, Taylor Hunter and Devin Smith - shared their thoughts on the murder of George Floyd and the meaning of the Black Lives Matter movement. View the clip on the Cortland Red Dragons Instagram page.
View this post on Instagram
SUNY Cortland students 'Learning by Giving'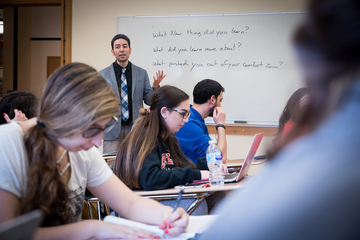 06/09/2020
The premise is simple for the students in Associate Professor Sebastian Purcell's course, Philanthropy and Civic Engagement: Learning by Giving.
Those SUNY Cortland students get $10,000 in real money provided by the Learning By Giving Foundation and decide how to split it among worthy non-profit organization applicants from Cortland County.
Every year, their careful deliberation of how to distribute those funds, is a difficult and complicated process rooted in ethics and philosophy.
This year, they did so while collaborating remotely and considering the needs of non-profits during the COVID-19 pandemic. The current crisis also influenced how and why the students chose certain organizations.
At the end of this semester, students chose to donate to four local charities: the Franziska Racker Center, Lime Hollow Nature Center, the Cortland County Community Action Program and the Seven Valleys Health Coalition.
Ultimately, those students wrangled with the question of how to address wellbeing comprehensively and robustly, in a way that has long-lasting effects in the greater Cortland community.
"Some years, students may have picked artistic activities," said Purcell. "Given the whole balance of things that are needed in Cortland, why that? The answer is that I'm viewing it as kind of a multi-year portfolio of what we're trying to affect in Cortland."
Purcell begins the process by dividing his class into groups. The groups are strategically created through personality profiles to avoid bunching together too many students who tend to behave in similar ways.
"Putting people together who think differently is the source of careful deliberation," Purcell said.
Then, the students solicited and reviewed applications from local non-profits. The discussions that followed were informed largely by the work of philosophers Amartya Sen and Martha Nussbaum. Their development of an alternative to welfare economics, known as the capability approach, which goes beyond economic indicators like gross domestic product to evaluate success by including individual opportunities for health, education and economic advancement in policy considerations.
Students considered philosophical readings while also investigating economic and demographic data on the state of Cortland County. This year, Cortland Mayor Brian Tobin provided additional, real-time information on how the area was dealing with COVID-19 that wasn't reflected in previous reports.
"While having previous knowledge about philanthropy, the Learning By Giving class taught me so much more than I thought I knew," said Abby Raus, a junior childhood and early childhood education major with a concentration in the humanities.
"I really enjoyed the behind-the-scenes of donating to a non-profit organization. I absolutely loved talking to the candidates about their passion for their specific organization. This experience honestly has inspired me to become a better person."
Then the class debated the merits of how they could do the most good for the most people over the longest period of time. Students were challenged to argue their position while considering both the economic data and their philosophical studies.
"Philanthropy is a subject that I thought was very clear cut: get money to help people," said Eilott Duran, a junior social philosophy major. "As the semester passed, I learned that those two simple objectives had many complications, and that the process was much more difficult."
One of the topics the class discussed this year was the role of philanthropy in a crisis such as COVID-19. Does the urgency of demand shift the ethical nature of the debate? For example, should billionaires donate their money now to help people in need or should they invest it and grow it so they can help more people later?
Considering big-picture questions like these helped SUNY Cortland students decide how to distribute the $10,000 this semester.
"The Learning by Giving class will remain one of the most memorable classes I will have taken during my time at Cortland," said Jonah Schumacher, a senior social philosophy major. "Short of working for a non-profit, I cannot imagine another opportunity where one would be fully involved in the task of donating large sums to organizations in the local community.
"This class allowed me to see the other side of the application process, giving me the chance to review and judge applications instead of writing and submitting them. But I also learned that there are many problems with big philanthropy and that sometimes philanthropic actions can cause more harm than good."
Ultimately, students used a ranked-choice voting system to split the funds as follows:
The Franziska Racker Center will receive $4,000 for two types of chairs for students with disabilities in integrated preschool classrooms. The chairs will be used for at least 20 years and will benefit an entire generation of students.
Lime Hollow Nature Center's summer camp program will receive $2,500 to allow financially disadvantaged children to participate.
The Cortland County Community Action Program will receive $2,000 toward its Cares Bags initiative that provides items such as bowls, utensils and feminine hygiene products to the homeless in Cortland County.
The Seven Valleys Health Coalition will receive $1,500 for its food rescue program, which distributes food to area shelters.
This class, which had 31 students this semester, faced several challenges when COVID-19 forced students to work and learn remotely. Group discussions were harder to do online and in-person interviews with the non-profit applicants had to be scrapped.
More than a dozen local agencies applied for funds this year and most of the proposals were excellent, making normally tough decisions even more challenging.
"Every project that came in was worth giving money to," Purcell said.
Purcell was proud of how seriously his students took their task, especially in the face of unexpected challenges.
"I was just really impressed by my students," Purcell said. "Many of them went above and beyond to make sure this worked this year. They did an outstanding job because there were so many additional hurdles. Sometimes I had sophomores stepping up to lead their groups and sometimes I had introverted students calling more than two dozen organizations. They stepped up in a lot of ways to get this done."
The Boston-based Learning by Giving Foundation seeks to advance the next generation's understanding of philanthropy by providing the financial, technological and intellectual tools to maximize community impact. Half of this year's grant money was donated by the Cortland Community Foundation, in keeping with the Learning by Giving Foundation's requirement for communities to raise part of their own support. In all, $100,000 has flowed back into Cortland and to charities and agencies through the program. All of the funding is given to the local agencies and none can be spent on grant administration.
In addition to the Philosophy Department, the course is sponsored by the university's Institute for Civic Engagement, the Dean of Arts and Sciences Office and the Cortland Community Foundation. For more information, contact Purcell at 607-753-2192.
Join the Cortland Challenge on June 17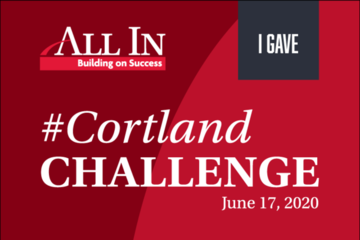 06/09/2020
The mission of the annual Cortland Challenge has always been simple. It's about alumni, faculty, staff and friends coming together to make a difference for SUNY Cortland and its students.
Despite the COVID-19 pandemic dramatically affecting our lives, the Cortland Challenge remains committed to that goal.
On Wednesday, June 17, donors may visit RedDragonNetwork.org/challenge to give directly to the campus cause of their choice. Two options SUNY Cortland would like to highlight this year are The Cortland Fund for Equity and Inclusion and the Student Emergency Fund, which supports students facing unexpected hardships.
Current events have shed light on the racial injustices that continue to occur in our country, and we have a responsibility as a campus community to address them. We have heard our students' voices and learned how they have been directly impacted. We stand with them. As a university, we stand against racism and hatred in our society. In doing so, we must proactively work to provide an inclusive and supportive environment for our students, faculty and staff, as well as the greater Cortland community. We ask that you join us in our efforts to raise financial support for diversity, equity and inclusion initiatives and programs. Some examples could include professional development for faculty, staff and students on diversity, equity and inclusion; funding for visiting speakers to campus; and supporting the annual diversity conference hosted by the Multicultural Life and Diversity Office. If you are able, please consider a gift to The Cortland Fund for Equity and Inclusion.
Additionally, the Student Emergency Fund offers financial assistance to students facing needs in child care, food, medical or dental expenses, technology, transportation and more. For many current SUNY Cortland students, aid from the Student Emergency Fund helped them navigate a difficult transition to distance learning this past semester.
Several generous alumni have pledged matching gifts to support the Student Emergency Fund through the Cortland Challenge. Match donors include Mike Leeolou '81, Anthony Moon '86 and Susan Moon, Patrick Mullaney '89, Victor Rumore '84 and Jeanne Specchio '82. Together, they have committed $55,000 toward the Student Emergency Fund.
Those funds will be unlocked at individual donor intervals that pay tribute to our alumni, faculty and students:
240 donors will add $25,000 to the Student Emergency Fund in honor of the number of hours between Kristie Houlihan '18 receiving her nursing degree and beginning work at a COVID-19 testing site in New Jersey.
590 donors will unlock $15,000 for the Student Emergency Fund to represent the number of SUNY Cortland faculty members who swiftly achieved their goal to shift their course work online.
1,411 donors, equal to the number of candidates for graduation in May 2020, will add an additional $15,000 to the Student Emergency Fund.
Jason Barrett '08, president and master distiller of Black Button Distilling in Rochester, N.Y., has made a challenge for the Class of 2008. If his former classmates collectively raise $2,008 or more, he will match their generosity with a gift of $2,008 toward the Student Emergency Fund.
A general athletics challenge also will be part of this year's Cortland Challenge, thanks to $10,000 of support from Gerry Proehl '81 and Pam Proehl '82.
If 297 donors give to any of the athletics program funds, including general athletics and the C-Club endowment, $700 will be awarded to the general athletics fund. A total of 297 winter and spring student-athletes had their seasons cut short by COVID-19.
SUNY Cortland's 23 athletic teams will be divided into four categories based on the number of alumni: small, medium, large and extra-large. An award of $1,000 will be given to the team that receives the most donors in each category and $100 will be bestowed on each team that reaches its category's donor mark.
The team that raises the most money will receive $2,000 and a trophy. Teams that meet their category's donor mark will be eligible for a $1,000 prize that goes to the team with the highest average gift.
With your help, we can continue to support SUNY Cortland students during this time of great need.
To learn more, visit RedDragonNetwork.org/challenge. Use the hashtag #CortlandChallenge to follow along with other Red Dragons on challenge day.
Choral Union sings melody for our times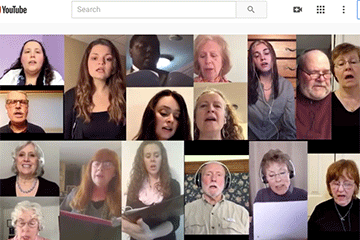 06/09/2020
A very old tradition at SUNY Cortland, the Choral Union's spring concert, didn't take a break this year for the COVID-19 pandemic.
Well after the campus closed down during March, a part of the group of students, faculty and community members who make up the choir raised their voices to sing the haunting strains of the 2016 melody, "When the Earth Stands Still," by Canadian composer Don MacDonald.
The song, which meditates on a forest encounter during a calm before the storm, can be viewed on YouTube.
To perform the piece, choir members needed to practice safe social distancing in light of the COVID-19 pandemic, explained choir director David Neal, professor of performing arts at SUNY Cortland.
They shared their individual components of the song via Zoom, said Neal, who also teaches courses in applied voice, and works with the musical theatre group.
Simple, right? Wrong. Anyone who has listened to professional broadcasters on network TV knows that the remotely spaced dialog sequence between interviewer and subject usually happens, well, a bit out of sequence.
"There's a sound lag," Neal said.
So MacDonald's song, if recorded off a collective Zoom gathering, would punish instead of soothing the ears of listeners.
"The recording did not happen simultaneously," Neal explained.
"It's a complex process, putting one of these virtual concerts together."
Neal studied the technology and sent everybody a guide track for the song that featured himself conducting and Alan Giambattista playing on the piano while a metronome kept the time.
Not every student and community member in the Choral Union could participate due to a lack of technology, Neal said.
"Those who did listened with earbuds so others could not hear it and recorded their track individually and sent it to me."
Neal had the separate recordings delivered to the university's sound engineers, Finger Lakes Audio Video Recording LLC, which synchronized the sound and video files, a fairly laborious process.
"We need to do our teaching online at this point and so I'm researching for software that can work without so much of a time lag," Neal noted. "It hasn't come out yet but they are getting closer."
The result of everyone's effort is music for our times.
"I chose this composition, which was on our program when we were working live before the shutdown," Neal said. "I chose it because the text is very relevant, expressing the need for human beings to connect in the face of a threat, a storm, which is what we have all been living through."
The recording also will be posted on the Rose Hall website.
Athletics launches redesigned website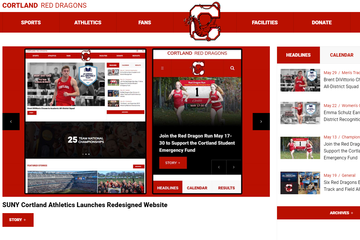 06/09/2020
The SUNY Cortland Athletics Department is excited to unveil its newly redesigned website cortlandreddragons.com in partnership with SIDEARM Sports, a Learfield Company. The updated site went live on Wednesday, June 3.

The new design is fully responsive, allowing users to easily access the website on multiple platforms (mobile, desktop, tablet). The redesign also features new looks to team roster and statistical pages, larger images on story pages, and easy navigation to specific areas for fans and prospective student-athletes, while still providing the comprehensive coverage of Cortland's 25 athletic teams that has been a staple of the site since Cortland began working with SIDEARM in 2007.

"I would like to thank everyone who helped make this redesign possible," said Fran Elia, Cortland's sports information director. "Kerri Graber, Joe DeBenedictis and the rest of the team at SIDEARM are incredible to work with. Our on-campus web redesign committee – including Jaclyn Lawrence (assistant athletics director), Alexa Barbato (athletics graduate assistant), Michelle LoGerfo (assistant director of web and digital marketing), Casey Hickey (senior web and digital marketing specialist) and Will Montgomery (assistant director of communications) – did incredible work every step of the way. Alexa, especially, was in constant communication with SIDEARM and provided much of the vision for how the final redesign looks. In addition, Dan Surdam (associate sports information director) and Timothy Evans (sports information intern) worked hard to provide and adjust back-end content necessary for the switch."

"To echo Fran, thank you to all of those involved, this was truly a team effort," said Lawrence. "To our campus, our athletics department, and to SIDEARM, thank you for bringing this concept into a reality. We had the goal of making the new website easier to navigate, more user friendly and accessible. Cortland Athletics has a great story, both past and present. We hope this redesign puts that on full display."
Red Dragon Run raised more than $5,000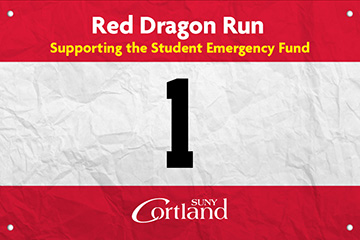 06/09/2020
Through the month of May, SUNY Cortland students, faculty, staff, alumni and friends were asked to run or walk to support the Red Dragon Run.
The results are in.
A total of 359 people registered for the event and more than $5,000 was raised to support SUNY Cortland's Student Emergency Fund.
To view results and photos submitted by participants, visit CortlandRedDragons.com.
Non-Traditional Students Inducted into Alpha Sigma Lambda
Seventeen SUNY Cortland students have been elected to membership in Alpha Sigma Lambda, an international honor society recognizing the academic achievements of non-traditional students.
Alpha Sigma Lambda honors the academic achievement of undergraduate students over the age of 24, as well as those who, regardless of age, have dependent children. The SUNY Cortland chapter, Lambda Omicron, has elected 662 members to the honor society since 1999. Due to COVID-19, an induction ceremony and dinner was not held on April 22, as planned.
Alpha Sigma Lambda national standards indicate that students elected to membership are in the top 20 percent of all students at SUNY Cortland age 24 or older who have completed 24 credits of work at SUNY Cortland with a grade point average of 3.2 or better. For the inductees to be in the top 20 percent of students at SUNY Cortland this year, they needed to have a GPA of 3.65 or higher. The GPA range for this group of students inducted was 3.6 to 4.16.
Cheryl Hines serves as chapter councilor and coordinator of student outreach and non-traditional student support, advisement and transition. The students who were elected to membership are:
Gabrielle Baxter
Angela Briggs
William Caston
Taylor Cookston
Christina Daniels
Ivan Goloub
Mark Johnson
Maranda Kinsman
Caroline Klein
Allegra Lambert
Kelly Lanham
Jamie Meyers
Rayne Perry
Kristina Petrella
Michael Schmidt
Nicole Waterman
Zachary Williams
For more information about Alpha Sigma Lambda, visit www.alphasigmlambda.org.

Suggest a feature story
---
People on the Move
SUNY Cortland names chief diversity and inclusion officer
06/02/2020
Lorraine Lopez-Janove will join SUNY Cortland as chief diversity and inclusion officer and will lead and support the university's effort to promote diversity and inclusive excellence throughout all aspects of the institution. Lopez-Janove, who begins her new role Aug. 10, previously served as the joint chief diversity officer for the SUNY Orange, SUNY Sullivan and SUNY Ulster community college campuses.
At those three campuses, she provided leadership and guidance in the delivery of a comprehensive range of programs and services promoting a culture of inclusive excellence. She was a member of the president's cabinet at those institutions, participating in all aspects of institutional planning and assisting each college in its efforts to meet the needs of diverse student, faculty and staff populations.
Prior to her time with the SUNY community colleges, Lopez-Janove served as executive director of the Human Rights Commission of Sullivan County, giving her a unique perspective on the value of working with local agencies and organizations to foster mutual understanding and collaboration among diverse groups in a larger community. Her pivotal experiences include working with the New York State Education Department while at New York University to investigate and address the disproportionality of students of color in special education in schools across the state. She also has experience as an educator and administrator through Orange-Ulster BOCES.
Lopez-Janove holds certifications in Affirmative Action, Title IX and Conflict Resolution and brings a broad array of rich experiences related to equity, diversity and inclusion. Lopez-Janove attended Marist College in Poughkeepsie, N.Y., where she earned both a B.A. in social work and a master's in public administration.
"Based on my interactions with Lorraine I am very impressed by this wide range of experience and its pervasive impact on her approach to these critical issues in higher education," said President Erik J. Bitterbaum. "Further, she is completely committed to being an institutional change agent in the leadership and vision she brings to the position. Most exciting to me is her demonstrated ability to work with and inspire students, a quality that came through clearly during her campus interview. I am confident that Lorraine's experience, collaborative style of working with all stakeholders and record of achievement will serve our community well, and I am very happy she will be joining our team."
For more information, visit SUNY Cortland's Institutional Equity and Inclusion Office online.
---
Faculty/Staff Activities
Seth N. Asumah and Mechthild Nagel
Seth N. Asumah, Political Science and Africana Studies departments, and Mechthild Nagel, Philosophy and Africana Studies departments and the Center for Gender and Intercultural Studies, had their book chapter, titled "An American Kaleidoscope: Rethinking Diversity and Inclusion Leadership Through the Prism of Gender and Race," published in March in The Routledge Companion to Inclusive Leadership, edited by Joan Marques.
Charles DeMotte
Charles DeMotte, Sociology/Anthropology Department, has been named co-winner of the 2020 Larry Ritter Book Award by the Society for American Baseball Research (SABR) for the best baseball book of the dead ball era. His book, James T. Farrell and Baseball: Dreams and Realism on Chicago's South Side, was published by University of Nebraska Press. The award is granted annually by SABR's Deadball Era Committee to the author of the best book about baseball between 1901 and 1919 published during the previous calendar year. The winner's work must demonstrate original research or analysis, a fresh perspective, compelling thesis, impressive insight, accuracy and clear, graceful prose.
Yomee Lee
Yomee Lee, Kinesiology Department, had her research, "Exploring race consciousness among South Korean college students through sport" published in Quest, the official journal of the National Association for Kinesiology in Higher Education.
Kristine Newhall
Kristine Newhall, Kinesiology Department, recently spoke with a reporter for Rewire News about the new anti-transgender legislation in Idaho which bans transgender girls and women from participating in school-sponsored competitive sports programs. Newhall spoke about the problematic categorizations and measurements of sex and gender employed in the regulations, which unfairly discriminate against trans athletes.

Submit your faculty/staff activity