Class Creates 'Flying Frogs' Proposal
06/25/2019
Seven SUNY Cortland undergraduates recently spent five days in the wilderness trying to solve the more than century-old dilemma of balancing economic prosperity with environmental conservation in the six-million-acre Adirondack Park.
The students with a variety of majors flew drones, interviewed residents of a tiny Adirondack community, toured historical attractions, explored a pristine lake by boat and climbed one of the Adirondack peaks in order to create a sustainable tourism development plan as part of a unique, multi-disciplinary summer course.
As they neared the end of the two-week class, the group thought they had found an answer to help man and nature alike in the largest protected area in the United States: flying frogs.
No, they hadn't discovered a new species of airborne amphibian.
Flying Frogs is the name they came up with for their plan to develop modern transportation to key park sites, greatly extending visit potential to people from a wider range of incomes while vastly reducing the pollution footprint of the current automobile-focused system.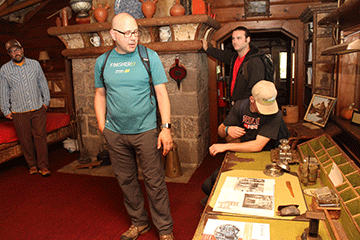 "The idea for the proposal for our grant is to study advanced transportation systems; specifically high-speed rail, and how they could impact the Adirondacks," said Mike Schmidt, a business economics major from Syracuse, N.Y.
"We thought, 'High speed rail is a way to connect residents from both New York City and Montreal to the Adirondacks,' he said. "Ten to 15 years ago, there was a proposal for that but it didn't go anywhere. But it would make the Adirondacks accessible to people who weren't either wealthy or retiring. It would give them a chance to use the space, to enjoy it."
Many prominent figures have tried in vain to solve the Adirondack Park's myriad problems. As the massive park in northern New York attempts to rein in overdevelopment and inappropriate uses, many year-round working residents and small shopkeepers struggle financially to continue living and raising their families there.
Whether the seven students enrolled in SUNY Cortland's blended special topics course on political economy, environmental geography, tourism and economic development in the Adirondacks succeed in finding a realistic solution may not be as important as the intellectual journey they take to get there.
The course, based at the William H. Parks Family Center for Environmental and Outdoor Education, the College's educational camp on Raquette Lake, required the students to pull together lessons in economics, geography and history and apply them to a real-world situations.
The course is a collaboration among Benjamin Wilson, assistant professor of economics; Christopher Badurek, associate professor of geography; and Scott Moranda, associate professor of history. Travel to Raquette Lake was supported by SUNY Cortland's Common Problems Pedagogy Project National Science Foundation funded grant led by School of Arts and Sciences Dean Bruce Mattingly.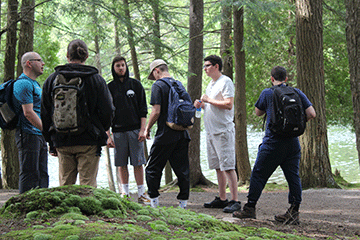 The approximately two-week class runs from June 11 to June 26, starting with an online component, followed by the field experience to Raquette Lake and concluding with the team of students collaborating remotely to finish their joint written report after they return home.
On Sunday, June 16, students majoring in economics, GIS, history, conservation biology and childhood/early childhood education traveled to Raquette Lake — in some cases leaving summer jobs — to meet for the first time at their base camp, William H. Parks Family Center for Environmental and Outdoor Education, Antlers. Through the following Thursday, the class shuttled between Antlers and the College's second campus on Raquette Lake, Camp Huntington, with brief forays to the tiny Adirondack community of Inlet as well as the Adirondack Experience, the museum on Blue Mountain Lake, to drink in the local history and today's natural and man-made surroundings.
The key reading material for the course was by noted Adirondack development author and historian Phil Terrie, who was scheduled to give a guest lecture to the students on Monday but was forced to cancel.
Along the way, the group spent a morning experimenting with a fleet of small training drones offering the potential to capture digital images of the region's current economic and environmental geography, for the sake of future comparison with historical aerial maps. They spent time surveying the tourist community of Inlet, population roughly 300. The five male and two female students were treated to an historical tour with a distinctively economic twist of Camp Pine Knot, the world's first example of Adirondack Great Camp architecture and an official National Landmark site on the Camp Huntington peninsula. The survey of Adirondack resort development continued with a boat tour around the entire lake provided by Deborah Faylo Kennedy '87, assistant director of the Parks Family Outdoor Center.
Another day, the seven scrambled up Bald Mountain (Rondaxe Mountain) and its fire tower to sample what has attracted hordes of park visitors since the early days of the last century. A few students joined Badurek for a kayak trip around the lake to tour development sites along the shoreline. They also were offered an opportunity to try the College's extensive challenge courses — including trust-building exercises on a low ropes course and a confidence building exercise on a high ropes — as a means to break down the barriers to working closely together as a team on one project.
"Being in the Adirondacks made the class more engaging than if it were simply bookwork," said one student, Laura Herrling, a senior GIS major from Elbridge, N.Y. "Standing on top of Bald Mountain and walking through Camp Huntington gave everyone in the group more hands-on knowledge about what we were learning."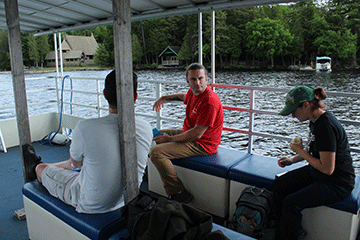 The evening before the field experience wrapped up, Badurek, an associate professor of geography who specializes in geographic information systems (GIS), helped class members tap the data sources in the web mapping system on the ages of the working people outside of their focus area of Inlet and a comparison of how much they earn when living within a 10-, 20- or 30-minute drive outside the village.
"This data science approach is based on numbers, maps, and graphs that can be used to tell a story about who lives in the region and what their economic opportunities are," Badurek told the students. He encouraged them to use as much data as possible to come up with their plan.
The following morning, the students unveiled "Flying Frogs" to their three faculty mentors.
The whimsical project name originated with early brainstorming where the students attempted to solve this summer's unusually heavy black fly problem.
"We got so fed up that most of the ideas written on the white board were about ways to deal with the bugs," Herrling said. "The funniest was an idea to have drones carry frogs around to eat the black flies that kept swarming around our faces. We ended up 'presenting' that idea to our professors keeping semi-serious faces before we presented our real problem and solution."
One idea the team suggested was to sink a portion of the railroad bed, which would serve to preserve wildlife.
"We talked about what potential routes are using GIS and came up with a few different proposals for how we could do it," Schmidt said. "Laura (Herrling) brought up a really good idea, to run it through places that aren't developed. We should avoid places like Lake George that are overdeveloped."
"I'm not that familiar anymore with the geological landscape for the best route to develop but we would have to look at that," Herrling said.
"We could look for the poorer regions that are just in need of an influx of money," Herrling said. "Then Julia (Soroka, childhood/early childhood major from Freeville, N.Y.) also had the wonderful idea that we could do transportation from those key areas to hot spots like Old Forge or Lake Placid so that way you don't have people with a lot of money complain that this is a NIMBY, 'not in my backyard,' and we have other alternatives. We were brainstorming, for example, electric cars or better emissions systems to bring down the traffic and the emissions from different vehicles up here."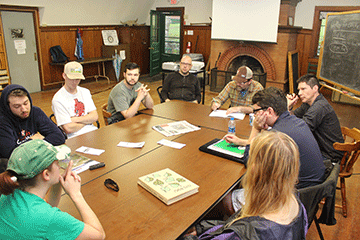 Another theme the group suggested is that, once they bring more people to the area, regional or local councils could be formed to decide how to use the space in a more sustainable way, for example, to limit smog emissions in order to encourage the adoption of electric vehicles.
"The bullet trains are magnetic, so there's no steam, no smoke from that," Herrling noted.
"We should look at other countries that use high speed rail," Schmidt said. "How it affected urban and rural populations. We would look at both. Did it make their lives better? Or worse? Things of that nature."
Herrling later reflected on the advantages of the course's field experience aspect.
"Working in a group can be intimidating and this was the largest group I've worked with so far," she said. "It took me out of my comfort zone having to communicate much more than I would have when working in a small group. Being a GIS major, it was a bit confusing at first to be working with economics majors. It really pushed me to try harder to understand others' perspectives."
The class members have until June 26 to produce a 2.5 page, jointly written grant proposal summarizing their plan to improve economic opportunity in the Adirondacks.
Students who haven't graduated before next spring may submit applications to give a presentation or poster session at the annual student research and creativity conference, Transformations, on the report, according to Wilson. The students were also encouraged to present their GIS work at the New York State GIS Conference in September. The three educators will consider applying for a federal grant to support more formal research with the potential to make "Flying Frogs" a reality as an economic blueprint for the Adirondacks as well as similar American communities situated within large parks.
"This experience has helped me learn that future group projects will be easier to work through the sooner the ice is broken in the group," Herrling said. "The more we talked to each other in general, the easier it became to work collectively on our project.
"I have camped in the Adirondacks before while out hunting for garnet," she said. "This was the first time I've ever stayed in a lodge, though. It was different to be staying with more people all in one building, but it helped us get to know each other and was a lot of fun."
Faculty, Students to Study Invasive Jumping Worms
06/25/2019
Naturalists and gardeners in Central New York may come across a surprise this summer as they're tending to their plants or hiking through the woods.
A twitchy, jumping surprise.
Jumping worms, an invasive group of earthworms originally from Asia, have been spotted in the area. These worms are expected to become widespread throughout New York state and around the world. They grow to high densities in the top layer of the soil and consume leaf litter and soil organic matter, changing conditions for plants and other soil-dwelling organisms.
There is growing concern among land managers about the spread and impacts of jumping worms as well as the limited knowledge about their biology. The group comprises several earthworm species, which are difficult to identify using external characteristics. In order to prevent their invasion and minimize their impacts, scientists must understand how these species move and how humans play a role in their dispersal across the landscape.
Andrea Dávalos and Laura Eierman, both assistant professors in SUNY Cortland's Biological Sciences Department, and their colleague, Annise Dobson, a postdoctoral researcher at Yale University, will assess the distribution and spread of jumping worms through a $95,000 grant from the New York State Department of Environmental Conservation.
SUNY Cortland's Undergraduate Research Council has also contributed to the project through funding for a work-study student in the project.
"It's a bridge between research and management," Dávalos said. "It's really coming from land practitioners and land managers. We do have that multidisciplinary approach and that's where all of these heads come together. We'll be able to put all of our different strengths into one project."
Over the next three years, and in conjunction with New York State's Office of Parks, Recreation and Historic Preservation, these researchers will construct detailed maps of worm distribution within Taughannock Falls State Park in Trumansburg, N.Y. and use genetic analysis to understand differences and similarities between populations.
The researchers will team with Friends of Recreation, Conservation and Environmental Stewardship (FORCES), a volunteer program that pairs students, faculty and New York State Parks staff with members of local communities to offer hands-on academic experiences and increase environmental stewardship in state parks. Together with SUNY Cortland students and FORCES stewards, researchers will collect earthworm and soil samples from the park and use genetic tools to characterize the various jumping worm species. The experience will provide an opportunity for students to participate in multidisciplinary research and engage with professionals in the field.
Researchers hope that the study will allow scientists, state parks staff and the public to better understand the jumping worm invasion and lead to additional management solutions as well. The best current management approach is to avoid moving earthworms to earthworm-free areas. This effort will help parks staff ensure that their management and restoration efforts are not moving jumping worms to regions that are currently uninvaded.
This research will be used to generate best management guidelines for park patrons and staff and will be implemented throughout the state. The researchers ultimately aim to respond to the land managers need and to better protect state resources.
---
Capture the Moment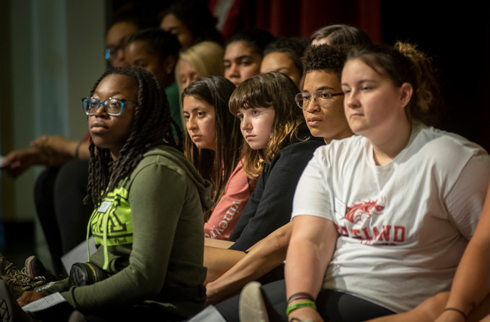 SUNY Cortland's Orientation Assistants listen to faculty and staff feedback after previewing skits in Corey Union on June 25. The scenarios are about college life and issues students may face when they arrive on campus and will be performed for first-year students and their guests beginning Tuesday, July 2. Learn more about the 23 2019 Orientation Assistants.
---
In Other News
Musical Legacy Sculpture to be Unveiled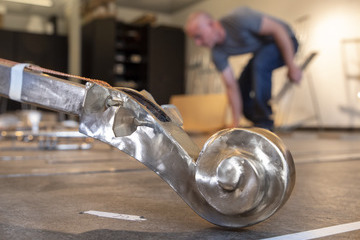 06/18/2019
Last year, a group of SUNY Cortland alumni and staff asked artist Scott Oldfield '06 to figure out how to create a permanent reminder of an era when some of the world's most famous musical performers played on campus.
On Saturday, July 13, they will unveil a sculpture with a beat.
The 10:30 a.m. ceremony and reception, which is free and open to the public, will introduce a new metal wall installation in the renovated bottom floor of Corey Union. The two-story arrangement of symbolic, stainless steel and copper instruments will be surrounded by hundreds of LED lights that flash in time to whatever music is playing in the popular student gathering area.
Free parking will be available to visitors for the unveiling in the ASC lot next to Neubig Hall, across Neubig Road from Corey Union.
The unveiling, part of the yearlong SUNY Cortland Sesquicentennial Celebration, highlights a full weekend of events commemorating Cortland's musical legacy. They are held in conjunction with Cortland's Alumni Reunion 2019, which marks the official close of the College's 150th anniversary festivities.
"This era, 1960 through 1990, was a time when students gained more control over campus activities and the college circuit was filled with performers who were, or would become, household names," said Kevin Pristash '85, M '91, director of campus activities and Corey Union and a member of the SUNY Cortland Alumni Association's Musical Legacy Commemoration (1960 -90) Project. "This piece of art will remind people of the special role that Cortland played in launching some of music's biggest careers."
During that time, students booked, promoted and hosted campus shows by legends such as Billy Joel, Grateful Dead, Neil Diamond, the Eagles and dozens and dozens more. Some of those same students will return to Cortland for Reunion July 11 to 14.
Both they and music fans throughout the region will find plenty of activities in Cortland that weekend to trigger their musical memories.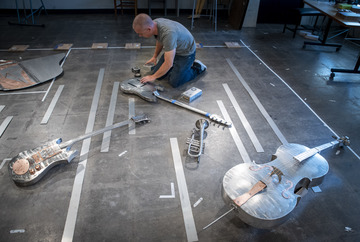 On Friday, July 12, legendary Central New York musician Todd Hobin — who played at SUNY Cortland more frequently than any other artist during those decades — will perform a free concert in downtown Cortland as part of the Cortland Main Street Music Series.
Hobin is a singer, songwriter and leader of a popular regional band that opened for chart-topping artists such as the Beach Boys, Allman Brothers and the Kinks. He is also a music producer, studio musician, and creator or director of children's television, movie scores, audio books and commercials for clients such as Coca Cola and Tri-Star Pictures and served as a panelist last fall during a public discussion of live college music during that era coordinated by the legacy committee. His downtown Cortland show starts at 7:45 p.m., July 12, in the parking lot of 64 Main St., rain or shine.
After the show, alumni fans are invited to attend a post-concert party at Hollywood Restaurant, 27 Groton Ave. Hollywood is owned and operated by David "Rock" Feinstein, former guitarist for heavy metal icon and Cortland native Ronnie James Dio, who also played frequently on campus. The party starts at 9 p.m.
Feinstein is among the speakers scheduled to present at the unveiling, joining others who will share their perspective on SUNY Cortland's role in that era. Attendees can also view a collection of Cortland concert memorabilia from that era and chat with the alumni who experienced those musical events.
Campus visitors are also encouraged to attend a 1:30 p.m. reception Saturday at Memorial Library to see the Musical Library Exhibit and memorabilia display.
Sunday, July 14, is Dio Day in Cortland, an annual tribute concert and fundraiser that Feinstein chairs. Although it is not related to the College or the Alumni Association, the event offers an option for music fans and alumni to add another day of celebrating Cortland's musical legacy that weekend. Dio, who fronted such legendary hard rock and heavy metal bands as Black Sabbath, Rainbow and Dio, performed at SUNY Cortland in the 1960s and early 1970s as Ronnie Dio and the Prophets and as the Electric Elves.
Alumni Reunion 2019 Announced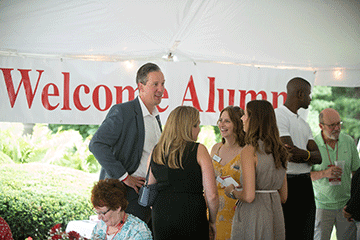 06/25/2019
The SUNY Cortland Alumni Association plans to conclude the upcoming Alumni Reunion 2019 not with a fizzle, but with a bang. Literally.
The association plans to hold a Sesquicentennial Closing Fireworks Celebration on Saturday, July 13, in the City of Cortland's Courthouse Park. Everyone is welcome to attend.
Marking the end of the College's 150th anniversaryyear, the incendiary display at 8 p.m. that day will top a full schedule of reunion festivities slated from Thursday, July 11, through Sunday, July 14.
Hundreds of returning alumni and friends have registered to participate in the SUNY Cortland Sesquicentennial's final days as they enjoy class get-togethers, parties and other activities both on and off campus.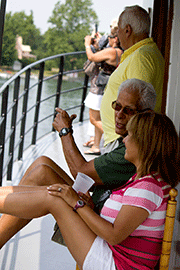 "It's been such a special year for SUNY Cortland, celebrating 150 years of excellence, and having Reunion serve as the opening and closing celebrations has been a really special way to include our alumni in such a huge anniversary for our alma mater," said Taylor Lynch '17, assistant director of alumni engagement at SUNY Cortland and coordinator of Reunion 2019.
"We're excited to have a fireworks show for the first time during Reunion, in addition to the more than 30 events we have planned for the weekend. There's something for everyone and a handful of free events for all."
As always, all alumni are welcome at Reunion, regardless of class year. Featured groups include the Half Century Club, comprised of alumni who graduated more than 50 years ago; the Classes of 1954, 1959, 1964, 1969, 1974 and 1994; sisters of Alpha Sig sorority, Kappa (1925-1991) fraternity, the softball team, College Singers and Kente/Voice Office groups.
Reunion opens Thursday with the Class of 1969 50th Reunion Dinner, which will take place in the back gardens of the Lynne Parks '68 SUNY Cortland Alumni House.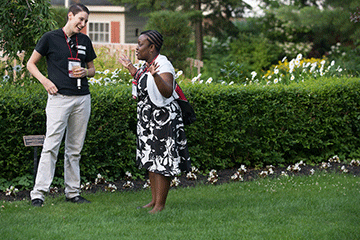 On Friday, the alumni association and Athletics Department will combine talents to continue the "Red and White Golf Classic." The enhanced golf tournament will be held at the Cortland Country Club and will serve as a fundraiser for both organizations.
Later that morning, the Class of 1969 will celebrate its 50threunion with a Skaneateles Adventure. The class members will spend a day exploring Skaneateles Lake with a boat cruise featuring lunch and time to explore the village's charming downtown. Meanwhile, Alpha Sig will host a Cayuga Lake Wine Tour.
Friday afternoon, the Cortland College Foundation and SUNY Cortland President Erik J. Bitterbaum will host a special reception at the Parks Alumni House to welcome all Red Dragons and to thank the Reunion Committee members.
Later on Friday, many class and group activities will ensue. The Half Century Club will enjoy dinner at Dowd Gallery in the Dowd Fine Arts Center followed by a musical, "Mamma Mia!," at Cortland Repertory Theatre. The featured 45th anniversary Class of 1974 will have an informal welcoming social on the back patio at Central City Bar and Grill. Kappa (1925-1991) fraternity members will gather on the Parks Alumni House Kappa (1925-1991) Alumni Lawn. Alpha Sig sorority will dine in the beautiful gardens at the Parks Alumni House. Former members of the College Singers will have dinner at the Community Restaurant.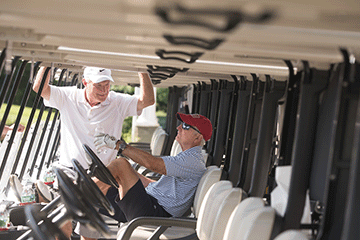 That evening, the Cortland Main Street Music Series will host a concert that is free and open to all, featuring the Todd Hobin Band with support from The Cousins and The Beaushesnes. The show will be held rain or shine. Attendees are encouraged to bring their own lawn chairs.
The reunion committee this year strives for diversity more than ever by organizing a weekend full of events for the Kente/Voice Office groups, including a Voice Office social that evening called the Late, But Not Too Late, Night Event in the Corey Union Function Room.
On Saturday morning, in another sesquicentennial year highlight, the association will host a ceremony at 10:30 a.m. to unveil a metal sculpture for the Musical Legacy Commemorative Project: 1960-1990.
The event takes place on the Corey Union ground floor. The metal sculpture was conceived by a group of alumni who formed the Musical Legacy Commemorative Project: 1960-1990 committee. The project is supported by alumni donors and designed and built by graduate Scott Oldfield '06, a lecturer in SUNY Cortland's Art and Art History Department.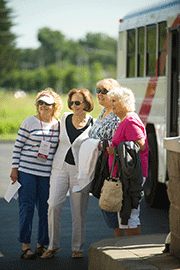 The Cortland campus was where many students first heard what would become some of the largest stars in music, including the Duke Ellington Orchestra, Judy Collins, Billy Joel, The Grateful Dead, The Eagles, Linda Ronstadt, Neil Diamond, Aerosmith, Muddy Waters and The Kinks. The sculpture aims to ensure that this era is remembered and celebrated.
Following the unveiling ceremony, the Musical Legacy Commemorative Project: 1960-1990 committee will host a reception in Memorial Library to show off their memorabilia. Committee members will be present to answer any questions.
Saturday's events also include guided tours of the campus and the Parks Alumni House. Softball will celebrate 50 years of their program with the Cortland softball family. All teams, their families and friends, are welcome to see the new field and celebrate team camaraderie, coach Julie Lenhart's retirement and the beginning of the head coaching career of Molly O'Donnell M '15.
Kappa (1925-1991) will host a ceremony to unveil a plaque signifying their naming of the Student Life Center back patio, with lunch to follow.
The Alumni Association will present its highest honor, the Distinguished Alumni Award, to three graduates during the Alumni Awards Luncheon. The luncheon begins Saturday at noon in the Corey Union Function Room and honors reunion classes and the award recipients.
The following 2019 Distinguished Alumni will be honored:
Michael Flaster '78, who was instrumental in the development of SUNY Cortland's radio station, enjoyed a successful career in public broadcasting and is now a respected media consultant.
Robert Gaeta '00, who holds a Ph.D. in plant breeding and plant genetics, works to provide sustainable food solutions for farmers.
Michael Kerner '75, a highly-respected psychologist, lends his expertise to law enforcement and universities in Northern California.
The association also will present a number of other major honors that afternoon. The 2019 Distinguished Educator Award recipients are:
Timothy O'Connell '90, a professor of outdoor recreation and outdoor education at Brock University in St. Catharines, Ontario, is known for adding recreational adventure to college student orientation and for using reflective journals as a teaching tool.
Richard Sylves '70, a professor emeritus in political science and international relations at University of Delaware, made a career out of the politics of disaster.
The 2019 Distinguished Young Alumnus Award recipient is:
Paul Mangiamele '14, who created downtown Cortland's first Long Island-style bagel shop, sold the successful enterprise and now works for Tesla Motors.
The 2019 Outstanding Alumni Volunteer Award recipient is:
Richard Cecconi '74, M '89, C.A.S. '93, is a retired Homer, N.Y., schoolteacher and lacrosse coach. He currently is an able, ready and cheerful SUNY Cortland alumni ambassador and Parks Alumni House volunteer.
Reunion attendees will have the chance to speak with the award winners and learn more at a meet and greet after the luncheon.
That afternoon, Kente/Voice Office groups will host an authentic Caribbean lunch and will unveil anewly created plaque will be unveiled honoring the late Calvin Louis-Juste '09 during the grand reopening of the newly renovated Corey Union Voice Office, a space dedicated to student organizations that focus on celebrating member's individual identities including ethnic and religious backgrounds, sexual orientation, gender identity or differing abilities. The plaque will display the names of recipients of the new Calvin Louis-Juste '09 Memorial Award, which recognizes a student from a multicultural background with at least a 3.0 grade point average who is committed to community service, campus leadership, continuing personal improvement and advocacy for equity and inclusion on campus.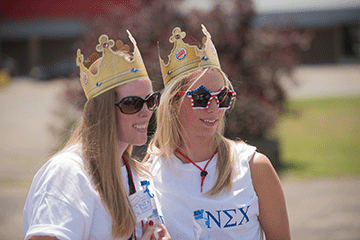 The Nu Sigma Chi Legacy Fund will underwrite the annual All-Greek Reception at the Parks Alumni House. All alumni members of fraternities and sororities are welcome to join, not just the featured Greek groups.
Saturday evening, all reunion attendees are invited to the Parks Alumni House for Reunion's biggest event, Brews and Barbecue.
After Brews and Barbecue, the Young Alumni Post-Brews After Party will take place at the Cortland Beer Co. Young alumni events are geared for graduates from the past 10 years.
On Sunday, a farewell breakfast for all classes with the Alumni Association Board of Directors is scheduled for 8:30 to 10 a.m. at the Student Life Center. Kappa (1925-1991) fraternity and Alpha Sig sorority will also have their own respective farewell breakfasts.
The campus community is encouraged to attend Alumni Reunion 2019. For up to date information or to register, contact Alumni Engagement at 607-753-2516 or visit RedDragonNetwork.org/reunion.
"We're just so excited to have our alumni back on campus to help them make new Cortland memories," Lynch said. "Whether they came back just last year or haven't returned since they graduated 50 years ago, it's a special weekend filled with nostalgia and memories for all."
Molly O'Donnell Named New Cortland Softball Head Coach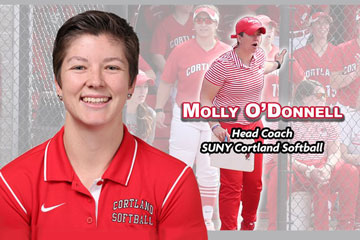 06/25/2019
Molly O'Donnell has been chosen as SUNY Cortland's new softball head coach in an announcement from director of athletics Mike Urtz. O'Donnell replaces Julie Lenhart, who retired following the 2019 season after leading the Red Dragons for 25 seasons. O'Donnell served as Lenhart's associate head coach during the 2018-19 school year and was an assistant coach in the program during the 2015 and 2016 seasons.
"I am incredibly honored and extremely excited to lead Cortland's distinguished softball program," said O'Donnell. "I have been very fortunate to be a part of the Cortland Athletic department both as an assistant and associate head coach – it is a special place, and I cannot wait to get started! I would like to thank Mike Urtz and the entire search committee for entrusting me with this opportunity.
"Softball at Cortland has been a pillar of success in athletics, and both Mike and the search committee members exhibited the utmost respect and appreciation for the program through the entire interview process. I am grateful beyond measure to my family, mentors and all those close to my heart for their unwavering belief and investment in me as a professional and coach. I would especially like to thank Coach Julie Lenhart, who has created and sustained a championship caliber program here at Cortland. Her mentorship and guidance as a member of her staff was irreplaceable. I gladly accept the chance to continue and build upon such a history of success both in the SUNYAC and at the national level."
O'Donnell helped Cortland finished 31-16, win both the SUNYAC regular-season and postseason titles, and finish second in an NCAA regional to tie for 17th place nationally in 2019. In her previous two years as an assistant, Cortland had a combined 74-24 record, won two SUNYAC crowns and earned four NCAA tournament wins.
The Niskayuna, N.Y., native served as an assistant coach at Division I Columbia University in 2017 and 2018. Working with the Lions' hitters, she helped the team set school single-season records for runs scored, home runs, RBI and total bases in 2017 and establish new school records in batting average, slugging percentage, runs, homers, triples, RBI, walks and total bases in 2018.
Prior to her first stint at Cortland, O'Donnell spent the 2014 season at Skidmore College, where she helped guide the Thoroughbreds to their first postseason appearance in four years. O'Donnell and the rest of the Skidmore staff were named 2014 Liberty League Coaching Staff of the Year.
"We are very excited about Molly taking over the Cortland softball reins," said Urtz. "She has already played a major role in the team's past successes, and I'm confident that with her knowledge of the team and the sport, combined with her incredibly strong work ethic, we will continue to be one of the nation's premier programs. I'd also like to recognize and thank Julie Lenhart for her 25 years of coaching excellence at Cortland. She lifted us to new heights and made a difference in the lives of countless players who have gone on to become incredibly successful and supportive alumna."
A two-year captain and four-year letterwinner at Ithaca College, O'Donnell was named a First Team Empire 8 All-Star as a freshman in 2010 and earned second-team accolades after hitting .348 with 29 RBI her junior season. O'Donnell's performance in the 2010 postseason landed her on the NCAA Regional All-Tournament Team.

O'Donnell graduated magna cum laude from Ithaca in 2013 with a bachelor's degree in sport management. She went on to complete her master's in sport management at Cortland in 2015. Additionally, O'Donnell has completed National Fastpitch Coaches Convention (NFCC) courses in World Series Observation, Offensive Strategy and Dynamic Practice Planning.

O'Donnell graduated from Niskayuna High School in 2009. She played five seasons of softball for the Silver Warriors, earning All-Suburban Council honors as a junior and senior, and also lettered in basketball and field hockey.
Cortland in the News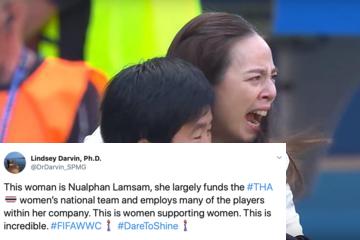 06/25/2019
On June 16, Thailand's Kanjana Sungngoen scored a late goal in a 5-1 loss to Sweden in the group stage of the Women's World Cup being played in France. It was a pivotal moment for Thailand, which had lost to the United States, 13-0, just a few days earlier. Cameras cut to the sidelines to capture the emotional response from coaches and teammates.

One woman in particular, Nualphan Lamsam, was among them. Although the broadcasters did not know her role in growing women's soccer in Thailand as general manager and financial benefactor, Assistant Professor Lindsey Darvin of the Sport Management Department did. Darvin's tweet on Lamsam has generated 3,200 likes and 1,100 retweets and resonated with soccer fans across the globe.

Darvin is working with Ann Pegoraro, an associate professor of sport management at Laurentian University in Ontario, Canada, to analyze the social media response to the U.S. team's goal-scoring celebrations in its 13-0 win over Thailand. Their goal is to shed light on the perceptions and stereotypes associated with women's sport and the cultural differences that may influence athlete and team behaviors.
In other news:
Kenneth Cohen, associate professor of recreation, parks and leisure studies, was quoted in WalletHub's May 29 online article, "2019's Best & Worst Cities for Staycations." In order to determine the best staycation spots, WalletHub compared 182 U.S. cities — including the 150 most populated U.S. cities, plus at least two of the most populated cities in each state — across three key dimensions: 1) recreation, 2) food and entertainment and 3) rest and relaxation.

Sports Information Director Fran Elia's expertise on strange softball plays was featured by Softball Coach, an organization that provides tips and advice to softball coaches.

Suggest a feature story
---
Faculty/Staff Activities
Brian Barrett
Brian Barrett, Foundations and Social Advocacy Department, served as a guest editor for the most recent issue of The Curriculum Journal. He contributed two articles to the issue: "After the Knowledge Turn? Politics and Pedagogy," with co-authors Ursula Hoadley, Alka Sehgal Cuthbert and John Morgan, and "An Engaging Pedagogy for an Academic Curriculum," with Elizabeth Rata and Graham McPhail.
Lindsey Darvin
Lindsey Darvin, Sport Management Department, presented her research on the leaking pipeline of women sport leaders at the North American Society for Sport Management (NASSM) held in early June in New Orleans, La.
Eric Edlund
Eric Edlund, Physics Department, and colleagues from Princeton University, were awarded a patent — number is 10,300,410 — for a new concept for a liquid centrifuge. Edlund conducted his postdoctoral studies at the Princeton Plasma Physics Laboratory, a U.S. Department of Energy laboratory managed by Princeton University, where he examined issues of angular momentum transport in relation to the evolution of black holes. During this work, he constructed a new experimental device and established the measurements that became the basis of this patent.
Annette Ernste, Jeremy Pekarek and Jenifer Phelan
Annette Ernste, Jeremy Pekarek and Jenifer Phelan, library, presented June 14 at the 2019 State University of New York Librarian Association (SUNYLA) Conference held at Onondaga Community College. Their presentation on Information Literacy instruction to freshmen was titled "Zombie Escape: Gamifying Library Instruction with Active Learning Activities." This session explored why active learning is a powerful tool for engaging students in developing their knowledge practices and dispositions for a deeper understanding of the threshold concepts outlined in the Association of College and Research Libraries Information Literacy Framework.
Thomas Hischak
Thomas Hischak, professor of theatre emeritus, has had his book 1927: A Day by Day Chronicle of the Jazz Age's Greatest Year published by Rowman and Littlefield.
Kathleen A. Lawrence
Kathleen A. Lawrence, Communication and Media Studies Department, recently received word that her poem "Waiting, Still" has been published in the June issue of Pif Magazine. Pif Magazine is the oldest, continuously published literary magazine online.
Jeremy Pekarek
Jeremy Pekarek, Library, co-presented at the New York Archives Conference held June 5 to 7 in Rochester, N.Y. The presentation was titled "Portals to Public Access: Increasing Visibility of Archival Collections Via Digitization, Metadata, and Finding Aids" and was co-presented with Barbara Scheibel from Onondaga Community College and Kathryn Johns-Masten from SUNY Oswego.
Also, Pekarek co-presented twice at the 2019 State University of New York Librarian Association (SUNYLA) Conference held June 12 to 14 at Onondaga Community College. The first co-presentation was titled "On Board the Mentorship: Sailing the Sea of Change with Tenure Track Librarians" and was co-presented with SUNY Cortland Library staff members Lisa Czirr, Maaike Oldemans, Janet Ochs, Richard Powell, Jennifer Moore, Jen Parker and Hilary Wong. The second co-presentation was titled "Zombie Escape: Gamifying Library Instruction with Active Learning Activities" and was co-presented with SUNY Cortland Library staff members Annette Ernste and Jen Phelan.
Jenifer Phelan and Daniel Harms
Jenifer Phelan and Daniel Harms, library, presented "First Blood: Using Games to Teach Authority as Constructed and Contextual to Freshmen" on June 13 at the 2019 State University of New York Librarian Association (SUNYLA) Conference held at Onondaga Community College. Their presentation explored the Association of College and Research Libraries' Information Literacy Framework's threshold concept "Authority is Constructed and Contextual."

Submit your faculty/staff activity