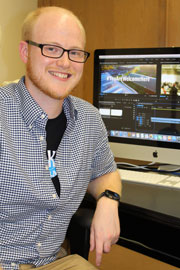 Campus Champion
When Mitchell Ensman '17 transferred to SUNY Cortland two years ago, the new communication media major quickly connected with hands-on projects in filmmaking, broadcasting and web development. He will spend his final semester leading student-run CSTV-20, serving as promotional director and webmaster for WSUC radio and working as event coordinator and submission manager for the Blackbird Film Festival. Named Blackbird's Best Student Director 2017 for his film "Spick and Span," he recently added one more project to his portfolio when he and Sam Avery, assistant professor of communication studies, produced the College's #YouAreWelcomeHere film in September.

Nominate a Campus Champion
---
Tuesday, Sept. 26
Distinguished Voices in Literature: The Van Burd Memorial Lecture, "Mickalene Thomas, Audre Lorde, and the Maternal Origin of the Universe," by Amber Jamilla Musser, Washington University in St. Louis, as part of the Cultural and Intellectual Climate Committee (CICC) Incllusion series, Sperry Center, Room 104, 5:15 p.m.
Wednesday, Sept. 27
Sandwich Seminar: "Bridges Beyond Walls," by Sebastian Purcell, associate professor of philosophy, and Scott Moranda, associate professor of history, Brockway Hall Jacobus Lounge, 12:30-1:30 p.m.
Brooks Museum Lecture Series: "Human Rights in the Middle East: A Never-Ending Crisis," presented by Andreas Kotelis, visiting instructor and scholar-in-residence, Moffett Center, Room 2125, 4:30 p.m. A reception to welcome the speaker begins at 4 p.m. in the Brooks Museum, Moffett Center, Room 2126
Wellness Wednesday: "Becoming Superhuman: Using Your Advantages for Good," Corey Union Exhibition Lounge, 6 p.m.
Performance: "Taikoza," Japanese drums and instruments, presented by Campus Artist and Lecture Series, Corey Union Function Room, 7 p.m.
Thursday, Sept. 28
Lecture: "Native American Women in the US Military," by Lt. Col. (Retired) Brenda Finnicum ANC, an enrolled tribal member, Lumbee Tribe of North Carolina, sponsored by the History Department, Old Main, Room G-12, 8:30 a.m.
Ribbon Cutting Ceremony: Ross E. Bowers Hall Science Museum and Greenhouse, Bowers Hall first floor lobby, 11 a.m. A reception and facility tour will follow the ceremony. R.S.V.P. online requested.
Sandwich Seminar: "300 Years of Freemasonry," by Professor Emeritus of Mathematics Jorge L. Romeu, Brockway Hall Jacobus Lounge, noon-1 p.m.
Lecture: "Understanding Donald Trump," presented by Pulitzer Prize Winning Reporter and Investigator David Cay Johnston, Brockway Hall Jacobus Lounge, 4:30-6 p.m.
Friday, Sept. 29
Passport Processing Session: Old Main, Room 220, 11 a.m.-2 p.m.
Films at Four FilmFest: "American Graffiti" (1973), Modern Languages lab, Old Main, Room 223. Refreshments will be served beginning at 3:50 p.m.
Saturday, Sept. 30
Fall Employee Appreciation Day: Free admission to sporting events and lunch, supported by Human Resources Office, Athletics Department and the Division of Finance and Management.
Monday, Oct. 2
Alumni Speaker Series: Communication Studies, sponsored by Career Services and Alumni Engagement, Corey Union Fireplace Lounge, 7 p.m.
Wednesday, Oct. 4
Open Campus Information Session: Facilities Master Plan, sponsored by Facilities Management Office, Corey Union Exhibition Lounge, 11 a.m. to noon.
Sandwich Seminar: "From Boom to Bust: What Went Wrong With Brazil?" by Flavia Dantas, Economics Department, Brockway Hall Jacobus Lounge, 12:30-1:30 p.m.
Lecture: "Suspicious Activity and Reporting…Tips for Safeguarding SUNY Cortland," presented by SUNY Cortland's University Police Department, Park Center Hall of Fame Room, 1 to 2 p.m.
Wellness Wednesday: "When Love Hurts: Why Do We Stay and What Can You Do?," Corey Union Exhibition Lounge, 6 p.m.
Take Back the Night March: Corey Union steps, 8-9 p.m.
Thursday, Oct. 5
Dowd Gallery Noise Workshop: By (rust) Echoes artist Zeke Leonard, Dowd Gallery, 4-5 p.m.
Performance: "Kindertransport," a play by Diane Samuels, Lab Theatre, Dowd Fine Arts Center, 8 p.m.
Friday, Oct. 6 to Sunday, Oct. 8
Family Weekend 2017: Campus-wide events. Register online.
Friday, Oct. 6
Ceremony and Reception: Honoring the SUNY Cortland President's List Recipients for the Spring 2017 semester, reception to start at 3:15 p.m., ceremony to start at 4 p.m., Corey Union Function Room
Performance: Mana Polynesia (Polynesian dancers), sponsored by Campus Artist and Lecture Series, Corey Union Function Room, 7 p.m.
Performance: "Kindertransport," a play by Diane Samuels, Lab Theatre, Dowd Fine Arts Center, 8 p.m.
Saturday, Oct. 7
Performance: "Kindertransport," a play by Diane Samuels, Lab Theatre, Dowd Fine Arts Center, 8 p.m.
Sunday, Oct. 8
Performance: "Kindertransport," a play by Diane Samuels, Lab Theatre, Dowd Fine Arts Center, 2 p.m.
Monday, Oct. 9
Fall Open House: Campus-wide, 9:30 a.m.
---
---
Performing Arts Season Focuses on Women's Perspectives
09/26/2017
The Performing Arts Department's 2017-18 season of plays and musicals has a distinct theme.
Each of the four shows explores the perspective of women in different eras of history.
The schedule includes two English plays — "Kindertransport" and "Top Girls" — as well as the familiar musicals "Little Women" and "9 to 5." Each show is set in a different location, from Adolf Hitler's European Holocaust to Margaret Thatcher's England and from the American Civil War of the 1860s to the American corporate world of the 1980s. Yet they all share common themes that remain relevant today.
"My belief about theatre is that it is a tool to discuss these kind of subjects," Deena Conley, associate professor and department chair said. "We have to talk about those things or we're just going to keep repeating them."
"Kindertransport," which runs Oct. 5 to Oct. 8 in the Dowd Fine Arts Center, Lab Theatre, was written by Diane Samuels in 1993. Between 1938 and 1939, the British government evacuated approximately 10,000 Jewish children from continental Europe and gave them a new home in England. The play tells a fictionalized story of 9-year-old Eva, who was separated from her parents in Hamburg, Germany and taken in by a family in Manchester.
Liz Davis, a sophomore musical theatre major from Manassas, Va., is the assistant stage manager for "Kindertransport." She's also playing the lead role of Jo March in "Little Women" later this semester.
Davis had not heard of "Kindertransport" before this season was announced. She's been empowered by working on a play that was written by a woman and has five of its six roles played by females.
"Dr. Conley always says that women, if they want roles written for them, have to write them," Davis said. "They're hard to find, and I wish it could change, but the only way it's going to change is if women write more for women."
"Little Women" will be performed from Dec. 1 to Dec. 10 in the Dowd Fine Arts Center Theatre. Based on the 1869 novel by Louisa May Alcott, "Little Women" tells the story of the four March sisters as they grow from adolescents to adults in a family struggling with financial troubles in the years after the Civil War.
Kevin Halpin, associate professor, will direct "Little Women." This version of the musical deviates slightly from Alcott's book and Broadway's "Little Women," as it places an emphasis on all four March sisters and their mother, Marmee, rather than focus extensively on the plucky Jo March.
"People who know the book will really love and enjoy this version," Halpin said. "For people who are hearing this story for the first time, I think they'll be really drawn in and touched and moved as well."
Throughout the musical, the March sisters struggle to find their paths to adulthood. Although it's been 150 years since "Little Women" debuted in print, it portrays avenues many young women today still travel.
"We talked about the idea that, in all of these pieces, it's about women coming up against adversity," Halpin said. "It's about their strength and proving that their strength is equal to or supersedes that of their male counterparts. Their power is what allows society to move forward. Their power is what allows communities to become whole again after tragic things."
"Top Girls" was written by English playwright Caryl Churchill in 1982 and will be presented from Feb. 22 to Feb. 25 in the Lab Theatre. It explores the role of women in the workplace. The protagonist, Marlene, has recently earned a promotion at the employment agency where she works. The play explores the personal and professional cost of her success.
The play, told in non-linear format, also includes a dinner scene where Marlene eats with various fictional characters and historic female figures who have achieved some sense of success or power.
Mark Reynolds will direct "Top Girls." He recalled it from his days as a student at the University at Buffalo and it has resonated with him ever since.
"It's one of those plays where you don't think it's going to relate to you at all but the deeper you dig into it, you're like, "Holy Cow," he said. "The beautiful thing about this play is that it's universal to everyone. It really says so much about the state of the world."
"Top Girls" features an all-female cast. Reynolds encourages all members of the campus and community to come see the play, as its themes are not restricted to women's issues. He also hopes that the two fall semester productions will cast "Top Girls" in a new light in the minds of his students.
"It's going to be interesting to listen to their reactions from what they learn in "Kindertransport" and how that translates itself into "Little Women," Reynolds said. "I'm really excited just to hear their reactions of how they see these stories relating to each other."
"9 to 5" is a musical version of the 1980 film of the same name starring Jane Fonda, Dolly Parton and Lilly Tomlin. It runs from April 13 to April 22 in the Dowd Fine Arts Center Theatre. The workplace comedy features three main characters as they rebel against the sexist and hypocritical office politics of their male bosses.
Jena Nicols Curtis, associate professor of health and coordinator of the College's Women's, Gender and Sexuality Studies Department, remembers seeing the film "9 to 5" shortly after its release. The misogyny of the male characters seemed comic 37 years ago, but the film has a much different feel for students who see it for the first time today.
Curtis will encourage her students to see SUNY Cortland's performance and she plans to use it as a topic of classroom conversation.
"One of the things that I'm really hopeful for as the coordinator of Women's Gender and Sexuality Studies is to make these connections and these intersections," Curtis said. "I want our students and our faculty and staff who are seeing that play to think, "Oh my gosh, I can't believe we used to treat women this way." I want them to wonder, 30 years from now, what group are we going to be looking at and saying, "I can't believe we ever treated people like that."
Liz Davis can't wait for the season to get underway. She's been reading and thinking about each of these four performances since the schedule was released late in the spring semester and hopes to share the messages of female empowerment that lie within each.
"As I did more research on each of the plays, I appreciated that it's a season for women about women," Davis said. "A lot of traditional, older shows, you have the male lead and you follow his journey. The female isn't secondary, but she's more the wife or the love interest or on that sort of plane. In all of these shows you see very strong-headed women and they're on their path and you get to follow their story."
Tickets to all shows are $19 for adults, $16 for faculty, staff and seniors and $9 for SUNY Cortland students. To view a full schedule of shows and to purchase tickets, visit Cortland.edu/boxoffice.
For more information, contact Jeffrey Whetstone, the Performing Arts Department's production manager and publicity coordinator, or call 607-753-2831.
SUNY Cortland Hosted SUNY-wide History Conference
09/22/2017
Randi Storch, SUNY Cortland's History Department chair, wants the world to know that historians prepare their majors to be more than "walking encyclopedias."
"History majors are problem solvers, great communicators and excellent researchers," said Storch. "They know how to ask the questions that need to be asked."
That was the point of "Tuning Talks: A Tuning Conference for SUNY Historians," a two-day conference hosted by SUNY Cortland's History Department on Sept. 22 and 23 at the College. The conference brought dozens of SUNY history faculty from all over the state to discuss how to align history curriculum, program assessments and outreach with the historical skills that history majors develop at the college level.
Some of the distinctive skills that history majors should have upon graduation include asking good questions, conducting research, communication, management, flexibility and being evidence-driven. The question historians throughout the country are asking themselves is whether their programs adequately emphasize these skills, assess them and promote them. This method of questioning and adjusting programming is known as tuning and was started among historians in the United States by the American Historical Association (AHA) in 2011. Participants work to tune the core goals of their curriculum by spelling out the methods they'll use to support student development. Faculty were encouraged to share their experiences, success stories and teaching practices to improve and build upon the current experience for undergraduate history majors.
The conference also served as a great opportunity for faculty to improve their teaching methods and update curriculum. Workshops, discussions and panels allowed faculty to interact and give meaningful feedback about how and when to incorporate certain skills into their curriculum.
"History majors understand that it's not about facts, it's about questions," Storch said.
Storch and her History Department colleagues Kevin Sheets and Scott Moranda led the tuning initiative at SUNY Cortland.
After attending an AHA national conference and meeting with other SUNY history faculty, Storch, Sheets and Moranda were determined to start holding tuning conferences within the SUNY system.
"Some of the questions we ask ourselves are, 'What is the major? Where in the curriculum do we teach these skills? How do you tell the world that we're doing that?'" said Storch.
The conference featured two keynote speakers, Jim Grossman, the executive director of AHA, and Dan McInerney of Utah State University. Both speakers are internationally recognized for their work in historical outreach and tuning.
Grossman is a prominent figure within the history community. He's an associate faculty member at the University of Chicago and has published books, articles and essays that focus on American urban history, African American history, ethnicity, and the place of history in the current culture. Grossman is the vice president for the National Humanities Alliance and serves on the advisory boards for the National Park Service, Center for New Deal Studies at Roosevelt University, Illinois Historical Society, City of Chicago Department of Cultural Affairs, and Chicago Public Library. He serves on the boards of the Association of American Colleges and Universities and the Center for Research Libraries.
McInerney is a professor and associate department head in the History Department at Utah State University. A member of the Tuning USA Advisory Board and the E.U.-U.S. Tuning Board, he has given tuning talks to audiences all around the world, including AHA conferences in Brussels and Rio de Janiero.
Visit tuningsunyhistory.com for a full schedule of events.
Storch hoped that the conference would raise awareness about the value of a history major and showcase SUNY as a leader in the national tuning initiative.
"We want the public to understand that history majors have experience and training that encourages them to be informed and engaged citizens. They also develop strong academic skills that can take them on any number of career paths," said Storch.
For more information, contact Storch at 607-753-2054.
Prepared by Communications Office writing intern McKenzie Henry
---
Capture the Moment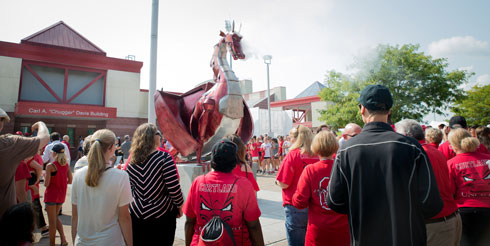 A large crowd was at the Stadium Complex on Sept. 16 for the unveiling of the Red Dragon sculpture. Read more about the efforts of the SUNY Cortland alumni who came together to make the sculpture a reality in time for Red Dragon Homecoming Weekend 2017.
---
In Other News
"Kindertransport" Challenges Student Actors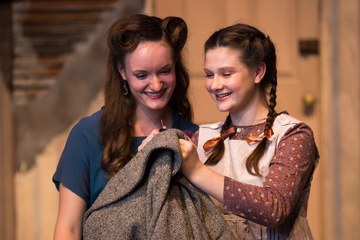 09/26/2017
SUNY Cortland's musical theatre majors expect to spend plenty of time outside of rehearsals preparing for their roles in a fall production. That preparation, however, usually doesn't include novels about the Holocaust or videos about Adolf Hitler.
"Kindertransport," which opens a four-show run in the Dowd Fine Arts Center Lab Theatre at 8 p.m. on Thursday, Oct. 5, tells the story of Eva, a nine-year-old Jewish girl from Germany. She was one of approximately 10,000 children who were separated from their parents and sent to England in 1938 and 1939 following the Kristallnacht attacks. Many historians identify Kristallnacht as the beginning of the Nazi plan to exterminate all European Jews.
The play, written by Diane Samuels in 1993, shows how many of the children — though spared the horrors of the Holocaust — struggled to adapt to English culture, dealing with abandonment, alienation and survivor's guilt. "Kindertransport" explores Eva's adjustment from childhood to her teenage years to adulthood in the 1980s.
Deena Conley, associate professor, chair of the Performing Arts Department and "Kindertransport" director, has urged her students to look for videos about the Holocaust to attune themselves to the emotions of the characters they play.
"I've watched some movies and read some books," said sophomore Nicole Furka of Massapequa, N.Y., who plays Faith, Eva's daughter. "I read "The Diary of Anne Frank," the play, and The Boy in the Striped Pajamas just to connect with the characters."
The characters in "Kindertransport" make significant and solemn decisions. Eva's mother, Helga, sends Eva to England to save her from the threat of Nazi Germany. Eva can't bear the thought of being separated from her mother.
Conley asked her students to investigate the history on their own to add to their understanding of their character's motivations. The student actors have also had to perfect both German and British dialects for their roles.
Bailey Hovermale, a sophomore from Hagerstown, Md., plays Helga, Eva's mother. Hovermale has worked hard on a German dialect, particularly the different consonant sounds and the proper pace of speech.
Kiera Welsome, a first-year student from Brooklyn, N.Y., plays both nine-year-old and 17-year-old Eva. She uses a German dialect as the younger Eva and switches to an English accent for the 17-year-old version of the character, who has changed her name to Evelyn and embraced her new nationality. Welsome also had to learn to play the harmonica in her role as young Eva.
"Kindertransport" takes place in the 1930s, 1940s and 1980s but its major themes still resonate today. The mother-daughter relationships between Eva and Helga and later with Evelyn and Faith are timeless stories. Refugee crises around the world today are reminiscent of the plight of the Jewish children evacuated to England in 1938 and 1939.
"It's still relevant today," Hoveremale said. "People need to keep that alive and remember so it won't happen again. I think it's incredibly important that we're doing a play that is this relevant to today's world."
"What it deals with, the Holocaust, is so horrifying," she continued. "These horrible stories actually happened and to play that and show that this actually happened is very important."
"Kindertransport" plays at 8 p.m. on Oct. 5, Oct. 6 and Oct. 7 and concludes with a 2 p.m. performance on Sunday, Oct. 8.
Tickets are $19 for adults, $16 for faculty, staff and seniors and $9 for students. Purchase tickets at Cortland.edu/boxoffice.
For more information, contact Jeffrey Whetstone, the Performing Arts Department's production manager and publicity coordinator, or call 607-753-2831.
Literary Voices to Speak During Fall 2017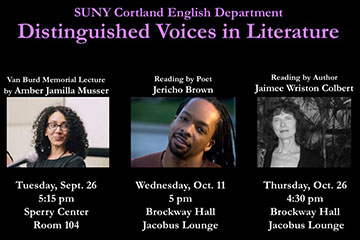 09/26/2017
Amber Jamilla Musser, associate professor of women, gender, and sexuality studies at Washington University in St. Louis, will deliver the College's annual Van Burd Memorial Lecture in Literary Criticism on Tuesday, Sept. 26.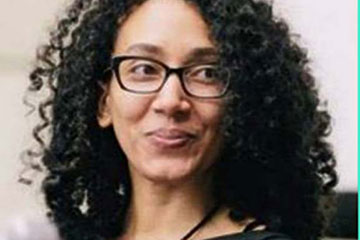 Musser's talk, "Mickalene Thomas, Audre Lorde, and the Maternal Origin of the Universe," begins at 5:15 p.m. in the Sperry Center Hobson '61 Lecture Hall, Room 104.
Her talk opens the English Department's Fall 2017 Distinguished Voices in Literature series, which brings poets, fiction writers, essayists and scholars to campus for readings and lectures. Featuring both established and emerging writers and speakers, the series this fall showcases three outstanding voices in contemporary literature.
All events are free and open to the public.
Musser's monograph, Sensational Flesh: Race, Power, and Masochism (NYU Press, 2014), uses masochism as a lens to theorize different felt relationships to power. Musser also has published widely on race and critical theory, queer femininities and race, race and sexuality, and queer of color critique. Her current research project, "Brown Jouissance: Feminine Imaginings," uses the aesthetic labors of women of color to re-imagine epistemologies of sexuality so that they focus on brown femininity. She has an M.S. in women's studies from Oxford University and received her Ph.D. in history of science from Harvard University.
Jericho Brown
Noted poet Jericho Brown will read from his work on Wednesday, Oct. 11. Brown, an associate professor of English and creative writing at Emory University, will begin at 5 p.m. in Brockway Hall Jacobus Lounge.
Brown is the recipient of a Whiting Writers' Award and fellowships from the John Simon Guggenheim Foundation, the Radcliffe Institute for Advanced Study at Harvard University, and the National Endowment for the Arts. His first book, Please (New Issues 2008), won the American Book Award. His second book, The New Testament (Copper Canyon 2014), won the Anisfield-Wolf Book Award and was named one of the best of the year by Library Journal, Coldfront, and the Academy of American Poets. His poems have appeared in The New York Times, The New Yorker, The New Republic, Buzzfeed and The Pushcart Prize Anthology.
Jaimee Wriston Colbert
Award-winning author Jaimee Wriston Colbert will read from her work on Thursday, Oct. 26. Colbert, who won a gold medal in the Independent Publisher Awards for her Dream Lives of Butterflies, will begin at 4 p.m. in Brockway Hall Jacobus Lounge.
Colbert is professor of English and creative writing at Binghamton University. Her work, Climbing the God Tree, captured the Willa Cather Fiction Prize. Her book Shark Girls was a finalist for the USA Book News Best Books of 2010 Awards and Sex, Salvation, and the Automobile achieved the Zephyr Prize. Colbert also wrote the linked story collection Wild Things. Her work has appeared in many journals, including The Gettysburg Review, New Letters, Prairie Schooner and TriQuarterly, and has been broadcast on "Selected Shorts."
The Burd Lecture is named for Melvin Van Akin Burd, the College's first SUNY Distinguished Professor, a noted John Ruskin scholar who served the College from 1951 to 1979.
Series sponsors include the President's Office, President's Fund, Provost's Office, Campus Artist and Lecture Series, Cultural and Intellectual Climate Committee, Auxiliary Services Corporation and the English Department.
For more information, contact Heather Bartlett or Tyler Bradway or visit the English Department's Distinguished Voices in Literature website.
Speaker to Discuss the Devadasi and Human Rights in India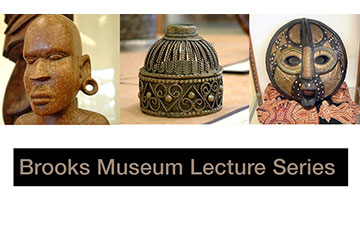 11/07/2017
The 2017-18 Rozanne M. Brooks Lecture Series at SUNY Cortland takes on the theme of "The Culture of Human Rights and Realities."
The talks take place on Wednesdays at 4:30 p.m. in Moffett Center, Room 2125. Before each lecture a reception to welcome the speaker starts at 4 p.m. in the Rozanne M. Brooks Museum, Moffett Center, Room 2126.
On Nov. 8, Shalini Aiyappa, who heads the Psychology Department at St. Aloysius College in India, will give a presentation on the Devadasi system, a story of sexually exploited women from the lower rungs of society in rural India.
Her talk, "The Devadasi and Human Rights: Blind Faith, Promised Redemption and Patriarchal Prison," explores the irony that this culturally oppressive system has a religious connection that legitimizes and sanctions prostitution. The belief is that any calamity, disease or lack of a male child can be rectified by sacrificing a girl child to appease the god.
Recently poverty has driven expansion of the Devadasi system. For example, 50 percent of Mumbai prostitutes are Devadasi. The path from ritual role to commercial prostitution in the name of religion is a human rights issue.
The Indian constitution guarantees equality to all citizens and the government has passed legislation against the Devadasi system. Nonetheless, it is still practiced, relying on loopholes in, and the laxity of, the law enforcement agencies. The inhuman practice of "religious prostitution" continues today.
The 2017-18 Brooks Lecture Series is sponsored by a grant from Auxiliary Services Corporation (ASC) and the Cortland College Foundation.
For more information, contact Sharon R. Steadman, a SUNY Cortland professor of sociology/anthropology, lecture series organizer and Brooks Museum director, at 607-753-2308.
Bowers Hall Science Museum to Open Sept. 28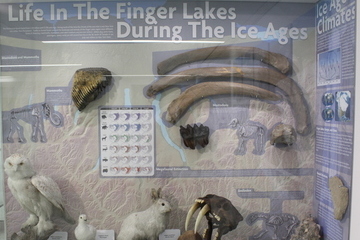 09/12/2017
The updated Ross E. Bowers Hall Science Museum and Greenhouse will formally open with a ribbon cutting ceremony on Thursday, Sept. 28 in the recently renovated science complex's first floor lobby.
The updated museum will feature a giant, interactive periodic table of elements; an ornithology exhibit featuring preserved passenger pigeons; and a mural that lets visitors "see" what the hills behind Bowers Hall looked like 17,000 years ago.
"Our guiding principles were that whatever was displayed needed to have an interesting story to it, have an educational component to it and it needed to look good," said Christopher McRoberts, SUNY distinguished professor of geology and curator of the museum. "Our goal is to use that space both for our current students who walk through it, even for teaching in some regards, but also as a space that prospective students and people in the community can visit."
Campus officials and other dignitaries will offer remarks at the 11 a.m. ribbon cutting. A reception and facility tour will follow the ceremony.
Those wishing to attend are encouraged to R.S.V.P. online by Friday, Sept. 22. Parking will be available in lots A9 and G2 adjacent to the Miller Building. Parking permits are not required, and signage directing visitors to Bowers Hall will be posted. For directions, visit the campus parking map.
McRoberts worked with faculty members from the College's Biological Sciences, Chemistry and Physics departments to decide what to showcase. Julio Torres Santana, who worked as a project coordinator in the Facilities Planning, Design and Construction Office during the Bowers Hall renovation, helped shape the design of the displays.
The focal point of the museum is a 15-panel mural, "Dreaming of our Ancient Land," painted by Trumansburg, N.Y.-based artist Barbara Page. The mural depicts an ice-age view from the site of Bowers Hall, looking north toward Tully Valley. The flora, fauna and glaciers in the painting are representative of what would have been found in the region 17,000 years ago.
The mural, created as though there is a picture window in the building that lets visitors see back in time, serves as the background for the geology display case. A pair of erratics, large rocks left when the glaciers melted at the end of the most recent ice age, sit in front of the mural. These geological specimens were collected locally. Geologic studies show that the rocks were originally plucked up by a glacier in Canada and moved south as the glacier grew.
Other items in the geology section of the museum include a display on the area's stratigraphy­ ­— the study of rock layers — and a real-time seismograph station that monitors earthquake activity.
McRoberts did much of the work on the geology displays, writing descriptions for placards, drawing illustrations and mounting samples in display cases.
"I'm a paleontologist, so I've worked in museums an awful lot all around the world," he said. "I understand the value of collections in museums and that was one of the reasons why I was chosen as curator. I have no formal training in museums but I research in museums all the time."
Biological Sciences has displays focusing on the evolution of birds and modern microscopy. The College's renowned collection of birds includes endangered and extinct species and was a focal point of the museum prior to the renovations. The collection includes a green jay, a Blackburnian warbler, an eastern screech owl and a red-headed woodpecker, among others.
Physics' main contributions include technological equipment through history. The Chemistry Department added a massive touchscreen monitor that includes an interactive periodic table of the elements as well as posters from recent undergraduate research projects.
A new greenhouse facility outside Bowers Hall was completed this summer. The greenhouse has three growing areas for tropical, desert and research flora. Steven Broyles, professor and chair of the Biological Sciences Department, acquired approximately 100 rare and unusual plants from the United States Botanic Garden in Washington, D.C. to kick-start the College's collection.
For more information, contact the Special Events Office at Special.EventsOffice@cortland.edu or 607-753-5453 or 607-753-2377.
Author of Influential Trump Book to Visit Campus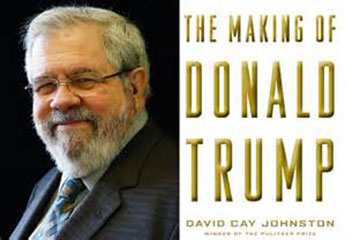 08/23/2017
David Cay Johnston, the Pulitzer Prize-winning financial reporter and investigator who wrote the 2016 best-seller, The Making of Donald Trump, will speak on Thursday, Sept. 28, at SUNY Cortland.
Johnston, whose reporting on tax policy resulted in a Pulitzer Prize in 2001, will discuss "Trump's Rise and the Future of American Democracy" at 4:30 p.m. in Brockway Hall Jacobus Lounge.
Sponsored by the Political Science Department and the President's Office, the talk is free and open to the public.
The Washington Monthly called Johnston "one of America's most important journalists." The Portland Oregonian said his work equals the original muckrakers: Ida Tarbell, Upton Sinclair and Lincoln Steffens.
"Johnston has been investigating and writing on Donald Trump for more than 25 years and is universally recognized as an expert on Trump as businessman and as president," said organizer Robert Spitzer, Political Science Department chair. "Given the confluence of national events, the timing of Johnston's visit couldn't be better."
Johnston met Donald Trump in 1988 and in April 1990 revealed that Trump was no billionaire. When Trump announced his latest run for the White House in June 2015, Johnston immediately said Trump was serious this time and might get the GOP nomination. His reporting over the next year led to The Making of Donald Trump, published around the world in English and German by Melville House.
Johnston writes a weekly column for TheDailyBeast.com and Investopedia.com as well as frequent opinion pieces for USA Today, the New York Daily News, NationalMemo.com, the Rochester Democrat & Chronicle and TaxAnalysts.org.
He wrote a best-selling trilogy on the American Economy that is still in print: Perfectly Legal (taxes), Free Lunch (subsidies) and The Fine Print (monopolies). Johnston also wrote a 1992 casino industry exposé, Temples of Chance, and edited Divided, a 2014 anthology on inequality.
His forthcoming book, The Prosperity Tax: A New Federal Tax Code for the 21st Century Economy, will include both the legal language and an explanation of the economic, historical and legal reasons why America needs to remake its federal tax laws.
Recruited at 18 by the (San Jose) Mercury News, over the next four decades Johnston's award-winning investigations appeared in that paper as well as the Detroit Free Press, Los Angeles Times, The Philadelphia Inquirer and The New York Times.
He was the first to expose Los Angeles Police Department political spying and brutality; wrote stories that saved hundreds of millions of dollars from being diverted from charities; and changed the way journalists report CEO pay by revealing aspects of executive compensation hiding in plain sight.
Long before economic inequality became a household concern, Johnston was documenting America's growing income and wealth disparity, showing how little-known government policies take from the many to enrich the few. He also exposed how the law turns the income tax from a burden into a source of riches for many corporations and some individuals, including Donald Trump.
Johnston's innovative coverage of tax issues in The New York Times from 1995 to 2008 exposed so many tax dodges and tax cheats that law Professor Richard Schmalbeck of Duke University called Johnston "the de facto chief tax enforcement officer of the United States."
Two of the many tax dodges that Johnston's reporting shut down were valued at more than $250 billion over 10 years, according to a congressional assessment. His articles prompted many federal and state laws, regulations and other changes and ended the careers of both Democrats and Republicans by revealing official misconduct.
Johnston's work prompted the only major tax policy change by President George W. Bush, who quietly scrapped a plan to allow the wealthiest Americans and their heirs to escape most income taxes.
Earlier reporting revealed that President Bill Clinton and Hillary Clinton paid more than twice as much federal income tax as the law required, after spending almost $10,000 a year to have their tax returns prepared.
Johnston was the first national journalist to criticize President Barack Obama's failure to fulfill his promise of transparency, writing just nine days after the president's 2009 inauguration about policies that others would later confirm.
Since 2009, Johnston has taught the business regulation, property and tax law of the ancient world at Syracuse University College of Law. He has lectured on four continents about journalistic techniques, ethics, legal theory and tax policy.
Johnston also has served as a consultant on electricity regulation, rare earths and journalism for the Netflix series "House of Cards."
For more information, contact Spitzer at 607-753-4106.
Interactive Musical Art Piece is Inspired by Railroad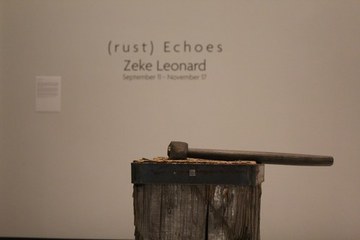 09/25/2017
Bryan Thomas, an art and art history lecturer and co-interim Dowd Gallery director, was working in the gallery when he noticed a group of students trying to be quiet while interacting with the "rust (Echoes)" exhibit.
The exhibit isn't a "shush machine," Thomas told the students.
He encouraged them to make a racket.
Since Sept. 11 and until Friday, Nov. 17, the SUNY Cortland community can make some noise with the five interactive musical sculptures on display at the Under the Balcony Gallery and Critique Space adjacent to the lobby in the Dowd Fine Arts Center.
Artist Zeke Leonard, an assistant professor of design at Syracuse University, created a soundtrack for the once-thriving railroad and the tools used to make it with his piece, "(rust) Echoes."
"This installation engages those objects and forms in a new way, by giving steel and wood a voice and by using railroad tools and hardware as musical instruments," Leonard wrote in the exhibit description.
The sounds of pounding nails with a hammer, roars of the train engine and bells ringing were once "music" to the railroad workers. Leonard's display shows how music can be made from nontraditional materials. Examples include hitting fire extinguishers with poles to make bell-like sounds and hitting a nail further and further into a piece of wood, changing the pitch the nail makes each time it is struck with the hammer.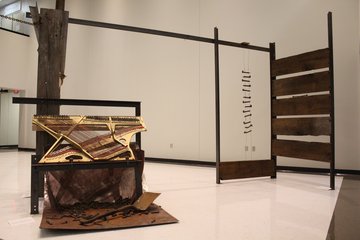 The sculptures on display include an Intonarumori, Italian for "noise intoners," a nailing stump, gong, piano and a spikelophone, a xylophone made of railroad spikes. Each sculpture is interactive, makes different sounds and has an important connection to the railroad, which was once the backbone of the economic and social structures of Central New York more than 100 years ago.
Leo Crandall, an instructor in Syracuse University's Department of Transmedia, composed the piece, "The Beautiful Rails," which was performed on "(rust) Echoes" during a previous exhibition at 914Works in Syracuse in April. That performance was captured on video.
Every Thursday during October, Leonard will give free noise workshops at SUNY Cortland for students and faculty in Dowd Gallery. Artists, dancers, musicians and those who have in interest in the arts are encouraged to attend and participate. The first workshop begins at 4 p.m. on Oct. 5 and will give people an opportunity to learn about the art and play it. The second workshop, which starts at 4 p.m. on Oct. 12, will incorporate student dancers with participates from the previous workshop. A performance rehearsal is scheduled from 6 to 7 p.m. on Oct. 19.
On Oct. 26, those who participated in the workshops can show what they've learned. Three compositions will be performed that evening, starting at 7 p.m., using "rust (Echoes)." These compositions include student-only groups, movement theatre and a performance by Leonard himself. The time for this performance will be announced at a later date.
"(rust) Echoes" is part of Leonard's ongoing project, Salt City Found-Object Instrument Works. The project explores resource usage in the community through the making and playing of unique musical instruments. Leonard's creations include cigar box guitars and canjos, a banjo-like instrument made using aluminum cans. Leonard shows off his instruments on his YouTube channel.
Thomas encourages students and faculty to check out and interact with this unique exhibit.
"Oftentimes you can't touch the art that's on display, but this is a hands-on experience. Come play the instruments and make some noise," Thomas said.
The lobby exhibit may be viewed whenever the building is open. Dowd Gallery is open from 10 a.m. to 4 p.m., Monday through Friday. For more information, contact Thomas at 607-753-4216.
Prepared by Communications Office writing intern McKenzie Henry
Pacific Island Dance, Music Planned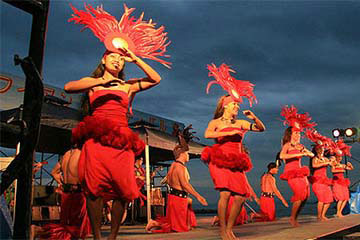 09/26/2017
A true Polynesian performance creates a connection between dancers and audience members.
So say members of Mana Polynesia, a traditional and contemporary South Pacific dance and musical ensemble on their Facebook page.
Named "Mana," which means "the spirit of Polynesia," the group will offer an exciting repertoire of dances from Hawaii and other islands of the Polynesian triangle — including Tonga, Tahiti, Fiji and the Samoas — on Saturday, Oct. 7.
The event will start at 7 p.m. in the Corey Union Function Room.
Presented by the College's Campus Artist and Lecture Series (CALS), admission to the concert is free for all students and pre-kindergarten age children. General admission is $10 with a senior citizen discount price of $8. Tickets may be obtained at Corey Union, Room 406 or at the door one hour prior to the performance.
Chief Koko Aiolupotea and Mana Polynesia perform Polynesian music and dance as a cultural expression. Their performances teach the audience about the culture, history and traditions of the islands of the Pacific Rim.
Performances by the group have included the Samoan fire knife, coconut demonstration, Maori fire poi balls, dance lessons, lei greeting, island serenaders, Polynesian tattoos (temporary), and traditional weapons display and demonstration.
Mana Polynesia has appeared at the Polynesian Culture Center, Hawaii's No. 1 paid tourist attraction. Distinguished previous clients include The World Bank, the Pentagon, United Airlines and various universities.
The event is supported by the Auxiliary Services Corporation and the Cortland College Foundation. For more information, visit Mana Polynesia or CALS online.
Prepared by Communications Office writing intern Navita Ramprasad
Alumni to Discuss Careers in Communications 09/26/2017
Five successful SUNY Cortland graduates will return to their alma mater to speak with students who are interested in pursuing careers in communications on Monday, Oct. 2.
The informal panel discussion, presented as part of the College's 2017-18 Alumni Speaker Series, starts at 7 p.m. in Corey Union Fireplace Lounge. It is free and open to the public.
The panelists include:
Charles "Chuck" Beeler '84, director for public relations at marketing company Eric Mower and Associates in Syracuse, N.Y.;
Danny Catalano '08, a career coach at the App Academy, a computer software training school with offices in New York and San Francisco;
Kaitlin Bartlett '10, a brand advocate and relationship manager for Terakeet, a digital marketing company in Syracuse, N.Y.;
Emily Carroll '16, a marketing associate at CXtec in Syracuse, N.Y.; and,
Robert Galm '17, a member of the broadcasting team at ESPN in Bristol, Conn., assisting with highlights.
A few of the scheduled speakers explained how they became the successful professionals they are today.
Beeler, who earned a degree in communication studies, said he has been working in public relations for 32 years, the last 27 with his current employer, which has nine offices across the country.
He attributes part of his success to extracurricular activities during college, including as a student intern with the Communication Studies Department office and as a varsity football player for two years.
Bartlett earned a degree in sport management and has been with her current employer for the past four years.
Bartlett said her favorite aspect about her alma mater is the connections she made while in school, which have become most beneficial in the years after college.
"I can't thank my professors enough for their constant guidance, support and friendship," she said.
In college Bartlett interned with the Syracuse University athletics marketing department, assisting with in-game promotions for Syracuse football, men's and women's basketball and men's lacrosse.
After her internship, she took a position with SIDEARM Sports, a software and technology company that powers collegiate athletic websites all over the country. In 2013, Bartlett moved to the Amyotrophic Lateral Sclerosis Association, a non-profit that addresses the neurodegenerative disease ALS, and spent a year coordinating four Walk to Defeat ALS events all across Upstate New York and raised more than $475,000 for individuals with the condition.
The careers in communications panel is the first of three discussions planned with alumni professionals throughout the semester. The remaining Alumni Speaker Series events include:
Careers in Networking: Marketing, Public Relations, and Event Management panel at 5:30 p.m. on Monday, Oct. 30 in Corey Union Function Room.
Careers in Sport Management panel at 7 p.m. on Monday, Nov. 6, in Corey Union Exhibition Lounge.
The Alumni Speaker Series is sponsored by the Alumni Engagement Office and Career Services. For more information, visit the Career Services website or call 607-753-4715.
Prepared by Communications Office writing intern Navita Ramprasad
Oct. 9 Open House Welcomes Future Students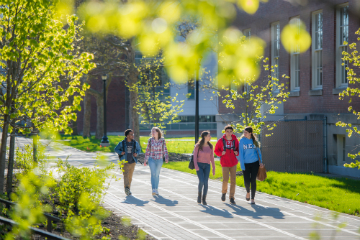 09/26/2017
Hundreds of prospective students and their families will visit campus on Monday, Oct. 9, for SUNY Cortland's first Fall Open House, an event that aims to showcase the College's strong academic programs, fulfilling extracurricular opportunities and an energizing student experience.
More than 700 students and their families will spend the day touring campus and speaking with professors, staff members and current students. The event coincides with the federal observance of Columbus Day, which is a day off from school for many prospective students.
"Fall Open House offers the best opportunity to learn more about SUNY Cortland's strengths in person and see our campus at a busy time, when classes are in session," said Mark Yacavone '94, the College's assistant vice president for enrollment management. "We want prospective students to envision all of the success they'll achieve at Cortland and in their careers.
"The hope is that they apply to the College and join an incoming class made up of smart and promising students."
Visitors are asked to register for the event, but those who have not pre-registered are welcome to attend. Prospective transfer students and high school underclassmen are invited as well. A second Fall Open House is scheduled for Monday, Nov. 13, when Veterans Day is observed.
Including parents and guests, more than 2,000 people are expected to visit campus Oct. 9.
The day starts with an Academic Programs, Student Services and Clubs Fair that runs from 9:30 to 11:30 a.m. in the Student Life Center Gymnasium. Every academic department will be represented so that prospective students can learn more about the majors and clubs that interest them the most. Faculty, staff members and students will be available to chat with visitors and answer questions.
From 10:30 a.m. to 2 p.m., students and families are encouraged to attend special presentations and facility tours on specific academic programs. Eighteen different sessions take place across campus. These include the College's pre-professional advisement pathways in medicine and dentistry, physical therapy and occupational therapy and law.
Other presentations also take place throughout the morning and early afternoon. Visitors can learn more about topics such as the College's Honors Program, financial aid and residence life and housing.
Guided tours of the campus and residence halls will run 10 a.m. to 2:30 p.m., leaving from the Student Life Center.
A full schedule of the day's events is available online.
Parking for Open House visitors will be provided in the College's Route 281 parking lot, which features shuttle bus service to the Student Life Center. Visitors using a GPS device should enter "1 Folmer Drive, Cortland, NY 13045."
Follow @SUNYCortland_Admissions on Instagram, @CortlandSUNY on Twitter and use #CortlandBound on social media to stay up to speed with the event.
Musicians to Perform in Japanese Tradition Sept. 27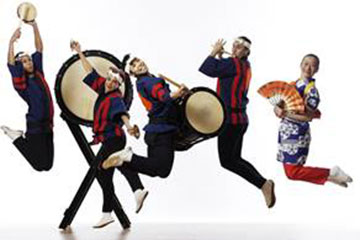 09/12/2017
Their Japanese-inspired music is featured in the Nintendo Wii games Red Steel and Red Steel 2. The Taikoza and East Winds Ensemble will perform at SUNY Cortland on Wednesday, Sept. 27.
The ensemble will offer their signature thunderous rhythms of ancestral Japanese Taiko drums and the magical sounds of bamboo flutes starting at 7 p.m. in the Corey Union Function Room.
Presented by the College's Campus Artist and Lecture Series (CALS), admission to the concert is free for all students and pre-kindergarten age children. General admission is $10 with a senior citizen discount price of $8. Tickets may be obtained through the Campus Activities and Corey Union Office, Corey Union Room 406, or at the door one hour prior to the performance. For more information, call 607-753-5574.
Featuring performances on a six-foot-long ancestral Taiko drum, the program artfully blends its bold and vibrant sound with colorful dances and soulful melodies played on bamboo flutes. The purpose of the group is to present concerts of traditional and modern music performed on Japanese traditional instruments, the shakuhachi, taiko, shinobue, noh flute, shamisen, piano and the koto. Traditional costumes and dynamic motion are geared to entertain audiences of all ages.
| | |
| --- | --- |
| | |
| | The Taikoza and East Winds Ensemble will offer their signature thunderous rhythms of ancestral Japanese Taiko drums. |
The members of the group are Masayo Ishigure, Yuki Yasuda, Charles Tang and Marco Lienhard. Performances have taken the group to Japan, Mexico, Europe and around the U.S. The members have performed in some of the world's most renowned venues, such as Carnegie Hall, Lincoln Center, Boston Symphony Hall, Suntory Hall in Tokyo and Osaka Festival Hall.
The ensemble recently toured Brazil for the Japan Foundation.
Founded in 1995 by Lienhard, a native of Switzerland who was a professional taiko player in Japan, this professional Japanese traditional music and dance group has dazzled audiences worldwide with its electrifying performances.
"Taikoza has created an original and high-energy sound that transcends national boundaries," noted a reviewer from Arts for Learning, an organization that promotes the arts for best practices in education.
The event is supported by the Auxiliary Services Corporation and the Cortland College Foundation. For more information about Taikoza, visit the band's website. For information about this or other CALS events, visit the CALS website.

Suggest a feature story
---
Faculty/Staff Activities
Alexis Blavos
Alexis Blavos, Health Department, had her manuscript "A Social Marketing Intervention to Prevent Drowning Among Inner-City Youth," accepted for publication in the journal Health Promotion Practice. Also, her oral presentation, "Building your Health Advocacy Toolkit: Tactics for the Trenches," was accepted for presentation at the 2017 Health Education Advocacy Summit to be held Oct. 21 to 23 in Washington, D.C. In addition, Blavos had an oral presentation, "To CHES or CPH? The Future of Credentialing in Public Health," and a poster presentation, "Health Related Risk Behaviors and Health Outcomes Among Cannabis Users," accepted for presentation at the American Public Health Association 2017 meeting Nov. 4 to 8 in Atlanta, Ga.
Jena Nicols Curtis
Jena Nicols Curtis, Health Department, presented sexual violence prevention education for the Department of the Navy's Sexual Assault Prevention and Response "Engaging All Voices" training seminar held in June in Orlando, Fla.
Mark Dodds
Mark Dodds, Sport Management Department, had his article "Unassisted Goal: U.S. Soccer Does Not Need Approval to Use Player Likenesses in Group Ad" recently published by Sport Marketing Quarterly.
Julie Ficarra and Sam Avery
Julie Ficarra, International Programs Office, and Sam Avery, Communication Studies Department, presented at the 17th International Association for Research on Service-Learning and Community Engagement Annual Conference held at the National University of Ireland, Galway. Julie presented on problematizing issues of race, power and the "helping imperative" in service-learning programs in the Global South; and together, they co-presented a film project exploring the politics of space, memory and belonging for two immigrant groups on the north side of the city of Syracuse.
Christopher D. Gascón
Christopher D. Gascón, Modern Languages Department, had an article about a recent off-Broadway production in Spanish published in the journal Bulletin of the Comediantes (issue 69.1, 2017). The article, titled "Virués's Theater of the Grotesque: Interrogating La gran Semíramis from Roman Chronicle to the New York Stage," analyzes elements of the grotesque in the 1579 text by Cristóbal de Virués and in Diego Chiri's 2015 production of the play at Repertorio Español in New York City. Integrating the perspectives of Kristeva, Bakhtin, and Foucault, the study concludes that Chiri uses the grotesque to reconcile contradictory elements of the work, and that Virués participates in the processes of distortion and degradation that have typified the production of the Semiramis myth, itself grotesque, throughout the centuries.
Jim Hokanson, Erik Lind, Deborah Van Langen and Larissa True
Jim Hokanson, Erik Lind, Deborah Van Langen and Larissa True, Kinesiology Department, had their manuscript, "Run Economy on a Normal and Lower Body Positive Pressure Treadmill," published in the International Journal of Exercise Science. The manuscript was co-authored by exercise science undergraduate student Corey Temple '16 and exercise science student Saige Hupmann '15 Exercise Science and '17 MS Exercise Science. The research was conducted using the Kinesiology Department's new Alter G treadmill.
Jordan Kobritz
Jordan Kobritz, Sport Management Department, was quoted in an NBC news article on ballpark netting after a young girl was struck by a foul ball during a Yankees-Twins game at Yankee Stadium on Sept. 20.
Kathleen A. Lawrence
Kathleen A. Lawrence, Communication Studies Department, had a poem, "Celluloid & Innocence Lost," accepted for publication recently by The Wild Word Magazine in Berlin, Germany. Also, the Southeast Missouri State University Press will include her poem "Operating in a War Zone, Korea 1951," about her dad, Capt. Robert Marshall Lawrence, MD, being a surgeon in a M.A.S.H. unit in the Korean War, in the anthology Proud to Be: Writing by American Warriors, due out in November 2017.
Tara Mahoney
Tara Mahoney, Sport Management Department, recently returned from the European Association of Sport Management (EASM) conference in Bern, Switzerland. In addition to establishing further international teaching and research connections, she presented two research projects titled "Practitioners' Perspectives on Innovation and the Future of Sport for Development and Peace'" and "Intra-Organizational Factors Associated with Innovation in Sport for Development and Peace," both of which were co-authored by Per G. Svensson at Louisiana State University. The latter project was awarded the Best Conference Paper, which was announced at the closing banquet of the prestigious conference.
Melissa McGrady, Esq.
Melissa McGrady, Esq., University Police Department, recently received certification from the New York State Division of Criminal Justice Services as a police juvenile officer. Her certification completes the department's goal to have four juvenile officers in preparation for the state's Raise the Age initiative. By October 2018, the age for criminal responsibility will be raised to 18 years of age. With the new law in place, many first-year students that are 17 years old will now be treated as juveniles should they enter the criminal justice system.
Ute Ritz-Deutch
Ute Ritz-Deutch, History Department, presented her paper, "Victimhood and Memory: Danube Swabians and the Ethnic Cleansing Campaigns in Yugoslavia, 1944-1948" at the Jean Quataert Retirement Symposium at Binghamton University on Sept. 15.
Robert Spitzer
Robert Spitzer, Political Science Department, submitted written testimony on a federal bill called the Hearing Protection Act, designed to deregulate gun silencers, submitted to the U.S. House of Representatives Committee on Natural Resources, Subcommittee on Federal Lands, on Sept. 12.
Scott Stull
Scott Stull, Sociology/Anthropology Department, has had his submission, "Experimental Archaeology as Participant Observation: A Perspective from Medieval Food," accepted by EXARC Journal, the leading international journal on experimental archaeology. This article explores the value of experiential learning through replication and experimental archaeology in the discipline of anthropology. A related article, "An Anthropological Archaeological Perspective on Medieval Food," has been accepted for publication in Studies in Medieval and Renaissance Teaching (SMART), which included a discussion of the replication of medieval food by students at SUNY Cortland for Stull's Medieval Archaeology class. He will be presenting on this continuing research at the Reconstructive and Experimental Archaeology (REARC) conference in November, held at the Colonial Williamsburg Foundation in Williamsburg, Va.

Submit your faculty/staff activity